The Outlook Bar


Outlook Express 5 and 6 - Windows 98 through Windows XP

If you love ice cold beer and succulent raw oysters, excellent cuisine and a lively atmosphere - you're going to love the Outlook Bar situated on the waterfront overlooking Serrano Bay. There is nothing like watching the sun slide into the still waters of the bay during a spectacular waterfront sunset. Oh wait! Wrong newsletter! Sorry!

OK, oysters and beer aside, first of all, if you're not familiar with sorting and organizing your email and creating new folders and things in Outlook Express, consider our "Organize Your Email" a prerequisite for this tip. If you haven't already done so, please see our tutorial on Organizing Your Email before you proceed.

If, like us, you have tons of folders and you have different email automatically going into certain folders, you'll find the Outlook Bar invaluable. There are always several folders you use more than any of the others. The Outlook Bar can save you the trouble of looking through dozens of folders trying to find what you're looking for. And, it's easy to do and easy to set up.

Now, let's clear up on thing right now. The name is "Outlook Bar" and we know it's confusing. But, indeed, the Outlook Bar is part of Outlook Express (you would think Microsoft would have called it the Outlook Express Bar, eh?). Now that we have that little confusing thing cleared up, let's get on with the tip (we can hear your collective sigh!):


#1. Open Outlook Express, click "View" (on the toolbar) and choose Layout...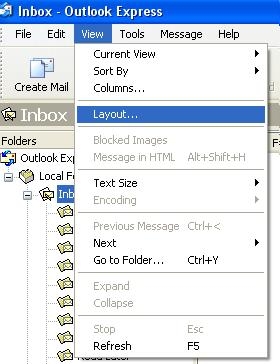 #2 Upon Choosing Layout - you'll see a window like the one below. Put a checkmark in the box next to Outlook Bar (near the top).

Are you with us so far? OK click to move on to the next page!

---


Help Support Our Site!
Make our Start page - Your Start page!
Click the start button
All content is copyright ©2006 Cloudeight Internet LLC