Here are some important links for you: Here are some important links for you:





A comment from Carole
TC: I wanted to thank you so much for all the work you did on this PC. It's running so much better now! Thanks again.

A comment from Dan
Darcy, thank you so much for once again coming to my aid. You made Windows 10 run so much better for me. It was interesting watching you work. I really appreciate you and TC and your Cloudeight Direct Computer Care service.

A comment from Becky
TC, I am so thrilled with what you were able to do with my computer. It was a disaster and you took your time and worked your magic. Now my computer is running like it should have been all along. And thank you also for setting up Thunderbird for me too. I really like it. Thanks again. I will certainly tell all my friends about you.

A comment from Mary
Once again Darcy has worked her magic and got my Emsisoft installed after uninstalling McAfee and another antivirus I did not know was there. Took a little while but she got is installed and set up so everything is running in the background. Don't know what I would do without the support of her and TC. Thanks to them I know my computer will always be in top shape.

A comment from Wilma
Darcy, Thank you, for getting up so early to work on my computer here in Australia. I want to tell you how amazing it was watching you fly around my computer from thousands of miles away - just like you were right here with me. You fixed every one of my problems. I was so impressed, I bought a season ticket! Thanks again! Wilma

A comment from Alice
Darcy - just want to say a BIG thank you for fixing my problem google. Also, my computer seems to run a bit faster since you got rid of my junk files and did a tune up. You are extremely knowledgeable and very professional. It's a pleasure to watch you do your "thing" on my computer. Over the years you have been very patient with me as I am not computer smart.

Thanks so much to Carole, Dan, Becky, Mary, Wilma, Alice and everyone who wrote to us last week. And thanks all those who used our Cloudeight Direct Computer Care services . TC & EB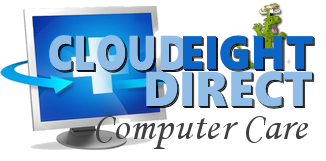 Walter wants to know how to pin Google Chrome pages to the Google Chrome Jump List
Hi, I have a Google Chrome icon on my Win10 Taskbar. When I Right click on it I get a menu listing Pinned, Most Visited, Tasks, etc. If I hover over the Pinned options I receive a notice that I can 'Unpin from this list'. What I need to know is how do I 'PIN' items to this list. Thank you. Respectfully, Walter
Our Answer
HI Walter. Just hover over a visited page in the list, and click the little pin you will see to the right. That will pin the page to Google Chrome's Jump List. Here's a screen shot to help you.
And be sure to see our tip -- in today's newsletter - about Jump Lists. They are handy for a lot of things!

Frank wants to know if we still recommend Windows CleanUp
Hi. Thanks for all the great tips. A long time ago you use to recommend a program called Clean up. Do you still recommend it?
Our answer
Hi Frank. Thanks! You know, we have not looked at that program for a couple of years now. So today we went back for the first time since using Windows 10 and we rediscovered it. Believe it or not, although Windows CleanUp! was created back in the Windows XP days, it still works great on Windows 10. We downloaded it and installed it and ran it on our Windows 10 computers and it ran beautifully... after all these years.
Back in the Windows XP days, hard drives were much, much smaller than the terabyte drives so common today, so keeping temp files and other junk files under control was a real necessity. With today's huge hard drives, it's not so much a necessity, but good housekeeping is always a good idea and keeping your computer clean and free from unnecessary junk is one of the rules of good computing.
So, yes, I guess you could say we still recommend Windows CleanUp! as a great Windows clean up tool regardless of the Windows version you're using.
We've updated our Windows CleanUp! review to include our latest testing on Windows 10... and you can read all about it here. If you want to skip the reading and get on with the cleaning, you can download Windows CleanUp! directly from here.

Ingrid can't delete some of her temporary Internet files
When I try to clean the temporary Internet files they do not get deleted all and it adds with the time. First as we upgraded to WIN 10 all was fine. But one day I detected that an Icon is on the temporary Internet files. A log. When I click on "Show the files" it leads to i.e. Container but that is empty. When I clean the PC from unnecessary files it cleans basket and temporary files but the log on the temporary Internet files prevents from cleaning those files complete. I deleted already the temporary Internet files in IE and Edge as well as Maxthon but I have still those over 150 MB in the temporary Internet files even the i.e. Container shows empty. I hope you can understand what I try to explain because I am German and my system is German too. I hope you have a solution and can explain why that happens. Greetings from Germany. Ingrid
Our answer
Hi Ingrid. Greetings from the USA. We know exactly what your talking about and we can tell you what you're experiencing is completely normal and that's how it's suppose to be on Windows 10. All Microsoft browsers ( Internet Explorer, Edge, and browsers like Maxthon which are built using the Internet Explorer code and engine) all keep a record of pages visited etc. in a file called WebCacheV01.dat . It's stored in C:\ Users\ <your username>\AppData\Local\Microsoft\Windows\WebCache. To see it you have to enable "View Hidden Files and Folders" in File Explorer / View / Options. If you try to right-click and delete this file, you'll get a message that you can't delete it because it's being used by another process (a Windows host process which cannot be terminated). So, what you're experiencing is not a problem, it just the way Microsoft browsers (and browsers built using them) work.
If you don't want to have data stored in a file you cannot delete, don't use any Microsoft browser or a derivative like Maxthon. You certainly have plenty of options. You can use Firefox, Chrome, or any of the many browsers which are built upon them, for instance Pale Moon (Firefox) or Vivaldi or Chromium (Chrome). You can also use a browser called Opera, although Chrome and Firefox are more "main stream" options. We use Chrome and have used it for years... it works great for us.
So, now you know there's nothing wrong with your computer and nothing unusual going on, We hope that helps you rest easy, Ingrid. Danke!

Sandy wants to know what's going on with her window colors
I'll try to explain what is happening. When I click on a picture or something to Save As and the Save As Dialog box comes up, the bar across the top that has the Organize, New Folder, View, etc. has suddenly become a dark blue instead of a gray bar. It is hard to see the Organize, New Folder, etc. Also, when I go to insert a file or picture, when the dialog box opens and you click on the file you want to insert, it doesn't highlight like it used to. I have no idea I have selected the file until I click on Insert and the file I picked actually does insert. There were no Windows updates that I know off. Nothing I did to any of my settings. Any idea what is going on and how to get things back to what they should be?
Our answer
Hi Sandy. The most likely cause is that you changed something in color/background/themes. To adjust/check this, click Start, Settings, Personalization and check the following settings:

1. Colors - Click "Make Start, taskbar and action center transparent" to on or off to check your view. Next, you may have checked "Automatically pick an accent color from my background", if so, try unchecking it to see if your menus easier for you to see. You can try different color schemes here as well. Don't be afraid to experiment until you get exactly the look you want.

2. Themes - Try a default Windows 10 theme if you are using an unsaved theme or a personal one.
Worst case scenario? There's a remote chance there may be a problem with your video card or video driver(s). However, if other things look fine, e.g.., browser/web pages, mail, photos, etc. you can rule out the problem being caused by your video card or video drivers.
Hope this helps, Sandy.

Sarah's Windows 10 was working great, then everything changed
HI TC. Win 10 and all was working well. I must have done something and now my desktop is covered with start menu tiles and my desktop icons are gone. I have searched for an answer, but nothing works. I want the tiles gone and my desktop icons back. Can you help me please? Sarah

Our answer
Hi Sarah. It looks like you somehow turn on Tablet mode on your PC. You can turn Tablet mode on or off in Action Center. To open Action Center, press and hold down the Windows Key and tap the A key. In Action Center, click on Tablet mode to turn Tablet mode off. This will restore your desktop, desktop icons, and your normal Windows 10 start menu.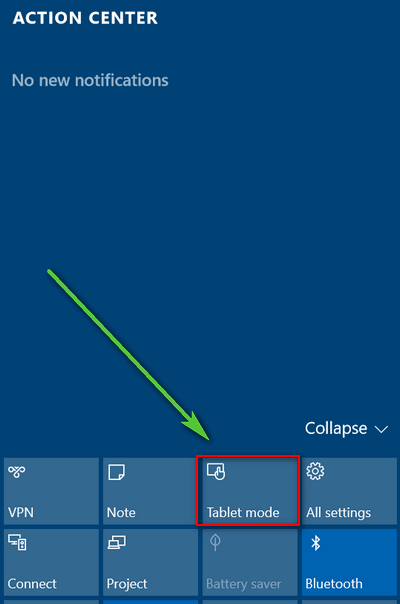 For others reading this, if Tablet mode is turned off, clicking Tablet mode in Action Center will turn Tablet mode on - clicking it when Tablet mode is turned on, clicking Tablet mode in Action Center will turn it off.

Sarah wrote back...

"Thanks! It worked! I'm so happy! Sarah"





Cloudie's Birthday Sale - Pay What You Like

For the first time ever, we're giving you a chance to choose the price you pay for the following Cloudeight products & services:
Cloudeight Direct Computer Repair - Single Key
Cloudeight Direct Computer Care Season Ticket - Computer Care for one full year.
Thunderbird Email Installation and Setup
Emsisoft Anti-Malware installation, setup and one-year Emsisoft license
Don't need anything? Please help us with a donation.
Hurry, Hurry, Hurry! Step right up and help us celebrate Cloudie's 16th Birthday and Pay What You Like!
Get more details and pay what you like ... here!


Run Chrome in Incognito Mode to Troubleshoot Problems
Windows 7, Windows 8.1, Windows 10

If you are having problems with Chrome, the easiest way to make sure that it's not a browser extension causing your problem(s) is to open Chrome in Incognito mode. To open Chrome in Incognito mode, right-click on its shortcut and choose "New incognito window". Incognito mode disables all extensions automatically*. Try browsing with Chrome in Incognito mode for a few minutes and see if you still have the same problems. If you don't have any problems while using Chrome in Incognito mode, then chances are good that one of your extensions is causing your problem(s). You can disable each extension, one at time, until you find the culprit that's causing your problem(s). You can then choose to leave the extension disabled, remove it, or check to see if there's an updated version.
If you're still having problems, then it's most likely not a problem caused by a browser extension. In that case, you might want to consider resetting Chrome by following the instructions on this page. That page also has instructions for fixing Chrome by completely removing Chrome and reinstalling it. If you choose to re-install Chrome, be sure you export and save your bookmarks first - otherwise you'll lose them. To learn how to save your Chrome bookmarks, see this Cloudeight tip.
*Incognito mode in Google Chrome, disables all extensions except ones you have explicitly chosen to allow in Incognito mode. Most of you shouldn't have to worry about that.

How to Create a Guest Account On Windows 10
Windows 10
We've worked thousands of computers with our Cloudeight Direct Computer Care service, and one thing we've seen frequently are computers with problems caused by parents or grandparents letting their children or grandchildren using their PC. Most of the time they let the children or grandchildren use their own user accounts, which almost always have administrator privileges. Admin privileges give users a lot of power to change computer settings, uninstall and install software and almost anything else they want to do with a PC. If you have young children or grandchildren, or if you frequently have guests who you want to allow to use your computer, why not create a guest account?
A Guest Account on Windows comes handy when you want to share your computer with someone else, but don't want them making any changes to your computer. Windows 10 does not have Guest accounts enabled... but everything you need to create a guest account is still there. And you can use an Administrator Command Prompt and the Net User command to a Guest account on Windows 10.
First, we called our Guest account "BeMyGuest" - you can call yours whatever you want (except "Guest" which is reserved for Windows). So, wherever you see "BeMyGuest" in the tutorial below, feel free to substitute whatever name you want for your Guest account.
Let's create a Guest account on Windows 10.
1. Press Windows Key + X to open the "power menu" and click "Command Prompt (Admin)".
2. Now we need to add a user account. So, type in the following command to create a new user. 'BeMyGuest' when you see it in the commands is the name of my guest user account, you can name yours whatever you want, except for Guest - Windows reserves that name and you can't have it!
3. In the Command Prompt at the prompt > type the following command and press Enter:

NET USER BeMyGuest /ADD /ACTIVE:YES
If you typed that correctly, you'll see "The command completed successfully". If you don't see that, then make sure you left a space between the account name (in our case BeMyGuest) and the forward slash / .
4. Now, because this is a Guest account we don't want to assign a password for a guest account. So, enter the following command at the prompt and press Enter:

NET USER BeMyGuest *
We don't want a password for his account so press Enter twice.
5. Now we need to delete our guest account from Localgroup Users and put it in Localgroup Guests
First delete the new guest account from Users by typing the following command at the prompt and pressing Enter:

NET LOCALGROUP USERS BeMyGuest /DELETE
Now, we're going to add the Guest account to Localgroup Guests by typing the following command at the prompt and pressing Enter:
NET LOCALGROUP GUESTS BeMyGuest /ADD

And that's all there is to it. Below is a screen shot of all the commands in order so you can see how it all should look.
When you open Settings ---> Accounts ---> Family & other users you'll see your new Guest account right there under Other users. See? There's BeMyGuest.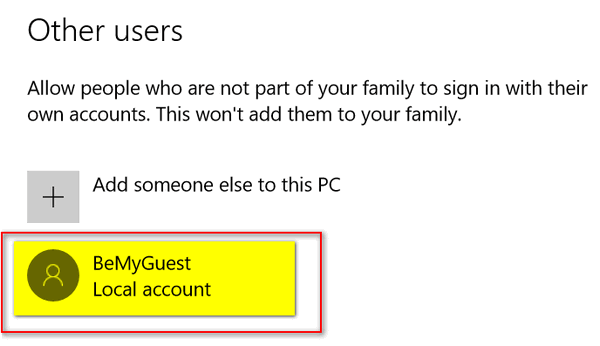 From now on, when you start your computer or log out, you'll see "BeMyGuest" (or whatever you called your Guest account) listed on the login screen with your account. Click on the guest account to log in- no password required. Your guests will be able to run apps & programs, browse the internet, play music. etc.. But Guests cannot change system settings, install or remove programs, or make any changes to your computer.





Have You Tried Jump Lists Yet?
Windows 7, Windows 8.1, Windows 10
We've talked about Jump Lists before, but we find that many people just aren't taking advantage of this very useful Windows feature. Jump Lists first appeared in Windows 7 and have been carried over to Windows 8 and Windows 10 although Jump Lists have evolved over time. Ever since we started using Jump Lists in Windows 7, they have been one of our favorite Windows features.
So, we have to ask you a question: Have you tried Jump Lists yet?

Jump Lists are handy because they show recently used files for an application or tasks related to that application, and let you access them quickly. You can pin your most used tasks or items to a program's Jump List, and easily unpin any you don't want.
Jump Lists can be accessed by right-clicking on an application's icon in the Windows taskbar. Not all applications have Jump Lists, but many do. There are other ways of accessing Jump Lists too, but for simplicity - and brevity - we're going to stick with the simplest one - right-clicking the application's icon in the taskbar.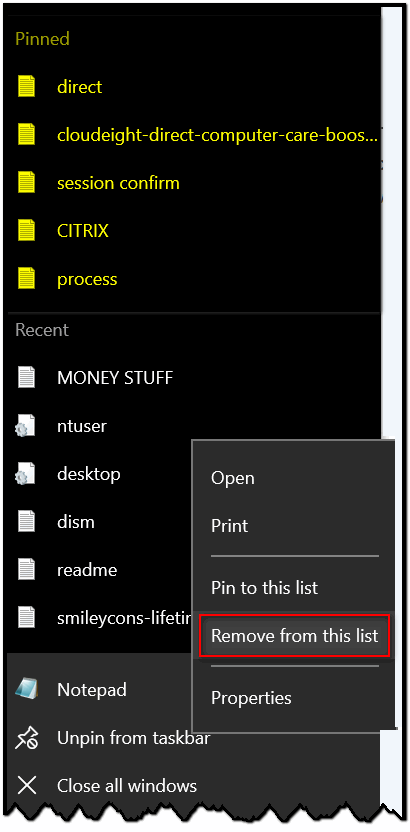 Above: Jump list for Notepad on Windows 10, Items, highlighted in yellow are pinned to the Jump List. You can remove any unpinned item by right-clicking it and choosing "Remove from this list". You can removed Pinned items by right-clicking and choose "Unpin from this list".




Above: Jump List for File Explorer (Windows Explorer) on Windows 10, The items at the top under "Pinned" are pinned to the Jump List and will remain there unless you remove them. You can pin any item to the Jump List by clicking on "pin" icon. As you can see above, I've chosen to pin the folder "INFOAVE-IMAGES2017" to File Explorer's Jump List. That way I can "jump" right to that folder by right-clicking on File Explorer then clicking INFOAVE-IMAGES2017.

Above: I successfully pinned INFOAVE-IMAGES2017 folder to the File Explorer Jump List.

Jump Lists will show all your recently accessed items, by default. Items which are not pinned will disappear over time as they are replaced by newer items. So, if you always want an item to appear in your Jump List, you will have to pin it.




Above: Mozilla Firefox has a list of "Frequent" items, but none of them are pinned. These items will be replaced over time because I've not pinned any of them to the Jump List.

Jump lists are great when you have files that you open regularly. For Web browsers, it's like having shortcuts at your fingertips for your favorite Web site. See?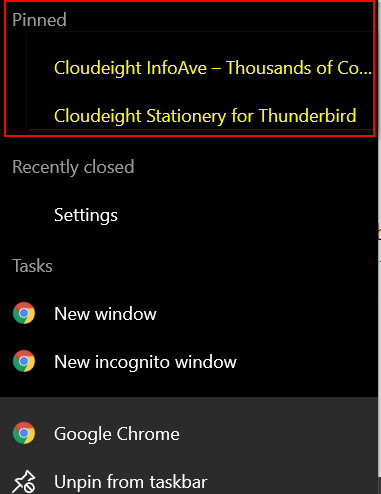 Above: A truncated version of pinned Web sites on Google Chrome's Jump List.

Many programs have the jump list feature - but some do not. You just have to right-click on a program's taskbar icon to see if it has a Jump List available. Once you start using them. we think you'll continue using them; they are handy time-savers. We've been using them since Windows 7. And while Windows 8.1 and Windows 10 Jump Lists are different, they are just as easy to use.

If you haven't tried Jump Lists yet, now's a good time to discover them. You'll find all kinds of ways to use them.

Our Favorite Windows 10 Shortcuts
Windows 10
It's been a long time since we've posted a list of Windows 10 shortcuts. We thought we post a list of our favorite Windows Shortcuts.
Shortcuts save you time, but only if you remember them. And you'll only remember the ones you use. Windows Key + i and Windows Key + x are two that you should be using a lot. So you should remember them! Windows Key + X opens the so-called power menu (the same menu that you'll see if right-click the start button), and Windows Key + i opens Settings.
Here are some Windows 10 shortcuts we think you'll find useful - some more than others, of course. These are the ones we use most often; we hope they will save you time too! The more you use a shortcut, the easier it is to remember. So try using keyboard shortcuts as often as you can. And remember, in Windows there are most always several ways to accomplish the same thing.
Note: In the tip below we use Winkey to represent the Windows Key. The Windows Key is the key with the Windows logo on it, usually located on the bottom row of your keyboard just to the right of the Ctrl key or the second key to the right of the Ctrl key. The exact location varies with computer manufacturer, keyboards, laptops, desktops, etc.
Winkey Opens the Start menu
Winkey + E Opens File Explorer
Winkey + Tab Activates Task View
Winkey + A Activates Action Center
Winkey + C Activates Cortana with speech
Winkey + D Shows desktop
Winkey + E Opens File Explorer
Winkey + G Activates Xbox game bar to let you record games or take screenshots.
Winkey + H Activates share feature in Windows 10 apps
Winkey + I Opens Windows 10 settings
Winkey + K Activates Connect feature to stream to wireless displays / audio devices
Winkey + L Locks the machine
Winkey + R Run a command
Winkey + S Activates Cortana
Winkey + Q Activates Cortana
Winkey + U Opens Ease of Access center
Winkey + X Opens power user features (Same as right-clicking the Windows 10 Start button.)
Winkey + Ctrl + D Creates a new virtual desktop
Winkey + Ctrl + F4 Close virtual desktop
Winkey + Ctrl + Left or Right Switch between virtual desktops
Winkey + Shift + Left or Right Move apps from one monitor to another.

Gmail Shortcuts At Your Fingertips
Everyone who uses Gmail
Gmail has a lot of nifty and useful shortcuts that you can use in Gmail and in Google chats. And you don't need to memorize them because they're only a shortcut away. You can bring up a list of all Gmail shortcuts instantly by pressing just two keys.
Open your Gmail account in your browser. Now press Shift + ? (press & hold down your Shift key and tap the question mark key) and you'll see this: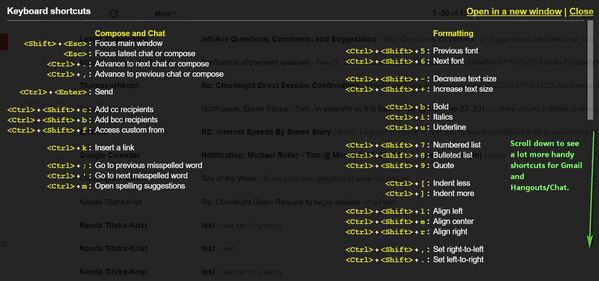 All those Gmail shortcuts right at your fingertips. And all you have to remember is Shift + ?.
Pretty cool, eh? Now you're a Gmail power user!

Donations help us continue our mission to keep you informed, separate the truth from the hyperbole, and help you stay safer online. We provide support to thousands of people. Every week we help dozens of people via email at no charge. Thanks to donations, we do a lot more than provide this free newsletter. We help you recognize online threats, fight for your online privacy, and provide you with the knowledge you need to navigate the Web safely, and help you get more out of your PC. Help us keep up the good fight with a small donation.
It's the beginning of a new year, and we really need your support. We hope you'll take a few minutes today and help us with a small donation.

After you donate, you will receive info on how you can become a Cloudeight Booster.
Help us keep up the good fight with a small donation.
We would really appreciate it.


Have You Ever Been the Victim of an Internet Scam or Fraud?
As we are all too aware, there are miscreants and criminals online who have no lack of creativity when it comes to trying to illegally separate you from your money. Internet Scams and Internet Fraud are all too common – and serve as a reminder to us all that we must always be vigilant.

So, please tell us, have you even been a victim of a fraud or scam. Don't worry, all answers are anonymous and no one will ever know how you voted.


Daylight Saving Time

I just learned this year that calling Daylight Saving Time, "Daylight Savings Time", with an S is, incorrect. They say it makes me look like an idiot to everyone who knows it's correctly called Daylight Saving Time.

Look here: "Daylight Savings Time is a misspelling, but more common than the correct term. Setting our clocks 1 hour forward in the spring is often referred to as "Daylight Savings Time" even though "Daylight Saving Time" is the correct spelling..." (From https://www.timeanddate.com/time/dst/daylight-savings-time.html )

I'm tired of being corrected, I tells ya. So, not wanting to look like an idiot or a fool, anymore than I usually do, I've called this piece Daylight Saving Time. That should appease those who look for perfection - although I can't promise anywhere near perfection for what lies ahead.

And if you're thinking I'm going to remind you to set your clocks ahead an hour, I'm not. It's not time yet. I think that would be a week from this coming Sunday - if you're thinking that far ahead. A lot can happen between now and a week from this coming Sunday.

I used to hate the day when we set the clocks ahead an hour. For I was one who loved to skulk around in the dark; to me Daylight Saving Time was anathema. I used to enjoy taking walks in the dead dark of night and seeing that everyone was snug in their homes - it was comforting. I once traipsed through nearby neighborhoods in brand-spankin'-new Cat's Pause® walking shoes. OK, so they're expensive and hard to find - but everyone deserves to splurge a little... even if you're broke.

So, I urge you to splurge before your dirge.

I know that sounds morose, morbid and melancholy,
Read the rest of this essay here.



Reg Organizer - A Swiss Army Knife of Windows Utilities and Tools

Reg Organizer works on Windows 7, Windows 8, Windows 8.1 and Windows 10. The newest version of Reg Organizer has newly added special tweaks for Windows 10 - including a Windows 10 Start menu fix.

Get more information and or order Reg Organizer today and SAVE!




Snappa
Today's site of the week ought to appeal to 82.3% of you. That's the percentage of our subscribers who love to work with graphics. Of course, it's based on an EB International Poll, and she does not bother polling anyone. She uses my top hat, writes numbers on pieces of paper, then picks three numbers, averages them, and add "point 3" to it so it looks official. See what I have to put up with?
I spent a goodly amount of time on this site playing around with graphics. But instead of trying to make a graphic to dazzle you, I tried to make a graphic to get under EB's skin - but I failed. She just chortled and walked away. I won't show you that graphic, I hurriedly made another just for this article. Want to see? You're going to see it anyway, so you may as well say YES. OK, good. I'll show you then:
Ain't it cute? Imagine a t-shirt like that? Or perhaps a bumper snicker... don't correct that EB, that's what I meant SNICKER.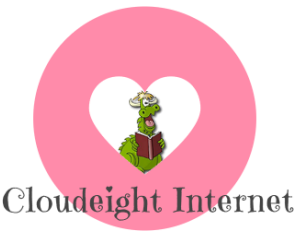 And we all love Cloudie, right? Wouldn't that make a great t-shirt!
You think you're the only one who loves this part of these articles - where I stop my oral - or in this case- written - perambulation, and bring in the developers to top things off and tell you what the heck this Cloudeight Site Pick is actually goof for? I love it too! And it's okay. I know you're tired of my rambling by now. I get it. I work with EB. I have tough skin, I can take it. I'm used to it I tells ya! So at your urging -- I can take a hint - I herewith present you with some words from the developers of our site pick... Snappa
Take it away, developer people:
"A Brief History

Snappa was founded in 2015 when we noticed that a lot of small businesses struggled to create quality online graphics. The tools available were not only complicated, but they were incredibly time consuming. Hiring a graphic designer was also out of the question.

Since then, we've been optimizing our graphic design tool to be as quick and easy to use as possible.

Today, Snappa is used by thousands of marketers and entrepreneurs to create a wide range of graphics for social media, display ads, blog posts, and more...

Snappa is proudly built in Ottawa, Canada. We're a small team that delivers big results.

1. A fully-featured graphic editor - Snappa's graphic editor is powerful yet incredibly easy to use. By dragging & dropping, you can create highly engaging images in minutes. Even adding effects is as simple as moving a slider.

2. A stunning library of visual public - Browse from our massive library of 20,000+ photos, 3,500+ graphics and 200+ fonts. All photos and graphics are 100% royalty-free and licensed for commercial use.

3. Professional quality templates - Choose from hundreds of pre-made templates that have been carefully crafted by our team of in-house designers. Templates are available in multiple sizes and suitable for a wide range of niches.

4. Magically resize your graphics - In two clicks, you can magically resize your graphics into any other size. Turn your Twitter header into a Facebook cover, your Instagram post into a Pinterest pin, or a Facebook ad into a billboard ad.

5. Upload your own photos and graphics - Brand your images by uploading your own company logos and graphics. Have your own photos you want to use? Simply load them into Snappa and they're available for use.

6. Save and organize your designs into folders - Maximize your workflow with the ability to save all of your custom designs and organize them into folders. Going back and editing a previous design takes just a few seconds.

7. Connect to social media - Connect multiple social media accounts and instantly share your images on Facebook and Twitter.

8. Schedule your image posts with Buffer - Save time and energy by scheduling your image posts through Buffer without ever leaving the Snappa dashboard.

9. Video tutorials, FAQs and in-house support - If you get stuck, we'll get you unstuck as soon as possible. Get unlimited access to video tutorials, help docs, answers to FAQs, and in-house email support..."
That's about it folks. If you like playing around with graphics, of if you're a graphic designer for a poor broken down old company like Cloudeight and you don't have any money, or you're just looking to waste some time - quality time, you'll enjoy Snappa - we're pretty sure you will. At least 82.3% of you will.
You need to sign up to create graphics, or download graphics you make to your computer, but signing up is free. Just give them your name and email address. If you're paranoid, give them any old name - like Lucy Jupiter, or Bill Andromeda, and cloak your real email address using an email address cloaking service (throwaway email addresses) like
Guerrilla Mail
or
ThrowAwayMail
. Where there's a will, there's a way!
Now it's time to say goodbye and send you off to make some eye candy or dazzling graphics. Or should I say it is
time for 82.3% of you to take a trip to Snappa.io and see what you can do
.
Thanks for the scientific poll, EB. You're a peach!



Cloudie's Birthday Sale - Pay What You Like

For the first time ever, we're giving you a chance to choose the price you pay for the following Cloudeight products & services:
Cloudeight Direct Computer Repair - Single Key
Cloudeight Direct Computer Care Season Ticket - Computer Care for one full year.
Thunderbird Email Installation and Setup
Emsisoft Anti-Malware installation, setup and one-year Emsisoft license
Don't need anything? Please help us with a donation.
Hurry, Hurry, Hurry! Step right up and help us celebrate Cloudie's 16th Birthday and Pay What You Like!
Get more details and pay what you like ... here!


What's a VPN?

VPN is short for Vampires Prowl Nightly. So if you plan to go out when it's dark we suggest carry a large cross, a mallet and a big wooden stake. Your best bet is to stay indoors when it's dark, keep a lot of lights on, and lock your doors. If you need to get beer or something, wait until the sun comes up; vampires do not prowl in daylight; they sleep.
No, actually VPN is an acronym for Very Pretty Nurse. EB use to be a nurse, but she was never a VPN ;-)

Nah. We're just kidding you. We're featuring this back to basics again because all of a sudden we've been getting questions about VPNs. So here you go, all you who are curious about VPNs and VPN services.
VPN stands for Virtual Private Networks. Most of you are, right now, connected to the Internet directly. Everything you do online is being logged by your ISP... that means all your searches, all your chats, all your downloads, all your uploads, all your Facebook posts, everything, goes through your ISP. And if they wanted to they could snoop on you, record your activities, sell your search habits and buying preferences, in short they have the capacity to know where you go and what you do on the Internet.

But if you're using a VPN, the only thing your ISP sees is that you're connected to a server somewhere, what happens on the other server, stays on the other server. So think of it as kind of like Las Vegas. Assuming that the VPN server you're connected to encrypts your data and does not keep logs -- no one can track your activities, log your searches and/or what you buy online -- or snoop on your chats or see what you're downloading. That's in theory at least - the NSA probably sees all anyway...but your ISP is not the NSA. Is it?

Think of a VPN as a tunnel. Let's say you're in Richmond, Va., USA and you're using a VPN client like Open VPN. You choose a VPN server in Brussels, Belgium. The VPN client creates a tunnel from your computer to the VPN server in Belgium, and that becomes your connection to the Internet - your point of entry to the World Wide Web. Sites you visit will see your IP address (which has been changed from your real IP address) and think that you're accessing the Internet from Brussels, Belgium. You may see that the search engine is in French or whatever it is they speak over there in Brussels (German? French? Belgiumese? ) And your poor, innocent ISP? All they know is that you are connected to some server in Belgium. All your data is encrypted, leaving your ISP sobbing and whining - and they will move on to someone easier to spy on -- someone more fun than you!
All that is in theory, of course. It may not be so straightforward in reality.
If you're thinking about signing up for a free or paid VPN service, shop carefully. There are a lot of VPN services who will be glad to take your money and or sign you up, but who will not hide your online activities - they'll just make you think they are.
Other VPN services keep logs which means they keep a record of all users - the sites they visit, etc. Some VPNs don't keep logs and therefore don't maintain records of how its users use the Internet. We're just saying - be careful; be sure you know what you're buying if your paying for a VPN service or trying out a free VPN service. If you're not paying anything, the VPN may be worth exactly what you're paying. Do your homework.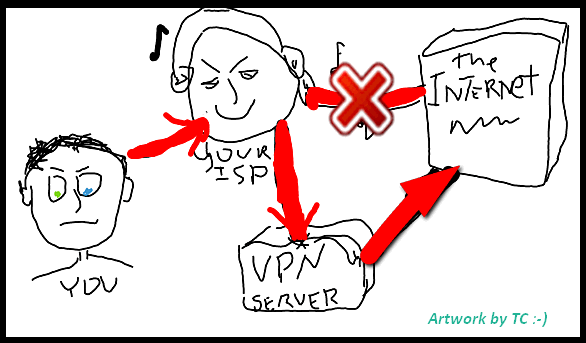 VPNs secure your internet activities and allow you to transfer files, written communications, chats, download files, make online purchases, search and browse the Web more safely and more securely. Assuming, of course, you're using a trustworthy VPN - all VPNs are not created equal.
The only way more secure way to transfer files is to put them on an encrypted flash drive and send it to the other person via FedEx - make sure you mark the package "poisonous snakes". KIDDING! Or your could put the flash drive in your pocket, get in your car and deliver it yourself - don't get stopped for speeding though!
Yes, we are exaggerating to make a point. We're pretty sure that ISPs don't have the manpower to snoop on their customers. But here's a tip - if you have a boyfriend, girlfriend, husband or wife who works for the same ISP as you use to connect to the Internet, and things are not going so well in your relationship, best switch ISPs or use your cellphone's 3G or 4G. Just a bit of advice from the old relationship counselors, EB and TC.




Please visit our Emsisoft order page to see our new prices.



Premium Subscribers' Home Page You'll find the last few weeks of Premium archived on this page.
To change your subscription address, see "Manage your subscription" at the bottom of this newsletter.
Submit your questions, comments, and suggestions for possible inclusion in our newsletters here. This form is for questions, comments and suggestions for this newsletter, not for product support, stationery questions, or general questions concerning our products or services.
Help us Grow! Forward this email newsletter to a friend or family member - and have them sign-up for InfoAve Premium here!
Get our free daily newsletter! Each evening we send a short newsletter with a tip or trick or other computer-related article - it's short and sweet - and free. Sign-up right now.
Have a question about a Cloudeight Software program, service, stationery, or need to ask about an order? Let us know!
If you need help with one of our software programs, have a question about an order, or have a question about any of our email stationery, screen savers, or other products - please don't use our InfoAve Questions/Answers/Tips form. Please use our general Cloudeight support form instead.
If you want to help us by telling your friends about our Cloudeight Direct Computer Care service, you can download a printable flyer you can handout or post on bulletin boards, etc. Get the printable PDF Cloudeight Direct Computer Care flyer here.

These products and services are recommended and endorsed by Cloudeight:
Emsisoft Anti-Malware- The best anti-malware you'll find anywhere. Great protection -- both proactive and reactive. Learn more here.
Reg Organizer-- A Swiss Army knife of PC tools. Easy for beginners to use -- with advanced features for experienced users too. Learn more here.
Cloudeight Direct Computer Care - Computer Repair Service-- And for computer repair, you can't beat our remote repair service. You never have to leave your home, take your computer anywhere or leave it with someone you don't know or trust. We can fix most computer problems and all you have to do is sit back and relax. Learn more here.
Thunderbird Email Setup - we'll set up Thunderbird for you - works great with Windows 7, Windows 8 and Windows 10. Get the details here.
Windows 10 Customization - Make Windows 10 look and work the way you want it to. Get more info here.
Also.. don't forget:
We're offering something we think most of you will enjoy. We have a daily tips and tricks summary newsletter that is sent six days a week. It features daily tips, freeware picks, and site picks and interesting computer tips, tricks and more. It's short and sweet - very brief and lightweight. If you'd like to receive or daily tips and tricks newsletter (completely free, of course). You can subscribe here.
You can also help us by using our Start Page.
We have over 100 free games to our Start Page too - come and play all day. It costs nothing to use our Start Page--and helps us a lot.
Your Premium Members' Home Page is located here.



Cloudie's Birthday - Pay What You Like Sale - Sale Prices Valid Through Monday, March 6, 2017

We'd love to hear from you!
If you have comments, questions, a tip, trick, a freeware pick, or just want to tell us off for something,, please visit this page.
If you need to change your newsletter subscription address, please see "Manage your subscription" at the bottom of your newsletter.
We received hundreds of questions for possible use in IA news. Please keep in mind we cannot answer all general computer questions. We choose a few to use in each week's newsletter, so keep this in mind. If you have a support question about a service or product we sell, please contact us here.

We hope you have enjoyed this issue of InfoAve Premium. Thanks so much for your support and for being a Premium subscriber.
Have a great weekend!
Darcy & TC
Cloudeight InfoAve Premium - Issue #699
Volume 14 Number 20
March 3, 2017
Subscribe to our InfoAve Premium Newsletter

DISCLAIMER ABOUT THE TIPS & SOFTWARE RECOMMENDED IN THIS NEWSLETTER-- PLUS OTHER IMPORTANT INFO:

All software recommendations we make in this newsletter are based on our own experience and testing of the programs that we recommend. This does NOT guarantee they will work on YOUR computer. We assume you will read the program documentation and use the program according to the instructions. We make no guarantees about any program recommended in this newsletter or its suitability for any particular purpose. We will not be responsible for any problems you may have. We do not and cannot provide support for any products other than our own Cloudeight products and we will not answer email concerning any product which is not a Cloudeight product. We urge you to use good judgment when downloading and installing software and to use a program only after reading the program's documentation. And, all Tips & Tricks in this newsletter have been tested by us on several different computers and were found to work as indicated. They may not work on yours. We make no guarantees. Anything we recommend you try and use at your own risk. We will not be responsible for any problems caused by any software programs recommended in this newsletter or any of the tips and tricks in this newsletter.. Readers' comments are their own and Cloudeight Internet LLC is not responsible for comments of our readers. All readers' comments, suggestions, questions, and tips and tricks sent to us become the property of Cloudeight Internet LLC. You understand that we may use your comments without your explicit permission.
"Cloudeight InfoAve Premium" newsletter is published by:
Cloudeight Internet LLC
PO BOX 73
Middleville, Michigan USA 49333-0073