Cloudeight InfoAve Premium
Issue #714
Volume 14 Number 35
June 16, 2017
Dear Friends.


Thank you very much for subscribing and for being a part of our Cloudeight family. We appreciate your membership and support very much!





Happy Father's Day to all the fathers and grandfathers! We hope you have a happy and memorable Father's Day!





Happy Father's Day! Take advantage of our Father's Day Specials & SAVE!

Cloudeight Direct Computer Care Repair Keys
BUY ONE and GET ONE FREE!

This weekend, you can buy one Cloudeight Direct Computer Care Repair Key at the regular price ( $50 ) - and we'll give you one free. You can give the second key to dad or anyone you like - or keep it for yourself! This is the lowest price we've ever offered on our Cloudeight Direct Computer Care Service keys. So don't miss out. Cloudeight Direct Computer Care Repair Keys never expire - they are good until you use them! Offer valid through Monday June 19, 2017 only. Get more details and save $$ right now.

~~ OR ~~

Buy a Cloudeight Direct Computer Care Season Ticket $25 OFF....
And we'll give you a Cloudeight Direct Computer Repair Key FREE!

For a limited time, when you buy a Cloudeight Direct Season Ticket at $25 off regular price, we'll give you a Cloudeight Direct Computer Care Single Repair Key - FREE. You can give the free repair to your dad or anyone you like. Our Cloudeight Season Ticket is good for unlimited computer repairs for one full year from the date you first use it. It's like having insurance for your computer. And during this sale, when you buy a Cloudeight Direct Computer Care Season Ticket at $20 off regular price, we'll give you a single repair ticket you can give to dad, a friend or anyone you like. Offer valid through Monday June 19, 2017 only. Get more details and save $$ right now.



Here are some important links for you:




A comment from Jill
Hi there from Australia! I have had Emsisoft for a number of years following your recommendation of it and want to tell you how pleased I am with it. I have had no trouble with viruses etc. since installing Emsisoft until a few weeks ago when a scan showed a Trojan on my computer. Not knowing what to do about it, I sent an email to Emsisoft's help desk and over the next week or so, Kevin Zoll corresponded with me leading me through various steps to get rid of it and also tweak some other stuff the logs showed up. His replies were always prompt and written in easy language for an "oldie" to understand. My computer is now clean as a whistle and I wanted to thank you for recommending Emsisoft in your newsletters. It is well worth every cent!

A comment from Helen
I just wanted to send you a big thank you. Today my computer was hit by a ransomware email that I couldn't close. I was absolutely NOT going to pay any ransom, and since I had Emsisoft, due to your recommendation, it kicked in so fast that I almost didn't notice it come up before this nasty message started playing and replaying. Once I had my machine turned off and restarted, it had quarantined that bad boy and cleaned the mess up. To be on the safe side I ran a full malware and ransomware scan and everything came out OK! So thank you, thank you, thank you for all you do and for your great recommendations.

A comment from Sharon
Thanks to Darcy for setting up Thunderbird for me. I love it. It's great to be able to use stationery again. Thanks Darcy.

A comment from Rebecca
I'm a first time user of Cloudeight computer repair. I want to thank Darcy for all the time she spent in trying to figure out what was going on with my PC. Her perseverance paid off. It's been a long time since my computer has been this fast and worked this well. Great job! I am glad I found a reliable honest company I can trust my computer repairs to. I'll be back! Thanks again. Rebecca S.

A comment from Terry
TC worked on my computer last week. He worked for over an hour and got it working really good. But even then, he told me to let him know if I needed anything else. I couldn't believe any company would be so committed to customer satisfaction. I just wrote him back and told him my computer was still running great. Thank you TC. Thanks for your professional service and for the personal attention. Thanks so much. Terry


Thanks so much to Jill, Helen, Sharon, Rebecca, Terry and everyone who wrote to us last week. And thanks all those who used our Cloudeight Direct Computer Care services . And a thank you also, to all who have helped us with your donations and those who have shared our site with friends. TC & EB

Help
Support Cloudeight:
With our new Monthly Gift Option

This is for those of you who would like to set up a monthly gift to help Cloudeight. We are now offering this option because so many of you have asked us to offer a monthly gift option. If you're interested, please see this page for more information.

Why we need your help

We decided long ago we would not sell anything we wouldn't use on our own PCs or recommend to our families and friends. So, we offer a very limited number of software programs - only the ones we trust, use, and believe in. We also decided that we would never use irritating popup, slide-in, or any annoying advertising on our pages beyond simple, identifiable, in-page advertisements. Only selling trustworthy, useful products mean's we'll never sell anything we don't believe in no matter how much we need the money. And we'll never cover our web pages with dozens of annoying ads that you have to close to see what's on the page. Our income is limited and derived from the honest and useful software we do sell, to the Cloudeight Direct Computer Care services we offer, and contributions from people, like you, who want to help us.

Help us to keep on helping you! See this page for more information.




Donald has trouble removing Panda AV
I have downloaded the latest version of Emsisoft Anti-Malware after deleting Panda. Upon restart Emsisoft has a major error and cannot restart. The error message indicates that Emsisoft can not connect to the service application. I did a restart and a cold reboot with no success.

Our Answer
Hi Donald. Be sure you have completely removed Panda. It is very difficult to remove, so use this tool to completely remove Panda.

If you are still having problems, download this file, and run it. It will completely remove Emsisoft in case your installation was disrupted because Panda was still running in Windows services When you run the program, make sure you check all boxes, let it completely remove Emsisoft, and then restart your PC.

When you've done all of those steps, download a fresh copy of Emsisoft from here.

Let us know if you have any further issues.
*** Don wrote back***
"Thank you. All set! Emsisoft is up and running and did a Malware Scan. I had to run the Panda uninstall twice but the second time I got the indicator that it was complete. I am sure glad to be back in the fold with Cloudeight. I have recommended you to many of my contacts including the Knights of Columbus Council in which I am a member. You do great work and provide very easy to follow the instructions and work with. Thanks again and God Bless you. Don"





Betty has a question about her Kindle Fire
I am an avid kindle reader and I am wondering if you recommend a cleaner program for kindle fire? I have had my new fire for a couple of months and it is running slower than when I first got it. I have no idea which program is best to keep it clean. Thanks for always helping me. Betty W.

Our answer
Hi Betty. Kindle Fire has a feature called MayDay. It connects to Amazon. They will do the service for you at no charge. Look for MayDay on your Kindle Fire. This feature was introduced in 2013. Here's a video that should help you.

Thanks for your long time membership with us!

Sandy wants to clear her cache but not have to go through the extra security on banking sites
I'd like to clear my cache, but I don't want to clear things like my banking, etc. which will ask for texting or some other way to prove I am who I am. I don't want to go through that. How can I clear my cache but not clear for some sites in Chrome?

Our answer
Hi Sandy. Unfortunately, the process you'd have to use to clear your cache but save some sites would be so time consuming you would not want to do it - trust us. The way it's set up, you would have to go through your entire cache (hundreds or even thousands of entries), and manually, one-by-one delete each entry you didn't want, just to preserve the few you would want or need to keep. Not practical. Depending on how much browsing you do, it would probably take you hours to do this, unless you did it every day. It's not something most people would want to do.

Also keep in mind, your bank (or other sites) are not doing this (verify your identity by text or email) to annoy you - it adds and extra layer of security. With security breaches seeming to happen almost daily, we personally think that having to verify our identity from time to time is a good thing and worth the minor annoyance.

However, to each his own. If you want an easier way to manage cookies and browsing data we are going to recommend to you an extension for Chrome you can install that lets you whitelist cookies from certain sites - like Gmail, your bank, or any other site you want to whitelist. It's called "Vanilla Cookie Manager" and it's free and available here.

Here's the description from the author:

[Vanilla Cookie Manager is a ...] "Cookie Whitelist Manager that helps protect your privacy. Automatically removes unwanted cookies. Cookies can be used for authentication, storing your site preferences or anything else that can be saved as text data. Unfortunately they can also be used to track you...

"You could turn off cookies completely or just shut off third-party cookies. But that would also keep out useful cookies that many web apps rely upon to work (like Google Mail or Calendar).With Vanilla you can select which cookies you want to keep on a whitelist. All unwanted cookies are deleted automatically (or manually if you prefer).

"If you close your browser often, follow the "recommended usage" on the options page to get rid of unwanted cookies whenever you close Chrome. If you seldom close you browser you should let Vanilla automatically delete unwanted cookies after 30 minutes..."

If this sounds like something you'd like to try, you can read more about it and/or get it here. .





Bert has problems with Microsoft Office
Like all the other I admire your skill and your sincerity. Is there any where, settings for Word 2000? just lately keep getting messages saying THERE IS A PROBLEM STARTING OFFICE ASSISTANT, like to stop this. Haven't got a repair disc for it. Can I uninstall it and reinstall it? Do appreciate your weekly letters. Regards, Bert

Our answer
Hi Bert. Thanks! You don't usually need an Office disk to repair Microsoft Office. It's been a long time since I've had Office 2000 installed, but I'm pretty sure the same repair options are available to you.

First, go to Control Panel > Programs and Features > Uninstall a Program. If you're using Windows 10 version 1703 (Creators Update) Control Panel isn't easy to find. You can open Control Panel by using Windows Key + R to open a Run box. Type Control in the run box and press Enter. That will open Control Panel.

Find your Microsoft Office in the list of programs. Right click it. Instead of choosing Uninstall, you'll have another option "Change". Click on Change:

When you click on Change, you'll see your repair options. Note: Yours may look very different than mine since you're using an older version of Office.
Click on "Repair".

I hope this helps you, Bert. Remember, your Office is an older version, so your repair options will be different than mine. But I'm sure you will have at least one repair option.

If you cannot repair yours, you might want to consider getting the latest version of Office. There are many options that make it very affordable. I'm paying a $6.99 (USD) monthly subscription for Microsoft Office 2016 (Office 365). And like yours, it's installed on my PC. Not only do I have the latest version of Office, but I have full support and when a newer version comes out, I will get it automatically. I also have the option to cancel my subscription at any time. Back in the day, it cost $200 to $400 for Office. So, you have more affordable payment options now than were ever available in the past.
PS: We don't get a commission from Microsoft; we're not selling Office. We just think that the payment option makes sense since you always have the most current version of Microsoft Office. It's an option some of you may want to consider. And remember are many free office programs available too, and most are compatible with MS Office documents. An example of a excellent free office program that is compatible with most MS Office documents is OpenOffice. You can find out more about OpenOffice here.





Audrey wants to copy pictures from her laptop to her desktop
I have a desk top and a lap top computer. I have photo's on my lap top that I would like to put on desk top I just do not know if I can do this and was wondering if you know a way this can be done. Thank you so much and have had many of my problems solved by you people and was hoping for you to come thru again for me. Will await your reply
Our answer
Hi Audrey. There are many ways to do this. The easiest way, without networking the two computers, is to use a USB flash drive. Just copy all your pictures on your laptop to the flash drive, then plug the flash drive with your pictures in to your desktop. Then copy all the pictures from the flash drive to a folder or folders on your desktop. You might find our tip (here) on adding "Copy to" "Move to" to your Windows right-click menu handy for copying files to - from the USB flash drive. An 8 or 16 GB flash drive should be plenty big enough to hold all your pictures.

You could also use DropBox, Microsoft One Drive, or Google Drive (if you have a Gmail account you have Google Drive) to do this. Just upload your files to one of these Cloud-storage applications and then download them on your desktop.

If you need anymore help, please let us know.





Roseanne is confused about Windows 10 versions
I am confused. Do we have to install this Windows Creator? I don't want to lose all my programs and settings. I am not really sure what the Windows Creator is supposed to do..... Every time something comes out or an update comes out and installs itself my computer becomes a nightmare to deal with.... I can't afford to lose all my settings or any of my programs as I need my computer for my school work and job. Please advise. Even though I read your postings I am still not sure that I understand what the Windows Creator is. It scares me that I might lose an awful lot of stuff.
Our answer
Hi Roseanne. We will try to make this kind of confusing subject, as simple for you as we can for you.

Let's start with this: It's not Windows "Creators". It's Windows 10 -- Creators Update -- and it's officially known as Windows 10 Version 1703 (Creators Update).

Windows is no longer going to introduce totally new versions of Windows as they have in the past. By totally new versions of Windows, we mean like:

Windows 95
Windows 98
Windows ME
Windows XP
Windows Vista
Windows 7
Windows 8

There will be no Windows 11, Windows 12... just Windows 10. Windows 10 is it. Windows is now a service, according to Microsoft, and like any service it will be continually improved and updated.

Like other versions of Windows, it will receive regular updates and security patches. But in addition to these, according to Microsoft, twice each year, Windows 10 will receive major updates. In the past, these major updates might have been called Service Packs or even entirely new named/numbered versions of Windows. But now they're referred to by version number and (most of the time) a common name.
The original version of Windows 10 was version 1507. That was released on July 29, 2015. The first major update was called the Windows 10 "November Update" or version 1511. Then in August 2016 came the Windows 10 "Anniversary Update" or version 1607. In April of this year (2017), Microsoft released Windows 10 Creators Update or version 1703. None of these updates are whole new releases of Windows. The Creators Update is just one in a series of major updates to Windows 10. It does contain some new features and it does make some minor changes to the operating system. But updating does not require you to reinstall your programs, nor will you lose any settings or data. Microsoft has been excellent at making sure if, for some reason, the update fails to install correctly, that your PC is restored to its previous state.

As for your question "Do I have to update?". No. You don't have to update right now, but you will have to update before support for your version of Windows 10 expires. If you don't, you won't receive anymore critical updates or security patches, and that will leave your computer vulnerable. So, no you don't have to update right now, but you will have to update to a newer version of Windows 10 at some point. The end of support is known as "End of Life dates" for the various versions of Windows 10. On this page, you'll find a listing of all released versions of Windows 10 and their end of life dates.

If you don't know your current version of Windows 10, you can find out by pressing and holding down the Windows Key and tapping the "R" key. In the Run dialog that appears, type WINVER and press Enter. Your current version will be displayed.

We hope this helps you, Roseanne.
*** Roseanne wrote back ***
Thank you so much for the explanation. I followed your directions and found out I have version 1607. I will update it now that I know what it is. Have a great day! Roseanne.

Gary wants to know our thoughts on leaving a PC running or shutting it down
If a light bulb never burns out when it's turned off why would you want to run a computer 24/7? Is a HD failure not a lot more likely when always on? I know i have heard the argument that it is harder on a computer to start up from cold but I personally don't buy that argument. I would like to hear your thoughts on the subject.
Our answer
Hi Gary. Saying a light bulb never burns out when it's turned off, is like saying no one would die if they weren't born. A light bulb would theoretically last forever if you never turned it on.

For our analogy, we're going to use not a light bulb, but a car. Would a car last longer if all you did nothing else but drive it back and forth cross country, east coast to west coast for thousands of hour. Or you drove the car for thousands of hours in stop and go traffic in the congestion of big city? What do you think?

Your computer is much more complex than a light bulb. It's more like a car. It is very complex and it has moving parts. Keep in mind, we are talking about PCs here... not monitors.

Consider that all computers that serve as servers on the Internet are running 24/7/365. They have hot-swappable hard drives, and lots of other backups. Certainly big companies like Google could afford as many computers (servers) as they wanted. But they wouldn't intentionally waste money. So, if it were proved that computers lasted longer if turned off every night, why don't big companies with huge arrays of tens of thousands of servers, alternate and have some banks of servers switched off and other banks switched on every day to extend the lives of the servers. But they don't do that. Servers run 24/7/365.

Until recently, most computers had standard hard drives, not SSDs (Solid State Drives). A standard hard drive is a mechanical device; it has working parts. It spins up and it spins down... and if it's not being used, but the power has not been shut off, it idles. Our opinion (many experts agree) that repeatedly shutting down a computer and turning it back on, creates a lot more wear and tear on a standard hard drive than leaving it powered on and idling when not in use.
Even PCs with SSDs, have processors, and many processors have fans. Some computers have fans case fans for ventilation... and fans are moving parts. The processor gets hot when its working, not as hot when idling and cold when the PC is turned off. Constantly moving from cold to hot may be may shorten processor life, and turning the fans on and off may shorten their life span.

Of course, you can easily find arguments for turning your PC off too. We just don't agree. And we practice what we preach. Our computers run 24/7/365. The only time we ever turn them off is if we are not going to use them for an extended period of time. We have never seen any evidence that our computers have shortened life-spans because we leave our computers running 24/7/365.
The monitor is a whole other animal. We dim our monitors when we are not using them. A monitor is much more like a light bulb than a computer is. Also, monitors use the most electricity.

But in the final analysis, Gary, it's your light bulb and it's your PC. You can turn them off or on whenever you like :)

Peggy asks another question about leaving a PC running all the time
Do you not think you are more likely to be hacked if you don't shut down nightly?
Our answer
Hi Peggy. No... we have no concerns that hackers are going to bust into our computers at night.

But first, let's understand what people mean when they say "hacked". The chances of someone hacking your personal computer are less than you winning a billion dollars in a lottery. When people say they were "hacked", they are referring to having information stolen, not by someone breaking into their PCs, but by someone getting (cracking, guessing) their passwords. Or by getting them to expose their passwords by using phishing email. Sometimes, servers are hacked. Like over the last couple of years when Yahoo's servers were compromised and over a billion Yahoo users had their accounts (not their PCs) hacked.

So, leaving your computer on 24/7 does not increase or decrease your chances of getting "hacked". Your chances of getting hacked pretty high though if you use one simple password for all your accounts, if you use easy to crack passwords for web mail accounts or any other online accounts. And if you click links in spam email or if you fall for phishing email, you chances are getting "hacked" [passwords stolen] are pretty high. But none of these things has anything to do with leaving your computer running.

It's really important to understand that hackers don't target your personal computer, my computer, John Doe's computer, Jack Smith's computer, or any personal computer. But using easy-to-guess, easy to crack passwords, or using the same password for everything sure invites criminals to hack into your online accounts. Not being careful and clicking links in emails from people you don't recognize, clicking links in spam, or clicking links in phishing email are other good ways of being compromised.

Hackers are not going to waste their time and effort trying to hack into a typical home computer. They are going to spend time hacking targets with high value and potentially huge financial or publicity rewards. For instance government agencies, large retail stores, or popular sites like Yahoo.

If you're concerned about hackers, make sure all your passwords are strong and that you don't use the same password for all you online accounts. Don't use simple passwords for email or anything else. Be careful when clicking links in email. Make sure you know the sender. Don't click links in spam emails... and be sure you know how to recognize a phishing email. Here's an article that will help you recognize phishing emails.

So, leave your computer on all night if you want to, like we do... or shut it off like others do. Just remember that leaving it on does not increase your chances of being "hacked".
*** Peggy wrote back ***
Thanks so much for answering my question so completely. I do try to use strong passwords and do no banking or anything that might get me in trouble. You are both wonderful people to answer all our mundane questions.



J. Ronald says Windows Creators Update doesn't set a restore point
I noticed that Win 10 1703 does not put a restore point in the normal place when it updates. If you have to restore you wipe out the update. I Set up a restore point after an update just in case I need it.
Our answer
Hi J. Ronald. Major version updates like Creators Update (Version 1703) don't use restore points to provide a way for user to revert back to a previous version of Windows. Instead, Creators Update and other major version update, put an entry in Settings > Update & Security > Recovery that allows you to go back to your previous version(or earlier build) of Windows. This option is available for 10 days after you update (and as long as you don't delete the Windows.old folder).

One Year Emsisoft License With FREE Installation & Set-up
Some of you still aren't using Emsisoft... And now Emsisoft's even better with its new anti-ransomware feature. We're going to make you an offer you can't refuse! If you're not yet using Emsisoft, here's your chance to get the best protection you can buy and we'll install it and set it up for you FREE. See this page for all the details.
Help us by making a small donation
Don't need any of the products or services we offer right now? Please consider making a small donation. We would appreciate it very much! Visit this page if you would like to help us with a small donation. Thank you!


How to Save Text files, Word Documents, Pictures, and Web Pages as PDF Files
Windows 10

How would you like to be able to convert many different types of files, like images, Word documents, text files, even Web pages, into PDF files without downloading and installing a program, or using a web service? If you're using Windows 10 (any version), you have the power ... right at your finger tips.

Pick an image, any image on your PC, open it with whatever program you like (or whatever your default is). Once it's open, press CTRL+P and choose "Microsoft Print to PDF" as the selected printer and then click Print.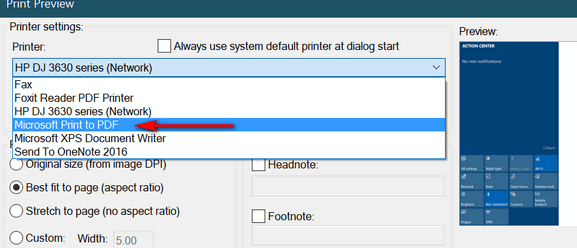 (Above: Print dialog in our default image viewer, IrfanView. Your image program will have a similar print dialog.)

Pick a text file, any text file, open it. Now press CTRL + P and choose "Microsoft Print to PDF" as the selected printer and then click Print.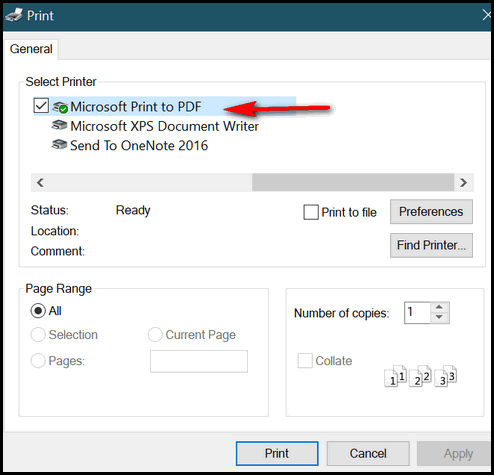 (Above: Print dialog in Notepad.)

Pick a Word document, any Word document, open it. CTRL + P and choose "Microsoft Print to PDF" as the selected printer and then click Print.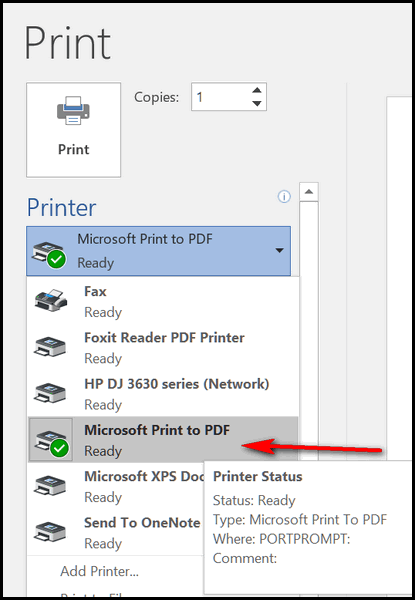 (Above: Print dialog in MS Word 2016.)
Are you seeing a pattern here? You can turn almost any image, text file, or document into a PDF file, without downloading any software or using any online web apps. It easy to do, and if you're using Windows 10 you have this option available to you, without having to add any additional software.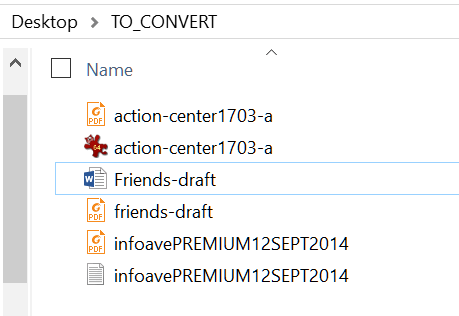 (Above: An image file, a Word document and a test file, all converted to PDF, just by using Windows 10's Print to PDF feature.)

And, oh yeah, we almost forgot, you can save any Web page as a PDF file too. Want to know how? See this article.

How to See a List of Files You've Recently Accessed
Windows 7, Windows 8x and Windows 10
Every time you access a file or folder in Windows, it's added to a list. But do you know how to access this list? It's easy. Very easy.
Open a Run dialog by holding down the Windows Key and tapping the "R" key. Type RECENT in the Run dialog and press Enter or click "OK".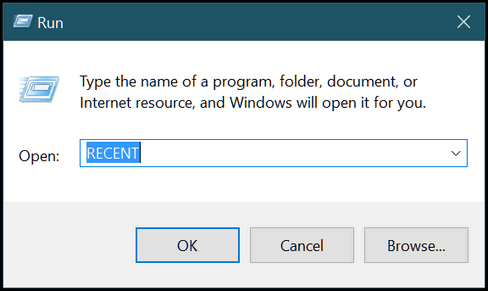 And you'll see a long list of files you've accessed recently. Mine go all the way back to 3 weeks ago, which was the time I cleaned my computer using the CLEANMGR command which you an also run from a Run dialog.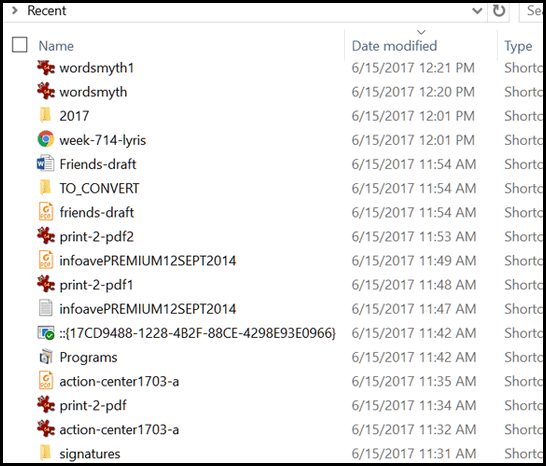 Windows 10 users will notice also that a list of recently accessed files and folders appears in File Explorer > "Quick Access".
If you want to clear this list of recently access files and folders, do this:
Windows Key + R to open the Run dialog.
Type Control Folders in the run box to open Folder Options and click OK or press Enter. (Note: You can also use Control Panel / Folder Options or File Explorer / Options.) Under the General tab, under "Privacy", next to "Clear File Explorer history" click "Clear".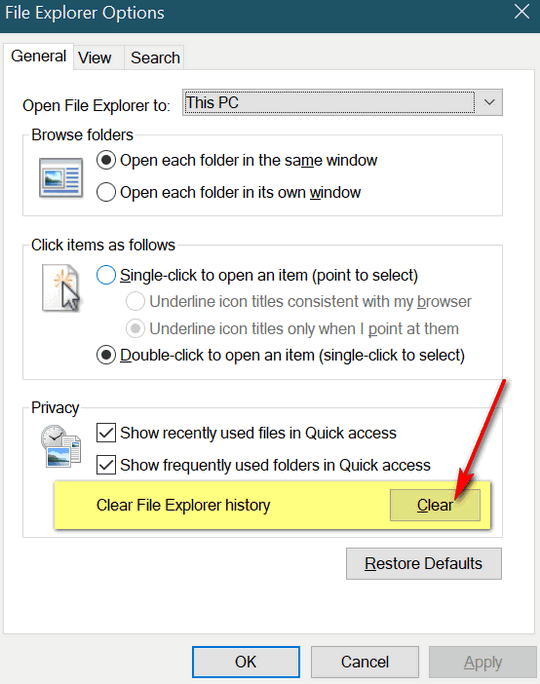 So now you know how to see what files and folders have been recently accessed on your computer. And how to clear them. I always love to do this with EB's computer. You should see the stuff she looks at!
Please not that Windows 7 users will see different dialogs, but the functionality is the same.


A Reader Submits a Good Tip for Windows 7 Users Having Problems With Windows 7 Updates
Windows 7
Note from us: Peter, a Cloudeight subscriber, submitted this tip to us and we thought many of you who are still using Windows 7 would find it informative and useful. So, we've decided to share it with you.
Following up on your email newsletter, (Issue #712), "Richard has problems with Windows 7 updates":

I too got stuck in Windows 7 update. My "answer" was to give up trying fixes I found, and use Microsoft's free upgrade to Windows 10. Whilst Microsoft would advise that the free upgrade period has finished, it seems like free upgrades are still available, see the ZDNet article here.

My experience of Windows 10 upgrades has been trouble-free as long as you do a bit of checking on drivers to make sure you don't have "must use" software that is incompatible with Windows 10, or exotic hardware where drivers are not available (or that won't run satisfactorily using Microsoft generic drivers). A bit more RAM can also help to maintain performance.

I upgraded a 10 year old Dell Dimension 9200 and a 10 year old Inspiron 6400 laptop, with acceptable performance (both of which started with XP and through various hardware and Windows upgrades are now running Windows 10).

If Richard wants to stay with Windows 7 then he might want to try installing WUMT, visit https://wumt.blogspot.co.uk/ to see if that avoids the Microsoft code causing the Windows update lockup. I haven't tried this myself but it is another simple tool worth trying.

What's Your Up Time?
Windows 7, Windows 8.x and Windows 10
How Long Has It Been Since You Started or Restarted Your PC? We leave our computers running 24/7. If you asked us how long it's been since we last restarted our PCs, we couldn't tell you without looking at our up time. If you're like us, you probably don't know how long it's been since you rebooted either.
So, how long has your computer been running since the last boot?
If you want to know how long your computer has been running since the last time you started or restarted your PC (your PC's "up time" ), there are many ways you can find out. We're going to show you two ways. The first way, not only shows you how long it's been since you last started r restarted your computer, but when your current version of Windows was installed. If you're using Windows 10, you'll see the date of the last major (version) update.
Open a Command Prompt.
On Windows 7, type CMD in the start menu search, click on CMD when it appears at the top of the search results. On Windows 8.x, press Windows Key+S and type CMD into the search box and click on Command Prompt when it appears in the search results. In Windows 10, right-click the start button, choose Command Prompt (if you see Windows PowerShell, see this article).
When Command Prompt opens, at the prompt, type
systeminfo
And press Enter.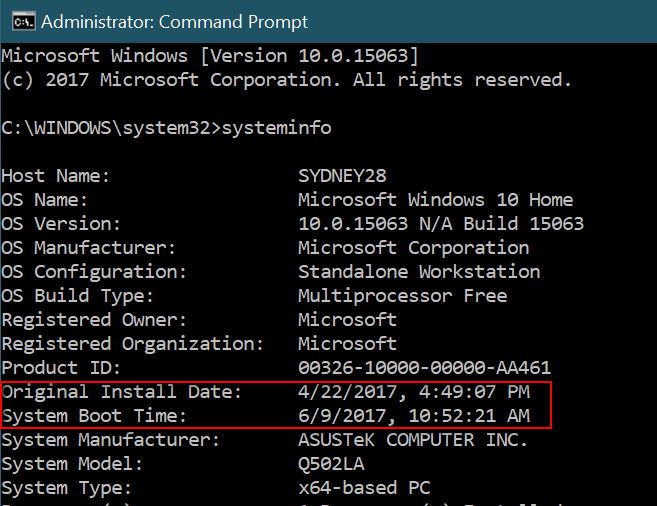 You'll see the last time you booted or rebooted your computer. As you can see mine has not been restarted since 6/9/2017 (4 days ago). Also note that above it, you'll see "Original Install Date". I'm using Windows 10 and 4/22/2017 was the date I installed the Creators Update (Version 1703). It was not the date that Windows was originally installed on this PC.
If you're using Windows 10, another way to see how long your computer has been running since the last reboot, is to use good old Task Manager. And luckily for me, no matter what version of Windows you're using, you can open Task Manager by using the keyboard shortcut CTRL+SHIFT+ESC. So open Task Manager and then click on the "Performance" tab. Click on "CPU" and look near the bottom.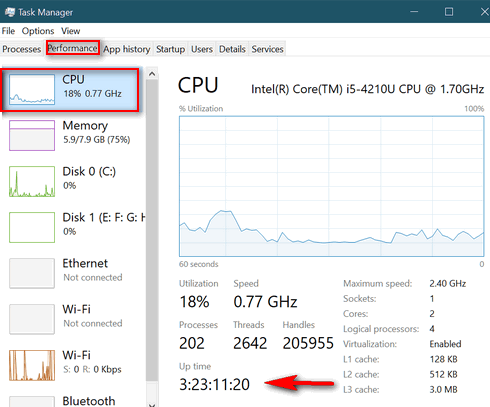 You'll see, under "Up time" that my computer has been running for 3 days, 23 hours, 11 minutes and 20 seconds since the last time I restarted my PC.
So … what's your Up time?



Happy Father's Day! Take advantage of our Father's Day Specials & SAVE!

Cloudeight Direct Computer Care Repair Keys
BUY ONE and GET ONE FREE!

This weekend, you can buy one Cloudeight Direct Computer Care Repair Key at the regular price ( $50 ) - and we'll give you one free. You can give the second key to dad or anyone you like - or keep it for yourself! This is the lowest price we've ever offered on our Cloudeight Direct Computer Care Service keys. So don't miss out. Cloudeight Direct Computer Care Repair Keys never expire - they are good until you use them! Offer valid through Monday June 19, 2017 only. Get more details and save $$ right now.

~~ OR ~~

Buy a Cloudeight Direct Computer Care Season Ticket $25 OFF....
And we'll give you a Cloudeight Direct Computer Repair Key FREE!

For a limited time, when you buy a Cloudeight Direct Season Ticket at $25 off regular price, we'll give you a Cloudeight Direct Computer Care Single Repair Key - FREE. You can give the free repair to your dad or anyone you like. Our Cloudeight Season Ticket is good for unlimited computer repairs for one full year from the date you first use it. It's like having insurance for your computer. And during this sale, when you buy a Cloudeight Direct Computer Care Season Ticket at $20 off regular price, we'll give you a single repair ticket you can give to dad, a friend or anyone you like. Offer valid through Monday June 19, 2017 only. Get more details and save $$ right now.


Summer and Time
Next week, according to the calendar, summer will arrive here in my neck of the woods. But where I live, summers are not measured so much by the calendar as by holidays.
Here, summer begins with Memorial Day and ends with Labor Day. The mid-point is marked by the Fourth of July. The calendar does not agree of course. Summer, according to "calendarians" (is that a word?) begins on or about June 21 and ends on September 22 or 23rd (depending on the year). But, no matter how you measure summer, it's the shortest season of the year; although if you count days, it's about the same length as all the other seasons. Still it seems shorter. And, that's all that matters, I guess.
Scientifically speaking, the day that summer begins is called the summer solstice. That's when the sun shines directly over the Tropic of Cancer and marks the time when summer's direct sunlight reaches its northernmost point. I do realize that those of you who live in the southern hemisphere are experiencing the winter solstice at this time. Lots of pagans used to go wild then, so I hope all of you down south behave yourself.
Summer is a time when the days are long, the nights balmy, the breezes warm, and time passes most quickly. It's a fact. I don't care what calendarians say, what watches say, or what is logical. Time passes most swiftly when summer is here. The older you get the faster time flies anyway…



If You Want to Be a Sesquipedalian, You're Gonna Need a Dictionary!
Wordsmyth
Dictionary
pronunciation: dIk sha neI ri
part of speech: noun
inflections: dictionaries
definition 1: a reference work that contains a list of words of a particular language, usu. in alphabetical order and supplemented with information about the spelling, pronunciation, and meaning of each word.
definition 2: the electronic form of such a list of words, often without meanings or other information.
The word processor has a dictionary that only provides correct spellings.
definition 3: a book that contains information on a specific group or class of words or subjects.
a legal dictionary
related words: thesaurus
Got the idea? Wordsmyth is an online dictionary and a lot more. The site has dozens of features, but most of them are for subscribers – i.e. PAYING SUBSCRIBERS. However, my friends, don't let that dissuade you, for there are many great features you can access pro bono, for nothing, free and all that.
Here, they say a picture is worth a thousand words...
The dictionary is free, as are the word puzzle solver (you cheater, you!), reverse search (whatever you'd need that for), anagram solver, and a bunch more stuff that... if you're so inclined and interested. If you want to know more, cheat on word games or become a certified sesquipedalian, you can visit the site and browse around.
We don't know what you think, but we're pretty tired of looking up words like "sesquipedalian" and being bombarded with less-than-erudite advertisements that disturb our academic mood and our immersive search for knowledge (EB aside). So we, (I) use Wordsmyth because I get the definitions I want and I'm surrounded by an ocean of academia which I absolutely misjudged as a youth as worthless. Little did I know how easy an education can make life. If I had pursued a master's degree or a doctorate, I could be making zillions of dollars and not be sitting here, in this stuffy office, with no air conditioning, drinking warm, rusty water, and using a toilet that makes you shake the handle to get it to stop. If only I knew what I know now, when I was younger, I'd be a rich rogue toying with pretty ladies on the yachts filled with rich and famous people, drinking single-malt scotch from handmade, pretty blue cobalt goblets, loved and revered for my scathing wit and droll humor. I'm liking that word, are you? You probably enjoy schadenfreude too.
Alas, age has stifled most of my dreams except for the one about dying peacefully in my sleep. There's still hope for that one. The pretty ladies, single-malt scotch, cobalt-blue goblets and gigantic yachts filled with the rich and famous hobnobbing with me... not so much.
Before the men in the white coats come to take me away for drifting so far away from the point of this article, suffice it to say:
If you're looking for a good online dictionary with a lot of features (not all of them free) you should do what I do... because you probably aren't drinking single-malt scotch from cobalt-blue goblets on the decks of your own yacht, surrounded by the rich and famous, be served by pretty ladies (if you're male) or chipmunks(?) sorry, EB says Chippendales (if you're female) either. And I do solemnly apologize to all the English teachers I've ever had in my entire life for the previous sentence.

And now, in my inimitable, laconic style, I submit to you, our Cloudeight site pick Wordsmyth. Go and misspell no more.
EB do I as I say, not as I do!

Donations help us continue our mission to keep you informed, separate the truth from the hyperbole, and help you stay safer online. We provide support to thousands of people. Every week we help dozens of people via email at no charge. Thanks to donations, we do a lot more than provide this free newsletter. We help you recognize online threats, fight for your online privacy, and provide you with the knowledge you need to navigate the Web safely, and help you get more out of your PC. Help us keep up the good fight with a small donation.
After you donate, you will receive an invitation to become a Cloudeight Booster.
Help us keep up the good fight with a small donation.
Interested in making a automatic monthly gift? Visit this page.
Help us keep helping you and helping you stay safe on the Web.


More CTRL for you!

We know you all want more CTRL over your PC, right? Well, here are some CTRL key shortcuts that can save you time and trouble.
Ctrl+F = Find something on a page – in a browser, text editor, PDF editor, ebook, etc. To remember this easily, think F = FIND.
Ctrl+P = Print the document you have open. Whether it's a web page, a Word doc, PDF file, text file, etc. Think P = PRINT.
Ctrl+N = Opens new window in the program that's running. Think N = NEW.
Ctrl+S = Saves the document you're working on. Think S = SAVE.
Ctrl+H = Shows your browser's history. Think H = History
Ctrl+J = Shows a list of downloads in your browser. Think J= ? I give up! J=Downloads! Junk? Is your downloads folder full of junk?
And let us not fail to mention:
Ctrl+A = Select All
Ctrl+C = Copy
Ctrl+V = Paste
And finally, my personal favorite…
Ctrl+EB = EB disappears.
And all these work (all but Ctrl+EB) on any version of Windows.





Reg Organizer - A Swiss Army Knife of Windows Tools - Works Great on Windows 10!/a>


Premium Subscribers' Home Page You'll find the last few weeks of Premium archived on this page.
To change your subscription address, see "Manage your subscription" at the bottom of this newsletter.
Submit your questions, comments, and suggestions for possible inclusion in our newsletters here. This form is for questions, comments and suggestions for this newsletter, not for product support, stationery questions, or general questions concerning our products or services.
Help us Grow! Forward this email newsletter to a friend or family member - and have them sign-up for InfoAve Premium here!
Get our free daily newsletter! Each evening we send a short newsletter with a tip or trick or other computer-related article - it's short and sweet - and free. Sign-up right now.
Have a question about a Cloudeight Software program, service, stationery, or need to ask about an order? Let us know!
If you need help with one of our software programs, have a question about an order, or have a question about any of our email stationery, screen savers, or other products - please don't use our InfoAve Questions/Answers/Tips form. Please use our general Cloudeight support form instead.
If you want to help us by telling your friends about our Cloudeight Direct Computer Care service, you can download a printable flyer you can handout or post on bulletin boards, etc. Get the printable PDF Cloudeight Direct Computer Care flyer here.

These products and services are recommended and endorsed by Cloudeight:
Emsisoft Anti-Malware- The best anti-malware you'll find anywhere. Great protection -- both proactive and reactive. Learn more here.
Reg Organizer-- A Swiss Army knife of PC tools. Easy for beginners to use -- with advanced features for experienced users too. Learn more here.
Cloudeight Direct Computer Care - Computer Repair Service-- And for computer repair, you can't beat our remote repair service. You never have to leave your home, take your computer anywhere or leave it with someone you don't know or trust. We can fix most computer problems and all you have to do is sit back and relax. Learn more here.
Thunderbird Email Setup - we'll set up Thunderbird for you - works great with Windows 7, Windows 8 and Windows 10. Get the details here.
Windows 10 Customization - Make Windows 10 look and work the way you want it to. Get more info here.
Also.. don't forget:
We're offering something we think most of you will enjoy. We have a daily tips and tricks summary newsletter that is sent six days a week. It features daily tips, freeware picks, and site picks and interesting computer tips, tricks and more. It's short and sweet - very brief and lightweight. If you'd like to receive or daily tips and tricks newsletter (completely free, of course). You can subscribe here.
You can also help us by using our Start Page.
We have over 100 free games to our Start Page too - come and play all day. It costs nothing to use our Start Page--and helps us a lot.
Your Premium Members' Home Page is located here.

We'd love to hear from you!
If you have comments, questions, a tip, trick, a freeware pick, or just want to tell us off for something,, please visit this page.
If you need to change your newsletter subscription address, please see "Manage your subscription" at the bottom of your newsletter.
We received hundreds of questions for possible use in IA news. Please keep in mind we cannot answer all general computer questions. We choose a few to use in each week's newsletter, so keep this in mind. If you have a support question about a service or product we sell, please contact us here.

We hope you have enjoyed this issue of InfoAve Premium. Thanks so much for your support and for being a Premium subscriber.
Have a great weekend!
Darcy & TC
Cloudeight InfoAve Premium - Issue #714
Volume 14 Number 35
June 16, 2017

Not a subscriber? Subscribe to our InfoAve Premium Newsletter

DISCLAIMER ABOUT THE TIPS & SOFTWARE RECOMMENDED IN THIS NEWSLETTER-- PLUS OTHER IMPORTANT INFO:

All software recommendations we make in this newsletter are based on our own experience and testing of the programs that we recommend. This does NOT guarantee they will work on YOUR computer. We assume you will read the program documentation and use the program according to the instructions. We make no guarantees about any program recommended in this newsletter or its suitability for any particular purpose. We will not be responsible for any problems you may have. We do not and cannot provide support for any products other than our own Cloudeight products and we will not answer email concerning any product which is not a Cloudeight product. We urge you to use good judgment when downloading and installing software and to use a program only after reading the program's documentation. And, all Tips & Tricks in this newsletter have been tested by us on several different computers and were found to work as indicated. They may not work on yours. We make no guarantees. Anything we recommend you try and use at your own risk. We will not be responsible for any problems caused by any software programs recommended in this newsletter or any of the tips and tricks in this newsletter.. Readers' comments are their own and Cloudeight Internet LLC is not responsible for comments of our readers. All readers' comments, suggestions, questions, and tips and tricks sent to us become the property of Cloudeight Internet LLC. You understand that we may use your comments without your explicit permission.
"Cloudeight InfoAve Premium" newsletter is published by:
Cloudeight Internet LLC
PO BOX 73
Middleville, Michigan USA 49333-0073