Cloudeight InfoAve Premium
Issue #715
Volume 14 Number 36
June 23, 2017
Dear Friends.


Thank you very much for subscribing and for being a part of our Cloudeight family. We appreciate your membership and support very much!





Thank You, Boosters!

Thanks to all our boosters for your continued support. Your response to our booster's ongoing PWYL (Pay-What-You-Like) sale and the new booster's freebies has been fantastic. If you're a booster and you haven't seen all the booster freebies or our PWYL sale for boosters, please log in to your booster's account now and check it out.

If you're not a booster, we would love to have you. Just make a small donation here, and you can be a booster too.

We have also set up recurring donations for those of you would like to make monthly donations. If you're interested in making a recurring donation, please visit this page.



One Year Emsisoft License With FREE Installation & Set-up
Some of you still aren't using Emsisoft... so we're making you an offer you can't refuse! If you're not yet using Emsisoft, here's your chance to get the best protection you can buy and we'll install it and set it up for you FREE. Emsisoft now has a powerful new anti-ransomware feature!
See this page for all the details.

Here are some important links for you:




A comment from Terry
I just installed windows 10 creators version, and had problems reading fonts on desktop icons. I searched settings to change font size as i did in the older version and could not find it. I went to settings > display and changed the scale and layout custom setting to a higher setting , and now I can read the font on desktop icons. You may have to change some view settings in some apps, but for folks with vision problems this works just fine. Love your new letters, I look forward to it every week. You guys are wonderful thanks for all your great advice and knowledge that you share. Terry

A comment from Don
Just thought it was time I made a comment. Your site has been a blessing to me in many ways. I must tell you that I remember previous years and all the problems I used to have with my computer. Something was always wrong or acting up. Since the advent of Windows 10 and the installation of Emsisoft on my computer, I literally have NO problems anymore. I suppose I really should knock on wood but I love both programs. Emsisoft is the best anti-malware program I have ever used and Windows 10 is great. Many thanks to you for recommending these programs to me and the many others that I have because of you recommendations. God bless you with continued success. Don

A comment from Ivan
I have just had Darcy working on my computer last night, getting rid of lotsa rubbish. I must say she done a great job and I have no hesitation in recommending her services. She was most efficient and certainly seems to know what she is doing. Thank you. Ivan in Sunny New Zealand.

A comment from Gina
I'm writing to thank Darcy SO much for her help--and to recommend that anyone who hasn't bought a Direct Care Key yet to do so NOW!

I bought my Key quite awhile ago, but it wasn't until I bought a new laptop recently that I ran into a problem I could not fix myself--and that's in thanks to all the free help from reading Cloudeight's newsletters through the years. I'm not sure I ever met more honest people than Darcy (and I must include TC since they are in business together).

I was prepared to use my Key because I was stuck BAD! But rather than having me use my Key, when I told Darcy my problem she told me NOT to use it because the problem I had never should have happened on such a new laptop (I even looked into the 1 main error code and it IS very serious. She even suggested that I try not to have HP repair it because of the seriousness of the problem. Well, after contacting Walmart's corporate site after the store wouldn't let me exchange it (I was 3 days late), they agreed to exchange it for me! But before I knew they would exchange it I had told Darcy that if I had to purchase an extra Key or 2 that I would rather have them repair it than lose it to HP for who knows how long. She could have easily made more money off of me (which isn't easy for someone on a fixed income), but she told me to push and I did (since I'm too old to deliver a baby I knew I was safe ;-) !!)

I'm just setting this new one up and think I may use my Key to have them finish it for me because Windows 10 is SO different from 7, and I had 5 spine surgeries in 3 years and haven't been able to faithfully keep up on the newsletters (or visit The Hill) to stay on top of keeping my devices working up to their best potential.

But I needed to thank Darcy--and although I could have done it by email I really wanted to let everyone know that if you've been putting off buying a Direct Care Key, there's no reason to hold off. Have it on hand. I KNOW that HP would have had me going without a laptop for who knows how long; and the honesty displayed by Cloudeight when I was so frustrated that I would have raised my credit card to the limit to have it fixed, well, instead of seeing dollar signs Darcy actually told me to save my Key for the future! How often do you ever hear THAT from a business who gives away so much free advice to begin with??!!

I've been a member of Cloudeight since about 1998, and although I can't participate as often as I had for so many years (and my "Hill" page is so outdated they may have thought I died!), I really believe we all need to hope that TC and Darcy are here to help us for a long time to come!! Thanks again Darcy and Cloudeight......Gina

A comment from Gale
Again I wish to Thank TC for his time and patience during his time with me. I would be lost without the help from cloud8, they are worth every penny spent to have them as a support group. Thank you, TC. You made my day. God Bless. Gale

Thanks so much to Don, Terry, Ivan, Gina, Gale, and everyone who wrote to us last week. And thanks all those who used our Cloudeight Direct Computer Care services . And a thank you also, to all who have helped us with your donations and those who have shared our site with friends. TC & EB



Cloudeight Direct Computer Care
The best computer repair service, the best prices and service from Cloudeight. We have help thousands of people and fixed thousands of Windows computers. Get the best computer repair service for the best price anywhere... guaranteed. Buy a single repair key or an annual key with unlimited computer care & repair. Visit our Cloudeight Direct Computer Care home page for all the details.




Glenda has a question about her computer's recovery drive
I have rather a dumb question. My computer originally came with Windows 8.1 and I immediately updated it to Windows 10. My question is this - does Windows 10 change the d: drive or is it still a factory copy of 8.1? I made the disc copies of Windows 10 as they recommend. After a couple of years, I am wondering if I should format d: and use it for back-ups or a system image. I would appreciate your thoughts. Thank you!

Our Answer
Hi Glenda. Your recovery partition contains a factory image - i.e. it's the image the factory used to install Windows on your PC along with drivers, and of course any bloatware or trialware manufacturers seem to love to include with new PCs. So, if your computer came with Windows 8, that's what's going to be on the recovery partition along with some other recovery tools.

It's best you don't disturb the recovery partition. First of all you'll probably find that it's probably less than 50GB. Your image backup would probably be much larger than the space on the recovery partition anyway. Windows 10 is available for download so you can make an installation DVD or USB which you can use to reinstall Windows. Windows 10 has Reset and now Fresh Start (introduced with the Creators Update); both can help you recover from serious problems. Fresh Start lets you clean install Windows while preserving all your personal files and folders -- and even some of your settings. And finally, we'd recommend you keep the recovery partition as a last resort option, in the unlikely event that all other options fail.

Just another reminder that you should always keep your personal files and folders backed up. Windows 10 File History is a good option for backing up all your personal files. You can read our article on File History here.



Rina cannot make Windows Media Player her default music player since Windows 10 updated
Good afternoon. Since the new update things have changed so it seems. I love my windows media player to be my default however suddenly when I play my music, Groove music comes up which I do not want. Could you please direct me as to how to get my WMP back as my default? I have just bought 2 keys from Cloud Eight but maybe you could just tell me how to proceed so that I can keep my key for later? Thanks so very much. Rina.

Our answer
Hi Rina. Thanks so much for your support!
I don't know what version of Windows 10 you're using, so I'm going to give you instructions that will work on any version of Windows 10.

Hold down the Windows key and tap the "R" key. Type CONTROL in the run box and press enter.

When Control Panel opens, make sure you're in Large icon view (not category view). You can change the view in the top-right corner of Control Panel

Click on Default Programs: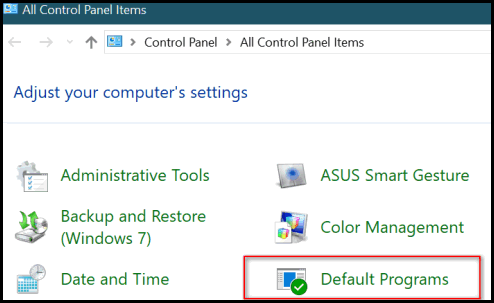 Click on "Set your default programs":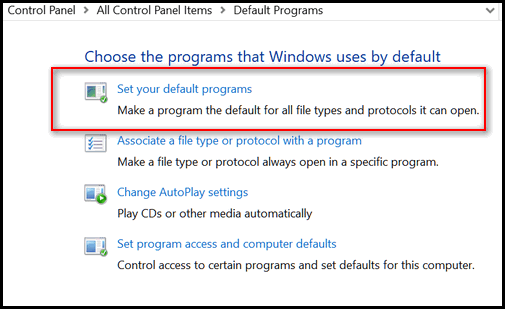 Wait for a few seconds while a list of programs installed on your PC populates. Find Windows Media Player in the list, and click on it to highlight it:




Click on "Set this program as default" (see above) and wait a few seconds and you'll see "This program has all its defaults". When you see that, then you've successfully set Windows Media Player as your default program for music files and other files that Media Player supports.

You can do this from Windows 10's Settings also, but we've found that doing so does not always provide the results expected. Control Panel still is the best way to set your default programs.
If you want to know what version of Windows 10 you're using, right-click on the start button, click "Run". Type WINVER in the run box and press Enter.

Hope this helps you, Rina.
[Rina wrote back: "TC!, this is fantastic. You two are so very dependable , Cloud eight always comes through when I have any problems. I got it done and all is well. I also have no idea what version of Wind. 10 I have, things seem to change all the time , it is hard to keep up with it all. Thanks so very much, and have a great week." Rina]

Lilian says her computer was taken over and hacked
On the 18th of June I was on my computer and the screen was taken over with a voice message (male) telling me I was hacked and to click on some thing but I switched my computer off and unplugged from the wall also This computer (husbands) How could that happen when I have Emsisoft and have recently reordered the program? I am afraid to open my computer. Lilian
Our answer
Hi Lillian. Your computer was not taken over - it was a scam advertisement with media (voice). The idea behind it is to make you think your computer is infected and locked - and to get you to call a toll-free phone number. If you call that number, they'll run a fake scan which will show your computer is infected with dozens of malicious files. Then, for a price, they'll offer to clean off all the malicious files, none of which really exist. It's just a scam; it's just a full page advertisement. And the new thing is to add voice & sound to make things seem even more serious and scarier. Emsisoft protects you from malware, virus, worms, trojans, ransomware and PUPs. but it does not protect you from ads. No antivirus / security program does.
Any time you see/hear one of these scam advertisements, press ALT + F4. If that does not close the browser Window, try right-clicking on the browser's icon in the taskbar and choosing "Close window" from the menu. If you still can't get the window (ad) to close, restart your PC. When you restart your PC and open your browser, you may get a message "Your last session closed unexpectedly. Do you want to reopen the pages you had open" (or similar). Always say no to this if you closed the browser due to a scam advertisement. If you say "Yes" to this, you'll be right back where you started.

Please see this article about scam advertisements; there are literally hundreds of different variations of them. The article also shows you some examples of these scams, and also tells you how to deal with them.







Pam suddenly started having problems with Chrome
What am I missing? Within the last month something has changed on both my desktop (Windows 10 Pro, Anniv. edition) and my laptop (Windows 10 Home Anniv. edition). Google Chrome is my browser of choice, but lately, when browsing some home shopping sites that I have used in the past, I am unable to click on hyperlinks. In some instances, some of the hyperlinks do not even appear on the web page. If I pull up those same web pages on my phone or tablet (Android), the hyperlinks do appear. So, I don't know if a Windows update of some kind changed something on both computers, or if I am missing a necessary Chrome extension, or something else. I really like Google Chrome as my browser, and it really pains me to use IE 11 to be able to complete my shopping. Thanks for you help!

Our answer
Hi Pam. We can't tell you why you suddenly started having problems with Chrome, but it has nothing to do with your version of Windows 10. We suspect you've installed (knowingly or unknowingly) an extension or plugin that has made some deleterious changes to Chrome. So, here's a test for you.

Do this. Right-click on your Chrome shortcut, and choose "New incognito window". Try the sites you were having problems with and see if the links appear & work correctly. If they do, then you are should try resetting Chrome. Resetting Chrome will not remove your bookmarks, but it will disable all extensions (and may remove some). So you will have to re-enable any extensions you need, being careful to note which ones you've re-enabled. If you start having trouble with those pages again, then you're going to need to start over again by resetting Chrome. But by this time, you'll know what extension is causing the problem. Keep in mind, some freeware comes bundled with other software that can add extensions to Chrome and other browsers without your knowledge.

To Reset Chrome to its defaults:

Click on the Settings icon (3 vertical dots). Scroll all the way to the bottom of the settings dialog and click "Advanced"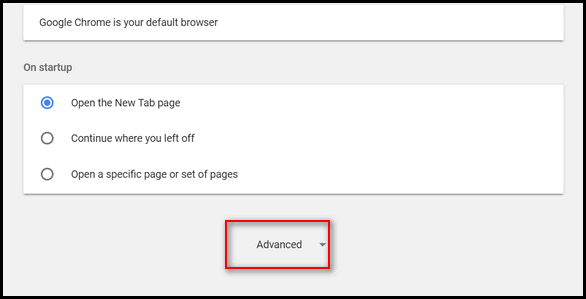 Then scroll all the way down to the bottom of the advanced settings dialog and click on "Reset"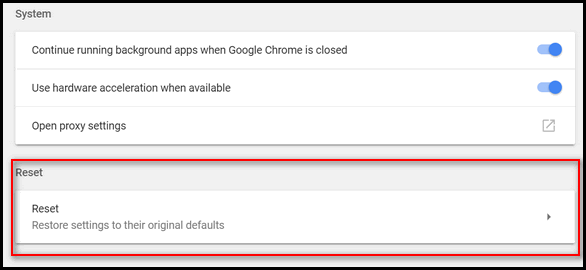 OK the prompt. Chrome will reset your browser back to Chrome defaults. Close Chrome and reopen it. Before you do anything else, visit the sites you were having problems with. They should work for you now.
We hope this helps you, Pam.





Joyce wants to know whether to turn on Windows Defender virus and threat protection in Windows 10 Creators Update
I just had a windows 10 update. One of the features asks that I turn on their virus and threat protection. Under this it says you're using other antivirus providers. (I am using Emsisoft and malware bytes). Should I turn on this added feature from the windows update? I really don't need it do I? The other feature says to turn on the app and browser control. I did but now wondering if I needed that feature. Could you give me some advice on these? Thank you for any help you can provide me.

Our answer
Hi Joyce. Normally, when it comes to virus/malware protection, more is not merrier. You already have Emsisoft protecting your computer. You don't really need Malwarebytes running too, although it won't adversely affect Emsisoft. But remember each additional program you allow to run in the background uses extra resources. You can turn on Windows Defender threat & virus protection as Emsisoft will work fine with it. But remember that anything you allow to start with Windows, runs in the background. We don't use Malwarebytes and we opted not to turn on Windows Defender virus & threat protection. In case of Defender, we just don't need it and don't need it to use up resources unnecessarily.

Carolyn's PC is making a intermittent whirring sound
There is an intermittent whirring sound coming from my PC. Can you tell me what might cause this?

Our answer
Hi Carolyn. Our best guess is either a processor fan or (if it's a desktop PC) a case cooling fan. But not all computers have fans anymore. So this is something we can't diagnose over the Internet. However, we can tell you this: If a fan goes out, your computer may overheat. If a computer's processor starts to overheat, there's a safety feature that will turn your PC off before any damage to your PC's motherboard can happen. So, if you your computer starts to shut down randomly you'll need to get the faulty fan replaced.

Other things that would make a "whirring" sound would be a hard drive spinning up or wearing out. But usually a hard drive going bad or wearing out would make a 'clunking' sound, not a whirring sound.

But remember, we're just guessing - we can't "hear" your PC.



Help us by making a small donation
Don't need any of the products or services we offer right now? Please consider making a small donation. We would appreciate it very much! Visit this page if you would like to help us with a small donation. If you'd like to make a recurring donation each month, please see this page. Whether you make a one time donation or sign up for recurring donations, we appreciate your help and support very much! Thank YOU!


How to make File Explorer open to This PC instead of Quick Access in Windows 10
Windows 10
Recently, I was working on a computer with our Cloudeight Direct Computer Care service. When I got done fixing her PC, I asked her if she had any questions before I said goodbye. And she told me how much she disliked the new File Explorer, because it didn't show her hard drive and external drive. Easy fix I told her. I changed a setting and made File Explorer look much more like Windows Explorer on Windows 7 and previous versions of Windows. It took about one minute to do it, and our customer was very happy. Sometimes little things make a big difference.

So today, we're going to show you how to change File Explorer so it opens up with This PC (formerly known as Computer). And it's very simple. It's so simple in fact, you'll be able to do it faster than you were able to read this tip.

Step #1:

Open File Explorer. You can do this a bunch of ways – here are two:

Click the folder icon on your taskbar
Press the Windows Key + E

Note that will open to "Quick access" (highlighted in yellow below).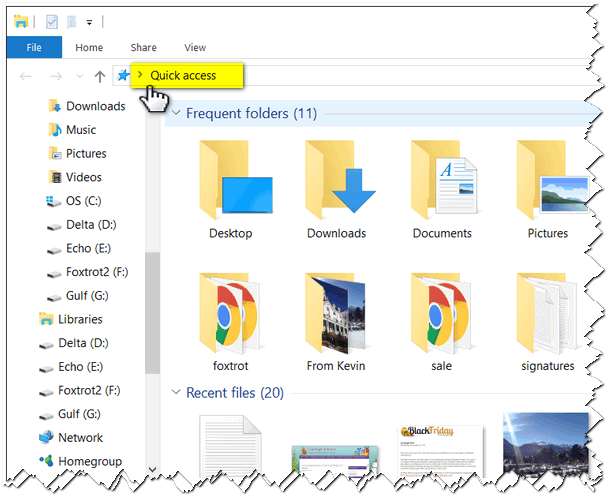 Step #2:

Let's change this so it opens up to This PC (My Computer/Computer).

Click View (at the top – see red box... below).
Click Options (see red arrow... below).
Select Change folder and search options (highlighted in yellow below):




Step #3:

In Folder Options, next to "Open File Explorer to: " use the down arrow to select "This PC". Then click Apply/OK.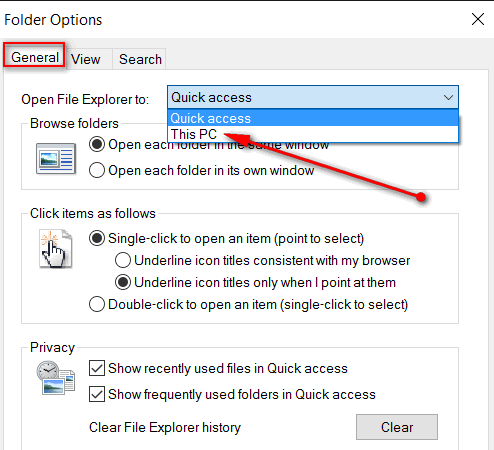 Behold! It's My Computer/Computer/This PC when you open File Explorer just like it used to be in days of Windows Explorer. And as you can see below, you still have "quick access" to your Documents, Music, Pictures, Downloads and other folder. Oh, you gotta love the view from here!


So, now you know how to make File Explorer open to This PC in Windows 10. If you ever want to go back to having File Explorer open to Quick Access instead, follow the steps above and select Quick Access instead of This PC (step 3 above).


Fun With Windows Error Messages
Windows 7, Windows 8x and Windows 10
We are all, unfortunately, familiar with scam ads. You know, the ones that pop up while you're browsing the web. They sometimes look like real Windows error dialogs or critical messages coming from your computer. They do look real but, they're not. Today, we are going to show you how easy it is to make fake Windows error messages. Programmers or those with the time and expertise can make them using nothing but Windows Notepad. And anyone can make them using one of the many small freeware programs available that make fake dialogs super easy to create. So easy, in fact, anyone, even a novice computer user can make them. And Windows error messages can made to say anything you want; they take only a few seconds to make.
We made a few to show you. We made all of these in just a few minutes: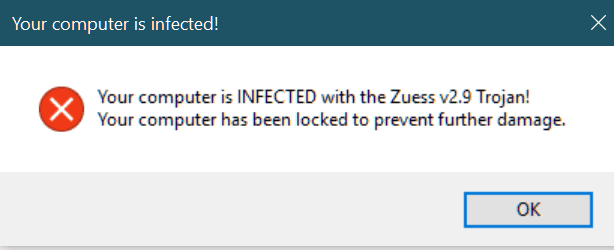 See? Anyone can make an official looking warning/alert dialog to make you believe your computer is infected with some nonsensical, evil-sounding infection!
Alarm bells! Oh, the scammers are so clever. Just kidding. It's very simple and easy to make these dialogs.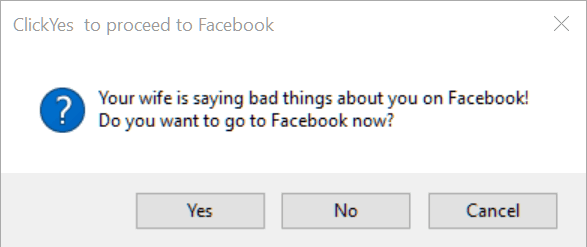 Marital issues? There's a dialog for that!

Spy Time ... a new spy program by EB! She'll do anything to keep from paying TC.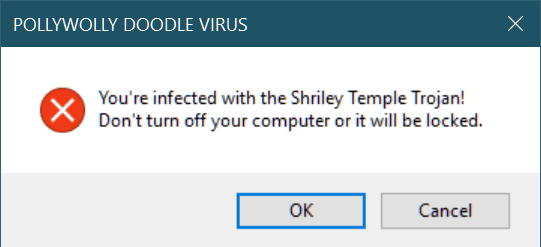 The Pollywolly Doodle Virus AKA Shirley Temple. Just a figment of TC's imagination.
How about a fake BSOD? (see above). Looks serious. But it's just us playing around with one of these error message creators.
Of course, scammers and criminals are not going to make funny or ridiculous-sounding error messages. They're going to make serious warning and critical error messages that scare you into taking action - like calling a phone number or buying a program. There are several of these error message creators out there and most of them are free. But we're not going to recommend any of them. We don't think that putting these kinds of messages on someone's computer as a joke would be very funny if they, for instance, did a system reset because they thought their computers had really been hacked or compromised.
These kinds of tools. can be used to create ads that popup when you visit a web page, that make it look like the message is coming from you computer. And there are tools far more sophisticated than the small freeware program we used. Windows error messages can even be made just using Notepad. They are easy to make.
So the next time you're browsing the Web and you see a message that your computer is infected or your computer has been hacked, and it looks like an official Windows dialog, it's not. It's just another scammer out to scare you into parting with your money.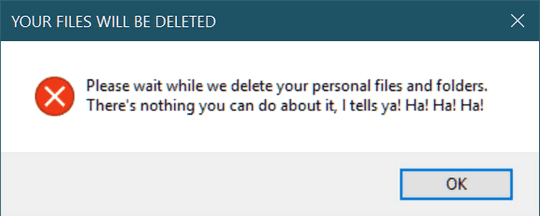 Be aware that scams and trickery are every where on the Internet, and some of the scams are very sophisticated. Always use common sense; never panic. Never fall for a support scam where the scammer calls you on the and tells you he or she is from Microsoft and your computer is infected. Microsoft is never going to call you out of the blue. Never fall for one of those sophisticated ads that appears to be a Windows critical error message or BSOD that pops up while you're browsing the Web and tells you that your computer is compromised and tells you to call a number or download a program. It's a scam. The best thing you can do if you are faced with this kind of situation is to press ALT+F4 to close the browser window or if the window won't close, restart your PC. See this page for examples of scams and other important information.

A Simple Tip Should You Have Problems Booting Windows 10
Windows 10 All Versions
Here's an easy tip for Windows 10 that you'll want to keep handy. You can use this tip if you're having problems starting Windows 10. This tip also comes in handy if you need to access the advanced boot menu so you can use the Windows Troubleshooting tools, System Restore, System Reset, Command Prompt and other Windows tools that can help you get your PC started and running well again.
If you're having trouble starting your Windows 10 computer - or you want to boot to the Advance Boot menu, restart your computer as you normally would, only hold down the SHIFT key until the Advanced boot menu appears on your screen.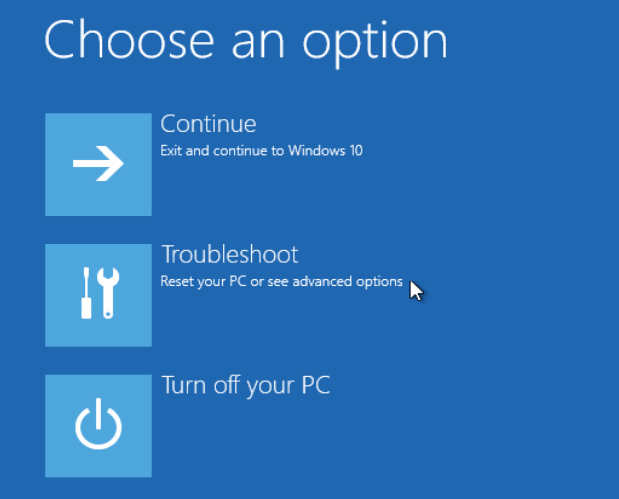 If you're having problems starting your PC you'll want to click on "Troubleshoot". From there you'll be able to access System Restore, Reset, Command Prompt and other Windows tools you can use to sort out the problems plaguing your PC.
If you want to practice booting to the Advance Boot Options Menu, just restart the computer while holding down the SHIFT key. When you get to the Advanced Boot Menu, just click "Continue" to boot into Windows normally.

Have You Tried Windows 10's Photos App Yet?
Windows 10 (all versions)
Since the passing of Google's Picasa and Windows Live Photo Gallery, we have been receiving a lot of questions from readers asking about a replacement photo manager.
Today, after receiving another email asking this question, we began to wonder if we were overlooking something. Were we missing something in Windows 10? It's hard to imagine that Microsoft would not have some kind of photo manager for Windows 10.
After looking around for a while, we found it… and it's already on your Windows 10 PC, right there on the Start menu. It's called, not-so-creatively, "Photos" or officially "Windows 10 Photos App". If your looking for and easy to use photo and image manage and an easy way to organize and/or browse all the photos on your PC and connected drives, you might find "Photos" just what you're looking for.
Ready to give it a try? OK!
First, click on the Start button and scroll down until you come to "Photos" (Yes! EB! You're right, it's in alphabetical order, right after O. You're a smart cookie!)
Click on "Photos". See?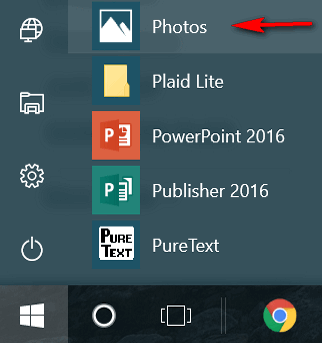 The first time you open "Photos" it will scan your computer looking for images and photos. If you have a lot of images & photos, it may take quite some time to populate. So be patient. Once all your photos & images have been loaded into "Photos", the next time you open it, it will be much faster.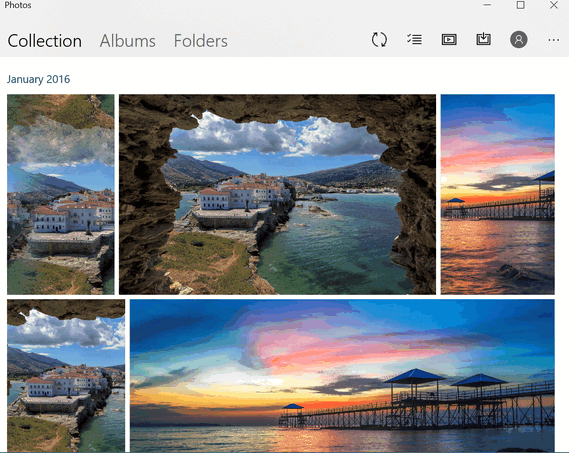 "Photos" gives you a lot control over your photos and images. You can even click and send them to Windows Photo Editor for editing.
Some features of Windows 10 Photos App:

Windows 10 will try to gather related photos together for you, and put them in albums. Or, you can create albums yourself.
Create a slideshow of your images, or import from your digital camera or other device.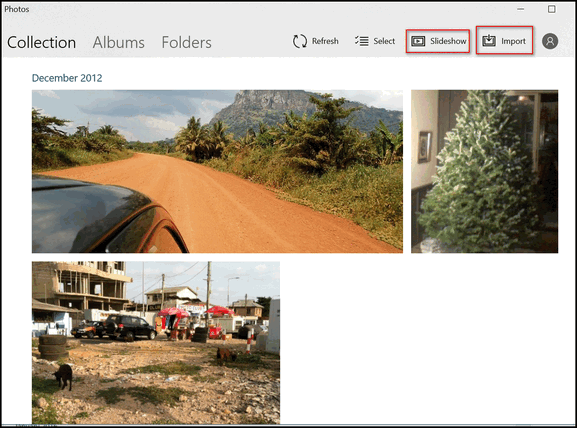 Or share your photos right from Windows 10's Photos app.
If Windows 10's Photos app doesn't find all your pictures, you can tell it where to look.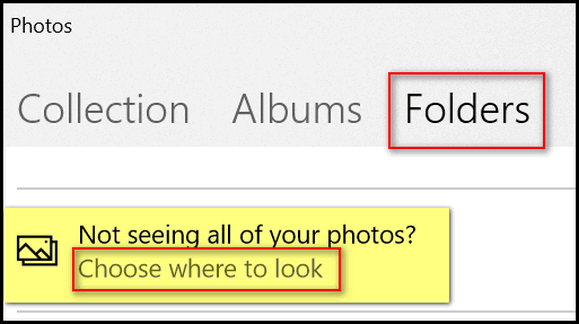 Click on "Choose where to look" to add images Windows 10's Photos app didn't find automatically.
If you need to edit your photos, you'll need to edit them in a photo editor, or click on "Share" then click on "Photo editor" If you do this you'll be surprised. You'll be using a very easy to use, but powerful editor by Aviary. You have a lot of options for editing, enhancing, and adding effects to your photos & images.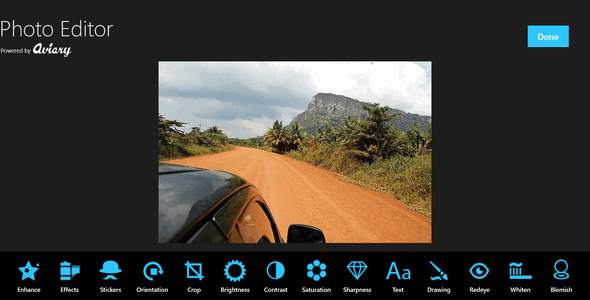 See? A lot of editing options available just using the built in photo editor.
Windows 10's Photo App may not be as feature-full as Picasa, but if you're looking for an easy way to organize your photos & images… and more. Give it a try.


Has Cortana Stopped Talking to You?
Windows 10 (all versions)
We have had a number of Windows 10 users write to us and telling us that Cortana no longer speaks to you. While there are no simple to solutions to this problem, there are a couple of things you can try.
First things first. Make sure "Apps Volume" is turned up in Sound Mixer. Make sure it's not muted and it's not turned down too low.
If all looks well with your volume controls, open Cortana, click the Settings icon. Under "Microphone – Make sure Cortana can hear me" click "Get started". Make sure that Cortana can hear you and that your microphone is turned on and its volume is not muted.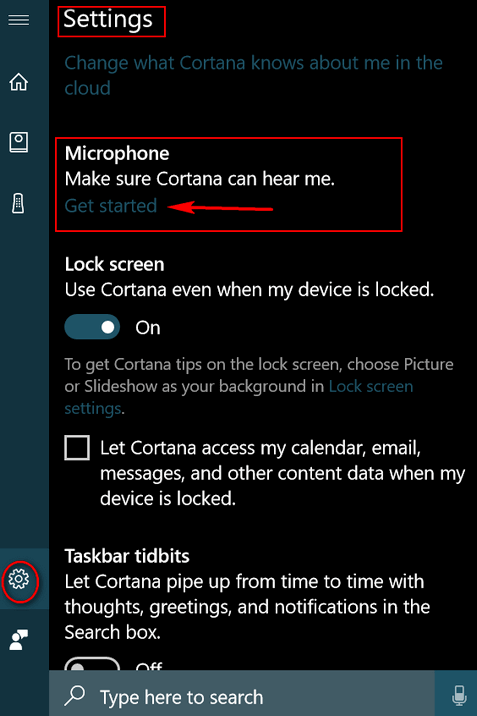 If none of the above work, try re-setting Cortana and starting all over. The easiest way to reset Cortana is by using a freeware tool available here.
[WARNING: The file should download automatically. If it does not, click the flashing link that says "Click here if it does not". Do not click the big green "DOWNLOAD" button – or you'll be downloading malware, or trick ware.]
After you run the Cortana Helper tool, Cortana will be reset to its defaults. This allows you to set up Cortana just as you did the first time. Once you set it up again, Cortana should work correctly for you.



Help us by making a small donation
Don't need any of the products or services we offer right now? Please consider making a small donation. We would appreciate it very much! Visit this page if you would like to help us with a small donation. If you'd like to make a recurring donation each month, please see this page. Whether you make a one time donation or sign up for recurring donations, we appreciate your help and support very much! Thank YOU!


Remember the Sound of Rain

Have you ever really listened to the rain? Have you memorized the sound of it as it pours down on the streets and the roofs and the leaves and the grass? Now... it's the first day of Summer. It's bright and hot and at it seems like autumn is a forever away.

Now it is a sunny day and for all the world this day looks like summer, feels like summer, smells like summer, yet the ridge of trees just over there beyond the old wooden fence is beginning to blaze with color.

Time is passing. Summer just arrived, but it is autumn's teasing that takes the mind backwards. Winter and spring are done, autumn was long ago, but not too far away.

I drift forward and backward to an autumn day. Any autumn day. Just another day in the life. The day is so sunny and so bright so much so that the colors of autumn glow in the sunshine. Now go back and remember the sound of the rain. I can't, can you?

Can you imagine the lowering clouds and the dismal and weak, sickly light of a rainy day? Imagine it is raining through the sunshine and the colors of autumn are dripping wet with rain. Imagine a summer day where the seasons converge into a hot boiling mess, and the sun is drowning in the rain. You still can't hear the pouring rain in that day that escaped from summer long ago. Or the day that rain came on some summer-warm autumn day. But that's OK... neither can I.

Imagine a day in the winter when the dour and timid sun barely rises from its purple bed of stars and comes to scrape the sky for but a wisp of time.



Microsoft Windows and Office ISO Download Tool
[Windows ISO Downloader 5.04]
Download Windows and Office ISO Files With Ease!

If you don't have a Windows installation disk (or bootable installation USB) you should. Yes, Windows 10 has many ways to recover from disaster, but nothing beats the peace of mind of having a Windows installation disk handy. Even if you never need it. It's not only good for installing Windows, you can use it to boot your computer if your hard drive fails or you have other problems that render your PC unbootable. You can also boot your PC from the installation disk and access Windows repair tools and your backups. You do have backups, right?
This Cloudeight freeware pick makes it easy to download a Windows 7, Windows 8.1, or Windows 10 ISO file from which you can easily create a Windows installation disk. And if you're not sure an ISO file is, it's a CD/DVD disk image from which you can burn a CD or DVD. In the case of Windows, you can create a bootable DVD disk that you can use to :

-- Boot your computer in case you cannot boot normally.

-- Access Windows troubleshooting tools like System Restore, Command Line (from which you can run disk check and System File Checker), and, in the case of Windows 8.1, System Refresh and System Reset, and System Reset in Windows 10.

-- Clean install Windows

Our freeware pick is Microsoft Windows and Office ISO Download Tool – a simple tool to use, and one you don't even need to install. Just download and run it. If you plan on using it more than once, it would be a good idea to pin it to your start menu and/or taskbar, or make a desktop shortcut to it.

Here are a couple of screenshots to give you an idea of how simple and easy ISO Downloader is to use: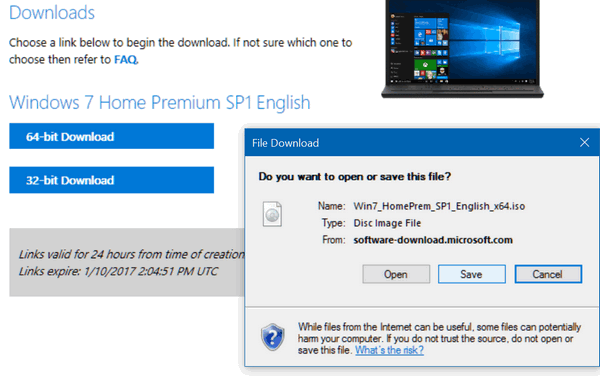 On the right, you can choose the Windows version for which you want the ISO file. Above I've chosen Windows 7. And below you can see all the ISO files available. Most of you using Windows 7 will want Windows 7 Home Premium SP1 or Windows 7 Professional SP1.

You can choose Windows 7, Windows 8.1, Windows 10 . And you be able to choose from many different versions of Windows 10.

If you don't have a DVD drive, you can make a bootable USB drive from an ISO, but you'll need a freeware program to do it easily. See this page for more info on making a bootable USB from an ISO image. If you have a CD/DVD drive in your computer, we suggest you burn a DVD instead of a USB – unless you're sure your computer's BIOS is set to boot from a bootable USB.

Having a Windows installation disk is recommended because it can not only be used to install Windows, it can be used to boot your computer, troubleshoot your computer when you can't boot normally, and/or to access your backups.. You really should have an installation DVD.

The author of Microsoft Windows and Office ISO Download Tool is, unlike me, thrifty with his/her words. Here, from the developer of the Microsoft Windows and Office ISO Download Tool is this brief description:

"This tool allows an easy and comfortable way to download genuine Windows 7, Windows 8.1 and Windows 10 disk images (ISO) directly from Microsoft's servers, as well as Office 2007, Office 2010, Office 2013, Office 2016, and Office 2011 for Mac.

"In the past, Microsoft provided disk images for many of their products through their subcontractor "Digital River". These downloads were pulled in early 2014. Afterwards, Microsoft made a limited selection of downloads available on their TechBench site. Our tool accesses that TechBench site, and unlocks a large number of hidden download files on it..."

So there you go. That's about it. You can download the Microsoft Windows ISO Download Tool from here. And here is a direct link to the download. No tricks, no games. No install needed. Great freeware.

Cloudeight Direct Computer Care
The best computer repair service, the best prices and service from Cloudeight. We have help thousands of people and fixed thousands of Windows computers. Get the best computer repair service for the best price anywhere... guaranteed. Buy a single repair key or an annual key with unlimited computer care & repair. Visit our Cloudeight Direct Computer Care home page for all the details.

Donations help us continue our mission to keep you informed, separate the truth from the hyperbole, and help you stay safer online. We provide support to thousands of people. Every week we help dozens of people via email at no charge. Thanks to donations, we do a lot more than provide this free newsletter. We help you recognize online threats, fight for your online privacy, and provide you with the knowledge you need to navigate the Web safely, and help you get more out of your PC. Help us keep up the good fight with a small donation.
After you donate, you will receive an invitation to become a Cloudeight Booster.
Help us keep up the good fight with a small donation.
Interested in making a automatic monthly gift? Visit this page.
Help us keep helping you and helping you stay safe on the Web.



What in the world is a "Wiki"?

Wiki is short for wicked. Like the Wiki Witch of the West. Or the Wiki EB. Nah!
"Wiki" is cool speak for the simplest of all online databases. A Wiki is normally server software that allows many users to collaborate on a single topic or, as on Wikipedia.com, on many topics. Users can collaborate to create and edit Web pages and content using only their web browser. Wikis supports hyperlinks and have simple formats so that users can easily create new pages, links, and intrasite links quickly and easily. If you like cool speak - you can say Wikis allow users to change Wiki-type Web sites and content "on the fly".

A Wiki encourages group communication and collaboration on Wiki-enabled Web sites. A Wiki allows anyone to create and edit any page in a Wiki-based Web site. Wikis encourage open use of Wiki-based Web resources. Wikis open the door to interesting collaborative content and allow all users; both technical and non-technical, to make individual contributions to a collaborative effort.

To see an example of a Wiki gone wild, see http://www.wikipedia.com/
Wiki-Wiki you, EB!





Reg Organizer - A Swiss Army Knife of Windows Tools - Works Great on Windows 10!/a>


Premium Subscribers' Home Page You'll find the last few weeks of Premium archived on this page.
To change your subscription address, see "Manage your subscription" at the bottom of this newsletter.
Submit your questions, comments, and suggestions for possible inclusion in our newsletters here. This form is for questions, comments and suggestions for this newsletter, not for product support, stationery questions, or general questions concerning our products or services.
Help us Grow! Forward this email newsletter to a friend or family member - and have them sign-up for InfoAve Premium here!
Get our free daily newsletter! Each evening we send a short newsletter with a tip or trick or other computer-related article - it's short and sweet - and free. Sign-up right now.
Have a question about a Cloudeight Software program, service, stationery, or need to ask about an order? Let us know!
If you need help with one of our software programs, have a question about an order, or have a question about any of our email stationery, screen savers, or other products - please don't use our InfoAve Questions/Answers/Tips form. Please use our general Cloudeight support form instead.
If you want to help us by telling your friends about our Cloudeight Direct Computer Care service, you can download a printable flyer you can handout or post on bulletin boards, etc. Get the printable PDF Cloudeight Direct Computer Care flyer here.

These products and services are recommended and endorsed by Cloudeight:
Emsisoft Anti-Malware- The best anti-malware you'll find anywhere. Great protection -- both proactive and reactive. Learn more here.
Reg Organizer-- A Swiss Army knife of PC tools. Easy for beginners to use -- with advanced features for experienced users too. Learn more here.
Cloudeight Direct Computer Care - Computer Repair Service-- And for computer repair, you can't beat our remote repair service. You never have to leave your home, take your computer anywhere or leave it with someone you don't know or trust. We can fix most computer problems and all you have to do is sit back and relax. Learn more here.
Thunderbird Email Setup - we'll set up Thunderbird for you - works great with Windows 7, Windows 8 and Windows 10. Get the details here.
Windows 10 Customization - Make Windows 10 look and work the way you want it to. Get more info here.
Also.. don't forget:
We're offering something we think most of you will enjoy. We have a daily tips and tricks summary newsletter that is sent six days a week. It features daily tips, freeware picks, and site picks and interesting computer tips, tricks and more. It's short and sweet - very brief and lightweight. If you'd like to receive or daily tips and tricks newsletter (completely free, of course). You can subscribe here.
You can also help us by using our Start Page.
We have over 100 free games to our Start Page too - come and play all day. It costs nothing to use our Start Page--and helps us a lot.
Your Premium Members' Home Page is located here.

We'd love to hear from you!
If you have comments, questions, a tip, trick, a freeware pick, or just want to tell us off for something,, please visit this page.
If you need to change your newsletter subscription address, please see "Manage your subscription" at the bottom of your newsletter.
We received hundreds of questions for possible use in IA news. Please keep in mind we cannot answer all general computer questions. We choose a few to use in each week's newsletter, so keep this in mind. If you have a support question about a service or product we sell, please contact us here.

We hope you have enjoyed this issue of InfoAve Premium. Thanks so much for your support and for being a Premium subscriber.
Have a great weekend!
Darcy & TC
Cloudeight InfoAve Premium - Issue #715
Volume 14 Number 36
June 23, 2017

Not a subscriber? Subscribe to our InfoAve Premium Newsletter

DISCLAIMER ABOUT THE TIPS & SOFTWARE RECOMMENDED IN THIS NEWSLETTER-- PLUS OTHER IMPORTANT INFO:

All software recommendations we make in this newsletter are based on our own experience and testing of the programs that we recommend. This does NOT guarantee they will work on YOUR computer. We assume you will read the program documentation and use the program according to the instructions. We make no guarantees about any program recommended in this newsletter or its suitability for any particular purpose. We will not be responsible for any problems you may have. We do not and cannot provide support for any products other than our own Cloudeight products and we will not answer email concerning any product which is not a Cloudeight product. We urge you to use good judgment when downloading and installing software and to use a program only after reading the program's documentation. And, all Tips & Tricks in this newsletter have been tested by us on several different computers and were found to work as indicated. They may not work on yours. We make no guarantees. Anything we recommend you try and use at your own risk. We will not be responsible for any problems caused by any software programs recommended in this newsletter or any of the tips and tricks in this newsletter.. Readers' comments are their own and Cloudeight Internet LLC is not responsible for comments of our readers. All readers' comments, suggestions, questions, and tips and tricks sent to us become the property of Cloudeight Internet LLC. You understand that we may use your comments without your explicit permission.
"Cloudeight InfoAve Premium" newsletter is published by:
Cloudeight Internet LLC
PO BOX 73
Middleville, Michigan USA 49333-0073