Cloudeight InfoAve Premium
Issue #717
Volume 14 Number 38
July 7, 2017
Dear Friends.


Thank you very much for subscribing and for being a part of our Cloudeight family. We appreciate your membership and support very much!





Thanks for all the great questions!

You've been sending us some really great questions. In this edition of Cloudeight InfoAve Premium, we're going to double up on the questions and answers, and cut back on the tips & tricks... because we only have so much space! We hope you all enjoy this week's modified format. It gives us a chance to answer some of your great questions. Please keep them coming! And don't forget to send us your favorite Windows tips & tricks. We'll be your favorite tips and tricks in an upcoming edition of this newsletter. Thanks so much.





Important Stuff!

We are now sending all our newsletters, except our daily newsletter, from our new address: cloudeight-news@thundercloud.net .

Please add cloudeight-news@thundercloud.net to your contact list or address book. This will ensure that you will continue to receive our newsletters. Thank you!




Get the best of both worlds! Cloudeight Direct Computer Care + FastStone Capture... the best screen shot and screen recorder anywhere!
During our Capture a Deal sale, when you buy a Cloudeight Direct Computer Care Computer Service/Repair Key for $10 off ( just $40) we will give you a lifetime license for Faststone Capture (a $19.95 value) absolutely FREE. Learn more here.
Save $10 on Cloudeight Direct Computer Care and get Faststone Capture (lifetime license) FREE. Learn more here.

This special offer is available for a limited only... or while supplies last. Get yours now!


Here are some important links for you:




A comment from Jill
Hi there from Australia! I have had Emsisoft for a number of years following your recommendation of it and want to tell you how pleased I am with it. I have had no trouble with viruses etc. since installing Emsisoft until a few weeks ago when a scan showed a Trojan on my computer. Not knowing what to do about it, I sent an email to Emsisoft's help desk and over the next week or so, Kevin Zoll corresponded with me leading me through various steps to get rid of it and also tweak some other stuff the logs showed up. His replies were always prompt and written in easy language for an "oldie" to understand. My computer is now clean as a whistle and I wanted to thank you for recommending Emsisoft in your newsletters. It is well worth every cent!

A comment from John
Thanks Darcy for the great work of repairing my Thunderbird email. I don't think anyone could have done a better or faster job. It was amazing! Everything works even better than before. I really recommend your service and think everyone should use it whether they think they need it or not.

A comment from Gus
Darcy, I want to think you again for your time and effort in trying to install Thunderbird, even though had all the problems you kept your cool dealing with this 82 year old. I still appreciate the dedication and help that Cloudeight gives in helping people. I still have some Keys that I know will come in handy in the future and trust Cloudeight to handle my problems. Just want to thank you again. Gus

A comment from Caryn
Darcy, I wanted to say thank you in writing so you could share if you wanted to. You looked after an older gentleman's computer for years, protecting him from himself, fixing when needed, checking behind the scenes, blocking sites that would harm him. As his Alzheimer's progressed, it became very clear that the computer was more frustrating to him than enjoyable so his computer did not move into the Assisted Living facility with him. As his Power of Attorney this was definitely a stress reliever for me as I no longer worried about him using his credit card who knew where! Without your help he could not have enjoyed the computer as long as he did. Money well spent & what a bargain! Unfortunately, I am not able to use your services at home as I am a Mac user, but do use Windows at work, using your tips & tricks there. Personally, I would love it if you would develop your services for the Mac! Again, my utmost& sincere thanks to you...Caryn

A comment from Barbara
TC-I'm here to tells ya I spent 2 and a half months trying to fix a problem. Fast forward, things were so bad I wasn't able to email y'all for help. My daughter that lives in another State contacted Darcy who, in turn, contacted me the next day. Know What? Darcy went wild ... she was here, there, just everywhere. In 45 min. she repaired everything but now the problem is, this 80 y.o. has to dig very deep into her memory banks to find all her "stuff". I tells ya, that Darcy has a fantastic bag of tricks and you had best be good to her or she'll reprogram you in a blink of an eye!
Thanks so much to Jill, John, Gus, Caryn, Barbara and everyone who has taken time to write to us. And thanks all those who used our Cloudeight Direct Computer Care services . And a thank you also, to all who have helped us with your donations and those who have shared our site with friends. TC & EB




Get the best of both worlds! Cloudeight Direct Computer Care + FastStone Capture... the best screen shot and screen recorder anywhere!
During our Capture a Deal sale, when you buy a Cloudeight Direct Computer Care Computer Service/Repair Key for $10 off ( just $40) we will give you a lifetime license for Faststone Capture (a $19.95 value) absolutely FREE. Learn more here.
Save $10 on Cloudeight Direct Computer Care and get Faststone Capture (lifetime license) FREE. Learn more here.

This special offer is available for a limited only... or while supplies last. Get yours now!




Terry asks about security software and other things
I ran McAfee anti-virus software for years. It came free from my ISP. With Windows 10 I switched to Windows Defender because I didn't want the two pieces of software to conflict with each other. Reading your latest missive today I see you run Emsisoft WITH Defender. Am I missing something here? Does Defender NOT protect completely against all viruses and malware? Also, since the Creators Update my PC is now taking up to 10 minutes to load in the morning. Then, all going well, each piece of software takes it's own sweet time loading. Each mail message takes forever to load. Then, if I go back in the afternoon, having left the PC running, everything behaves smoothly and at a normal speed. Any idea what's going on here? Thanks for all you do. Terry

Our answer
Hi Terry. Of the hundreds of computers we work on, the majority do not have virus or trojans - maybe one out of one thousand does. Defender probably protects from those things, but we do not run it alone, so I cannot say. What most computers have a problem with is malware such as adware, toolbars in their browsers with ads, browser hijackers and addition of several "utilities" by these crooks. And now, of course, ransomware has the spotlight.

We run Emsisoft by itself on our systems, to save resources, and because we 100% trust the protection of Emsisoft. With new Defender in Windows 10, it's true, they can work side by side. However, if you have a system with more limited resources we recommend that you use Emsisoft alone - it affords all the protection you'll need.

As far as your slow sends, etc., without being on your system to evaluate, we really cannot be sure. It could be that your Internet connection speed is slow (in regards to your email loading slowly). As for your slow boot up, it could be too many apps and programs starting with Windows and continuing to run in the background using up your computer's resources. Or, it very well could be malware/adware programs interfering with your Internet connection by constantly connecting to the web to update, and so on. Malware also loads at startup and can run hidden in the background, using up resources.

If you have a direct care key, you can request a session and we should be able to fix what ails. Right now we have sale pricing on our Cloudeight Direct Computer Care Keys. You can read more about that here: http://thundercloud.net/direct/capture/





Donna wants to reinstall Windows 10 but does not have a product key
Greetings Darcy and TC: Last year I upgraded my windows 8x laptop to Win 10 free. Sadly, a couple of weeks ago my hard drive fried. I got a new hard drive installed and had a factory reset of Windows 8x to the way it was at the time of purchase. I want to upgrade to Win 10 again -free. Is that possible and if so, how would I do that? I saw instructions for Win 10 online, but all were dated before the free deadline. Not sure if they will still work a year later. Thank you sooo much for any help you can give. Always trust and appreciate your advice.

Our answer
Hi Donna. Thanks so much. When you installed Windows 10, there was a digital license hard coded in to your PC's BIOS. So, even with a new hard drive, since you previously had Windows 10 free, you can install Windows 10 again without paying anything. What I'd recommend is that you use the Windows 10 Download Tool - see this page. Download the tool - click the button that says "Download tool now" - and it will download Windows 10 in the background. When it's done you'll two options:

1. Upgrade this PC now

2. Create installation media ...

Choose Upgrade this PC now and the rest is pretty much automatic.

The download is approximately 4 GB. If you have a very fast connection it will take less than 15 minutes to download. If you have an average broadband connection it will take 20-30 minutes to download. It will take from 45 to 60 minutes once the download has completed to upgrade your Windows 8 computer to Windows 10. So the whole process, including the download, should take less than 2 hours.

If for some reason, the hard coded license does not automatically work on your upgrade to Windows 10 ( there's a really good chance it will), just call Microsoft, explain your situation and they'll provide you with a product key. They're very good about doing this, and surprisingly, they do answer calls quickly. If for some reason, they have a lot of calls, you will have a chance to schedule a time for them to call you back.

Make sure you call the real Microsoft number, though. If you search for it, the first 8 to 10 numbers that appear are scams. For your convenience, here are the correct Microsoft support telephone number and support hours:

Microsoft Customer Service direct - 1-800-642-7676 - hours 5 AM til 9 PM PDT time (USA) - Saturday and Sunday, 6:00 AM – 3:00 PM PDT time (USA).

In Canada, call (877)568-2495.

We hope this helps you!




Karen changed her Gmail password but wants to know how to change it in Thunderbird
I had to change my gmail.com password but I cannot find where to change it in thunderbird so now it will not receive my mail. Help me please.

Our answer
Hi Karen. It's really easy to do. Here's how:

1. From the top menu bar in Thunderbird, click Tools: Options: Security section: Passwords tab.
2. Click "Saved Passwords" button, then when new window opens, click "show passwords". Now you can click the and edit the password you want to change.
3. Next time you try to send an email, window will open asking for your password - fill it in again - and put a check in box to save the password.



A Windows update change David's regional settings
When I got the windows 10 update to this version, 1707, it changed my profile to indicate I was Slovak. I was traveling in Slovakia at the time of the update. How can I change it back?

Our answer
Hi David. Go to Settings > Time & language. Then in Time & language click "Region & language" (it's on the left side). What do you see when you look at Region & language. If you see anything other than your home country (U.S.), you can change it there. We are assuming that somehow your region was changed but that your language is still set to English.





Richard asks about Reimage
Reimage keeps telling me of recent crashes and fear of malicious programs. Emsisoft tells me all is OK. Should I ignore them or let them scan?

Our answer
Hi Richard. Ignore Reimage and trust Emsisoft.

Reimage was once an up-and-up program. Back in its early days, it was a legitimate Windows repair tool (although limited in scope). The company has changed and now it's just a scam. If you have installed Reimage, you need to get rid of it.

Besides all the negative answers and comments we have made about Reimage being useless, others have published negative articles regarding it as well... search to read more about others who consider Reimage just another PC snake-oil program.

In our opinion, Reimage has turned into magic PC fixer program like ScanGuard. Reimage has become just another PC Fix-it...speed-it-up scam...like dozens of others.

Emsisoft is not a PC fixer, or magic PC speed-up tool. Emsisoft is a top rated antivirus/anti-malware/anti-ransomware program that does not play games. In other words, it does not identify normal files or files that don't even exist as threats and then promise to remove them. It is a legitimate, necessary, PC security program that protects your computer from PUPs, viruses, worms. Trojans, malware of all kinds and ransomware. We trust Emsisoft with our work and personal computers... and that says a lot about how we feel about Emsisoft. Plus, the Emsisoft team is top-notch. They are always ready to help our mutual customers.

Bonnie's going to give her old computer away and needs to wipe the hard drive
I need to wipe my old Windows XP computer. I haven't used this computer for a very long time. I'm moving and am giving it away. I need to get all my info off of it. Can you help me please? Bonnie

Our answer
Hi Bonnie. If you're going to give the computer away, it would be nice if you gave it away with an operating system on it. Do you have a Windows XP installation disk that you can use to reinstall it?

There was a great free program called Derek's Boot & Nuke (DBAN) that you could use to Wipe hard drives. However it's been sold to another company and they are pushing a paid version of a disk wiping program, while still offering DBAN free. However, we caution you that the support for DBAN and help on how to use it are both rather sparse.

You can download DBAN (Free) from www.dban.org. Warning: Don't click the button for downloading DBAN on the top half of the page, it downloads a trial of the not-free program called "Blancco". You'll have to go all the way down the page until you see a table comparing DBAN with Blancco. Click the button under the DBAN column to download the free version of DBAN. If you dig around on the site you'll find some instructions on how to use DBAN to make a bootable CD or DVD you can use to boot your computer and wipe all the data on your hard drive.
An easier way, is to use a program called Disk Wipe. It's free. Unlike DBAN though, which you use to make a boot disk, Disk Wipe runs within Windows and formats the hard drive. You can read more here:

http://www.diskwipe.org/

If you have a Windows XP installation disk and product key (or a recovery partition) the best way you can wipe your computer is to clean install Windows XP. Just use the disk and choose to install a new installation of Windows XP on the current drive. If you have a recovery partition you can do a factory reset. Doing a clean install of Windows XP won't sanitize your data to a defense department level, but no one will be able to recover anything from your PC without using forensic strength data recovery tools which cost hundreds, if not thousands of dollars. If I were going to give away my computer, I would just reinstall the operating system as a clean install and make sure I didn't give it to anyone from the NSA or FBI :-)

If you need any more help, please let us know.





James says his Windows 10 Creators Update (Version 1703) keeps failing
I am still having trouble doing that Windows 10 update. When I do it I still can't connect to the internet. You sent me a answer before. Tried every thing still doesn't work. Have to take it back to last version that worked. Can't get version 1703.

Our answer
Hi James. If the update is failing, don't keep trying to update via Windows Update. Go to this page and scroll down the page until you see a blue button that says "Download tool now". Click that button and download the tool After you download it, double click to run it. It will start downloading Windows 10 Creators Update (Version 1703). It is about 4 GB so it will take a while. When it is done, you'll have two choices. Choose "Update this PC now". Follow the on screen instructions. It will take anywhere from one hour to several hours to complete the update.

Don't lose patience. Read this article about my experience updating to Windows 10 version 1703. It may take about an hour to update, or it may take a lot longer. Also it may appear that nothing is happening with the upgrade... but be patient.





Ted wants to know if he has to upgrade his Windows 10 installation USB
Ok here goes. I have made a USB of the windows 10 set up s you suggested a number of months back. Here is my question, since I have up graded to the latest version of Windows 10, do I need to up date the USB as well? Don't know where I would be without you guys, and your vast knowledge.
Thanks as always. Ted

Our answer
Thanks so much, Ted. If you install Windows 10 from the USB you have, you'll eventually end up with the current version of Windows 10. If your USB does not have the current version of Windows on it, it will be upgraded through Windows Update after you install.

We think the best reason to have an installation USB (or a recovery disk) is to use it to boot Windows if something goes wrong and you cannot get Windows 10 to start. Once you've booted with your installation USB (or recovery disk / recovery drive) you can access all the Windows repair tools and troubleshooters, as well as System Reset, System Restore, Fresh Start (Windows 10 Creators Update) and the command prompt.

Additionally, you can use your installation USB to install Windows 10, then get the Download Tool to download the latest version of Windows 10 and then manually update to the latest version of Windows 10 that way. One caution though. Make sure that the version on your USB is a currently supported version of Windows 10. The original release of Windows 10 (July 29, 2015) is no longer supported. See this page for end-of-service dates for Windows 10 versions. If you find the version of Windows on your USB is no longer supported or the end-of-support date is coming up soon, it would be wise to create a new installation USB.

If you choose to keep your installation USB updated, just download Windows 10 Download tool from here. When you run it, select "Create installation media..." instead of "Update this PC now".

Now you have a lot of options to consider.





Leila made a mistake creating a guest account and now wants to change it
HI, I did something you are always warning us your readers about. Not reading carefully when making any changes on the computer. This is regarding the Cloudeight Daily about setting up a guest account without needing a password. Well I did everything right evidently till the part about not wanting a password for the guest account. I have tried to find information on internet about reversing the command, but to no avail. Is there a way to correct this? There is now a need for a password for the guest account. Thanking you in advance.
Our answer
Hi Leila. The easiest way to do this is just to remove the guest account. Then restart your computer and create a new guest account.

It's easy to remove a guest account, just do this:

Settings > Accounts > Family & other people ... and click on the guest account you created to select it ... it will be under "Other people".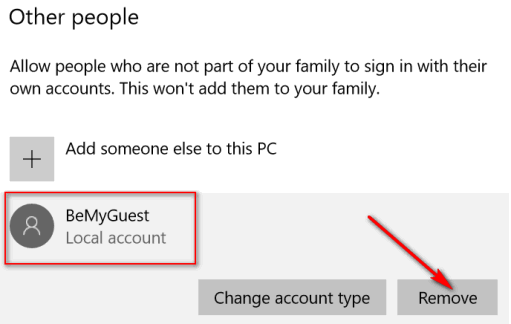 Then just click "Remove" (you will need to confirm this action). After you've done this, restart your PC, and then go back and create a new Guest account following the instructions here.

Hope this helps you, Leila!





Joyce asks about the Windows 10 Photo App
You gave instructions about how to reach our "Photo" in the start menu. I have accomplished that and I was wondering if there is a way to delete some of the photos that are blurry or not wanted? If so could you instruct me on how to remove them? Thanks

Our answer
Hi Joyce. All you have to do is right-click on a photo you want to delete, and choose "Delete" from the photo app's right-click menu. See the screenshot below... and there you go!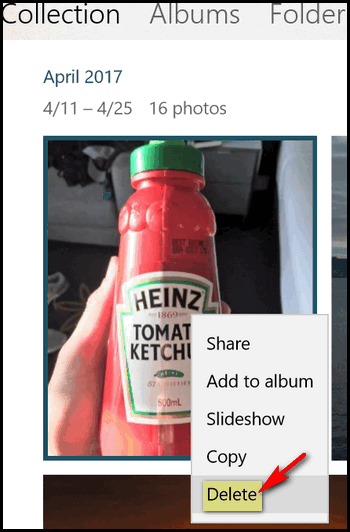 One Year Emsisoft License With FREE Installation & Set-up
Some of you still aren't using Emsisoft... so we're making you an offer you can't refuse! If you're not yet using Emsisoft, here's your chance to get the best protection you can buy and we'll install it and set it up for you FREE. Emsisoft now has a powerful new anti-ransomware feature! See this page for all the details.


What to Do if Your Icons Are Not Displaying Correctly
Windows 10 (all versions)

Marilyn wrote us with a very perplexing problem. Some of her folder icons were bordered in black. And we have noticed that this seems to happen to many Windows 10 users. Also some Windows 10 users are reporting that other icons are not displaying correctly. So, thanks to Marilyn, this tip is for everyone whose icons do not appear the way they should, either like Marilyn's folder icons below, or when the icons for other shortcuts or programs are not displaying correctly.

Some of Marilyn's folder icons were not displaying properly. You can see in the screenshot below, that some of her folder icons were bordered by a black box.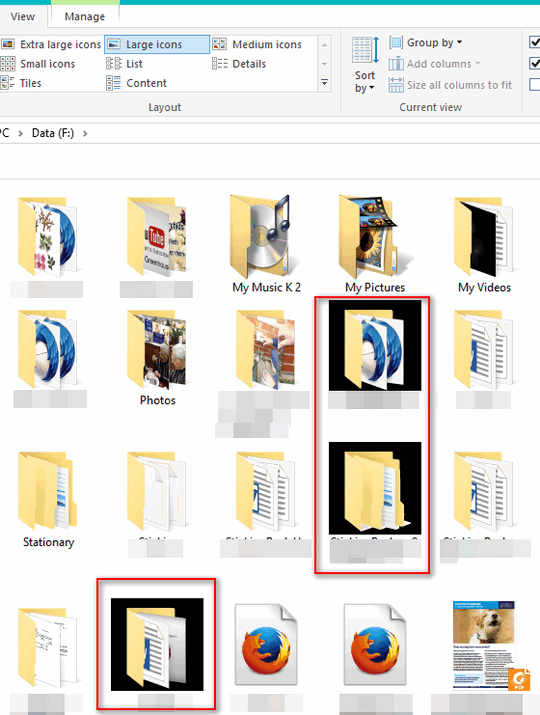 If your icons are not displaying correctly, here are two different solutions:

First Solution:

1. Windows Key + R to bring up the Run box.
2, In the Run box type CLEANMGR and press enter.
3. In the Drive selection box that appears, select C:\ (should be pre-selected... see below):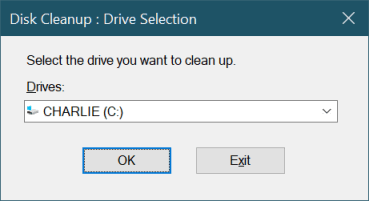 Now click OK

Disk Cleanup will run for a minute or two... then you'll see a selection box. Make sure Thumbnails is selected: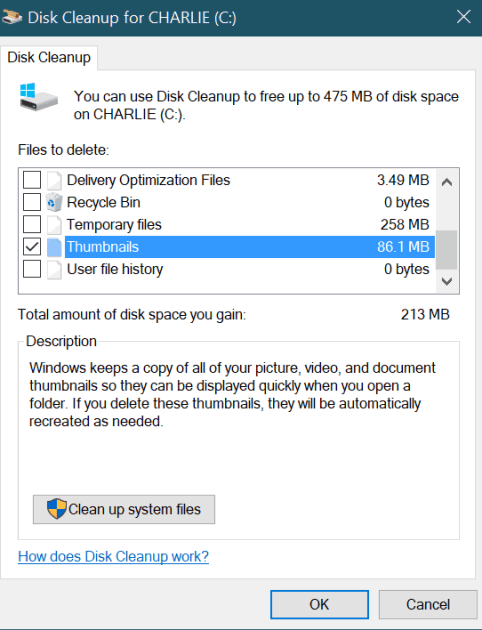 Click "OK" to run clean up. You'll get a warning "Are you sure you want to delete..." click "Yes". After you do this, restart your PC and see if all the icons look normal... there's a good chance they will. But if the black background behind some folders is still there... or if some icons are still not displaying correctly, try the alternate solution below..

Alternate solution:

Download this file and save it to your PC. It's a batch file (BAT) created to completely clear and rebuild your icon cache. Once you've downloaded it and saved it, double-click to run it. If you get a prompt asking if you're sure you want to run it, click "Yes". This batch file will clear the icon cache and reset it.

(In Marilyn's case, the first solution worked... it usually does.)




Save Time With Windows Updates
Windows 10 Creators Update (Version 1703)

You know the deal. You get a notice that Windows has downloaded and installed updates and now you need to restart your computer. So, being a good Windows user, you restart your computer and then you… wait and wait and wait. Sometimes you find you have to wait for 15 to 30 minutes before you can actually use your computer.

I don't mind waiting 3 or 4 minutes for my PC to boot-up after an update; I just use the time to make coffee :-) and get ready for the day. But waiting 30 minutes is not my cup of tea… or coffee.

If you're like me and you're sick of the long wait after Windows installs updates that require a restart… try this:

Open Settings > Update & security > Windows Update > Advanced Options

Now tick the box next to: "Use my sign in info to automatically finish setting up my device after an update."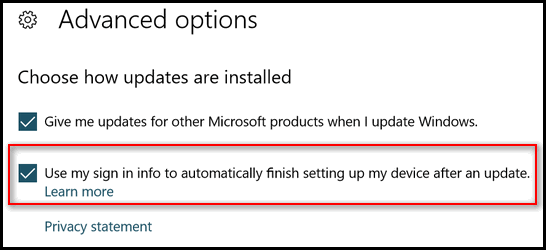 Now close settings — and you are done! We hope this saves you some time after Windows updates.

How to Make More Room on Your Windows 10 Taskbar
Windows 10 (all versions)
By default, Windows 10 shows a search box on your Taskbar, which takes up a lot of room for no really good reason, since you can search by opening the start menu and typing whatever you searching for without using a search box. Or you can, if you like, replace the big taskbar search box with a search icon and give yourself more taskbar space for your favorite shortcuts.
OK. Look below. Does your Windows 10 taskbar look like this?

Do you want it to look like this?


(Above: Showing the search icon instead of the space-hogging taskbar search on older versions of Windows 10.)


(Above: Showing the search icon instead of the space-hogging taskbar search on newer versions of Windows 10.)
Then all you have to do is right-click in the search box and choose Search –>Show search icon.

You'll have more room on your taskbar and if you want to search for something just click the search icon.
Remember, if you choose to hide the search completely, that's fine. Instead of choosing "Show search icon" you can choose "Hidden". You'll still be able to do searches with ease. Just do your searches by opening the start menu, then just start typing whatever you're searching for.


Get the best of both worlds! Cloudeight Direct Computer Care + FastStone Capture... the best screen shot and screen recorder anywhere!
During our Capture a Deal sale, when you buy a Cloudeight Direct Computer Care Computer Service/Repair Key for $10 off ( just $40) we will give you a lifetime license for Faststone Capture (a $19.95 value) absolutely FREE. Learn more here.
Save $10 on Cloudeight Direct Computer Care and get Faststone Capture (lifetime license) FREE. Learn more here.

This special offer is available for a limited only... or while supplies last. Get yours now!


Dear Spud

I nose ewe really like spell checkers, butt I dew knot. Eye tried really hard to spell well four ewe, Spud. I really did.

Spud, thank ewe so much fore your let her. Ewe will bee glad to nose that eye have taken your add vice and in stalled a spelling check her. Sew you will knot find a single spelling air in this let her. I made sure eye double-checked this in tire let her for ewe!

Eye was just thinking a bout the thymes long a go when I was a kid. Back then, eye used to live necks door to a man we culled Pop Corn. He was a rather thin man with balding hare and age spots. So, eye guest he was really old – but back then every won seemed old so eye am knot sure if he was or not. Ewe no how it is when ewe are young – every body seams old. Any way, Annie Way used to live in an apart meant on the second floor of Pop Corn's house. Ewe could tell bye the way she acted that she was afraid of Pop Corn – he actual lee was a vary scary looking man. He had ice like a bug.

Eye can remember him setting on his porch on summer evening smoking his pipe surrounded by pup peas and kit tens...



Are You Fussy About Keeping Your Desktop Icons In Order?
We have noticed that many of you have a lot of desktop icons, and you're really fussy about how you arrange them. Some of you have spent a great deal of time arranging your desktop icons the way you want them.
Some of you use "Fences" to keep your desktop icons arranged. But we don't recommend Fences or any of those other desktop enhancement utilities/programs because, in order to work, they have to start with Windows and run in the background. That means they're always chowing down on computer resources. Of course, we're penny pinchers when it comes to conserving our PCs' resources. As a general rule, the more available resources you have, the faster your PC will run. Yet, we know that to some people aesthetics come first.
If you are one of the many folks who have spent a lot of time organizing and arranging your desktop icons only to have them re-arranged and disorganized by a Windows update — or a Windows gaff — we have a freeware program we think you'll like. It's called DesktopOK.
First, we like it because it's most important purpose is to save your current desktop layout as a file. You can restore your current layout from that file any time you need to. The program does not have to run in the background; it does not even need to start up with Windows. You don't even have to install it - just unzip it, and run it.
We do recommend after you unzip it that you create a shortcut for it on your start menu. That way, if you ever need to restore your desktop icons in the exact order you like them, just click the shortcut to open the program and restore from one of your saved backup files. It's that easy. Besides saving your desktop icon arrangement and layout, It has a lot of other useful features too.
Here are some words from the developer, some screen shots, links for more info and, of course, links to the downloads:
"Save and restore the positions of the Windows Desktop Icons.

DesktopOK is a small but effective solution for user that have to change the screen resolution often. It is also good for windows users who often have to work with a projector on the notebook e.g. laptop or tablet-pc.

After you change the screen resolution you can find an icon chaos on the windows desktop, as if a bomb had hit it.

The icon position will shift and Windows will not correctly restore the desktop icon position.

DesktopOK has also other helpful functions, you can find this, in the Main-Menu, Tools.

Features:


Save your favorite icon locations for each screen resolution.
Easily minimize all of the windows on your screen
Launch at Windows startup.
Each user can then have his own arrangement.
Portable Windows app.
Autosave the Desktop Icon Layout
Change Language
Maximize the number of windows desktop icons
Change Windows Desktop Icon Size
Minimizes to tray area for easy access.
Multilingual
Automatically hide and display desktop icons
Portable..."

"... DesktopOK does not have to be installed and can be executed easily from the desktop..."


(Above) DesktopOK's main interface.


(Above) Some of DesktopOK's many options.
DesktopOK works with Windows 7, Windows 8x, Windows 10 (all versions). There's a 64-bit and a 32-bit version. If you don't know how to tell if you have a 64-bit or 32-bit system, see our article here.
Sound interesting? We thought so! You can read more about DesktopOK by visiting this page.
The general DesktopOK download page is here.
Direct Download link for 32-bit computers.
Direct Download link for 64-bit computers
May your desktop icons never be out of order again!

Donations help us continue our mission to keep you informed, separate the truth from the hyperbole, and help you stay safer online. We provide support to thousands of people. Every week we help dozens of people via email at no charge. Thanks to donations, we do a lot more than provide this free newsletter. We help you recognize online threats, fight for your online privacy, and provide you with the knowledge you need to navigate the Web safely, and help you get more out of your PC. Help us keep up the good fight with a small donation.
After you donate, you will receive an invitation to become a Cloudeight Booster.
Help us keep up the good fight with a small donation.

Interested in making a automatic monthly gift? Visit this page. Help us keep helping you... and helping you stay safe on the Web.




What in the world is a "hijacker"?

EB's driving down the road and sees a fellow whose car has a flat tire. He's jacking up his car. He needs to fix that flat. EB stops to offer assistance... good ol' EB. Then she notices the dude appears to be drunk or high on something. She peels away, kicking up dust and leaving the fellow alone with his flat tire. That's what she calls a high jacker.

No! Honestly... Have you ever seen a car race (like NASCAR) where the car pulls into the pit and they change four tires in 1.7 seconds? Did you ever pay a attention to that thing that lifts the car up off the ground so they can slide the tires on? That's called a "Hijacker". Nah not really. I don't know anything about car racing.
Here's the real scoop...

When someone refers to a "hijacker" they're talking about a software application that hijacks (takes over) your browser's home page (start page) or your browser's default search engine.

An example of a "home page hijacker": You have http://thundercloud.net/start/ set as your home page (please? please?) and after you install Miss Molly's Smiling Toolbar Extravaganza (MMSTE) every time you open your Web browser (Internet Explorer, Firefox) you go to Miss Molly's Super Smiling Home Page with 742 blinking advertisements and 423.5 animated gifs. And one lonely little "Good Golly Miss Molly" search form.

An example of a "search engine hijacker": You use Google to search the web. But after you install the aforementioned Miss Molly's etc. You find whenever you type a search in your Internet Explorer address bar the search results come from - you guessed it! Miss Molly's Magnificent Screaming Search Engine, which pops up a page of search results which consists of 992 advertisements for various products related to your search in some remote way and 10 actual search results buried on page sixty-two.

Another way a hijacker can highjack your searches is to "inject" ads, banners, etc. into normal search results. For instance, you're searching on Google and suddenly you see a banner for SmileySenseless at the top and down there where your search results are normally found you find seventeen dog food ads, cat flea-spray ads, YOU WON TEN FREE LOBSTER DINNERS FROM THE ANGRY LOBSTER ads, and then, way down below, your real search results appear. But, unless you look carefully, the ads look just like real search results. I suppose this would be OK if you were really hungry for lobster and you won the ten free lobster dinners from The Angry Lobster restaurant. But don't hold your breath -the odds against that are about ten billion to one.




Reg Organizer - A Swiss Army Knife of Windows Tools - Works Great on Windows 10!/a>


Premium Subscribers' Home Page You'll find the last few weeks of Premium archived on this page.
To change your subscription address, see "Manage your subscription" at the bottom of this newsletter.
Submit your questions, comments, and suggestions for possible inclusion in our newsletters here. This form is for questions, comments and suggestions for this newsletter, not for product support, stationery questions, or general questions concerning our products or services.
Help us Grow! Forward this email newsletter to a friend or family member - and have them sign-up for InfoAve Premium here!
Get our free daily newsletter! Each evening we send a short newsletter with a tip or trick or other computer-related article - it's short and sweet - and free. Sign-up right now.
Have a question about a Cloudeight Software program, service, stationery, or need to ask about an order? Let us know!
If you need help with one of our software programs, have a question about an order, or have a question about any of our email stationery, screen savers, or other products - please don't use our InfoAve Questions/Answers/Tips form. Please use our general Cloudeight support form instead.
If you want to help us by telling your friends about our Cloudeight Direct Computer Care service, you can download a printable flyer you can handout or post on bulletin boards, etc. Get the printable PDF Cloudeight Direct Computer Care flyer here.

These products and services are recommended and endorsed by Cloudeight:
Emsisoft Anti-Malware- The best anti-malware you'll find anywhere. Great protection -- both proactive and reactive. Learn more here.
Reg Organizer-- A Swiss Army knife of PC tools. Easy for beginners to use -- with advanced features for experienced users too. Learn more here.
Cloudeight Direct Computer Care - Computer Repair Service-- And for computer repair, you can't beat our remote repair service. You never have to leave your home, take your computer anywhere or leave it with someone you don't know or trust. We can fix most computer problems and all you have to do is sit back and relax. Learn more here.
Thunderbird Email Setup - we'll set up Thunderbird for you - works great with Windows 7, Windows 8 and Windows 10. Get the details here.
Windows 10 Customization - Make Windows 10 look and work the way you want it to. Get more info here.
Also.. don't forget:
We're offering something we think most of you will enjoy. We have a daily tips and tricks summary newsletter that is sent six days a week. It features daily tips, freeware picks, and site picks and interesting computer tips, tricks and more. It's short and sweet - very brief and lightweight. If you'd like to receive or daily tips and tricks newsletter (completely free, of course). You can subscribe here.
You can also help us by using our Start Page.
We have over 100 free games to our Start Page too - come and play all day. It costs nothing to use our Start Page--and helps us a lot.
Your Premium Members' Home Page is located here.

We'd love to hear from you!
If you have comments, questions, a tip, trick, a freeware pick, or just want to tell us off for something,, please visit this page.
If you need to change your newsletter subscription address, please see "Manage your subscription" at the bottom of your newsletter.
We received hundreds of questions for possible use in IA news. Please keep in mind we cannot answer all general computer questions. We choose a few to use in each week's newsletter, so keep this in mind. If you have a support question about a service or product we sell, please contact us here.

We hope you have enjoyed this issue of InfoAve Premium. Thanks so much for your support and for being a Premium subscriber.
We hope you all have a really great weekend!
Darcy & TC
Cloudeight InfoAve Premium - Issue #717
Volume 14 Number 38
July 7, 2017

Not a subscriber? Subscribe to our InfoAve Premium Newsletter

DISCLAIMER ABOUT THE TIPS & SOFTWARE RECOMMENDED IN THIS NEWSLETTER-- PLUS OTHER IMPORTANT INFO:

All software recommendations we make in this newsletter are based on our own experience and testing of the programs that we recommend. This does NOT guarantee they will work on YOUR computer. We assume you will read the program documentation and use the program according to the instructions. We make no guarantees about any program recommended in this newsletter or its suitability for any particular purpose. We will not be responsible for any problems you may have. We do not and cannot provide support for any products other than our own Cloudeight products and we will not answer email concerning any product which is not a Cloudeight product. We urge you to use good judgment when downloading and installing software and to use a program only after reading the program's documentation. And, all Tips & Tricks in this newsletter have been tested by us on several different computers and were found to work as indicated. They may not work on yours. We make no guarantees. Anything we recommend you try and use at your own risk. We will not be responsible for any problems caused by any software programs recommended in this newsletter or any of the tips and tricks in this newsletter.. Readers' comments are their own and Cloudeight Internet LLC is not responsible for comments of our readers. All readers' comments, suggestions, questions, and tips and tricks sent to us become the property of Cloudeight Internet LLC. You understand that we may use your comments without your explicit permission.
"Cloudeight InfoAve Premium" newsletter is published by:
Cloudeight Internet LLC
PO BOX 73
Middleville, Michigan USA 49333-0073