It's hard to believe that it's back to school time already. It seems like summer just started! For a limited time, we're offering you a chance to buy one Cloudeight Direct Computer Care Repair Key and get one FREE. You can keep the both service keys for yourself or share one or both with a family member, friend or student of your choice.
Our Back to School Buy One Get One Free Sale will be available for a limited time.
Also, a BIG thank you to all who have helped us with your donations and those who have shared our site with friends. THANK YOU! EB & TC.






Jim likes Windows 10 Virtual Desktops but they're gone
I really like using Windows 10 Virtual Desktops. A couple days go, I had 4 desktops opened and suddenly I lost them. Now I'm left with only one desktop, and the Virtual Desktop icon has disappeared from my taskbar. How can I get this back?

Our answer
Hi Jim, Do you see the Task View icon on your taskbar (see image below). If you don't see that icon, did you know that you can also access Taskview and open new virtual desktops by pressing Windows Key + Tab?





If you don't see that icon, you can add it back to your taskbar easy enough. Jus right click in a empty area of your taskbar and tick "Show Task View icon". That's all there is to it.

More info on Windows 10 Virtual Desktops can be found at: http://www.thundercloud.net/infoave/new/virtual-desktops-in-windows-10/





Sue says CTRL+J no longer works with her browser
Recently in the Daily Newsletter you told about accessing downloads with ctrl + j. I tried it and liked it a lot! Then yesterday I needed to access downloads and it would not work. It was in the Premium Newsletter today, so I tried it again. Still did not work. Any ideas?

Our answer
Hi Sue. CTRL+J is not a browser feature, it's a shortcut. It works with any major browser (Edge, Chrome, Firefox). So, whatever the problem you're having is, it can't be a browser problem. What is going on here, I think, is that you're using Chrome and you used CTRL+J and its tab is still open somewhere among other tabs. So now when you tap CTRL+J nothing happens since it's already open. I mention Chrome here, because Firefox and Edge open Downloads in a new window.

I am pretty sure, if you restart your computer, then open your browser -- remember, CTRL+J won't do anything unless you have a browser open -- and then do CTRL+J you'll see the browser's download page open.

[ Sue wrote back: "Thank you so much. I really like this shortcut. What I was doing wrong I guess was not having a browser open when I was trying to open downloads. I was trying to check out a download and at the time I thought about doing it I didn't have a browser open. Appreciate you and your prompt reply. Sue" ]





Wendy is shocked by all the scamming going on
I am shocked at the huge amount of scamming. It seems to have reached a whole new level tricking unsuspecting people to disclose private information. It must be a nightmare for those who fall for it.

Our answer
More than viruses, Malware, PUPs, Ransomware and all the other related bad stuff, online scams are the most ubiquitous. Seldom does a week go by when we don't receive at least a dozen letters from people who have encountered an online scam - most of the time a tech support scam... like the ones we covered in our article here. http://www.thundercloud.net/infoave/new/tech-support-scams-microsoft-support-scams-scams-scams-everywhere/

Darcy watched a documentary a while back, and it showed huge pole barn style warehouses, some as long as half a mile, filled with desks crammed next to each other and tens of thousands of people sitting in front of computers working these scams. They get paid next to nothing, to scam people, trick them into signing up for things, etc. This documentary was made years ago, and you can bet that this sort of thing has expanded exponentially in India and other countries around the world.

Everyone needs to be aware that scams abound on the Internet and it's only going to get worse. Why? Because there are billions of dollars in it, and the overhead is low. To scam outfits, it's pretty "easy money".



Allan needs help now that Google Chrome has stopped supporting Adobe Flash
Google (Chrome) has stopped supporting Adobe Flash ...HELP... Allan

Our answer
Hi Allan. Google Chrome has not stopped supporting Flash. It has stopped supporting Flash by default.

You can turn it on ( at your own risk):

In the address bar, type chrome://settings/content.
In Content settings, find the Flash Player listing and click on it:




Turn the switch next to "Allow sites to run Flash" to ON.




We suggest that you leave "Ask first" turned on (it will turn on automatically when you turn on "Allow sites to run Flash".





Christine wants to know how to get to add/remove programs in Windows 10 Creators Update
How do I get to the add or remove items?

Our answer
Hi Christine. Add or remove items (programs) is in Control Panel. Since you're using Windows 10 Creators Update :

1. Right-click the start button, and click "RUN"
2. Type CONTROL in the run box & press Enter.
3. In Control Panel, click on "Programs and features" if you're in Icon view. Or click on "Programs" if you're in Category view.

If you're using older versions of Windows 10, the method above will work just fine too. But in previous versions of Windows 10, you also have the option to right-click the start button and choose "Control Panel" that option was removed in Creators Update. Either way you get to Add & Remove the same way once you're in Control Pane.

One more thing. In Windows 10, you can uninstall programs without going to Control Panel. Open your start menu, right-click on any program you installed, and you'll see an option to "Uninstall" right there. Saves a lot of time.





Sandy wants to know about Postimages.org
What do you think of the program postimages.org Just wondering about it, some people are going to use that instead of Photobucket. I won't unless I hear from you. I trust you, not what other people are saying about it.

Our answer
We checked it out. Apparently they were having some problems financially (keeping a big web site up and running is not cheap). In October 2016, they were pretty close to shutting down, but, according to them, donations and partnership offers helped them avert the crisis. They appear to be stable now.

Their privacy policy is not great, but certainly no worse than Photobucket's and better than Flickr and some other photo-sharing and photo storage sites.

We commend Postimages for allowing only family-safe images. We find no reason that you should not use Postimages. We do suggest that you keep your images backed up on an external hard drive... just in case. But that's good advice no matter what site you use to store and share images.



Rea has a friend with major computer problems and wants us to help
Hi Folks: My friend was complaining to me that her husband's computer was brand new but got a virus and the screen is black and will not go on. However, he told me that after I bragged about Cloudeight and told them they fix computers in the comfort of their home and they could fix it as long as it wasn't a hardware problem and that you don't charge like most of the shops do plus Cloudeight is honest where a lot of shops are not. I went on and on and I guess I talked them into it.

They are waiting to see if you can help them but their screen is black and it doesn't go on. I was just going by memory but I told them to just turn it on and immediately hit F3 to put it in safe mode but I am willing to bet that I made a boo boo.

It is still new so they called Hewlett Packard and they said they can't do anything as long as it won't start. They were so happy when I told them about you guys but now we wonder if that is possible.

I don't really remember how much you charge but I told them it is not what a shop charges and you don't charge by the hour so they immediately wanted your number but I told them I would write you an email and see if it can be done.

He has a laptop and wonders if he can use that but how would that help him with the one that is really broke. It is Windows 10. Can you please answer me, I know you probably will for you have always answered pretty quick.

Thanks a lot, Rea

Our answer
Hi Rea. Thanks for thinking of us. In order for us to connect and fix a computer, the computer needs to be able to boot and connect to the Internet.

Our first thought is - if this is a new computer it's still under warranty... why can't they take it back to where it was purchased and exchange it?

Beyond that, we've written an extensive article on what to do if Windows 10 won't boot. You can read that here.

If you have access to a working computer (like his laptop) with a CD/DVD drive and a blank CD/DVD you can make a Windows 10 Repair Disc (easy to do - instructions here ) that you can use to boot the computer that won't boot.

Finally, as a last resort you have two more choices:

A. You can reinstall Windows from an installation DVD or USB. In order to do this you'll need a working PC with a DVD/CD drive or a new (unused) 8 GB USB flash drive. Visit this page and download the Media Creation Tool from Microsoft. This automates the process of creating a Windows 10 installation DVD or installation USB flash drive. You can download the Microsoft Windows 10 Media Creation Tool from the following link:

https://www.microsoft.com/en-us/software-download/windows10

On that page, scroll down to the section "Create Windows Installation Media" and click the blue button labeled "Download tool now". Once you've downloaded the media creation tool, double click to run it. When it gets done you'll have 2 choices: Update this PC now (you don't want that one). The other choice is to create installation media to install Windows on a different PC. You'll want this one.

B. Do a Factory Reset: This would be your last resort you can try a HP Factory Reset; we are surprised HP didn't mention this option.

1. Turn on or restart the HP computer and keep tapping "F11" until the computer boots to Recovery Manager.

2. Select "System Recovery" from the "I Need Help Immediately" section in the left pane. Click "Back Up Your Files (Recommended)" and select "Next."

3. Choose which types of files to back up and click "Next." Connect an external drive to the laptop or insert a blank disc into the optical drive. If you don't have an external or large USB flash drive -- skip this step and go to #5 (Click Next)

4. Select the drive letter associated with the optical or USB drive, and then click "Next."

5. Click "Next" when the backup process completes. Recovery Manager will restore the HP computer to its original state.

6. Click "Finish." Follow the on-screen prompts to set up Windows 10.

Both Darcy and I agree though, our first choice would be to return the computer to the place of purchase for a refund or exchange.

If you decide to try some of the other options (above) and you do get the computer started, of course then we can connect and help get the computer fixed up and running correctly. Our current normal charge for a computer repair is $50. We don't charge by the hour and we work until problems are resolved. They can get more information from http://thundercloud.net/direct/

Our newsletter subscriber are always first to know about special offers. If they'd like to subscribe, just have them go to http://thundercloud.net/infoave/join.htm . Our InfoAve Premium newsletter is free.. all they need to do is sign up and confirmed their subscription, and they'll start received our newsletter the very next Friday.

Let us know if you (or they) need anything else, we'll be glad to help.

Gus has a problem with Windows 10 File History
II have a message that the File History drive has been disconnected for too long. Have tried to reconnect the drive and do backups but keep getting the same message. I'm at a loss now. I have valid repair keys if needed but I need some help to restart my File History. Thanks, Gus

Our answer
Hi Gus. You might want to try resetting file history. I've uploaded a couple of files to help make this easy for you.

Download this Cloudeight zip file.

Unzip the file. There are two files inside. One is a batch file and one is Visual Basic script. You should only need to run the batch file (double-click it to run)

So here are the instructions.

1. Unplug the external drive
2. Unzip the file above and double-click on the batch file.
3. Restart your PC
4. Plug in your external
5. Try setting up file history.

If this does not work, then go back and follow the instructions above, only this time double click on the VBS script (in the zip file) instead of the batch file.

Let us know if this solves your problem.

[ Gus wrote back..."TC all seems Ok now and I want to thank you. Gus" ]

Stephen can't seem to get the Creators Update to install
First of all , I appreciate all you 2 do, it helps a lot, thank you. I had downloaded the Creators Update for my laptop & it works fine, no problems. But I had tried to do the same for our main pc and it basically freezes at 32% downloaded- it stayed at 32 % for hours & hours. I gave up & turned off the pc & it restored the previous windows 10. I tried again last night, had the download of Creators update started at 11:00 pm and at 8:00 am this morning its still at 32 % & holding, again i shut her down so my daughter could use the pc- its back at the previous windows 10 edition. Any ideas on how i can get the creators update installed fully ?

Our answer
Hi Stephen. Thanks! Since you've tried and failed to update the PC to Windows 10 Creators Update (version 1703) via Windows Update twice now, that indicates to us that it may be a problem with Windows Update, Windows Update servers or your internet connection... it could be several things. The Creators Update is huge 3+ GB, so a lot can happen during a regular Windows Update.

We suggest you try downloading the Windows 10 Media Creation Tool. Don't worry about the name, you don't have to create any installation media, you're just going to use the tool to upgrade the PC to Windows 10 version 1703 (Creators Update).

Visit this page.

Scroll down until you see "Create Windows 10 Installation Media". Under that you'll see a blue button with white text that says "Download tool now". Download the tool and run it. When it's all done you'll have 2 choices:

1. Upgrade this PC now
2. Create installation media for another PC

Choose "Upgrade this PC now".



Once you select "Upgrade this PC now" and click "Next", the tool will start the process of upgrading the PC. It may take 1 hour or it may take 4 hours, just be patient.

Using this method gives you the best chance of installing Windows 10 Creators Update successfully if updates have failed using the normal method (via Windows Update).

Let us know if this helps you.

Sally lost her Windows 7 games for Windows 10 when she upgraded to Windows 10 Creators Update
I recently lost my all my favorite Windows 7 games that I was using on Windows 10 - thanks to you. I downloaded them when I saw a tip in InfoAve Premium. I tried to reinstall it but it will not work after I installed the Creators Update. Is there any chance of getting the games back now that I'm using Creators Update? Thanks so much for all you do. Sally.

Our answer
Hi Sally. Thanks! You will have to reinstall an updated version of the Windows 7 games package for Windows 10. According to the author this updated version of Windows 7 Games for Windows 10 will work on Windows 10 Creators Update (version 1703).

A couple of caveats:

1. We have not installed or tested these games on Windows 10 Creators Edition.

2. There is a very high probability that the next major Windows 10 update, called Fall Creators Update or Autumn Creators Update, depending on where you live, will break the Windows 7 games again. The next major update is scheduled to start rolling out beginning in September or October 2017.

So now that you know all of that - to get the newest incarnation of Windows 7 Games for Windows 10, please visit this page.





One Year Emsisoft License With FREE Installation & Set-up
Some of you still aren't using Emsisoft... so we're making you an offer you can't refuse! If you're not yet using Emsisoft, here's your chance to get the best protection you can buy and we'll install it and set it up for you FREE. Emsisoft now has a powerful new anti-ransomware feature! See this page for all the details.



All about Cryptocurrency
Everyone using an internet-connected device

We received a very nice letter from Victor of Coinworld complimenting us on our articles about ransomware/malware. And thought maybe our readers would be interested in learning more about Bitcoin and other forms of cryptocurrency. Victor provides an easy-to-understand, not-too-technical online guide to cryptocurrency, which we do want to share with you.

Bitcoin and other forms of cryptocurrency are becoming more and more popular and more and more online stores and web services are accepting Bitcoin and other cryptocurrencies.

We've included just a bit of the information from Victor's site below so you'll get an idea how well-written and easy to understand the information is.

We think it's pretty important that you have a basic understanding of what cryptocurrency is and why it's growing in popularity. The following is from Victor's site "Coinworld".

"What is Cryptocurrency?

So you want to learn about Ethereum and Bitcoin? First you need to know what a cryptocurrency is.

A cryptocurrency is a currency that only exists on the internet. It is a digital currency.

'But why is it called a cryptocurrency?'

Crypto comes from the word cryptography. Cryptography keeps your currency safe and stops other people from using it.

Cryptography encrypts your information, and you can only decrypt it with a personal key.

Think of it as a bank safe on the internet. There is only one key to open it, which you hold. Instead of a real key, you have a decryption code.

A cryptocurrency, such as Ethereum or Bitcoin, is very different from a traditional currency like the $USD, £GBP or €EUR, also known as FIAT.

But what are the key differences between a cryptocurrency and a FIAT currency?

a) There are no cryptocurrencies in physical form.

They only exist in code. You may see some coins with a printed B on it sold on various websites, but those are not bitcoins.

b) Central banks control FIAT currencies.

They do not control cryptocurrencies.

c) Regular currencies require a third party (a bank) to make online transfers.

Cryptocurrency transfers are peer-to-peer and do not require a third party.

d) Regular currencies are expensive and slow to transfer across nation borders.

Cryptocurrencies ignore national borders and are almost instant and free, no matter the size.

e) Only 1/6'th of the worlds population has access to modern banking which allows easy money transfers.

A lot of more people have access to the internet, which is the only requirement to use cryptocurrencies.

So more people can use cryptocurrency than regular banking services.

Many of you are probably thinking:

'Okay, so encryption protects my money and data and the transfers seem great. But how does it really work?'

To explain this, I need to introduce you to the blockchain technology.

Instead of being all technical, I will use an analogy to first introduce the concept of a blockchain.

Imagine a magic notebook, and every person all over the world can easily get a copy of it for free.

Every time someone writes something in it, it appears in everyone else's copy.

The more people who read what is written in their book, the harder it becomes to erase.

After a while, everyone with a notebook are in agreement, or consensus about what is written in it.

Your entry becomes the truth according to the network.

For example, Alice writes in her notebook that she transfers 5 bitcoin to Bob.

As 10 people holding the notebook have read it, it is now accepted as the truth and Alice can not take it back.

'Cool, but how do I know who I am transferring my currency to?'

Instead of your name, the network assigns you a long string of letters and numbers, an address.

Your real identity has no connection to the address unless you enter your personal information on an exchange or if you use an unprotected IP-address.

With the notebook I can transfer money by writing the amount I wish to transfer and the address of my recipient in the notebook.

This notebook is the blockchain..."
Read more of this informative and fascinating article here.



All About Your Computer
Windows 7, Windows 8x, Windows 10
There are a ton of system information programs out there that will tell you all about your computer. But did you know, there is a good one built into Windows. While it may not be as pretty or as thorough as some of the others, it's fast and it's already on your computer. One of things we like about it is that it makes it easy to find the date on which you last installed Windows and time of your last reboot. It takes about 10 seconds to open and gather up all kinds of information about your computer. Here's how to access it:
1. Open a Command prompt
a. Windows 7 users: Type CMD in the Start menu search and click it when CMD appears at the top.
b. Windows 8x users: Press the Windows key + S and type CMD in the Search box and click CMD when it appears in the search results list.
c. Windows 10 users: Right-click the start button and click "Command Prompt". Or type CMD in the taskbar search (Cortana) and click "Command Prompt" when it appears at the top.
2. Type SYSTEMINFO at the prompt in the Command Prompt window and press Enter:
3. Wait a few second while Windows gathers the information about your computer.
4. You see all kinds of information about your Windows computer including the operating system, version, the date on which Windows was last installed, the last time you last rebooted, your processor info, and much more.
See?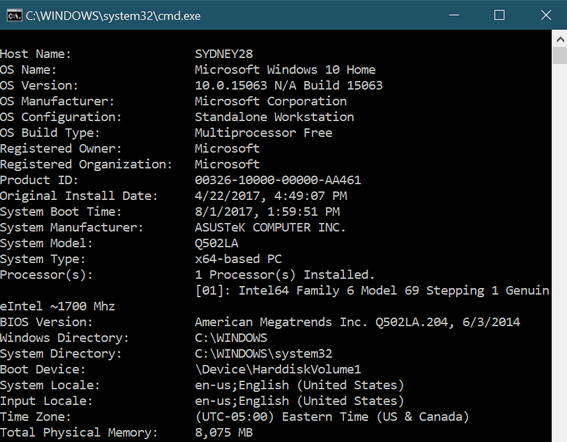 So now you know how to quickly find out a lot of information about your system without downloading or installing any third-party software.

How to Go Back to an Earlier Build in Windows 10
Windows 10 (all versions)
Microsoft has announced that they plan on releasing two major Windows 10 updates each year (spring and autumn). If a major update cause you major problems, you'll be glad to know that you can roll back to the previous (earlier) build quite easily without losing any programs or personal files. Rolling back to an earlier build of Windows 10 is only possible after a major update (like the "Creators Update"): minor updates can simply be uninstalled.
You have to act fast though. You can only "go back to an earlier build" if you do it within 10 days of the major update. so it's vitally important that you do i right away if a major update causes you major headaches.
If a major Windows 10 Update causes you major problems try this:
1. Press Start —>Settings icon (Or press the Windows Key + I )
2. Click on "Update & Security"
3. In "Update & Security" click on "Recovery"
4. In Recovery you should have 3 options "Reset this PC", "Go back to an earlier build" and "Advanced startup"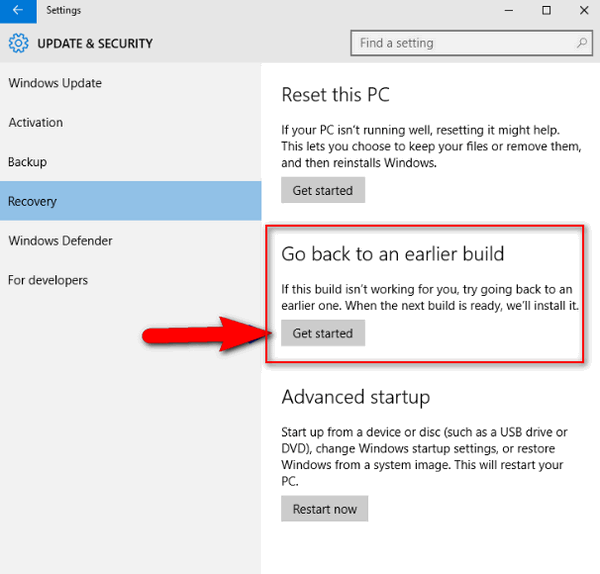 .
If you don't see "Go back to an earlier build" as one of your choices then:
a.) The update was not a major update.
b.) Too much time has passed since the major update was installed ( You only have 10 days to "Go back")
If you see the option but it's not clickable, then you waited too long.
If you have minor problems with other updates (not major updates) you can uninstall the update by doing the following:
1. Click Start — Settings.
2. In Settings, click on Update & security
3. In Update & security, click on Windows Update
4. In Windows Update, click on Advanced Options
5. In Advanced Options, click on View your update history.
6. In Update history click on Uninstall updates and a list of updates will appear. The date of each update will be shown on the far right of the list. You can uninstall updates from there.



Add Control Panel to Your Desktop Right-Click Menu
Windows 10 (all versions - but especially handy for Windows 10 Creators Update)
Microsoft is bound and determined to get rid of Control Panel in Windows 10 and replace it with Settings. But not so fast. Many Control Panel items are still not included in settings, so it looks like Control Panel will be around a big longer.
Those of you with Windows 10 Creators Update have noticed that Control Panel is missing from the Win X menu (right-click the Start button – that's the Win X menu, which can also be launched by pressing the Windows Key + X).
You can access Control Panel without a shortcut. Just press Windows Key + R , type CONTROL in the run box and press Enter. Control Panel will open. While Control Panel is open, you can right-click on its icon in the taskbar and choose "Pin to taskbar" if you want a permanent shortcut to Control Panel on your taskbar.
Today, we've made a reg file that will let you add Control Panel (with options) to your desktop right-click menu. See?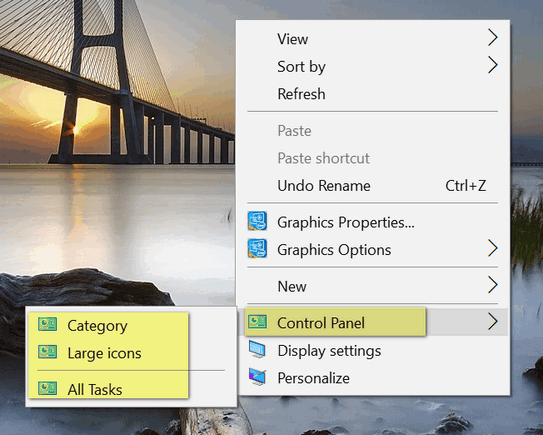 If you download and run our reg file (link below), you'll have Control Pane, and the options shown above, on your desktop right-click menu too.
You can download the reg file that will make this happen, by clicking this link.
Once you've downloaded it, unzip it, then double-click it on the file named ControlPanelContextMenu.reg . You'll need to click Yes on the warning to allow the Registry Editor to open.
Then you'll get another warning telling you that you can really mess up your computer monkeying around in your registry. If you want Control Panel on your desktop right-click menu, click "Yes".

If you did everything right, you'll see this:

If you see that, then from now on, when you right-click on your desktop, you'll see Control Panel in your right-click menu with the option so open Control Panel in Category View, Large Icon View, or as a list. We prefer Large Icon View.

Windows 10's Fresh Start
Windows 10 Creators Update
We posted an article on Fresh start when Windows 10 Creators Update was first released, and when not many of you have it yet. But by now, most of you have the Creators Update, so we're going to refresh Fresh Start in Windows 10 Creators Update (and newer versions of Windows).
Fresh start in Windows 10 Creators Update, is a great way to start off fresh with a brand new computer or start fresh with a Windows 10 computer that isn't running very well.
Fresh start clean installs a fresh, updated copy of Windows 10 while saving your personal files and some of your settings. It's a great way to start fresh with a new computer, or start fresh with any Windows 10 computer with Windows 10 Creators Update (version 1703) or newer installed.
Fresh start is a great way to rid a brand new computer of the preinstalled bloatware and trialware that manufacturers love to install on new computers as they try to squeeze out an extra buck or two… or Fresh start may be just the ticket to freshen up a Windows 10 computer that isn't running very well.
Before we start, we recommend that you have good backup of all your personal files. While Microsoft says a Fresh start saves your personal files and some of your settings, it's better to be extra safe than extra sorry. Also keep in mind, if you do a Fresh start on a computer you've been using for a while, you'll all the programs and apps you have installed, will have to be reinstalled after Fresh start completes.
Fresh start is different than Windows 10 Reset. Windows 10 Reset resets your computer with all the pre-loaded manufacturer bloatware, trialware and pre-loaded Windows 10 apps.
Fresh start, saves your personal files and some of your settings, wipes out everything, installs a clean, updated copy of Windows and then returns your personal files and folders back to their previous locations.
With all that stuff out of the way… let us begin.
Fresh start is super easy to do. Go to Settings > Update & security >"More recovery options" and click on "Learn how to start fresh with a clean installation of Windows.":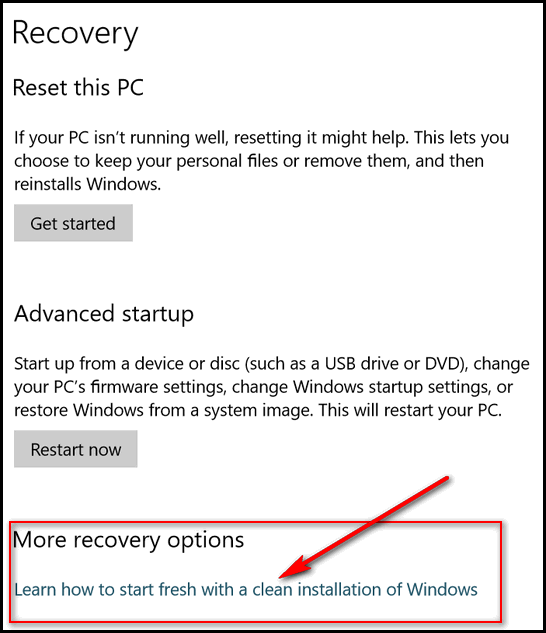 When you click on "Learn how to start fresh…", you'll see this: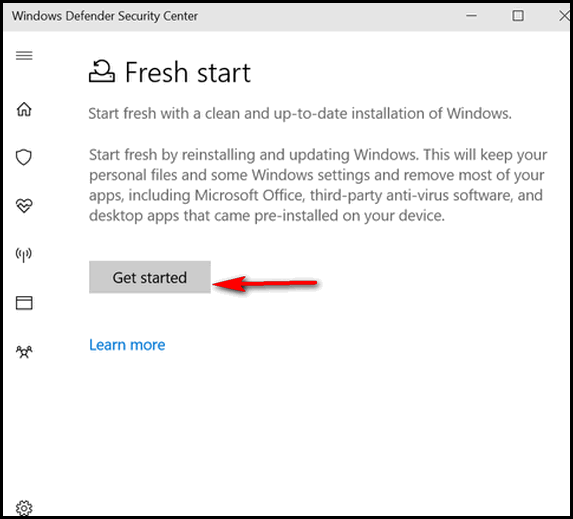 Now, all you need to do is click the "Get started" button and you're on the way to a Fresh start.
Reminder: Fresh start will wipe out wipe out all the manufacturer's bloatware and trialware and preinstalled apps. However it will also wipe out any programs (antivirus, Office, etc.) you installed on the computer as well.
And though Microsoft claims that Fresh start will keep your personal files and some of your settings, we highly recommend that you maintain a good backup of all your personal files (pictures, music, documents, videos, movies, etc.). Fresh start really means a fresh start.
So, are you ready for a Fresh start?

Buy One Get One Free - Back to School Special
It's hard to believe that it's back to school time already. It seems like summer just started! For a limited time, we're offering you a chance to buy one Cloudeight Direct Computer Care Repair Key and get one FREE. You can keep the both service keys for yourself or share one or both with a family member, friend or student of your choice.
Our Back to School Buy One Get One Free Sale will be available for a limited time.


Maybe

Maybe.

What a word. What a sentence!

Maybe I'll live to be one hundred. Maybe I won't. Probably won't, but maybe I don't want to.

Maybe.

Our lives are made up of maybes. You can hardly get through a single day without one. Maybe I'll have a salad for lunch instead of a cheeseburger and fries. Maybe if I ate better I'd lose weight and be healthier. I'm quite sure I would, but the maybes get in the way. Maybe if I ate better indicates some doubt – I know it and maybe that's why I say it that way. Maybe I'm doubting my willpower – maybe I'm doubting nutritional science. Maybe it doesn't matter.

We use maybe as a way to deflect guilt. Maybe I'll write to my friend Nelson today. I haven't written to him in many months, maybe years, and he may be my best friend. What kind of best friends wait months to contact each other. Maybe one of them is living in Antarctica, working at a weather station. Maybe there's no cell service in Antarctica. But maybe there is, but maybe he has no cellphone. Maybe he does not want one. Maybe. Maybe I could send him email, but maybe there's no internet. Maybe I'll check. If there is, maybe I'll send him an email and see how he is doing.

Maybe I will and maybe I won't. Maybe is also a good word for procrastinators like me. Maybe they do have internet where Nelson is at the South Pole and maybe I could email him. Maybe I will. Maybe I won't

Maybe.

I don't have time right now. I have a yard to mow, but maybe it will rain and I'll have to wait until tomorrow. The weatherman says there's a 30% chance of rain today, and 40% tomorrow. But maybe the weatherman's wrong? He often is. Although maybe the weatherman is a she. If he is a she, she's not a weatherman, so maybe I should have said weatherwoman, or maybe weatherperson?

Weather or not, maybe I should be more careful with weather and whether? But no matter the gender of my weather forecaster, that would not change the prospect for rain. At least I don't think so, but who knows... maybe it would.

Maybe women are more optimistic than men. Maybe there's nothing worse in the world of weather forecasters than pessimism... except maybe carelessness! I sure don't want a careless weather forecaster if a tornado is bearing down on me. I don't know if my weather "person" is careless or not, maybe he or she is — how would I know? And maybe it really doesn't matter in the grand scheme of things.

So, maybe an optimistic female weather forecaster would be better than a pessimistic male weather forecaster -- maybe there would be less chance of rain if you didn't need it, and maybe an increased chance of rain if your crops are parched...

Maybe.

All these maybes made me wonder, about the etymology of the word, "maybe". Actually, when I was in high school, I thought etymology was the study of bugs...







Use Scr.im to Trim Spam
Any time you put your email address in plain text on Facebook, Twitter, forums, auction sites, etc. your email address will be harvested by spam bots that constantly patrol the web. If your email address is whosafraidofspam@not2savvy.org and you post that on the web, anywhere, on any page, your email address will end up on tons of USBs and CDs and DVDs being sold by dealers who sell email address to spammers.
Spam is big business. You may think that no one would be stupid enough to fall for products, services, subscriptions and other things being promoted in spam emails. But that's not true. When spammers send out two hundred million spam emails, and only 50% of them are delivered that's one hundred million spam emails. And if they only sell something to .0001% of those who received the spam, that is 10,000 sales.
Let's say Bozo Peacock is a spammer and this go-around he is selling "Bee Pollen Healthy U" capsules for $18 per bottle (plus S & H). Calculating… that's $180,000 gross… not including S & H.
So let's say the Bee Pollen Healthy U capsules contain nothing but 20 cents worth of filler in a capsule that cost a tenth of a cent. Then Bozo puts 50 pills in a 10 cent plastic bottle he's spent a total of 35 cents. Let's say labor and overhead costs are 65 cents per order… Old Bozo Peacock is gonna make $170,000- in profit. That's 170 large!
But, if Bozo is located in Northwestern Lower Sablovia, the cops might not care what he does… so he may do nothing but collect money and move to Southwestern Lower Sablovia and do it all again.
Yes, this is just a facetious example… but the numbers are pretty accurate. If you send hundreds of millions of spam emails, someone somewhere is going to buy whatever it is you're selling. That's sad but true. When you're dealing in 100's of millions even a success rate as low as .0001% can make spammers wealthy. It's kind of like trolling the ocean with huge nets… you're bound to catch something.
Wait! Don't get any ideas! It's illegal to spam and none of you who are reading this work or live anywhere near Lower Sablovia where spamming is the main industry…and legal. Besides there are no flights for Lower Sablovia, they don't have an airport… heck they don't even have roads.
I digress. It's important that you never put your email address on any public page. Never put email address in Facebook posts, Twitter Posts, comments, forums, auction sites, etc. If you do, you're just going to set yourself up for more spam. But sometimes you want people to be able to email you and you want to leave an email address on Facebook, a forum post, a comment, etc.
Well now you can, because you can Scr.im your email address and post it anywhere without worry.
We're using a new email address to send our InfoAve Premium Newsletters. If I put that email address here, in plain text, the spammer bots would get it and then more spam would follow, But if I Scr.im it… I could stick it right here and the bots would not be able to harvest it… so in fact, I could put it right here, without fear of ending up on 10,000 spammers banks of email addresses.
Here's how it works. You go to http://scr.im and you type in the email address you want to, Scr.im. See?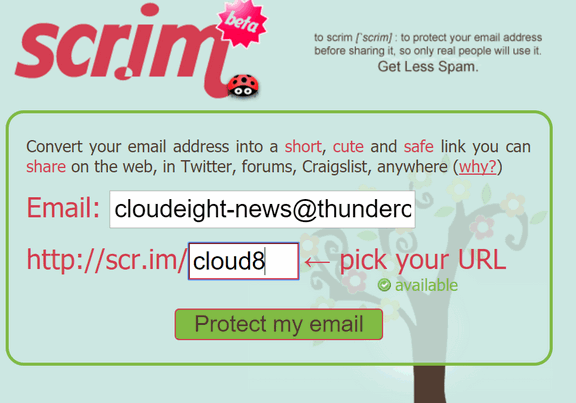 You can either let Scr.im assign a random address, or choose a custom one like we did above. Then click "Protect my email" and voila ! You get copy & paste links you can use anywhere: Twitter, Facebook, forums, webpages, and more…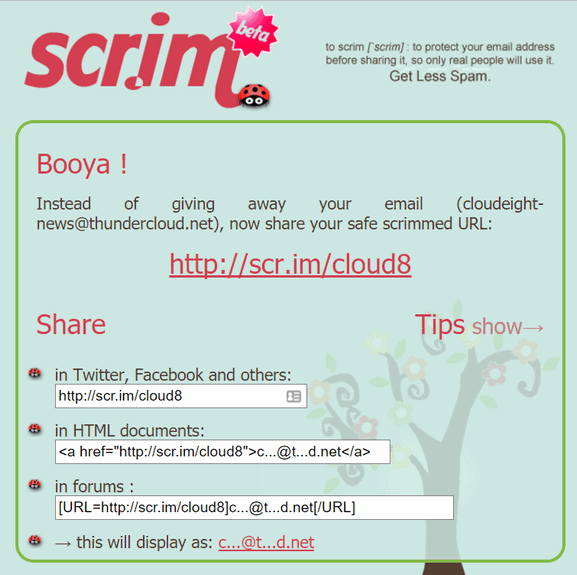 Protected!
If you decide you're going to try to email us at c…@t…..d.net… don't. It's only for sending you newsletters. We have "contact us" links in the newsletter you can sue to contact us.
When you use the Scr.im links you're given and you post it on the web — Facebook, Twitter, forums, whatever — whoever clicks it to send you an email will have to pass a test. It's simple challenge for humans, a hard challenge for robots. Think of: "That's one small step for man, one giant leap for a robot."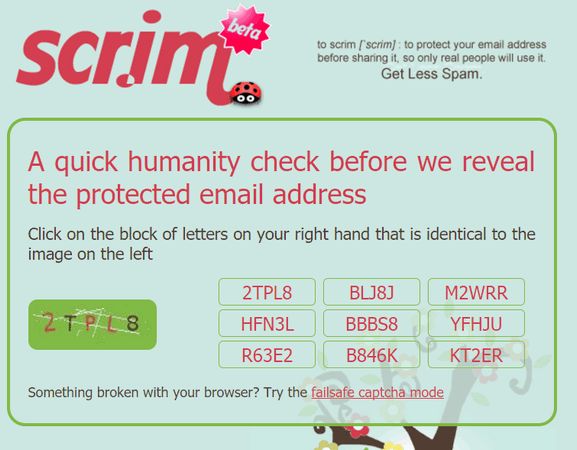 Let's do another. This one is for our Cloudeight address we use as our main contact address. Woe befall us should we ever put our main address on the web… but we can Scr.im it and post it right here. Email us! See? You can email us but the robots cannot.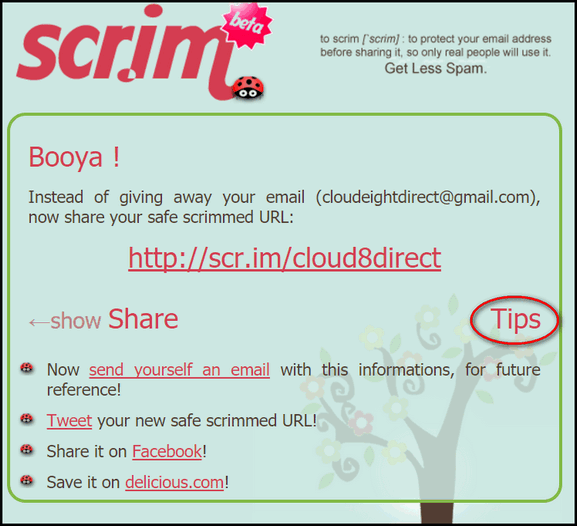 When someone clicks the link to "Email us!", they have to pass a challenge like the one below. It only takes a second for human to figure it out, but for a robot? Not very likely.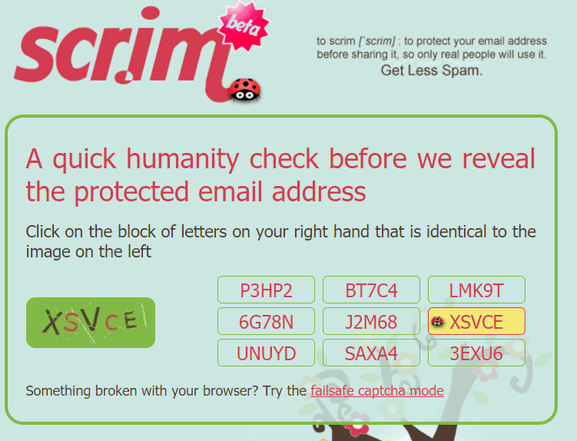 By now, you're either interested or our not. You should be. It's a great way to be able to post an email address on the web so people can easily contact you, without having your email address gathered up and harvested by spam bots.
One more thing. Let us welcome Mr. Scr.im. He's going to tell you about his site and service (or maybe it's Mrs. Scr.im… it's hard to tell):
"Use scr.im to get less spam

Leaving your email as plain text in forums, on Twitter or on classified sites makes you an easy spam target: spam robots and email harvesters constantly browse these sites to collect new victim emails.

Don't share your email on public sites. Instead, use our free service that will convert your email address (joe@email.com) into a safe and short URL (for instance http://scr.im/joe). People willing to email you will go to this URL that will reveal your email address, after a simple test that automated scripts and bots cannot pass.

Don't share your email. Don't make yourself an easy spam target.

Instead, share your safe scr.im URL "
Ok, now you're ready to go Scr.im your email address(es) right? OK.
Visit http://scr.im and Scr.im your email addresses to trim the spam.
Donations help us continue our mission to keep you informed, separate the truth from the hyperbole, and help you stay safer online. We provide support to thousands of people. Every week we help dozens of people via email at no charge. Thanks to donations, we do a lot more than provide this free newsletter. We help you recognize online threats, fight for your online privacy, and provide you with the knowledge you need to navigate the Web safely, and help you get more out of your PC. lass="auto-style803"> Help us keep up the good fight with a small donation.
After you donate, you will receive an invitation to become a Cloudeight Booster.

Interested in making a automatic monthly gift? Visit this page. Help us keep helping you... and helping you stay safe on the Web.





All About Your IP Address
Your IP address is like your phone number. It's a unique number assigned to you when you're connected to the Internet. Your IP address can be static – that is fixed and unchanging – or it can be dynamic – meaning it changes every time you connect to the internet or semi-static meaning it changes from time to time.

Both of us have semi-static IP addresses that change every five or six months; your mileage may vary :)

Your IP address is logged by every Web site you visit and can be used to identify you right down to your city and country — and with a court order your name and address and phone number.

However, unless there is some reason for the authorities to issue a court order to find out who you are, IP addresses simply remain on Web server logs along with the time and date when you accessed the site(s). Every web server captures your IP address – and no ad-blocker or do-not-track or other browser extension which claims to keep your browsing private actually does.

Additionally, your ISP logs everything you do and everywhere you go on the Internet.

Well here, we'll show you. Go to http://whatismyipaddress.com/ and click on the IP Lookup button at the top. Wait a few seconds. You can see that it shows a lot about you even -in most cases – the city and country you're in and even your longitude and latitude.

There may be times when you'd like or need to know what your IP address is – or maybe you're just curious. If you're curious or need to know your IP address quickly, the fastest way to get your IP address is to go to www.google.com and type IP in the search box and press Enter. Immediately your IP address is displayed at the top.

If you want to find out more about yourself do an IP Lookup on your IP address. You can do that from http://whatismyipaddress.com/ or http://www.infosniper.net/ , Amazing and a bit scary too, eh?

Your IP address is essentially like a phone number. In order to get on the Web you have to have an IP address; your IP address is automatically assigned by your ISP. But just because you have an IP address doesn't mean some hacker or criminal is following you around or lurking in the shadows. />
There is a lot more to IP addresses than we've covered here, but we don't want to turn into geek-heads and techno-jargonists :)

Reg Organizer - A Swiss Army Knife of Windows Tools - Works Great on Windows 10!/


Premium Subscribers' Home Page You'll find the last few weeks of Premium archived on this page.

To change your subscription address, see "Manage your subscription" at the bottom of this newsletter.

Submit your questions, comments, and suggestions for possible inclusion in our newsletters here. This form is for questions, comments and suggestions for this newsletter, not for product support, stationery questions, or general questions concerning our products or services.

Help us Grow! Forward this email newsletter to a friend or family member - and have them sign-up for InfoAve Premium here!

Get our free daily newsletter! Each evening we send a short newsletter with a tip or trick or other computer-related article - it's short and sweet - and free. Sign-up right now.

Have a question about a Cloudeight Software program, service, stationery, or need to ask about an order? Let us know!

If you need help with one of our software programs, have a question about an order, or have a question about any of our email stationery, screen savers, or other products - please don't use our InfoAve Questions/Answers/Tips form. Please use our general Cloudeight support form instead.

If you want to help us by telling your friends about our Cloudeight Direct Computer Care service, you can download a printable flyer you can handout or post on bulletin boards, etc. Get the printable PDF Cloudeight Direct Computer Care flyer here.

These products and services are recommended and endorsed by Cloudeight:
Emsisoft Anti-Malware- The best anti-malware you'll find anywhere. Great protection -- both proactive and reactive. Learn more here.
Reg Organizer-- A Swiss Army knife of PC tools. Easy for beginners to use -- with advanced features for experienced users too. Learn more here.
Cloudeight Direct Computer Care - Computer Repair Service-- And for computer repair, you can't beat our remote repair service. You never have to leave your home, take your computer anywhere or leave it with someone you don't know or trust. We can fix most computer problems and all you have to do is sit back and relax. Learn more here.
Thunderbird Email Setup - we'll set up Thunderbird for you - works great with Windows 7, Windows 8 and Windows 10. Get the details here.
Windows 10 Customization - Make Windows 10 look and work the way you want it to. Get more info here.
Also.. don't forget:
We're offering something we think most of you will enjoy. We have a daily tips and tricks summary newsletter that is sent six days a week. It features daily tips, freeware picks, and site picks and interesting computer tips, tricks and more. It's short and sweet - very brief and lightweight. If you'd like to receive or daily tips and tricks newsletter (completely free, of course). You can subscribe here.
You can also help us by using our Start Page.
We have over 100 free games to our Start Page too - come and play all day. It costs nothing to use our Start Page--and helps us a lot.
Your Premium Members' Home Page is located here.

We'd love to hear from you!
If you have comments, questions, a tip, trick, a freeware pick, or just want to tell us off for something,, please visit this page.
If you need to change your newsletter subscription address, please see "Manage your subscription" at the bottom of your newsletter.
We received hundreds of questions for possible use in IA news. Please keep in mind we cannot answer all general computer questions. We choose a few to use in each week's newsletter, so keep this in mind. If you have a support question about a service or product we sell, please contact us here.

We hope you have enjoyed this issue of InfoAve Premium. Thanks so much for your support and for being a Premium subscriber.
We hope you all have a really great weekend!
Darcy & TC
Cloudeight InfoAve Premium - Issue #721
Volume 14 Number 42
August 4, 2017

Not a subscriber? Subscribe to our InfoAve Premium Newsletter

DISCLAIMER ABOUT THE TIPS & SOFTWARE RECOMMENDED IN THIS NEWSLETTER-- PLUS OTHER IMPORTANT INFO:

All software recommendations we make in this newsletter are based on our own experience and testing of the programs that we recommend. This does NOT guarantee they will work on YOUR computer. We assume you will read the program documentation and use the program according to the instructions. We make no guarantees about any program recommended in this newsletter or its suitability for any particular purpose. We will not be responsible for any problems you may have. We do not and cannot provide support for any products other than our own Cloudeight products and we will not answer email concerning any product which is not a Cloudeight product. We urge you to use good judgment when downloading and installing software and to use a program only after reading the program's documentation. And, all Tips & Tricks in this newsletter have been tested by us on several different computers and were found to work as indicated. They may not work on yours. We make no guarantees. Anything we recommend you try and use at your own risk. We will not be responsible for any problems caused by any software programs recommended in this newsletter or any of the tips and tricks in this newsletter.. Readers' comments are their own and Cloudeight Internet LLC is not responsible for comments of our readers. All readers' comments, suggestions, questions, and tips and tricks sent to us become the property of Cloudeight Internet LLC. You understand that we may use your comments without your explicit permission.
"Cloudeight InfoAve Premium" newsletter is published by:
Cloudeight Internet LLC
PO BOX 73
Middleville, Michigan USA 49333-0073