Cloudeight InfoAve Premium
Issue #724
Volume 14 Number 45
August 25, 2017

Dear Friends.

Thank you very much for subscribing and for being a part of our Cloudeight family. We appreciate your membership and support very much!
Remember: To ensure delivery of this newsletter, please add our email address to your address book and / or alert your ISP should you need to have it whitelisted in order to receive this newsletter. We send this newsletter from our new email address, cloudeight-news@thundercloud.net .



Attention Cloudeight Boosters!
We've extended the Cloudeight Boosters' Appreciation Sale through August 31, 2017. So, you still have time to save $60 on Cloudeight Direct Computer Care Season Tickets! Log in to your Cloudeight Boosters Home Page - all the information is right on the page that opens immediately after you sign in.

Not a Cloudeight Booster? Make a donation and you can join our Cloudeight boosters. We offer our boosters special sales and freebies. Please consider joining us.

Subscribe to our Daily Newsletter!

Get computer tips & tricks every night. Our daily newsletter features a computer tip/trick or two every day. We send it out every night around 9 PM Eastern Time (USA). It's short and sweet, easy-to-read, and FREE. Just visit this page and sign-up. All you have to enter is your email address. Once you confirm your subscription, you'll receive our daily newsletter every day, six days a week. You can unsubscribe at any time.
Please sign up for our daily newsletter and help us grow!
And don't forget to tell your friends too! Tell them to sign up at:

http://thundercloud.net/start/subscribe.htm .




Buy One Get One Free - Back to School Special
Sale Extended Through August 31, 2017
It's hard to believe that it's back to school time already. For a limited time, we're offering you a chance to buy one Cloudeight Direct Computer Care Repair Key and get one FREE. You can keep the both service keys for yourself or share one or both with a family member, friend or student of your choice.

Buy your keys now, use them when you need them. They never expire! Our Cloudeight Direct Computer Care repair keys are always good until you use them. Think of our computer repair keys as inexpensive insurance for your computer!.
Our Back to School Buy One Get One Free Sale has been extended through Thursday August 31, 2017.
A note about the September 1, 2017 Price Increase on Cloudeight Direct Care Repair Keys.
Summer is our slow season so we've been featuring special prices on our Cloudeight Direct Computer Care Services. However, autumn and winter are busy times. We'll be announcing a small price increase for single session Cloudeight Direct Keys on September 1, 2017. So, take advantage of our Buy One & Get One free special right now. We've extended our BOGO sale through Thursday August 31, 2017.





Here are some important links for you:




A comment from Derek
Hello TC and Darcy; Recently you suggested I try Vivaldi as a substitute for Firefox. Now that I am fairly familiar with it I think it is really good and will stick with it. Thanks for your help again. Best Wishes Derek NZ
A comment from Peggy
...Emsisoft's support manager, David Biggar not only helped me to get Emsisoft up and running again, he emailed me back with some kind words of encouragement for my situation (a devastating Windows 10 upgrade). When you talk about going above and beyond with customer support, Emsisoft has an incredible team.
A comment from Edith
Thank you so much for answering my questions in last week's newsletter. The AX program is exactly what I was looking for. I have been using it many years. You are the best! Edith
A comment from Jim
I have a speech defect called Dysarthria from a stroke 34 years ago I have trouble, particularly in grocery stores. I searched and found what I was looking for to talk for me. After talking with them a good while, I wanted the price. it was $7,600 plus I had to go to a speech therapist for 4-8 weeks at my expense to learn to use the program. I asked the Lord what to do and he led me to the site below and it does exactly the same thing and it is free. Some things are programed into the software and you can type in and save others. The site is https://www.microsoft.com/en-us/store/p/talk-for-me/9wzdncrdm04g . This is some miraculous software. Jim

A comment from Alice
Darcy I just want to thank you again for getting my favorites. I thought I had a lot of patience but compared to you I have none. I'm very happy that you stuck with me to get those favorites straightened out. I'm especially happy that I didn't have to take my computer to a repair shop and you could fix my problem right in my own house while I watched you do your magic. I highly recommend the computer care key. It is well worth the price. Thanks again Darcy. Enjoy the rest of the summer and don't forget to go on vacation!

A comment from Olstan
Hi Darcy... Many thanks for all you did in my unattended session last night. Once again you excelled. Kind regards, Olstan

A comment from Bonnie
TC you did an amazing job fixing up my old Windows 7 PC. I never thought you'd be able to get it fixed, but you did. Great job. Thanks so much!

A comment from Ken
Darcy you're truly amazing. I want to thank for going above and beyond when you came to fix up my email. I never expected you to do all you did. I really appreciate it. Both my email and my computer are working much better. Thank YOU. Keep up the great work. Ken from AZ.

Thanks so much to Derek, Peggy, Edith, Jim, Alice, Olstan, Bonnie, Ken and everyone who has taken time to write to us. And thanks all those who used our Cloudeight Direct Computer Care services . Don't forget! We've extended our Back to School Special through August 31, 2017. Buy one Cloudeight Direct Computer Care repair/service key - and get one FREE.
Also, a BIG thank you to all who have helped us with your donations and those who have shared our site with friends. THANK YOU! EB & TC.






Richard desktop icons disappeared; our article didn't help
My desktop icons disappeared I tried what you suggested and it did not work.

Our answer
Hi Richard. The article does not apply to desktop icons. Our article, "The Case of the Missing Taskbar Icons", applies to taskbar icons only.

It appears that you have inadvertently hidden your desktop icons. To fix it, right-click on an empty area of your desktop, click "View" then click on "Show desktop icons".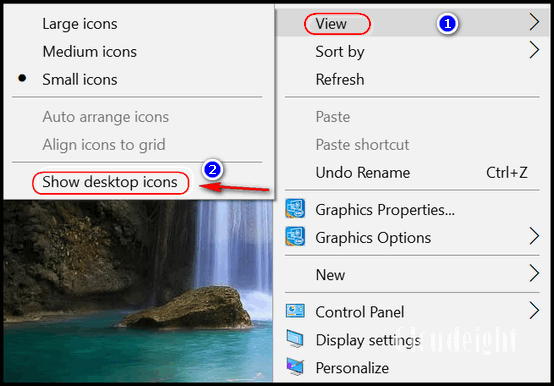 Once you have clicked on "Show desktop icons" you'll see a checkmark appear to the left of it (as shown below). Unless you see that checkmark, you won't see your desktop icons.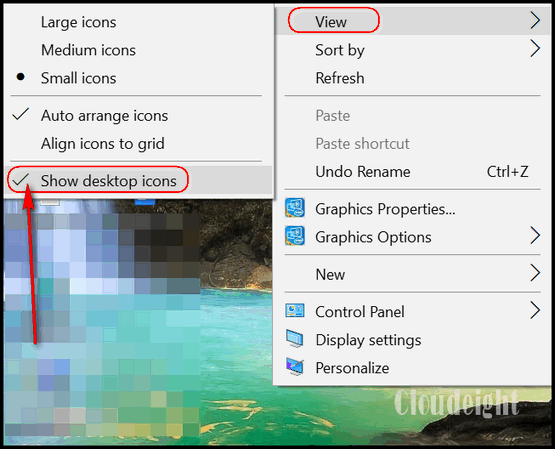 Sandy is getting popups saying her computer is infected
I am suddenly getting a lot of those pop flash notices from Microsoft that the computer is infected while playing games on Facebook. Is this a Chrome problem? I have run ADW Cleaner and Emsisoft and nothing has been found. Just wondering if it's my computer or if this is something that is happening all over.
Our answer
Hi Sandy. Microsoft does not display pop-ups saying you're infected. What you are seeing are ads popping up from the Web that are expertly crafted to look like Windows warning dialogs. The next time you see one of these press ALT+F4 to close the ad. If that does not work,
We have covered these kinds of scams many times. Please take a few minute and
review the info and the screen shots on this page
.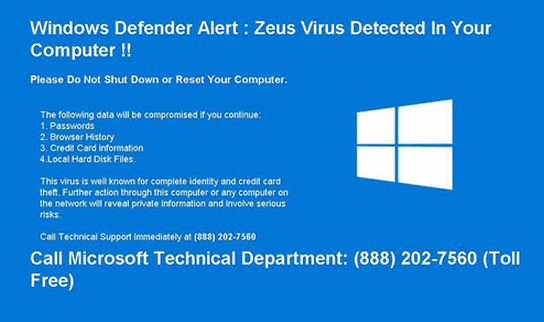 Above: This is not a real Windows warning - it's an ad and a scam. The number is not Microsoft...

These kinds of scams have cost hundreds of thousands of people a lot of money, worry, and trouble. While these scams have been around for years, this past year they have become extremely popular. You might say they're popping up all over - no pun intended.
We think being informed and keeping up with the latest shenanigans of these criminals it the most important thing you can do to prevent being taken in by one of these Microsoft (and other) support scams. And using Emsisoft will protect your computer from virtually all threats, including ransomware.
We hope this helps you.



Helen wants to know what we think of Kaspersky being a Russian company
What are your thoughts about the national news release that Kaspersky is controlled by Russia? I don't know much about it, and only use Emsisoft, but was wondering how you felt about it.

Our answer
With all the stuff going around about the USA and Russia, this is a hard topic to discuss without becoming mired in the current controversies.

We've never been fans of Kaspersky, regardless of where it was developed or who owns it. If we're going to judge software by who started the company, we'd need to mention McAfee too!

But we'll just leave it at this - Emsisoft does a better job overall job than Kaspersky and the others. We trust our computers to it, our family members use it, and we've never had any reason to question its efficacy. And another big plus about Emsisoft is the support team and staff behind it. There's hardly a week that goes by when someone doesn't write us commending Emsisoft for going above and beyond to help them with a problem, even if it turns out it has nothing to do with Emsisoft. It's hard to beat service like that.

Our personal feelings aside, the fact that Kaspersky himself is a trained KGB agent, would be enough to make us think twice. There are many articles about this on cybersecurity sites and, of course, mainstream news sites. Here's one that's interesting: "Congress Casts A Suspicious Eye On Russia's Kaspersky Lab" .

We continue to recommend the best and the best is Emsisoft. And we'd continue to recommend Emsisoft, even if Kaspersky turned out to be from Kansas. :)





Roger wants recommendations for a good, but cheap external hard drive.
Any recommendations for a good, cheap external hard drive? Thanks Darcy, you and TC take care. Roger

Our answer
Hi Roger. Thank you. We recommend going with a name brand. Check Amazon or Best Buy for a Seagate, Western Digital or Toshiba portable external hard drive. Make sure you search for portable external hard drives. With portable external hard drives, all you need to do is just plug it in to a USB port and it is ready to use. And right now there are some really great deals on portable external hard drives.
For instance, you can get a 1 terabyte portable external hard drive for under $60. We did a quick search and we found a Western Digital, 1 TB portable external hard dive at Best Buy for $54 - that includes free shipping too. Take a look. For a few dollars more you can find a 2 TB portable external hard drive, should you need more than 1 TB.
You take care too, Roger.





Wilbur needs to copy a DVD
My Dad has a DVD that he wants me to duplicate and with the upgrade to 10 I lost Roxio. Internet says that 10 and Roxio do not get along. His Win 7 has a USB DVD drive and we thought it would be simple to just put the Movie in one and the blank in the other and presto out would pop the duplicate! After 7 hours I have surrendered and am asking when you could help me?

Our answer
Hi Wilbur. Thanks! Sometimes, when we don't know the answer to a question, we approach the problem as if we were going to do it for ourselves. So, if we were going to do what you're trying to do, here's how we would do it.

We would take the DVD that we wanted to copy and we would make an ISO file from it. An ISO file is a perfect exact image of the DVD disk, much like an image backup of a hard drive. Once we had created an ISO file of the disk, we can make 1, 2, 3 or any number of copies from it. And after we make the copies, we can keep the ISO file in case we ever needed to make another copy of the disk in the future.

Here's a tutorial we found. It walks you step-by-step to creating an ISO file from a disk (CD or DVD). It includes a download link to a freeware program called WinCDEmu, to make the ISO file. We have not tested the program featured in the article, but we have used similar software in the past with success.

Once you have created the ISO file, you don't need any special software to burn CDs or DVDs from it. All you need to do is insert a blank, writable DVD or CD into your drive, then double-click on the ISO file you created. That's it. It will take anywhere from few minutes to an hour or so to create a copy from the ISO file, depending on the size of the file. When you're done, you'll have an exact copy or the original DVD/CD.

We hope this helps you, Wilbur. Let us know if you need any more help.





Carole wants a alternative for Picasa
Thank you EB and TC for all your tips and tricks over many years that I have used for my pc. My question is: what would you suggest that I use instead of Picasa? I have also used that over many years and find it so easy to use for all my photos. Is there something that I can use that I could transfer all the photos and do basically the same operations and will keep me updated?

Our answer
Hi Carole. Thank you! We are assuming you don't want to use Google Photos, as recommended by Google on this page. If that's correct and since you're using Windows 10, we suggest you give the Windows 10 Photos app a try; it is included with all versions of Windows 10. It's listed on the Windows 10 Start menu as "Photos".
In June 2017, we did a complete review of the Photos app, and we were very impressed. It may not be as full-featured as Picasa, but it sure does a great job of organizing and managing pictures on your computer. It has some a few nice editing features too. We were quite impressed.
You can read our article about using Windows 10 Photos app right here.
We hope this helps!




Cynthia wants our recommendation for a PDF reader
What do you recommend for a reader/pdf reader? Adobe Acrobat? Foxit? PDF-XChange? Other?

Our answer
Hi Cynthia. If all you need to do is read PDF files, you can easily do so with Chrome and Microsoft Edge - but they're not full-featured PDF readers.
In our opinion, Adobe is a bloated heavyweight. I use Foxit myself because it suits my needs best, but I've also had good luck with Sumatra. The only drawback to Foxit is that when you install it you have to be extra careful you install the free version and not the free trial. If you install the free trial you'll be nagged to pay for it after the trial period is over. If you are careful when you download it the first time, and select the free version of Foxit, you can avoid that. Additionally, from time to time, Foxit may bundled 3rd-party software, so if you decide to go with Foxit, pay close attention when installing it - you can opt-out of any 3rd-party installations.
You can download Foxit (free version) from Snapfiles here . It's much easier to download from that page than trying to navigate around the product's home page.
If you don't want to hassle of navigating around Foxit's potential 3rd-party software installers and/or nags to buy the full version, Sumatra is a good choice It's a basic, no-frills PDF reader. No tricks or gimmicks. You can download Sumatra from here.
We have never tried or used PDF-XChange, but according to Snapfiles, it too offers to install 3rd-party software. You can read Snapfiles' review & warnings here.

If you work with PDF files a lot you will probably want the extra convenience and features that come with a reader like Foxit or Sumatra. If you only occasionally need to read a PDF file, you might be happy using Microsoft Edge or Chrome.



Sarah has an external hard drive that's compatible with Windows XP, Windows Vista, and Windows 7
I have a My Essential external hard drive, smart backup and storage 500GB/Go. on the back it says it is compatible with: Windows XP, Windows Vista, or Windows 7. My Question is: Can I use it on my windows 10 laptop? Thank You, Sarah

Our answer
Hi Sarah. Yes. You can use your Western Digital My Essentials external drive on Windows 10. Since you purchased the drive before Windows 10 was released Windows 10 is not listed on the box or in the literature that shipped with the drive. Microsoft has made no changes in way Windows uses hard drives, and other than USB technology getting better and faster, almost all USB ports are backwards compatible. Your WD Essentials external hard drive should work just fine with your Windows 10 laptop. However, hard drives don't last forever. If yours is five or six-years-old or older, you might want to consider getting a new one. You can get a 1 TB portable external hard drive (that's twice as much storage as your current external) for $54 with free shipping (as of the day this was written).

Kathi wants to know about an antivirus program
Hi, TC and Darcy. I am receiving constant emails advertising a virus protection programme named Scan Guard. Is it worth looking into? Regards, Kathi

Our answer
Hi Kathi. ScanGuard is a scam. In our opinion, It promises things it can't deliver. As far as antivirus protection, ScanGuard doesn't appear and is not listed on any legitimate independent antivirus testing lab's web site. That's a good indicator that the software is not a legitimate antivirus / security program.

Also, keep in mind the emails you're receiving that contain these ads are unsolicited commercial email - commonly known as "spam". Never buy anything from *spam* emails. The products are usually scams, ineffective, or worse. Buying anything from a spam email only feeds the miscreants who send *spam* and only make the problem worse.
We have covered ScanGuard in depth. Please read our article on ScanGuard here.

And remember, with Emsisoft you are protected from viruses, Trojans, ransomware, PUPs, and malware of all types. You don't need anything else.




One Year Emsisoft License With FREE Installation & Set-up
Send your favorite student back to school with the best PC protection available. Protect them from malware, ransomware, viruses, Trojans, PUPs and more! During our Emsisoft Back to School Promo, we'll even install Emsisoft and set it up for best protection free. All for the price of a one-year license. Best protection - installed and set up for you - can't beat this deal. And this offer is available to everyone - student or not.
See this page for all the details.



What's Coming in the Windows 10 Fall Creators Update
Windows 10
The next major update to Windows 10 is coming in September. If you live in the USA or Canada, it will be called the "Fall Creators Update". If you live in other English-speaking countries, and you speak more proper English than us North Americans, it will be called the "Autumn Creators Update". However, other than the name, there won't be any difference in the actual update. Since we're in North America, we'll refer to it as the Fall Creators Update.
In the Fall Creators Update, Microsoft continues its assault on Control Panel, adding two new categories to Settings. As you can see below, they are Phone and Cortana.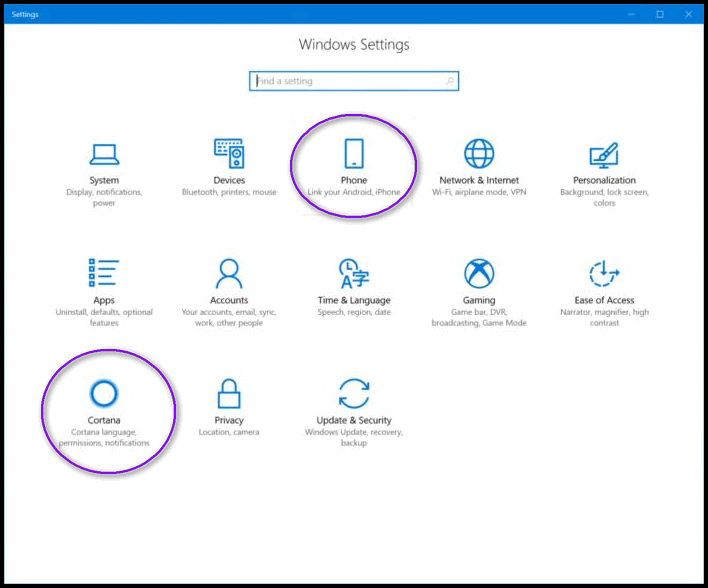 According to Microsoft, you'll be able to easily synchronize your Apple iPhone or your Android phone with your Windows 10 PC. You'll be able to do this (easily according to Microsoft) from Settings/Phone.
Whether you love or hate Cortana, Microsoft continues to improve it (her?). In the Fall Creators Update, you'll be able to speak commands to Cortana. Cortana will be able to lock, sign-out, restart, or shut down your PC with voice commands. Additionally, if you ask Cortana a question it does not know the answer to, it won't automatically open Edge and the Bing search page. You'll be given multiple answers and choices in a fly out.
If you're a fan of Windows Movie Maker, you should really like Windows 10 Fall Creators Update's Story Remix. Select your photos and videos, drop in music, and select your desired transitions 3D effects and Click a button. Voilà – there's your video. Originally, Story Remix was going to allow you to drop 3D objects into your videos, but this feature will be delayed until the next update.
More new features:
You'll be able to resize the start menu diagonally
The start menu and Action Center will have a new "Acrylic" backdrop.
There will be (by default) a My People Hub on the taskbar.
You'll be able to pin up to 3 contacts to the taskbar. Any of your pinned contacts can send you "Pops" - which are essentially animated emojis.
The Notification area's Battery icon will have a new flyout with a slider that will allow you to better control power consumption to extend battery life.
Start menu's "About" section will contain information about your system's health.
You'll be able to set Windows 10's "Storage sense" to automatically delete the contents of your Downloads folder every 30 days.
Remote Desktop is now included in Settings.
You can recover your Microsoft Account password directly from the lock screen.
Windows will be able to throttle inactive programs so they don't use system resources.
Many new improvements are included in Microsoft Edge.
One new feature we were really looking forward to was something called "Timeline". Timeline lets you jump back in time to find what you were working on, whether it was 2 hours or 2 months ago. Easily hop back into your files, apps and sites as if you never left. Unfortunately, this feature will not be included in the Fall Creators Update.
Keep in mind that over the next couple of weeks, more features could be added and/or some features removed. We'll keep you up-to-date.





How to Write on Photos With Windows 10 Photos App
Windows 10 (all versions)
Some of you are really good with graphics programs - we've some of the great work you do. But there are many people who don't have fancy graphics editing programs, who might want to draw something on pictures and photos. And if you're one of those folks, and you're using Windows 10, then you'll be happy to learn, that Windows Photos App (available by clicking Photos on your start menu) lets you easily draw on any picture or photo.
Just open Windows Photos, then open any photo or picture you want.
Just click on "Draw" at the top (above) and select the style of "pen" you want to use. Then go ahead and draw (or write) on your picture.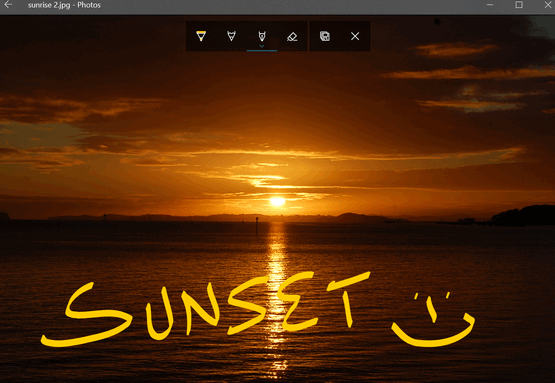 After you save it, you'll be able to play "a living image" (see an animation of your drawing being applied to the picture)
Just click the animation button > or press Ctrl + Space bar.
Oh, go ahead and play around with it, you'll be learning and playing at the same time. Doggone it!



Windows Troubleshooters
Windows 10 Creators Update
Back in the day, it was easy to write tips and tricks for Windows because each version was defined by a number or a name – like Windows XP, Windows Vista, Windows 7, Windows 8. But Microsoft's idea of Windows as a Service (WaaS) has created a unique problem. We can't write generic tips for Windows 10 anymore, because now there are three current, fully-supported versions of Windows 10, each one different enough that, sometimes, tips need to be written for one specific version of Windows 10. For example: The two most recent versions, Windows 10 Version 1607 – AKA "Anniversary Update" and Windows 10 Version 1703 AKA "Creators Update" are similar, yet sometimes very different.
Moving right along…
There have always been built-in Troubleshooters in Windows 10, but most people don't know they are there because they are buried in Control Panel — All Control Panel Items–>Troubleshooting—>All Categories. How many times have you ever looked there? Probably never, or at least not very often.
One of the new features of Windows 10 Version 1703 Creators Update brings the Windows troubleshooters out of the closet and puts them where you can find them. If you are using Windows 10 Creators Update, you'll find the troubleshooters in Settings > Update & security > Troubleshoot.
See?
As you can see in the screen shot above, Creators update divides the troubleshooters in to 2 categories:
Get up and running
Find and fix other problems
Windows 10 Creator Update has 19 troubleshooters included under the category, "Find and fix other problems".
While we have not had a whole lot of success with Windows troubleshooters in the past, it's quite possible they work in many situations. The troubleshooters included in the Windows 10 Creators Update are the newest iterations of Windows Troubleshooter, so they should be improved. We can't promise that they are, but one then is for sure, they are a whole lot easier to find.
Here is a list of all nineteen Windows Troubleshooters included in the Windows 10 Creators Update:
Blue Screen Troubleshooter
Bluetooth Troubleshooter
Hardware Troubleshooter
Homegroup Troubleshooter
Incoming Connections Troubleshooter
Internet Connections Troubleshooter
Keyboard Troubleshooter
Network Adapter Troubleshooter
Playing Audio Troubleshooter
Printer Troubleshooter
Power Troubleshooter
Program Compatibility Troubleshooter
Recording Audio Troubleshooter
Search and Indexing Troubleshooter
Shared Folders Troubleshooter
Speech Troubleshooter
Video Playback Troubleshooter
Windows Update Troubleshooter
Windows Store Apps Troubleshooter
Had any success with the troubleshooters included with Windows 10 Creators Update? Let us know.



Tame Microsoft Advertising in Windows 10
Windows 10 (All versions)
Maybe you've noticed that Windows 10 has a lot of advertising going on inside it. It's not blatant; they are not jumbo-sized, blinking, flashing advertisements. They're more sophisticated, the fit-right-in, kind a looks like part of Windows type of ad. And no, this advertising isn't just because you may have gotten Windows 10 free via the free upgrade offer. If you went out today an bought a copy of Windows 10 for $100 or even Windows 10 Pro for $200, you're still going to see Microsoft advertising in Windows 10. And while you're not going to get rid of all of it, you can disable most of it, and it's pretty easy to do.

-- Stop Ads (Suggested Apps) From Appearing in your Start Menu --

If you use the default hybrid Start menu in Windows 10 – the one with tiles as well as a program list, you will occasionally see "suggested apps" appear.

Sometimes these suggested apps are free, but sometimes they're not. Sometime their products or games from the Windows store which sell for $40, $50 or more. If you're like most people, there's enough advertising on the Web, on the highway, on TV, so you probably don't want Microsoft using your Start menu as a billboard for anything they want you to use or buy.

You can put an end to suggested apps and stop them from showing up in your start menu. Just open Settings > Personalization > Start and turn the switch under "Occasionally show suggestions in Start" to "Off".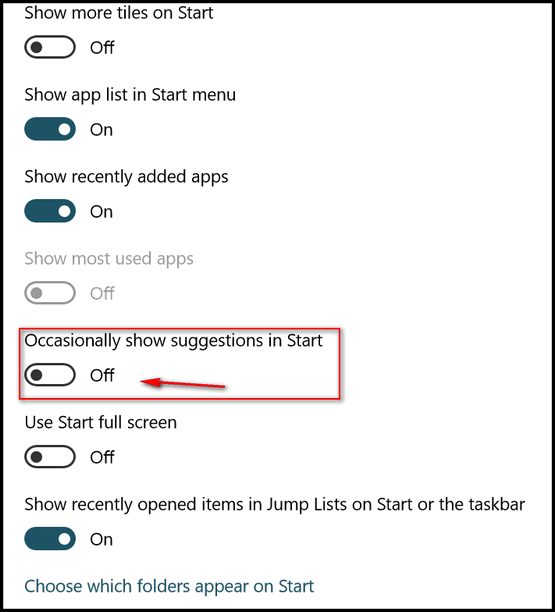 -- Stop Taskbar Pop-up Ads --

Euphemistically, Microsoft calls taskbar pop-up ads "tips, tricks and suggestions". You betcha. You're going to see ads (nags) for Edge. If you have a different browser set as default, you'll see ads for Edge that tell you how to earn free gifts by earning "rewards" points – or you'll see a pop-up saying Edge is the fastest browser and you're stupid not to be using it. Well, not really, they don't say that, but they'll tell you that Edge is the fastest browser and you should be using it! But if you wanted to use it you would use it, so why put up with these taskbar ads nagging you to use Edge or other Microsoft products?

If you want to use non-Microsoft products, that's your business. You don't need Microsoft bugging you with pop-ups. Lucky for you, it's easy to turn them off. Here's how:

Go to Settings > System > Notifications & actions > and turn the switch beneath "Get tips, tricks, and suggestions as you use Windows" to OFF.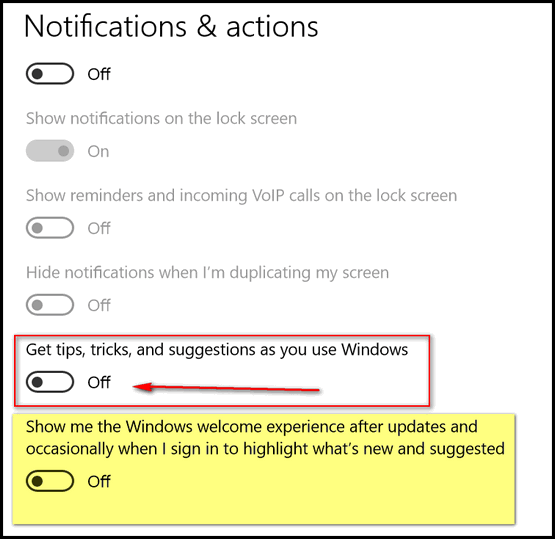 Also, in Creators Update, Microsoft introduced a new ad experience. It's "Show me the Windows welcome experience after updates and occasionally when I sign in to highlight what's new and suggested". And it's also in Settings > System > Notifications & actions. See the yellow highlighted area in the screenshot above. To turn these off, just flip the switch under it to "Off".
-- Turn Lock Screen ads off --

Microsoft will sometimes show ads on the Lock screen too. And you can shut these off by selecting something other than Spotlight as the background. We kind of like Spotlight since it provides us with some really beautiful wallpaper – such as we made available in this post.

However, if pretty pictures aren't your thing, open Settings > Personalization > Lockscreen and select "Pictures" or "Slideshow" instead of Spotlight (see screenshot below). That will take care of Microsoft's occasional advertising on your Lock screen.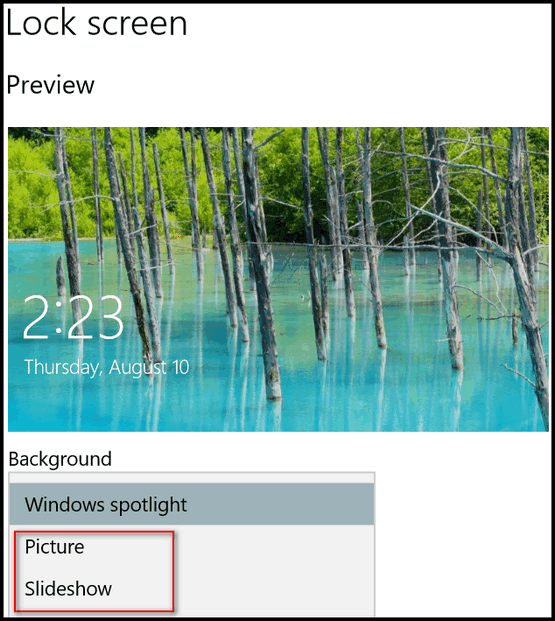 Pin Tabs in Chrome (and Firefox) to Save Space
Chrome & Firefox
If you're like us, you visit a lot of web sites in a browsing session – and sometimes you like to go back and forth between the sites you've visited, but after a while, you have so many tabs open at the top of your browser you can't tell which page is which.
Did you know you can pin tabs in Chrome and save space? When you pin a tab it reduces the size of the tab, yet makes it easy to tell what each tab is, so you can open more tabs in the same amount of space and switch back and forth between them before your into the situation where you have so many tabs open you can't tell what they are.
Anyway, if you find yourself surfing with a lot of browser tabs open, then this tip will save you some space and, maybe even some time.
To pin a tab, just right-click on it and click "Pin tab". See?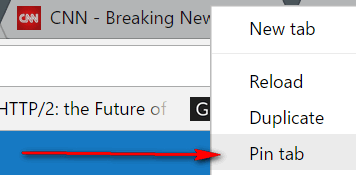 When you pin a tab the tab will become about 1/4 of the normal size, yet you can still what each tab is because each tab has the Web site's fav icon displayed. See?

As you can see above, the pinned tab (highlighted in yellow) are much smaller than the unpinned (normal-sized) tabs to the right, yet you can still what tab is. If you want to unpin a tab, just right-click on it and choose "Unpin tab":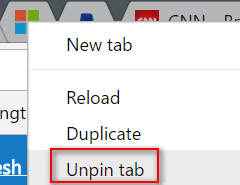 Also, you can close a pinned tab just like you close any other tab. Now you know how to pin tabs in Chrome. If you're a Firefox user, you'll be glad to know it has the same feature – so you can pin tabs too.



Buy One Get One Free - Back to School Special
Sale Extended Through August 31, 2017
It's hard to believe that it's back to school time already. For a limited time, we're offering you a chance to buy one Cloudeight Direct Computer Care Repair Key and get one FREE. You can keep the both service keys for yourself or share one or both with a family member, friend or student of your choice.

Buy your keys now, use them when you need them. They never expire! Our Cloudeight Direct Computer Care repair keys are always good until you use them. Think of our computer repair keys as inexpensive insurance for your computer!.
Our Back to School Buy One Get One Free Sale has been extended through Thursday August 31, 2017.
A note about the September 1, 2017 Price Increase on Cloudeight Direct Care Repair Keys.
Summer is our slow season so we've been featuring special prices on our Cloudeight Direct Computer Care Services. However, autumn and winter are busy times. We'll be announcing a small price increase for single session Cloudeight Direct Keys on September 1, 2017. So, take advantage of our Buy One & Get One free special right now. We've extended our BOGO sale through Thursday August 31, 2017.


Painters

It's been a warm and beautiful summer this summer. One of the best summers I can remember. Plenty of sunshine and beautiful pleasantly warm summer days. A summer just perfect for outdoor activities.

Two of my favorite outdoor activities are walking and reading. Most people think of reading as an indoor activity and do more reading on cold, dark, blustery days of winter. But to me, there's nothing better than sitting in the shade of a big tree and reading a good book.

The more books I read, the more I find myself drawn to books written by writers who paint pictures with words. Certain writers have a way of painting with words in such a way as to enchant the mind of the reader. To me, it is much better than watching a movie. Movies are always about how someone else sees the scenes and the characters that the writer painted.

My mind, for whatever reason, never sees scenes the way a movie director does. Maybe it's just me, but I've often heard people say that a movie is "not as good as the book". It seems to me that the reason why is that everyone who reads a book sees the scenes the author paints in so many different ways.

I like books. I read a lot of them. I like books that take me places I'll never have the chance to visit. I like books that show me things I've never seen or allow me to do things I've never done. Books that let me do things I know I'll never do. I like books that let me do things I am not capable of doing.

I like books with dreamy scenes of surreal sunsets on mysterious islands...







AbiWord

We first featured this program as a freeware pick of the week in 2004. That was back when EB was a spry 71-year-old! Here it is 13 years later and well, you do the math!
Anyway, recently one of our readers mentioned how much she enjoyed using AbiWord. Wow, that still works after 13 years? So, curiosity drove us to take another look at AbiWord right here in August 2017. Wow! We found AbiWord has been keeping up with the times - and works in Windows 7, Windows 8.1, Windows 10 on both 32-bit 64-bit computers (as well as older versions of Windows).
It's nice to hear that something has improved since 2004. I wish I could tell you that EB or I have improved, but you know we're not wines or cheeses - especially not EB. I might be considered a wino, but not a wine. My hair is a little grayer (OK – A LOT grayer... TOTALLY GRAY). EB, the vain, dyes hers an awful shade of green with blue highlights. When she wears that red hair clip she reminds me of a stuffed olive with moldy filaments. I don't color my hair, heck, I'm thankful I have hair at all. I could make a comment about the ears & nose, but I won't. What does all this have to do with our freeware pick today? Well, let me tell you…

Absolutely nothing.

So, I will segue sweetly into the gist of our freeware pick: AbiWord.
It's a great word processor. For those who eschew Microsoft Office and are hesitant to download a whole 250 MB full (free) office program just to get a MS Word-like program, but want to create and open Word docs – both *.doc and *.docx (as well as almost all other kinds of documents, including WordPerfect) AbiWord will do that, and do it well.

OH yes. AbiWord will do a lot more than that too. When you install it you can choose any or all the AbiWord plugins you'd like to install with it. For instance, you can install the grammar plug-in. Most of you are praying that I installed that plug-in, right? I'm sorry to tell you that I did install it, but I didn't use it to write this newsletter. I'm sure my grammar is nearly perfect anyway, right? Indeed!

See? During installation, you can pick and choose the plugins you want.


AbiWord lets you open and create documents in many different formats, as you can see from the screen shot below. You'll notice it can even save files in Outlook Express/Windows Mail *.eml format – as well as Word doc, HTML (web format), Text, Rich Text, Open Office and even *.docx. Wow. You can choose from a lovely array of formats – enough to please almost all but the most picayune.
Look at the kinds of "Save as" choices you have with AbiWord:
In the screenshot below, you can see AbiWord opens MS Word Docx files perfectly. You can edit and annotate and modify any Word document, and save it as MS Word doc or docx.


The document saved by AbiWord, opens perfectly in MS Word. See?
And if you're a template lover, you'll find that AbiWord comes with a nice selection of templates to create a variety of documents. If you're like EB and I and you can't remember the proper format for business letters, you can use the Business-Letter template to make sure you look like a real corporate gazillionaire. You can even make up your own secretary's initials and stick them at the bottom. So while your sitting in your pajamas, hunched over your computer wrapped in a blanket, your letter will appear as if it came from Wall Street! Oh, the wonders of the Internet Age. Look at all the templates! (EB: please note the "Friendly-Letter" template.)




AbiWord has a lot of features – too numerous to mention here, even though, you know, I'm a well-known windbag. So, gaze upon the screenshot below. You'll see you can check your spelling, get a word count, do a search, look things up with Google Search, make annotations (I bet some of you would really love to make some explicit annotations on this newsletter), and so forth. Well, look at the picture below:




Now we've come to the point that you all love. Nearly the end. But first, it's time to bring in the developers and let them say their piece. So, developers, bring it on!

"…Like most Open Source projects, AbiWord started as a cathedral, but has become more like a bazaar. AbiWord is part of a larger project known as AbiSource, which was started by the SourceGear Corporation. The goal of the project was the development of a cross-platform, Open Source office suite beginning with AbiWord, the project's word processor.

SourceGear released the source code to AbiWord and a developer community quickly formed around the project. SourceGear has since then stopped working on the project.

The developer community has since then continued to make improvements and increase the quality of AbiWord…"

That's about it. AbiWord is a great alternative to those bulky 100MB word processor/office programs. AbiWord packs a lot of punch into just 7.9 MB file size. No EB, not spiked fruit punch. I meant it packs a lot of features and usability into a relatively small file size. If you're tired of this rambling prose and want to download a great word processor with enough features to appease the most fussy among you, visit the AbiWord Website where you can read more about and/or download AbiWord. It may well be just the word processor you've been looking for.

For your convenience, though the current version of AbiWord is 3.0.2, but the latest version of AbiWord for Windows is 2.8.6. So, if you're using Windows 7, Windows 8, Windows 8.1 or Windows 10, then AbiWord 2.8.6 is the newest Windows version you can download. If you want the link for the Windows version of AbiWord, here is the direct download link/a>.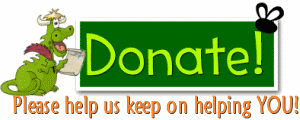 Donations help us continue our mission to keep you informed, separate the truth from the hyperbole, and help you stay safer online. We provide support to thousands of people. Every week we help dozens of people via email at no charge. Thanks to donations, we do a lot more than provide this free newsletter. We help you recognize online threats, fight for your online privacy, and provide you with the knowledge you need to navigate the Web safely, and help you get more out of your PC.
Help us keep up the good fight with a small donation.
After you donate, you will receive an invitation to become a Cloudeight Booster.

Interested in making a automatic monthly gift? Visit this page. Help us keep helping you!





What Is DNS?

DNS stands for Donuts Not Salads. It's a form of population control popularized by huge food cartels who, by adding chemicals to cardboard-like materials and then forming them into recognizable food items like Twinkies, Big Macs, and french fries, and donuts, give you a heck of a lot of calories but very little nutrition. The object of this is to keep us fat and happy and make sure we don't live much past 70 - thereby making way for new customers..err I mean people. The plot thickens...big corporations are controlling the population with Twinkies and so forth. DNS or Donuts Not Salads in an insidious campaign to keep us happy while we all drop dead well before our time.

OUCH! Don't slap me, EB. I was just funnin'.
DNS stands for Domain Name System, and without a lot of technical language it allows the Internet to name things so you don't have to type in long numbers or arcane codes to access, let's say Microsoft.com or Google or Thundercloud.net. It would be like if you could just dial EB on your phone and get connected to EB's phone and then you could have instant access to a good scolding, instantly, anytime you want. If you have not done anything wrong, don't worry, EB will find something you've done wrong even if she has to dig back four or five decades, she'll dredge it up and beat you over the head with it. So it's a good thing you have to dial a long series of numbers to reach her. I have her on my speed dial for instant access to good verbal spankings whenever I need one, which is apparently all the time :-)

The following article can be downloaded in its entirety in PDF format from this link.

The Internet Domain Name System Explained for Non-Experts by Daniel Karrenberg

The purpose of the DNS is to enable Internet applications and their users to name things that have to have a globally unique name. The obvious benefit is easily memorizable names for things like web pages and mailboxes, rather than long numbers or codes. Less obvious but equally important is the separation of the name of something from its location. Things can move to a totally different location in the network fully transparently, without changing their name. www.isoc.org can be on a computer in Virginia today and on another computer in Geneva tomorrow without anyone noticing.

In order to achieve this separation, names must be translated into other identifiers which the applications use to communicate via the appropriate Internet protocols. Let's look at what happens when you send a mail message to me at (removed for privacy). A mail server trying to deliver the message has to find out where mail for mailboxes at 'ripe.net' has to be sent. This is when the DNS comes into play. The mail server transmits this question, called a 'query' in DNS terminology to the DNS. Quickly it receives as answer...
DNS is quite a fascinating subject. If you'd like to learn more about DNS, you can download the entire article in PDF format from this link.



Reg Organizer - A Swiss Army Knife of Windows Tools - Works Great on Windows 10!


To change your subscription address, see "Manage your subscription" at the bottom of this newsletter.
Submit your questions, comments, and suggestions for possible inclusion in our newsletters here. This form is for questions, comments and suggestions for this newsletter, not for product support, stationery questions, or general questions concerning our products or services.
Help us Grow! Forward this email newsletter to a friend or family member - and have them sign-up for InfoAve Premium here!
Get our free daily newsletter! Each evening we send a short newsletter with a tip or trick or other computer-related article - it's short and sweet - and free. Sign-up right now.
Have a question about a Cloudeight Software program, service, stationery, or need to ask about an order? Let us know!
If you need help with one of our software programs, have a question about an order, or have a question about any of our email stationery, screen savers, or other products - please don't use our InfoAve Questions/Answers/Tips form. Please use our general Cloudeight support form instead.
If you want to help us by telling your friends about our Cloudeight Direct Computer Care service, you can download a printable flyer you can handout or post on bulletin boards, etc. Get the printable PDF Cloudeight Direct Computer Care flyer here.

These products and services are recommended and endorsed by Cloudeight:
Emsisoft Anti-Malware- The best anti-malware you'll find anywhere. Great protection -- both proactive and reactive. Learn more here.
Reg Organizer-- A Swiss Army knife of PC tools. Easy for beginners to use -- with advanced features for experienced users too. Learn more here.
Cloudeight Direct Computer Care - Computer Repair Service-- And for computer repair, you can't beat our remote repair service. You never have to leave your home, take your computer anywhere or leave it with someone you don't know or trust. We can fix most computer problems and all you have to do is sit back and relax. Learn more here.
Thunderbird Email Setup - we'll set up Thunderbird for you - works great with Windows 7, Windows 8 and Windows 10. Get the details here.
Windows 10 Customization - Make Windows 10 look and work the way you want it to. Get more info here.
Also.. don't forget:
We're offering something we think most of you will enjoy. We have a daily tips and tricks summary newsletter that is sent six days a week. It features daily tips, freeware picks, and site picks and interesting computer tips, tricks and more. It's short and sweet - very brief and lightweight. If you'd like to receive or daily tips and tricks newsletter (completely free, of course). You can subscribe here.
You can also help us by using our Start Page.
We have over 100 free games on our Start Page. Use our Start Page and come and play all day. It costs nothing, and it helps us a lot.
Your Premium Members' Home Page is located here.

We'd love to hear from you!
If you have comments, questions, a tip, trick, a freeware pick, or just want to tell us off for something,, please visit this page.
If you need to change your newsletter subscription address, please see "Manage your subscription" at the bottom of your newsletter.
We received hundreds of questions for possible use in IA news. Please keep in mind we cannot answer all general computer questions. We choose a few to use in each week's newsletter, so keep this in mind. If you have a support question about a service or product we sell, please contact us here.

We hope you have enjoyed this issue of InfoAve Premium. Thanks so much for your support and for being a Premium subscriber.
We hope you all have a really great weekend!
Darcy & TC
Cloudeight InfoAve Premium - Issue #724
Volume 14 Number 45
August 25, 2017

Not a subscriber? Subscribe to our InfoAve Premium Newsletter

DISCLAIMER ABOUT THE TIPS & SOFTWARE RECOMMENDED IN THIS NEWSLETTER-- PLUS OTHER IMPORTANT INFO:

All software recommendations we make in this newsletter are based on our own experience and testing of the programs that we recommend. This does NOT guarantee they will work on YOUR computer. We assume you will read the program documentation and use the program according to the instructions. We make no guarantees about any program recommended in this newsletter or its suitability for any particular purpose.
We cannot be responsible for any problems you may have. We do not and cannot provide support for any products other than our own Cloudeight products and we will not answer email concerning any product which is not a Cloudeight product. We urge you to use good judgment when downloading and installing software and to use a program only after reading the program's documentation. And, all Tips & Tricks in this newsletter have been tested by us on several different computers and were found to work as indicated. They may not work on yours. We make no guarantees. Anything we recommend you try and use at your own risk. We will not be responsible for any problems caused by any software programs recommended in this newsletter or any of the tips and tricks in this newsletter that do not work for you.
Readers' comments are their own and Cloudeight Internet LLC is not responsible for comments of our readers. All readers' comments, suggestions, questions, and tips and tricks sent to us become the property of Cloudeight Internet LLC. You understand that we may use your comments in our newsletters and on our Websites without your explicit permission.
"Cloudeight InfoAve Premium" newsletter is published by:
Cloudeight Internet LLC
PO BOX 73
Middleville, Michigan USA 49333-0073