Last weekend EB went away and left me in charge. So I had an EB is Away Sale. I was ready for retribution when she came back, but she was happy!; She came back and found my sale and she LIKED IT! She actually liked it! She liked it so much that she wants to do this sale one more weekend. So, this time we really have the EB Sale Seal of Approval! And you have one more weekend to get one full year of unlimited Cloudeight Direct Computer Care for just $88 if you buy a Cloudeight Direct Computer Care Season Ticket right now.
Our Cloudeight Direct Computer Care Season Ticket is like having insurance for your computer. You get unlimited computer care and more with a Cloudeight Direct Season Ticket... PLUS, your one-year of computer care does not begin until the first time you use your Season Ticket.
Get your Cloudeight Direct Season Ticket for Just $88 - and/or get all the details here.

Sale price is good through Monday, September 18, 2017.



Using Custom Colors in Windows 10
Windows 10 Creators Update (version 1703 & newer)
In previous versions of Windows 10, you could let Windows choose a color from the background on our desktop, or pick one of a few dozen preset colors. In Creators Update, you have the option of creating your own custom colors using a simple color mixer.
Get started by going to Settings > Personalization > Colors
Then click on Custom Color
In the first dialog, you can chose a custom color by moving the circle (above in the color area) to the basic color you want. Then you can adjust the shade of the color with the slider. If you want even more control, click the down arrow next to "More".
You can use RGB (Red, Green, Blue) or HSV (Hue, Saturation, and Value). You can play around with this until you find exactly the color you want. Notice, Windows will tell you when it thinks you've chosen a color that will be "hard to read". However, do not let that discourage you; it says the color I chose (dark teal) might be hard to read, but I can read it just fine. And if my old eyes can read it, well… it can't be too hard to read!
The color you choose will be the color of the background on your start menu, title bars, taskbar, etc.
Have fun. Now go color your Windows world.



Two Quick Tips for Windows 10
Windows 10 Version 1607 (Anniversary Update) and Version 1703 (Creators Update).
Make a screen recording without installing any 3rd-party software
Did you know that you can make a screen recording in Windows 10 just by pressing Windows Key + ALT +R? Admittedly this screen recorder was made for games, but you can use to record anything on your screen and create and save a video from the screen recording.
Switch Between the Light & Dark Themes in Windows 10
If you're using Windows 10 Light theme, then your settings window has a white background. But with the flip of a switch (literally) you could be using the Dark theme. You can change back and forth to suit your moods, I guess. Maybe this is why EB always uses the Dark theme? It matches her mood!
All kidding aside. If you want to come on over to the Dark side…
Open Settings (Windows Key + i or click the settings icon on your Start menu or Action center) and click on Personalization > Colors.
Look under "Choose your default app mode". If you have not changed your theme, then you will be using the Light theme by default. If you're ready for a change, just tick the circle next to Dark. Voila! You'll immediately see the Dark theme appear.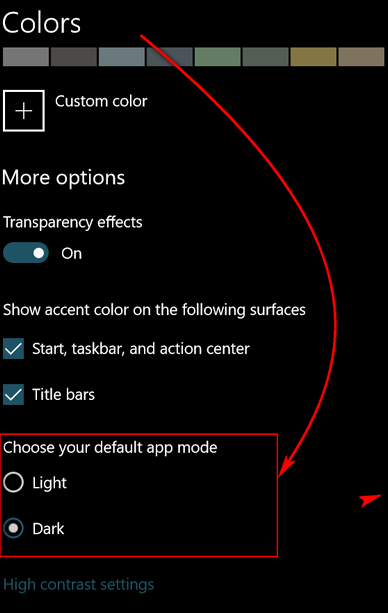 When you're ready to come back into the light, just return to Settings > Personalization > Colors > "Choose your default app mode" and tick the circle next to Light. That's it. Easy and quick!



How to Open Files and Folders With a Single Click in Windows 10
Windows 10 (all versions)
If you've moved from older versions of Windows to Windows 10 were used to single-clicking to open files and folders, you'll be glad to know that you have that same option on Windows 10. And it's easy to change your file & folder options to make opening files and folders with a single click the default action on Windows 10.
Open File Explorer by clicking its icon on the taskbar or press Windows Key + E

In File Explorer, click on View (on the toolbar) then click "Options" and "Change folder and search options" to open the Folder Options dialog:

In the Folder Options dialog tick the circle next to "Single-click to open an item (point to select)". You'll see that when you do that "Underline icon titles only when I point at them" is also selected. We suggest you leave it that way, the other choice "Underline titles consistent with my browser" can get messy. Then click "Apply/OK".
That's all there is to it. After you change these settings, you can open files and folders with a single-click. If you decide you want to go back to double-clicking to open files and folder, just go back to the Folder options dialog and tick the circle next to "Double-click to open an item (single-click to select)". Click Apply / OK and you're back to double-clicking to open files & folders for your default action.
Bonus tip!
You can also get to Folder options from Control Panel. In Large icon view, click on "File and folder options". You can open Control Panel – even if you have no shortcut for it, by opening a run box (Windows Key +R). In the run box type CONTROL and press enter to open Control Panel.



Empty Recycle Bin and Delete Temporary Files Automatically
Windows 10 (all versions)
Every time you delete a file, Windows puts it into the Recycle Bin. Those of you who have been using Windows as long as we have will remember that the Recycle Bin goes all the way back to Windows 95. Unless you periodically do cleanups using Windows Disk Cleanup or some other clean up tool like Reg Organizer, CCleaner, etc., the number of files in the Recycle Bin can grow and use a lot of disk space.
Windows 10 Storage Sense Does Clean Up Automatically: Windows 10 makes it easy and automatic to clear the Recycle Bin every 30 days. Plus Windows can also automatically clean up some other unnecessary temporary files too.
All you have to do is enable it! To enable this feature is to go to Settings > System and click on Storage: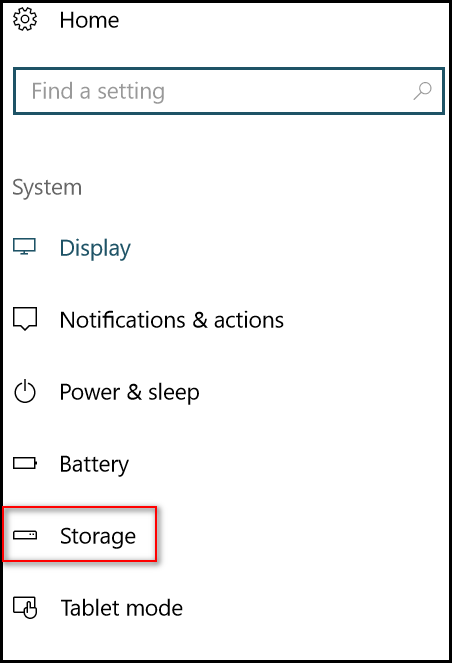 In the Storage section, look for "Storage Sense". Turn the switch to "On".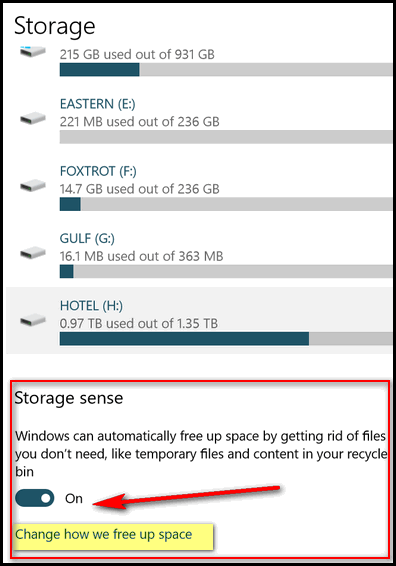 Next click on "Change how we free up space"…
Make sure that "Delete temporary files that my apps aren't using" and "Delete files that have been in the recycle bin for over 30 days", are both turned on.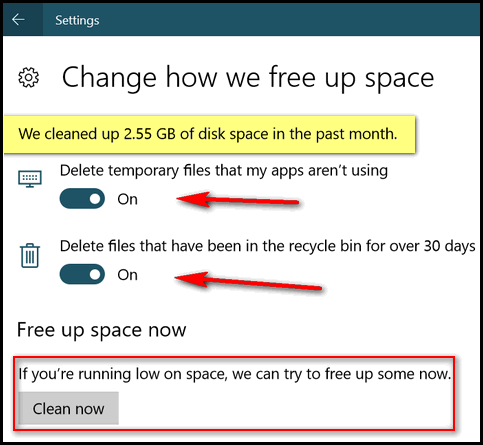 If you want to clean up your recycle bin and temporary files immediately, just click on the "Clean now" button. When it's done cleaning, it will show you how much space was cleaned up. As you can see above, over 2.5 GB of drive space was freed up on my PC.
2 Bonus Tips!
#1. If you accidentally delete a file, just press CTRL + Z to bring it back! NOTE: CTRL + Z won't work if you've emptied your recycle bin. So if you delete something you didn't mean to, use CTRL + Z right away.
#2. The fastest way to get to Window 10 Settings is: Hold down the Windows Key and tap the i key.



More About Windows 10 Fall Creators Update
Windows 10 (all supported versions)
Microsoft recently announced that the next major update to Windows 10, the Fall Creators Update, will start rolling out, worldwide, on October 17, 2017. Some are anxiously awaiting the Fall Creators Update, some are dreading it, and some are reserving their opinion until they get their hands on it and try it. No matter which category you are in, you're probably interested in knowing what lies ahead and specifically what new features will the Fall Creators Update bring with it.
The following list is from Microsoft. Keep in mind, however, the official release date is still more than a month away and new features could be added and/or some of the features listed below may not be included.
From Microsoft, here is a partial list of the new features to be included with Windows 10 Fall Creators Update:
OneDrive Files On-Demand – View and access your OneDrive files in File Explorer
without using disk space.

Pin contacts to the taskbar – Pin your top people to the taskbar for one-click
access by Skype or Mail.

Drag and drop files to share – Drag files directly onto contacts in your taskbar to
start an email, or share directly to your contacts via the share picker

Touch keyboard on PC – The onehanded (sic) touch keyboard provides shape writing, and enhanced text prediction

Pin your favorite websites to taskbar – Pin a website to the taskbar from Microsoft
Edge for instant access

Ransomware protections – New protections in Windows Defender Antivirus help safeguard against malicious apps and threats, including ransomware

Fluent Design – The UI for Start, Action Center and Microsoft Edge include elements of our new Fluent Design System such as Acrylic Material – a cool, translucent effect

Connect to iPhone/Android – View a website on your iPhone or Android phone and continue viewing it automatically on your PC

Story Remix – Combine photos, videos and soundtracks automatically to create
video stories

Improved battery life with power throttling – Save up to 11% in CPU power
consumption by throttling background apps

Currency converter in Calculator – An international currency converter is built
into the Calculator app, including an offline mode

PDF-based forms in Microsoft Edge – Fill in PDF-based forms within Microsoft
Edge and make notes directly on PDFs

Windows Mixed Reality – Combine with a Windows 10 Mixed Reality headset for
immersive mixed reality experiences

Get web search results in Cortana without opening your browser – Cortana
pane will expand automatically with results

Better storage management – Files can be automatically deleted in your
Downloads folder after 30 days

Support for 3D in Office apps – Easily insert a 3D object into a Word, Excel or
PowerPoint file

Emjoi (sic) 5.0 – cool, new and improved emoji designs that display more consistently on
other platforms

Find My Pen – Windows can tell you where you last inked on your computer
which makes finding a lost pen a lot easier

New gaming features – PC gamers can stream games using Mixer and get better
performance using Game Mode
Notes from Microsoft:
1. Features may be available in select markets; experience may vary by region and device. Windows 10 Insider Preview may be substantially modified before it's commercially released. Microsoft makes no warranties, express or implied, with respect to the information provided here. Some product features and functionality may require additional hardware or software.

2. Features are not available in all languages. If you get the build with the supported language, the language resources will download. If you add the language after getting the build, you may need to go to Optional features and download the resources. Shape writing
and text prediction are available for the following languages: Catalan (Catalan), Croatian (Croatia), Czech (Czech), Danish (Denmark), Dutch (Netherlands), English (India), English (United States), English (United Kingdom), Finnish (Finland), French (Canada), French (France), French (Switzerland), German (Germany), Greek (Greece), Hebrew(Israel), Hungarian (Hungary), Indonesian (Indonesia), Italian (Italy), Norwegian, Persian (Iran), Polish (Poland), Portuguese (Brazil), Portuguese (Portugal),Romanian (Romania), Russian (Russia), Spanish (Mexico), Spanish (Spain), Swedish (Sweden), Turkish (Turkey), Vietnamese (Vietnam). Dictation on the desktop is currently only available for English (United States) and Chinese (Simplified) input methods.

3. Cortana not available in all markets.
So what do you think? Do any of the new features appeal to you? We think Story Remix will be well received as replacement for the very popular Windows Movie Maker that many people enjoyed. Also, we think most people will like the new currency converter feature in the Windows calculator. . Other than that we're going reserve judgment for now.
Are you ready for another big Windows 10 update?



Windows 10 Action Center
Windows 10 (all versions)

One of the least used and understood features of Windows 10 is the Action Center. It's true that the Action Center is a notification area where you'll see App notifications, notifications that your hard drives need attention, or a Windows Update is pending – and other app notifications, etc. But at the bottom of the Notification area, there's an action center. You can access the Action Center by pressing Windows Key + A or by clicking the shout-out icon just to the left of the system clock.

You may see something like this:




But wait, there's more. Click on Expand to see all the goodies in the Action Center: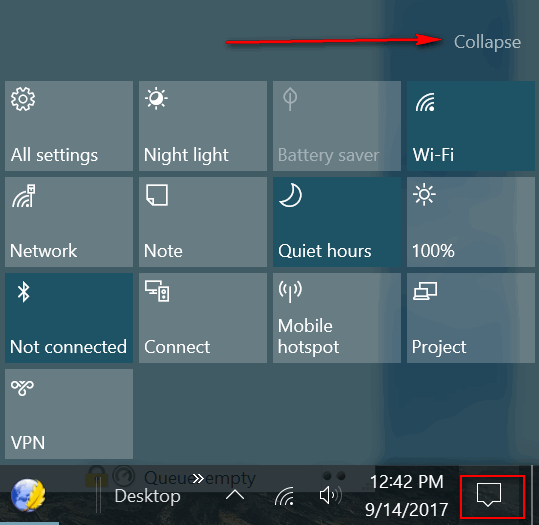 There are some interesting, even useful buttons here. Like connecting to Wi-Fi (you can see above I'm connected to a network called "Omaha").You'll also see things like "Rotation lock". If you have a tablet PC or convertible laptop, you can lock in the screen so it does not auto-rotate when you tilt or flip your tablet or laptop. In many cases, you want the screen to rotate relative to the device orientation.

Or how about Tablet Mode – if you're using a laptop or desktop or all-in-one computer and you accidently tap "Tablet Mode" you are in for a big surprise – your desktop will be full of huge tiles and your beloved start menu will be no more. Luckily, if you accidentally tap "Tablet Mode" tapping it again will turn it off. If you click "Note" please note you won't open Notepad, but you will open Microsoft One Note, which is a whole other animal. If you click "Quiet Hours" you won't get any notifications between the hours of midnight and 6:00 AM. Not sure how useful that one is.

If you click the little "Sunshine" button, you won't turn off the rain, but you will brighten your screen, if it's not already as bright as it can be – like mine. Conversely clicking it when it's on 100% will make your screen dimmer. You can use this button to adjust your screen brightness however you like it. And you'll find Battery Saver here as well.

Night light (on Creators Update and newer) will adjust your screen brightness depending on the time of day.


The one we use the most is "All Settings". It's right there in Action Center, in both expanded and collapsed views.<

So, now you know a lot more about the Windows 10 Action Center. If you use it, it may save you time. If you don't, at least you know it's there.

Exploring is fun!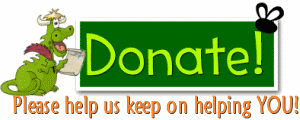 Donations help us continue our mission to keep you informed, separate the truth from the hyperbole, and help you stay safer online. We provide support to thousands of people. Every week we help dozens of people via email at no charge. Thanks to donations, we do a lot more than provide this free newsletter. We help you recognize online threats, fight for your online privacy, and provide you with the knowledge you need to navigate the Web safely, and help you get more out of your PC.

Help us keep up the good fight with a small donation.

After you donate, you will receive an invitation to become a Cloudeight Booster.

Interested in making a automatic monthly gift? Visit this page. Help us keep helping you!






Earl

It wasn't long ago I watched him walk down the street with a sad, strange limp. In spite of it being a warm, sunny day, he wore a tattered jacket, brown and threadbare in spots, and buttoned up to his neck.

His face wrinkled and worn, only showed me that age had not been a friend to him. He scuffled and shuffled and limped with slow, unsteady, measured steps. He walked with curious and careful gait. Each step a challenge, and each block of the neighborhood a monument to his perseverance and dedication to his daily walks.

When I say "daily", I mean he walked every day as long as the weather cooperated. There were days in the dead of winter, when he would not dare to venture out. He was not alone – no one else would either.

I saw him walk in the rain, without an umbrella, limping along the sidewalks, his eyes focused on the path ahead. He appeared oblivious to me; he never looked in my direction, although he must have known I was watching. He had to know – I watched him every time he walked.

"What's your name?", I often wanted to say. I wondered where he lived. I wondered if anyone loved him. Did anyone care for him? Did he have any pets? Did he have children? Grandchildren.

In their silent march of time, the days passed. He trudged on, dragging himself along the sidewalk. He limped along undeterred in his resolve. Or was it his habit? He never acknowledged my existence. And though I saw him pass by most every day, I never acknowledged his either.

His eyes never moved from the sidewalk. Focused upon the concrete path ahead, his eyes never once looked up at me or anything else.

I named him Earl, but, of course, I don't know what his name was. It may have been Frank, Bill, Ernie… to me he was Earl – the man with limp




Be a Power Searcher with Google's Free Online Courses

The Internet sometimes can be a scary place, especially for the trusting, unwary souls that become the unwitting target of scams, rip-offs and cybercrimes. And it's too bad that things have to be the way they are. But, the Internet is nothing more than the extension of reality - the way things are in this world of ours. Things may not always be pleasant in the ethereal world, but they're sure not always pleasant in the real world. There's plenty of bad to go around, but there's a lot more good than bad, sometimes it's just not so easy to see because it doesn't make headlines.

One of the greatest and most useful things about the Internet is that it puts knowledge and information at the fingertips of anyone with an Internet-connected device. It's a tool. And like any tool, those who know how to use it will get a whole lot more out of it.
One thing that we mastered early was the ability to find things on the Internet. Since we've been around the Internet since the early 90's, we've had many years to hone our browsing skills. And, necessity is the mother of invention. We need to be able to find things when we need them and find them fast. Using a search engine, like Google, is a lot more than just typing in haphazard search terms. Yes, you may eventually find and glean the info you're looking for, but wouldn't it be great if you could learn to find what you looking for right away, on the first try, without drilling down through lines and lines of search results? Of course.

We recently learned that Google is offering courses in power searching and advanced power searching. Those of you who have mastered the art of finding what you're looking for quickly and easily will benefit from the advanced power searching course. Those who have not mastered the basics of searching, will greatly benefit from the basic power searching course.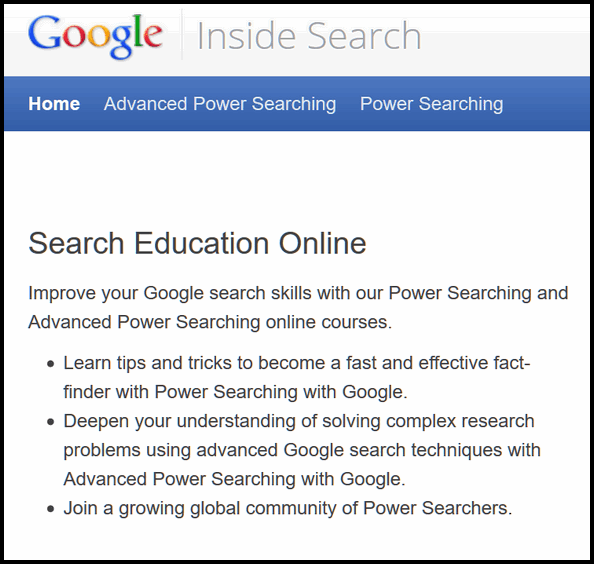 You can see from the images above what you'll learn by taking the Google power search course(s). Note also that the courses allow you to set your own pace.
Well give you a little idea of how the page progress as you get ready to embark upon the power search online course. The following is from the Google power search main page. First you'll want to take the pre-course assessment. Just click on Pre-course assessment from the course syllabus (no EB not city bus!):
"Pre-course assessment

Before we begin, we'd like to learn a bit about what you know about search techniques. The goal of this pre-course assessment is not to judge or grade your skill, but to get a sense of what you know coming in, so that we can better understand what you gain from the course. To that end, please do not use Google to look for the answers--simply answer each question based on what you currently know.

Please note: During this assessment and the units that follow, you will often see words written inside square brackets [like this]. The brackets represent a search box like you see in Google, and the words inside the brackets are what you would type into the search box. So, if you see [golfcross rules], you would want to enter a query like this:

You would not type the brackets into Google, just the words inside them.

Thanks!

Now let's ask you a few questions: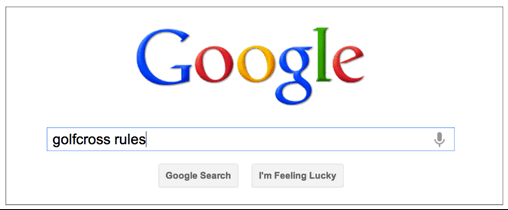 Which of the sections in the image below are advertisements?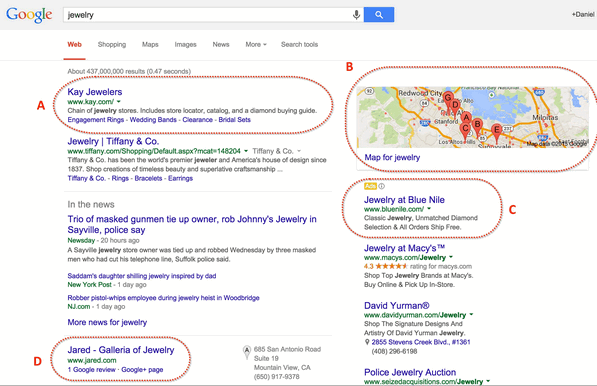 From there you go on in multiple-choice test format. Like this question: "When searching Google Images, you can drag an image into the search bar and find webpages where it appears online."

True
False
I don't know
Do you know the answer? If you said "True" you're right.
Lesson 1...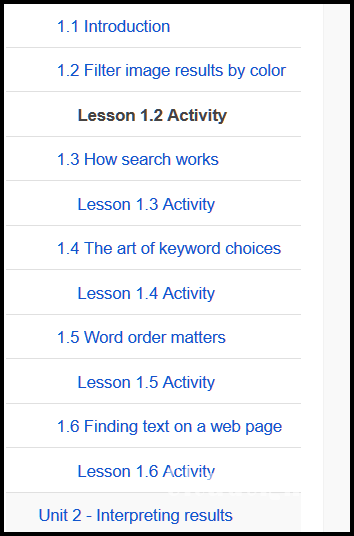 This is a course that any one who uses Google search will benefit from - regardless of skill level. Finding the right information, fast, is a great skill to have. If you have some skill, hone it. If you're not very skilled in search techniques, taking this course will help make you a skilled power searcher.
The faster you find information you're looking for, the less time you waste looking. Life is short; who has time to waste?
This week's Site of the Week is both a great Site of the Week pick and a great search tip.
Learn to be a power searcher with free online courses from Google.




Version 8 Just Released!
What's New in Reg Organizer 8.0?

Ability to clean the cache of the installed applications.
A new Private Data Cleanup tool was added. It is designed for cleaning the data of a personal nature emerging in everyday use of your PC like browsing history and the drop-down lists with the paths of files you recently opened in Windows or applications.
The new System Cleanup tool combines the functionality for cleaning the disk and the registry allowing for effective freeing up of disk space and correcting the system problems like invalid shortcuts.
Ability to clean the jump lists (recently accessed application files and actions).
Ability to clean the Run dialog (opened using the Win + R keys combination) history.
Switching between the Maximum cleanup mode and the Everyday cleanup mode in the System Cleanup tool. The Maximum cleanup mode can be used, if it is necessary to free up the maximum possible amount of space on the drives. This will be done at the cost of removing old restore points, emptying the Recycle bin, etc. Enable this mode to view more information to make a decision.
Recently Used Files section: More files and folders you recently opened in Windows or applications are now displayed here.
Check for update: You may disable notifications about beta and alpha versions.
The Settings window can be resized.
It is now possible to open Express Check directly from the Tool Selection Panel located at the left part of the main window.
The Startup applications tool: Now you may permanently exclude the applications from the optimization. To do this click on the cross at the right of the application in the recommendations window.
Note for Cloudeight subscribers : If you purchased or renewed Reg Organize through Cloudeight within the last 12 months, you're entitled to a free version upgrade to Reg Organizer 8.0.
Save $14 on Reg Organizer right now!!!
Reg Organizer - A Swiss Army Knife of Windows Tools - Works Great on Windows 10!


What the heck are hashtags??

My grandma made great hash, but I wouldn't be allowed to have any until my friends (yes, I really used to have friends) amused her by playing homerun derby with a plastic balls and bats, her backyard. Now you can imagine homerun derby with TC, a little boy, running around calling himself the sultan of swat..
#sultan
When were tired of playing homerun derby, we played tag. By the time we got around to playing tag it was almost dinner time - which us poor folks called "supper". We played tag, got all sweaty, and then went in to eat. Ate dinner, filthy. Watched TV filthy. Went to be filthy. No bath until Saturday. Yay!!
#stinky
I am no longer the sultan of swat. But I still play tag; EB and I play tag all the time -- but not that kind of tag: We play email tag and phone tag. I avoid answering calls from her when I can - she always loses at phone tag..
#phonetag-loser
Anyway, my grandma made the greatest hash in the world, but took her recipe with her to that great kitchen in the sky, so no matter how much tag EB and I play, I won't get anymore of my grandma's great hash. But when I was a kid, after a hot, sweaty, summer game of tag, I'd go into her non-air conditioned house, sweaty and dirty, and swill down 4 glasses of Grape Kool Aid and a big plate of hash. Hash after playing tag is called hashtag..
#hashtag

But a hashtag is something different. A hashtag looks like #cloudeight. On social media sites and in micro-blogging (and you can look that up) a hashtag helps keep things organized in groups. Neither EB nor I are big fans of hashtags, but TC is a big fan of hash. #realhash with meat and potatoes and grandma's love!!
#yummy

#enough-already
I know you all want to know more about hashtags, so you might want to read Mashable's Beginner's Guide to Hashtags.


Buy One Get One Free - Back to School Special
Sale Extended Through This Weekend!!
I've decided to bring back our Back to School Buy One Get One Free Special - until EB gets back. So through Monday, September 18, 2017, you can buy one Cloudeight Direct Computer Care Repair Key and get one FREE. You can keep the both service keys for yourself or share one or both with a family member, friend or student of your choice..

Buy your keys now, use them when you need them. They never expire! Our Cloudeight Direct Computer Care repair keys are always good until you use them. Think of our computer repair keys as inexpensive insurance for your computer!..
Our Back to School Buy One Get One Free Sale has been extended through Monday September 18, 2017..


To change your subscription address, see "Manage your subscription" at the bottom of this newsletter.
Submit your questions, comments, and suggestions for possible inclusion in our newsletters here. This form is for questions, comments and suggestions for this newsletter, not for product support, stationery questions, or general questions concerning our products or services.
Help us Grow! Forward this email newsletter to a friend or family member - and have them sign-up for InfoAve Premium here!!
Get our free daily newsletter!!; Each evening we send a short newsletter with a tip or trick or other computer-related article - it's short and sweet - and free.. Sign-up right now..
Have a question about a Cloudeight Software program, service, stationery, or need to ask about an order?? Let us know!!
If you need help with one of our software programs, have a question about an order, or have a question about any of our email stationery, screen savers, or other products - please don't use our InfoAve Questions/Answers/Tips form.. Please use our general Cloudeight support form instead.
If you want to help us by telling your friends about our Cloudeight Direct Computer Care service, you can download a printable flyer you can handout or post on bulletin boards, etc.. Get the printable PDF Cloudeight Direct Computer Care flyer here..

These products and services are recommended and endorsed by Cloudeight:
Emsisoft Anti-Malware- The best anti-malware you'll find anywhere. Great protection -- both proactive and reactive.. Learn more here.
Reg Organizer-- A Swiss Army knife of PC tools. Easy for beginners to use -- with advanced features for experienced users too.. Learn more here.
Cloudeight Direct Computer Care - Computer Repair Service-- And for computer repair, you can't beat our remote repair service. You never have to leave your home, take your computer anywhere or leave it with someone you don't know or trust. We can fix most computer problems and all you have to do is sit back and relax.. Learn more here.
Thunderbird Email Setup- we'll set up Thunderbird for you - works great with Windows 7, Windows 8 and Windows 10.. Get the details here.
Windows 10 Customization- Make Windows 10 look and work the way you want it to.. Get more info here.
Also.. don't forget::
We're offering something we think most of you will enjoy. We have a daily tips and tricks summary newsletter that is sent six days a week. It features daily tips, freeware picks, and site picks and interesting computer tips, tricks and more. It's short and sweet - very brief and lightweight. If you'd like to receive or daily tips and tricks newsletter (completely free, of course).. You can subscribe here..
You can also help us by using our Start Page.
We have over 100 free games on our Start Page. Use our Start Page and come and play all day. It costs nothing, and it helps us a lot..
Your Premium Members' Home Page is located here.

One Year Emsisoft License With FREE Installation & Set-up

We'd love to hear from you!
If you have comments, questions, a tip, trick, a freeware pick, or just want to tell us off for something,,, please visit this page.
If you need to change your newsletter subscription address, please see "Manage your subscription" at the bottom of your newsletter..
We received hundreds of questions for possible use in IA news. Please keep in mind we cannot answer all general computer questions. We choose a few to use in each week's newsletter, so keep this in mind. If you have a support question about a service or product we sell,, please contact us here.

We hope you have enjoyed this issue of InfoAve Premium. Thanks so much for your support and for being a Premium subscriber..
We hope you all have a really great weekend!!
Darcy & TC
Cloudeight InfoAve Premium - Issue #727
Volume 14 Number 48
September 15, 2017

Not a subscriber? Subscribe to our InfoAve Premium Newsletter

DISCLAIMER ABOUT THE TIPS & SOFTWARE RECOMMENDED IN THIS NEWSLETTER-- PLUS OTHER IMPORTANT INFO::

All software recommendations we make in this newsletter are based on our own experience and testing of the programs that we recommend. This does NOT guarantee they will work on YOUR computer. We assume you will read the program documentation and use the program according to the instructions. We make no guarantees about any program recommended in this newsletter or its suitability for any particular purpose..
We cannot be responsible for any problems you may have. We do not and cannot provide support for any products other than our own Cloudeight products and we will not answer email concerning any product which is not a Cloudeight product. We urge you to use good judgment when downloading and installing software and to use a program only after reading the program's documentation. And, all Tips & Tricks in this newsletter have been tested by us on several different computers and were found to work as indicated. They may not work on yours. We make no guarantees. Anything we recommend you try and use at your own risk. We will not be responsible for any problems caused by any software programs recommended in this newsletter or any of the tips and tricks in this newsletter that do not work for you..
Readers' comments are their own and Cloudeight Internet LLC is not responsible for comments of our readers. All readers' comments, suggestions, questions, and tips and tricks sent to us become the property of Cloudeight Internet LLC. You understand that we may use your comments in our newsletters and on our Websites without your explicit permission..
"Cloudeight InfoAve Premium" newsletter is published by::
Cloudeight Internet LLC
PO Box 73
Middleville, Michigan USA 49333-0073