Cloudeight InfoAve Premium
Issue #739
Volume 15 Number 8
December 8, 2017





Dear Friends,

Wishing you all a very Merry Christmas and a happy holiday season... from both of us to all of you. Thank you very much for subscribing and for being a part of our Cloudeight family. We appreciate your membership and support very much!





Reminder: To ensure delivery of this newsletter, please add our email address to your address book and / or alert your ISP should you need to have it whitelisted in order to receive this newsletter. We send this newsletter from the following email address: cloudeight-news@thundercloud.net.





Cloudeight Christmas Sale Prices Available through Sunday December 17, 2017!

The best prices of the year on our best products are available during our Cloudeight Christmas sale. You'll save big on our most popular products including Cloudeight Direct Computer Care and Emsisoft Anti-Malware. These Christmas Sale prices are available through Sunday, December 17, 2017.



Get 3 Cloudeight Direct Computer Repair keys for just $89. You save $61.

With our Cloudeight Direct Computer Care Christmas Special, you'll get 3 Cloudeight Direct Computer Care repair keys for just $89. Each key is good for one computer repair session. Cloudeight Direct Computer Repair keys never expire, they're good until you use them. We can fix most Windows PC problems remotely while you relax in your easy chair and watch us work. These special repair keys are transferable and make great gifts for anyone who uses a Windows computer. During this sale you can get 3 Cloudeight Direct Computer Care Keys for just $89. Save $61 off our regular price.

Get all the details here.

Offer valid through Sunday, December 17, 2017.



Get Ashampoo Backup Pro 11 FREE With Any Emsisoft Purchase!

When you purchase any Emsisoft product (new one-year license, renewal license, Emsisoft with installation) from our Emsisoft page, we'll send you a lifetime license for Ashampoo Backup Pro absolutely free. We've been testing Ashampoo Backup Pro 11 for several weeks and we can tell you that it's the best backup program we've ever tested. We are using it on our personal and business computers now. It's the one backup program that has every single feature we've always wanted.

Make any purchase from our Emsisoft page during this sale and we will send you a free lifetime license for Ashampoo Backup Pro 11!

Offer good while supplies last.



Buy a Cloudeight Direct Computer Care Repair Key & Save 30%

Get a Cloudeight Direct Computer Repair Key at 30% off our regular price! The regular price for a Cloudeight Direct Computer Care Repair key is $50 - and that's a great deal no matter how you look at it. But through Sunday, December 17, 2016, we are reducing the price to just $35. Get a Cloudeight Direct Computer Care repair key for just $35 right now! Our repair keys never expire. Buy your key now and save it until you need it. We can fix your PC! Here's your chance to save big on the best computer service you'll find anywhere.

Visit this page for more information and/or purchase your Cloudeight Direct Computer Care repair key for just $35.

Offer is valid through Sunday, December 17, 2016.





Share Us on Facebook!
We'd love for you to share us with your family and friends on Facebook. Help us by sharing us on Facebook!






Subscribe to our Daily Newsletter!

Get computer tips & tricks every night. Our daily newsletter features a computer tip/trick or two every day. We send it out every night around 9 PM Eastern Time (USA). It's short and sweet, easy-to-read, and FREE. Just visit this page and sign-up. All you have to enter is your email address. Once you confirm your subscription, you'll receive our daily newsletter every day, six days a week. You can unsubscribe at any time.



Here are some important links for you:




A comment from Cheryl
Thanks to you both for all the help you've given me over the years. You two are such a blessing. THANK YOU! Merry Christmas. Cheryl.

A comment from Jennifer
Hi TC, I can't thank you enough for your help in getting my computer back in working order. This is not the first time you helped me with my computer, and if I ever need help again, you will be the first to know! Thank you again. Jennifer

A comment from Barb
What can I say, Darcy is magic. Again she has made my computer life easier with her brilliant sorting out of the mess I made. I assure you that every positive comment you read from those whom Darcy has helped, is well deserved. We are lucky to have access to the skills of two honest and beautiful people. Thank you Darcy, from Barb.

A comment from Patricia
Season's Greetings to everyone at Cloudeight. A special thanks to TC for a optimizing my computer, installing Emsisoft and setting up my file history for backups. Year 2018 is beginning and I have a healthy computer system.

A comment from Pete
Hi Darcy. Thank you very much for fixing my computer last Friday. I am happy to tell you that all is working very well now. I appreciate, your friendly and prompt service. I am going to purchase a couple more Cloudeight Direct Care keys and keep them handy for when I need more help with my computer.. Thanks so much, Darcy. Pete/

A comment from Gail
Just wanted to thank Darcy for all her help with my computer last week. I'm a little tardy sending this. TC worked on my laptop several months ago and it's still working great. Darcy, you did a great job on my desktop computer. You were very helpful. I'm glad that both of you are there for me. I have told my friends about you and I'm sure you'll be hearing from them if they need any help with their computers. Thanks again Darcy! Gail

Thanks to Cheryl, Jennifer, Barb, Patricia, Pete, Gail and everyone who wrote to us last week. We appreciate your kind words and your support! Merry Christmas! EB & TC


Get more information about Cloudeight Direct Computer Care here.




Sandra asks about 360 Total Security
What do you think about a free anti-virus/security program called "360 Total Security"? I am using it on my Windows 7 notebook computer. So far, I have been favorably impressed. The version I am using is 9.6.0.1040. Thank you for all the great information you provide. You are simply THE BEST!

Our answer
Hi Sandra. We spent quite a bit of time researching this. When it comes to antivirus, it's not something we take lightly. Since we started recommending Emsisoft, we have seen with our own eyes how effective it is in protecting computers from the kinds of threats they are most likely to encounter. Viruses are not the problem they once were, but ransomware, PUPs and malware are everywhere.

We did research into 360 Total Security and did not find it listed on AV-Comparatives or an Virus Bulletin. These are two of the most trusted independent antivirus testing labs. Since they are not listed, we would not trust 360TotalSecurity.

We have seen reports from other who say that 360 Total Security is a bundle that includes useless (and scammy) PC Fixer & PC Speed-up tools which should be a warning to anyone that something is not right. Others say it's nearly impossible to uninstall.

We would strongly advise you to consider Emsisoft to protect your computer. It's the only antivirus / anti-malware we use and recommend - and that's because it works. We see how well it protects computers every day.

Sometimes free isn't worth the price, Sandra.





Peggy wants to send online Christmas cards but needs Flash
Hi. I'm using Windows 10 and I love to use Jacquie Lawson's site to send cards... http://www.jacquielawson.com/ . But when I try preview a card, I get a notice that I need to install Flash. I clicked the link to install Flash but I still can't see the site. I used to be able to send cards from there just fine. Is it because I have Windows 10 fall creators installed?

Our answer
Hi Peggy. Flash is a function of your browser and not your operating system. You didn't mention which browser you use using. If you use Google Chrome, Flash is built-in. It's also built into Microsoft Edge. As of right now, Flash is an still an add-on for Internet Explorer and Firefox.

Your best bet if you want to use Flash-based sites is to use Chrome. You don't have to worry about installing Flash or keeping it updated. Chrome updates Flash with every browser update. Edge comes with Windows 10 and gives you another choice. Edge also has Flash built in.

We tested http://www.jacquielawson.com/ in Windows 10 using Chrome and it works fine. We also tested it in Microsoft Edge and it works fine. It does not work in Internet Explorer or Firefox unless you install Flash from the official Adobe Flash site Beware that Adobe Flash Player sometimes tries sneak install a PUP (McAfee Security Scan) or some other unwanted software on your computer when you install Adobe Flash. You would think that a mega-billion-dollar company would not need to nickel & dime its customers.

Your best bet for now is to use Chrome. If you do not have Chrome installed, you can get it from here, it's free.

Hope this helps you, Peggy.







Thelma has two questions: One is about File History and the other is about Windows 10 Fall Creators Update


Hi. I have 2 questions and the first one I may have asked before but can't remember your reply. I keep getting notifications that my last update failed. I have my file history saved to an external drive.

Also about 2 months I got the Windows 10 Fall Creators download update from Microsoft website as I couldn't wait. It installed ok but half the apps didn't work so I reverted back to 1703 (Creators). I haven't received the Fall Creators Update again, so will I still get it seeing as how I didn't want it in the first place and uninstalled it.

Also I couldn't really see any difference with the latest update apart from apps not working. Thanks, Thelma.



Our answer


Hi Thelma. As for your first question... if File History has stopped working (it does happen) it's pretty easy to fix. Please see our tutorial on resetting File History.

If you had the Fall creators and removed it/rolled it back, there is no other major update due until April 2018. Since you reverted to the previous version of Windows (Creators Update version 1703) Windows will not automatically reinstall version 1709 again. So, if you try to reinstall it via Windows Updates, you will get an error. There are not a not nearly as many major differences between Fall Creators Update and Creators Update as there were between the Anniversary Edition (version 1607) and the Creators Update.

We are curious as to what apps were not working; we have not seen any issues on our machines or those we have been working on as far as apps not working in Fall Creators Update (version 1709).







Diane suddenly gets a message that Windows 10 is not activated


Suddenly I've been notified that my Windows 10 Home isn't activated. The message doesn't make any sense! I updated from Windows 7 long ago, and only now have been getting this message. Thank you for being here!



Our answer


Hi Diane. This may be something that will need to contact Microsoft about. But let's try a few things first.

Step #1

In your taskbar search (Cortana) type "CMD" (without the quotes). When Command Prompt appears at the top, right-click on it and chose "Run as administrator". In the Command Prompt copy & paste the following command:



wmic path SoftwareLicensingService get OA3xOriginalProductKey



This will reveal your product key. If it does not, you'll need to contact Microsoft and explain the situation. You'll find that Microsoft is very helpful and usually resolves problems quickly.

If you do find your product key, copy it and paste it into a Notepad (text) file. You can open Notepad on Windows 10 by typing Notepad in the taskbar search and clicking it when it appears at the top.

Step #2

Next open Settings > Update & security > Activation. If it shows your PC is not activated, click on "Change product key" (see screenshot below):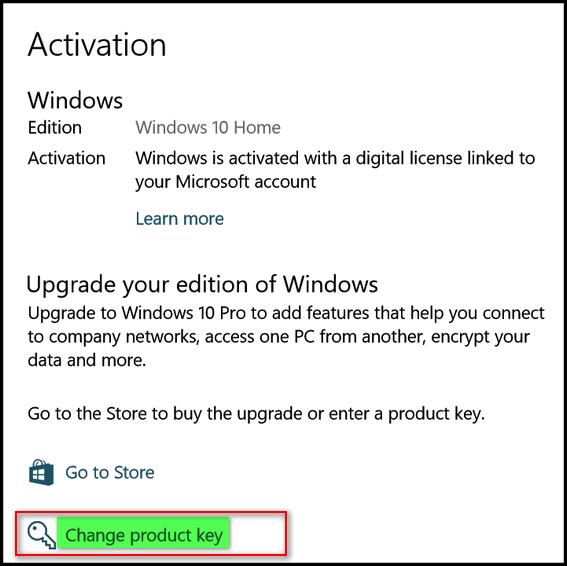 Once you click "Change product key" you'll see a box appear where you can enter your product key that you got in step #1 above.




If you don't find a license key in step #1.

You can contact Microsoft safely this way: In the taskbar search (Cortana) type Support and click on Get Help when it appears at the top. You'll see the Microsoft Virtual Agent and it probably won't be able to help you, but you will be able to get help and schedule a call at your from Microsoft using this method:




I typed Activation to answer the question what do I need help with. Then I was asked if I need help with activating Windows or Office. In your case you'll choose Windows. Eventually, if the Virtual Agent cannot help you, you'll come to a point where you'll have the option to schedule a time for a (Human) Microsoft support tech to call you as well as chat with a live agent, etc. We covered this in an article you can read here.

While this information is a bit outdated you'll have all these options available to you once it's determined that the Virtual Agent can not provide the answer(s) you need.

If all else fails, contact Microsoft. (Hint: Don't do a search for a phone number for Microsoft support - if you do about 75% of the results you get will be tech support scams.)

Here is the number for Microsoft support.

1 (800) 642-7676

Let us know if this helped with your problem.







Mary needs help with zip files


Hello to Cloudeight team. I need help with using a zip-unzip program. I tried to unzip a program and it disappears. I can't find it and I don't know how to extract information from programs using 7-Zip. It is frustrating. I really need your help. Thank you and Merry Christmas. Mary



Our answer


Hi Mary. Merry Christmas to you too! When you unzip a file, it unzips (extracts) to the same folder where the zip file is located - most likely the folder where you downloaded it to. You can locate the most recent downloads by opening your browser and pressing Ctrl+J. In Chrome you'll see your downloads and under each one you'll see a link that says " Show in folder". In Edge when you press Ctrl+J you'll see your downloads and a link at the top that says "Open folder". In Firefox browsers use Ctrl+J to open your most recent download and right-click any file and choose "Open containing folder".

You don't need a separate program to unzip common zip files. Windows 10 makes it easy to open standard zip files without having to install any 3rd-party software.

Here's the easiest way to unzip a zip file on Windows 10. And you'll always be able to find the folder where the files were extracted (unzipped) to:

Step 1: Right-click on the zip file you want to unzip... choose "Extract All..." from the menu that appears when you right-click the zip file.




Step 2: You'll see dialog box open. Make sure the box just to the left of "Show extracted files when complete" is checked. Then click the "Extract" button.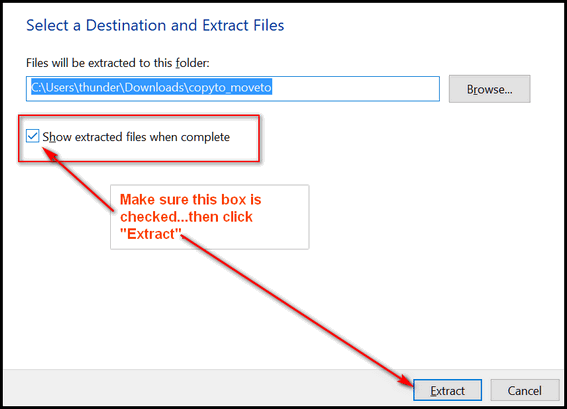 Step 3: The folder with the unzipped files will appear automatically - no hunting around for them.






Think of a zip file as a little suitcase with a bunch of files in it-when you "unzip" it, you are just opening the suitcase (the file) so you can see what is in it and access the contents. Zip files are also used to compress one or more files into one file -like packing a suitcase A zip file can contain one or many files. A zip file, like a suitcase can be packed tightly with all your clothes & goodies squished in tightly so it's easier to carry around and transport. Unzipping a file (or what we call extracting the files from a zip file) is just like unpacking a suitcase. None of the stuff in your suitcase does you any good until you unpack it! That's the same as a zip file - you have to unpack it to use what's inside.







Keith is giving his Windows computer to a friend


I recently bought a new I Mac computer and I am donating my old computer to a friend of mine. I want to be able to delete my Gmail program off of my P.C. so that he is not receiving my mail. He has a Gmail account himself so how can I do this safely. Should I just uninstall Google Chrome off of the P.C. and then re-install it again or let him install it? Thank you for your help. You are always dependable to go to for help. Keith



Our answer


Hi Keith. If that is all you need to remove, the easiest way is to open Chrome, click settings, and choose Manage passwords, When you're in Passwords, remove all the pages/password you have saved. Then user CTRL+ H shortcut to open History. On the left side, click "Clear browsing data" You'll have a choice as to how far back you want to delete the browsing data - choose "From the beginning of time". Restart Chrome. That should take care of Chrome and Gmail. After you give him the computer, he can set it up for his own use.



Keith wrote back... "Thank you very much Darcy. Like I said when you can't figure something out on your own you can always turn to the great people at Cloudeight and they will know the answers. Then you feel like you are on Cloud nine. Thanks again."









Robert is looking for Cloudeight info on refreshing Windows 10


Not long ago in your weekly Cloudeight news letters you had wrote how to reinstall or refresh windows 10 without uninstalling your programs and personnel items. I save them but can't find which one it's in by date. Can you help me out please.



Our answer


Hi Robert. We have written articles about Windows 10 System Reset and Windows 10 Fresh Start. Windows 10 Reset, lets you reinstall Windows 10, keep the apps and programs that came with your computer (i.e. Windows apps and manufacturer's software) and all your personal files. But this does not keep any programs that you installed. If you were to do a Windows 10 Reset, you would have to reinstall all the programs that you installed.

A Windows 10 Fresh Start is very much like a Reset, it saves your personal files, removes everything, and clean installs Windows 10. This is a great way to get rid of bloatware and trialware installed by the manufacturer. If you were to do a Fresh Start, when you were done you would have all your personal files but you would have to reinstall all the programs that you installed.

Although we have done Windows 10 Resets on our own computers and all our personal files were available after doing the reset, we recommend that you back up all your personal files to an external drive before doing a System reset or a Fresh Start. It's better to be extra safe than extra sorry.

You can read our article about Fresh Start, Windows 10 Reset, and Factory Reset here.



Get 3 Cloudeight Direct Computer Repair keys for just $89. You save $61.
Get Ashampoo Backup Pro 11 FREE With Any Emsisoft Purchase!
Buy a Cloudeight Direct Computer Care Repair for just $35 - Save 30%






Easily Change Font Sizes in Windows 10 With Windows Font Size Changer


Windows 10 Creators Update (version 1703) and newer

Beginning with Windows 10 Creators Update (version 1703) and continuing with Fall Creators Update (version 1709) Microsoft removed the settings that let you change the font size for title bars, menus, message boxes, tooltips, palette title, and icon text.

If you're using a very high screen resolution, you may find yourself straining to read the text in message boxes, title bars, etc. after updating to the Creators Update or Fall Creators Update.

Prior to the Windows 10 Creators Update (version 1703), you could easily change font sizes in Display settings.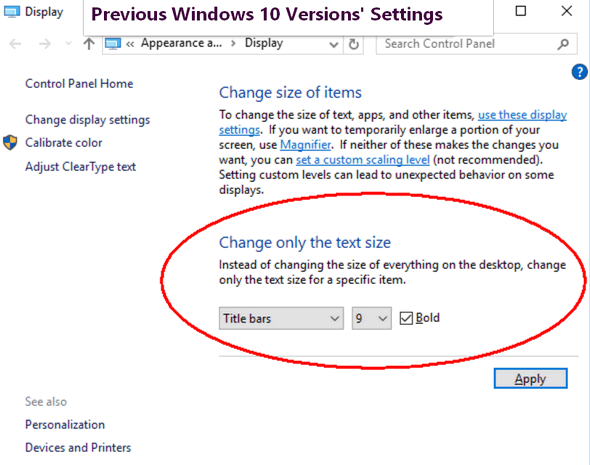 There are thousands of tips all over the web about editing the registry in order to bring back font size settings options in Windows 10 Creators Update. But editing the registry is not for everyone, plus it's time consuming — and if you make even a small mistake it can cause big problems.

Luckily for those of you who have updated to the Creators Update or Fall Creators Update and now find themselves with Windows display fonts that are uncomfortably small, there's a very small (less than 50 KB) free program that makes it very easy to change the size of the fonts for title bars, menus, message boxes, tooltips, palette title, and icon text.

It's called System Font Size Changer. All you have to do is download it and run it. It does not install. Just download, unzip and click the exe file to run it. Since it does not install, no worries about malicious stuff like PUPs, malware, bundles or other baddies. And a really nice feature of System Font Size Changer is that when your first run it, the program will offer to save your current settings – and we suggest you take advantage of that… just in case.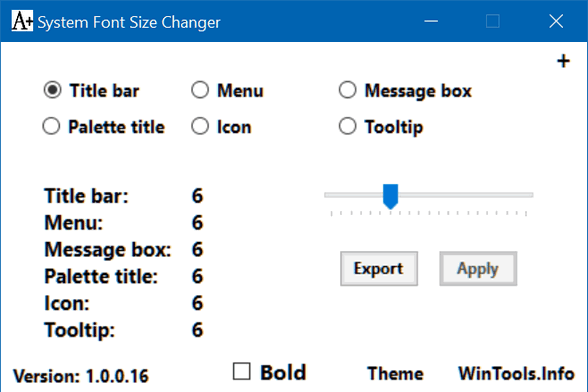 If you want an easy way to change the system font size on Windows 10 Creators Update (version 1703) and Widows 10 Fall Creators Update (version 1709). download System Font Size Changer from WinTools. It's free and it will make your life easier.







Three Built-in Windows Tools You May Not Know About


Windows 7, Windows 8x and Windows 10

Windows has some really good built-in utilities that are as good or better than many of the freeware utilities that you'll find offered for download from many sites. We've picked the 3 we think you'll find most useful

1.

The Windows Configuration Utility



That's right, even on Windows 8 and Windows 10 you can still run good old MSCONFIG - the Windows Configuration utility. It's been built in to every Windows edition going way back to Windows 95.

In Windows 7 you can use Windows Configuration utility to manage your startup programs (in Windows 8 and Windows 10 this has been moved to Task Manager). In Windows 10, Windows 8.1 and Windows 7, you can use Windows Configuration utility for changing boot options, such as booting into Safe Mode. You can change the default operating system (if you're running a dual-boot or multi-boot setup and more. You should only use these settings if you're sure of what you're doing. You can also use the Advanced options for RAM and processor settings, but don't mess around with these if you are not sure of what you're doing.

There's also a list of tools in the Configuration utility, just click on the tools tab and you'll see these tools and more.



Above: The Tools Tab in Windows Configuration utility.

2.

The System Information utility



Here's a handy utility that will tell you everything you've ever wanted to know about your computer and probably a whole lot more. While people download tools that do essentially the same thing as MSINFO32, you just use what's already at your fingertips.

The System Information utility will show you all the information you will ever need to know about the hardware and software on your PC.

You can either access the System Information utility by pressing and holding down the Windows Key then tapping the R key. Type MSINFO32 in the run box and press enter to start the System Information utility.

The system summary will list all the important information about your computer, including processor,, RAM, Virtual RAM, display type, problem devices, hardware, operating system version and type and much more. But you've only scratched the surface - you can dig deeper into the inner sanctum of our PC using the System Information utility.

Check it out!



Above: Widows System Information utility.



3. Windows Memory Diagnostic



You don't need no stinkin' 3rd-party utility to check your PC's RAM, we tells ya! Windows has a built-in diagnostic tool that will scan your PC for any memory issues ... and even let you know if your RAM is in good shape.

To run Windows Memory Diagnostic, hold down the Windows Key then tap the R key. Type mdsched.exe in the run box and press enter to start the Windows Memory Diagnostic utility.

Whoa! Hold on there pardner -- The Memory Diagnostic scan will cause your PC to restart, and you won't be able to stop it. So, before you run it , make sure you've saved anything you're working on or you'll lose it.

The scan will take between 5 and 10 minutes, and after your computer reboots, you'll see a diagnostic report giving you the results of the Memory Diagnostic scan.

Now you know about three useful utilities built in to your Windows PC.







'Tis the Season for Online Computer Support Scams


This tip is for everyone with a Windows PC

Every week, we get several emails from people who have fallen for a computer repair scam. They have given their credit card information and access to their computers to criminals — and it usually always starts with a phone call. It goes like this. The phone call comes unexpectedly, out of the blue, the computer user is informed that their computer is infected with something and/or is sending and spreading malware or viruses and infecting other computers. Of course the caller has the cure — the fix — the solution.

Sadly, many people fall for this and give access to their computers to these scammers who then connect to the customer's computer and proceed to ""fix" it. But they don't fix it. Many times they install worthless software, or software anyone can get free, or worse, they install malware to steal your passwords and usernames, and thus access to your bank accounts and other highly sensitive and personal information. Users give the criminals their credit card information, and in the best case scenario, they are charged a few hundred dollars — in the word case, their card numbers are stolen and used to make purchases and/or steal identities.

We warn you again — never ever give ANY information to anyone who calls you out of the blue, no matter who they say they represent. One of the biggest scams going is the one where the caller identifies himself or herself as a Microsoft employee telling you that your Windows computer is infected with malware and that your computer is infecting other computers on the Internet. If you have caller ID their number may show that their are calling from a Microsoft number — but they're not. It's really easy to spoof caller ID.

Remember this: No legitimate company is going to call you out of the blue and tell you that your computer is infected. NONE. NADA. ZERO. If you get a call from someone claiming to be from Microsoft or some other legitimate sounding company, hang up. Do not give them access to your computer. Do not give them your credit card number. Do not give them any password.

We have published this advice before, yet every week we get several people who come to us for help after falling for a scam. And we help them by removing all the malware installed by the scammers, and fixing things these scammers intentionally broke (so they can come back again and get more money from you).

So if you remember nothing else from this tip, remember this:

If you get a call from anyone claiming to be from Microsoft or some other legitimate sounding company — or someone who tosses around complex computer terms and claims he or she can fix your computer — hang up. Hang up the phone and do not give them any information. none. nada. zero. If they continue to call after this report them to your phone company and/or your local authorities. The important thing is: Never give your information to anyone who calls you out of the blue telling you that you have problems with your computer. Never give access to your computer to anyone who calls out of the blue and warns you that your computer is infected. It's always a scam – always.

And if you are one who has already fallen for this scam, call your credit card company right away and tell them what happened. Tell them you were scammed and have the charges removed from your credit card. You should be able to get charges made by scam companies removed from your credit card. You can, if you wish, report it to your local authorities, although we doubt that it will do much good. Scammers are professional crooks and they're are not going to operate under the same name or from the same location or use the same methods for very long. They're going to move around, change names, and change schemes, and it's very hard to catch up with them.

Here are some good information from the U.S. government (and no we are not being sarcastic!)



" …If You Get a Call

If you get a call from someone who claims to be a tech support person, hang up and call the company yourself on a phone number you know to be genuine. A caller who creates a sense of urgency or uses high-pressure tactics is probably a scam artist.

Keep these other tips in mind:
Don't give control of your computer to a third party who calls you out of the blue.
Do not rely on caller ID alone to authenticate a caller. Criminals spoof caller ID numbers. They may appear to be calling from a legitimate company or a local number, when they're not even in the same country as you.
Online search results might not be the best way to find technical support or get a company's contact information. Scammers sometimes place online ads to convince you to call them. They pay to boost their ranking in search results so their websites and phone numbers appear above those of legitimate companies. If you want tech support, look for a company's contact information on their software package or on your receipt.
Never provide your credit card or financial information to someone who calls and claims to be from tech support.
If a caller pressures you to buy a computer security product or says there is a subscription fee associated with the call, hang up. If you're concerned about your computer, call your security software company directly and ask for help.
Never give your password on the phone. No legitimate organization calls you and asks for your password.
Put your phone number on the National Do Not Call Registry, and then report illegal sales calls.

How to Spot a Refund Scam

If you paid for tech support services, and you later get a call about a refund, don't give out any personal information, like your credit card or bank account number. The call is almost certainly another trick to take your money.

The refund scam works like this: Several months after the purchase, someone might call to ask if you were happy with the service. When you say you weren't, the scammer offers a refund.

Or the caller may say that the company is going out of business and providing refunds for "warranties" and other services.

In either case, the scammers eventually ask for a bank or credit card account number. Or they ask you to create a Western Union account. They might even ask for remote access to your computer to help you fill out the necessary forms. But instead of putting money in your account, the scammers withdraw money from your account.

If you get a call like this, hang up, and report it at

http://ftc.gov/complaint

…"

See we told you — the U.S. government has some good advice for you to follow no matter where you live. Don't get scammed. We hate to see any of you being taken advantage of by charlatans and criminals. You can read more tips and info at http://www.consumer.ftc.gov/articles/0346-tech-support-scams .

During the holiday season the number of scams almost triple. Don't let a scammer ruin the holidays for you.







What's Your Up Time?


Windows 7, Windows 8.1, Windows 10 (all versions)

How long has your computer been running since you last restarted it? We leave our computers running 24/7. If you asked us how long it's been since we last restarted our PCs, we couldn't tell you without looking at our up time. If you're like us, you probably don't know how long it's been since you rebooted either.

So, how long has your computer been running since the last boot? If you want to know how long your computer has been running since the last time you started or restarted your PC (your PC's "up time" ), there are many ways you can find out. We're going to show you two ways. The first way, not only shows you how long it's been since you last started or restarted your computer, it also shows when your current version of Windows was installed. If you're using Windows 10, you'll see the date of the last major (version) update.

Open a Command Prompt.

On Windows 7, type CMD in the start menu search, click on CMD when it appears at the top of the search results. On Windows 8.x, press Windows Key+S and type CMD into the search box and click on Command Prompt when it appears in the search results. In Windows 10, type CMD in the taskbar search (Cortana) and click on Command Prompt when it appears at the top.

In the Command Prompt, at the prompt, type

systeminfo

And press Enter.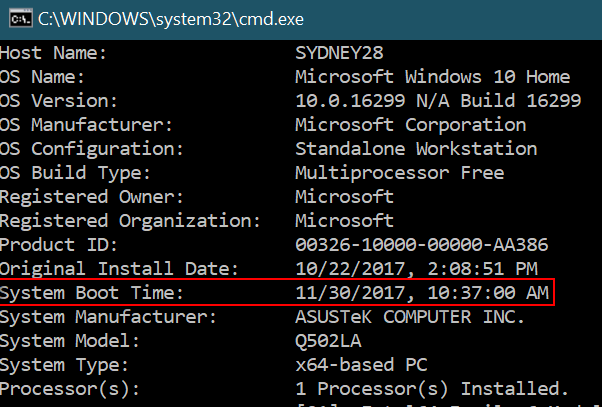 You'll see the last time you booted or rebooted your computer. As you can see, mine was restarted on 11/30/2017 at 10:37 AM (yesterday). Also note that above it you'll see "Original Install Date". I'm using Windows 10 Version 1709 and 10/22/2017 was the date I installed the Fall Creators Update (Version 1709) on this PC. It was not the date that Windows was originally installed on this computer.

If you're using Windows 10, another way to see how long your computer has been running since the last reboot is to use good old Task Manager. And no matter what version of Windows you're using, you can open Task Manager by using the keyboard shortcut CTRL+SHIFT+ESC. So, open Task Manager and then click on the "Performance" tab, then click on "CPU" and look near the bottom: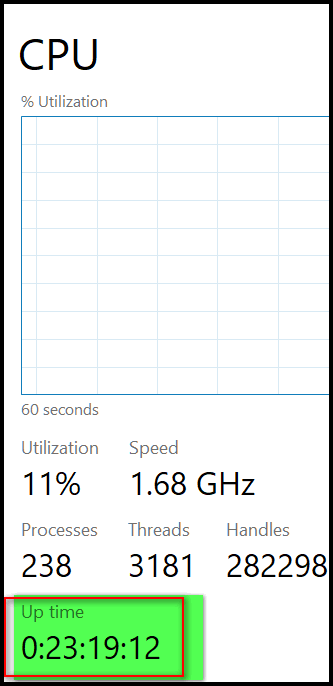 You'll see under "Up time", it has been 23 hours, 19 minutes and 12 seconds since I last restarted my computer

So… what's your up time, we asks ya?





Want more computer tips & tricks?

9 Ways to Open the Settings app in Windows 10

How to Repair Microsoft Office Programs

We have thousands of Windows tips, tricks and more on our InfoAve web site. Come see for yourself!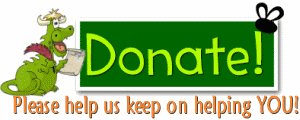 Donations help us continue our mission to keep you informed, separate the truth from the hyperbole, and help you stay safer online. We provide support to thousands of people. Every week we help dozens of people via email at no charge. Thanks to donations, we do a lot more than provide this free newsletter. We help you recognize online threats, fight for your online privacy, and provide you with the knowledge you need to navigate the Web safely, and help you get more out of your PC.

Help us keep up the good fight with a small donation.

After you donate, you will receive an invitation to become a Cloudeight Booster.

Interested in making a automatic monthly gift? Visit this page. Help us keep helping you!








Over 3000 Free Christmas Desktop Wallpaper Images



Christmas is just about 2 weeks away and if you're like us, you are decorating your home and your desktop for Christmas and the holiday season.

We've been on the hunt for Christmas desktop wallpaper and we've found three sites we think are worthy of a visit. All wallpaper offered by these sites is free of charge. If you browse all three sites, you'll have a choice from over 3000 desktop wallpaper pictures,

These sites are listed in order of biggest (most images) to smallest (least images). We hope you enjoy. If you have a favorite site for free Christmas desktop wallpaper, please let us know!



Alpha Coders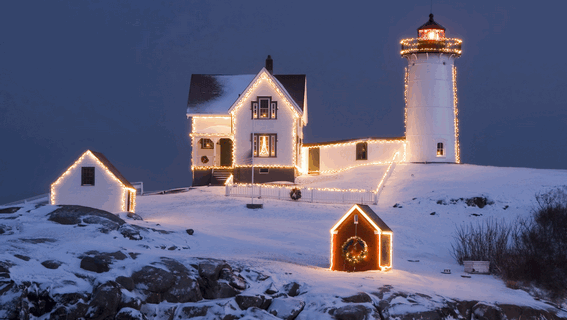 Alpha Coders offers a huge selection (over 2700) of Christmas desktop wallpaper. From beautiful to questionable this site has something for everyone. Check it out here!

---
HD Wallpapers


HD Wallpaper offers a nice selection of beautiful and fun desktop wallpaper for Christmas. There are over 150 Christmas wallpapers on display. Visit HD Wallpapers right now and see for yourself.


---
Get Wallpapers


While this site has the smallest selection (76) of Christmas wallpaper it has a very beautiful and unusual selection and it's worth a visit.

Take a look for yourself .



Both of us wish all of you a very Merry Christmas and a happy and fun holiday season.



Get 3 Cloudeight Direct Computer Repair keys for just $89. You save $61.
Get Ashampoo Backup Pro 11 FREE With Any Emsisoft Purchase!
Buy a Cloudeight Direct Computer Care Repair for just $35 - Save 30%




Christmas Magic

The Christmas lights glowing in the rain do not look much like Christmas lights to me. They look old and hazy, dull and out-of-place — and oddly out of time. I feel as though I have suddenly been thrust into the middle of a soggy, chilly March and people have forgotten to take their Christmas decorations down.

It doesn't seem much like Christmas to me this year. In the December rain the Christmas lights look more forlorn than festive; just another reminder that the magic of Christmas is missing for me this year. I wonder where it went?

The magic memories of Christmas that most of us treasure are unique to each of us. Looking back, things always have a way of looking better than they probably really ever were. Everything in the present is colored by everything else going on in the present – our daily lives can be busy and complicated. It seems odd that you really can't get a true picture of things until you can stop somewhere in the future and look back. And in reflection you don't get a true picture either – you get a picture that looks better than the real one; better than it did when the memory was created and painted in your mind.

Tonight, I'm living in the present and walking through a particularly nasty and cold December rain. It is the kind of night that could chill your bones and freeze your soul in the middle of July if you dare to remember it...

Read the rest of this Christmas essay here.






Go Boil an Egg or "My computer takes too long to boot!"

Quite often, with our Cloudeight Direct Computer Care service, we'll be asked to do a session to fix a slow-booting Windows computer. Many times we find too many programs and services starting with Windows. This not only affects the computer's performance, but it can adversely affect the computer's boot time. But sometimes, we connect to the customer and do a reboot and we find that their computer is booting up in between 2 and 3 minutes. When we measure boot time we measure from the time the computer is restarted until the time the computer is fully usable again. While that may seem like a long time compared to an Android or Apple device, 2 to 3 minutes average for Windows. If your computer boots up within 2 to 3 minutes, that's normal. If your computer is taking longer than that then you have too many programs and services starting with Windows, or you have other problems.

While 2 or 3 minutes may seem agonizingly slow when your waiting for your computer to boot, it's just Windows being Windows. Go boil an egg!



Get 3 Cloudeight Direct Computer Repair keys for just $89. You save $61.
Get Ashampoo Backup Pro 11 FREE With Any Emsisoft Purchase!
Buy a Cloudeight Direct Computer Care Repair for just $35 - Save 30%

Premium Subscribers' Home Page. You'll find the last few weeks of Premium archived on this page.
To change your subscription address, see "Manage your subscription" at the bottom of this newsletter.
Submit your questions, comments, and suggestions for possible inclusion in our newsletters here. This form is for questions, comments and suggestions for this newsletter, not for product support, stationery questions, or general questions concerning our products or services.
Send us your suggestions and recommendations for future freeware picks and/or sites of the week
Help us Grow! Forward this email newsletter to a friend or family member - and have them sign-up for InfoAve Premium here!
Get our free daily newsletter! Each evening we send a short newsletter with a tip or trick or other computer-related article - it's short and sweet - and free. Sign-up right now.
Have a question about a Cloudeight Software program, service, stationery, or need to ask about an order? Let us know!
If you need help with one of our software programs, have a question about an order, or have a question about any of our email stationery, screen savers, or other products - please don't use our InfoAve Questions/Answers/Tips form. Use our general Cloudeight support form instead.
If you want to help us by telling your friends about our Cloudeight Direct Computer Care service, you can download a printable flyer you can hand out or post on bulletin boards, etc.. Get the printable PDF Cloudeight Direct Computer Care flyer here.




These products and services are recommended and endorsed by Cloudeight:
Also.. don't forget:




We'd love to hear from you!

If you have comments, questions, a tip, trick, a freeware pick, or just want to tell us off for something, let ups know. Please visit this page.

If you need to change your newsletter subscription address, please see "Manage your subscription" at the very bottom of your newsletter.

We received hundreds of questions for possible use in IA news. Please keep in mind we cannot answer all general computer questions. We try to personally answer as many as we can. We can only use a few to in each week's newsletter, so keep this in mind. If you have a support question about a service or product we sell, please contact us here.





We hope you have enjoyed this issue of InfoAve Premium. Thanks so much for your support and for being a Premium subscriber.




Merry Christmas and happy holidays to you and your loved ones

Have a great weekend!

Darcy & TC
Cloudeight InfoAve Premium - Issue #739
Volume 15 Number 8
December 8, 2017

Not a subscriber? Subscribe to our InfoAve Premium Newsletter





"Cloudeight InfoAve Premium" newsletter is published by:

Cloudeight Internet LLC
PO Box 73
Middleville, Michigan USA 49333-0073

Read our disclaimer about the tips, tricks, answers, site picks and freeware picks featured in this newsletter.