Cloudeight InfoAve Premium
Issue #837
Volume 17 Number 1
October 25, 2019

Dear Friends,

Welcome to Cloudeight InfoAve Premium issue #837. Thank you very much for subscribing and for being a part of our Cloudeight family. We appreciate your friendship and support very much!





Welcome to the first issue of our 17th year of Cloudeight InfoAve Premium

This is issue #837 and this is the first issue of the 17th year of Cloudeight InfoAve Premium. Thank you all so much for making this possible.

With this issue, we begin a new year of InfoAve Premium. But some things will never change. We want you to know we're always on your side, and we will continue to do our best to help you with your computer - and to help you stay safe on the Internet.

And finally, we've saved the most important thing for last: THANK YOU SO MUCH! Without your support and your encouragement, we would not have been able to keep our newsletters and our small business going all these years.

We're already at work creating our new E-book which will feature all 52 issues from the 16th year of InfoAve Premium. As soon as our new e-book is ready we'll let you know.

AS WE BEGIN THIS THE 17th YEAR OF INFOAVE PREMIUM -- THANKS SO MUCH TO ALL OF YOU FOR MAKING IT POSSIBLE!





Help us by sharing us on your Facebook page!

Do you use Facebook? If you have a Facebook page, please help us by sharing us on Facebook. You can help us by sharing one of our articles or pages. You can also help us by sharing over 4000 computer tips and tricks on our InfoAve web site at https://thundercloud.net/infoave/new/ or our Facebook page at https://facebook.com/cloud8internet. If you have used our products and services and are pleased, mention us on your Facebook page. Thanks so much for your help!



Cloudeight Direct Computer Care - Get Ready For Winter Checkup
Winter is coming and we're all going to be using our computers more. Let us make sure your computer is ready for those long, cold winter nights.
When you order our Get Ready For Winter Computer Checkup:
We'll check your computer for malware and questionable programs
We'll check your startup programs and optimize them
We'll check your computer performance to make sure your RAM and CPU usage are within normal ranges
We'll check your hard drive for errors
We'll review your installed programs
If you're using Emsisoft, we'll make sure it's set up for best protection & performance
We'll make sure your computer is ready for the long winter nights ahead!
You'll get all of the above for just $25. This offer is good for a limited time!
Get Ready for Winter! Get all the details here.








A comment from Betty
I have just had Darcy do a complete check-up of my computer. Working at lightning speed she did a very thorough check, made adjustments and corrected a problem I was having. For the time Darcy spent the price for the repair key was so very reasonable I was very happy to make a donation. Very grateful for all the help and great tips we receive from Darcy and TC Betty in New Zealand.

A comment from Nancy
I just want to say that Darcy and TC are the greatest. TC recently went over both my computer and laptop and got rid of some things and now both items are working great. I have been with them for many years and I trust them completely. I try to keep computer repair keys on hand just in case. They are wonderful people. Give them a try. You'll be glad you did. Thank you TC and Darcy at Cloudeight!

A comment from Kris
I want to thank immensely the way TC went above and beyond to get my computer the way I wanted it. Would recommend everyone donate a tad more when you donate... make sure you do now. As without Cloudeight's TC and Darcy...we all would be lost! Thank you again!

A comment from Phyllis
I can't tell you how much I appreciate your willingness to dig in and get it done. I will be a staunch supporter of both of you as you continue to help so many of us. I will also be more careful and not get into trouble, if possible! Phyllis

A comment from Helga
Dear TC: Many thanks for getting all my pictures back from File History. I am so very glad and sound silly when I thank you over and over again but they represent the last 15 years in my life which were special for me. I am a faithful reader of your newsletters and have learned a lot from them, although I really only read what I actually want to do on my computer. And I am happily computing in my own limited way. Thanks once more and all the best to you and to Darcy, from Helga.

A comment from Brenda
Hi TC. Thank you for the video. I followed the suggestions on it, and they didn't seem to work. However, I had to do some chores and was away from the computer for a while, and when I went back to it, both the headphone and the speakers worked. It had not been shut down, and I have no idea which action I took caused this, but I am happy and hope no more updates will cause so much trouble. I've saved the link to the video though. The Realtec HD Audio Manager still doesn't appear in Control Panel, and RtkNGUI64 still won't open, so I can't see if the front and rear playback devices play two audio streams simultaneously, but I assume they do, and I've created a restore point. I've also happily sent Cloudeight a gift, and I thank you for all your patience and time helping me.

A big Cloudeight "Thank you!" to Betty, Nancy, Kris, Phyllis, Helga, Brenda and everyone who took time out to write to us, share a comment and/or share us on Facebook! We appreciate your kind words and your support very much! EB & TC.




Your Purchase Helps Us!
When you purchase any Cloudeight Direct Computer Care Service, you get the best computer care and repair, at the lowest possible price. Plus, each Cloudeight Direct Computer Care service you purchase goes a long way in helping to support our small business.

Your computer fixed - while you watch!
With our Cloudeight Computer Care, we'll fix your computer while you watch. You'll be getting the best computer repair service available, at the best price, from people you trust. Our Cloudeight Direct Computer Care single repair keys are a great deal. They are good until you use them.

For more information see our Cloudeight Direct Computer Care home page!




Here are some important links for you:



Pam has not been able to upgrade to Windows 10 version 1903
I have been hoping to update my desktop to Windows 10 v. 1903 but to no avail. I have Windows 10 Pro installed on the desktop.

All of my other updates have been installed yet I receive the following message on the Windows Update page:

"The Windows 10 May 2019 Update is on its way. We're offering this update to compatible devices, but your device isn't quite ready for it. Once your device is ready, you'll see the update available on this page. There's nothing you need to do at this time."

How can I do this update when the system says I can't? My older laptop (Windows 10 Home) received 1903 with no problems. I don't understand. Thanks for your help.

Our answer
Hi Pam. Have you tried updating your computer recently or are you still waiting for it to come to you via Windows Update?

I would suggest you go to this page and click on the Update now button. The Windows 10 Update assistant will download. Once it does it will start the update - including checking your computer before it starts. It can take between 1 hour and 4 hours (or more) for the update to download and then to update your computer. You can use your computer during most of the process until the installation actually starts.

Don't assume because you got a message back in the spring that your computer is not compatible. You should give it a try -- you may be surprised.

And if it does not work, your computer will be returned to the way it is right now - you won't lose anything.

Windows 10 Version 1909 is coming out next month - and you do not have to have Version 1903 installed to get it.
----
Pam wrote back: "TC, I finally got the update to download & install. It seems to be working well now... Thank you, Pam."



Donna says she sees our start page with different backgrounds when she switches browsers
Hi "Guys". I just saw something that seems sort of odd. I normally use Chrome as my browser, with your start page on every new tab. However, I just opened Opera a few minutes ago (also set with your start page) and noticed that the background is a Pumpkin or Halloween theme. Oddly, your start page in Chrome still shows the blue stripes.

Any idea why the difference? I want the PUMPKINS!

Thanks for your help today and always. Found you guys somewhere in the 90's. Been a fan ever since. Subscribed to various newsletters since then, ended up with only yours. Guess I just know quality when I see it. : )

Our answer
Hi Donna. Thank you so much for your very nice comments and your long-time support. We appreciate it very much.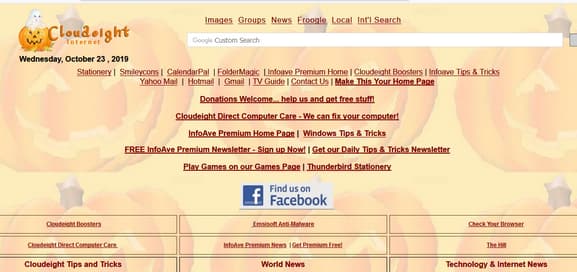 If you use Chrome every day, you need to refresh the page. You can do this by right-clicking on the page and choosing "Reload", or just press the F5 key while on the page. (If you're using a laptop you might need to press Fn+F5.)

If, for some reason that does not work, clear Chrome History. With Chrome open and in focus (on top) press CTRL+H. Next click "Clear Browsing Data" (on the left"). Choose a time range - 7 days should be enough. Then restart Chrome - you'll have pumpkins, I tells ya! Well, at least until we change it for Thanksgiving.

Thanks again, Donna.



David wants to know how to wipe his Windows 7 computer before he gives it away
I am soon going to give my present computer away and buy a new one running Windows 10. Can you tell me what I should use to erase my old hard drive before giving it away? I will, of course, install my windows 7 operating system after erasing my hard drive. Thank you for educating me over many years. David

Our answer
Hi David. Thanks! There are 2 easy ways to accomplish what you want to do:

If you have a Windows 7 installation disk you can do this:

Turn on your computer so that Windows starts normally then insert the Windows 7 installation disc and shut down your computer.

Restart your computer.

Press any key when prompted and follow the instructions on screen.

On the "Install Windows" page, enter your language and other preferences, and then click Next.

On the "Please read the license terms" page, if you accept the license terms, click I accept the license terms, and then click Next.

On the "Which type of installation do you want?" page, click Custom.

On the "Where do you want to install Windows?" page, click Drive options (advanced).

Click the partition that you want to format and click Format.

Follow the on-screen instructions to finish installing Windows 7, which includes naming your computer and setting up an initial user account. You can set up a generic user account with a name like "Default User" if you're going to give away the computer.

If you don't have a Windows 7 disk, you can do a factory reset. A factory reset removes everything and then reinstalls Windows and everything the manufacturer put on it - in other words, it makes the computer the same as it was the day you got it. Every computer manufacturer has a different method for doing a factory reset. See your computer manufacturer's web site for instructions on how to do a factory reset.

Hope this helps you, David.
-----------------
David wrote back: "Thanks TC. I don't know what us silver surfers would do without experts like you, EB and Darcy. I always recommend your newsletter to friends and don't think there's a better way of educating oneself about these frustrating but wonderful machines called computers.... David"





Denton wants to know what's going to replace Adobe Flash
With Adobe Flash Player going away, what programs are available as a replacement? Also, the latest edition of Premium Newsletter for October 18th not received. First time ever. I got it from the web.

Our answer
Hi Denton. As far as our newsletter delivery goes, we've sent InfoAve Premium every week for 836 weeks - today's edition makes it 837 weeks in a row. Sometimes Gmail needs to be reminded. I'm sure if you look you'll find our newsletter in your Gmail spam folder - and when you do, highlight it and click "Not spam" at the top. It should not go into your spam folder again. Although, over time, Gmail might "forget'. Nothing is perfect!

About Adobe Flash: Nothing will replace Flash. Web sites that now use Flash will be redesigned (or have already been redesigned) to use HTML5 and JavaScript. There's nothing you have to do and nothing you have to install. Flash has long been used by hackers and miscreants to exploit vulnerabilities in browsers and operating systems. Many websites already have stopped using Flash, Apple and Amazon among them.

For more information about HTML5 and Flash see this page:

https://en.wikipedia.org/wiki/Comparison_of_HTML5_and_Flash

After December 2020 no modern browser will support Flash. So web site owners and site designers have a bit over a year to covert their sites to HTML5. But they have known this was coming for several years.

There is nothing you have to install or do to view videos, games, etc. that use HTML5.

Here's an example video done with HTML5 - no Flash.

Here's a site where you can play games using HTML5.

All modern browsers (Chrome, Edge, Firefox, Opera, Edge Dev) support HTML5 natively (without add-ons, plugins or extensions).

I hope this answers your questions, Denton.




Kathy's son was tricked by scammers
I'm writing for my son. This morning he got a notice that his computer had been hacked, spyware and other unwanted stuff in it. Believing this guy my son actually let him into his computer. My son gave him control of his computer. He actually watched the guy do everything. Now my son is having second thoughts because the phone number was from oversea. The company is: Ad Blockplus. I was wondering if you know anything about this company or did my son get taken for almost $500. Any help would be appreciated. Thank you, Kathy P.

Our answer
We're sorry to hear about what happened to your son, Kathy.

AdBlockPlus does not offer paid support. What happened to your son is a typical tech support scam. The first thing he needs to do is call his credit card company and tell them he was scammed and request a chargeback - this is a forced refund. The next thing he needs to do is do use System Restore to go back to a time before the scammers were on his computer.

It's important to note that even if a company does offer paid support, $500 is an outrageous amount considering you can buy a really nice new computer for less than that.

We're sorry this happened to him. Make sure he gets in touch with his credit card company right away.

If you need any more help, please let us know.
-----------
Kathy wrote back: "Hi TC. Thank you for getting back to me, I really appreciate it. I will pass this on to my son. You guys have always been a help to me throughout the years and I thank you. I just love your stationery and have your "home page". Thanks again... Kathy.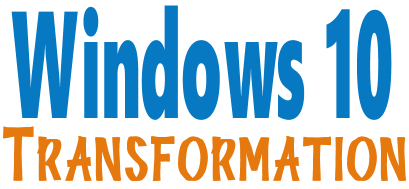 Microsoft will end support for Windows 7 on January 14, 2020. Using Windows 7 after that date may put your computer at risk as Microsoft will no longer be releasing security updates and fixes for it. Now's the time to upgrade to Windows 10!

Whether you upgrade your Windows 7 to Windows 10 (still free) or buy a new Windows 10 computer, we can make you feel right at home on Windows 10 with our Windows Transformation service. We can make your Windows 10 look and work much more like Windows 7.

With our Windows 10 Transformation service, we can make your Windows 10 computer look and work more like Windows 7! With our transformation service we will:
Start the Windows 10 upgrade for you and assist you with the update.
~ After the update has completed, we will:
Change the start menu to look like Windows 7 classic style and include your favorite programs
Change your taskbar and start menu colors to your preferences
Add an authentic Windows 7 start button
Add Windows 7 Wallpaper (if desired)
Change Windows 10 File Explorer so it works more like Windows 7's Windows Explorer
Add My Computer -- and other familiar Windows 7 icons -- to your desktop (if desired).
The Windows 10 Transformation service key never expires it's good until you use it. So get yours now!
Get more information or purchase your "Transformation" now.




Mind Your Email Manners
A tip for everyone who sends email
Here are ten reminders about email etiquette and manners that we think everyone should follow. We try to and you should too.
1.) Do not send messages without a subject line.
2.) Do not send a 2nd email to complain "the first" was not answered quickly enough; keep in mind some people are not on their computers all the time.
3.) Do not click reply to an old message and talk about something completely different from the subject line.
4.) When responding to a message leave the original message intact.
5.) Do not include huge attachments or send many attachments at once.
6.) Don't type in all CAPS – people will think you're rude and yelling at them. (This does not apply to those who are visually impaired.)
7.) Refrain from using text messaging acronyms or other texting shorthand in your emails. For example, don't write something like "HRU? R U coming 2 the festival Sun.? TTYL." Some folks won't have a clue what stuff like HRU & TTYL means.
8.) Try to make your emails as much like a written letter as you can. Imagine you're going to snail mail a letter. Try to make your emails as much like a written letter as you can.
9.) Don't reply in anger. If you're angry, don't answer the email that provoked your anger right away. Wait a day before replying. It's very hard to undo the damage done by sending an angry reply. So give your reply some thought before you fire off an email filled with angry words and say things you will regret later.
10.) If you're sending your email to several people, put your email address in the "To" field and put all the other recipients in the "BCC" field. If you put recipients' email addresses in the CC field or the "To" field you'll be sending everyone's email address to everyone else. Be courteous and hide the email addresses of multiple recipients by putting them in the "BCC" field. It only takes a few extra seconds and it keeps everyone's email address private.


How to Block a Sender in Gmail
A tip for everyone with a Gmail account
Here is the easiest way to block a sender if you're using Gmail.
1. Open an email that came from the sender you want to block.
2. Click the More menu button (the three vertical dots icon) next to the Reply button near the top of the message.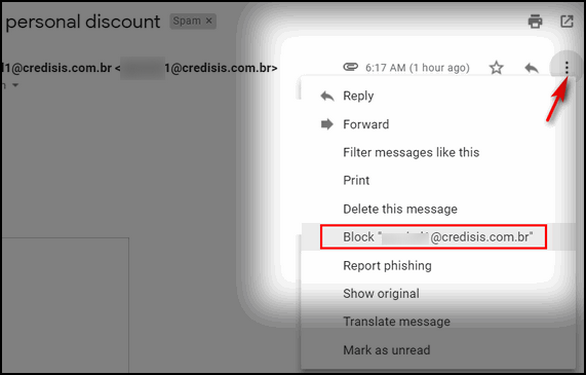 3. Select Block " whatever @ whatever.com " in the menu that appears.
4. A confirmation dialog will appear. Click "Block" in the confirmation dialog.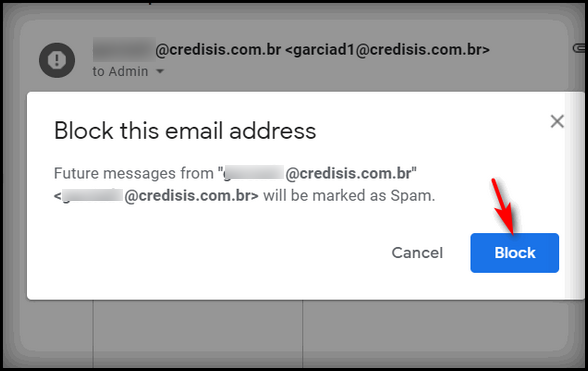 And that's how you block a sender in Gmail. From now on, all messages from the sender you blocked will be sent directly to the Gmail spam folder. This should prevent you from getting any more email from that sender in your Gmail Inbox.
And should you ever want to unblock a sender do this: Find an email from someone you've blocked in your Gmail spam folder and open it. Now follow the instructions above, only this time, if the sender is already blocked you'll see "Unblock" in the drop-down menu and "Unblock" in the confirmation dialog.



The Cure for Desktop Clutter - Easy Windows Basics
Windows 7, Windows 8x, Windows 10
Most of us learn early that the desktop is a great place to put things so they're easy to find. But, while that may be true in the beginning, for instance when you're starting out with a new computer, if you keep putting things on your desktop, eventually you won't be able to find anything. Your desktop will be the hall of fame of clutter.
Does your desktop look like this?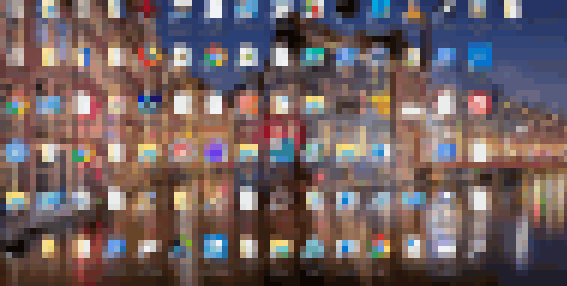 Icons, icons everywhere. Let's fix that! Right-click on an empty space on your desktop choose "View" then uncheck "Show desktop icons". See screenshot below: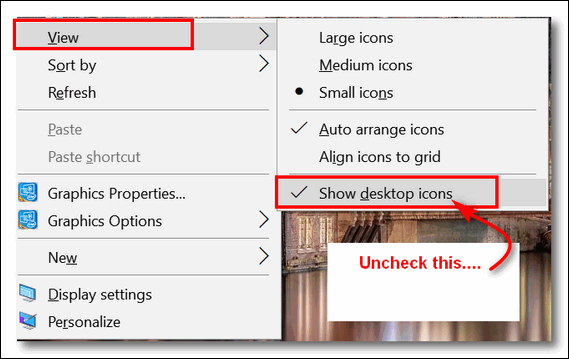 Yes! Look how pretty – when it's all clean. See?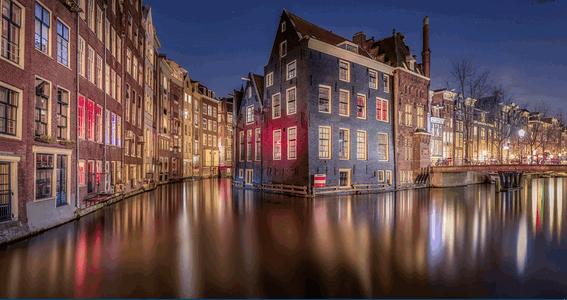 But where did all your stuff go? Don't worry... it's still there. You can see it by typing Desktop in taskbar search and pressing Enter. Or you can press Windows key+ D, or you can open File Explorer and click on Desktop. But, we're going to show you a better way.
We're going to create a Desktop toolbar right on your taskbar where it's always easily accessible.
Right-click on your taskbar and click on "Toolbars" and put a checkmark by "Desktop" (as in the screenshot below).
Now look on the right side of your taskbar, just to the left of the notification area? See? There's your new toolbar.

Now when you click on the double arrows (above) you'll see an alphabetical (by type) list of items on your desktop – all neat and in order. See?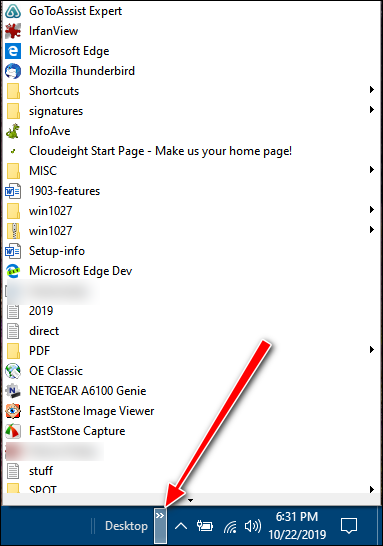 What's better than a clean desktop? A desktop where you can actually see your pretty wallpaper and easily access all of your stuff on your desktop is just a few clicks away.



How to Wipe Free Disk Space With a Simple Command…and why you might want to
Windows 7, Windows 8x, and Windows 10 (all versions)
Most of you know that when you delete files or folders in Windows, they're not really deleted. Not even close. Deleting a file or folder merely tells Windows that the space once occupied by the file or folder that you deleted is now available for use and Windows considers it free space… i.e. space it can use.
So everything you delete is still on your computer but the hard drive space once occupied by the file(s) or the folder(s) will show as free space. What does all this mean? It means the files and folders you deleted are easily recoverable... at least for a while. In fact, with the right software, everything you've ever had on your computer, every word you've typed, every picture you've saved — just about everything is recoverable.
But did you know there's a hidden utility in Windows that will overwrite all the free space on your drive? This makes the files you've deleted much more difficult to recover. All you have to do to use this built-in Windows utility is to run a simple command.

Press the Windows Key plus the "R" key to open a Run box and type:
cipher /w:C
In the command shown above, C is the letter of the drive you want to wipe. So if you want to wipe drive C, type: cipher /w:C . If you want to wipe drive D, type cipher /w:D and so on. Also, please note the space between cipher and the forward slash.
Also, it's important to note that wiping the free space on your drives does not affect any of your data or programs. It merely wipes the space Windows shows as free to use. So you aren't going to lose any data by doing this.
NOTE! All data that has been deleted ( not allocated to files or folders) is overwritten. This permanently removes the data making it virtually impossible to recover. This process can take a long time — hours — if you are overwriting a large amount of space. Closing all open applications while the free space is being wiped helps speed up the process. So — if you're going to run this command it's best to do it when you're not actively using your computer.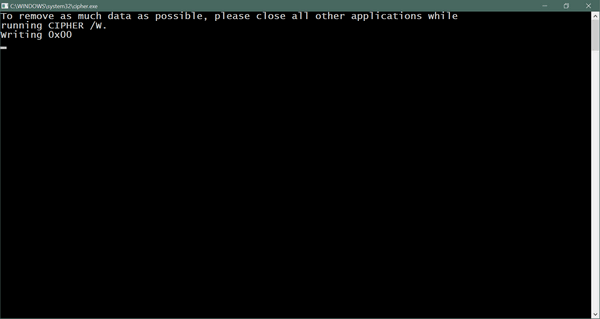 Running the Cipher command does not affect your files, folders, or data. It only overwrites files, folders, and data you've deleted so that it cannot be recovered.



Want more tips, tricks, and information?
We have thousands of Windows tips, tricks and more on our InfoAve web site.
Subscribe to our free InfoAve Daily newsletter.



When you support us with a small gift, you help us continue our mission to keep you informed, separate the truth from the hyperbole, and help you stay safer online. Plus, our computer tips make your computer easier to use.
Did you know that we provide support to thousands of people? Every week we help dozens of people via email at no charge. The questions and answers you see in our newsletters are from the email answers and help we provide to everyone free of charge.
Thanks to your gifts, we do a lot more than provide this free newsletter. We help you recognize online threats, fight for your online privacy, provide you with the knowledge you need to navigate the Web safely, provide you with suggestions for safe, free software and websites, and help you get more out of your PC.
Please Help us keep up the good fight with a small gift.
Interested in making an automatic monthly gift? Visit this page. Help us keep helping you... and helping you stay safe on the Web.




Squoosh
Resize your images quickly and easily

With smartphone cameras, digital cameras and digital SLRs producing higher and higher resolution photos, the images keep getting bigger and bigger. And sometimes if you want to share those images with friends or family - or just store them- wouldn't it be nice if you could squoosh or compress them to make the file size smaller without reducing the image size or quality? Sure it would... and that's what Squoosh can do.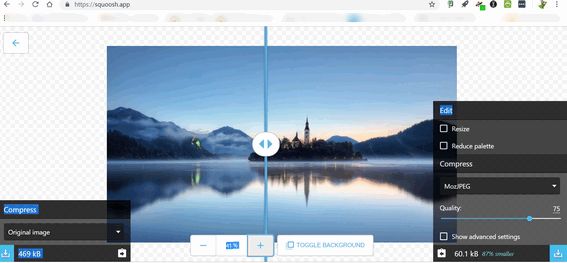 Above: Google's new Squoosh app open in a Chrome browser on one of our Windows 10 PCs.

You can drag and drop – or select an image from your computer and squoosh it without ruining the clarity of your photos. There are a lot of advanced options. Besides making the image smaller (file size) you can also use Google's Squoosh to resize image sizes by pixels. Take a 1920 x 1080 image and make it 800 x 450 or whatever size you like. Squoosh will make sure when you resize the image by pixels that it's proportionate.

But the really great thing about Squoosh is its ability to reduce the file size ( Mb, Kb,) so effortlessly. Squoosh shows your image with a vertical dividing line down the middle. The life side shows your original image, the right side shows the image "squooshed".

For example, I took a desktop wallpaper photo that was 469 Kb (1920 pixels x 1080 pixels) and squooshed it to 60. 1 Kb (1920 x 1080) with no visible loss of quality.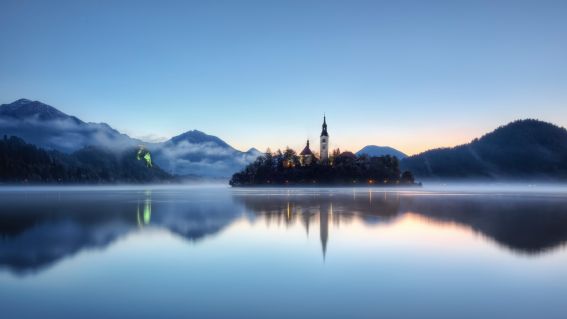 Above: The original image. Click here to see the full size (1920 x 1080) image 467 Kb.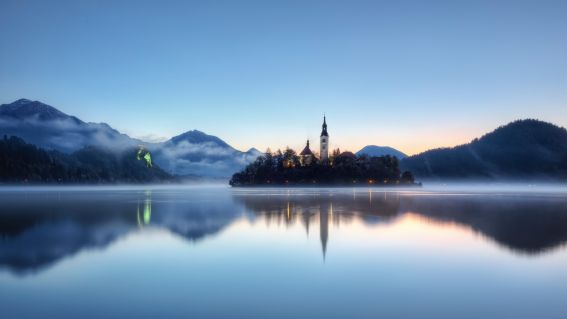 Above: The "squooshed" image. Click here to see the full size (1920 x 1080) squooshed image – 60.1 Kb. That's an 87 % reduction.

Imagine how much storage space you can save on your computer, flash drive, smartphone or wherever else you store photos if you could squoosh them 80% or more without losing any visible quality.

It's very easy to use Squoosh. Drag and drop an image – or select an image- to open it in Google's Squoosh app. The standard compression is MozJPEG, but you can pick from other compression standards such as OptiPNG, Google's own WebP, Browser PNG, Browser JPG, Browser WebP and more.

You adjust the level of compression with a small slider. Another slider appearing on the image can be moved left or right showing you the effects of the selected compression. There are more advanced options and features available, but we happy with the default settings. We'll tell you this – it's easier to use Squoosh than to try to describe it!

The best way to see how Squoosh can work for you is to go try it out. Visit Squoosh right now — and have some images ready. We think you'll be amazed.






VERSION 8.30 NOW AVAILABLE!
If you purchased or renewed Reg Organizer through Cloudeight within the last 12 months, you're entitled to a free version upgrade to Reg Organizer 8.30.

Save $14 on Reg Organizer right now!

Reg Organizer - A Swiss Army Knife of Windows Tools - Works Great on Windows 10!


Today, in this first issue of our 17th season of Cloudeight InfoAve Premium, we're featuring one of our "classic" essays. This is one of TC's favorites - we hope you enjoy reading it again.
Leave the Candle Burning

He left the candle burning, just as she had asked him to do. Though it had been seven years since she went away, every evening at nightfall he would light a candle. Every night while he tried to sleep through his pain and his loneliness, the candle flickered silently casting dancing shadows upon the walls in the quiet hours.

He lit the candle again and wiped a tear from his cheek, and fell into bed exhausted. Yet he knew that this night, like most other nights, sleep would not come.

He lay awake watching the ballet of shadows – again. Some nights he'd listen to the wind breathing in the boughs of barren branches of the tree she had planted outside their bedroom window -one spring day long ago and now, so far away. Other nights he'd watch the shivering shadows dance while a concerto of raindrops, rhythmically pounded on the roof...

Please read the rest of this essay here.




Includes "Anytime Repair" with Our Unattended Support Feature!

SeniorPass: A Great Deal for Our Friends 60 and Older!

With our Cloudeight Direct Computer Care SeniorPass, our friends age 60 and older get one full year of unlimited computer care and repair for one low price. With our SeniorPass you'll get the best computer care anywhere - any time you need it!

SeniorPass is valid for unlimited computer care & repair sessions for one full year starting with the first time you use it. The clock does not start ticking until you use your SeniorPass for the first time. A great deal!

Having SeniorPass is just like having insurance for your computer. You'll get one full year of computer care and get help with almost any computer problem whenever you need it. We're here to help you.

Computer care & repair for one full year just $99! Check out our SeniorPass offer right now!

Get your SeniorPass and/or get more information here.






Let's stop for a byte

TB stands for terabyte; GB stands for gigabyte; MB stands for megabyte; and KB stands for kilobyte. EB stands for Eightball - and she has an overbite.

A byte is a single bit of information. A zero and a one an on and an off... you know, just arcane geeky stuff like that..

A kilobyte is 1024 bytes. A megabyte is 1,024,000 bytes. A gigabyte is 1,073,741,824 bytes. A terabyte is 1,099,511,627,776 bytes. That's generally the accepted definition. However, when talking about storage devices like hard drives and external drives, it gets a little simpler. For this purpose a kilobyte is 1000 bytes, a megabyte is 1,000,000 bytes, and a gigabyte is 1,000,000,000 and a terabyte is 1,000,000,000,000 bytes. So a hard drive will never have as many bytes as advertised because hard drives are measured differently. .

And now, before we byte off more than we can chew, we're going to finish this so we don't take up more bytes on your hard drive.





Sales of the following products and services help support our newsletters, websites, and free computer help services we provide.

Cloudeight Direct Computer Care: Single Keys, SeniorPass or Season Tickets - always a great deal. Cloudeight Direct Computer Care is like having PC insurance. Get more information here.

Emsisoft Anti-Malware: Emsisoft is the only Cloudeight endorsed and recommend Windows security program. It provides users with a complete antivirus, antimalware, anti-ransomware, anti-PUPs solution. We offer single Emsisoft licenses and multi-computer licenses at discount prices. Also, we offer our exclusive Emsisoft with Cloudeight installation & setup. Get more information here.

Thunderbird Email Setup: Thunderbird is a great email program that you can use with your Gmail and Outlook.com (Hotmail) webmail accounts as well as with your Internet provider's email. We'll set it up correctly you. Our set up includes configuring up to 3 email accounts and setting up Thunderbird to use stationery (if desired). Our Thunderbird Email Setup Service is always a great deal. For more information visit this page.

Reg Organizer 8.30: Reg Organizer is the Swiss Army Knife of Windows tools. It's far more than just a registry optimizer and cleaner... it's a Windows all-in-one toolkit. Reg Organizer helps you keep your computer in tip-top shape and helps you solve annoying Windows problems. Reg Organizer works great with Windows 10! Get more information about Reg Organizer (and get our special discount prices) here.




Premium Subscribers' Home Page. You'll find the last few weeks of Premium archived on this page.
To change your subscription address, see "Manage your subscription" at the bottom of this newsletter.
Submit your questions, comments, and suggestions for possible inclusion in our newsletters here. This form is for questions, comments, and suggestions for this newsletter. This form is not for product support, stationery questions, or general questions concerning our products or services.
Send us your suggestions and recommendations for future freeware picks and/or sites of the week
Help us Grow! Forward this email newsletter to a friend or family member - and have them sign-up for InfoAve Premium here!
Get our free daily newsletter! Each evening we send a short newsletter with a tip or trick or a computer-related article - it's short and sweet - and free. Sign-up right now.
Have a question about a Cloudeight Software program, service, stationery, or need to ask about an order? Let us know!
If you need help with one of our software programs, have a question about an order, or have a question about any of our email stationery, screensavers, or other products - please don't use our InfoAve Questions/Answers/Tips form. Use our general Cloudeight support form instead.
Print our Cloudeight Direct Flyer and spread the word about our computer repair service! If you want to help us by telling your friends about our Cloudeight Direct Computer Care service, you can download a printable flyer you can hand out or post on bulletin boards, etc. Get the printable PDF Cloudeight Direct Computer Care flyer here.




These products and services are recommended and endorsed by Cloudeight:
Also... don't forget:




We'd love to hear from you!

If you have comments, questions, a tip, trick, a freeware pick, or just want to tell us off for something, let us know.

If you need to change your newsletter subscription address, please see "Manage your subscription" at the very bottom of your newsletter.

We received hundreds of questions for possible use in IA news. Please keep in mind we cannot answer all general computer questions. We try to personally answer as many as we can. We can only use a few to in each week's newsletter, so keep this in mind. If you have a support question about a service or product we sell, please contact us here.





Subscribe to our Daily Newsletter!

Get computer tips & tricks every night. Our daily newsletter features a computer tip/trick or two every day. We send it out every night around 9 PM Eastern Time (USA). It's short and sweet, easy-to-read, and FREE. Just visit this page and sign-up. All you have to enter is your email address. Once you confirm your subscription, you'll receive our daily newsletter every day, six days a week. You can unsubscribe at any time.

Print our Cloudeight Direct Computer Care Flyer!

Print our Cloudeight Direct Computer Care Flyer and spread the word about our Cloudeight Direct Computer Care repair services. Get our ready-to-print flyer here.





We hope you have enjoyed this issue of InfoAve Premium. Thanks so much for your support and for being a Premium subscriber.

Have a great weekend.

Darcy & TC
Cloudeight InfoAve Premium - Issue #837
Volume 17 Number 1
October 25, 2019

Not a subscriber? Subscribe to our InfoAve Premium Newsletter

Share Us on Facebook!
We'd love for you to share us with your family and friends on Facebook. Help us by sharing us on Facebook!






"Cloudeight InfoAve Premium" newsletter is published by:

Cloudeight Internet LLC
PO Box 73
Middleville, Michigan USA 49333-0073

Read our disclaimer about the tips, tricks, answers, site picks and freeware picks featured in this newsletter.

Copyright ©2019 by Cloudeight Internet