Cloudeight InfoAve Premium
Issue #841
Volume 17 Number 5
November 22, 2019

Dear Friends,

Welcome to Cloudeight InfoAve Premium issue #841. Thank you very much for subscribing and for being a part of our Cloudeight family. We appreciate your friendship and support very much!




Now when you shop Amazon using our links, you can save money, get great products and help us too! For every purchase you make using our Amazon affiliate links, we make a small commission. If you shop at Amazon, we hope you'll use our Amazon affiliate links. It won't cost you a penny more, but it will help us a great deal! Al l you need to help us is use the following link whenever you shop Amazon - for anything.

https://amzn.to/32zhiIo

That link goes to the same Amazon site you'd see if you went to www.amazon.com, but when you use our link, we'll get a small commission on anything you buy from Amazon. It's another way you can help us and it won't cost you a penny more. And you'll get the same great Amazon prices, sale prices, and promo prices you always get.

So the next time you shop Amazon, use our special affiliate link and bookmark the Amazon page once you get there. Then use that bookmark whenever you shop Amazon!

Thanks so much for helping us!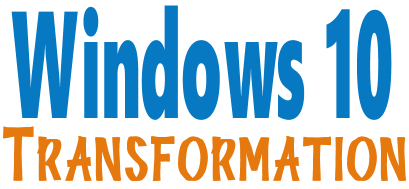 TIME IS RUNNING OUT! LET US HELP YOU UPGRADE YOUR WINDOWS 7 COMPUTER!
Microsoft will end support for Windows 7 on January 14, 2020. Using Windows 7 after that date may put your computer at risk as Microsoft will no longer be releasing security updates and fixes for it. Now's the time to upgrade to Windows 10!

Whether you upgrade your Windows 7 to Windows 10 (still free) or buy a new Windows 10 computer, we can make you feel right at home on Windows 10 with our Windows Transformation service. We can make your Windows 10 look and work much more like Windows 7.

With our Windows 10 Transformation service, we can make your Windows 10 computer look and work more like Windows 7! With our transformation service we will:
Start the Windows 10 upgrade for you and assist you with the update.
~ After the update has completed, we will:
Change the start menu to look like Windows 7 classic style and include your favorite programs
Change your taskbar and start menu colors to your preferences
Add an authentic Windows 7 start button
Add Windows 7 Wallpaper (if desired)
Change Windows 10 File Explorer so it works more like Windows 7's Windows Explorer
Add My Computer -- and other familiar Windows 7 icons -- to your desktop (if desired).
The Windows 10 Transformation service key never expires it's good until you use it. So get yours now!
Get more information or purchase your "Transformation" now.



A comment from Gary
I just had TC do a complete cleaning of my computer and now it is working great again. It took him about 45 minutes and I just sat there and watch as he cleaned things up. It was amazing. I highly recommend this great service. If you need anything done on your computer - you need to contact Cloudeight! Thanks again, TC.

A comment from Beverly
I appreciate Darcy's winter check up on my computer and it boots so much faster now! I especially appreciate her willingness to work around my limited data time and free data time! I am beginning to wonder if she ever sleeps! I have used Cloudeight many times to check my computer and am never disappointed with their results. I would encourage anyone who wonders about this service, to not hesitate to use Cloudeight's computer services.

A comment from Lucy
I'm a bit late with this, but last week TC visited my computer. My computer started running slow and I was getting popups all over the place. TC did his magic and in less than an hour had it running fast again. Thank you, TC. You're awesome! Lucy

A comment from Leslie
Hi, Darcy. I was watching you work on my computer and I got up a few minutes after you started. Thanks so much for working so early. .I sure appreciate all that you do. Thanks for being you! Your customer service is outstanding. (As well as TC's). Leslie
A big Cloudeight "Thank you!" to Gary, Beverly, Lucy, Leslie and everyone who took time out to write to us, share a comment and/or share us on Facebook! We appreciate your kind words and your support very much! EB & TC.




Your Purchase Helps Us!
When you purchase any Cloudeight Direct Computer Care Service, you get the best computer care and repair, at the lowest possible price. Plus, each Cloudeight Direct Computer Care service you purchase goes a long way in helping to support our small business.

Your computer fixed - while you watch!
With our Cloudeight Computer Care, we'll fix your computer while you watch. You'll be getting the best computer repair service available, at the best price, from people you trust. Our Cloudeight Direct Computer Care single repair keys are a great deal. They are good until you use them.

For more information see our Cloudeight Direct Computer Care home page!




Here are some important links for you:



Don says his computer was updated to 1909 by Microsoft
Did you know Microsoft just updated my older (Version 1803) Windows 10 Home laptop to version 1909? I updated it from 1803 to 1903 last night (it took 7 hours to do so - grrrr). This morning I checked to see if there were other updates to be installed --- and WOW! it gave me Version 1909. Don

Our answer
Hi Don. According to Microsoft, they are going to force Windows 10 version 1803 users to update to version 1909 this month anyway - since the End of support for 1803 ends soon. They don't want people to be using an unsupported version of Windows 10. For version 1803 and 1809 users, version 1909 is a full version upgrade. For 1903 users, it's just a service-pack-like upgrade.

Version 1909 has very few new features, it's more-or-less Windows 1903 will all the bug fixes and updates. But when you clicked "Check for Updates" that was all Microsoft needed to send version 1909.

So we'll let this be a word to the wise. Any time you click "Check for Updates" in Settings > Update & Security, and there's a new version pending, you're going to get it. Anyone who is not ready to install a new version of Windows 10, best not click "Check for Updates".



Bev wants to know about a Windows Update email
I doubt if this is a true site. Perhaps you could look into it and warn subscribers.

https://www.techradar.com/news/dont-download-this-windows-10-update-its-packed-with-ransomware

Thanks, Bev.

Our answer
Hi Bev. TechRadar is a good site and it's good you brought this to our attention. Windows Updates for Windows 10 are never announced via email. So, no one should ever fall for this scam. But thanks for bringing it to our attention, so that we can warn people in case anyone gets this scam email. And because it so important that no one falls for this scam, we're going to post TechRadar's article here:

"Security researchers from Trustwave's SpiderLabs have discovered a new malicious campaign which spoofs urgent update emails from Microsoft to infect user's systems with the Cyborg ransomware.

Targeted users first receive an email with either the subject line 'Install Latest Microsoft Windows Update now!' or 'Critical Microsoft Windows Update!' which is already suspicious as Microsoft pushes Windows updates through its operating system and never through emails.

The email itself contains just one line of text which reads: "Please install the latest critical update from Microsoft attached to this email". While the fake update attachment has ".jpg" file extension, it is actually not a picture but instead is an executable file..." (From TechRadar )

Windows Updates are not announced in random emails, they are announced on Microsoft's web site and via Windows 10's Windows Update in Settings > Update & Security > Windows Update.

If you see an email announcing a new Windows update or urging you to download an update, delete it.



Virginia's taskbar is now ghostly white
Yesterday I changed the picture on my desktop and in doing so, I inadvertently changed the color of my Taskbar from comfortable black to stark white so that I can barely see the Icons there. The place in the settings to turn it back to black again is greyed out so I can no longer click on it! Can you offer any help with that?

My everlasting thanks for all you two do to help us. Sincerely, Virginia B.

Our answer
Hi Virginia, thanks so much for your support and your nice comments!

Right-click on your desktop, choose "Personalize". When Personalization settings open, click "Colors" in the menu on the left.

Under "Choose your default Windows mode" you must choose "Dark"
Under "Choose your default apps mode", choose "Light".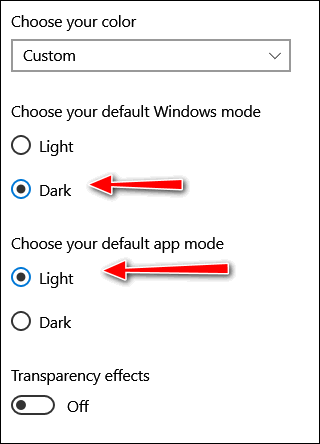 Under "Show accent colors on the following surfaces", check both options.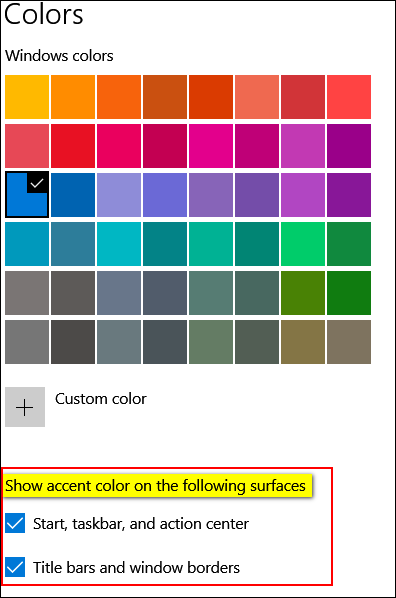 I hope this solves your taskbar problem.





Diane wants to know if she can use Windows Photo Gallery on Windows 10
Is there a way to go back so I can use Windows 7 Photo Gallery instead of Windows 10 Photo app? Thanks so much for all that you do for me with using my pc. I look forward to my Daily and Friday's newsletters. You're the best. Diane

Our answer.
Hi Diane. Thanks so much. About a year and a half ago, we published an article showing how to install Photo Gallery & Movie Maker on Windows 10. Because it's been so long since I went back and checked the laptop I installed them on - which is now running the latest version of Windows 10 and they both worked perfectly

So, today, just to be sure, I installed Photo Gallery and Movie Maker on a different laptop running the current version of Windows 10 (Version 1909), and they both installed perfectly and worked perfectly.

Thanks to your email, I updated our article and posted it on our InfoAve Website. You can read it here. The article shows you, in detail, how to download and install Windows Photo Gallery & Movie Maker on any version of Windows 10 including the newest version.

Again, Diane, thanks so much for your kind comments and for your support.





Delores wants to know more about our Amazon affiliation
I shop on Amazon ad would really like to link you, but can't find out how to make that happen. Sorry to be dense but do want to help you get anything from that site.

Our answer
Hi Delores. Thanks for your support. When you go to Amazon via our affiliate link, even though it looks and is exactly the same as if you went there via www.amazon.com, we get credit for anything you buy during that session.

So if you use the following link when you shop at Amazon, we'll get credit for anything you buy.

https://amzn.to/32zhiIo

So when you see links on our pages, newsletters, and special announcements that say "Shop Amazon and help Cloudeight", anything you buy we'll get credit for and receive a small commission. You can even use https://amzn.to/32zhiIo to go to Amazon and bookmark it and use it as your regular link to Amazon. Everything is the same as it is if you went directly to Amazon only we get credit for sending you to Amazon and a small commission on anything you buy. You'll see the same products, the same prices, same discounts, same sales, same promos - everything is the same as far as what you normally see on Amazon.

You may also see ads in our newsletters, special announcements, and on our website for specific products. Those products will have links that lead to the Amazon page (or pages) for those products. We also get credit for these sales as well.

I hope this helps you understand how the Amazon affiliate program can help us earn some extra money with costing our friends a single penny

Thanks again for helping us.





Annabelle wants us to know about HTTPS Anywhere
HTTPS Everywhere found on the chrome web store. Do you think this is safe to use? I found it when I was searching.

Fill in the web's security gaps
By now, you probably know that most websites should be using HTTPS — a secure protocol that puts a lock icon in your browser's address bar and lets you know (a) that a site actually is what it proclaims to be and (b) that everything you send to the site is encrypted.

But while most sites have come around to the standard, some still inexplicably cling onto the older and far less secure HTTP protocol.

Well, here's the fix: A Chrome extension called HTTPS Everywhere will switch insecure sites over to HTTPS for you and ensure anything you transmit to them remains safe from snooping eyes. It's developed by the Electronic Frontier Foundation and the Tor Project, and it's completely free to use.

Not sure if you had a daily tip on this already or not?

Our answer
Hi Annabelle. If only privacy, security, and safety in our computer lives were as simple as installing a browser extension and going on our merry way. But alas, like most fairy tales there's a catch. We are both are big fans of privacy and user safety and we both admire the work that EFF (Electronic Frontier Foundation) does. But HTTPS Everywhere does not work exactly as described. What happens when you go to a site that is not running on a secure server? You see this: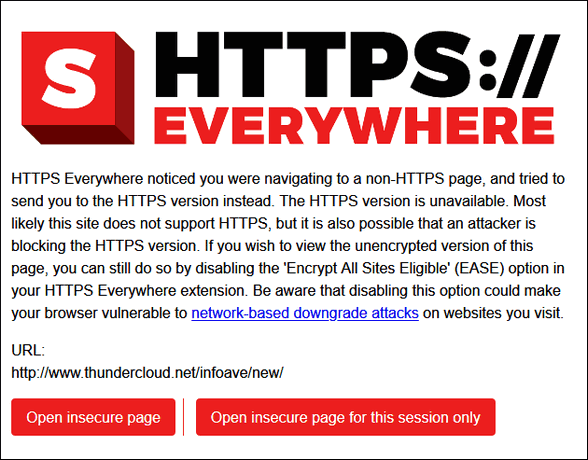 Now, of course, even if the site is good and even if it is safe, most people are going to run away from any site that displays this kind of notification, right?

The unfortunate thing is that in the world of browsing, a secure site does not equal a safe site and a site that is not secure does not mean it is unsafe. While we continue evaluating on the best and least expensive way to move our site to secure servers without disrupting anything, we remind everyone that sites like ours that do not ask for or store any personal information do not need to be on secure servers for our visitors to be safe. When you buy anything from our site you are immediately transferred to a secure server to complete the transaction - we do not see or store any personal information. But there continues to be this mistaken belief that sites on secure servers are safe and sites that are not are unsafe. And this is not true. Scam sites, malware distribution sites such as Softonics, and many other unsavory sites run on secure servers - but that does not make them safe.

So. it comes down to what we always say. Use good security software and, above all, use good common sense. No software program or browser extension is going to keep you 100% safe.




Includes "Anytime Repair" with Our Unattended Support Feature!

SeniorPass: A Great Deal for Our Friends 60 and Older!

With our Cloudeight Direct Computer Care SeniorPass, our friends age 60 and older get one full year of unlimited computer care and repair for one low price. With our SeniorPass you'll get the best computer care anywhere - any time you need it!

SeniorPass is valid for unlimited computer care & repair sessions for one full year starting with the first time you use it. The clock does not start ticking until you use your SeniorPass for the first time. A great deal!

Having SeniorPass is just like having insurance for your computer. You'll get one full year of computer care and get help with almost any computer problem whenever you need it. We're here to help you.

Computer care & repair for one full year just $99! Check out our SeniorPass offer right now!

Get your SeniorPass and/or get more information here.




A Quick Way to Clear (almost) Any Brower's Cache
Firefox, Edge, Edge Dev, Chrome, and Opera

Clearing your browser cache and history is something you should do at least once a month. And if you're having issues with your browser, clearing your browser's cache is the first thing you should do.
So with that in mind, here's a quick tip that will save you time when it's time to clear your browser's cache and history. Instead of opening the browser's settings, the following shortcut works on all major browsers (Chrome, Edge, Edge Dev, Firefox, and Opera).:
With your browser open use the following keyboard shortcut to open to go directly to the dialog where you can clear your browser's history and cache.
CTRL+SHIFT+DELETE
You'll be able to choose how far back you want to go and what you want to clear. Once you've made your choices you can clear your browser's cache and history.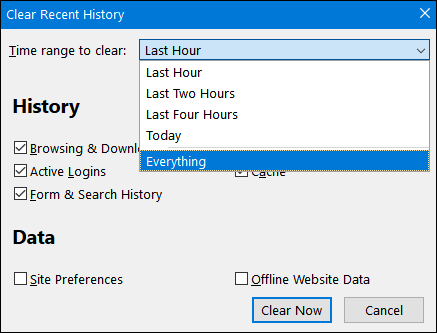 Above: Firefox's "Clear Recent History" dialog. You can choose a time range to clear, from the last hour to everything. Most browsers have similar options.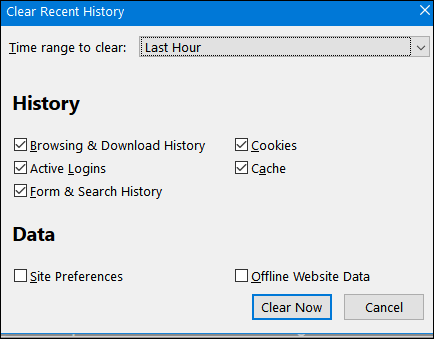 Above: Firefox "Clear Recent History" dialog where you can choose what you want to delete.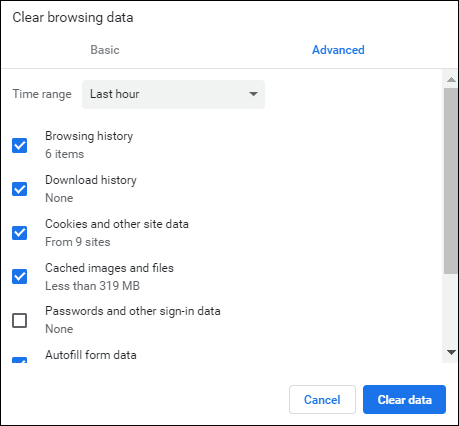 Above: Chrome's "Clear browsing data" dialog

File Explorer's Search Secret
Windows 10 (all versions)
OK. Maybe the title is a bit over the top. But if you have never seen this feature in File Explorer when you're looking for a file, we think once you try it you're going to use it often.
Windows search is getting better and better, but it's still not as fast as some 3rd-party search tools such as "Everything" search. But if you use this tip when searching for files on your computer, especially if you know what folder the file is in, this simple tip will save you time.


Press and hold down the Windows key and press the E key to open File Explorer. Now go ahead and open a folder - any folder. In the screenshot above you can see that I opened my Pictures folder. Near the top-right corner of File Explorer, there's a small search box showing the words "Search Pictures" in it. While in the screenshot it shows up well, we've noticed that many people aren't aware of this little search box. And we understand that because when File Explorer is open and you're looking at a folder full of icons or file names, it's very easy to miss that search box. But it's there any time you open a folder. And if you're looking for a file in that folder and you know part or all of its name, type it in that search box will find your files almost instantly.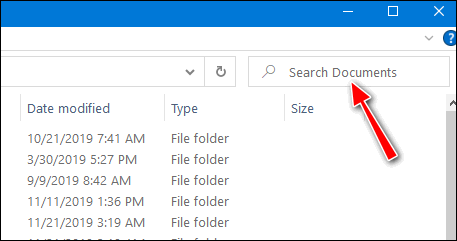 Above: The Documents folder is open and you can see the search box there ready to help me find whatever I'm looking for in the Documents folder.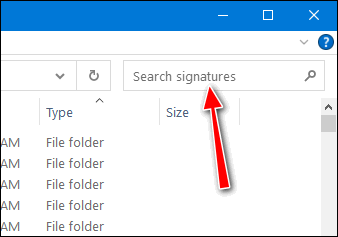 Above: A folder called "Signatures" on my computer where I keep all signatures for filling orders and other repetitive text that comes in handy at times.
So, open File Explorer and open a folder -- any folder -- and look for the search box near the top-right corner. Type in part of your files name - or the files name - and you'll find it almost instantly. It's a lot easier than hunting around in a folder looking for a file, I tells ya!




Beware!
'Tis the Season [for Scams]
This tip is for everyone

Every week, we get emails from people who have fallen for a computer repair scam. They have given their credit card information and access to their computers to criminals — and it usually always starts with a phone call. It goes like this. The phone call comes unexpectedly, out of the blue, the computer user is informed that their computer is infected with something and/or is sending and spreading malware or viruses and infecting other computers. Of course, the caller has the cure — the fix — the solution.

Sadly, many people fall for this and give access to their computers to these scammers who then connect to the customer's computer and proceed to "fix" it. But they don't fix it. Many times they install worthless software or software anyone can get free, or worse, they install malware and steal your passwords and usernames, and thus get access to your bank accounts and other highly sensitive and personal information. Users give the criminals their credit card information, and in the best-case scenario, they are charged a few hundred dollars — in the worst case, their card numbers are stolen and used to make purchases and/or steal identities.

We warn you again — NEVER give ANY information to anyone who calls you out of the blue, no matter who they say they represent. One of the biggest scams going is the one where the caller identifies himself or herself as a Microsoft employee telling you that your Windows computer is infected with malware and that your computer is infecting other computers on the Internet. If you have caller ID their number may show that they are calling from a Microsoft number — but they're not. It's really easy to spoof phone numbers and trick caller ID.

Remember this: No legitimate company is going to call you out of the blue and tell you that your computer is infected. NONE. NADA. ZERO. If you get a call from someone claiming to be from Microsoft or some other legitimate sounding company, hang up. Do not give them access to your computer. Do not give them your credit card number. Do not give them any password.

We have published this advice before, yet every week we get several people who come to us for help after falling for a scam. And we help them by removing all the malware installed by the scammers, and fixing things these scammers intentionally broke (so they can come back again and get more money from you).

So if you remember nothing else from this tip, remember this:

If you get a call from anyone claiming to be from Microsoft or some other legitimate sounding company — or someone who tosses around complex computer terms and claims he or she can fix your computer — hang up. Hang up the phone and do not give them any information. none. nada. zero. If they continue to call after this report them to your phone company and/or your local authorities. The important thing is: Never give your information to anyone who calls you out of the blue telling you that you have problems with your computer. Never give access to your computer to anyone who calls out of the blue and warns you that your computer is infected. It's always a scam – always.

And if you are one who has already fallen for this scam, call your credit card company right away and tell them what happened. Tell them you were scammed and have the charges removed from your credit card. You should be able to get charges made by scam companies removed from your credit card. You can, if you wish, report it to your local authorities, although we doubt that it will do much good. Scammers are professional crooks and they're are not going to operate under the same name or from the same location or use the same methods for very long. They're going to move around, change names, and change schemes, and it's very hard to catch up with them.

Here is some good information from the U.S. government (and we are not kidding!)

" …If You Get a Call

If you get a call from someone who claims to be a tech support person, hang up and call the company yourself on a phone number you know to be genuine. A caller who creates a sense of urgency or uses high-pressure tactics is probably a scam artist.

Keep these other tips in mind:
Don't give control of your computer to a third party who calls you out of the blue.
Do not rely on caller ID alone to authenticate a caller. Criminals spoof caller ID numbers. They may appear to be calling from a legitimate company or a local number, when they're not even in the same country as you.
Online search results might not be the best way to find technical support or get a company's contact information. Scammers sometimes place online ads to convince you to call them. They pay to boost their ranking in search results so their websites and phone numbers appear above those of legitimate companies. If you want tech support, look for a company's contact information on their software package or on your receipt.
Never provide your credit card or financial information to someone who calls and claims to be from tech support.
If a caller pressures you to buy a computer security product or says there is a subscription fee associated with the call, hang up. If you're concerned about your computer, call your security software company directly and ask for help.
Never give your password on the phone. No legitimate organization calls you and asks for your password.
Put your phone number on the National Do Not Call Registry, and then report illegal sales calls.
How to Spot a Refund Scam

If you paid for tech support services, and you later get a call about a refund, don't give out any personal information, like your credit card or bank account number. The call is almost certainly another trick to take your money.

The refund scam works like this: Several months after the purchase, someone might call to ask if you were happy with the service. When you say you weren't, the scammer offers a refund.

Or the caller may say that the company is going out of business and providing refunds for "warranties" and other services.

In either case, the scammers eventually ask for a bank or credit card account number. Or they ask you to create a Western Union account. They might even ask for remote access to your computer to help you fill out the necessary forms. But instead of putting money in your account, the scammers withdraw money from your account.

If you get a call like this, hang up, and report it at https://ftc.gov/complaint …"

See we told you — the U.S. government has some good advice for you to follow no matter where you live. Don't get scammed. We hate to see any of you being taken advantage of by charlatans and criminals. You can read more tips and info at https://www.consumer.ftc.gov/articles/0346-tech-support-scams.

During the holiday season, the number of scams greatly increases. Don't let a scammer ruin the holidays for you.

A New One-Click Fix Scam Coming Soon to a Screen Near You
Windows 7, Windows 8x, Windows 10 (all versions)
Whenever I get a bit of extra time, I go surfing looking for new things. And once in a while, I see an ad for a scam that I've not seen before. To make sure I browsed for a couple of hours the last 3 days to see a new one-click wonder scam was heading your way. In 3 days, I've seen this advertisement at least 5 times – it appears as a popup ad.
Let's look at the advertisement unannotated. As you can see it promises to fix your Windows computer in one click. And you'll note it appears to have the blessing of Norton and Microsoft. How can this be? A one-click fix with the blessings of Microsoft and Norton that makes your computer just like it was the day you bought it?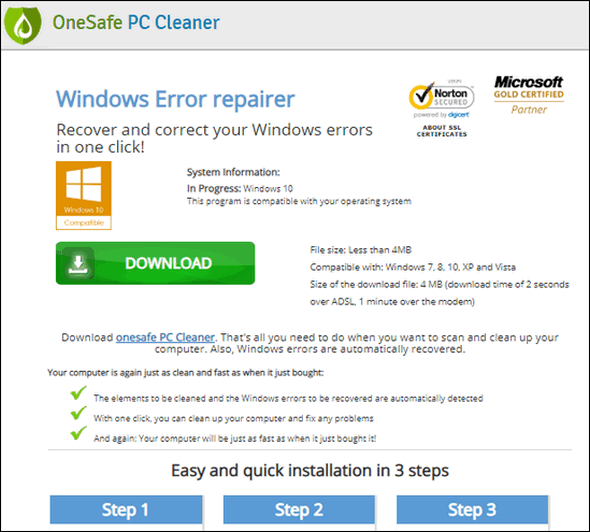 Let's look closer and see what all this really means. I've annotated some main points of interest. We should call this "The Anatomy of a One-click Fix Scam".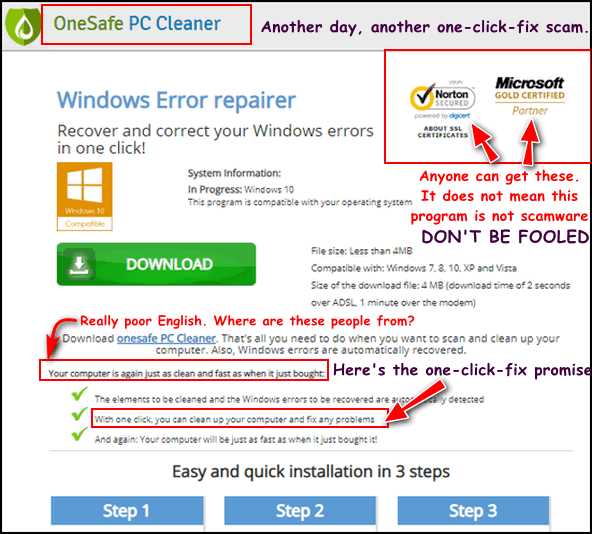 The program doesn't tell you it's not free. The catch is you download it and run it and even if your computer is clean as the first winter snow, it will find hundreds of errors. Of course, if you want to fix them, it'll cost you.
Oh, the promises these people make!
"Your computer is again just as clean and fast as when it just bought."
Really? I suppose this means they're promising your computer will be just as clean and fast as when you first bought it. I really doubt that – how about you?
"The elements to be cleaned and the Windows errors to be recovered are automatically detected."
Really? Why would you want to recover Windows errors?
"With one click you can clean up your computer and fix any problems."
Really? Fix ANY problems? One click? Want to buy some beach-front property in Nebraska?
"And again: Your computer will be just as fast as when it just bought it."
Obviously, English is not the first language of these fine folks.
This one-click wonder is coming to a computer screen near you very soon. I expect it will popup on Facebook shortly if it hasn't already.
Forewarned is forearmed … Don't fall for "OneSafe PC Cleaner". It's a one-click fix scam. And the only thing it's good for is taking your money.
We want you to be safe. And we don't want you losing money to scammers who try to trick you into downloading and buying worthless software like this tricky one-click fixer.





Want more tips, tricks, and information?
We have thousands of Windows tips, tricks and more on our InfoAve web site.
Subscribe to our free InfoAve Daily newsletter.



When you support us with a small gift, you help us continue our mission to keep you informed, separate the truth from the hyperbole, and help you stay safer online. Plus, our computer tips make your computer easier to use.
Did you know that we provide support to thousands of people? Every week we help dozens of people via email at no charge. The questions and answers you see in our newsletters are from the email answers and help we provide to everyone free of charge.
Thanks to your gifts, we do a lot more than provide this free newsletter. We help you recognize online threats, fight for your online privacy, provide you with the knowledge you need to navigate the Web safely, provide you with suggestions for safe, free software and websites, and help you get more out of your PC.
Please Help us keep up the good fight with a small gift.
Interested in making an automatic monthly gift? Visit this page. Help us keep helping you... and helping you stay safe on the Web.




YouTube Downloader Extraordinaire
For several years we've resisted the urge to recommend a free YouTube downloader because it seems that every time we've done this in the past, a few months after we recommend it, the developer decides to monetize the freeware – and that almost always means bundling it with something else – usually something useless, bad, or malicious.
Yesterday we started testing a new YouTube downloader that is unbelievably simple to use, yet has all the features you could ever want including downloading audio-only – which is useful when you only want the music from a music video, option to download as both a video and an MP3 or download the complete video in your choice of video quality (depending on the quality of the original video).
The program is called "Free Video Downloader for YouTube" and if you like to download videos or music from YouTube, we think you'll really like this program.
Downloading a video (or music only) from YouTube starts with you pasting the YouTube link in Free Video Downloader for YouTube.
Once you paste the link you can download the video in resolutions such as 1080p, 720p, 480p, etc. — depending on the quality of the video on YouTube or you can choose to download Audio only (M4A format). Additionally, you can also choose to "Save as MP3". You also have the option to download the file to any folder on your computer. The default location is C:\Users\Your User Name\Downloads.
Once you've made your choices all you have to do is click "Download".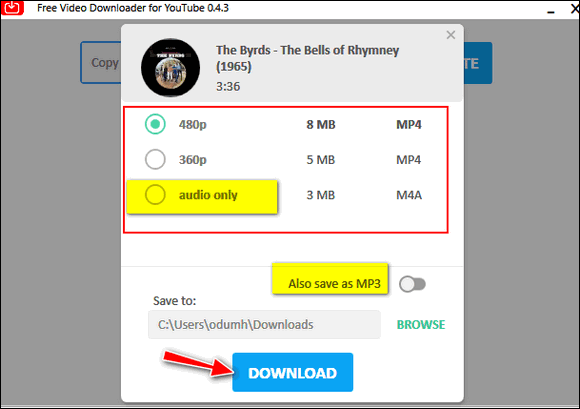 You'll see the progress of your download as soon as you click the download button.

For our test of Free Video Downloader for YouTube, I downloaded an audio-only file of one of the most haunting songs I've ever heard "The Bells of Rhymney" by the Byrds. And a video of Billy Joel performing "My Life" live at Wembley in 1984.
Once both were downloaded and saved to the folder I chose, Free Video Downloader for YouTube gave me the option to play the files right away, without going to the folder to which I saved them.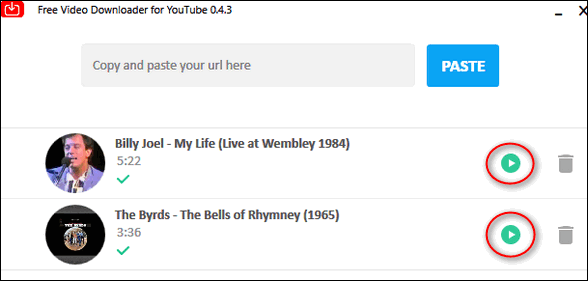 After listening to the sad "Bells of Rhymney", I watched Billy Joel performing "My Life" live at Wembley in 1984.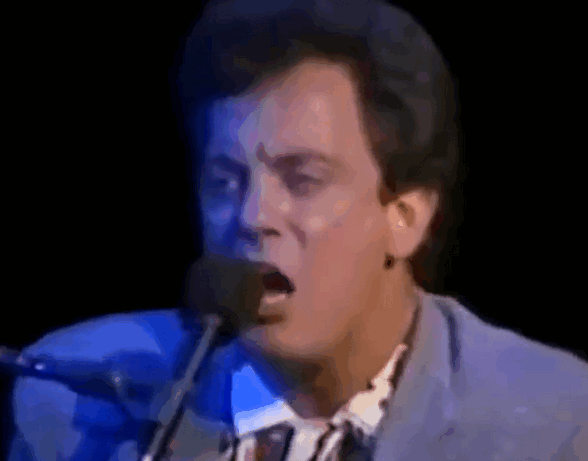 It took me less than 3 minutes to figure out how to use Free Video Downloader for YouTube. It may not have all the features of other downloaders but it has the two things I want most:
Free Video Downloader for YouTube makes it easy to download videos and audio-only from YouTube videos.
As of November 18, 2019, it's free and it's free of all the garbage that other free downloaders of this kind have become notorious for.
If you like to download YouTube videos or want to download only the music from YouTube videos, you'll not find an easier to use or better YouTube downloader than Free Video Downloader for YouTube.
Read more about Free Video Downloader for YouTube here.
You can download Free Video Downloader for YouTube from this page.
And here is the direct download link for Free Video Downloader for YouTube.






VERSION 8.30 NOW AVAILABLE!
If you purchased or renewed Reg Organizer through Cloudeight within the last 12 months, you're entitled to a free version upgrade to Reg Organizer 8.30.

Save $14 on Reg Organizer right now!

Reg Organizer - A Swiss Army Knife of Windows Tools - Works Great on Windows 10!


Talkin' Turkey

Well, it's time to talk turkey again.

BREAKING NEWS! If your dead turkey weighs more than twenty pounds and it's frozen, you better start thawing it out right now! You barely have enough time to thaw it before Thanksgiving.

Yes, I know. It's hard to believe that Thanksgiving is less than a week away. Many of you are already planning your Thanksgiving menus. And I'm betting a lot of you are going traditional this year and having turkey. A turkey is a lot more than a stupid bird that cannot fly very well.

Can turkeys fly well? I don't know!_ But one thing I do know for sure is that dead turkeys can't fly at all.

You have to take care of your turkey or it can come back and make your life miserable. And I don't care if it is dead - it can still come back and make your life horrible. Read on and learn why turkeys do not make good pets; even completely dead turkeys take a lot more care than you ever dreamed.

And, this may come as a surprise to all you animal lovers: Live turkeys do not make good pets. Dead turkeys do not make good pets.

Did you know that a dead turkey requires more care than a living cat and almost as much care as a living dog? Cats are pretty good...
Please read the rest of this essay here.



Shop Amazon and help Cloudeight!
Now when you shop Amazon using any of our links, you can save money, get great products and help us too!


What is a WiFi Range Extender?
A WiFi Range Extender (also called a WiFi Extender, a Range Extender or a WiFi Booster) is a device that repeats the wireless signal from your router and expands its coverage. It captures the signal from your router and re-broadcasts it to improve the WiFi coverage area which can improve the signal in areas of your house or apartment where the WiFi signal is weak or non-existent.

If you have places in your house or apartment where the WiFi signal is poor or have dead spots where you don't have any WiFi signal, and moving your router/modem to a more central location is not an option, a WiFi Range Extender is an inexpensive solution. It can expand the range of your current router and eliminate areas of your home where the WiFi signal is weak. A WiFi range extender won't increase the Internet speed you're getting from your router, but it can extend its range and reduce or eliminate dead spots or areas where the wireless signal is weak.

If you have areas of your home where the WiFi signal is weak or non-existent, read more about WiFi Range Extenders here.





Sales of the following products and services help support our newsletters, websites, and free computer help services we provide.

Cloudeight Direct Computer Care: Single Keys, SeniorPass or Season Tickets - always a great deal. Cloudeight Direct Computer Care is like having PC insurance. Get more information here.

Emsisoft Anti-Malware: Emsisoft is the only Cloudeight endorsed and recommend Windows security program. It provides users with a complete antivirus, antimalware, anti-ransomware, anti-PUPs solution. We offer single Emsisoft licenses and multi-computer licenses at discount prices. Also, we offer our exclusive Emsisoft with Cloudeight installation & setup. Get more information here.

Thunderbird Email Setup: Thunderbird is a great email program that you can use with your Gmail and Outlook.com (Hotmail) webmail accounts as well as with your Internet provider's email. We'll set it up correctly you. Our set up includes configuring up to 3 email accounts and setting up Thunderbird to use stationery (if desired). Our Thunderbird Email Setup Service is always a great deal. For more information visit this page.

Reg Organizer 8.30: Reg Organizer is the Swiss Army Knife of Windows tools. It's far more than just a registry optimizer and cleaner... it's a Windows all-in-one toolkit. Reg Organizer helps you keep your computer in tip-top shape and helps you solve annoying Windows problems. Reg Organizer works great with Windows 10! Get more information about Reg Organizer (and get our special discount prices) here.




Premium Subscribers' Home Page. You'll find the last few weeks of Premium archived on this page.
To change your subscription address, see "Manage your subscription" at the bottom of this newsletter.
Submit your questions, comments, and suggestions for possible inclusion in our newsletters here. This form is for questions, comments, and suggestions for this newsletter. This form is not for product support, stationery questions, or general questions concerning our products or services.
Send us your suggestions and recommendations for future freeware picks and/or sites of the week
Help us Grow! Forward this email newsletter to a friend or family member - and have them sign-up for InfoAve Premium here!
Get our free daily newsletter! Each evening we send a short newsletter with a tip or trick or a computer-related article - it's short and sweet - and free. Sign-up right now.
Have a question about a Cloudeight Software program, service, stationery, or need to ask about an order? Let us know!
If you need help with one of our software programs, have a question about an order, or have a question about any of our email stationery, screensavers, or other products - please don't use our InfoAve Questions/Answers/Tips form. Use our general Cloudeight support form instead.
Print our Cloudeight Direct Flyer and spread the word about our computer repair service! If you want to help us by telling your friends about our Cloudeight Direct Computer Care service, you can download a printable flyer you can hand out or post on bulletin boards, etc. Get the printable PDF Cloudeight Direct Computer Care flyer here.




These products and services are recommended and endorsed by Cloudeight:
Also... don't forget:




We'd love to hear from you!

If you have comments, questions, a tip, trick, a freeware pick, or just want to tell us off for something, let us know.

If you need to change your newsletter subscription address, please see "Manage your subscription" at the very bottom of your newsletter.

We received hundreds of questions for possible use in IA news. Please keep in mind we cannot answer all general computer questions. We try to personally answer as many as we can. We can only use a few to in each week's newsletter, so keep this in mind. If you have a support question about a service or product we sell, please contact us here.





Subscribe to our Daily Newsletter!

Get computer tips & tricks every night. Our daily newsletter features a computer tip/trick or two every day. We send it out every night around 9 PM Eastern Time (USA). It's short and sweet, easy-to-read, and FREE. Just visit this page and sign-up. All you have to enter is your email address. Once you confirm your subscription, you'll receive our daily newsletter every day, six days a week. You can unsubscribe at any time.

Print our Cloudeight Direct Computer Care Flyer!

Print our Cloudeight Direct Computer Care Flyer and spread the word about our Cloudeight Direct Computer Care repair services. Get our ready-to-print flyer here.





We hope you have enjoyed this issue of InfoAve Premium. Thanks so much for your support and for being a Premium subscriber.

Have a great weekend.

Darcy & TC
Cloudeight InfoAve Premium - Issue #841
Volume 17 Number 5
November 22, 2019

Not a subscriber? Subscribe to our InfoAve Premium Newsletter

Share Us on Facebook!
We'd love for you to share us with your family and friends on Facebook. Help us by sharing us on Facebook!






"Cloudeight InfoAve Premium" newsletter is published by:

Cloudeight Internet LLC
PO Box 73
Middleville, Michigan USA 49333-0073

Read our disclaimer about the tips, tricks, answers, site picks and freeware picks featured in this newsletter.

Copyright ©2019 by Cloudeight Internet