Cloudeight InfoAve Premium
Issue #846
Volume 17 Number 10
December 27, 2019

Dear Friends,

Welcome to Cloudeight InfoAve Premium issue #846. Thank you very much for subscribing and for being a part of our Cloudeight family. We appreciate your friendship and support very much!





We're extending our Christmas sale through Sunday, December 29, 2019!

Thanks so much for your fantastic response to our Christmas Sale! We've decided to extend our Christmas Sale prices through Sunday, December 29, 2019. Now you have a few extra days to take advantage of these special deals.

You can see all our Christmas specials here.



It's an ending and a beginning!
This is the last issue of InfoAve Premium for 2019. It's been our pleasure to have you in our Cloudeight family this year. We are thankful for you and for the help and support you always give us. We are very fortunate to have had you with us this year and we look forward to your friendship and support in the coming year.
This week's InfoAve Premium newsletter is a review edition. Publishing review editions over major holidays allows us to take some time off to spend time with our families and friends. Plus, it's a great way for us to feature and review some of the best content from previous issues of InfoAve Premium.
We hope that you will also take some time off during the holidays to spend time with those you love - and make some wonderful memories too.
We are thankful for every one of you. Thanks so much for all you do for us. We wish you all a very happy and healthy 2020! May all your dreams come true!

Our Cloudeight SeniorPass is valid for unlimited computer care & repair for one computer for 365 days - starting with the first time you use it. The clock does not start ticking until you use your SeniorPass for the first time. A great deal that just got better during our Christmas sale!

Having a SeniorPass is just like having insurance for your computer. Our SeniorPass is always affordable, but during our Christmas sale, you can get a SeniorPass for just $79. With a Cloudeight SeniorPass you can get help with almost any computer problem whenever you need it and as often ad you need it. Plus, our SeniorPass gives you the option of Anytime Support! If you request it, we can set up an unattended session for you so all you have to do when you need help is just let us know. We're here to help you.
Our SeniorPass is on sale now for just $79. Save $20 right now!
Get more details and/or get your Cloudeight SeniorPass here.
Our Christmas Sale prices have been extended through Sunday, December 29, 2019.


A comment from Dianne
Earlier this week I had TC sort my computer out - and a fine job he did too. He tidied it, he cleaned it, he recovered lost files. I recommend this service to one & all - it is a great value.

A comment from Alice
Just want to let everyone know what a fantastic person Darcy is. Darcy stuck with my problem and after many tries she got the computer to respond like it was supposed to. She has the patience of Jude. I had already given up but not Darcy. My computer is now working like it's supposed to and I give all the credit to Darcy. Darcy had worked on my computer while I slept. This service is unbelievable!

A comment from Holly
Just had a Senior Pass Session with TC he is amazing, He checked out my computer and answered my question about a 'maybe' problem and all is OK. It's funny to watch him go places on my computer that I didn't even know exist much less what they mean but he does. I still have Windows 8.1 but if I ever get Windows 10 he will be hearing from me RIGHT AWAY!! I tell everyone I know about Cloudeight! Holly

A comment from Gladys
I want to give a big THANK YOU to Darcy for her help and patience over the past few weeks trying to get Thunderbird installed. I had a few problems with my computer that took a while to get sorted out. I have used Cloudeight Direct Computer Care a few times over the years and I would recommend it to anyone. Thank you once again, Darcy and TC for the wonderful service.

A big Cloudeight "Thank you!" to Dianne, Alice, Holly, Gladys and everyone who took time out to write to us, share a comment and/or share us on Facebook! We appreciate your kind words and your support very much! Our best wishes for a very happy, healthy and peaceful New Year! Darcy & TC.



Emsisoft With Free Installation and Set-up by Cloudeight.
Here's your chance to get Emsisoft award-winning anti-malware and antivirus protection plus free installation and configuration by Cloudeight Direct. This special offer includes a one-year license for Emsisoft Anti-Malware/Antivirus, complete removal of your current antivirus software. and installation and configuration of your Emsisoft Anti-Malware and antivirus program by Cloudeight Direct Computer Care.
Our regular price for Emsisoft with Cloudeight Installation is $59. With our Christmas Special, you can get Emsisoft plus FREE Cloudeight Installation and setup for just $29. You save $30 and you'll have the peace of mind of knowing your computer is protected by Emsisoft's world-class protection and that it's installed and set up correctly Get more information and/or buy Emsisoft with free Cloudeight Installation for just $29 here.
Our Emsisoft + Free Installation and set-up is a great deal. Take advantage of our Christmas sale and protect your computer with Emsisoft - the same security software we use on all our business and personal computers. This special offer of Emsisoft with free installation and set-up and a one-year Emsisoft license for just $29 is available only for a very short time.
Our Christmas Sale prices have been extended through December 29, 2019.





Here are some important links for you:



Rosemarie wants to know how to split her computer screen
Dear Friends. Thank you for your constant companionship and help in your newsletters. Living in the deep south of France where nothing goes and being very much a senior (82) without "computer-speak" I do occasionally need help. How do I split the screen either left-right or above and below? I have a long translation to do and need to be able to see what I have to do and what I have done. Thank you so much and best regards.

Our answer
Hi Rosemarie. Thanks so much for your very nice comments and your support.

You can move program Windows to left, right, up, or down by using the Windows key and the arrow keys. You can actually split the screen into 2, 3 or 4 sections this way.

Windows Key + Left Arrow moves the window to the left side of the screen.

Windows Key+ Right Arrow moves the window to the right side of the screen.

Windows Key + Down Arrow moves the window to the bottom of the screen.

Windows Key + Up Arrow moves the window to the top half of the screen.

By using the Windows Key and Arrow Keys you can "Split" the screen into four quadrants.

We hope this helps you, Rosemarie.



Carol's husband's computer is blocked
Hi. My husband's computer seems to be blocked. We cannot even run a virus scan. Wondering if this is legit or a scam?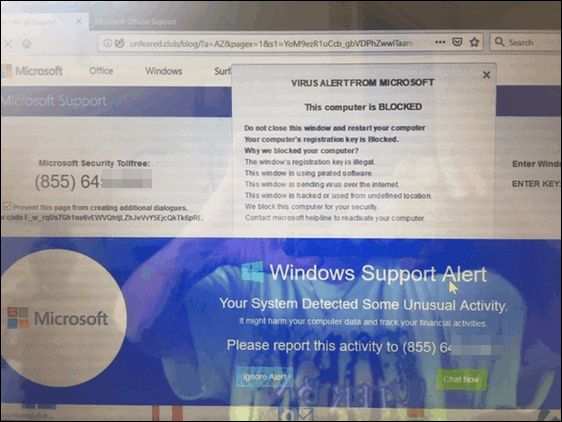 Any recommendations? Thanks, Carol D

Our answer
Hi Carol. This is just a typical Microsoft tech support scam with its traditional dire warnings. While the warning mentions Microsoft many times, the alert is coming from a scam web site, see?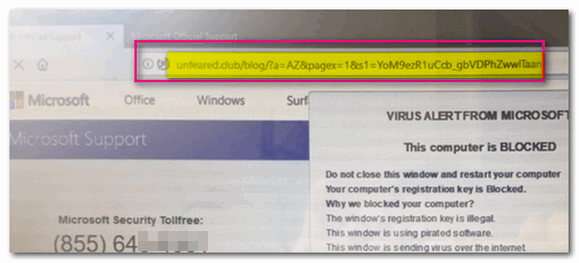 In the screenshot directly above, you can tell immediately that this warning is not legitimate and not coming from Microsoft. Microsoft is never going to show you a warning like this or display a number to call not right out of the clear blue sky.

Do NOT call the number on your screen. Shut down your computer and wait a few minutes and restart it. Be careful when you open your browser after restarting, it will ask you if you want to reload the pages that were open - don't do it. Once you open your browser, clear the browsing history. No matter what browser you use, press CTRL + H with the browser open to open the browser history. You see options to delete browsing history on that page.

AGAIN - do not call that number, do not click on anything on that page. It's a scam and they're trying to scare you into giving them a credit card number.

We've covered these kinds of scams numerous times in our newsletters - if you missed our articles - now would be a great time for you to read and see how these kinds of scams work. See the following Cloudeight page.

https://www.thundercloud.net/infoave/new/tech-support-scams-are-still-riding-high/

Hope this information helps you avoid being scammed by any of these tech support scammers.



Dave wants to give his HP laptop to his son
I want to give my old HP laptop to my son. How do you recommend removing personal info from the hard drive? And how do I reinstall Windows 10? I want to give the computer to my son so he can use it the right way - but without my settings or personal files/programs on it. How difficult will it be to do this?

Our answer
Hi Dave. If you are giving your computer to your son, you'll be glad to know the best way to get rid of your personal files, settings, and programs is very easy to do and will only take you about an hour or so to do. The best way to get rid of all your programs and personal stuff is to do a Windows 10 reset. When you do the reset you'll have two options:




Keep my files or "Remove everything". Choose "Remove everything". Windows will wipe out all your programs and personal files and then reinstall Windows 10 - all in one operation that should take no more than 45 minutes to an hour.

After you initiate the process, you don't even have to be near the computer. It's automatic. Once Windows is reinstalled, you may have to set up things like "Time zone", "Language" -- i.e. the typical things you have to do when you first set up Windows - but you won't need a product key it will already pre-loaded.

To do a reset, do this:

1. Open Settings (Windows Key + i)
2. In Settings go to Update & Security
3. In Update & Security click on "Recovery" (in the menu on the left)
4. Under "Reset this PC" click on "Get started"

While it may still be possible for a computer guru using advanced forensics data recovery software to recover some data from the previous installation, it's extremely unlikely that even a somewhat skilled computer user is going to use forensics data recovery software and dig around to see what might be left from the previous owner.

Let us know if this helps you, Dave.
-----
Dave wrote back: "You guys did it again! I know when I ask for help that I will not only get help, but it will be just the help I need. My son is now using my old computer and he's very happy with it. Thanks so much! Dave."





Dan can't get Windows checkbox feature working on Windows 10
I am a recent convert from Windows 7. For the most part, I like Windows 10. But one feature of Windows 7 I loved but now can't find on Windows 10 is the item checkbox feature. Did Microsoft do away with item checkboxes in Windows 10?

Our answer
Hi Dan. Good news! The item checkbox feature is alive and well on Windows 10. In fact, it works just like it did on Windows 7.

Here is how to enable item checkboxes in all versions of Windows 10:

Press the Windows Key + E key to open File Explorer. Then click on "View" at the top. Now, tick the box next to "Item check boxes" (see below), then close File Explorer.





Here's a closer view:





Now item checkboxes will work, just as they did in Windows 7.





David has a messed up computer after using an image backup
The computer I just acquired is messed up. I am unable to use Outlook. I cannot add Gmail to it. This was restored from the Ashampoo using Version 12 and I removed version 12 and downloaded Version 11. I have tried everything I know how to do, but nothing solves it. I think I need to reinstall windows 10 Professional and then restore the Ashampoo backup. Do you think this will solve the problem?

Our answer
Hi David. As a general rule, and this applies to most cases, you cannot use an image backup created on one computer to image the hard drive on a different computer - it does not work that way. Even if both computers are the same brand, and running the same version of Windows, you cannot use the image created on one computer to image the hard drive on a different computer - you'll end up with a mess.

This is not the fault of Ashampoo - this is just how image backups work. Reinstalling Windows would only work if you clean installed Windows 10 and don't use the image backup to image the hard drive. You can use your Ashampoo backup to copy your personal files but you'll need to reinstall all your programs. This is not a problem limited to image backups, this problem also happens when you use one of those programs that claim that they can help you can move programs from one computer to another quickly and easily. What happens is that most of the time you just end up with a mess.

If you need help copying files from the backup to the corresponding folders on your new computer, let me know.





Myra needs to stop using Internet Explorer and wants to know what we recommend
Hi TC & Eightball. I need to change my browser from Internet Explorer for my AT&T Yahoo mail. They are suggesting Firefox or Chrome. I already have Chrome, but I want a different browser for this email address. Is Firefox a good choice? Thanks for all your good work. Have a good day. Myra

Our answer
Hi Myra. Thank you! Firefox is a good browser and many people use it. It's one of the secondary browsers on both of my laptops. Another option you can try is Edge. Since you have Windows 10, Microsoft Edge is already installed, so you might want to give it a try. Edge is the browser that will eventually replace IE when Windows 7 is no longer supported starting in January 2020.

There are other browsers too. Here are just a few of them (with links to their download pages) that I am familiar with:

Pale Moon (a Firefox-based browser)

Vivaldi (a Chrome-based browser)

Opera

And of course,

Firefox

And don't forget, Microsoft Edge comes pre-installed on your Windows 10 computer. To try Edge, just type Edge into Taskbar search or find it on the Start menu under "Microsoft Edge".

Both of us have several browsers installed; in fact, I have all of the above installed on my computer.

You might want to try a couple of different ones to find one you like. You can uninstall most browsers you install easily - and there is no limit on how many browsers you can install. Only one can be the default though.

We hope this helps you make a good choice.





Jim no longer gets a save or cancel dialog when closing files
I cannot close when I make changes to files. Normally when I change a file and close it out I would have save, discard or cancel. I have nothing on it except an X but the rest is blank. I presently have 6 files open that I want to save the changes. Jim

Our answer
Hi Jim. Try this: Shut down your computer completely (turn it off). Wait 5 minutes and then restart it. See if this fixes the problem. I'm betting things will be back to normal.

But if not... see this page and follow the instructions on it and Run SFC and DISM and then restart your computer.

Let us know if this helps you.
-----
Jim wrote back: "Thanks, rebooting solved the problem. I figured it would as I am not a novice at computing. I didn't want to reboot, as I knew that I would have to redo the changes that I had made. In the days of XP, I sent tips to around 35 people and a lot of the tips came from Info Avenue. In the future, I plan to give a generous gift to you... Thanks again. Jim"



Buy One Cloudeight Direct Computer Care Repair Key and GET ONE FREE!
During our Cloudeight Christmas Sale, when you buy one Cloudeight Direct Computer Care repair key, we'll give you one FREE. That's right! From now through Christmas Day, when you buy one Cloudeight Direct Computer Care repair key for $50, we'll give you a second one free!.

With our Cloudeight Direct Computer Care service, we connect directly to your computer via the Internet to fix your computer problems, remove viruses or malware, optimize your PC and more. You never have to leave your home or leave your computer with a stranger. You'll be invited to watch us while we fix your Windows computer. And, we can fix your computer regardless of where you live. Our Cloudeight Direct Service is available worldwide. We offer world-class computer care services from the company you trust.

Take advantage of our Christmas Buy One Get One free special NOW!

Our Christmas Sale prices have been extended through December 29, 2019.




How to Block a Sender On Gmail
Everyone with a Gmail account
Here is the easiest way to block a sender if you're using Gmail.
1. Open an email that came from the sender you want to block.
2. Click the More menu button (the three vertical dots icon) next to the Reply button near the top of the message.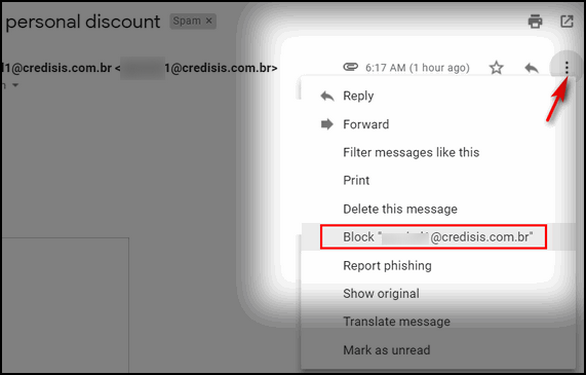 3. Select Block " whatever @ whatever.com " in the menu that appears.
4. A confirmation dialog will appear. Click "Block" in the confirmation dialog.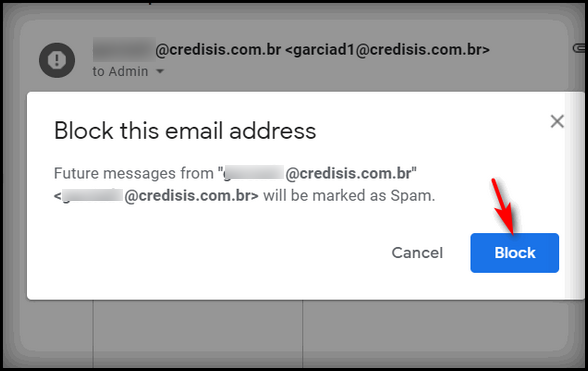 And that's how you block a sender in Gmail. From now on, all messages from the sender you blocked will be sent directly to the Gmail spam folder. This should prevent you from getting any more email from that sender in your Gmail Inbox.
And should you ever want to unblock a sender do this: Find an email from someone you've blocked in your Gmail spam folder and open it. Now follow the instructions above, only this time, if the sender is already blocked you'll see "Unblock" in the drop-down menu and "Unblock" in the confirmation dialog.



The ABCs of XYZ
Windows 7, Windows 8.1, and Windows 10 (any version)
Today we're going to show you three handy CTRL key shortcuts that we use almost every day. And once you see how useful they are, we're betting that you'll use them a lot too. Here then, are Cloudeight's ABCs of XYZ.
Z first
One time I was writing an article for the newsletter when suddenly I accidentally deleted a long paragraph. I put a lot of time and work into that paragraph, I tells ya, and I was none too happy when I accidentally deleted it. Luckily I remembered an old trick I learned long ago and immediately retrieved the paragraph in all its glory. Since then, I've used the same trick to bail me out of similar circumstances many times. And the trick is a simple one, but one you may not think of if you're not reminded of it. So today, consider yourself reminded.
If you're typing an email, an essay, an article, a journal, or whatever and you accidentally delete a word, a sentence, a whole paragraph or several paragraphs, all you have to go to bring it back is to use the CTRL+Z shortcut. CTRL+Z reverses your last action.
And just as useful, you can use CTRL+Z to restore files deleted in error. And, CTRL+Z can reverse more than one action.
Y second
Now that you know what CTRL+Z does, do you know what CTRL+Y does? You don't? OK, I'll tell you. CTRL+Y reverses your last Undo. You can reverse more than one action that you've undone.
X last
You know CTRL+C copies whatever you've selected and CTRL+V pastes whatever you selected using CTRL+C. But what if you want to move a file or a text selection from one place to another? That's easy. Use CTRL+X to "cut" the selected text or file to "cut" it from where it is, then use CTRL+V to paste it in another location.
An example? OK. Let's say I have a picture of EB in my "Favorite Pictures" folder. I sure don't want it there! So, I highlight the photo of EB and press CTRL+X. Then I open my "Monsters of the Id" folder and press CTRL+V to paste it there – where it belongs.
Now you know the ABC's of XYZ. Right?



All About Your RAM
Windows 7, Windows 8x, and Windows 10

RAM is also known as memory. The amount of RAM (or memory) installed in your computer has a lot to do with how "fast" it runs. Generally, the more RAM you have installed, the faster your computer will be. More than anything else, RAM determines how well your computer performs. There are other factors too, but RAM has more impact on your computer's performance than anything else.

But how much do you know about your computer's RAM? You probably know how much RAM you have, but do you know how many RAM chips you have installed or what type of RAM you have?

This tip is probably more for the geeks among you, but we think many of you non-geeks are curious. So, we're going to show you how to use a Windows command to find out more about your computer's RAM than you probably know right now.

If you want to know how many RAM chips you have installed in your computer, the capacity of each chip and the type of RAM installed, you can do it quickly and easily with one command.

So let's open a Command Prompt window first:

In Windows 7, type CMD in start menu search and press click CMD when it appears at the top.

In Windows 8x, press Windows Key + S and type CMD in the search box and press Enter

In Windows 10 Type CMD in taskbar search and press Enter.

At the command prompt type:

wmic MEMORYCHIP get BankLabel, DeviceLocator, MemoryType, TypeDetail, Capacity, Speed

It's important you type that command as shown – spaces and commas matter. Commands are not case sensitive though, so upper and lower case letters do not matter.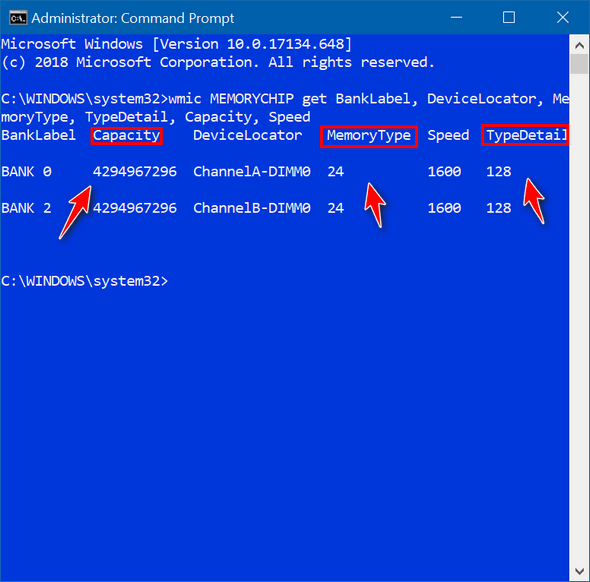 The screenshot above shows that I have two RAM chips installed (Bank 0 and Bank 2). Under Capacity, it shows each RAM chip has a capacity of 4294967296 MB of RAM – which is 4GB. Two RAM chips of 4 GB each means my computer has a total of 8 GB of RAM
MemoryType tells you the type of physical memory. In my case, this shows I have memory type 24 which is DDR3 RAM. Under TypeDetail you'll find the SMBIOS information. This shows I have type 128 which means I have synchronous RAM.
If you want more information about your RAM than you'll ever probably want to know, type the following command in a Command window at the prompt:
WMIC MEMORYCHIP LIST FULL



Bank Telephone Scams Are Everywhere
A tip for everyone
This is to alert you about the pervasive telephone scams affecting customers of most U.S. banks.
Scammers are using fake caller ID information to trick people into thinking that their bank is calling them. They are trying to gain access to your personal data and finances through Online Banking.
What you need to know:
Callers/scammers claim to be from your bank with some type of alert regarding suspicious account activity that they need to confirm with you. Often they even manufacture a fraudulent "pending charge" to make it seem legitimate.
During the call, the scammer will eventually ask you to provide a numeric security code that was sent to your phone, and/or ask you to answer your online banking security questions.
While most banks do make outbound service calls to their customers, when they call, they will never ask you to provide or verify:
• Your full social security number
• A security code for a one-time password
• Your username
• Your password
• Your full account number
• Answers to security questions over the phone
If you give scammers critical information such as those listed above, they will use this information to reset your account credentials and take over your account. All U.S. banks send emails to customers regarding any changes to their account, such as username and password changes. If you receive an email from your bank regarding these types of changes that you did not initiate, please call your bank immediately.
What you should do
If you receive a phone call requesting any of the information above, hang up and call your bank immediately.





Want more tips, tricks, and information?
We have thousands of Windows tips, tricks and more on our InfoAve web site.
Subscribe to our free InfoAve Daily newsletter.



Emsisoft One-Year Renewal with Cloudeight Direct PC Checkup just $29!
During our Christmas Sale when you renew Emsisoft, we'll add 365 days to your current license, PLUS we will give you a Cloudeight Direct Computer Care Checkup key that you can use to schedule a computer checkup whenever you like - you can use it anytime. Our checkup includes checking your hard drive, checking your Windows services and startups, as well as check your browser add-ons and extensions, your installed programs and doing a deep scan to check for hidden problems.
This special Christmas offer includes a one-year renewal license for Emsisoft Anti-Malware/Antivirus and a Cloudeight Direct Computer Care checkup key. The Cloudeight Direct checkup key never expires - it's good until you use it. You can use it any time your computer needs a checkup.
Our regular price for a one-year Emsisoft renewal is $25. You get the Cloudeight Direct Computer Checkup key plus a one-year Emsisoft renewal all for $29!.

Learn more and/or get your deal here.
Our Christmas Sale prices have been extended through December 29, 2019.




Our Favorite Download Sites
When it comes to keeping you safe, steering you away from download sites that thrive on tricking you into download parasitical download bundles (are you reading this CNet - Download.com and, how about you, Softonics?). Installing software bundles teaming with adware, browser hijackers, backdoors, search engine hijackers, and even worse, is a really good way to not only harm your computer - but a good way to toss away your privacy - and maybe even sanity. These download bundles contain other software - we call them parasites - that try to trick you into clicking "Yes" or "OK" thus giving them permission to install their garbage on your PC. It's bad enough playing whack-a-mole with download buttons and links, but it's really bad if you keep clicking next > next > next when you install software and don't read the dialogs as they pass by.
One of the best things you can do to stay safe is to stay away from download sites that prey upon your trusting nature and count on you being in a hurry when you download and install software.
Today, we're going to tell you about the only two major download sites we use and trust. We download a lot of software, particularly freeware. We have to. We're always testing new software trying to find good software to recommend to you.
But these days downloading software, especially freeware, is a bit like playing Russian roulette. There are so many software download installers that try to sneak unwanted 3rd-party junkware and worse by unsuspecting users, that you must be constantly vigilant when you install any software you've downloaded – particularly freeware.
But it's not enough to be vigilant when you install software that you've downloaded, you have to be extra careful where you download it from. Unfortunately, the world's most popular download site (CNet's Download.com ) has decided to make even more of a crapshoot out of downloading by taking clean freeware and bundling it in its own installer. And the worst download site in the world, Softonics doubles down on CNet's game with even worst bundles of garbage (see our article about Softonics here).
So, if you like to download software we're going to tell you the two sites from which we generally download – after we make a simple suggestion. Whenever possible, we always try to download from the software developer's site - the program's homepage, so-to-speak. That does not guarantee that we (or you) will always get clean software, but it does give us a better chance than downloading from sites who care more about getting their garbage installed on your computer and making money than they care about you or integrity and/or clean downloads. But no matter where you download, take our advice – and always be careful – even developers who offer clean software sometimes love to play Whack-a-Mole with the download links.
Here they are – in order – our two favorite software download sites:
Our favorite download site – by far – is SnapFiles. The site's developer has been around as long as we have – that's a long time! – and we've come to trust his reviews and his site. On SnapFiles programs that that may try to install 3rd-party software are noted so you can be watchful when you install. They have a section dedicated to freeware and one dedicated to trialware. If you're looking for freeware, be sure to browse only in the freeware section on SnapFiles.
Here's some info from the site owner:
What makes us different from other download sites?

We download and test EVERY program before listing it.
We create the screenshots.
If it's not working for us, it will not be listed.
If it appears to be a waste of your time, we won't list it…

If we have any doubts as to the integrity of the software and/or author, we will not list it.
Unlike most other software download sites, we actually download, install and review every single program before it is listed on the site. We use our years of experience to bring you the products that appear reliable and worth your time. If it's not working for us, we won't list it. If it appears to be a waste of your time, we won't list it…

Adware & Bundle Policy
All products you find at Snapfiles.com are carefully selected and constantly monitored.
Please refer to our Adware policy for additional details.
If you are looking for a trustworthy download site where the reviews are accurate and where software bundles are clearly identified, you'll want to make a trip to SnapFiles and take a look around - they have a great selection of freeware.
---
Another download site we use occasionally is MajorGeeks. And while we don't use MajorGeeks nearly as much as SnapFiles, it's still a good download site and worthy of mention here. MajorGeeks does not do as good of a job of notifying users when applications contain bundled software, but the download links are easy to find and the reviews are generally trustworthy.
Here's some information from the owners of MajorGeeks:
MajorGeeks is a small, home-based software download site where all the software is handpicked and tested by just two people. We lean heavily towards freeware, but we gladly post high-quality shareware. We do not automate anything, and we reject 95% of submissions. While most websites brag about having hundreds of thousands of software titles to download, we brag about having fewer than 10,000. The intention is to give you a place to go where you can find the top 1% of software, and we try only to add software that we consider to be four stars or better. We have no employees, no offices, and no social life. We live for this stuff and hope you appreciate the difference.

How we test for software:

1: We Google it and look into the software and company reputation. Sometimes we can eliminate a program right here.

2: If it passes step 1 then we need to scan it with multiple virus scanners using VirusTotal, for example.

3: Last is the most important and unique step at MajorGeeks for software we're comfortable listing. We use VMWare Workstation to test the software safely. We want to see if it does what it promises, is fairly priced if shareware and is worthy of a 4 star or better rating. If we have time we write a mini review with our thoughts and post that first under MajorGeek says. We will also grab screenshots at this point if needed.

Here is a video explaining it better.

If you need further assistance, please visit our Boot Camp for how to use te (sic) website, check out our must have free downloads list or for personal help, stop by our Support Forum and ask for help. We believe you will find our forums friendly to newcomers.

The Software Awards Scam is a classic example that still applies today. A lot of those big websites will do whatever they have to do to get traffic from authors. We have even seen sites offer to remove negative reviews for authors to trade for traffic. Can you imagine? Please, be careful who you trust.
If you're looking for a decent and trustworthy download site, give MajorGeeks a try.






Now when you shop Amazon using our links, you can save money, get great products and help us too! For every purchase you make using our Amazon affiliate links, we make a small commission. If you shop at Amazon, we hope you'll use our Amazon affiliate links. It won't cost you a penny more, but it will help us a great deal! Al l you need to help us is use the following link whenever you shop Amazon - for anything.

https://amzn.to/32zhiIo

That link goes to the same Amazon site you'd see if you went to www.amazon.com, but when you use our link, we'll get a small commission on anything you buy from Amazon. It's another way you can help us and it won't cost you a penny more. And you'll get the same great Amazon prices, sale prices, and promo prices you always get.

So the next time you shop Amazon, use our special affiliate link and bookmark the Amazon page once you get there. Then use that bookmark whenever you shop Amazon!

Thanks so much for helping us!


Happy New Year... Thank You All So Much!
Every year at this time, we reflect upon the year that is now quickly drawing to a close and look ahead to a brand new year.
We both want you to know how thankful we are for your support and your friendship. When we look back on this past year, we realize, more than ever, that without your continued support and friendship, we'd not be able to keep our small company running.
We are very thankful for you!
Some of us look back at the year's end with good memories, happy memories, and others look back at and remember the bad memories and the sad memories. And I think most of us look back upon the past year with a little bit of all of those.
And it's natural too, to look ahead with hope and, of course, a little trepidation – since none of us can know what the new year will bring. The new year will no doubt present opportunities and challenges and victories and defeats. Whatever will be will be, and the new year will bring what it will. But we still choose to look forward to the new year with great hope and with great resolve to continue to do our best for you in the new year.
In 2020, we will begin our twenty-second year with the little company we call "Cloudeight". A company that we started as a dream back in 1998. And we look back with mixed memories at the year that is now coming to an end.
The Internet is a very different place now than it was in 1998; 22 years in computer terms is like a century in real-world terms. As we struggle to keep up with the changes that come at us from everywhere, we realize that all of you do as well...
Please read the rest of our New Year's essay here.




Help us keep on helping you!
When you support us with a small gift, you help us continue our mission to keep you informed, separate the truth from the hyperbole, and help you stay safer online. Plus, our computer tips make your computer easier to use.
Did you know that we provide support to thousands of people? Every week we help dozens of people via email at no charge. The questions and answers you see in our newsletters are from the email answers and help we provide to everyone free of charge.
Thanks to your gifts, we do a lot more than provide this free newsletter. We help you recognize online threats, fight for your online privacy, provide you with the knowledge you need to navigate the Web safely, provide you with suggestions for safe, free software and websites, and help you get more out of your PC.
Please Help us keep up the good fight with a small gift.
Interested in making an automatic monthly gift? Visit this page. Help us keep helping you... and helping you stay safe on the Web.




Why don't you answer me?

When you order something from us, or write to us about an order, or a Cloudeight session, or scheduling a session or ask for help with any of our products, pages, or services, we'll always answer you - and always within 48 hours most often much sooner.

But just because we'll always answer you, doesn't mean you'll always get our answer. Unfortunately, instead of ISPs actually working to help protect you and your accounts, many, Yahoo, for example, seem to think that a large volume of emails censored as "spam" by misconfigured and outdated spam filters and rules, make users feel protected.All it does is ensure you'll not get all of your mail, including some important email.

So, if you don't get an answer from us and you emailed us regarding any of the things mentioned above, check your spam folder or check your Webmail spam, bulk, or junk folder. Odds are that's where you'll find our answer to you. If you do find it in any spam, junk or bulk folder, mark it "Not spam (junk, bulk)". So next time our mail does not end up in one of those folders.

This seems to be a continuing problem with those who use Yahoo, or any of the ISPs like Rogers.com, Shaw.ca, Frontier.net, Bellsouth.net, AT&T, and others who use Yahoo's mail servers and services.

One more thing. If you ask a general computer question for inclusion in our Newsletters, you may not always get an answer. We do answer as many as we can by email and in our newsletters.





Sales of the following products and services help support our newsletters, websites, and free computer help services we provide.

Cloudeight Direct Computer Care: Single Keys, SeniorPass or Season Tickets - always a great deal. Cloudeight Direct Computer Care is like having PC insurance. Get more information here.

Emsisoft Anti-Malware: Emsisoft is the only Cloudeight endorsed and recommend Windows security program. It provides users with a complete antivirus, antimalware, anti-ransomware, anti-PUPs solution. We offer single Emsisoft licenses and multi-computer licenses at discount prices. Also, we offer our exclusive Emsisoft with Cloudeight installation & setup. Get more information here.

Thunderbird Email Setup: Thunderbird is a great email program that you can use with your Gmail and Outlook.com (Hotmail) webmail accounts as well as with your Internet provider's email. We'll set it up correctly you. Our set up includes configuring up to 3 email accounts and setting up Thunderbird to use stationery (if desired). Our Thunderbird Email Setup Service is always a great deal. For more information visit this page.

Reg Organizer 8.30: Reg Organizer is the Swiss Army Knife of Windows tools. It's far more than just a registry optimizer and cleaner... it's a Windows all-in-one toolkit. Reg Organizer helps you keep your computer in tip-top shape and helps you solve annoying Windows problems. Reg Organizer works great with Windows 10! Get more information about Reg Organizer (and get our special discount prices) here.






These products and services are recommended and endorsed by Cloudeight:



We'd love to hear from you!

If you have comments, questions, a tip, trick, a freeware pick, or just want to tell us off for something, let us know.

If you need to change your newsletter subscription address, please see "Manage your subscription" at the very bottom of your newsletter.

We received hundreds of questions for possible use in IA news. Please keep in mind we cannot answer all general computer questions. We try to personally answer as many as we can. We can only use a few to in each week's newsletter, so keep this in mind. If you have a support question about a service or product we sell, please contact us here.





Subscribe to our Daily Newsletter!

Get computer tips & tricks every night. Our daily newsletter features a computer tip/trick or two every day. We send it out every night around 9 PM Eastern Time (USA). It's short and sweet, easy-to-read, and FREE. Just visit this page and sign-up. All you have to enter is your email address. Once you confirm your subscription, you'll receive our daily newsletter every day, six days a week. You can unsubscribe at any time.

Print our Cloudeight Direct Computer Care Flyer!

Print our Cloudeight Direct Computer Care Flyer and spread the word about our Cloudeight Direct Computer Care repair services. Get our ready-to-print flyer here.






We hope you have enjoyed this issue of InfoAve Premium. Thanks so much for your support and for being a Premium subscriber.

Our best wishes to you and your family for a Happy, Healthy and Peaceful, New Year!

Have a great weekend.

Darcy & TC
Cloudeight InfoAve Premium - Issue #846
Volume 17 Number 10
December 27, 2019

Not a subscriber? Subscribe to our InfoAve Premium Newsletter

Share Us on Facebook!
We'd love for you to share us with your family and friends on Facebook. Help us by sharing us on Facebook!






"Cloudeight InfoAve Premium" newsletter is published by:

Cloudeight Internet LLC
PO Box 73
Middleville, Michigan USA 49333-0073

Read our disclaimer about the tips, tricks, answers, site picks and freeware picks featured in this newsletter.

Copyright ©2019 by Cloudeight Internet