Cloudeight InfoAve Premium
Issue #847
Volume 17 Number 11
January 3, 2020

Dear Friends,

Welcome to Cloudeight InfoAve Premium issue #847. Thank you very much for subscribing and for being a part of our Cloudeight family. We appreciate your friendship and support very much!



Happy New Year!
This is the first issue of InfoAve Premium for 2020. This week's InfoAve Premium newsletter is a review edition. Publishing review editions over major holidays allows us to take some time off to spend time with our families and friends. Plus, it's a great way for us to feature and review some of the best content from previous issues of InfoAve Premium.
We are thankful for every one of you. Thank you so much for all you do for us. We wish you a very Happy New Yea! May all your dreams come true.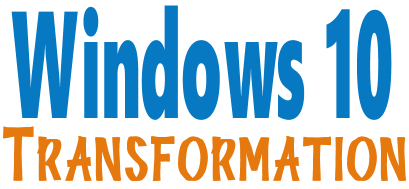 JUST 2 WEEKS LEFT TO UPGRADE YOUR WINDOWS 7 COMPUTER!
Microsoft will end support for Windows 7 on January 14, 2020. Using Windows 7 after that date may put your computer at risk as Microsoft will no longer be releasing security updates and fixes for it. Now's the time to upgrade to Windows 10!

Whether you upgrade your Windows 7 to Windows 10 (still free) or buy a new Windows 10 computer, we can make you feel right at home on Windows 10 with our Windows Transformation service. We can make your Windows 10 look and work much more like Windows 7.

With our Windows 10 Transformation service, we can make your Windows 10 computer look and work more like Windows 7! With our transformation service we will:
Start the Windows 10 upgrade for you and assist you with the update.
~ After the update has completed, we will:
Change the start menu to look like Windows 7 classic style and include your favorite programs
Change your taskbar and start menu colors to your preferences
Add an authentic Windows 7 start button
Add Windows 7 Wallpaper (if desired)
Change Windows 10 File Explorer so it works more like Windows 7's Windows Explorer
Add My Computer -- and other familiar Windows 7 icons -- to your desktop (if desired).
The Windows 10 Transformation service key never expires it's good until you use it. So get yours now!
Get more information or purchase your "Transformation" now.



A comment from Robert
I am forever sold for these "Computer Angels" of ours. When I signed up for the service, I knew I already had problems with my PC and had been driving me crazy for quite a few days. In short, TC resolved my "Ashampoo Failure(s)". and also that horrible BSOD (Blue Screen of Death - Wdf010000.sys. Although I saw all this "magic" being woven in front of these old eyes, once thought that MSDOS 3.11 was quite a humdinger compare to prior systems. And this was just Day 1 of my SeniorPass purchase for this old coot, now there are about 360 more days to the contract! Robert

A comment from Gwynne
Just wanted to say that you are one outfit that I am happy to support as best I can. I'll be 88 next month, and friends like you have kept me happy and safe on my computer. Best Regards always, Gwynne

A comment from Jean
Just imagine what the world would be like if we had more people like TC and Darcy.....caring, loving, professional and believing in the human race, and always here quickly to help us when we need their help and advice. I cannot find adequate words to express my thanks and gratitude. We all love you, TC and Darcy!

A comment from Dianne
Thanks, TC and EB for doing a great job on my PC. I have been receiving your newsletter for a number of years and have learned a lot from them. I am a senior and have been on the internet since 2001. My son builds computers and built my first computer as a Christmas gift. At that time, I told him he was wasting his money because I would hardly use it. Since then I have had him build a computer every 2 -3 yrs. I have taught myself how to make good videos and have 3 YouTube channels. I also make posters for my other 2 sons that have a classic rock band and play a lot of shows. I also have my 96 years young mother playing games on my computer. she loves it.
A big Cloudeight "Thank you!" to Robert, Gwynne, Jean, Dianne and everyone who took time out to write to us, share a comment and/or share us on Facebook! We appreciate your kind words and your support very much! EB & TC.




Your Purchase Helps Us!
When you purchase any Cloudeight Direct Computer Care Service, you get the best computer care and repair, at the lowest possible price. Plus, each Cloudeight Direct Computer Care service you purchase goes a long way in helping to support our small business.

Your computer fixed - while you watch!
With our Cloudeight Computer Care, we'll fix your computer while you watch. You'll be getting the best computer repair service available, at the best price, from people you trust. Our Cloudeight Direct Computer Care single repair keys are a great deal. They are good until you use them.

For more information see our Cloudeight Direct Computer Care home page!




Here are some important links for you:



Irwin doesn't have as many fonts on his new computer as he had on his old one
Hi. I'm finding on my HP PC, I have nothing like the range of FONTS which I was familiar with on my earlier unit. I have noted your articles on FONTS but I wasn't requiring help then. Could you please let me have your recommendation to assist me. Again many thanks for your help on many occasions. Regards Irwin T

Our answer
Hi Irwin. Thank you! Windows 10 comes with several dozen fonts. If you're interested, you can see a list of all the fonts that come with Windows 10 here.

If you installed a lot of custom fonts on your old computer then your new computer would seem to have comparatively few. So, all you have to do is install more fonts on your new computer if you want a bigger selection of fonts.

Here's an article we wrote about how to view and install fonts on Windows 10. This article also includes some nice places to download (mostly) free fonts.

We hope this helps you.
----
Irwin wrote back: "Hi TC. Thanks again for your prompt response to my query. I'm having fun just scanning through the multitude of fonts. All the best, Irwin T."

Chet pays too much for a simple Windows 10 Reset
My Dell desktop froze when an update to Windows 10 began. I took my computer to Best Buy who got it taken care of (at my $200.00 expense). All seems to be in order and nothing missing except that my Emsisoft icon is no longer on my desktop! I paid for Emsisoft and still have time left on my purchase. My question is, how can I get Emsisoft back on my desktop without having to buy it again? I don't have my license key or password.

Our answer
Hi Chet. That is an incredibly high price to pay for something, considering new computers are in the $300-$400 range. The "fix" was a simple Windows 10 Reset that took all of 10 minutes of manpower.

If this ever happens again, and you cannot get into windows, just turn off your computer at the switch and wait a few minutes. Then, while holding down the SHIFT key, turn it back on and continue to hold down the SHIFT key until you see the Windows 10 Advanced Boot Menu. From that menu, you can select Troubleshoot and reset your computer from there if necessary. See our article on the Windows 10 Advanced Boot Menu here. If that does not work and you can't get into windows, it's a good idea to create a boot USB drive or a boot DVD. If you can't boot into Windows, you can use the boot media you created to get into Windows.

You can download Emsisoft from this link. We've sent your Emsisoft license to you via email.

I hope this helps you.



Audrey wants to play movies on her Windows 10 computer
I would like to play movies on my computer but cannot find out what to do. I found out some places to install but was just afraid to do this. Could and would you please help me to do this. I looked for info on the computer but could not find anything. As usual, I look to you for help as you always have always helped me with any problem I have. I appreciate this so much. Thank you for anything you can do to help me.

Our answer
Hi Audrey. I'm not sure what you're asking. Are you asking for a safe place to download movies or a safe program that will play the movies you download?

There are many, many, unsafe places to download movies from; have you considered streaming movies from Amazon Prime, Netflix or one of the other major streaming services?

If you're talking about a multimedia player to play movies on your computer, you can't do much better than VLC Media Player - it's free, open-source and plays all kinds of media files. You can read more about VLC and/or download it from the following link:

https://www.videolan.org/vlc/index.html

Please let me know if this answers your question or if you need more help.
-----
Audrey wrote back: "Sorry but I did not know what to ask for. The videolan.org worked for me and now I can watch my old movies. I tried to get some on Netflix etc. but they did not list any of them or I should say some of them. Again you fixed me up and just want to say thank you so much. VideoLan was easy to learn what to do and how to do it. Thanks every so much you are the greatest. Take care, Audrey."





Artie wants Windows Live Photo Gallery on Windows 10
My Windows 7 computer came with Windows Live Photo Gallery already installed. On my new HP Windows 10, I no longer have that program and cannot find a download for it online. I have also searched online to buy it but cannot find it. Does anyone out there know how to get it today or another program similar to it? Thank you. Artie

Our answer
Hi Artie. We wrote an article showing how to install Windows Live Photo Gallery on Windows 10. You can read that article here.

That article will tell you everything you need to know about installing Photo Gallery on Windows 10. But...keep in mind, any future version updates of Windows 10 could cause Photo Gallery to stop working. There's no guarantee that Photo Gallery will continue to work in Windows 10 as Windows 10 evolves. As long as you are aware of that caveat, you should be OK for now.

Additionally, Windows 10 comes with an app called Photos. It works really well if you're looking for a program to organize your photos. It's in your Windows 10 start menu, listed as "Photos". You can create videos with it and more. We covered the Windows Photos app in this article. You may be surprised at all the things it can do.

If you ever have questions about Windows, try our InfoAve site search. Just visit our InfoAve Website and use the search box that appears on every page. There are over 4000 Windows tips there and a lot of Windows information.

We hope this helps you, Artie.





Keith wants to avoid Australian government interference with P2P file sharing
Hi TC and Darcy. Thanks as always for your continued support and a great newsletter. My question is about using VPN's for downloading files on the internet. It is becoming more and more difficult to download files especially in Australia where the government has instructed " servers " to block P2P sites. Is it safe and worthwhile to use a VPN? I believe you may have covered this before but I cannot remember which newsletter it was in. Thanks again, Keith

Our answer
Hi Keith. Thanks so much.

We're not familiar with the Australian government's policies on blocking peer-to-peer sites. Like any other technology, P2P can be misused and a lot of illegal files are "shared" via P2P. For example copyrighted movies and music. It may not only be a copyright violation but movies can also be huge files and use up a lot of bandwidth.

If all you want to do is download/share files via P2P, a browser-based VPN might be the easiest and best solution for you. Browser-based VPNs only work with the browser on which they're installed.

In a case such as yours, you might want to install a browser-based VPN (a browser extension) that you can turn on when you need to use P2P and then easily turn it off when you don't need it. This would easier than using a VPN that works on an operating system and network level. One problem with routing all traffic through a VPN is that some Webmail, credit card sites, banking sites, and other financial sites, use your IP address to identify you. This adds an additional layer of protection for your account. If all your traffic is routed through a VPN, your IP address will change and you may appear to be from other countries. If this happens, you may have difficulty logging into Webmail, financial sites, etc.

A couple of free browser-based VPNs that work with Chrome and Firefox are CyberGhost and Windscribe. Both are highly-rated browser-based VPNs that you can turn on and off as needed. Both are installed as Chrome extensions (or Firefox Add-ons), and both are free. However, Windscribe has a 10 GB data limit. Above that limit, you will have to pay for the service. CyberGhost limits the number of servers avaiailable -- which shouldn't be a problem if you're just using it for P2P file sharing.

If you have Chrome installed, visit this page to learn more about and/or install CyberGhost VPN for Chrome.

For WindScribe visit this page.

If you have Firefox installed - open it and visit this page for CyberGhost. Or this page for WindScribe.

There are dozens of browser-based VPNs, but CyberGhost and WindScribe seem to be most highly rated. If you're going to be searching for other VPNs, we recommend you avoid any that are based in China or Russia.

We hope this helps you, Keith.





Jill needs help with an HP computer drive partition
Hi Darcy & TC. Please read below and let me know if this is something you can sort out for me if I buy a repair key. My second computer (HP Pavilion Sleekbook 14-116AU14" laptop with 500 GB Hard drive and 8 GB RAM running Windows 10) looks as if it needs its hard drive partitions amended as one is shown to be full and we are getting an error message when trying to update WINDOWS 10. There is a lot of room on the main partition. I have attached screen prints showing the situation.

Many thanks as always for your help. Jill

Our answer
Hi Jill. Thanks! There is nothing to fix. That full partition is the recovery partition HP puts on all computers. It is very small, it is ONLY for the files HP put there, and you should not add files to it. It appears you tried to save files to that partition/drive, so just open it and remove the files you added. That partition is only to be used to restore your computer to its factory state and for HP repair tools to function.
-----
Jill wrote back: "Thank you so much as usual for your help. Somehow a previous Windows 10 update had got itself on to the D drive. Once I received your reply my husband moved it to the C drive and then the new update worked! Thanks again, Jill"





Jack's spell checking stopped working in Chrome
Good Morning and Happy Monday. If my memory serves me correctly, some time ago you said Google Chrome has a built-in spell checker. It was working fine for me, but a week or so ago it disappeared. Is there a way to get it back whereever it may be? "Thank You" for all your help through the years with Premium Issues and daily updates. I especially appreciate the way you explain things so even a non-geek like me can understand. Again "Thank You"...keep up the good work & take good care of each other...Jack

Our answer
Hi Jack. Thanks so much. Since turning on Spell Checker in settings didn't work for you, then it seems to me you have something installed on your computer that is superseding the built-in spell checker in Chrome- for instance, a browser extension. Or it could be that your Chrome browser is corrupted and needs to be repaired.

You can try repairing (resetting) Chrome; just follow the simple instructions on this page.

If that does not work then you'll need to figure out what you installed on your system that is blocking the spell check in chrome - I would guess some kind of spell checking application or extension, but just a guess.

Let me know if you need more help.

Jack wrote back: "Thank you for your help! I repaired Chrome as per your instructions. Back in business. When talking computers with friends I always mention the two of you. They ask if you are really that good. My answer is always the same...I simply say "You are the best...bar none." Some you have helped are of the same opinion. Stay healthy & happy & warm. Jack."



Includes "Anytime Repair" with Our Unattended Support Feature!

SeniorPass: A Great Deal for Our Friends 60 and Older!

With our Cloudeight Direct Computer Care SeniorPass, our friends age 60 and older get one full year of unlimited computer care and repair for one low price. With our SeniorPass you'll get the best computer care anywhere - any time you need it!

SeniorPass is valid for unlimited computer care & repair sessions for one full year starting with the first time you use it. The clock does not start ticking until you use your SeniorPass for the first time. A great deal!

Having SeniorPass is just like having insurance for your computer. You'll get one full year of computer care and get help with almost any computer problem whenever you need it. We're here to help you.

Computer care & repair for one full year just $99! Check out our SeniorPass offer right now!

Get your SeniorPass and/or get more information here.




Be a Text CTRL Freak!
Windows 7, Windows 8.1, Windows 10 (all versions)

These tips will work in any email program like Thunderbird, and with most webmail applications like Gmail and Outlook.com. They will also work in word processors such as Microsoft Word and many others, as well as with WordPad which comes pre-installed with every version of Windows.

You want to make a sentence or word bolded, just highlight the word or sentence and press CTRL + B. See?

If you want to underline a sentence or word just highlight the sentence or word you want to underline and press CTRL + U. See?

If you want to italicize a word or sentence, just highlight the word or sentence and press CTRL+ i. See?

If you want to make a word or sentence bold and italic and underline, just highlight and press CTRL+B, CTRL+ i and CTRL+U. SEE?

If you want to indent a sentence, just click CTRL+M.

If you want to make a hyperlink (a link to a web site) highlight the word or phrase and press CTRL+K. When you press CTRL+K a dialog will appear, type or paste the web site address (URL) into the address field and press Enter and voila! You have a link to a web site. See?

And if you want to create a new document press CTRL+N.

There are many more tricks like this. CTRL+C copies the selected text. CNTL+V pastes the copied text. If you accidentally make a change or delete something you didn't mean to change or delete, if you press CTRL+Z right away, it will undo or redo whatever you've done.



What Happens When You Reset a Windows 10 Computer?
Windows 10 (all versions)

If your Windows 10 computer is running poorly and the number of major problems begins to mount - we sometimes recommend that you do a Windows 10 Reset. We have written tutorials on how to do a Windows 10 Reset; you can read those here.

But some of you have asked for a more thorough explanation; you want to know what happens when you do a Windows 10 Reset. In this article, we explain what the two types of Windows 10 Reset do.

When you reset Windows 10, the reset operation will remove Windows 10 and reinstall it. Many times reinstalling Windows solves a myriad of problems especially problems that evolve from Windows file system corruption, damage caused by malware, registry corruption and other serious Windows problems.

There are two main ways to reset Windows 10. The first allows you to reset your computer and keep all your personal files. The second removes everything and reinstalls Windows. This option always has a secondary option to wipe the hard drive and remove all traces of data and reinstall Windows - which is a great option if you want to sell or give away your computer.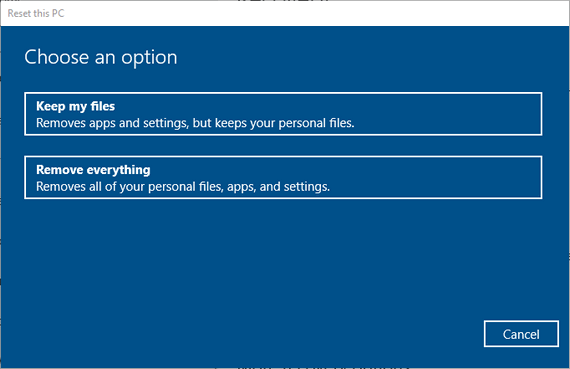 1. Windows 10 Reset: Keep my files

When your computer is running poorly and the number of problems keeps increasing, this is the best and easiest option. Windows 10 Reset - Keep my files does the following:

-- Saves your personal files (pictures, documents, music, etc.)
-- Removes programs and apps you've installed
-- Removes your personalized settings
-- Removes the current Windows installation
-- Reinstalls Windows 10 and puts your personal files and folders back where they were.
-- Windows leaves a list of programs and apps that were removed on your hard drive for reference after the Reset is complete.

After completing this type of Windows 10 Reset the only programs that will be installed on your computer are the programs that come with Windows 10. You may find that applications your computer manufacturer installed may also be installed. But you will need to reinstall any programs you installed in the previous installation. However, we suggest you install only the programs you really need.

After you reset your Windows 10 method this way, you user account will be the same as it was before the reset.

2. Windows 10 Reset: Remove everything

-- Removes Windows 10
-- Removes all your personal files and folders.
-- Removes all programs and apps you installed.
-- Removes all changes you made to settings
-- Removes all apps preinstalled by the manufacturer
-- Reinstalls Windows 10

Once this type of reset is complete, you'll need to set up a new user account and start over, so it's similar to setting up a new computer.

We hope this helps you understand how Windows 10 Reset works and what it does.



Microsoft's Free Office App for All Windows 10 Users - a reminder
Windows 10 (all versions)

On February 20, 2019, Microsoft introduced an Office app available to all Windows 10 users. It replaces the current "My Office" app that comes pre-installed with Windows 10. You can read the official Office App announcement in this Microsoft blog post.

The Office App is a lot more useful than the old "My Office" app for those who are already using Microsoft Office. It is also great for those who don't have either Microsoft Office installed or an Office 365 subscription. For those who do have a 365 subscription or MS Office installed, the new Office App functions as a hub for launching Office programs and opening recent Office documents. For those who don't have Office installed or a 365 subscription, the Office App makes it easy to access the free web versions of Office programs.
The new Office App will come preinstalled with newer versions of Windows 10.
If you don't have the Office app installed, you can download it here.

The new Office app makes it easy for those who don't have MS Office or an Office 365 subscription to access the free online versions of Office programs such as MS Word, PowerPoint, Excel, etc. right from the desktop. Most people don't even know that free online versions of these Office programs exist as Microsoft hasn't done a very good job of promoting them. With the new Office app, all of the free online Office applications will be available right from Windows desktop.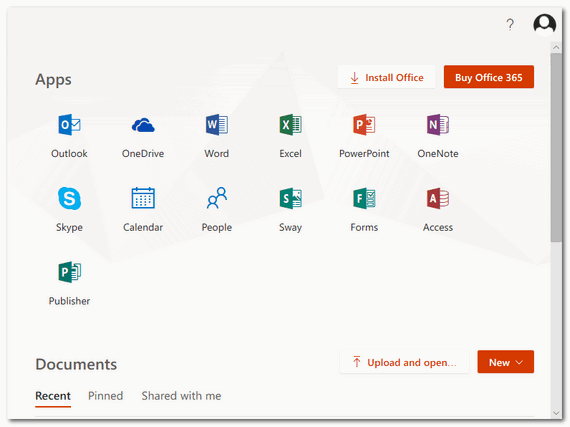 Above: The Office App for Windows 10.



Chrome Omnibox Tricks
Windows 7, Windows 8.1, Windows 10 / Google Chrome installed

The address bar of the browser is where the URL or Web site address is displayed in your browser. Google's address bar is also called the Omnibox. But it's just not for URLs. Here are some of the things you can do with Google Chrome's Omnibox.

Track a package

You don't need any third-party programs to track a package from UPS, FedEx, USPS, or DHL. All you need is Chrome and a tracking number. Just copy the tracking number and paste it into Chrome's Omnibox. Once you do, you're tracking your package.

Drag a word or phrase to the Omnibox to define or search it

Did you know you can highlight a word or a phrase and drag it to the Omnibox to search or define it? You can and it's easy to do. Highlight any word or phrase from whatever you're reading and drag and drop it into Google's Omnibox and then press Enter to begin the search.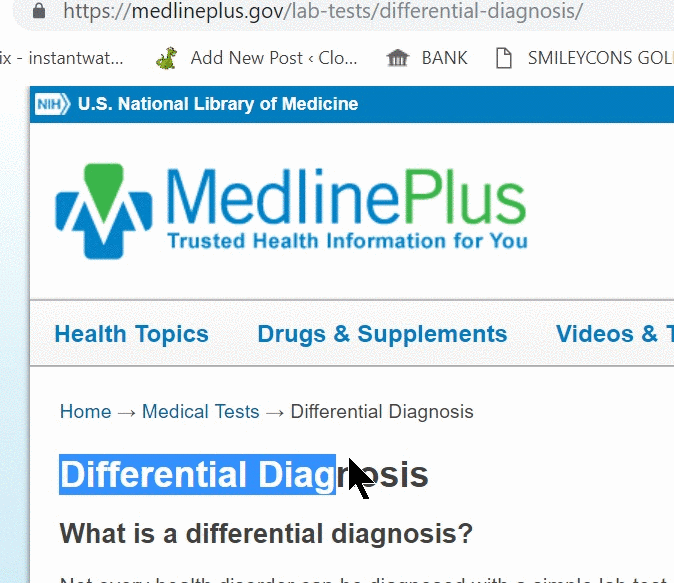 You can also highlight a word or phrase, right-click it and choose "Search Google for [word or phrase]." A Google search will appear in a new tab.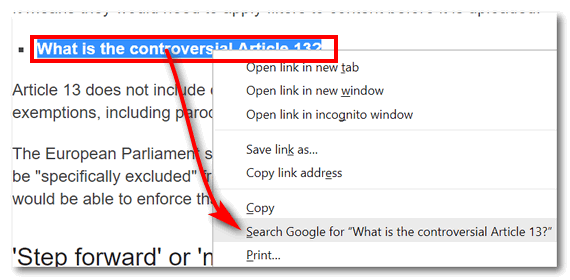 Open a search in new tab

If you're on a web site and want to search without navigating away from the Web site you're viewing, type in your search query in the Omnibox, hold down the ALT key and press Enter. Voila! Your search query will open in a brand new Chrome tab.

Drag a URL to the Chrome Bookmarks Bar

If you find an interesting Web site that you'd like to come back to later or refer to often, you know that you need to bookmark it. Did you know you can highlight the site's URL showing in the Omnibox and drag it to your bookmarks bar? you will want continual and easy access to, highlight the URL and drag it to the Bookmarks Bar.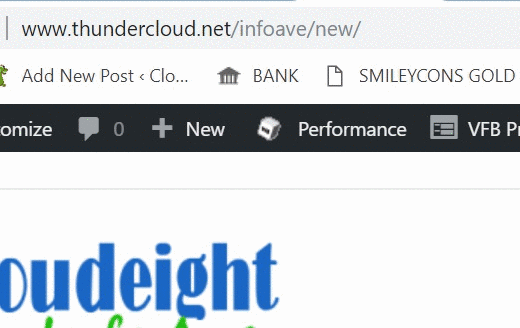 Also, you can drag links from any web page directly into your Chrome Bookmarks Bar.

Want some bonus Chrome Omnibox tips? See this Cloudeight article online. The bonus tips are at the bottom of the article!





Want more tips, tricks, and information?
We have thousands of Windows tips, tricks and more on our InfoAve web site.
Subscribe to our free InfoAve Daily newsletter.



When you support us with a small gift, you help us continue our mission to keep you informed, separate the truth from the hyperbole, and help you stay safer online. Plus, our computer tips make your computer easier to use.
Did you know that we provide support to thousands of people? Every week we help dozens of people via email at no charge. The questions and answers you see in our newsletters are from the email answers and help we provide to everyone free of charge.
Thanks to your gifts, we do a lot more than provide this free newsletter. We help you recognize online threats, fight for your online privacy, provide you with the knowledge you need to navigate the Web safely, provide you with suggestions for safe, free software and websites, and help you get more out of your PC.
Please Help us keep up the good fight with a small gift.
Interested in making an automatic monthly gift? Visit this page. Help us keep helping you... and helping you stay safe on the Web.








The Wayback Machine

Do you remember Rocky & Bullwinkle? If you do then you remember the "Wayback Machine". That was one of my favorite parts of the Rocky & Bullwinkle show – along with "Fractured Fairy Tales".

If you've been on and around the Web for as long as we have, then you too have seen tremendous changes to the way the Web looks and works. Back in the mid-'90s when we first laid eyes on the Internet, it was a far different place than it is today. Back then, if someone asked what you did last night and you said "I surfed the web" eyebrows raised and you were labeled a geek, a kook, or worse. The Internet was an oddity. And back then I don't think even Darcy & I, who both loved the Internet the minute we first as we laid eyes on it, ever thought it would develop into what it has become today. The Internet grew from an oddity to a necessity in less than twenty years.

For those of you, like us, who sometimes find themselves longing for the good old days of the web, there's a website that can transport you back in time – back to the days when the web was a simpler place – a place where almost everything was free and the term "web designer" was used to describe spiders – the kind with eight legs.

Let's go back 16 years and look at Cloudeight Stationery. Back in those days, our site was ranked in the top 1000 most popular sites. Here is what Cloudeight Stationery looked like on June 2, 2004.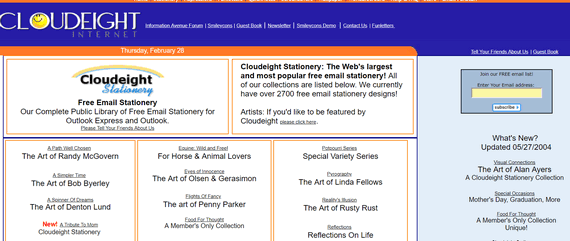 If you go back farther than that you'll get the "Netscape version" of our site no matter what browser you use. Back in those days, only Internet Explorer rendered our site and stationery correctly – but that was OK then, over 95% of everyone using Windows and browsing the Internet used Internet Explorer – there was no Firefox or Chrome.

How about Microsoft in 1998?



Or Amazon in 1999?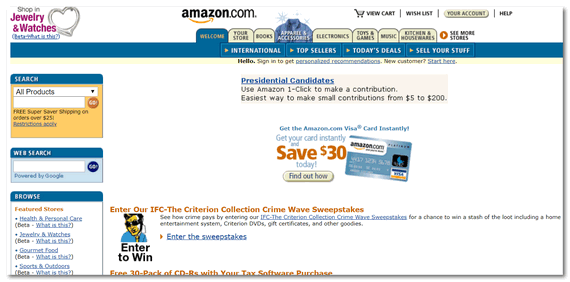 How about Yahoo in 1999?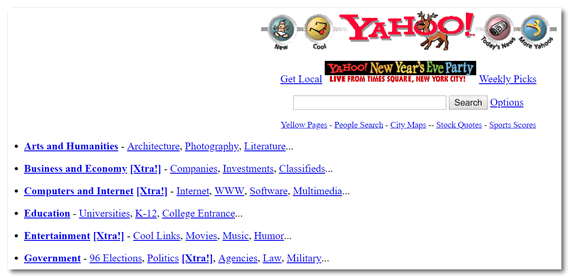 And one of my favorite sites of all time – unfortunately long gone from the Web: DaveCentral.com – The first thing I'd do every morning is get up, go to DaveCentral and download all the new freeware he recommended for the day. Darcy used to laugh at the stuff I'd put on my computer. I ran into problems being so aggressive and installing new programs so prolifically, but I also discovered some really great programs by trying all of Dave's recommendations. RIP DaveCentral!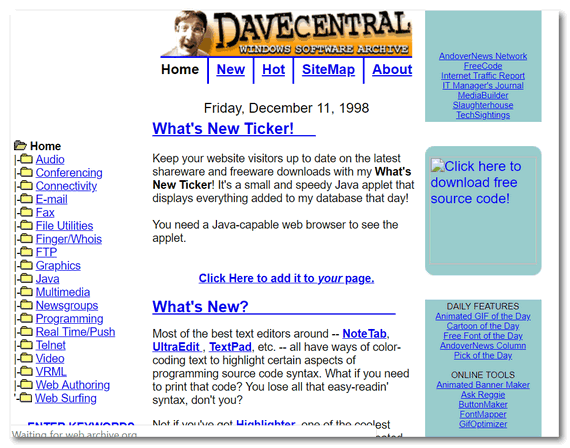 Do you have favorite sites that have faded away or sites that you once loved that have changed for the worse? Are you just curious about what the Web used to look like way back when? Our site pick today The Internet Archive: Wayback Machine has over 400 BILLION web pages archived and ready for your perusal.

Are you ready to hop in the Internet time machine and go back to another place and time? If you are, visit The Internet Archive: Wayback Machine right now. You'll be glad you did!

Have fun!






VERSION 8.40 NOW AVAILABLE!
If you purchased or renewed Reg Organizer through Cloudeight within the last 12 months, you're entitled to a free version upgrade to Reg Organizer 8.40.

Save $14 on Reg Organizer right now!

Reg Organizer - A Swiss Army Knife of Windows Tools - Works Great on Windows 10!


On Printers and Printer Ink

It's New Year's Day. There's not a whole lot going on. I have a beef brisket in the oven, football on TV, and nothing on my schedule. It's a Wednesday and a holiday so beyond football and brisket, there is not much else is going on. I'm going to use the day to catch up on things.

Today, I'm going to set up my new printer.

The other day, I ordered a printer (free delivery) to replace a 2-year-old printer that says it has ink, but prints illegible things. It's my 6th or 7th printer. I've had so many I lost count. Oh, don't worry, I don't have 6 or 7 printers sitting around my house waiting for me to issue the print command – I only have one printer.

The rest are resting in the landfill.

Let me back up. I had no working printers at all until UPS delivered my new printer yesterday – and hopefully, when I get it set up today, I'll have one that works. And one that is full of ink.

The printer I was using (an HP by-the-way) was two-years-old. I replaced the ink in it twice, but it was haunted. It was haunted right from the start. My travails started last week, I needed to print out a bank statement to see why the bank showed I had $61.26 less than what I had – I hate it when that happens. Much to my chagrin when I punched the print button, my printer responded by printing 4 illegible pages that looked eerily like Egyptian hieroglyphics.

Oh, Nefertiti, I do love you, but not in my printer.

Yep, I did all the usual stuff you'd guess I'd do. I ran the print-head alignment thing, I did all the "Troubleshooting" things. I ran the HP Doctor. And, of course, I checked the ink levels. The ink levels were low but not empty. I thought I'd try putting in new ink cartridges and see if that would fix things. I hopped in the car and drove to Wally World (WalMart). Yep, they're open today...

Read the rest of this "Rant" here.



Shop Amazon and help Cloudeight!
Whether you live in the USA, Canada or Australia, when you shop Amazon using our links, you can save money, get great products and help us too!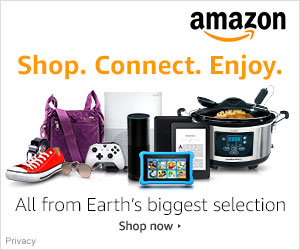 Amazon - Shop. Connect. Enjoy. All from Earth's Biggest Selection.
For every purchase you make using our Amazon affiliate links, we make a small commission. If you shop at Amazon, we hope you'll use our Amazon affiliate links. It won't cost you a penny more, but it will help us a great deal!
Shop Amazon and help Cloudeight!




Windows Safe Mode - What is it?

Safe Mode has been a part of Windows since Windows 95. The basic concept of "Safe Mode" is to allow a user to access Windows without loading any unnecessary drivers or software. Because Safe Mode only allows basic drivers to load you might be able to boot your computer into Safe Mode when your computer will not boot normally. Windows safe mode provides you with a basic graphics driver (enough to display the user interface), access to your drives and windows configuration, System Restore and very little else.
Safe Mode is the best thing to try if you are experiencing problems booting your system or if running certain software causes issues with your PC. Using Safe Mode can help you determine if the problems you are experiencing are hardware malfunctions or software issues.

Unlike previous versions of Windows, you cannot boot into Windows 10 Safe Mode by restarting your computer and repeatedly tapping the F8 key. To learn one way to boot into Safe Mode in Windows 10, read our tutorial here.
For another way, see this page.





Sales of the following products and services help support our newsletters, websites, and free computer help services we provide.

Cloudeight Direct Computer Care: Single Keys, SeniorPass or Season Tickets - always a great deal. Cloudeight Direct Computer Care is like having PC insurance. Get more information here.

Emsisoft Anti-Malware: Emsisoft is the only Cloudeight endorsed and recommend Windows security program. It provides users with a complete antivirus, antimalware, anti-ransomware, anti-PUPs solution. We offer single Emsisoft licenses and multi-computer licenses at discount prices. Also, we offer our exclusive Emsisoft with Cloudeight installation & setup. Get more information here.

Thunderbird Email Setup: Thunderbird is a great email program that you can use with your Gmail and Outlook.com (Hotmail) webmail accounts as well as with your Internet provider's email. We'll set it up correctly you. Our set up includes configuring up to 3 email accounts and setting up Thunderbird to use stationery (if desired). Our Thunderbird Email Setup Service is always a great deal. For more information visit this page.

Reg Organizer 8.30: Reg Organizer is the Swiss Army Knife of Windows tools. It's far more than just a registry optimizer and cleaner... it's a Windows all-in-one toolkit. Reg Organizer helps you keep your computer in tip-top shape and helps you solve annoying Windows problems. Reg Organizer works great with Windows 10! Get more information about Reg Organizer (and get our special discount prices) here.






These products and services are recommended and endorsed by Cloudeight:



We'd love to hear from you!

If you have comments, questions, a tip, trick, a freeware pick, or just want to tell us off for something, let us know.

If you need to change your newsletter subscription address, please see "Manage your subscription" at the very bottom of your newsletter.

We received hundreds of questions for possible use in IA news. Please keep in mind we cannot answer all general computer questions. We try to personally answer as many as we can. We can only use a few to in each week's newsletter, so keep this in mind. If you have a support question about a service or product we sell, please contact us here.





Subscribe to our Daily Newsletter!

Get computer tips & tricks every night. Our daily newsletter features a computer tip/trick or two every day. We send it out every night around 9 PM Eastern Time (USA). It's short and sweet, easy-to-read, and FREE. Just visit this page and sign-up. All you have to enter is your email address. Once you confirm your subscription, you'll receive our daily newsletter every day, six days a week. You can unsubscribe at any time.

Print our Cloudeight Direct Computer Care Flyer!

Print our Cloudeight Direct Computer Care Flyer and spread the word about our Cloudeight Direct Computer Care repair services. Get our ready-to-print flyer here.





We hope you have enjoyed this issue of InfoAve Premium. Thanks so much for your support and for being a Premium subscriber.

Our best wishes for a very happy, healthy and peaceful New Year!

Have a great weekend.

Darcy & TC
Cloudeight InfoAve Premium - Issue #847
Volume 17 Number 11
January 3, 2020

Not a subscriber? Subscribe to our InfoAve Premium Newsletter

Share Us on Facebook!
We'd love for you to share us with your family and friends on Facebook. Help us by sharing us on Facebook!






"Cloudeight InfoAve Premium" newsletter is published by:

Cloudeight Internet LLC
PO Box 73
Middleville, Michigan USA 49333-0073

Read our disclaimer

Copyright ©2020 by Cloudeight Internet LLC.