Cloudeight InfoAve Premium
Issue #853
Volume 17 Number 17
February 14, 2020

Dear Friends,

Happy ❤ Valentine's Day and welcome to Cloudeight InfoAve Premium issue #853. Thank you very much for subscribing and for being a part of our Cloudeight family. We appreciate your friendship and support very much!

If you have a question or comment for our newsletter, please submit it here.



Valentines Sale! Save $14 on a Cloudeight SeniorPass - one full year of computer care & repair for one great price.

❤ If you're 60 or older, take advantage of our SeniorPass Valentine's sale. You'll save $14 and get a full year of computer care and repair... plus you'll be eligible for Unattended support (free). Once we set up unattended support, all you have to do is just send us an email, tell us about your computer problems, and in most cases, we will come and take a look right away... usually within 24 hours!

❤During our Valentine's sale, you can get one full year of unlimited computer care & repair for just $85. That's $14 off our already low price of $99. Your year of computer care and repair does not start until the day you first use your SeniorPass - so you really do get a full year of computer care & repair.
❤ Save $14 on a Cloudeight SeniorPass right now. Get all the details here!




A comment from Cathy
Darcy, I wanted to personally thank you for helping me with the Emsisoft for my phone and getting on there and helping me with that. I believe you and TC are angels in disguise. You are just great wonderful people and I would recommend you to anyone. Emsisoft sent me a code this evening and told me to download it on my phone and I did and put their code in and it finally worked. I am so grateful to you for your help. Blessings Cathy

A comment from Marsha
This is a thank you to TC who spent far more time trying to help me than he should have. He stuck with it and ended up getting my computer working again. I am happy to say I am so glad to have my computer back working the way it used to. And thank you TC for taking all the extra time to find and fix all the problems. Marsha

A comment from Nicole
TC - I am so thankful for all that you did in setting me up with Win 10 this week. Here I was dreading doing it and didn't even know for sure if Win 10 would fit my computer. Sometimes, I lose the nerve to do it myself. So now that it is all done and Emsisoft is also set up, I am thanking you for the time you spent with me. Feel so much better to have all that behind me. There was no one else that I would have trusted to turn over my computer to. I've been with you guys since you started and I've seen so much of the things you do and the ways you help others. I'm glad that you're offering this type of computer care for such a low cost because, heaven only knows, how much you need the money just to keep going. For me, it has always been "money well spent." The last time, it was Darcy who helped and I love you both! Thank you again. I will make another donation. God bless and don't ever give up - please! We really need you guys. Nicole

A comment from Neil
Thank you so much for the work you did on my computer last week. Your service offers an inexpensive and convenient way to get my PC fixed and taken care of. Thanks again, Darcy for your professionalism and your great work. I will recommend your service to all my friends and I'll be back the next time I need some work done on my computer. Neil A.

A big Cloudeight "Thank you!" to Cathy, Marsha, Nicole, Neil, and everyone who took time out to write to us, share a comment and/or share us on Facebook! We appreciate your kind words and your support very much! EB & TC.




A Sweetheart Deal! Get a computer repair key for just $14! CRAZY CHEAP!

From now through February 16, 2020, when you buy one Cloudeight Direct Computer Care Repair Key at our regular low price of $50 you can get a second one for just $14.00. That's two computer repair keys for just $64.

Buy One For You and One For Your Valentine... or anyone else you like
Buy one for yourself and give one to your Valentine... or a friend or family member. Or just keep them both for yourself. Our keys never expire - they are good until you use them.

Better than chocolates or flowers!
If you have a Valentine, give him or her a free computer repair key - it's better for them than a box of chocolates, and unlike a bouquet of flowers, our computer repair keys never expire - they're good until you use them.

Keys are good for any Cloudeight Direct Computer Care repair service!
The keys are good for any Cloudeight Direct Computer Care repair service. You won't find a better repair service anywhere -take a minute read a few of our customer testimonials.

Don't delay. Get yours today.


Thelma wants to sign in to Windows 10 with a PIN
I would like to log in with a PIN. How do I set it up, please? Also, the screen only stays for about 10 seconds then it goes to background.

Our answer
Hi Thelma. The Windows 10 sign-in screen only stays visible for 10-15 seconds before going back to the lock screen (the picture). This is normal. You can just tap or click on the lock screen to get back to the sign-in screen, it's not a big deal.

To set a PIN, you first need to be using a password to log into Windows.

Here is how to set a PIN:

Type YOUR INFO into Taskbar search. On the page that opens, click "Sign-in Options" (it's on the menu on the left). When Sign-in Options opens, click on PIN or Windows Hello PIN (depending on your Windows version)




You can set up a PIN from there. You can use a 4-digit PIN (recommended) or you can create complex PIN using numbers, letters, symbols - but that kind of defeats the purpose of using a PIN, I think.

I hope this helps you, Thelma.




Bernie is having a problem with the Print Friendly feature on our InfoAve website
Greetings. I've been wrestling with an issue on the Print Friendly page that comes up when you offer Cloudeight Info Avenue information.

In your article about "Terms of Service; Didn't Read ..." When I call it up into the print-friendly page, at the bottom is a go-to this site for more information. Alas, when I click it, the section I click on goes away. Indeed, wherever I click on the print-friendly page, there is an automatic blocking with the trash can.

Two things: Where do I go to get the additional information about Terms of Service Didn't Read and how do I fix the print-friendly page? Blessings, Bernie

Our answer
Hi Bernie. Thanks for reading our newsletters!
There is nothing wrong with Print Friendly. When you click the "Print Friendly" button a condensed page appears. It's meant only as a preview. You can Email it (a link) to a friend, you can print it or you can save it as a PDF file on your PC. It's not to be used in place of the page. If you want something to clean up the page and remove distractions like ads, menus, etc. and you use Chrome try the Mercury Reader extension for Chrome. https://mercury.postlight.com/reader/

Print Friendly is called Print Friendly for a reason. The page you see when you click the button is an editable page that you can clean it up and/or delete the parts you don't want to print or save as a PDF file. That explains the trashcan.

If you to back to our article, you will see all the links all work. The Print Friendly button is there to make it easy for you to print the page, convert the page to PDF and download it, or email a link to the page to yourself or share it with someone else.

For your convenience here is the link to the article entitled "Terms of Service; Didn't Read".

I hope this answers your questions, Bernie.



Dennis wants to know now that Avast is cleaning up its act, if CCleaner can now be trusted
So Avast is trying to be a better friend. What about CCleaner? Has it cleaned up its act?

Our answer
(Dennis is referring to our article here.)
Hi Dennis. We have not trusted Avast for years. We didn't trust them long before they got caught collecting their users' data and selling it. Ever since Avast started bundling useless software with their "free" programs, we have not trusted them. Since Avast owns CCleaner and also AVG and we don't trust those programs either.

Avast promised they will no longer use their free programs to gather data from users and sell it, do I believe them? No. I would not trust anything they distribute and I would never have any of their software on my computer.

I don't think that Avast is not sorry they did what they did, I think they're sorry they got caught. They'll figure out some way to connive their users and convince them they're suddenly trustworthy. But it's hard to envision them actually making free software and giving up tens of millions of dollars. Personal data and browsing history are worth tons of money. Trust is something you earn and Avast has done nothing to earn my trust.

You can trust them if you want. But as for us? Not so much.



Candace wants to know about our Windows 10 upgrade services
Hi there. I have a friend who needs to upgrade from Windows 7 to Windows 10. Do you have any specials or suggestions on how to proceed? I did come across an InfoAve Premium article at the following address, but I'm sure he would need help in the transformation.

https://www.thundercloud.net/infoave/new/important-information-about-windows-7-to-windows-10-upgrades/

Thanks for your help. Candace

Our answer
Hi Candace. We offer 2 different services:

1. Windows 10 Transformation - With this service, we assist with the upgrade and then after Windows 10 is installed, we make Windows 10 look and work more like Windows 7. The cost of this service is $49. You can learn more about this service and/or purchase it here.

2. Windows 10 Customization - With this service the user upgrades his or her own computer to Windows 10. Once they've done that we can make it look and work more like Windows 7. The cost of this service is $25. You can learn more about this service and/or purchase it here.

If you have any more questions or if we can help with anything else, please let us know.





Joann has a problem with her documents folder and she can't find a program
When clicking on "documents", the list of docs does appear/come up. But when clicking on my selection to open, the doc shows up but I cannot make any changes of any kind. And, if I type Apache office in the search bar, I get nowhere. So I am quite befuddled! I must be missing something somewhere? Hoping you can solve my mystery for me. Thank you ahead of time. Joann B.

Our answer
Hi Joann. The user Documents folder is located in C:\ Users\ Your User Name \ Documents. or may have other documents folders on your computer. My guess is that you have more than one document folder on your computer and the files in it are marked "read-only" which means you can open them but not edit them. If you type Documents in taskbar search, you'll see the Documents folder in your user account.. The files in that folder shouldn't be marked "Read-only". The documents folder is a user folder and that would be the one with your files in it unless you moved that folder to a different location.

I have never heard of Apache Office. Apache makes Open Office. If Open Office is installed on your PC typing Open Office in taskbar search will locate it. You could also find Open Office in the "O" section of your Start menu.

I hope this helps you, Joann.





Charlene has a friend who wants to upgrade from Windows 7 to Windows 10
I have a friend that has a Windows 7 PC, they would like to upgrade. I have recommended your service, but they are in an extremely busy time for the next two weeks. Will the Windows 10 upgrade still be free for them in two weeks? Or maybe you don't know when the free upgrade period ends. Thanks for your time. Charlene

Our answer
Hi Charlene. We don't know what Microsoft is going to do, but as far as we know, the answer is yes, they will continue to offer the upgrade free for the foreseeable future. This could change though -- we are all at the mercy of Microsoft's whims. But my feeling is Microsoft will keep offering the Windows 10 upgrade free because they want as many folks using Windows 10 as possible - and they want people to stop using unsupported and therefore less secure versions of Windows.





Robert bought an Amazon Fire Stick and was told he needs a VPN
Dear TC and EB. I have followed you guys for years and value your input very much. I especially enjoy TC's articles and stories. You are a tremendous writer!

My question concerns the use of VPNs. I recently purchased an Amazon Fire Stick and have been inundated with warnings about the need for a VPN in the atmosphere created by the Fire Stick... What do you suggest? Robert

Our answer
Hi Robert. Thank you for your kind words and your support.

VPNs have their place, but most people think they protect you from "hackers" and identity theft, that's just not true. People get hacked and identities are stolen because people are tricked into giving up information and a VPN won't protect people from clicking links in phishing emails and they won't stop people from clicking links in phishing emails. VPN companies are propagating false information.

I don't have any idea what using a VPN would have to do with using a streaming device like Roku or Amazon Fire Stick, since when use one you have to provide you physical address, a credit card number, and your name. A streaming device does not create any more of an atmosphere than your computer or other Internet-connected device does. Like your computer, it uses your router to establish a connection. And while it's true Amazon and Netflix will know what you watch (you can actually opt-out if you want). But they're going to know that with a VPN too. You can't sign in to your Amazon Prime, Netflix, or other streaming accounts with a fake account. You have to sign-in with the account you signed up with.

The VPN companies are making billions by fear-mongering. But even if VPNs did half of what they claim, can you trust the VPN not to collect your information and then sell it anyway? Just because they promise not to collect and sell your information, does not mean they don't do it. For instance, NORD VPN is based in Panama. I have no idea what the privacy laws are in Panama. They could collect and sell data legally there for all I know.. All I know about Panama is they have a canal there <grin>.

Keep in mind the VPN companies are making billions scaring people into believing half-truths and outright lies. They're scaring people because... nothing sells better than fear. We could make some decent money just by recommending a VPN service, but we won't do it because we don't think most people need one.
I hope this helps you make up your mind, Robert.




Important news!
Are you planning on upgrading from Windows 7 to Windows 10? Do you want your Windows 10 computer to look and work more like Windows 7?

Windows 10 Transformation Service

We will continue to offer our Windows 10 Transformation service for those who want our assistance in upgrading their Windows 7 or Windows 8 computer(s) to Windows 10. With our Windows 10 Transformation service, we will assist you with the upgrade to Windows 10 and then, after Windows 10 has been installed, we'll come back and make your computer look and work much more like Windows 7. You can learn more about this service and/or get a Windows 10 Transformation service key here.

Windows 10 Customization Service

We will continue to offer or Windows 10 Customization service for those of you who have already upgraded to Windows 10, purchase a new computer with Windows 10 on it, or who are using Windows 10 and would prefer to have it work and look more like Windows 7. If you're interested in having us make your Windows 10 PC look and work much more like Windows 7, visit this page to learn more and/or get your Windows 10 Customization service key.




How to Change File Explorer Views Using Keyboard Shortcuts
Windows 10 (all supported versions)

You can change they way File Explorer displays files and folders using keyboard shortcuts.

Open File Explorer (Windows Key + E) and try these.

CTRL+SHIFT+1 = Extra Large Icon View

CTRL+SHIFT+2 = Large Icon View

CTRL+SHIFT+3 = Medium Icon View

CTRL+SHIFT+4 = Small Icon View

CTRL+SHIFT+5 = List View

CTRL+SHIFT+6 = Details View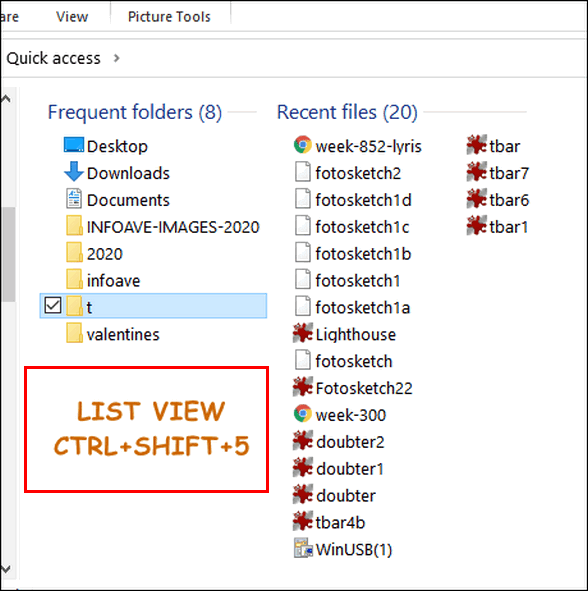 Now you know another way to change views of files and folders in File Explorer.



Make the Text on Your Screen Easier to Read
Windows 10 (all supported versions)
Does the text on your screen or monitor look fuzzy, blurry, or faint, and often hard to read? Did you know that in some cases, you can make the text on your screen or monitor clearer and easier to read by using the Windows Clear Type Text Tuner?
It's easy to do and takes less than five minutes. If the text on your screen or monitor is faint, fuzzy, blurry, and difficult to read, try running the Windows Clear Type Text Tuner.
1.) To get started, type clear type in the taskbar search just to the right of the Start button. Press "Enter" when you see "Adjust ClearType text" appear in the search results. You can also click on "Adjust ClearType Text" or "Open".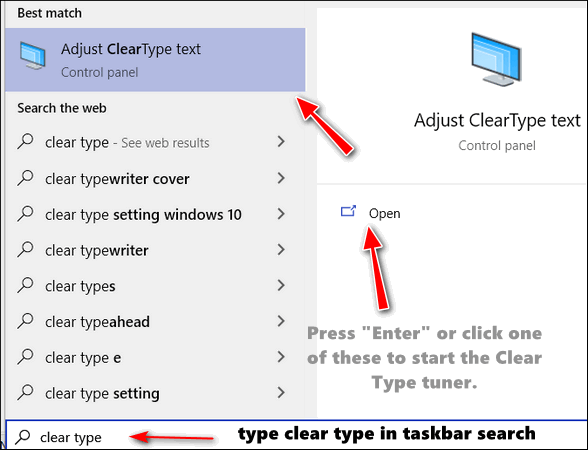 2.) When the ClearType Text Tuner opens, make sure the box next to "Turn on ClearType" is checked and click "Next".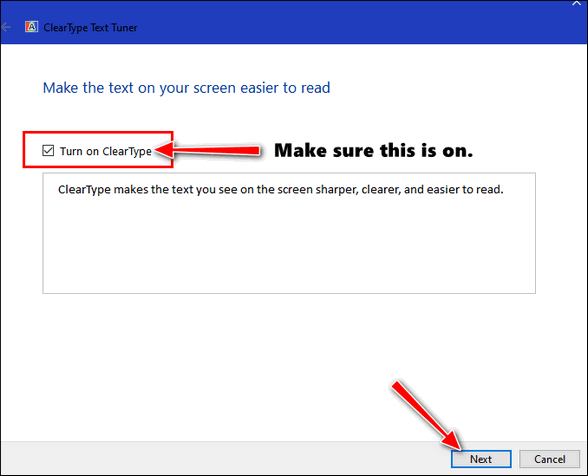 3.) Windows ClearType Text Tuner will check to make sure your monitor or screen is set to its native resolution. Click "Next".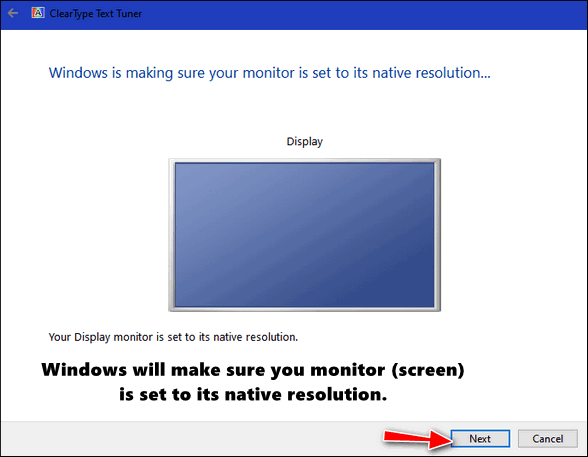 4.) A series of dialogs will open. In each dialog, two or more examples of text will appear. Click on the text that looks the clearest to you and then click "Next".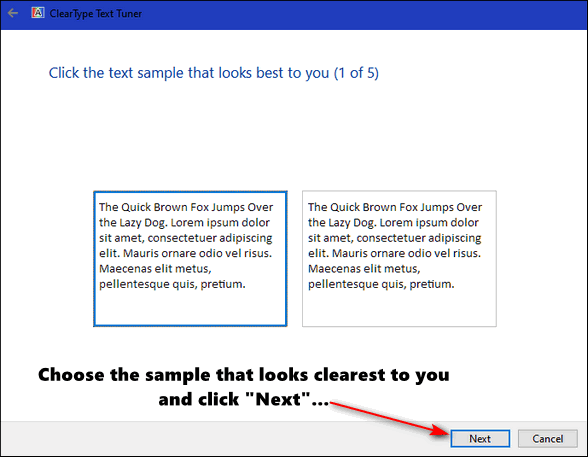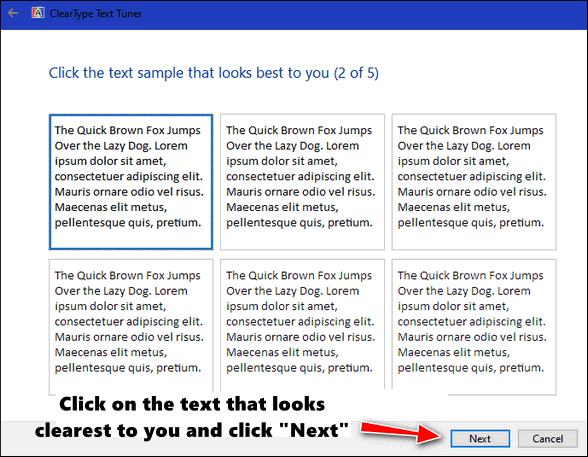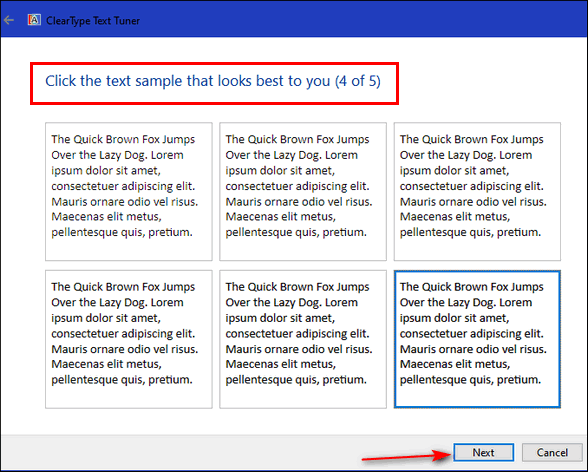 5.) You've reached the end. All you need to do now is click "Finish". And hopefully, the text on your screen or monitor will be clearer and easier to read than it was before you started.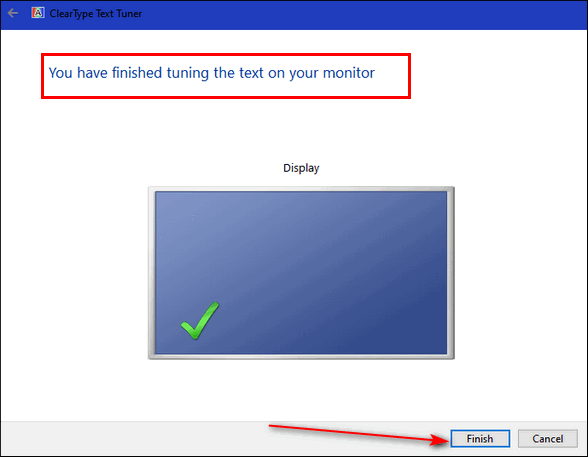 How to Add an Account Picture to Your Windows 10 User Account
Windows 10 (all supported versions)
It's easy to add a picture to your Windows 10 user account. You can use your smiling face for your account picture, your grandkid, your spouse, your girlfriend, boyfriend, significant other, your record-breaking pumpkin, tulip, or whatever tickles you. I am sorry for the geek-speak <grin>.
Let's do it, shall we?
Type YOUR INFO in the taskbar search and press Enter or click it when it appears in the search results.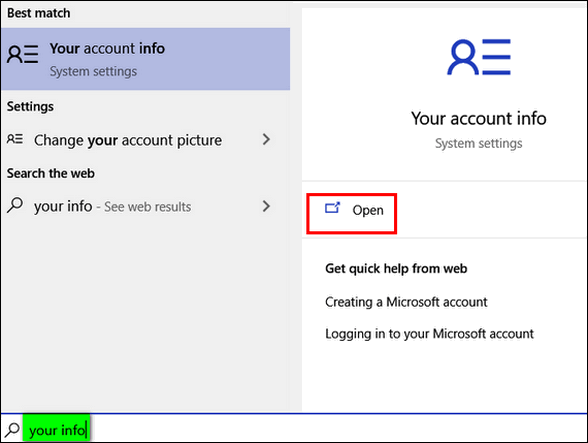 On the page that opens, look for "Create your picture". Beneath it, you'll notice you have two options. You can snap a photo of your beautiful face (or whatever) using your computer's Webcam, or you can choose a photo already on your computer.
As you can see, for my account picture, I chose a picture of myself from days long since passed – back when I was so much younger and so much wilder.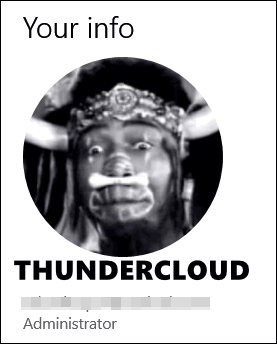 And now you know how to set your user account picture on Windows 10. You can also use the information in this tip to change your current user account picture.
Sorry ladies… I'll never be that wild and handsome again!



Try Incognito Mode to Troubleshoot Problems With Chrome
Chrome browser (works in other browsers as well - see ** below)

If you are having problems with Chrome, the easiest way to make sure that it's not a browser extension causing your problem(s) is to open Chrome in Incognito mode. To open Chrome in Incognito mode, right-click on its shortcut and choose "New incognito window". Incognito mode disables all extensions automatically*. Try browsing with Chrome in Incognito mode for a few minutes and see if you still have the same problems. If you don't have any problems while using Chrome in Incognito mode, then chances are good that one of your extensions is causing your problem(s). You can disable each extension, one at a time until you find the culprit that's causing your problem(s). You can then choose to leave the extension disabled, remove it, or check to see if there's an updated version
If you're still having problems, then it's most likely not a problem caused by a browser extension. In that case, you might want to consider resetting Chrome by following the instructions on this page. That page also has instructions for fixing Chrome by completely removing Chrome and reinstalling it. If you choose to re-install Chrome, be sure you export and save your bookmarks first - otherwise you'll lose them. To learn how to save your Chrome bookmarks, see this Cloudeight tip.
*Incognito mode in Google Chrome disables all extensions except ones you have explicitly chosen to allow in Incognito mode. Most of you shouldn't have to worry about that.
**Other browsers offer versions of Incognito mode usually called Private Browsing (Firefox) or In-Private mode in Microsoft Edge (new Edge included) and Internet Explorer. Use your browser's Private or In-Private mode to troubleshoot problems with extensions.

Want more tips, tricks, and information?
We have thousands of Windows tips, tricks and more on our InfoAve web site.
Subscribe to our free InfoAve Daily newsletter.







Our annual winter donation continues. If you don't need any of our products or services right now, please help us with a donation. Even the smallest gift is appreciated. Every donation helps us to provide useful information that helps you with your computer as well as helping to keep you safe on the Internet. We offer free help to thousands of people every year... and we offer an honest and inexpensive computer repair service too. We do everything we can to help you with your computer and keep you safe too.

So if you don't need any of our products or services right now, please consider helping us with a small donation. If you're not a Cloudeight Booster already, you'll be invited to join our boosters after you make a donation of any amount. Our boosters get freebies and special booster-only offers

Please help us by making a donation right now. Thank you!

Interested in making an automatic monthly gift? Visit this page. Help us keep helping you... and helping you stay safe on the Web.




FotoSketcher
Have you ever wished you were an artist and could paint or sketch Arcadian scenes or beautiful bucolic landscapes? Most of us aren't so talented; we have to rely on the talent of others to provide us with beautiful paintings and sketches, and other works of art.

But I think at some time or other, we've all wanted to create beautiful works of art but only a few of us have the talent. That's where our freeware pick "FotoSketcher" can help. With it, you can take your digital photographs and turn them into pen & ink drawings, pencil sketches, watercolor paintings, oil paintings and more. Best of all you don't need any talent – just play around with the settings until you get the look you want and click "File" "Save as", give it a name and that's it! That's all the talent you need.

And, we're not kidding when we say that this is one of our best freeware picks ever – everyone can have fun with it and everyone can use it. You don't have to be a software engineer, a computer expert… heck, you don't even need to read the help files to use FotoSketcher. Just fire it up and use it. Play around and you'll create something unique. Honest! We're not kidding!
Here, take a look at some of the things we created while testing FotoSketcher. None of these examples took more than a couple of minutes to do. We could have made these look even better had we taken more time and messed around the program's slider adjustments and settings a bit more. But, hey, it looks great to me – how do these look to you?
Below you can see FotoSketcher's simple, clean, and modern interface. It even comes with a bird to help you get started.
We took a picture of a seascape with a lighthouse…

And made it look more like a painting than a photograph…
And playing around with FotoSketcher a bit more, we made it look like a watercolor painting…
And how about a pencil sketch?
I created all of the variations of the pictures shown above in just a minute or two using FotoSketcher.
How about a word from the developer of FotoSketcher?
About FotoSketcher

Message from David, creator of FotoSketcher

FotoSketcher is a 100% free program for Windows (there is also an experimental version for MacOS) which converts your digital photos into art automatically and in just a few mouse clicks. Over 20 different styles are available from pencil sketches to watercolor or oil paintings, pen & ink drawings, abstract art and cartoons. From photo to painting (landscapes, architecture, portraits, etc.) in seconds!

You can also improve your original photos with simple tools (enhance contrast, sharpen, simplify image, increase luminosity, color saturation etc…) and add simple or realistic frames and text.

For advanced users, some more powerful tools allow you to batch process several images, manually retouch some areas of your pictures, combine multiple filters and even create your own effects by using the script function.

FotoSketcher is completely free (even for commercial use, if you wish to sell your pictures) and does not contain any adware, spyware or virus. It runs on Microsoft Windows XP, Vista, 7, 8, 8.1 and the latest Windows 10 (an experimental Mac version is also available from the download page).

I have created FotoSketcher as a fun project and I hope that you will enjoy using it…
FotoSketcher comes as a standard Windows installer and as a portable version (no installation needed- just click and run). You can learn more about FotoSketcher here. The download page is here. Have fun.






VERSION 8.43 NOW AVAILABLE!
If you purchased or renewed Reg Organizer through Cloudeight within the last 12 months, you're entitled to a free version upgrade to Reg Organizer 8.43.

Save $14 on Reg Organizer right now!

Reg Organizer - A Swiss Army Knife of Windows Tools - Works Great on Windows 10!


In the Twilight Time

Some nights I have trouble drifting off to sleep.

I have so much on my mind: The events of the day, swirling; troubles bubbling up, worries weighing heavily, all stirred together into a dark disturbing dissonance. Most nights, however, when the convergence of daily troubles and worries from days and weeks and months before, becomes dim and ephemeral — still I usually fall into a dreamless, restless sleep.

Ironically, the soundest sleep I experience is the sleep right before the alarm clock rings when I have to get up and get ready to face the challenges, surprises, and wonders of the new day. There's a Twilight Time in which I live when I first awaken that is the antithesis of the troubled moments at night when I'm trying to fall asleep. The moments of the Twilight Time are pure, innocent, peaceful, full of grace and far too evanescent.

The Twilight Time is what I call the brief interlude of magical moments and bliss...
Please read the rest of this essay here.



❤

Don't forget our Valentines' Sale!

❤
Buy one Cloudeight Direct Computer Care key & Get one for $14! Details here.
Buy a Cloudeight Direct Computer Care Senior Pass for $14 off and get one year of computer care & repair. Details here.




What is UEFI?

UEFI is a modern update to one of the oldest things in our computers - the BIOS. UEFI stands for Unified Extensible Firmware Interface, which probably means nothing much to you. It means nothing much to us either, except it's pretty

The BIOS is just a bridge between your computer's hardware and software. The BIOS has settings you can change if you know what you're doing. But the interface is rather DOS-like and scary if you've never seen it before. On most computers, you can access the BIOS by pressing the F2 key during the boot process - before Windows boots. Your computer may have a different way to access the BIOS.

Almost all of us have had to fool around with the BIOS at one time or another to change some basic aspects of our computer, like, for instance, setting a boot order. Besides the "What are you doing here in the BIOS, you're not a geek" interface, BIOS has other limitations

Here are some of them.

Limitations of BIOS:

-- It uses a 16-bit Mode - you can tell by how it looks

-- It just has just 1 MB usable memory. You can't add a lot of features when you only have 1 MB of memory. This has not changed at all since 1995.

--It cannot fully use all the features of a 64-bit Operating System

-- It does not support hard drives larger than 2 TB.

Advantages of UEFI:

-- Support for IPv6 – which probably means nothing for a home user, but for big corporate networks, this is important.

-- Can use all the features of 64-bit Operating Systems and USB Drives (especially USB boot drives)

-- Has a modern graphical user interface (GUI) that even the newest user can understand without much difficulty.

-- Built-in native protection against Rootkit infections (which are well-known for their ability to "run" before your operating system starts).

-- Has no 1 MB limit like BIOS – this allows a lot more features to be built-in. We're probably going to see new features added as time passes.

-- Supports hard drives that are larger than 2 TB

-- Faster Boot-up and Hibernate.

Wikipedia says that UEFI can be used on top of or instead of BIOS in your PC. A lot of computers are shipped with a BIOS where there is an option to enable UEFI boot.

Most new PCs come with UEFI compatibility.

Want to find out if your computer uses UEFI?

Press and hold the Windows Key and tap the R key. In the Run command, type MSINFO32 and press Enter to open System Information.

If your PC uses BIOS, it will display Legacy. If it is using UEFI, it will display UEFI.

See?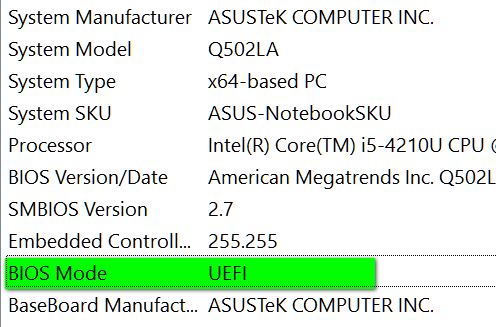 Sales of the following products and services help support our newsletters, websites, and free computer help services we provide.

Cloudeight Direct Computer Care: Single Keys, SeniorPass or Season Tickets - always a great deal. Cloudeight Direct Computer Care is like having PC insurance. Get more information here.

Emsisoft Anti-Malware: Emsisoft is the only Cloudeight endorsed and recommend Windows security program. It provides users with a complete antivirus, antimalware, anti-ransomware, anti-PUPs solution. We offer single Emsisoft licenses and multi-computer licenses at discount prices. Also, we offer our exclusive Emsisoft with Cloudeight installation & setup. Get more information here.

Thunderbird Email Setup: Thunderbird is a great email program that you can use with your Gmail and Outlook.com (Hotmail) webmail accounts as well as with your Internet provider's email. We'll set it up correctly you. Our set up includes configuring up to 3 email accounts and setting up Thunderbird to use stationery (if desired). Our Thunderbird Email Setup Service is always a great deal. For more information visit this page.

Reg Organizer: Reg Organizer is the Swiss Army Knife of Windows tools. It's far more than just a registry optimizer and cleaner... it's a Windows all-in-one toolkit. Reg Organizer helps you keep your computer in tip-top shape and helps you solve annoying Windows problems. Reg Organizer works great with Windows 10! Get more information about Reg Organizer (and get our special discount prices) here.




Premium Subscribers' Home Page. You'll find the last few weeks of Premium archived on this page.
To change your subscription address, see "Manage your subscription" at the bottom of this newsletter.
Submit your questions, comments, and suggestions for possible inclusion in our newsletters here. This form is for questions, comments, and suggestions for this newsletter. This form is not for product support, stationery questions, or general questions concerning our products or services.
Send us your suggestions and recommendations for future freeware picks and/or sites of the week
Help us Grow! Forward this email newsletter to a friend or family member - and have them sign-up for InfoAve Premium here!
Get our free daily newsletter! Each evening we send a short newsletter with a tip or trick or a computer-related article - it's short and sweet - and free. Sign-up right now.
Have a question about a Cloudeight Software program, service, stationery, or need to ask about an order? Let us know!
If you need help with one of our software programs, have a question about an order, or have a question about any of our email stationery, screensavers, or other products - please don't use our InfoAve Questions/Answers/Tips form. Use our general Cloudeight support form instead.
Print our Cloudeight Direct Flyer and spread the word about our computer repair service! If you want to help us by telling your friends about our Cloudeight Direct Computer Care service, you can download a printable flyer you can hand out or post on bulletin boards, etc. Get the printable PDF Cloudeight Direct Computer Care flyer here.




These products and services are recommended and endorsed by Cloudeight:
Also... don't forget:




We'd love to hear from you!

If you have comments, questions, a tip, trick, a freeware pick, or just want to tell us off for something, let us know.

If you need to change your newsletter subscription address, please see "Manage your subscription" at the very bottom of your newsletter.

We received hundreds of questions for possible use in IA news. Please keep in mind we cannot answer all general computer questions. We try to personally answer as many as we can. We can only use a few to in each week's newsletter, so keep this in mind. If you have a support question about a service or product we sell, please contact us here.





Subscribe to our Daily Newsletter!

Get computer tips & tricks every night. Our daily newsletter features a computer tip/trick or two every day. We send it out every night around 9 PM Eastern Time (USA). It's short and sweet, easy-to-read, and FREE. Just visit this page and sign-up. All you have to enter is your email address. Once you confirm your subscription, you'll receive our daily newsletter every day, six days a week. You can unsubscribe at any time.

Print our Cloudeight Direct Computer Care Flyer!

Print our Cloudeight Direct Computer Care Flyer and spread the word about our Cloudeight Direct Computer Care repair services. Get our ready-to-print flyer here.





We hope you have enjoyed this issue of InfoAve Premium. Thanks so much for your support and for being a Premium subscriber.

Have a great weekend.

Darcy & TC
Cloudeight InfoAve Premium - Issue #853
Volume 17 Number 17
February 14, 2020

Not a subscriber? Subscribe to our InfoAve Premium Newsletter today. It's free!

Share Us on Facebook!
We'd love for you to share us with your family and friends on Facebook. Help us by sharing us on Facebook!






"Cloudeight InfoAve Premium" newsletter is published by:

Cloudeight Internet LLC
PO Box 73
Middleville, Michigan USA 49333-0073

Read our disclaimer about the tips, tricks, answers, site picks and freeware picks featured in this newsletter.

Copyright ©2020 by Cloudeight Internet