Three Free Cleanup Programs to Replace CCleaner
A couple of weeks ago, Microsoft warned Windows 10 users not to install CCleaner… a once highly regarded Windows system cleaner that was subsequently purchased by Avast which led to a lot of controversies as Avast started using CCleaner to spy on its users, as an advertising billboard for Avast antivirus, as a way to entice users to download a software bundle, etc. You can read more about that here.
There are dozens of free cleaners available and we've tested a few for you. Those are Cleanmgr+, BleachBit, and PrivaZer. Let's take a look at each one of them.
---
Cleanmgr+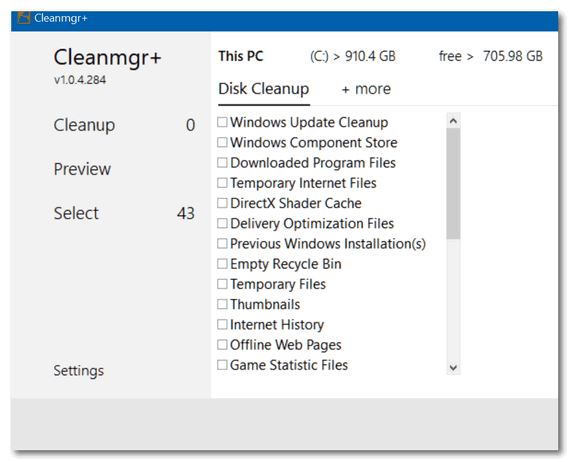 We first recommended Cleanmgr+ in March of 2019. That was when Microsoft first announced they were deprecating Windows Disk Cleanup (cleanmgr.exe). Well, it's August 2020, and Windows Disk Cleanup is still alive and well in Windows 10 version 2004…
However, if you're looking for a heftier cleanup program with more features than Windows Disk Cleanup, that is safe and easy to use, then Cleanmgr+ may be just the cleanup program for you if you're looking to replace CCleaner.
From the Cleanmgr+ web site…
"There are many Disk Cleaner utilities out there, but the goal with this one was to create a tool that uses Windows own resources ensuring that only system-compliant actions are performed.

Find the full list of all available options below.
Windows Update Files
Windows Component Store (WinSxS folder)
Downloaded Program Files
Temporary Internet Files
Offline webpages
Delivery Optimization Files
DirectX Shader Cache
Recycle bin
Temporary files
Thumbnails
Game Statistic files
Files discarded by Windows upgrade
For a complete list of items cleaned, for more information and/or to download Cleanmgr+, read our original recommendation here (it's a bit outdated) or go straight to the Cleanmgr+ home page.
---
BleachBit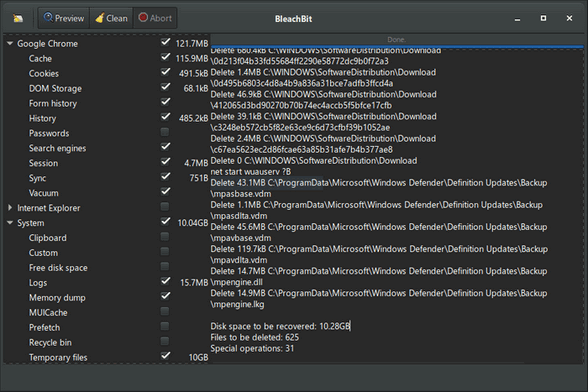 BleachBit is one of our Cloudeight freeware picks. If used with its default settings it is easy enough to use that just about anyone can safely use it.
From BleachBit…
"BleachBit has many useful features designed to help you easily clean your computer to free space and maintain privacy…

"When your computer is getting full, BleachBit quickly frees disk space. When your information is only your business, BleachBit guards your privacy. With BleachBit you can free cache, delete cookies, clear Internet history, shred temporary files, delete logs, and discard junk you didn't know was there. Designed for Linux and Windows systems, it wipes clean thousands of applications including Firefox, Adobe Flash, Google Chrome, Opera, and more. Beyond simply deleting files, BleachBit includes advanced features such as shredding files to prevent recovery, wiping free disk space to hide traces of files deleted by other applications, and vacuuming Firefox to make it faster. Better than free, BleachBit is open source…"
Read more, including our review, here.
---
PrivaZer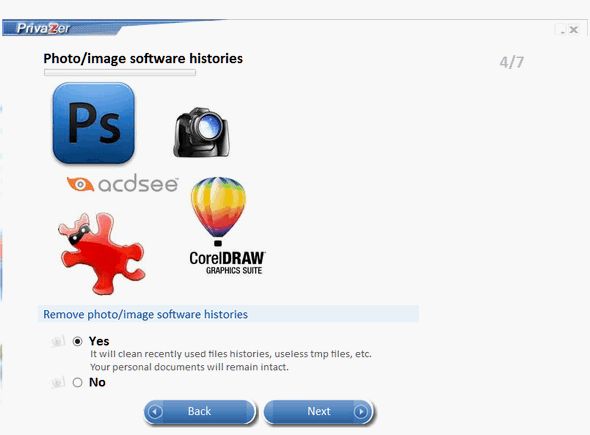 PrivaZer is almost like a cult favorite. It has a very loyal following. And for the most part, PrivaZer does what it claims to do – even when used with its default settings. Yet, PrivaZer is extremely robust and continues to be a favorite among advanced users who like to twiddle around with PrivaZer's advanced settings.
After re-testing it again today, we think some of you who are not-so-advanced users will find PrivaZer useful right out of the box… without messing around with its advanced features.
PrivaZer is certainly is one of the most complete and powerful free system cleaners available. It has never been one of our freeware picks although some of our readers have recommended it. We have tested it several times and found it to be safe if used with its default settings
From PrivaZer's web site:
With simply one click, PrivaZer is able to clean securely

. Internet browsers
. Index.dat
. Cookies
. Cookies Tor
. Cookies Flash
. Cookies Silverlight
. DOM Storage
. IndexedDB
. AppCache

. Registry
. RAM
. Pagefile.sys and Hiberfil.sys files...
See the PrivaZer website to see the entire list of items it cleans.
PrivaZer is a cleanup tool that many highly recommend. We recommend it if you use it with care. To get the most from PrivaZer, be sure to read the documentation and instructions.
Read more about PrivaZer and/or download it here.




Mr. Mike
He was short, that's for sure. I'm not a tall man, but I was a head taller than Mike. That's all I knew about Mr. Mike. He was not very tall. He was a rather small man.
For the longest time, Mike and I would pass each other on our daily walks. We'd say "hi" as we passed each other on the path. Sometimes we'd even comment on the weather… "It's a beautiful day." "It's a hot one today!" "Looks like it's going to rain…" Just short observations – pleasantries really. Small talk, if you will.
I must have passed Mike a thousand times over the years. We both walked a lot and we both walked around the same time. Funny — we didn't know each other – we didn't even know where the other lived.
We were just passers-by on the walking trails, exchanging brief pleasantries, and light small talk.
Then one day it occurred to me maybe it would be nice to introduce myself to Mike – the whose path I crossed so many times on my daily walks. But, I'm a procrastinator. The idea in my head sounded much better than the situational reality.
Winter, spring, summer, and fall,
I passed Mr. Mike but didn't know him at all.
So many times I meant to keep the promise I made to myself...
Please read the rest of this essay here.


VERSION 8.50 NOW AVAILABLE!
If you purchased or renewed Reg Organizer through Cloudeight within the last 12 months, you're entitled to a free version upgrade to Reg Organizer 8.43.

Save $14 on Reg Organizer right now!

Reg Organizer - A Swiss Army Knife of Windows Tools - Works Great on Windows 10!


What are browser extensions?

Browser extensions are add-ons for your browser that add extra features or add new functions to your browser.

Extensions can be very useful and helpful - they can also be malware. It's important to install extensions only from legitimate sources like the Chrome store (works with Edge also). Never install extensions that come bundled with freeware unless your certain you know they are safe.

The following are examples of useful browser extensions:

1. LastPass (Password manager)
2. RoboForm (Password manager)
3. Mercury Reader (Makes reading web pages easier)
4. Privacy Badger (Blocks some adds and improves user privacy)

There are tens of thousands of extensions for Chrome, Edge, Firefox and other browsers.

(Thanks to Aria for asking the question that led to this week's "Back to Basics" tip.)






Help Us During our Summer 2020 Donation Drive
If you don't need any of our products or services right now, consider helping us with a small donation.
When you support us with a small gift, you help us continue our mission to keep you informed, separate the truth from the hyperbole, and help keep you safe online. And our computer tips make your computer easier to use.
Did you know that we provide support to thousands of people? Every week we help dozens of people via email at no charge. The questions and answers you see in our newsletters are from the email answers and help we provide to everyone free of charge.
Thanks to your gifts, we do a lot more than provide this free newsletter. We help you recognize online threats, fight for your online privacy, provide you with the knowledge you need to navigate the Web safely, provide you with suggestions for safe, free software and websites, and help you get more out of your PC.
Please Help us keep up the good fight with a small gift.
Interested in making an automatic monthly gift? Visit this page. Help us keep helping you... and helping you stay safe on the Web.




Sales of the following products and services help support our newsletters, websites, and free computer help services we provide.

Cloudeight Direct Computer Care: Single Keys, SeniorPass, or Season Tickets - always a great deal. Cloudeight Direct Computer Care is like having PC insurance. Get more information here.

Emsisoft Anti-Malware: Emsisoft is the only Cloudeight endorsed and recommended Windows security program. It provides users with a complete antivirus, antimalware, anti-ransomware, anti-PUPs solution. We offer single Emsisoft licenses and multi-computer licenses at discount prices. Also, we offer our exclusive Emsisoft with Cloudeight installation & setup. Get more information here.

Thunderbird Email Setup: Thunderbird is a great email program that you can use with your Gmail and Outlook.com (Hotmail) webmail accounts as well as with your Internet provider's email. We'll set it up correctly you. Our set up includes configuring up to 3 email accounts and setting up Thunderbird to use stationery (if desired). Our Thunderbird Email Setup Service is always a great deal. For more information visit this page.

Reg Organizer: Reg Organizer is the Swiss Army Knife of Windows tools. It's far more than just a registry optimizer and cleaner... it's a Windows all-in-one toolkit. Reg Organizer helps you keep your computer in tip-top shape and helps you solve annoying Windows problems. Reg Organizer works great with Windows 10! Get more information about Reg Organizer (and get our special discount prices) here.
SeniorPass - One year of Cloudeight Direct Computer Care - unlimited sessions! Get more information here.




These products and services are recommended and endorsed by Cloudeight:




We'd love to hear from you!

If you have comments, questions, a tip, trick, a freeware pick, or just want to tell us off for something, let us know.

If you need to change your newsletter subscription address, please see "Manage your subscription" at the very bottom of your newsletter.

We received hundreds of questions for possible use in IA news. Please keep in mind we cannot answer all general computer questions. We try to personally answer as many as we can. We can only use a few to in each week's newsletter, so keep this in mind. If you have a support question about a service or product we sell, please contact us here.

Subscribe to our Daily Newsletter! Get computer tips & tricks every night. Our daily newsletter features a computer tip/trick or two every day. We send it out every night around 9 PM Eastern Time (USA). It's short and sweet, easy-to-read, and FREE. Subscribe to our Cloudeight InfoAve Daily Newsletter!

Print our Cloudeight Direct Computer Care Flyer and spread the word about our Cloudeight Direct Computer Care repair services. Get our ready-to-print flyer here.





We hope you have enjoyed this issue of Cloudeight InfoAve Weekly. Thanks so much for your support and for being an InfoAve Weekly subscriber.

With hope and prayers, may you and your loved ones stay safe and well.

Your friends at Cloudeight,

Darcy and TC
Cloudeight InfoAve Weekly - Issue #879
Volume 17 Number 42
August 14, 2020

Not a subscriber? Subscribe to our FREE Cloudeight InfoAve Weekly Newsletter here.

Subscribe to our Cloudeight InfoAve Daily Newsletter!

Share Us on Facebook!
We'd love for you to share us with your family and friends on Facebook. Help us by sharing us on Facebook!






"Cloudeight InfoAve Weekly" newsletter is published by:

Cloudeight Internet LLC
PO Box 73
Middleville, Michigan USA 49333-0073

Read our disclaimer about the tips, tricks, answers, site picks, and freeware picks featured in this newsletter.

Copyright ©2020 by Cloudeight Internet