3D Fall Foliage In The Woods Screen Saver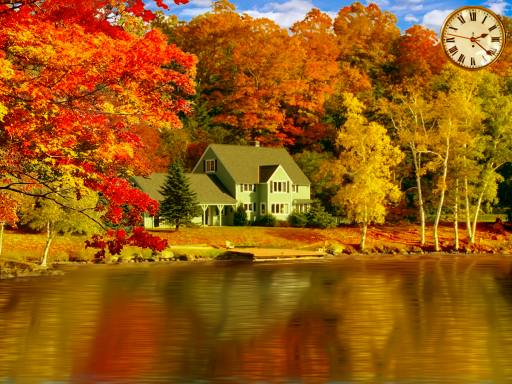 Cloudeight Premium 3D Fall Foliage In The Woods Screen Saver
Premium 3D Fall Foliage Screen Saver Features:
Realistic autumn colors, sounds, and motion

Colorful leaves fall and dance in the air

Tree boughs sway in the breeze

A realistic river ripples and flows peacefully by a cottage

Dazzling autumn colors: A perfect fall day whenever you wish

Ducks fly away above the lovely autumn trees

Clock displays the current time in the screen saver

Other user-configurable options

More!
Details: Our Cloudeight 3D Fall Foliage In The Woods animated screensaver lets you enjoy a perfect New England autumn day, anytime you like! Watch as the lush forests of New England dazzle you with an unending blaze of amazing colors, sounds, and motion. It's like having autumn at your fingertips no matter what time of year it is! This beautiful screensaver ets enjoy a sunny, quiet autumn afternoon in New England. Hear the sounds of autumn, water rippling, and experience a New England autumn right on your own computer - anytime you like!
Watch the autumn woods, a beautiful cottage, a peaceful river rippling by, leaves dancing in the air, and the boughs of a resplendent autumn tree swaying gently in the autumn breeze. And, if you watch carefully, you might just see several ducks flying high above the autumn landscape heading for their winter habitat.
All of our Premium Screen Savers are free from badware, adware, malware, spyware, software bundles, other software, browser exploits and/or search engine exploits.
All our Premium 3D screen savers (like all our Cloudeight products) are free from adware, spyware, malware, trickware, bundled software, browser/search engines exploits and other questionable software. Cloudeight guarantees that all our products including our Premium 3D Screen Savers are free from any questionable software or practices. Cloudeight products are always 100% safe for you and your family.
The only advertising you'll ever seen with any Cloudeight Product appears on our Web site and not on your computer. The advertising you see on this page supports the cost of operating this Web site. No ads will ever appear on your computer from any Cloudeight product. You have our word on that too!
All Cloudeight Premium 3D Screen Savers are compatible with Windows 98, ME, NT, 2000, Windows XP and Windows Vista and all versions of Windows 7!
Home | Free Trial | Buy Now | About | Help | Contact | Free Email Stationery
All content is