3D Tropical Butterflies Paradise Waterfall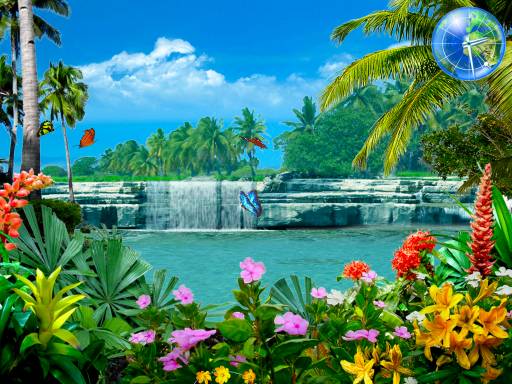 Cloudeight Premium 3D Tropical Butterflies Paradise Waterfall Screen Saver
Premium 3D Tropical Butterflies Paradise Waterfall Features:
Realistic waterfalls cascade over terraced tropical cliffs
Multi-colored tropical butterflies dart around tropical flowers
True-to-life tropical plants and foliage
Change the number of butterflies
Turn the realistic waterfall sounds on or off
Ornate clock displays the current time in the screen saver
Other user-configurable options
Details: Our Cloudeight 3D Tropical Tropical Butterflies Paradise Waterfall animated screensaver features a majestic waterfall cascading over a cliff in this scene from paradise! Watch as the multi-colored tropical butterflies fly over and around exotic tropical flowers and foliage. You'll never be bored with this colorful, realistic, animated screen saver! Our 3D Tropical Butterflies is a treasure of visual delights and ever-changing scenes. Buy our Premium 3D Tropical Butterflies Paradise Waterfall Screen Saver right now for just $7.95 and enjoy this screen saver on your home computers for years to come.
This screen saver like all our Cloudeight products is free from adware, spyware, malware, trickware, bundled software, browser/search engines exploits and other questionable software. Cloudeight guarantees that all our products including our Premium 3D Screen Savers are free from any questionable software or practices. Cloudeight products are always 100% safe for you and your family.
The only advertising you'll ever seen with any Cloudeight Product appears on our Web site and not on your computer. The advertising you see on this page supports the cost of operating this Web site. No ads will ever appear on your computer from any Cloudeight product. You have our word on that too!
All Cloudeight Premium 3D Screen Savers are compatible with Windows 98, ME, NT, 2000, Windows XP and Windows Vista and all versions of Windows 7!
Home | Free Trial | Buy Now | About | Help | Contact | Free Email Stationery
All content is