Dear friends,
Thank you all so much for your support and for subscribing to this newsletter. If you need to change your subscription information, please use the link at the bottom of this newsletter - "Manage your subscription".
We're introducing a new stationery collection today entitled "Seasons of Life". And we have some other very interesting offers for you too!
Let's get started...
---
Cloudeight Direct Computer Care
We can fix your computer!
We all know that sooner or later our computers are going to start having problems. We can help you with any computer need -- from diagnosing and fixing Windows problems - to setting up a wireless network for you - to safeguarding by creating an image-based backup (the only kind that really works when you really need it to work) - to cleaning up your computer and optimizing it -- and more. We can do almost anything you need done and we guarantee our work - you're either satisfied or we'll refund your money.
New! Want help using stationery?
New! Want to learn how use our stationery? We'll give you a private lesson and teach you how to use our stationery with Outlook Express, Windows Mail, Thunderbird, Windows Live Mail and Outlook 2010. If you're interested in a getting personal one-on-one session and learn how to use stationery in your email program, please visit this page.
Do you need your computer repaired? Compare our Prices and Experience!
We'd like to show you how our current prices compare to a leading computer repair service. And remember - Geek Squad "technicians" get two-weeks of training, but we've been helping people with their computers for over 12 years.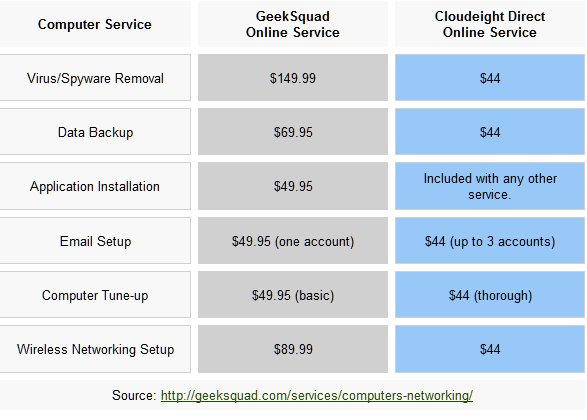 Our computer tune up is a complete tune up - unlike the 10-minute tune-up Geek Squad offers for $49.99. Wish we could feel good about making $49.99 in ten minutes :-).
We offer many other computer services too! If you have a problem with your computer - we can fix it! .
Get more information and lock-in our current pricing by getting your Cloudeight Direct Computer Care service keys right now.
Our new Two-Session Key is on sale today!
You can't beat our service -- or our prices -- anywhere.
---
Do you know about our Cloudeight InfoAve Premium Newsletter?

Our InfoAve Premium Newsletter is one of the best sources of computer information available anywhere. Each Friday our Premium subscribers dozens of computer tips, tricks, answers, and articles that help to make them better and safer computer users.
This week we are offering you as well as our Information Avenue free newsletter to take a peak inside a Cloudeight InfoAve Premium newsletter. And we're making an offer you can't refuse... a lifetime subscription to InfoAve Premium plus a free Cloudeight Direct Computer Care computer checkup all for just $21.95. Imagine - a lifetime of computer tips, tricks, freeware picks and other information that can keep you safer on the Web and make you a better computer user.
Read a sample of our latest InfoAve Premium newsletter here -- or jump right in and get a Lifetime subscription to our InfoAve Premium newsletter plus a FREE Cloudeight Direct Computer Care computer or laptop checkup -- all for just $21.95.
InfoAve Premium Lifetime Subscription + a Free PC or Laptop Checkup
---
SUPERAntiSpyware is back! And you'll save big with this Cloudeight Exclusive offer
We're offering SUPERAntiSpyware Professional (one-year subscription) for just $18.95 -- that's $11.00 off the regular retail price of $29.95.
Get the best antispyware protection for your computer and save big. This is a limited time offer so act now!
---
Reimage: Never reinstall Windows again!
Another Cloudeight exclusive! Reimage can repair damaged Windows systems by replacing missing or damaged Windows system files from their huge repository of pristine Windows system files. So before you reinstall Windows and risk losing your data, give Reimage a try.
You can get a one-year subscription to Reimage for just $39.99 -- that's a $30 savings off the regular price of Reimage. This is an exclusive offer for Cloudeight subscribers.
---
Seasons of Life
Our newest Cloudeight stationery collection
Our Seasons of Life stationery collection celebrates the two seasons of life: spring and summer. In the seasons of life the world comes alive with life and color. We hope you enjoy our Seasons of Life Stationery collection.

This collection is created in several formats and will work in Outlook Express, Windows Mail, Thunderbird, Windows Live Mail and Outlook 2010. Our Hoppy Easter Stationery Collection.
Visit this page to preview all 10 stationery designs in our Seasons of Life collection.
We appreciate your support and we very much appreciate your donations, purchases and emails!
Would you like to learn to use stationery? Visit this page to learn more about our new one-on-one Cloudeight Direct Stationery Learning Session.
---
Special Offers On Computer Related Products
Registry Commander - Take command of the Windows registry and save $10.00 off the retail price!
Captain Optimizer -- Be the captain of your computer - tweak, control, configure, clean and more! Save $10.00 off the retail price!
HubbaDogs! We have 'em. Cute dog-shape 4-port USB hubs. Get yours while we still have them!
---

---
Please help support Cloudeight by using our Start Page. Our Start Page now has over 100 free games you can play, plus breaking news and daily tips and tricks. It costs nothing to use our Start Page - and you don't even have to register. Use our Start Page as your start page and you'll be helping us without spending a dime
We'll be back soon with another new Cloudeight Stationery Collection. In the meantime we hope you enjoy our new Seasons of Life stationery Collection for Windows Live Mail, Windows Mail, Outlook Express, Thunderbird and Outlook 2010.
Thanks so much!
We will be back soon with another new collection of Cloudeight Stationery!
Best wishes,
Eightball and Thundercloud
Cloudeight Stationery
---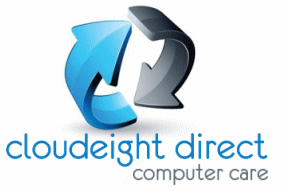 Cloudeight Direct Computer Care:
We make fixing your computer fun -- while we get the job done!
Your satisfaction is guaranteed or we'll give you your money back.
Get more information about our Cloudeight Direct Computer Care service here.
---
This newsletter was published by:
Cloudeight Internet
PO Box 73
Middleville, Michigan USA 49333-0073