EMSISOFT ANTI-MALWARE IS OUR #1 CHOICE FOR MALWARE PREVENTION AND DETECTION!
Works with all versions of Windows
Return to our Emsisoft Anti-Malware Order Page
More Information about Emsisoft Anti-Malware
Isn't Emsisoft Anti-Malware an anti-virus too?

Yes. But we tested it along side of Microsoft Security Essentials and had no problems at all. In Windows 8.1 it shows up in the Action Center as the anti-malware/anti-spyware program, while Windows Defender shows as the antivirus program. In Windows 7 it shows a having two antivirus programs -- and warns agains running two antivirus program; we had no problems at all.
But make no mistake, Emsisoft is the best anti-malware anywhere and its anti-virus capabilities ranked number one in independednt lab tests conducted by A V Comparitives.

We suggest if you're using Norton, McAfee, Trend Micro, or some other intensive security suite that you uninstall them before installing Emsisoft Anti-Malware. You'll save system resources and get much better protection -- guaranteed.

If you're using Avast Anti-Virus, AVG Anti-Virus, you should try Emsisoft running along with them to see how it works - we didn't test Emsisoft with AVAST or AVG. You certainly would be well protected just having Emsisoft running.

If you're using Microsoft Security Essentials, you can do what we're doing and run them both - none of our computers have had any problems with both running -- but your results my vary from ours.
Here's what Emsisoft has to say:

Is Emsisoft Anti-Malware fully compatible with other antivirus or firewall tools?

Yes.

Emsisoft Anti-Malware was originally designed to be a complementary product to antivirus and firewall software. Today it is no longer complementary, but instead is a full replacement for any antivirus software. However, it is still compatible with nearly all other security software.

If you encounter a problem in combination with another program, please let us know. We will solve the problem as quickly as possible.

Please note that you should turn off other resident guards (real-time protection) while running a scan with Emsisoft Anti-Malware or each file will be scanned twice, resulting in a very lengthy scan time.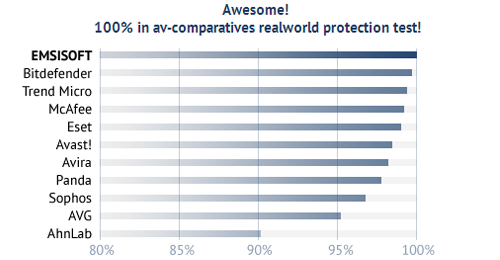 ---

Isn't Emsisoft Anti-Malware freeware?

Yes and no. By default Emsisoft Anti-Malware installs as a free fully functional 30 day trial version. After the trial period you can either choose to buy a full version license or switch to the limited freeware mode. The freeware mode still allows you to scan and clean infections, but it doesn't provide any real-time protection to guard against new infections. It's useful as a second opinion scanner but you should NEVER rely on the freeware mode as long term protection for your PC. Without suitable real-time protection, your PC is at risk of becoming infected very quickly.

And, keep in mind the tria doesl turn into freeware. But the freeware version does not run in real time and it does not offer Surf Shield or other guards to keep malware and other malicious files from entering your computer. The full version protects you 100% of the time - it's real time protection for the real-time threats you face every day on the Web.
Prevent malware from entering your PC with Emsisoft Anti-Malware's Surf Protection

Malicious software needs to have already been downloaded to a PC in order for real-time protection or behavior blockers to detect it. Ideally, it would be preferable if malware never entered your PC at all though. This is precisely what Emsisoft's Surf Protection is designed for. This article will enlighten you on the details of Emsisoft Anti-Malware's first layer of protection.

Would you want malware to be present on your PC? Most likely not – but in fact it already is, by the time conventional security software raises an alert. Emsisoft Anti-Malware is different, as Surf Protection warns you the moment you access malicious websites. Connections to a dangerous host are blocked completely so that no data can be exchanged.
---
How does Emsisoft's Surf Protection recognize suspicious hosts?

Just like its collection of typical malware signatures, Emsisoft Anti-Malware has a database that contains known malicious hosts. The data is derived both from publicly available lists as well as from specialized companies that Emsisoft has partnered with. To ensure maximum security, it is highly critical that this database remains up to date. To this end, the list is updated hourly, with new threats continually being added.

There are three different categories of suspicious hosts:

Malware hosts: Suspected of spreading malicious software such as trojans, adware, rootkits or viruses.
Phishing hosts: Hosts that steal passwords and other private data via fake websites.
Privacy risks: Hosts that are used for advertising or tracking.
The first two categories are automatically blocked as they are of course generally undesirable. Privacy risks as per default settings, however, are not automatically blocked as this category contains a large amount of "allegedly" legitimate websites. Among these for instance, are Facebook and eBay that track their users via advertising networks or visitor counters.
---
Why is it called "Anti-Malware" and not "Antivirus"?

Our analysis lab has determined that classic viruses only make up less than 0.5% of total threats (in 2012). Referring to our product as an "Antivirus" would therefore be wrong by definition. We're perfectionists so we have elected to use the broader term "Malware" when naming our product. "Malware" includes all types of threats, such as viruses (0.5%), rogue security software (0.5%), rootkits (1.0%), adware (2.7%), possible malicious applications (4.1%), worms (4.6%), financial malware & password stealers (5.3%), online gaming password stealers (6.9%), backdoors (13.3%) and trojans (61.3%). Please note that not all "Anti-Malware" products on the market include the same functionality and protection level.

If you're looking for instructions on how to register your copy of Emsisoft Anti-Malware, click here.

See Emsisoft in action here

Return to our Emsisoft Anti-Malware Home Page

C

lick here to cont

act us