Cloudeight InfoAve Premium
Issue #851
Volume 17 Number 15
January 31, 2020

Dear Friends,

Welcome to Cloudeight InfoAve Premium issue #851. Thank you very much for subscribing and for being a part of our Cloudeight family. We appreciate your friendship and support very much!







We are beginning our annual winter donation drive today. If you don't need any of our products or services right now, please help us with a donation. Even the smallest gift is appreciated. Every donation helps us to provide useful information that helps you with your computer as well as helping to keep you safe on the Internet. We offer free help to thousands of people every year... and we offer an honest and inexpensive computer repair service too. We do everything we can to help you with your computer and keep you safe too.

So if you don't need any of our products or services right now, please consider helping us with a small donation. If you're not a Cloudeight Booster already, you'll be invited to join our boosters after you make a donation of any amount. Our boosters get freebies and special booster-only offers

Please help us by making a donation right now. Thank you!

Interested in making an automatic monthly gift? Visit this page. Help us keep helping you... and helping you stay safe on the Web.




A comment from Sarah
I would like to thank Darcy for fixing my computer I was indeed having a bad day and she persisted and came out on top. I hope you do not have many 90 years young to deal with and you probably will hear from me again. Thank you, Sarah.

A comment from Annetta
After my session this AM, I was on my cellphone with Century Link in regards to my email password not working and wanted to change it. While the agent was on the line with me a spam (tech support scam) popped up with a message (supposedly) from Microsoft. I closed my computer. I was able to open my computer and the Century Link agent stayed with me until we could get a new password to work. ... TC did a fantastic job cleaning my computer and if it had not been for your (Cloudeight) newsletter I would have thrown up my hands and ran screaming. Just shutting down the computer was easy. Annetta.

A comment from Dave
Thanks so much for upgrading my Windows 7 computer to Windows 10. And thanks even more for making it look like Windows 7. I'm a happy camper now. I was so against getting Windows 10 that I was almost sure I was going to hate it, but now with your help, I really don't notice a huge difference at all. I actually like Windows 10 - it seems faster than Windows 7 to me. Thanks for your help with upgrading my computer and making it easy to use. Dave.

A comment from Ed
TC came to fix my computer today. My computer as a mess but he was patient and friendly and he explained what he was doing to fix up my computer. g when I was being absolutely obtuse. TC is an expert on the computer no doubt, but he took time to explain things and he made me feel comfortable. He fixed up my computer, told me how to keep it running well and he got my computer back in shape. At the end of my appointment, he said "So long, Ed. Be well, my friend". And that reminded me that after following Cloudeight for years and years, I consider TC & EB my friends. Thanks for helping me and getting my computer back in shape. Ed.

A big Cloudeight "Thank you!" to Sarah, Annetta, Dave, Ed, and everyone who took time out to write to us, share a comment and/or share us on Facebook! We appreciate your kind words and your support very much! EB & TC.




Your Purchase Helps Us!
When you purchase any Cloudeight Direct Computer Care Service, you get the best computer care and repair, at the lowest possible price. Plus, each Cloudeight Direct Computer Care service you purchase goes a long way in helping to support our small business.

Your computer fixed - while you watch!
With our Cloudeight Computer Care, we'll fix your computer while you watch. You'll be getting the best computer repair service available, at the best price, from people you trust. Our Cloudeight Direct Computer Care single repair keys are a great deal. They are good until you use them.

For more information see our Cloudeight Direct Computer Care home page!




Here are some important links for you:



Charlene has a question about changing passwords using LastPass
Hi. I installed LastPass as you recommended. I love it. I want to change my passwords every six months. I have read where security experts recommend doing that. Is there a way to use LastPass to change my passwords and if so how?

Our answer
Hi Charlene. It is a great idea to change your passwords every six months - especially on important sites like banking, government, and credit card sites. LastPass will generate new passwords for you if you want and it will change each password for you - but you have to tell it what you want to do.

So first, open your LastPass vault and go to each account for which you want to change the password. Click "Auto Change Password" and you'll see something like this: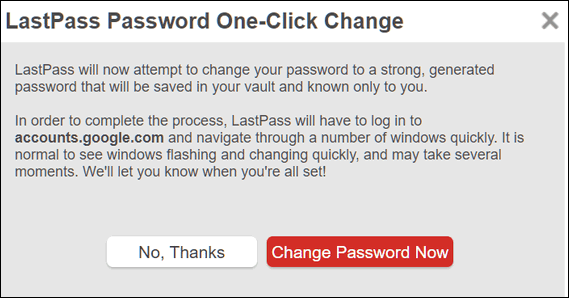 LastPass will generate a strong password, save it for that account and automatically sign you in whenever you need to log in to that site.

Keep in mind that Auto Change Password is only available on some sites, but you can manually change passwords on any site you want. You can either make up a strong password or use the built-in password generator that comes with LastPass to do it for you. Also, we have a tutorial on how to generate strong passwords here.

I hope this helps.
------
Charlene wrote back: "This really helps, TC! Thank you! Charlene."




Jerry's spell checking stopped working in Chrome
I know that Google Chrome has a built-in spell checker and it was working great, but a few days ago it stopped working. I tried to turn it back on in Chrome settings but it still doesn't work. Do you know a way to fix it? I'm thankful for you 2! Please keep up the good work. Jerry.

Our answer
Hi Jerry. Thanks so much for your nice comments. Since turning on Spell Checker in settings didn't work for you, perhaps you have something installed on your computer on an extension in Chrome that is superseding the built-in spell checker in Chrome. Or it may be that your Chrome browser is corrupted and needs to be repaired.

Try repairing Chrome and see if that fixes your problem. Just follow the simple instructions on this page.
Let me know if that works for you or if you need more help.
-----------
Jerry wrote back: "Thank you so much. I followed your instructions and repaired Chrome and my spell checker is working again! I really appreciate your help. Jerry"



Susan has a black box that covers each letter as she types
All of a sudden I am getting a small black box covering each letter as I type - especially when typing passwords when online. This all started when I followed your instructions to change my cursor size and color. I thought I followed your instructions, but maybe I missed a step. Can you help me?

Our answer
Hi Susan. You diagnosed your problem. Good job. Changing your cursor size (width) and color affects all pointers and cursors on your Windows user account. If it bothers you when you sign in then you'll need to go back to Settings > Ease of Access > Cursor & pointer size, and change the mouse pointer so it's narrower and, if necessary, change the color. Just guessing but it seems to me that you may have set your cursor to its thickest width and that can cause the problem you describe as a wide cursor can cover more than one letter or space at a time.

Try making the cursor/mouse pointer thinner. You may have to restart you computer to see changes on the log-in screen.

I hope this helps you, Susan.
-------
Susan wrote back: "Wow! Thanks! You hit the nail on the head. All fixed now. Thanks so much. Susan"



Judy wants to change her Windows 10 local account to a Microsoft account
I already have a password for my lock screen (and I really do know what it is <g>), but I want to change it to my Microsoft password. Is that doable? I know on my desktop, I get asked if I want to change the password, but my laptop doesn't give me that option. Judy

Our answer
Hi Judy. If I understand your question, you want to change your Windows 10 Local account to a Microsoft account. It that is what you want to do. You can switch your account from a local account to Microsoft account, by doing this:

1. Right-click on the Start button
2. Click on Settings
3. In Settings click on Accounts
4. Select Your email and accounts and click on "Sign in with a Microsoft account instead".
5. Type the details for your Microsoft Account.
6. Reboot the PC for the changes to take effect.

Let me know if that does the trick.
-----
Judy wrote back: "God Bless you. Thank you so much, Judy."





Wayne wants LastPass back in Chrome
First of all I would like to thank TC again for the wonderful repair he did on my Chrome Browser for my laptop. He has it working like a new computer again.

My question is how can I get my password manager " LastPass" back into my Chrome Browser. I really depend on this program for filling in passwords. As it is now I have to open a separate window and copy & paste my passwords. Any help at all will be greatly appreciated.

Our answer
Hi Wayne. Thanks so much or your nice comments!

There's an easy solution for your password manager problem. Open Chrome and click on this link https://tinyurl.com/nzqap3p, You'll end up on the LastPass for Chrome page, and you can install it right into Chrome from there. It will put a LastPass icon on your Chrome toolbar.

All you have to do then is click the icon and log in with your LastPass username (email address) and master password. When signed-in the icon will turn red. That's all there is to it!

Let me know if this helps you.
-----
Wayne wrote back: "Thank you again TC. The solution you gave for adding LastPass to my new Chrome Browser worked just fine. I am a very happy subscriber as are so others and so glad to have people like you and EB. to rely on for our computer needs. Bless you both."





Virginia has a question about drivers
It seems to me that at one time, I remember reading that Drivers were not necessary to install. But I am seeing now in my HP Support Assistant Updates that there are numerous Drivers ready to be installed. Are any in this list absolutely necessary for the running on my HP all-in-one new computer?

AMD High-Definition Graphics Driver
AMD High-Definition Graphics Driver-Picasso (Windows 10 v1909)
Realtek Bluetooth Audio Driver for Microsoft Windows
Realtek Card Reader Driver
Realtek Ethernet Driver
Realtek RTL8000 Series Bluetooth Driver for Microsoft Windows
Realtek RTL8xxx Series Bluetooth Driver for Microsoft Windows 10 (DCHU)
Realtek RTL8xxx Series Wireless LAN Drivers for Microsoft Windows 10 (DCHU)

When I type "Bluetooth" into the search box, I'm told that Bluetooth IS turned on, so I guess I have it. I don't know what DCHU stands for. The computer is running just fine after a recent factory reset, so I'm wondering if any of these updates should be downloaded & installed. Can you shed light on this question?

Our answer
Hi Virginia. If your computer and its hardware (graphics, sound, USB ports, etc.) are working properly, you don't need driver updates. Our #1 simple rule is -"If it ain't broke, don't fix it". And that has served us well for a long time.

Unless you're having problems with your PC or any of its components, you don't need to update anything except Windows.

Oh, by the way, DCHU is just a geeky acronym that refers to universal drivers (drivers that work with several different components).

My advice? If it ain't broke, don't fix it!
----
Virginia wrote back: "Holy Cow, TC! You're faster than a speeding bullet! (So you know what era I'm from, don't you?) I had remembered something from the past about not downloading drivers - must have been from you guys, I read everything you two send out. Thanks a million for that confirmation, it puts my mind at ease now."





Bev has questions about Emsisoft and updating to Windows 10 version 1909 (November 2018 Update)
Hi TC & EB. I have or had Emsisoft installed on my secondary computer but I cannot find it anywhere. I also have a 2-year repair ticket for this computer. Where could my Emsisoft program be, I don't use this machine nearly as much as my main machine, but I don't like the idea that my antivirus has disappeared.

This computer has failed to install the Windows 10 version 1909 update. What do I have to do to fix this? Bev.

Our answer
Hi Bev. Type Emsisoft in taskbar search -- if it's installed, it will appear in the results.

How did you try to upgrade to Windows 10 version 1909? Did you use Windows Update or did you download and run the Windows 10 Update Assistant?

If you haven't tried downloading & running the Windows 10 Upgrade Assistant, I recommend you give that a try.

You can download it from the following page:

https://www.microsoft.com/en-us/software-download/windows10

Click on the blue "Update Now" button to download the Windows 10 Update Assistant. Once it's downloaded, run it and follow the onscreen instructions.

If you need any more help, let me know.
-----
Bev wrote back: "Hi TC. I did as you told me with Emsisoft and I found it. Thanks for that so much. I also did the Assistant and my Dell computer now has 1909 installed. It took about 2 hours but it is good to go now. Thanks for that also. I just can't say enough about how talented you 2 are... Thanks for all your help as usual. Bev."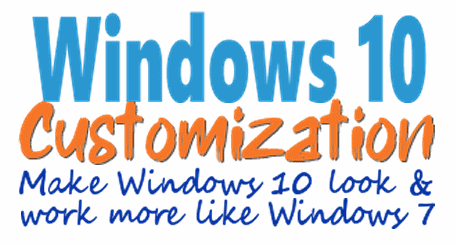 This service is for those of you who are using Windows 10 or have already upgraded from Windows 7 to Windows 10

Our Windows 10 Customization service is for those who have already upgraded from Windows 7 to Windows 10, or have purchased a new Windows 10 computer, or are currently using Windows 10 and who would like to make windows 10 look and work more like Windows 7.
With our Windows 10 customization service, we will:

Make your computer look & work more like Windows 7 by doing the following:
Change the start menu back to Windows 7 classic style and include your favorite programs
Change your taskbar and start menu colors to your preferences
Add an authentic Windows 7 start button
Add Windows 7 Wallpaper (if desired)...or keep your current desktop wallpaper.
Change Windows 10 File Explorer so it works more like Windows 7's Windows Explorer
Add My Computer -- and other familiar Windows 7 icons -- to your desktop (if desired)
Remove unnecessary Windows 10 icons from your Taskbar (your preference)
All this for just $25. See this page for more info and or to purchase our Windows 10 Transformation Service.
If you are still using Windows 7 and you'd like to upgrade to Windows 10 and then have us make it look more like Windows 7, we can help you with both! See our Windows 10 Transformation service page.


Windows 10: Local Accounts and. Microsoft Accounts
Windows 10 (all versions)

What is a Local Account?

If you've ever signed into a Windows XP, Windows Vista or Windows 7 computer, then you've already used a local account.

A local account is just a name for an account you use to access your computer. Local accounts work only on one computer.

Benefits of using a local account:

More secure: Each local account has its own password.

Private: Nothing is automatically stored on Microsoft servers.

No Internet connection required . You don't need to be connected to the Internet to log in to your PC.

You can use whatever login name you want: You're not restricted to using a Microsoft account address.

Bypass the Password: You can bypass the password screen: If you're using a local account you can choose to bypass the login screen and log in to Windows without a password. (NOT RECOMMENDED.)

A local account is what you used on Windows 7, Windows XP, and Windows Vista. You'll be able to log in, change your settings, install software, and keep your user account separate from other user accounts on the computer.

Disadvantages of using a Local Account on Windows 10

Lost your password? Too bad! If you lose your password, you're basically out of luck.

A number of Windows 10 features will not be available or they'll be more difficult to access:
What is a Microsoft Account?

A Microsoft Account is an account you sign in to using a Microsoft email address (@hotmail.com, @live.ca, @live.com, @outlook.com, @msn.com) and password. Let's say the Microsoft address you want to use to log in to your Windows 10 PC is olivertwists18x @outlook.com, and your password is 0U812USillyG00S3. Then your Windows 10 username would be olivertwist18x @hotmail.com and your Windows 10 password would be 0U812USillyG00S3.

Once you're signed in with your Microsoft account, you can use Microsoft products such as Skype, Office Online, OneDrive, the Microsoft Store, etc. and you won't need to sign in manually every time you want to use them.

Using a Microsoft Account automatically gives you easier access to all of Windows 10's features and Microsoft's services including:.

Instant access to the Windows Store: You can access the Windows store and choose from thousands of apps (some free and some not) apps to your Windows 10 computer..

Instant access to OneDrive with 5 GB of cloud storage: If you log in with a Microsoft account, a OneDrive account will be set up automatically. OneDrive allows you to store important files and folders on line. It also allows you to share data between devices as well as giving you access to MS Office Online.

You will never be locked out of your Windows computer because you lost your Windows password: Since your Windows password is the same password as your Microsoft account password (@hotmail.com, @live.ca, @live.com, @outlook.com, @msn.com), if your forget your Windows password, you can reset it online from anywhere, using any device.

Disadvantages to using a Microsoft Account:

It's Less private: Your settings and even the sites you visit may be stored on Microsoft's servers.

Internet connection required: You'll need to have an Internet connection to log in to your computer.

Less secure: Using the same password for your email account (Microsoft account) and for your Windows computer may not be the most secure way to do things. But if you use a very strong password you can overcome the inherent security issues.

You can have both Local Accounts and Microsoft Accounts on the same PC.

We both use Microsoft accounts, but the type of account you use depends on how you use your computer. It's your choice, so we hope this article helps you to choose wisely.



Make Sure It's Broke Before You Spend Time Fixing It
Windows 7, Windows 8.1, Windows 10
Here are two quick and easy tips that we are sure you'll use... "maybe not today, maybe not tomorrow, but soon. And for the rest of your life…"
Anyone who uses a computer knows they will have problems from time to time. It's expected. It's the nature of the beast. We're here to remind you that if you start having computer problems, the first thing you should do is make sure there's something really wrong with your computer before you set sail on a long, time-consuming voyage to fix it.
Here are two things you should always try as soon as you notice something's not right with your computer:
1. Restart your computer.
As silly and simple as that sounds, restarting your computer can correct a lot of minor temporary errors and put your computer back on track. It won't work every time, but it's the first thing you should try if something isn't right with your computer.
And… if restarting it does not work, we have one more simple thing you should do before you go off searching for help and fixes.
2. Shut down your computer completely.
Make sure all power is off and all power lights are off. Wait five minutes and then turn your computer back on.
You'll find the second method successful many times if simply restarting your computer doesn't work.
Now, we're not here to convince you that these two simple tricks will fix all your problems and assuage all your computer woes – they won't. But many times restarting your computer or shutting your computer down and waiting for a few minutes before restarting can correct many minor, yet annoying errors. And since it does not take much time or effort to try one or both of these tips, there's no reason not to give them a try. We've seen restarting and shutting down the computer and waiting a few minutes before powering it back on, work many times on our own computers and on other folks' PCs as well.
And this trick also extends to other electronic devices – tablets, smartphones, streaming devices, etc. Sometimes the best fix is the simplest – just restart the device. It works more often than you think.

How to Clean a Cluttered Desktop
Windows 10 (all versions)
Are you one of those fine folks who have a beautiful desktop background with dozens of desktop icons and shortcuts cluttering up your view?
There's a cure for messy desktops, you know. And you won't lose any of your desktop icons or shortcuts. Impossible you say? Nope! We're going to show you how to clean up desktop clutter without removing a single desktop icon or shortcut.
1.) The messy desktop.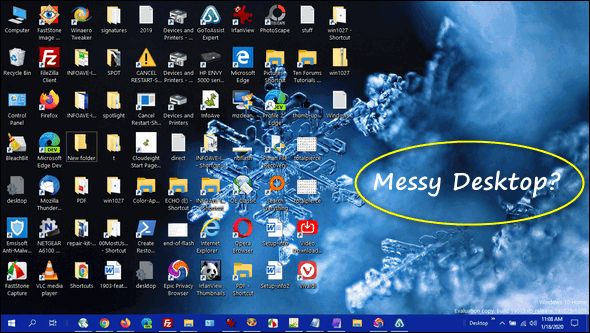 2.) The cure for your messy desktop.
a.) Right-click on an empty area on your desktop.
b.) Click "View".
c.) Uncheck "Show desktop icons".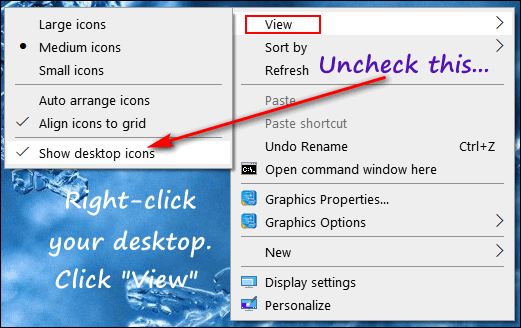 3.) The uncluttered desktop. Look ma! I can see my desktop wallpaper!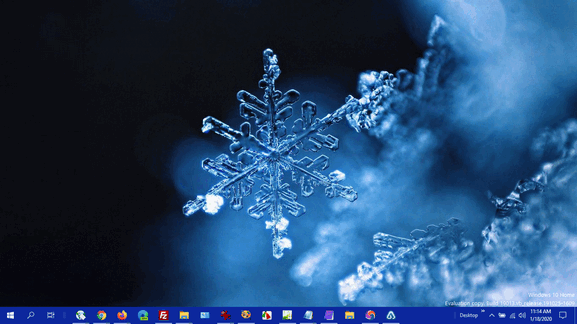 4.) Getting your shortcuts and desktop icons back… sort of.
a.) Right-click on your taskbar.
b.) Click "Toolbars"
c.) Select "Desktop"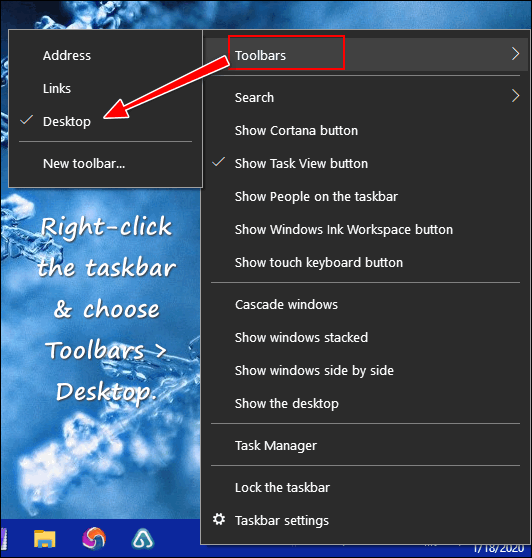 5.) All of your desktop icons and shortcuts are back– but not on your desktop.
That's right, every desktop icon and shortcut that was on your desktop is now available in a toolbar. Click on your new desktop toolbar icon (double right-arrows).

And voila! There are all your desktop shortcuts and icons in a list.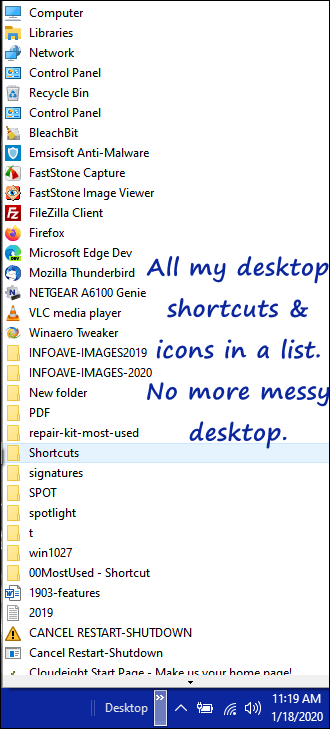 And should you ever want your messy desktop back again… no problem! Right-click an empty area of your desktop, click "View" and then check "Show desktop icons". Your messy desktop is back again, just like you left it.



How to Send Self-destructing Email Messages With Gmail
All Windows users with a Gmail account
Some messages we send are meant to be confidential. The longer they languish in mail folders or inboxes the less likely it is that they will remain confidential. And sometimes, we send emails that we don't want anyone to forward, copy, or print.
Gmail has a solution fit for a James Bond movie. Gmail users can send self-destructing messages that automatically disappear after a user-selected period of time. And it's very easy to use.
1.) Click on the Compose button to compose an email as you normally do, click on the clock/lock icon on the toolbar at the bottom.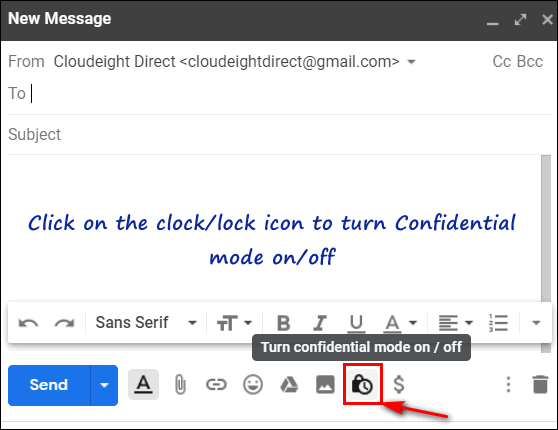 2.) Select the length of time you want to elapse before the email "expires" (self-destructs).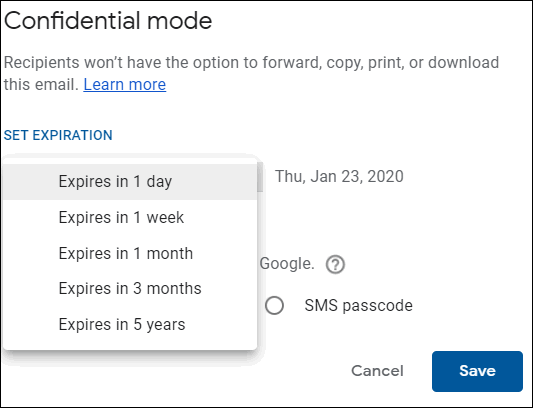 Under "REQUIRE PASSCODE" you can choose to require a passcode or not. If your recipient does not use Gmail, they'll be sent a passcode generated by Gmail. If you choose "SMS passcode", your recipient will be sent a text with a passcode.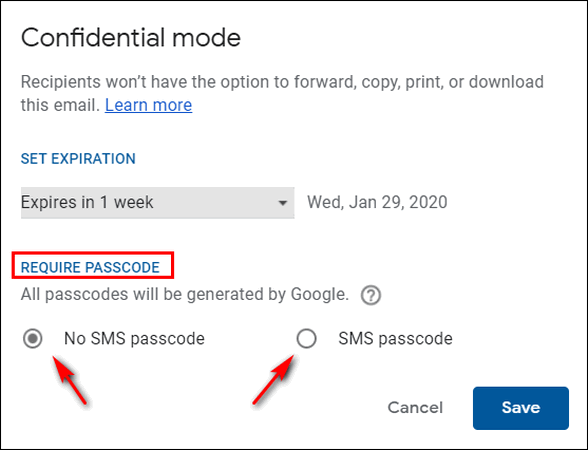 4.) Compose your email as you normally do. You'll see the expiration date in an overlay on the email. Your recipient will not be able to copy, print, forward or download this email.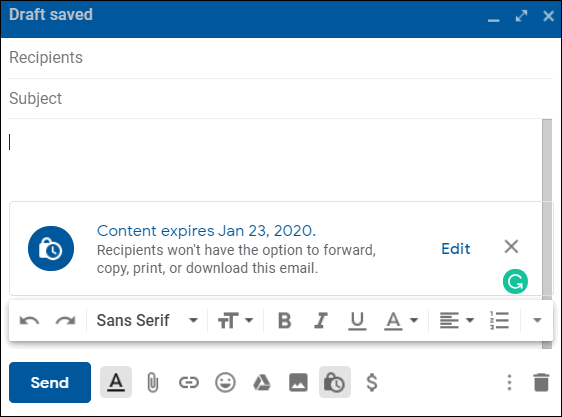 5. When your recipient receives your confidential email, they will see something like you see in the screenshot below. The subject of the message I sent was "TEST".

Clicking the "View the email" button reveals the confidential email along with its date of expiration.

And that's all there is to sending a self-destructing, confidential email using Gmail.



Want more tips, tricks, and information?
We have thousands of Windows tips, tricks and more on our InfoAve web site.
Subscribe to our free InfoAve Daily newsletter.




Includes "Anytime Repair" with Our Unattended Support Feature!

SeniorPass: A Great Deal for Our Friends 60 and Older!

With our Cloudeight Direct Computer Care SeniorPass, our friends age 60 and older get one full year of unlimited computer care and repair for one low price. With our SeniorPass you'll get the best computer care anywhere - any time you need it!

SeniorPass is valid for unlimited computer care & repair sessions for one full year starting with the first time you use it. The clock does not start ticking until you use your SeniorPass for the first time. A great deal!

Having SeniorPass is just like having insurance for your computer. You'll get one full year of computer care and get help with almost any computer problem whenever you need it. We're here to help you.

Computer care & repair for one full year just $99! Check out our SeniorPass offer right now!

Get your SeniorPass and/or get more information here.




PULP-O-MIZER
Create Your Own Pulp Magazine Cover

Sometimes we stumble on a Web site and end up wasting far too much time checking it out. We call it "reviewing" but sometimes it's just playing. But all work and no play... you know.

First, I wasn't sure what a pulp magazine was - they stopped publishing them in the 1950s. And I'm old, but I was very young in the 1950s. When I saw samples of them, I vaguely remembered them. So for those of you who don't know what a pulp magazine is (was) here's a simple definition from Wikipedia:

Pulp magazines (often referred to as "the pulps") were inexpensive fiction magazines that were published from 1896 to the late 1950s. The term pulp derives from the cheap wood pulp paper on which the magazines were printed. In contrast, magazines printed on higher-quality paper were called "glossies" or "slicks".

We found a site called PULP-O-MIZER where you can design your own pulp magazine cover. Why would you want to? I don't know why! All I can tell you it's a lot of fun to explore all the different styles, backgrounds, pictures, font styles, colors, and so on.. and create a pulp magazine cover. What do you do with it? I have no idea. Post it on your Facebook page, print it out and attach it to your refrigerator, create your own graphics with it. Who knows?

The site requires no registration. You don't need to create an account. You can save anything you create by downloading it. You can use the magazine covers for anything you want - they even have a special setting for Facebook users so that you can post your pulp magazine (cover) on your Facebook page. Astound your friend.

You could be the next pulp fiction queen or king.

Yeah, you're right, you can waste a lot of time on this site. You can also have a lot of fun. So this site pick is just for fun.

How about a few screenshots so you'll get the gist of what you can do with PULP-O-MIZER. And don't snicker. I really believe EB is from Mars.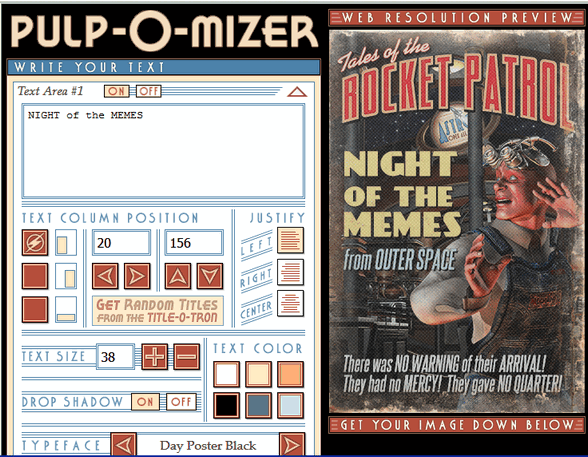 Above...the PULP-O-MIZER in all its glory. Prepare to make your own pulp magazine cover with all the gadgets, fonts, images, etc. at your disposal.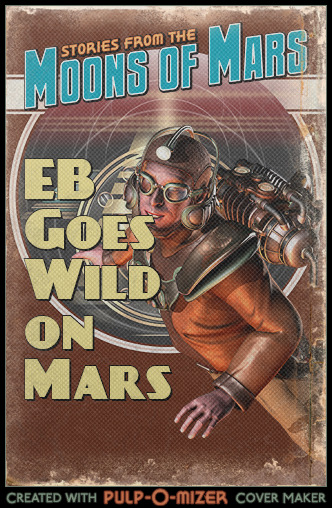 Above: EB's all dressed up with no place to go.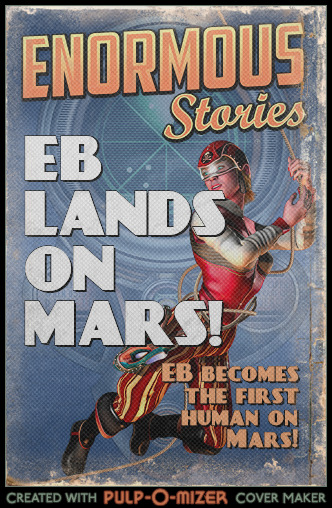 Above: I swear sometimes EB is from Mars, but as you can see above, she now claims to be the first human on Mars. I think she's the first Martian on Earth!
If you want to have some fun and design your own pulp magazine cover, visit this page and use the PULP-O-MIZER.
Let your imagination run wild!



VERSION 8.43 NOW AVAILABLE!
If you purchased or renewed Reg Organizer through Cloudeight within the last 12 months, you're entitled to a free version upgrade to Reg Organizer 8.43.

Save $14 on Reg Organizer right now!

Reg Organizer - A Swiss Army Knife of Windows Tools - Works Great on Windows 10!


Old Enough

Recently – and I love that word because of its vaguery – I mustered up enough bravado to dig deep into the often frightful and always convoluted depths of my mind. While I was peeling back the layers of that gray onion – fifty shades of gray by now, I'm sure – I had an epiphany -or what used to be called by us ordinary folk "a eureka moment".

It is from that moment of enlightenment that I now draw upon to regale you with this story of the wonders and the horrors and the incomprehensibility of human thought.

As I peeled back those layers I became aware – once again – of OE Moments. OE's are known to the layman as "Old Enough" moments and all of us whose lives have spanned more than enough decades will know what I mean.

Think back to your tricycle era. Back to a time when your time upon this spinning globe was spent as a toddler, riding your red tricycle up on down the little walkway in front of your house. You were not Old Enough to ride on the real sidewalk

Please read the rest of this essay here.




Whether you live in the USA, Canada or Australia, when you shop Amazon using our links you'll get great products at great prices, and you will be helping us too! For every purchase you make using our Amazon affiliate links, we make a small commission. If you shop at Amazon, we hope you'll use our Amazon affiliate links. It won't cost you a penny more, but it will help us a great deal! All you need to do to help us is use the following link whenever you shop Amazon – for anything.
That link goes to the same Amazon site you'd see if you went to www.amazon.com, but when you use our link, we'll get a small commission on anything you buy from Amazon. It's another way you can help us and it won't cost you a penny more. And you'll get the same great Amazon prices, sale prices, and promo prices you always get.
So the next time you shop Amazon, use our special affiliate link and bookmark the Amazon page once you get there. Then use that bookmark whenever you shop Amazon!
Thanks so much for helping us!




What is the IoT?

The IoT is the International Organization of Turnips. If you're a turnip grower, you'll get some great tips on growing turnips, including secret manure recipes and seasonal plating guides. Plus, you can learn how to get paid by the government for NOT growing turnips. We don't grow turnips, but we don't get paid. I'm serious about that part.

Whoa! All that is just joking - except for the part about us not getting paid. If you've made it this far into this newsletter, you're probably shaking your head and saying to yourself, "It's no wonder they don't get paid!". That being said, I continue, unfazed.

The IoT is the Internet of Things, which is a bunch of unrelated devices all connected to the Internet. Things such as toasters, cars, TVs, games, phones, tablets. PCs, electrical outlets, patient monitors, toilets, pacemakers, refrigerators, stoves, dishwashers, coffee makers, washing machines, doorbells, and so on. Now you might think I made a lot of that up (like I did with the turnips), but you'd be wrong. All of these devices --and more-- are being connected to the Internet.

What? You don't believe there's such a thing as an Internet-connected stove? Ha! Doubt me, will you? Internet connected coffee makers, you doubt me? Ha! Here ya go. And you doubt me on the Internet-connected dishwasher? Really? Take a look, doubting Debbie!

EEverything is connected to the Internet. Those with smartphones can control their entire lives with it. If things keep going the way they are they'll have virtual boy/girl friends, husbands/wives - or maybe even better yet, virtual boyfriends, girlfriends, and husbands and wives. Although, if you're going to design a virtual boyfriend or girlfriend, why would you need to virtually marry them?

Now I am starting to wonder why I see so many 20-somethings busting their you-know-what's in the gym. They don't need to that. All they need to do is exercise their fingers. Because all they don't need to do anything but push buttons. By the time they're my age, they'll be fat old humps with virtual boyfriends or girlfriends, with Internet-connected robots to clean house and cook meals. What will these people even need legs for? I'll bet their fingers will in great shape - all that button-pushing. Eighty-year-old females and males with well-developed 10-inch index fingers and thumbs from over 70-yeas worth of tapping and fingering their tablets and smartphones.

Anyway, the IoT is the Internet of Things. And the number of Internet-connected things continues to grow. Tomorrow, we'll see Internet-connected toilets that will flush and put the seat down for the ladies and clean themselves. Wait! We already have them.

Now you know what the IoT -- Internet of Things-- is, right? Now, go buy yourself an Internet-connected pet.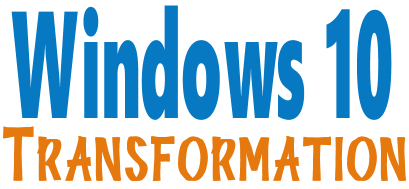 WE WILL CONTINUE TO OFFER THIS SERVICE FOR A LIMITED TIME
Microsoft ended support for Windows 7 on January 14, 2020. Using Windows 7 after that date may put your computer at risk as Microsoft will no longer be releasing security updates and fixes for it. Now's the time to upgrade to Windows 10!

Whether you upgrade your Windows 7 to Windows 10 (still free) or buy a new Windows 10 computer, we can make you feel right at home on Windows 10 with our Windows Transformation service. We can make your Windows 10 look and work much more like Windows 7.

With our Windows 10 Transformation service, we can make your Windows 10 computer look and work more like Windows 7! With our transformation service we will:
Assist you with the upgrade to Windows 10.
~ After the update has completed, we will:
Change the start menu to look like Windows 7 classic style and include your favorite programs
Change your taskbar and start menu colors to your preferences
Add an authentic Windows 7 start button
Add Windows 7 Wallpaper (if desired)
Change Windows 10 File Explorer so it works more like Windows 7's Windows Explorer
Add My Computer -- and other familiar Windows 7 icons -- to your desktop (if desired).
The Windows 10 Transformation service key never expires it's good until you use it. So get yours now!
Get more information or purchase your "Transformation" now.





Sales of the following products and services help support our newsletters, websites, and free computer help services we provide.

Cloudeight Direct Computer Care: Single Keys, SeniorPass or Season Tickets - always a great deal. Cloudeight Direct Computer Care is like having PC insurance. Get more information here.

Emsisoft Anti-Malware: Emsisoft is the only Cloudeight endorsed and recommend Windows security program. It provides users with a complete antivirus, antimalware, anti-ransomware, anti-PUPs solution. We offer single Emsisoft licenses and multi-computer licenses at discount prices. Also, we offer our exclusive Emsisoft with Cloudeight installation & setup. Get more information here.

Thunderbird Email Setup: Thunderbird is a great email program that you can use with your Gmail and Outlook.com (Hotmail) webmail accounts as well as with your Internet provider's email. We'll set it up correctly you. Our set up includes configuring up to 3 email accounts and setting up Thunderbird to use stationery (if desired). Our Thunderbird Email Setup Service is always a great deal. For more information visit this page.

Reg Organizer 8.30: Reg Organizer is the Swiss Army Knife of Windows tools. It's far more than just a registry optimizer and cleaner... it's a Windows all-in-one toolkit. Reg Organizer helps you keep your computer in tip-top shape and helps you solve annoying Windows problems. Reg Organizer works great with Windows 10! Get more information about Reg Organizer (and get our special discount prices) here.






These products and services are recommended and endorsed by Cloudeight:



We'd love to hear from you!

If you have comments, questions, a tip, trick, a freeware pick, or just want to tell us off for something, let us know.

If you need to change your newsletter subscription address, please see "Manage your subscription" at the very bottom of your newsletter.

We received hundreds of questions for possible use in IA news. Please keep in mind we cannot answer all general computer questions. We try to personally answer as many as we can. We can only use a few to in each week's newsletter, so keep this in mind. If you have a support question about a service or product we sell, please contact us here.





Subscribe to our Daily Newsletter!

Get computer tips & tricks every night. Our daily newsletter features a computer tip/trick or two every day. We send it out every night around 9 PM Eastern Time (USA). It's short and sweet, easy-to-read, and FREE. Just visit this page and sign-up. All you have to enter is your email address. Once you confirm your subscription, you'll receive our daily newsletter every day, six days a week. You can unsubscribe at any time.

Print our Cloudeight Direct Computer Care Flyer!

Print our Cloudeight Direct Computer Care Flyer and spread the word about our Cloudeight Direct Computer Care repair services. Get our ready-to-print flyer here.





We hope you have enjoyed this issue of InfoAve Premium. Thanks so much for your support and for being a Premium subscriber.

Have a great weekend.

Darcy & TC
Cloudeight InfoAve Premium - Issue #851
Volume 17 Number 15
January 31, 2020

Not a subscriber? Subscribe to our InfoAve Premium Newsletter today. It's free!

Share Us on Facebook!
We'd love for you to share us with your family and friends on Facebook. Help us by sharing us on Facebook!






"Cloudeight InfoAve Premium" newsletter is published by:

Cloudeight Internet LLC
PO Box 73
Middleville, Michigan USA 49333-0073

Read our disclaimer about the tips, tricks, answers, site picks and freeware picks featured in this newsletter.

Copyright ©2020 by Cloudeight Internet