Cloudeight InfoAve Weekly
Issue #902
Volume 18 Number 13
January 22, 2021

Dear Friends,

Welcome to Cloudeight InfoAve Weekly Issue #902. Thank you very much for subscribing and for being a part of our Cloudeight family. We appreciate your friendship and support very much! Please share our newsletters and our Website with your family and all your friends.





Our newest Cloudeight Endorsed Email Program - Very Similar to Windows Mail & Outlook Express. Stationery works great!

Read more about OE Classic here!


Sonja wants to know our opinion of Norton with LifeLock
Just wondering if you have an opinion on using Lifelock with their antivirus connection with Norton. Thanks!

Our answer
Hi Sonia. First of all, LifeLock has been sued several times for false advertising. No software in this world can prevent identity theft. Norton is overkill - it puts tentacles everywhere, it comes with a VPN that you can't turn off (you can only remove it with special program), it's expensive, and with all that being said it does not protect your computer any better than many other security programs.

NortonLifeLock advertises "as low as $9.99" a month, but costs you $11.99 a month after the first year - and all the while you'll be prompted to upgrade to a "better" version of NortonLifeLock which has plans that cost up to $349.99 a year.

On several independent antivirus testing sites, NortonLifeLock's antivirus protection rating was about the same as Microsoft Defender which comes with Windows 10 and doesn't cost anything.

NortonLifeLock can slow down your PC, is expensive, and offers no better protection from viruses and other malicious software than Microsoft Defender and many other antivirus programs.

Here are a couple of the lawsuits lost by LifeLock.

Lawsuit: LifeLock Misrepresents Identity Theft Protection Services

FTC to begin issuing refund checks stemming from $31 million LifeLock settlement

We continue to recommend Emsisoft. It costs less than $30 a year and offers the best protection from the malware threats that you're most likely to encounter on the Web.

We hope this helps you make a wise decision, Sonja.





Bea Jae wants to know how to install our stationery for OE Classic
I just installed the OE Classic email program I read about in your letter. I am interested in installing some of your stationery, but not sure how to go about it. I see there are a couple different areas where stationery is available on your page. I would appreciate some instructions. Thank you.

Our answer
Hi Bee Jae. Please see this page for instructions on where to download our stationery pack (approximately 280 stationery), how to install it, and how to use it.

Let me know if you need any more help.



Linda wants to know how to export contacts from her iPhone to her Windows PC
Do you know of a safe service to transfer iPhone SE 2020 contacts to a PC or print them out? I know you can do it through iTunes, but I think it's complicated.

I say it over and over, but you all are a life saver for us I don't know what we would do without you! Actually, that reminds me to go and donate again to you!

Our answer
Hi Linda. I have an iPhone, so I can teach you how!

First, log in to your iCloud account on your computer by going to https://icloud.com.

As soon as you log in, you will see a lot of big icons for pictures, contacts, etc. So, click on Contacts.

Now, look in the lower left corner of your screen, and you will see a "gear" icon. Click that, choose Export vCard.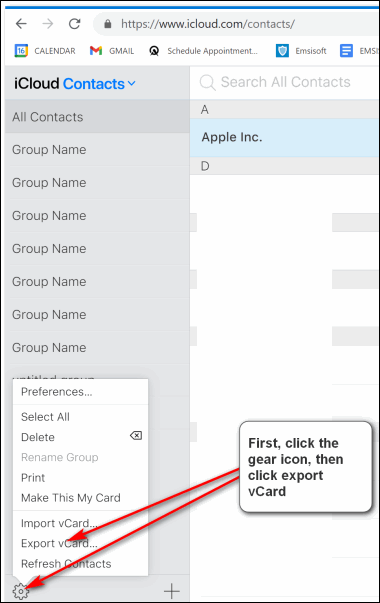 You can download your photos from here too.

Hope this helps you, Linda.





Ron asks about Infiniti Kloud
A friend who is almost totally computer illiterate wrote tonight and asked me about a USB backup gadget called InfinitiKloud. I had never heard of it and haven't seen any articles from you folks about it. So, I told her not to do anything until I had a chance to check into it- with you, that is. Here is a link to their ad- seems like a lot of hype to me for not much space and a pretty good chunk of change. The link- https://tinyurl.com/y5te3d6u

What do you think? I'm going to suggest that she subscribe to your newsletters. Ron.

Our answer
Hi Ron. It borders between a gimmick and scam - like PhotoStick.

Infiniti Kloud is supposed to back up all your pictures on an overpriced 64GB USB flash drive. I checked the reviews at Amazon, and it showed 3 stars which is not great, but when I checked it out with Fakespot, a lot of the good reviews appeared to be fake or manipulated, Fakespot's adjusted rating was 2 stars -which is really poor. This seems to be a clone of another product we don't recommend - PhotoStick.

Both are just way overpriced USB flash drives that don't get very good actual reviews. If you're friend has Windows 10 and an eternal drive (a 1 TB external drive is about the same price as "Infiniti Kloud". You can set up File History which comes with Windows 10 and backup ALL your personal files (Pictures, Documents, Music, Videos, Favorites, etc.)

Not sure why anyone would want to invest in very overpriced USB 64GB flash drive.

Hope this answers your question, Ron.



The Best Computer Care and Repair - Anywhere!
We can fix your computer while you watch. You never have to leave your home. Just sit back, relax, and watch us work. Get PC service from folks you trust at the best prices you'll find anywhere.
Get more information here.

Rhonda's keyboard does not have a Caps Lock indicator
My keyboard does not have a caps lock indicator. Some time ago I had an app that sat in the system tray and indicated the status of the caps and Num lock. It has disappeared and I can't remember what it was called. Do you know a safe app for visual caps lock indicator?

I do like your newsletter and your useful information. Thanks Rhonda

Our answer
Hi Rhonda. I spent some time looking around for something that would do what you need it to do. I found one and tested it on my laptop -even though I have a Caps lock indicator. The program worked well and you don't even have to install it - just click to run it. It will alert you when the Caps lock key is on as well as NumLock and Scroll Lock keys are on. You can also configure it just to show when Caps Lock is on and nothing else if that's how you want to configure it.

The program is called Caps Lock Indicator and you can read more about it and/or download it here.

I hope this works for you.

Gayle does not want to use PayPal
Hi Again. I want to purchase your SeniorPass but I do not want to use PayPal. I just want to use my credit card But when I try to buy a SeniorPass it only gives me the option to use PayPal. Is that my only option?

Our answer
Hi Gale. You don't have to use PayPal, you can use any credit or debit card. PayPal in that case is just our credit card processor.

When you click the Buy Now button at https://thundercloud.net/direct/2018/senior/ you'll go to a page with the item name "SeniorPass" and the price - and a big blue "Continue" button. When you click "Continue" you'll see this...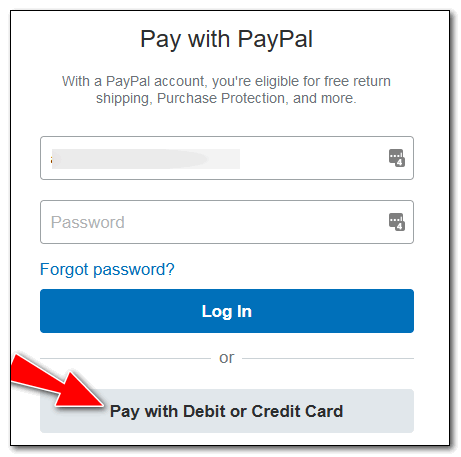 All you have to do is click "Pay with Debit or Credit Card" and you'll be able to skip using PayPal and use your credit or debit card. When you do this, PayPal acts only as a credit card processor for us.

We look forward to helping you soon.

Betty is ready to start streaming
I'm getting ready to start streaming and get away from my awful TV provider who keeps raising my bill every single month. I have bought a Roku and need a better router. There are so many options that I don't know which way to turn. What would be a good choice without breaking the bank?

Our answer
Hi Betty. Good question. The type of router depends on how far the router is from the Roku device and other devices you're using. All brand-name routers are good and most show how many square feet they cover right on the box. If you need to cover devices in several rooms in a large house you may want to look at a mesh router system.

Here's a Netgear router with a range of 1500 square feet for around $80.

Here's a 3-piece TP-Link mesh router system that covers over 5000 square feet for around $150.

Just about any router you buy will be rated for up to 1 Gbps - faster than any ISP currently provides.

We hope this helps you make a good choice, Betty.

MaryLee has a problem with Microsoft Edge
I've been having trouble updating Edge. I was just going to search Cloudeight for instructions on this and found your article about running SFC and DISM. So I followed instructions; it took about half an hour to get to 8%. Three hours later, it's stuck at 8%. I think I'll have to use my Repair Key, which I purchased when you first made them available.

Our answer
Hi MaryLee. You don't have to use a repair key to fix Edge. All you need to do is reset it.

See this page to learn how to reset Microsoft Edge.

Once you do that, close and reopen Edge. Then type (or copy/paste) this into the Edge address bar...

edge://settings/help

It will tell you if your Edge browser is up to date and if not, give you the option to update it.

DISM/SFC scans are for finding and fixing or replacing Windows system files. If the scans stop when running them, you might want to close all open programs before running them again.

We hope this helps you. MaryLee.




Attention Cloudeight SeniorPass Holders! Announcing our new SeniorPass Telephone Hotline Service

Don't have a Cloudeight SeniorPass? It's a great deal. Learn more here.

During this global crisis, we are offering a special telephone hotline service to all SeniorPass holders. There are reports of many COVID19 scams targeting seniors. If you are approached by a scammer or encounter something suspicious, you can use our hotline to discuss your situation with us. We check into it for you and do all we can to help you.

If you currently have a SeniorPass, all you need to do is contact us. Send us your telephone number and a brief message/a> describing your problem and we'll call you back during normal business hours.

If you don't yet have a Cloudeight SeniorPass and you'd like to know more about our SeniorPass, please see this page.

Please note: Currently, our telephone hotline service is only available to SeniorPass holders in the United States due to international call restrictions.




Using the End and Home Keys
Windows 10 (all versions)
Darcy reminded me this morning to remind you about the End and Home keys and how handy they are and how much time they can save. But it seems that many people don't know they even have End and Home keys on their keyboards or how those 2 keys can save you time.
First of all, you'll have to locate the End and Home keys on your keyboard. There are so many different keyboard layouts so he location of the Home and End keys varies between laptops and desktops and even between computer manufacturer and model.
We're going to show you a couple of places to look. But keyboards vary, so you may have to look closely at your keyboard to find the End and Home keys.
Here are 2 examples: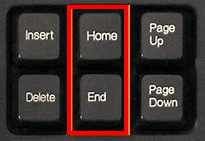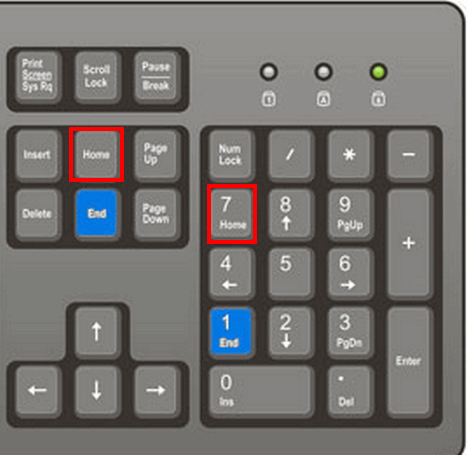 Once you find the Home and End keys on your keyboard…
The Home key takes to the top of a web page or document; the End key takes you to the bottom of a web page or document. In some programs, you will need to use CTRL+Home and CTRL+End to move to the top or bottom of a document. And some laptop keyboards require you to use the fn key + CTRL + Home or fn key + CTRL+ End key to access Home and End keys.
Anyway, using the Home and End keys (or CTRL+Home and CTRL+End) saves you time by taking you directly to the top or the bottom (or the end) of a webpage or document instantly.
If you want to get to the top or bottom of a page or document quickly, this is a little trick you won't forget.

Preparing to Sell or Give Away a Windows 10 Computer
Windows 10 (all supported versions)
It's the time of year when people get new computers and don't know what to do with their old ones. Well, lots of things come to mind: You can give it to a church or school, you can give it to a relative or a friend, you can sell it.
If you're going to be giving away or selling your Windows 10 computer, you'll be glad to know that you don't need to download any third-party software to wipe your personal information from your computer before you give it away or sell it. Now we're not saying that this would pass NSA, CIA, or FBI forensics scrutiny, but for most of us ordinary souls this method will work great.
Here's what you need to do:
1. Right-click on the Windows 10 start button & click Settings.
2. In Settings > click on Update & Security.
3. In Update & Security > click on Recovery.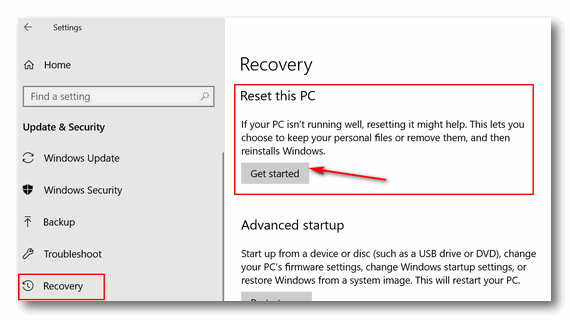 4. In Recovery under Reset this PC" > click on "Get started".
5. When you click on "Get started", you'll have two options:
a. Keep my files – Removes apps and settings but keeps your personal files.
b. Remove everything – Removes all of your personal files, apps, and settings.
6.Click on Remove everything.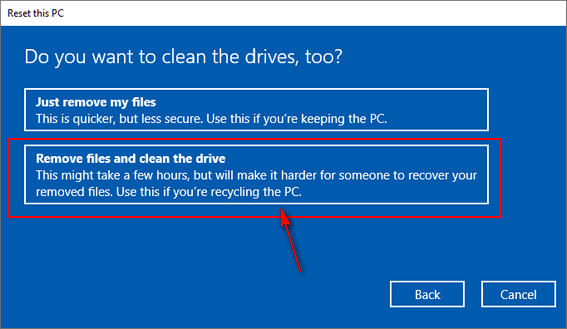 7. Windows will ask if you want "Just remove my files" or "Remove files and clean the drive". Since you're not keeping the computer, choose "Remove files and clean the drive" Selecting this option completely wipes the C:\ drive and then reinstalls Windows 10. After you do this, when you give the computer away or sell it, it's like a computer that has never been used.
Once you click on "Remove files and clean the drive" Windows will warn you and ask you to confirm you want to proceed with this operation. After you confirm that you want to do this, Windows will start the process of wiping the drive and reinstalling Windows 10. This could take a few hours – but you don't have hang around while this is being done; it's automatic. When Windows has wiped the drive and reinstalled Windows 10 it will be like a new computer. Whoever you give it or sell it to, will set up time zone, language, user accounts, etc. – Just like they'd do with a new computer
.
So. now you know what to do if you're planning to sell or give away a Windows 10 computer… and how easy it is to do it.



How to Easily Find Your Wireless Password in Windows 10
Windows 10 (all supported versions)
It's been a while since we covered recovering wireless network passwords, but since Christmas was last week, a lot of folks got a new computer, a new tablet, a smartphone, an Amazon Fire, a smart thermostat, a Roku player, a smart TV, or other internet-connected devices, and you're going to need to know your WiFi network password.
And if you're like most people, you set up your wireless network quite a while ago and you don't remember your WiFi password.
If you got a new tablet, smartphone, streaming video player, etc., or you just need to find your wireless password, we're going to show you how the quick and easy way.
Just follow these simple steps:
Press Windows Key + i to open Settings (or open Settings from your start menu). Click on "Network & Internet". In "Network & Internet" settings, look on the right side and you'll see the following options.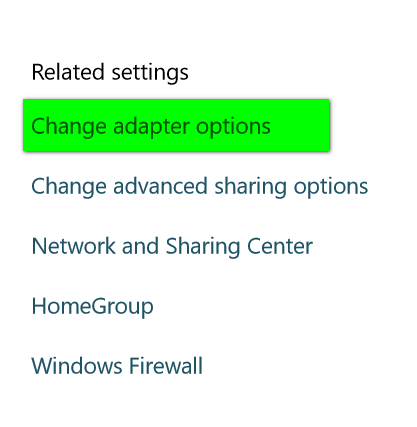 Click on "Change adapter options" (see above). And you'll see the "Network Connections" dialog appear (see below):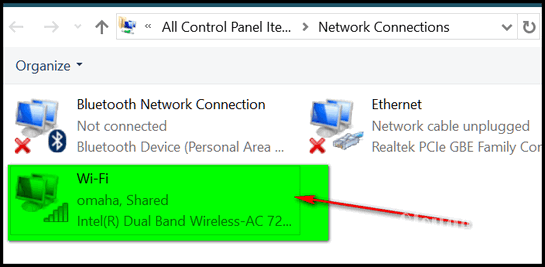 Right-click on the WiFi network you normally connect to (see image above) and then click on Status in the drop-down menu (see image below) which appears: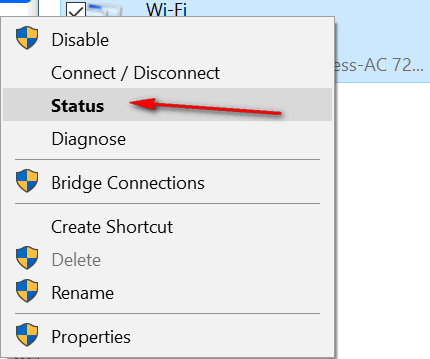 In the Wi-Fi Status dialog, click on the Wireless Properties button (see screenshot below):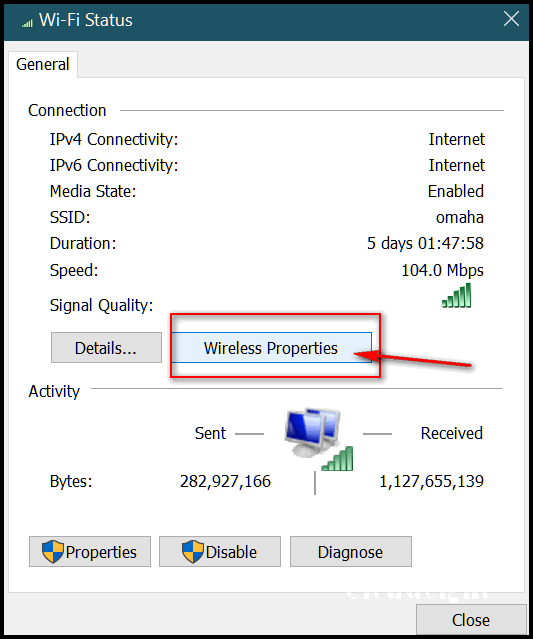 In the Wireless Network Properties dialog, click on the Security tab at the top (see image below):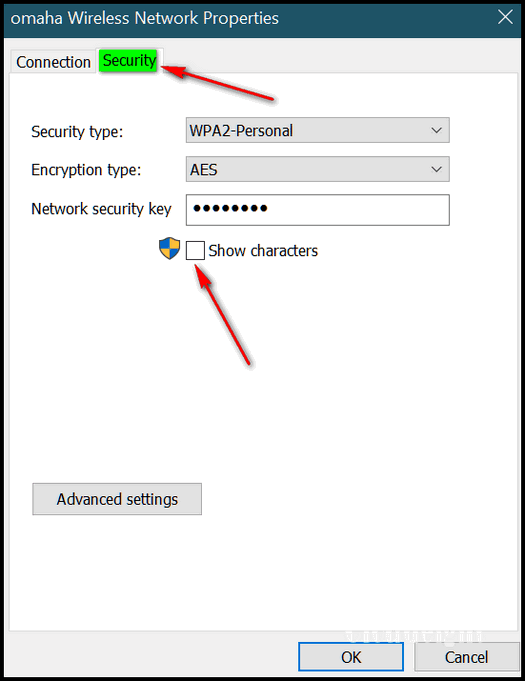 In the Wireless Network Properties Security dialog, tick the box next to "Show Characters" and your password will be shown to you unencrypted – in plain text.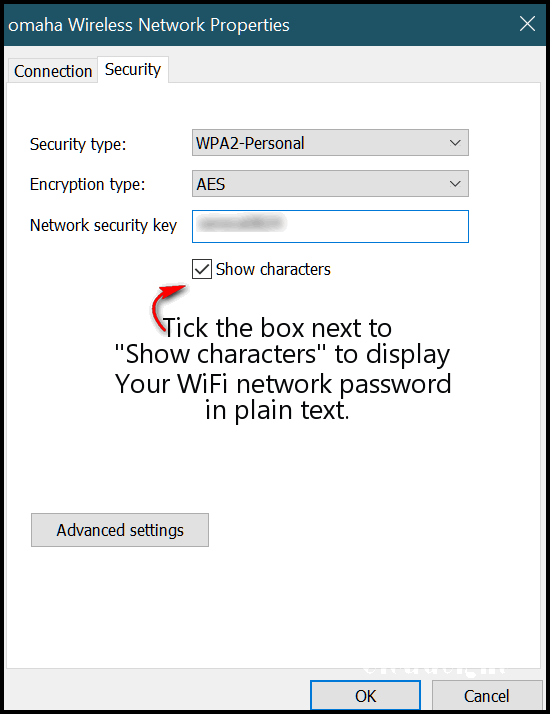 And that's all there is to it!
You can also find your wireless network password using a command prompt. See our article here to learn how.



Want more tips, tricks, and information?
We have thousands of Windows tips, tricks, and more on our InfoAve web site.
Subscribe to our free InfoAve Daily newsletter.






Now available: Reg Organizer 8.60

If you purchased or renewed Reg Organizer through Cloudeight within the last 12 months, you're entitled to a free version upgrade to Reg Organizer 8.60.

Save $14 on Reg Organizer right now!

Reg Organizer - A Swiss Army Knife of Windows Tools - Works Great on Windows 10!




Check Your Router and Make Sure It's Hacker-free
You're doing everything right – using good security software, a strong Wi-Fi network password so you're safe, right. Well– most likely.
Hackers are nothing if not innovative and they can break into a router using what's known as DNS-hijacking. And if your router is compromised, so are all the devices connected by it. And let's be honest – the chances that your router has been compromised are quite slim. But, since it takes only a few seconds to make sure, we're going to provide you with a link to a website where you can check your router to be sure it hasn't been hijacked.
Before we do that, again we want to make sure you understand that it is very unlikely your router has been compromised – our motto is always to present things in an honest, non-scary way. We don't like tech sites that scare people to get viewers/readers.
So, take a few seconds to make sure your router is clean and uncompromised; we're pretty sure you'll find that is.
Check your router by going to this site and clicking the "Check your router" button.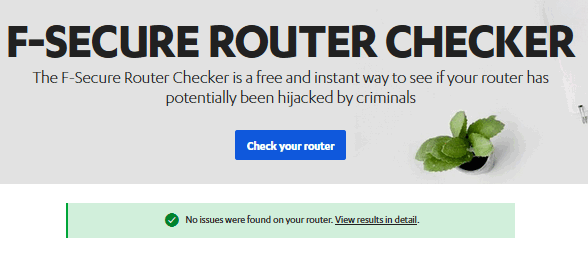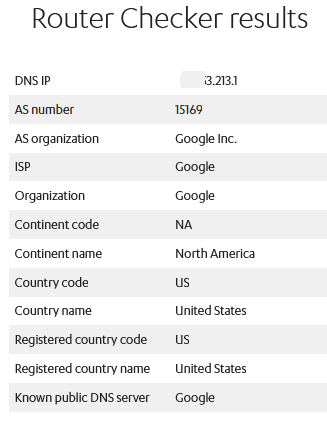 Above are my results. You will notice that my ISP and DNS say "Google". I use Spectrum as my ISP, but you'd never know it. That's because I use Google's Public DNS servers.
So, are you ready? Check your router by going to this site and clicking the "Check your router" button.




Meandering Thoughts

I love to write, sometimes I don't write so well, but that doesn't stop me from writing. It's kind of like golf, I guess. Some people like to play golf regardless of how poorly they play.

Writing essays is one of the kinds of writing I like best – much to the dismay of some.

But be thankful all ye who find my essays boring, badly written, or lacking! I used to love writing poetry, so it could be even worse.

I wrote poetry long ago when I was an idealist and I really believed I could do incredible things and change the world. Most college kids think that way and thinking that way is fertile soil for poetry.

I said to the sun, you are no fool,
As he danced in the glimmering, shimmering pool.
You play while it's warm,
And you hide from the storm,
And run quickly away when it's cool.

Cute huh? Ah, the foibles of youth – so much stuff springs forth from the fecund soil of youth. But that soil loses its nutrients quickly. Once you get a job, join the workforce, and start paying your own bills…that fertile soil of youth turns stony and barren.

Alas, times change, people change, and now apparently poetry changed too. I have no idea...

Read the rest of this essay here.



What is portable software?

Imagine a gym bag or carry-on suitcase with a handle loaded with software. Imagine lugging it with me everywhere you go. That's what portable software is. You can lug it around with you. NO! That's not what it is. No lugging needed. Portable software does not have to be installed, so you can take it with you and run a programs or programs from a USB flash drive. No can do with installed software...portable software only, please.

Most of the software most of you use is installed software. That's the kind you install, and it adds a shortcut to your desktop and maybe to your start menu and task bar - and that adds things, sometimes quite a lot of things, to your registry. And somehow many of you have the opinion that portable versions are ersatz versions of the real software, but that's not true - in fact, there are many good reasons to opt for the portable version over the installed version whenever you have such a choice.

Now you want to know why? Good, we are going to tell you why. The first thing we'll point out is that if something doesn't install, it doesn't bundle things in its installer. And anytime you can feel pretty confident about putting a program on your computer without having to sit like an armed sentry waiting to see what crazy software the installer is going to try to sneak unto your computer without your knowledge If you don't pay attention to these kinds of bundled installers, you're going to have a mess - a big mess - that's not going to be easy to get rid of. You'd think it would be illegal to ruin someone's computer, but there's no law we know of against software bundling because in the tiny print of the 5000-word EULA there's probably legalese saying that if you install this software you are agreeing to everything and you can't come back at the software manufacturer even if your computer ceases to function.

And the second reason you should choose portable over installed software is that portable software makes no changes to your registry, adds no shortcuts to your start menu, taskbar or desktop. And best of all, in order to uninstalled portable software, all you have to do is right-click on it and choose "Delete" and it's gone, gone, gone I tells ya!

And the final reason why portable software is better than installed software is, it never helps itself to a place in your Windows startup programs list, like so many installed software programs do.

For those reasons and more we probably haven't even thought of, we always choose portable versions over installed versions when we have a choice. There are exceptions of course, but for most applications a portable version offers all of the features and none of the drawbacks.

A portable version runs when you click it (or its shortcut if you made one), and it's uninstalled when you right-click it and delete it. It doesn't make any changes to your computer and you can even put it on a flash drive and take it with you.

So, then next time you have a choice between a portable version and a version that comes with an installer, choose the portable version. We think you'll be happier, and your computer will be happier too.
There are even sites devoted to portable software. One of them, for example, is www.portableapps.com .



THANK YOU FOR HELPING US!

When you support us with small gift, you help us continue our mission to keep you informed, separate the truth from the hyperbole, and help you stay safer online. Plus, our computer tips make your computer easier to use.

Did you know that we provide support to thousands of people? Every week we help dozens of people via email at no charge. The questions and answers you see in our newsletters are from the email answers and help we provide to everyone free of charge.


Thanks to your gifts, we do a lot more than provide this free newsletter. We help you recognize online threats, fight for your online privacy, provide you with the knowledge you need to navigate the Web safely, provide you with suggestions for safe, free software and websites, and help you get more out of your PC.

Please Help us keep up the good fight with a small gift.

Interested in making an automatic monthly gift? Visit this page. Help us keep helping you... and helping you stay safe on the Web.




Sales of the following products and services help support our newsletters, websites, and free computer help services we provide.

Cloudeight Direct Computer Care: Single Keys, SeniorPass, or Season Tickets - always a great deal. Cloudeight Direct Computer Care is like having PC insurance. Get more information here.

Emsisoft Anti-Malware: Emsisoft is the only Cloudeight endorsed and recommended Windows security program. It provides users with a complete antivirus, antimalware, anti-ransomware, anti-PUPs solution. We offer single Emsisoft licenses and multi-computer licenses at discount prices. Also, we offer our exclusive Emsisoft with Cloudeight installation & setup. Get more information here.

OE Classic Email program. The email program that is most like Outlook Express. We can even set it up for you. Get more details here.

Reg Organizer: Reg Organizer is the Swiss Army Knife of Windows tools. It's far more than just a registry optimizer and cleaner... it's a Windows all-in-one toolkit. Reg Organizer helps you keep your computer in tip-top shape and helps you solve annoying Windows problems. Reg Organizer works great with Windows 10! Get more information about Reg Organizer (and get our special discount prices) here.
SeniorPass - One year of Cloudeight Direct Computer Care - unlimited sessions! Get more information here.

Windows 10 Customization: Make Windows 10 look and work the way you want it to. Learn more.

Your InfoAve Weekly Members' Home Page is located here.

Print our Cloudeight Direct Computer Care Flyer and spread the word about our Cloudeight Direct Computer Care repair services. Get our ready-to-print flyer here.

Help us Grow! Forward this email newsletter to a friend or family member - and have them sign-up for InfoAve Weekly here!

Get our free daily newsletter! Each evening we send a short newsletter with a tip or trick or a computer-related article - it's short and sweet - and free. Sign-up right now.

Print our Cloudeight Direct Flyer and spread the word about our computer repair service! If you want to help us by telling your friends about our Cloudeight Direct Computer Care service, you can download a printable flyer you can hand out or post on bulletin boards, etc. Get the printable PDF Cloudeight Direct Computer Care flyer here.

Help us by using our Start Page.

Comments? Questions? Let us know!





Our newest Cloudeight Endorsed Email Program - Very Similar to Windows Mail & Outlook Express. Stationery works great!

Read more about OE Classic here!





We'd love to hear from you!

If you have comments, questions, a tip, trick, a freeware pick, or just want to tell us off for something, let us know.

If you need to change your newsletter subscription address, please see "Manage your subscription" at the very bottom of your newsletter.

We received hundreds of questions for possible use in IA news. Please keep in mind we cannot answer all general computer questions. We try to personally answer as many as we can. We can only use a few to in each week's newsletter, so keep this in mind. If you have a support question about a service or product we sell, please contact us here.

Subscribe to our Daily Newsletter! Get computer tips & tricks every night. Our daily newsletter features a computer tip/trick or two every day. We send it out every night around 9 PM Eastern Time (USA). It's short and sweet, easy-to-read, and FREE. Subscribe to our Cloudeight InfoAve Daily Newsletter!

Print our Cloudeight Direct Computer Care Flyer and spread the word about our Cloudeight Direct Computer Care repair services. Get our ready-to-print flyer here.





We hope you have enjoyed this issue of Cloudeight InfoAve Weekly. Thanks so much for your support and for being an InfoAve Weekly subscriber.

With hope and prayers, may you and your loved ones stay safe and well.

Your friends at Cloudeight,

Darcy and TC
Cloudeight InfoAve Weekly - Issue #902
Volume 18 Number 13
January 22, 2021

Not a subscriber? Subscribe to our FREE Cloudeight InfoAve Weekly Newsletter here./a>

Subscribe to our Cloudeight InfoAve Daily Newsletter!

Share Us on Facebook!
We'd love for you to share us with your family and friends on Facebook. Help us by sharing us on Facebook!






"Cloudeight InfoAve Weekly" newsletter is published by:

Cloudeight Internet LLC
PO Box 73
Middleville, Michigan USA 49333-0073

Read our disclaimer about the tips, tricks, answers, site picks, and freeware picks featured in this newsletter.

Copyright ©2021 by Cloudeight Internet