Moving from LastPass to Bitwarden is Easy
Anyone using LastPass Free
I've been testing Bitwarden for about 10 days now. Now I've become a fan of Bitwarden. Now, keep in mind, I've been a LastPass user for over ten years. We all like what we're used to better than something new and different. But over these last ten days, Bitwarden has impressed me and I'm ready to leave LastPass behind.
As we recently reported, LastPass is going to limit their free version to one device type. I'm not going to go over all the changes here, but if you want to learn about the changes coming to the free version of LastPass on March 16, 2021, visit our post here.
If you're interested in moving from LastPass to Bitwarden, it's pretty easy. Here's our step-by-step tutorial showing you how to do it.
First, let's export your data from LastPass.
1. Click the LastPass icon in your browser — then click Account Options.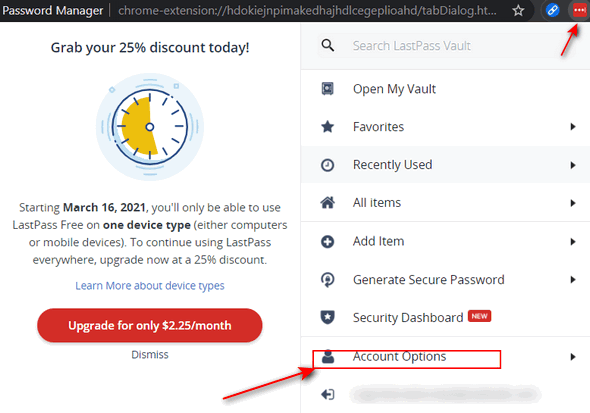 2. Select Advanced.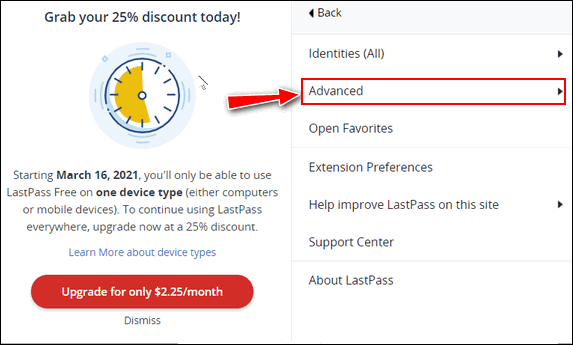 3. Then click Export.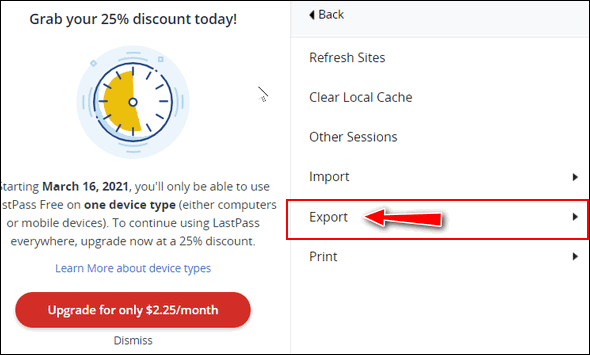 4. Select LastPass CSV File.
Note: You may have to type in your LastPass master password to proceed.
Your LastPass CSV file will immediately be downloaded (usually) to your Downloads folder.
5. Next, select Export again and select Form Fills.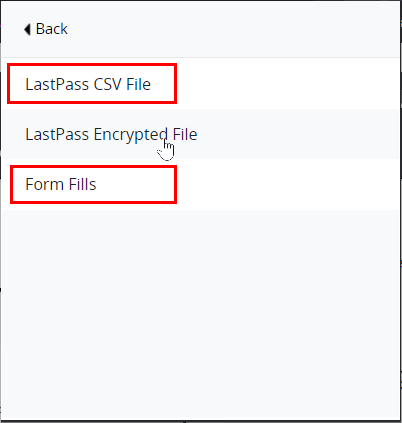 Your LastPass FormFill CSV file will immediately be downloaded (usually) to your Downloads folder.
Getting Started with Bitwarden.
OK, you're all done with LastPass for now. It's time to get Bitwarden and a free Bitwarden account and install Bitwarden in your favorite browser.
Once you've installed Bitwarden and created an account login to your Bitwarden account.
From the menu at the top, click on Tools.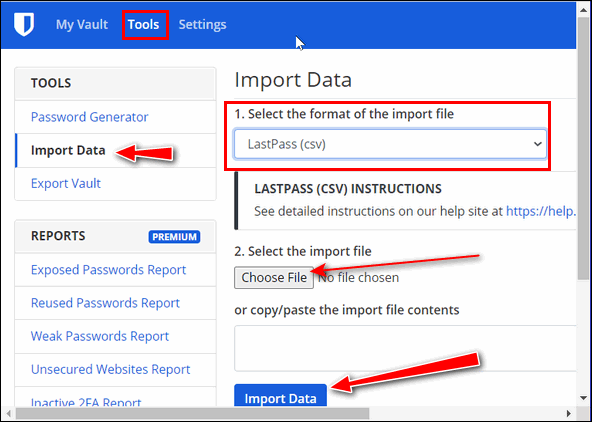 From the Tools dropdown choose Import Data (see screenshot above). Under Select, the format of the import file, click the down arrow and choose LastPass (CSV). Click on "Choose File" and browse to the LastPass.csv file you exported, then click on the blue "Import Data". button (see screenshot above).
If you exported LastPass and LastPass Form Fills, click on "Choose File" and choose the lastpass_formfill_export.csv file you exported from LastPass.
It's a good idea to delete the CSV files you exported from LastPass since they are not encrypted and could be read by anyone.
If you need more help, Bitwarden has a great help page for those moving from LastPass to Bitwarden.
If you have questions or problems visit https://help.bitwarden.com/article/import-from-lastpass/ for help.
And that's it. You're all set to go with Bitwarden.



Want more tips, tricks, and information?
We have thousands of Windows tips, tricks, and more on our InfoAve web site.
Subscribe to our free InfoAve Daily newsletter.






Now available: Reg Organizer 8.60

If you purchased or renewed Reg Organizer through Cloudeight within the last 12 months, you're entitled to a free version upgrade to Reg Organizer 8.60.

Save $14 on Reg Organizer right now!

Reg Organizer - A Swiss Army Knife of Windows Tools - Works Great on Windows 10!




175 Amazing Random Facts
"These fun facts about everything from the cosmos to the inner workings of your body will blow your mind."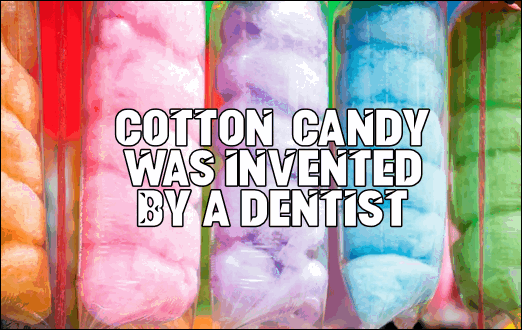 For our freeware pick today, we're going to take you on a journey of amazing facts. And after our little jaunt, we're going to tell you where you can find a whole lot more amazing facts… things you probably never knew, like these:
Why do we get goosebumps?
In this physiological reaction, small muscles attached to individual body hairs contract, which leads the hair to stand on end. We inherited this ability from our ancestors in part as a way for our (then) coat of body hair to capture air beneath it and in that way retain heat. But, as George A. Bubenik, a physiologist and professor of zoology at the University of Guelph in Ontario, Canada, explained to Scientific American, it also caused our ancestors to appear bigger than they were, helping to ward off predators…
Humans are the only animals that blush.
We are also believed to be the only animal that feels embarrassment—a complicated emotion requiring understanding others' opinions and other factors. Charles Darwin called blushing "the most peculiar and most human of all expressions," while Mark Twain said, "Man is the only animal that blushes. Or needs to."
The wood frog has a BIG bladder.
Talk about having to go! Wood frogs in Alaska have been known to hold their urine for up to eight months, sticking it out through the region's long winters before relieving themselves once temperatures increase.
Your nostrils work one at a time.
When we breathe in and out of our nose during the day, one nostril does most of the work at a time, with the duties switching every several hours. This "nasal cycle" is dictated by the same autonomic nervous system that regulates heart rate, digestion, and other unconscious bodily functions…
Cotton candy was invented by a dentist.
It is not known whether William Morrison had an ulterior motive for inventing the soft confection, but the dentist no doubt helped ensure others in his profession continued drawing in plenty of customers. In 1897, he partnered with candy-maker John C. Wharton to develop the cotton candy machine (which at the time was known as "Fairy Floss"), and it's been bringing kids cavities ever since.
Okay, folks, that's enough to get you started. If your interest isn't piqued by now, I give up. I love sites with amazing, brain-rattling facts like these. You'll find 175 amazing facts like the ones above when you visit Random Fun Facts at BestLife online.
Come on, you have time. Go be amazed!




In Like a Lamb

The wet, freezing, morose winds of winter must have eyes and those eyes must have been looking at a calendar because, on the first day of March, those harsh winds of winter ceased, and March came in like a lamb.

The walks and ways and forest trails that were just last week buried under a foot or more of snow are now clear and dry and ready for walking, and biking, and the laughter of children playing in the still-chilly March air.

March, where I live, is a cruel month. And just because it came in like lamb does nothing to change my opinion of this wicked mistress of months. The sunny days that have persisted since the first day of March, don't fool me. I know better. And though I am loath to use a cliché, I will anyway.

The worst may well be yet to come.

I saw many people in the park yesterday, musing on benches, walking dogs, and watching their small children play on the swings and monkey bars. Where were they a week ago while I trudged knee-deep in snow, out-of-breath, gasping from the exertion? Walking through snow over a foot deep is not easy – it's like walking through shallow quicksand.

While I slogged, gasping, through snow up to my knees, the deserted park mocked and echoed my heavy breathing…
Please read the rest of this essay here.


What does "refurbished" mean?
If you're looking to buy a new computer and save money, you should consider buying a refurbished a PC. Many people are confused by the term "refurbished". Generally, in the world of computers, the term 'refurbished' is used to denote a product that has been returned, inspected, repaired if necessary. Also, the device has its data wiped and is restored back to factory settings.
Some words of advice: If you're buying a refurbished computer, make sure you're dealing with a reputable company. And make sure your refurbished device comes with a warranty.


THANK YOU FOR HELPING US!
When you support us with small gift, you help us continue our mission to keep you informed, separate the truth from the hyperbole, and help you stay safer online. Plus, our computer tips make your computer easier to use.
Did you know that we provide support to thousands of people? Every week we help dozens of people via email at no charge. The questions and answers you see in our newsletters are from the email answers and help we provide to everyone free of charge.
Thanks to your gifts, we do a lot more than provide this free newsletter. We help you recognize online threats, fight for your online privacy, provide you with the knowledge you need to navigate the Web safely, provide you with suggestions for safe, free software and websites, and help you get more out of your PC.
Please Help us keep up the good fight with a small gift.
Interested in making an automatic monthly gift? Visit this page. Help us keep helping you... and helping you stay safe on the Web.




Sales of the following products and services help support our newsletters, websites, and free computer help services we provide.

Cloudeight Direct Computer Care: Single Keys, SeniorPass, or Season Tickets - always a great deal. Cloudeight Direct Computer Care is like having PC insurance. Get more information here.

Emsisoft Anti-Malware: Emsisoft is the only Cloudeight endorsed and recommended Windows security program. It provides users with a complete antivirus, antimalware, anti-ransomware, anti-PUPs solution. We offer single Emsisoft licenses and multi-computer licenses at discount prices. Also, we offer our exclusive Emsisoft with Cloudeight installation & setup. Get more information here.

OE Classic Email program. The email program that is most like Outlook Express. We can even set it up for you. Get more details here.

Reg Organizer: Reg Organizer is the Swiss Army Knife of Windows tools. It's far more than just a registry optimizer and cleaner... it's a Windows all-in-one toolkit. Reg Organizer helps you keep your computer in tip-top shape and helps you solve annoying Windows problems. Reg Organizer works great with Windows 10! Get more information about Reg Organizer (and get our special discount prices) here.
SeniorPass - One year of Cloudeight Direct Computer Care - unlimited sessions! Get more information here.

Windows 10 Customization: Make Windows 10 look and work the way you want it to. Learn more.

MORE IMPORTANT STUFF!

Your InfoAve Weekly Members' Home Page is located here.

Print our Cloudeight Direct Computer Care Flyer and spread the word about our Cloudeight Direct Computer Care repair services. Get our ready-to-print flyer here.

Help us Grow! Forward this email newsletter to a friend or family member - and have them sign-up for InfoAve Weekly here!

Get our free daily newsletter! Each evening we send a short newsletter with a tip or trick or a computer-related article - it's short and sweet - and free. Sign-up right now.

We have thousands of Windows tips and tricks and computer articles posted on our Cloudeight InfoAve website. Our site has a great search engine to help you find what you're looking for too! Please visit us today!

Help us by using our Start Page. It costs nothing, and it helps us a lot.

Print our Cloudeight Direct Flyer and spread the word about our computer repair service! If you want to help us by telling your friends about our Cloudeight Direct Computer Care service, you can download a printable flyer you can hand out or post on bulletin boards, etc. Get the printable PDF Cloudeight Direct Computer Care flyer here.



We'd love to hear from you!

If you have comments, questions, a tip, trick, a freeware pick, or just want to tell us off for something, let us know.

If you need to change your newsletter subscription address, please see "Manage your subscription" at the very bottom of your newsletter.

We received hundreds of questions for possible use in IA news. Please keep in mind we cannot answer all general computer questions. We try to personally answer as many as we can. We can only use a few to in each week's newsletter, so keep this in mind. If you have a support question about a service or product we sell, please contact us here.

Subscribe to our Daily Newsletter! Get computer tips & tricks every night. Our daily newsletter features a computer tip/trick or two every day. We send it out every night around 9 PM Eastern Time (USA). It's short and sweet, easy-to-read, and FREE. Subscribe to our Cloudeight InfoAve Daily Newsletter!





We hope you have enjoyed this issue of Cloudeight InfoAve Weekly. Thanks so much for your support and for being an InfoAve Weekly subscriber.

With hope and prayers, may you and your loved ones stay safe and well.

Your friends at Cloudeight,

Darcy and TC
Cloudeight InfoAve Weekly - Issue #908
Volume 18 Number 18
March 5, 2021

Not a subscriber? Subscribe to our FREE Cloudeight InfoAve Weekly Newsletter here.





"Cloudeight InfoAve Weekly" newsletter is published by:

Cloudeight Internet LLC
PO Box 73
Middleville, Michigan USA 49333-0073

Read our disclaimer about the tips, tricks, answers, site picks, and freeware picks featured in this newsletter.

Copyright ©2021 by Cloudeight Internet