Cloudeight InfoAve Weekly
Issue #938
Volume 18 Number 48
October 1, 2021

Dear Friends,

Welcome to Cloudeight InfoAve Weekly Issue #938. Thank you very much for subscribing and for being a part of our Cloudeight family. We appreciate your friendship and support very much! Please share our newsletters and our website with your friends and family.

If you're not getting our InfoAve Daily newsletter, you're missing out on a lot of good stuff!

It's free and it only takes a few seconds to sign up. We'd love to have you with us. Visit this page to sign up for our Cloudeight InfoAve Daily Newsletter.


Don't have a Cloudeight SeniorPass? It's a great deal. Learn more here.

Our Cloudeight SeniorPass is a great deal. You get unlimited support for one full year from the date you first use your SeniorPass. We can help keep your computer running well, fix all kinds of computer problems, clean up malware, and a whole lot more. Our SeniorPass is like insurance for your computer. And it's only $99 for an entire year.

Get your SeniorPass today for just $99. It's just like having insurance for your computer - only better!

To learn more about our SeniorPass, please see this page.

Interested in making an automatic monthly gift? Visit this page. Help us keep helping you... and help you stay safe on the Web.


Shirley installed Microsoft Teams and hates it
I installed Microsoft Teams. It is the worst app ever. I uninstalled it using add/remove programs and it still keeps popping up. How do I get rid of it forever?

Our answer
Hi Shirley. According to Microsoft, you can uninstall Microsoft Teams this way:

1. Quit Teams by right-clicking the Teams icon in the taskbar and choosing Close window.
2. Type Apps in Taskbar search and press Enter when Apps & features appears in the search results
3. In Apps & features, type TEAMS in the search box
4. Highlight Microsoft Teams by clicking on it, then select Uninstall.
5. A box will appear, select Uninstall again to confirm you want to uninstall Teams.

You can also use HiBit Uninstaller. HiBit has a Windows Store Apps Manager which you can use to remove any Windows store app -like Microsoft Teams. HiBit is free - you can read more about it here.

We hope this helps you, Shirley.





Paul gets a strange message at Windows shutdown
Hi Guys, I think that I started following you from the start of Cloudeight stationery. Over time, I have found your tips & tricks to be very useful. Now I have a problem, no, more of a pain in the butt than a problem. When I shut down my PC at night, the screen goes black with the words Shutting Down I then get a message saying ''Untitled Chromium'' underneath this it states
''This app is stopping windows from shutting down'' My PC then restarts. I have to wait for it to load, then shut down as usual. Google is my default browser, I very rarely use Edge. Any ideas on how I can stop this? Keep up the good work. Kind regards, Paul.

PS... I know you guys could write a book but how did you pick 'Thundercloud' ( TC ) & 'Eightball ( EB )

Our answer
Hi Paul. Thanks for your nice comments. It sounds like there's an untitled tab open in Chrome that causing Chrome to crash when Windows tries to force it to close when shutting down your computer. Try clearing Chrome's history and reset Chrome by following the instructions here. https://www.thundercloud.net/infoave/new/how-to-reset-chrome-and-clear-browsing-history/

Also, make sure you don't have any Chrome or Chromium entries in your Windows startup programs. Open Task Manager, click on the "Startup tab" and disable any Chrome or Chromium entries. You can disable an entry by right-clicking it and choosing "Disable".

As far as the Thundercloud & Eightball names... I (TC) played in a rock band for four years when I was in my teens. One of the bands was called "The B.W. Krook Experience". I was the bass player and I wore an American Indian chief's headdress, a long purple robe, with a gold collar, and I pretended to speak in some odd language. I would announce the next song and B. W. Krook would interpret and say (with a fake accent) -- "Chief Thundercloud like to say -- thank you for being here tonight - the next song we like to play is called..."

As far as Eightball - she grew up in Florida and was widely known as a pool hustler. I think she even knew Paul Newman and played against Minnesota Fats. I don't know if she still plays pool or not, but I think so because with the little bit of money we make from our little business, I know I can't afford a yacht...but she has one. And it's called "The Mighty Tobias".

My story is a true story (really). I'm not sure about Eightball's story- except the part about "The Mighty Tobias".

Patsy was typing a letter in Notepad and then clicked something and everything disappeared
I was typing a letter on Notepad when I accidentally clicked something that deleted everything I had typed and I was almost done with the lengthy letter. Notepad was still up, just the typing was gone. When I tried to find if I could recover it. I tried a couple of methods which either took me nowhere and some solutions I wasn't sure enough to try. I haven't shut my computer off, just closed the lid and hope it will retain the deleted information.

How do I search for the deleted data and recover it? I believe what I did when I lost the letter was click on enter with my little finger and accidentally pushed on the second side (R & L) of the mouse keys on the bottom of my laptop. Sorry, I'm hopeless when it comes to proper computer terms. I did read if I shut down my computer I will lose the information but I may be able to recover it. I'm not secure enough to put Disc Drill on my computer to try it.

Our answer
Hi Patsy. If you are typing in notepad, and you accidentally do something where the typing disappears, immediately click Edit, Undo, and it will bring your typing back. Or "Ctrl + Z" If you start typing more, you won't be able to get it back to what you've already typed. Notepad, being a very basic text editor and not a word processor, just lets you go back and undo one time. Otherwise, whatever you typed is gone and not recoverable.

A better alternative, if you are typing something lengthy, is to use MS Word. If you don't own MS Office, you can use an alternative free office program such as OpenOffice. All good word processors like MS Word and Open Office Writer have autosave features. So, if you decide to use a word processer like Word, Writer, or one of the many other good ones, be sure to turn on auto-save, set it to save your work every few minutes.

We hope this helps you, Patsy.

Audrey asked about a message that appeared on her husband's laptop
Dear TC. I downloaded PC Health this morning on another computer and solved the mystery of Desktop Naloggf on my husband's laptop, which I asked you about a week or two ago. This is what came up when I opened PC Health Check.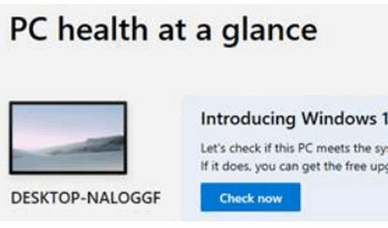 I do love it when puzzles get resolved! Although I still have no idea what its purpose is so I didn't go any further with PC Health! Just thought I'd let you know. Kind regards, Audrey

Our answer
Hi Audrey, thank you. When you download PC Health Check it will identify the computer you installed it on (in your case the computer's name is Desktop Naloggf). But to find out if the computer you installed PC Health Check on can run Windows 11 (or if not, why not), you must click the blue "Check now" button. It will then give you the verdict in just a few seconds.

If a PC cannot run Windows 11, PC Health Check shows the reason(s) why and offers potential remediations, most of which, to be honest, will be expensive or difficult.

Also, most computers that cannot run Windows 11 will start displaying a notice like the one below in Settings > Updates and Security > Windows Update.


And you'll notice even when it tells you that "This PC doesn't currently meet all the system requirements for Windows 11", mysteriously you still get the link to download PC Health Check.

We hope this helps you, Audrey.

Barbara wants a free antivirus
Good Day. Can you please help me with a suggestion for a free antivirus for my home computer?

Our answer
Hi Barbara. We don't recommend any free antivirus. AVG and AVAST, which are the two most popular "free" antivirus programs (both now owned by the same company), claim to be free but load your computer up with useless programs you don't need and which may adversely affect your computer's performance.

We recommend Emsisoft. It's $29 the first year and $25 each subsequent year. When you think about that it's only a bit over $2 a month for great protection from viruses, Trojans, malware, PUPs, ransomware. and more. It's then only antivirus/antimalware we recommend. You can read more at https://thundercloud.net/emsisoft/.

If you don't want to pay anything, Windows comes with Microsoft Defender installed and it is turned on by default. It offers basic protection from viruses and other threats. And if it came to a choice between AVAST, AVG, or Microsoft Defender, we'd choose Microsoft Defender.

We hope this helps you, Barbara.


THANK YOU FOR HELPING US!

When you support us with a small gift, you help us continue our mission to keep you informed, separate the truth from the hyperbole, and help you stay safer online. Plus, our computer tips make your computer easier to use.

Did you know that we provide support to thousands of people? Every week we help dozens of people via email at no charge. The questions and answers you see in our newsletters are from the email answers and help we provide to everyone free of charge.

Thanks to your gifts, we do a lot more than provide this free newsletter. We help you recognize online threats, fight for your online privacy, provide you with the knowledge you need to navigate the Web safely, provide you with suggestions for safe, free software and websites, and help you get more out of your PC.
Please Help us keep up the good fight with a small gift.
Interested in making an automatic monthly gift? Visit this page. Help us keep helping you... and help us keep you stay safe on the Web.


Marilyn wants to know the difference between USB 2.0, USB 3.0, and USB-C.
Is there a difference between USB 2.0 and USB 3.0 other than speed? And what is USB-C?

Our answer
Hi Marilyn. USB 3.0 is faster than USB 2.0. You can tell the difference between the two because the inside of the USB ports are different colors. USB 2.0 ports are white or black inside and USB 3.0 ports are colored blue inside. So, if you want to know if a USB port on your computer is USB 2.0 or USB 3.0, you can tell by the USB port color.

Currently, a standard USB 2.0 connection offers up to 2.5W of power (which can slowly charge smartphones, tablets, etc.), while USB-C can deliver up to 100W of power, which is enough power to charge a laptop or quickly charge phones and tablets. USB C ports are bidirectional, which means connected devices can both send and receive power at the same time. And even though you can't physically connect a USB-C connector to USB 2.0 or 3.0 you can use an adaptor to plug older devices into a USB-C port. However, the speed/power will be limited to the type of port on the older device (USB 2.0 or USB 3.0).



Paul wants to know how to make his computer ask for a password after waking it from sleep mode
When my computer goes to sleep and I wake it up, it does not require me to sign in with my PIN. How can I change this so it asks for my PIN before using my computer? I hope you can help. I've looked for the answer everywhere. I found a lot of answers but none of them worked.

Our answer
Hi Paul. Assuming you're not using a screen saver do this:

-- Right-click on the start button and click "Settings".

-- In Settings click on "Accounts" and then click "Sign-in options".

Under Sign-in Options, under "Require sign-in" make sure under "If you've been away, when should Windows require you to sign in again?" "When PC wakes up from sleep" is selected. See the screenshot below.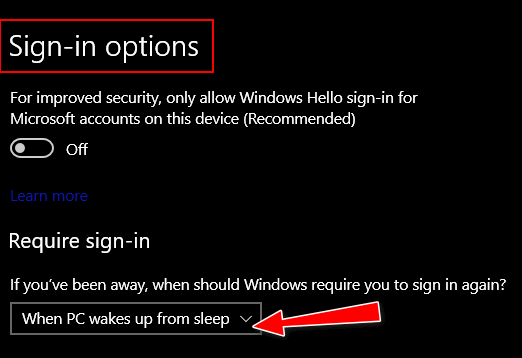 If you are using a screen saver do this:

-- Type Screensaver in taskbar search. Press Enter when "Change Screensaver" appears in the search results.

-- Make sure the box next to "On resume, display logon screen" is checked. Then click Apply/OK.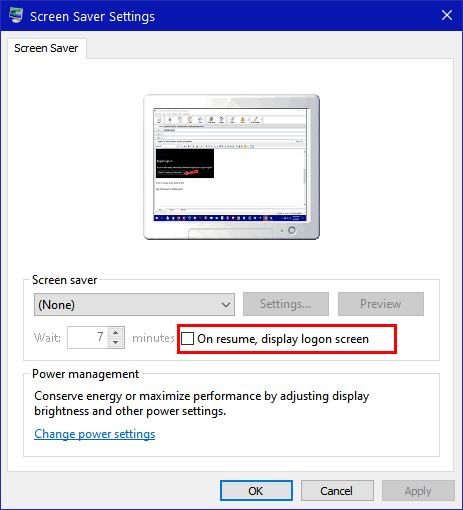 We hope this helps you, Paul.

Rex asks about Linux
Hi Darcy/TC. No one has given so much to keep Windows users in the loop and computing way beyond their timev and enjoying the use of their computers and have been able to keep in touch with their friends and the world. For myself and on their behalf I send you a million thanks. I know our initial investment in Windows got us many free version updates and it's time for Microsoft to cash in on their invention.

I hesitate to suggest that instead of us planning to stop computing in five years if you could start a section on the use of LINUX, the little I have researched so far shows it will do most everything a Windows user does now and at little or no cost so we can continue to stay with the world if we are hard-pressed to afford a PC with Windows 11 and all the costly Office software which I admit is good for the young business users.

I don't know how you manage to keep us all going up to now adding new demands seems selfish, but I thought I would ask. Take care and thanks for the many years of extra computing you have made possible for all of us. Regards,
Rex

Our answer
Hi Rex. Thanks for your nice comments. There's no reason to stop computing in five years. Just because Windows 11 is coming out, and Windows 10 will no longer be supported after October 14, 2025, does not mean you have to give up using a computer. It's a far less steep learning curve to go from Windows 10 to Windows 11 than from Windows 10 to a Linux Distro. And some very inexpensive computers can run Windows 11. I bought one for less than $350 with 12GB of RAM and 256 GB SSD. And so far it makes my old Windows 10 computers look like they're in slow motion.

Windows 10 was a free upgrade to Windows 7 and Windows 8 users. Windows 11 is a free upgrade for Windows 7, Windows 8, and Windows 10 users. Albeit it won't run on many Windows 7 or Windows 8 PCs since they're all more than 4 years old.

Windows 11 will run on most computers 4 years old or newer. And even newer budget computers can run Windows 11.
Consider this. By the time Windows 10 is no longer supported, those computers that won't run Windows 11 will be closing in on 10 years old or older. Ten years is a long time for a computer -- at some point -- if you want to keep on computing you're going to have to buy a new computer because eventually, all hardware wears out. The average lifespan of an HDD (standard hard drive) is about 7 years. Motherboards, graphic cards, sound cards, network cards, wireless cards, etc. don't work forever and, over time, display screens fade and eventually stop working. Installing Linux won't fix your aging hardware.

Windows 11 is much more like Windows 10 than most people have been led to believe. And it's far closer to Windows 10 than any available distro of Linux is.

We like to think we're Windows experts. We don't write much about Apple devices or Android devices --while we use them but we are not experts with them.

And while I am somewhat familiar with Linux, I am certainly not an expert with it, and I don't have the time to put into becoming a Linux expert. I do know most average Windows users would not be happy with Linux. If someone is an advanced Windows user they may be able to make the transition. But there are tens of thousands fewer freeware programs available for Linux than there are for Windows, which is another drawback.

We have written tutorials on how to install Linux on Windows machines before. And, I read that there's a new version of Linux (Linuxfx) coming which uses WINE so that it can Windows programs. From the previews I have seen. it looks like Windows 11 - but it's still in development and won't be released for some time yet. Should that Linux distro see the light of day we'll be glad to look at it and write articles about it.

I guess, Rex, after all these years, we are still trying hard not to be "jacks of all trades and masters of none"...so we've stuck with what we know best, and that is Windows.

There are many great free alternatives for Microsoft Office that run on any version of Windows, including a free web version of MS Office that includes Word, PowerPoint, and Excel. You can read about some of them here.

Thanks again for your long-time support and your nice comments.




The Best Computer Care and Repair - Anywhere!
We can fix your computer while you watch. You never have to leave your home. Just sit back, relax, and watch us work. Get PC service from folks you trust at the best prices you'll find anywhere.
Get more information here.


Three and a Half Free Alternatives for Microsoft Office
Windows 8.1, Windows 10, and Windows 11
One of the questions we are most frequently asked is what is the best free Microsoft Office alternative? It's not an easy question to answer – there are many free alternatives to choose from.
We've picked our three favorite free alternative desktop Microsoft Office suites and one that is not a desktop application — which is why the title of this article is "Three and a Half Free Alternatives for Microsoft Office. We could have added Google Drive too, but we didn't as most of you with Google accounts are already familiar with it.
LibreOffice
LibreOffice is our top choice of free programs that can do just about everything MS Office can do. This suite has alternatives for Microsoft Word, PowerPoint, Excel, and Access,
The LibreOffice suite has six programs: Writer (Word), Impress (PowerPoint), Calc (Excel), Base (Access), Math, and Draw. The biggest drawback to LibreOffice is that you can't pick and choose which of these you want to install – you have to install the entire suite.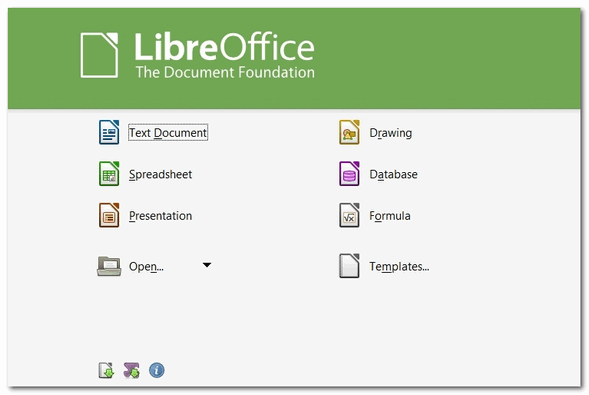 All of the programs in the LibreOffice suite can open, edit, and save to the Office 2007 and newer Office file formats.
You can read more about and/or download LibreOffice from here.
---
OpenOffice
OpenOffice has a word processor, a spreadsheet program, a presentation program, a graphics program, and a database program as part of its suite.
The programs and their corresponding MS Office program are listed below:
Writer (MS Word)
Calc (MS Excel)
Base (MS Access)
Impress (MS PowerPoint)
The main drawback to OpenOffice is, although you can save files in MS Office formats, it does not, by default, save to these formats.
Most MS Office formats can be opened, edited, and saved with OpenOffice, including DOC, DOCX, XML, XLS, XLW, DBF, PPT, PPS, and POTX.
OpenOffice allows you to select which programs in the OpenOffice you want to install which gives you the option of which programs in the OpenOffice suite you want to install so you don't end up installing programs you won't use.
You can read more about and/or download OpenOffice from the Apache OpenOffice website.
---
WPS OFFICE FREE
WPS Office Free is a trimmed-down version of the WPS Office premium office suite, but it's doubtful you'll notice. WPS Office Free has 3 programs that look and work much like the latest versions of Word, Excel, and PowerPoint – and it has equivalent features.
WPS Office Free supports MS Office file formats so you can save your work in native Microsoft Office formats for easy sharing with Office users. WPS Office Free also comes with an excellent free PDF reader.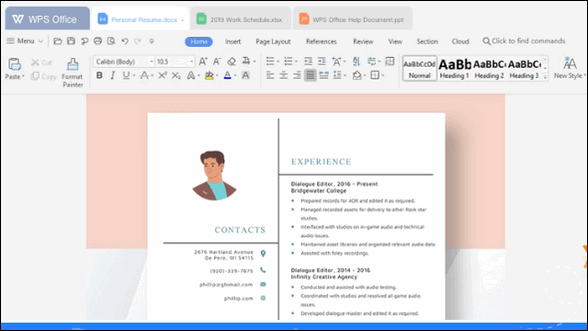 On the downside, the program tries to prompt you into upgrading to the paid versions of WPS Office so there's an occasional ad, but these are few and far between and won't get in the way of your work. A small price to pay, we think, for everything you get in this suite completely free.
You can download WPS Office free here.
---
Microsoft Office Online
Though not a desktop application, MS Office Online is the closest thing you'll find to a free copy of Microsoft Office.
It is a slimmed-down version of Microsoft Office. It lacks many of Microsoft Office's advanced features. But if you just use basic Microsoft Office features, Microsoft Office Online may be just what you're looking for. Microsoft Office Online has online versions of MS Word, PowerPoint, OneNote, Outlook, and Excel that you can use free of charge.
Any file type that works with Microsoft Office products works with Microsoft Office Online, which means you can edit any file and then save a copy back to your computer or in OneDrive.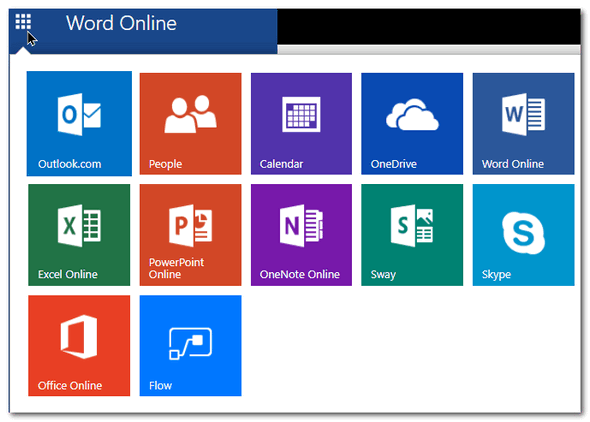 And… just one more thing… You'll need a Microsoft Account (in other words a @hotmail, @outlook.com, @live.ca, @live.com, or @msn.com email address) to use Office Online.
Get more information and/or sign in to Office Online with your Microsoft account here.
If you don't have a Microsoft account you can create one here.

You Don't Need These Kinds of Extensions, We Tells Ya!
Windows 8.1, Windows 10, Windows 11, any browser
One thing I have noticed lately is that most people love browser extensions. And there's nothing wrong with that. But one thing I can tell you about extensions, a lot of them are unnecessary. And extensions can be a big source of headaches as many of them a PUPS and sometimes spawn popups, redirects, and unwanted advertising. Is that an oxymoron? Is there such a thing as "wanted advertising"? I guess if you're the advertiser and not the advertisee, eh?
Anyway, the 3 unnecessary extensions I see installed in Chrome most often are:
Extensions that provide driving directions
Extensions convert currency and measurements
Extensions that track UPS, USPS, DHL, and FedEx packages.
Extensions that manage browser tabs.
You don't need those kinds of extensions, we tells ya!
Driving Directions
Using Google Search or Bing, you can get driving directions by typing "Driving Directions from (enter a street address and city) to (enter the destination address) and press Enter. If you want directions from your home to somewhere else, you can choose your current location instead of typing in a starting address. Either way, you don't need an extension to give you driving directions.
For example. I'm going to start from 112 Euclid Avenue, Cleveland, OH, and go to Niagara Falls, On. (If I were going to start from my home, I'd just click on "driving directions from my location". )
You can see the route on the map.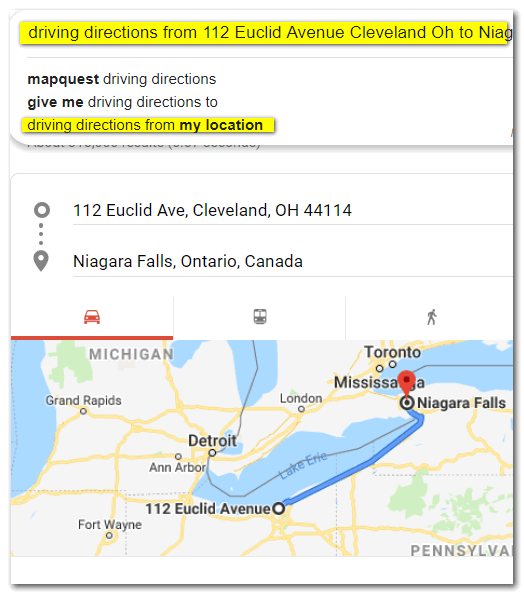 And give you more detail, you'll see I've zoomed in a little. It's going to take me 3 hours and 23 minutes to drive from Cleveland, OH to Niagara Falls, Ontario with normal traffic along the way.

And if I want to print out the point-to-point directions, I click on "Directions" and click on the printer icon, and voila! I'll have a handy waypoint map. And then, I'm on the way to going over the Falls in a barrel. I'll be rich and famous!
Bing seems to disagree with Google's directions. It says I'm it's going to take me an hour longer to get there and roll my barrel into Lake Erie right above the falls. Bring your camera.
Conversions of all kinds
You can convert currencies in Google easily by typing in any amount of your local currency and telling Google to convert it to any other currency you want. For example, I've converted 100 USD (U.S. Dollars) to British Pounds. No matter what currency you use, you can convert it to any other recognized currency easily.
OK so my barrel and I are at the brink of the falls, but I have a change of heart. I want to drive someone to get a nice meal – my last meal?. I ask and some nice Canadian tells me about a quaint little town. I see that it is 54 miles away. But how many kilometers is that? Well, I'm not a math wizard so I type "convert 54 miles to kilometers" (without the quotes, mind you) into Google search. And magically, in less than one second, I see the answer: 89.9046 kilometers, which I round off in my non-math head to 90 km.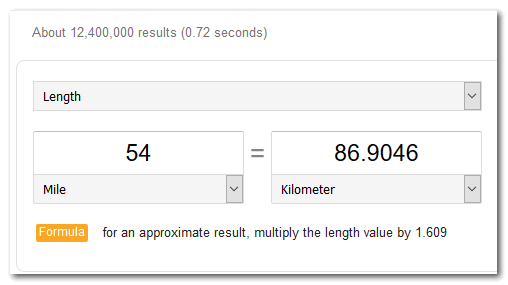 I have 5.4 gallons of whiskey that I'm going to drink on my way over the falls, but I'm in Canada, so gallons are not the thing. I need to know how many liters of whiskey 5.4 gallons is. So I open my trusty laptop and Google search and type (again without quotes) "5.4 gallons to liters" and I find that 5.4 gallons equal 20.44 liters which seems like an awful lot of whiskey for such a short trip. Maybe I'll take a few bottles of Moosehead over the falls with me.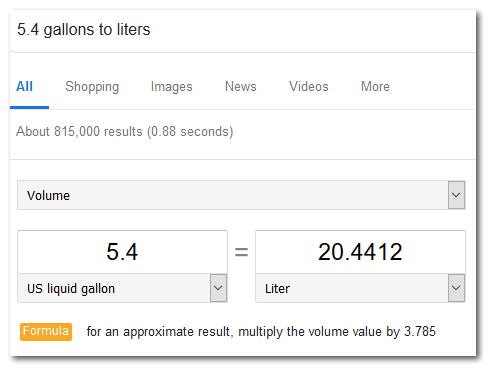 It's 82 degrees in Cleveland today. I wonder what 82 degrees is in Celsius? Why that's easy! Just type 82 F to C in Google search. It's about 28 degrees Celsius. Good weather to take a plunge over the Falls!
Tracking packages
Track a package? No problem. Just paste the tracking number you get from UPS, FedEx, DHL, or USPS into Google search. You don't need to tell Google which company's tracking number you pasted in the search field, each company has a different tracking number code.
See? I just copied the tracking number from my email receipt and pasted it into Google search. I don't need to tell Google it's a UPS tracking number, Google already knows it is UPS.
Manage Browser Tabs?
Nope. Not necessary. Just about every modern browser lets you pin tabs, unpin tabs, pin multiple tabs, unpin multiple tabs, bookmark tabs, bookmark all tabs, etc. See our updated article here about pinning tabs to save space here.
Open PDF Files
Nope. Not necessary, and even injurious to your browser's and your computer's health. A lot of malicious extensions are in this category. These days you can open PDF files with most popular browsers like Chrome and Microsoft Edge. You don't need no stinkin' PDF file extensions, we tells ya!
So, do you need extensions to give you driving directions? No. Do you need extensions to convert currency or measurements? No. Do you need an extension to track packages? No. Don't you need extensions to manage browser tabs? No! Don't you need extensions to open PDF files? No! You don't need no stinkin' extensions to do any of these things!



Microsoft Releases Updated PC Health Check App
Find Out if Your PC Can Run Windows 11
When Microsoft released the original "PC Health Check" back in June, it seemed unfinished and unpolished. The purpose of the app was to tell people whether or not their computers could run Windows 11. And if not, why not.
But many times, it didn't work or when it did, it didn't give users enough detail about why their computers couldn't run Windows 10. In other cases, the results were vague. Microsoft quickly yanked the PC Health Check app from its servers.


Above: My poor nine-year-old Rocky 10 Windows 10 laptop, doesn't cut the mustard.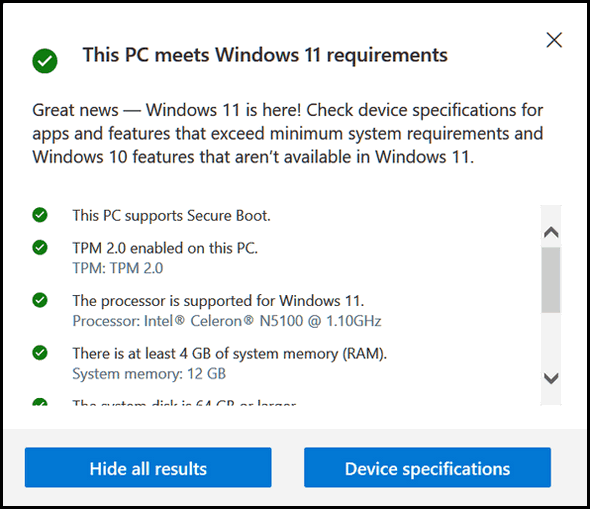 Above: My cheap $300 GT book can (and does) run Windows 11.
Now, with less than a week left until the official launch of Windows 11 on October 5, 2021, and after weeks of testing by Windows Insiders, Microsoft has released an updated version of the PC Health Check app which actually works.
The app tells users in detail if their computer can run Windows 11. And if not, it tells them in detail why they can't run Windows 11 – and provides information on what changes users might make to run Windows 11.
If you're wondering whether or not your device can run Windows 11 – or if you're simply curious, you can download the free, updated version of the PC Health Check app here.

Want more tips, tricks, and information?
We have thousands of Windows tips, tricks, and more on our InfoAve website.
Subscribe to our free InfoAve Daily newsletter.






Now available: Reg Organizer 8.76

If you purchased or renewed Reg Organizer through Cloudeight within the last 12 months, you're entitled to a free version upgrade to Reg Organizer 8.76.

Save $14 on Reg Organizer right now!

Reg Organizer - A Swiss Army Knife of Windows Tools - Works Great on Windows 10!




uBlock Origin Can Help Keep You Safe

We've noticed more often lately how many bad things can happen when advertisements are displayed. While it's true, most advertisements can be annoying, most are benign. But many are not. Some are tech support repairs scams; some are useless but harmless scamware and freeware bundles; some contain links that lead to poisoned sites; some ads can even install malware when clicked. And we've featured uBlock Origin before, but now there's even more reason than ever to use uBlock Origin – it can help you stay safer on the web.
In a recent "Wired" article we learned that even the CIA and NSA are using adblockers for protection from malicious ads and popups. According to "Wired"…
"A letter to Congress shared with Motherboard shows that the US National Security Agency, the Central Intelligence Agency, and other members of the Intelligence Community use ad blockers on their networks as a security protection. 'The IC has implemented network-based ad-blocking technologies and uses information from several layers, including Domain Name System information, to block unwanted and malicious advertising content,' the IC chief information officer wrote in the letter.

"You may use an ad blocker to make your browsing experience more pleasant, but the tools also have potential defense benefits. Attackers who try to run malicious ads on unscrupulous ad networks or taint legitimate-looking ads can steal data or sneak malware onto your device if you click, or sometimes by exploiting web vulnerabilities. The fact that the IC views ads as an unnecessary risk and even a threat speaks to long-standing problems with the industry. The NSA and Cybersecurity and Infrastructure Security Agency have released public guidance in recent years advising the use of ad blockers as a security protection, but the IC itself wasn't required to adopt the measure. Its members deployed ad blockers voluntarily…" (Read more here.)
There is one adblocker we recommend above all others and that is uBlock Origin. It is not only an ad blocker, it's also a malicious content blocker.
Open-source ad blocker

The uBlock Origin is a free and open-source, cross-platform browser extension for content filtering—primarily aimed at neutralizing privacy invasion in an efficient, user-friendly method.

CPU and memory efficiency

Globally, uBlock Origin could save consumers more than $1.8 billion/year(study). Open source ad blockers are a potentially effective technology for energy conservation.

Various browsers support

uBlock Origin's extension is available for several of the most widely used browsers, including: Chrome, Chromium, MS Edge, Opera, Firefox and all Safari releases prior to 13.
uBlock Origin
…As of 2021, uBlock Origin continues to be maintained and actively developed by founder and lead developer Raymond Hill.

The uBlock Origin extension remains an industry leading, open-source, cross-platform browser extension with software developed specifically for multiple platform use, and as of 2021, uBlock Origin's extension is available for several of the most widely used browsers, including: Chrome, Chromium, Edge, Opera, Firefox and all Safari releases prior to 13.

The uBlock Origin project still specifically refuses donations at this time, and instead advises all of its clients, users and supporters to donate to block list maintainers."
Some adblockers have an acceptable ad policy – which could be based on developer biases or monetary considerations, uBlock Origin does not play these games.
If you're not using an ad blocker, we strongly encourage you to visit the uBlock Origin website and install the uBlock Origin extension in your browser (Chrome, MS Edge, Firefox, Opera, and Safari -prior to 13- are supported). The uBlock Origin page will automatically detect your browser and provide you with the correct download for your browser.
uBlock Origin is another great tool you can use to help protect against malicious ads and content on the web.
A reminder… no software, app, or browser extension can keep you 100% safe, 100% of the time. Your vigilance and common sense are always necessary while you're on the Internet. Be Safe!




On Life and Assumptions

We are all, I think, a little bit crazy. We live our lives based on assumptions. We think that everything will always be as it is right now, and we take no thought when we do those simple everyday things … that this may be the last time we ever do them.

We get up in the morning and we leave for work and assume we will return home again that evening.

We leave on business trips and assume we'll return when our work is done.

We mow our lawns, and we assume we'll be around next week to mow our lawns again.

We leave our loved ones, our children, our best friends, assuming we will see them again.

We become complacent in our assumptions – yet our individual worlds are as insubstantial and fleeting as the clouds above our heads...

Our assumptions are as fleeting as a perfect summer day.

We assume we'll see the sunrise tomorrow morning. We assume we'll be home for dinner tonight. We assume our children will grow up and have families
Read the rest of this essay here.




What do you mean by "third-party"?

If you have ever seen EB after her second party, trust me, you would really never want to see her after the third party. I have enough trouble with her even if she has been to one party. But after the third party, she becomes rambunctious, rowdy, and interminably irascible. If there are baseball bats, glass ash trays or anything else she can pick up and use on me, I'm in trouble. I've spent many an evening hiding from EB after a third party.

But no! That's not what we mean when we say third-party. When we use the term "third-party" in regards to Windows, we mean software that does not come with the Windows operating system. For example IrfanView would be a third-party image viewer. Windows comes with it's own image viewer so you don't really need IrfanView. But IrfanView is better and more robust than anything Windows has to offer. So, we always install and use IrfanView on our computers... in other words, we use a third-party image viewer.

Anytime you see us reference third-party software it means software that does not come with Windows, rather it comes from a "third-party". It comes from someone else other than Microsoft.





Our newest Cloudeight Endorsed Email Program - Very Similar to Windows Mail & Outlook Express.
Cloudeight Stationery works great with OE Classic!

Read more about OE Classic here!




Sales of the following products and services help support our newsletters, websites, and free computer help services we provide.

Cloudeight Direct Computer Care: Single Keys, SeniorPass, or Season Tickets - always a great deal. Cloudeight Direct Computer Care is like having PC insurance. Get more information here.

Emsisoft Anti-Malware: Emsisoft is the only Cloudeight endorsed and recommended Windows security program. It provides users with a complete antivirus, antimalware, anti-ransomware, anti-PUPs solution. We offer single Emsisoft licenses and multi-computer licenses at discount prices. Also, we offer our exclusive Emsisoft with Cloudeight installation & setup. Get more information here.

OE Classic Email program. The email program that is most like Outlook Express. We can even set it up for you. Get more details here.

Reg Organizer: Reg Organizer is the Swiss Army Knife of Windows tools. It's far more than just a registry optimizer and cleaner... it's a Windows all-in-one toolkit. Reg Organizer helps you keep your computer in tip-top shape and helps you solve annoying Windows problems. Reg Organizer works great with Windows 10! Get more information about Reg Organizer (and get our special discount prices) here.
SeniorPass - One year of Cloudeight Direct Computer Care - unlimited sessions! Get more information here.

Windows 10 Customization: Make Windows 10 look and work the way you want it to. Learn more.

MORE IMPORTANT STUFF!

Your InfoAve Weekly Members' Home Page is located here.

Print our Cloudeight Direct Computer Care Flyer and spread the word about our Cloudeight Direct Computer Care repair services. Get our ready-to-print flyer here.

Help us Grow! Forward this email newsletter to a friend or family member - and have them sign-up for InfoAve Weekly here!

Get our free daily newsletter! Each evening we send a short newsletter with a tip or trick or a computer-related article - it's short and sweet - and free. Sign-up right now.

We have thousands of Windows tips and tricks and computer articles posted on our Cloudeight InfoAve website. Our site has a great search engine to help you find what you're looking for too! Please visit us today!

Help us by using our Start Page. It costs nothing, and it helps us a lot.

Print our Cloudeight Direct Flyer and spread the word about our computer repair service! If you want to help us by telling your friends about our Cloudeight Direct Computer Care service, you can download a printable flyer you can hand out or post on bulletin boards, etc. Get the printable PDF Cloudeight Direct Computer Care flyer here.



We'd love to hear from you!

If you have comments, questions, a tip, trick, a freeware pick, or just want to tell us off for something, let us know.

If you need to change your newsletter subscription address, please see "Manage your subscription" at the very bottom of your newsletter.

We received hundreds of questions for possible use in IA news. Please keep in mind we cannot answer all general computer questions. We try to personally answer as many as we can. We can only use a few in each week's newsletter, so keep this in mind. If you have a support question about a service or product we sell, please contact us here.

Subscribe to our Daily Newsletter! Get computer tips & tricks every night. Our daily newsletter features a computer tip/trick or two every day. We send it out every night around 9 PM Eastern Time (USA). It's short and sweet, easy-to-read, and FREE. Subscribe to our Cloudeight InfoAve Daily Newsletter!





We hope you have enjoyed this issue of Cloudeight InfoAve Weekly. Thanks so much for your support and for being an InfoAve Weekly subscriber.

Have a great weekend... be safe!

Your friends at Cloudeight,

Darcy and TC
Cloudeight InfoAve Weekly - Issue #938
Volume 18 Number 48
October 1, 2021

Not a subscriber? Subscribe to our FREE Cloudeight InfoAve Weekly Newsletter here.





"Cloudeight InfoAve Weekly" newsletter is published by:

Cloudeight Internet LLC
PO Box 73
Middleville, Michigan USA 49333-0073

Read our disclaimer about the tips, tricks, answers, site picks, and freeware picks featured in this newsletter.

Copyright ©2021 by Cloudeight Internet