Cloudeight InfoAve Weekly
Issue #950
Volume 19 Number 8
December 24, 2021

Dear Friends,

Merry Christmas! Welcome to Cloudeight InfoAve Weekly Issue #950. Thank you very much for subscribing and for being a part of our Cloudeight family. We appreciate your friendship and support very much! Please share our newsletters and our website with your friends and family.

If you're not getting our InfoAve Daily newsletter, you're missing out on a lot of good stuff!

It's free and it only takes a few seconds to sign up. We'd love to have you with us. Visit this page to sign up for our Cloudeight InfoAve Daily Newsletter.



Christmastime is a time of reflection. A time to look back and remember the good times and not-so-good times of the year that's almost past. It's a time to be thankful for the gifts we receive every day, from our friends, from our families, and God, regardless of what our religion may be. Christmas is a time to forgive and to remember those less fortunate. And to remember that the greatest give we can ever give or receive, is the gift of love.

It's been our pleasure to have you in our Cloudeight family this year. We are thankful for you and for the help and support you always give us. We are very fortunate to have had you with us this year and we look forward to your friendship in the coming year.

This week's and next week's InfoAve Weekly newsletters will be review editions. Publishing review editions on major holidays gives us time to share with our families. Plus, it's a great way for us to feature and review some of the best content from previous InfoAve Weekly newsletters.

We hope that you will also take some time during the Holidays to make some wonderful memories too.

We are thankful for every one of you. Thanks so much for all you do for us. Happy Holidays! Merry Christmas! God bless us, everyone!




Kathleen wants to know how to find her Windows 10 Product Key
How do I find my product key? Can You Help? I know it was just a tip from you and of course...I can't find it. Thank you! Kathleen.

Our answer
Hi Kathleen. You really don't need a product key with Windows 10 - even if you reinstall Windows 10. Your product key is embedded in your BIOS. So, unless you changed your computer's motherboard, you'll probably never need a key.

That being said, read our article here - you'll find 2 ways you can find your Windows 10 Product Key.

Hope this helps you and also answers your question.
-----
Kathleen wrote back: "Thank You! I did find it...the tip from you. It was right where I left it... Confused smile. Everything cleared up...well, not my brain. I swear I have never been the brightest bulb but as I am shaking hands with 80...my light is getting dimmer and dimmer. Thank You again...you two are the absolute best. Kathleen"



Sandi wants to know what's up with her D:\ drive.
I have a question for you. This is a fairly new computer and I clicked on "computer", and right-clicked on "Recovery Image-Drive D", it shows 1.90 GB Free space. 13.6 GB Used space, Capacity 15.5 GB. Why is this so full when Drive C only has 61.3 Used Space with a capacity of 853 GB? Would it help to compress the drive? I am a novice when it comes to this stuff and I don't want to mess up the files. Please advise on what I should do. I appreciate your advice and help. Sandi B.

Our Answer
Hi Sandi. Do not touch your D:\ drive. It's called a recovery partition or recovery drive. If you ever needed to reset your computer back to its factory state, you'd need this partition. The partition is created from space from your C:\ drive - and the partition is just big enough to hold all the files necessary (including Windows) to return your computer to its factory state.

So just leave it be -- and hope you never need it.

Mary can no longer move her desktop icons
It seems I can no longer move my desktop icons around. It is really quite annoying. Do you have any suggestions to remedy this? Thank you, Mary.

Our answer
Hi Mary. You probably set them to auto-arrange. Right-click on an empty space on your desktop and uncheck Auto-arrange icons but leave "Align icons to grid" checked as that spaces them nicely when you move them around.
-------------
Mary wrote back: "Thank you so very much for your quick response and solution. Mary"



Linda's wireless adapter quit working
I have a huge problem I reset my old computer to clean it out and use it as a backup because it was suggested to me to update to a newer computer. This is the first time I've ever done anything like this and behold the old computer does not recognize the wireless adapter, so I cannot access the internet. I went to my computer manufacturer's website and downloaded all the drivers for my computer but I still don't have wireless internet. I don't know what to do now.

Our answer
Hi Linda. The easiest and least complicated "fix" is to buy a USB Wi-Fi adapter (around $20).

Once you have the adapter, all you have to do is plug it into a USB port on your PC and follow the instructions that come with the adapter.

For more info about USB Wi-Fi adapters, see this page.

If you need more help, let us know.

Bonnie really messed up her display colors
I really screwed up the screen on my laptop. I tried using the black background with white fonts for a few days and today I wanted to go back to white background with black fonts and I've ended up with something I don't like. It's now black background with chartreuse fonts. Yuck!
I tried to find your information about switching back and I can't find it. Can you help me and direct me where to correct this, Please?

Our answer
Hi Bonnie. All you need to do is turn off Color Filters. Here's our article on how to do that.

https://www.thundercloud.net/infoave/new/windows-10-color-filters/

We hope this helps you, Bonnie.
--------
Bonnie wrote back: "Thank you so much. It seems to be working the way I want it to be. Now what I have to do is quit messing with all those things then I won't get upset with myself and have to bother you... Bonnie."



Mavis wants to know if we still recommend Open Office
I'm looking for a good replacement for Microsoft Office. I don't need office programs very often, but occasionally I need to create or open a Microsoft Office file. Is Open Office still a good alternative for Microsoft Office? Do you still recommend it? Thanks for all you guys do! Mavis T.

Our answer
Hi Mavis. Thanks for your nice comments.

Open Office is still a great office suite and a good choice for those who want a free MS Office alternative. You can open and create Microsoft Office documents using Open Office.

You can download Open Office from here.

Another good Microsoft Office alternative is Libre Office. You can read more about it and/or download it from here.

We hope this helps you, Mavis!
-----
Mavis wrote back: "Thanks so much, TC! Open Office is just what I was looking for. Thanks for all you and Darcy do for everyone."


Patricia wants to know if private browsing is good or bad
Hi. Is in-private browsing good or bad? If it's bad-how do I turn it off?

Our answer
Hi Patricia. Private browsing is good for a lot of things - but keeping your IP address private is not one of them. Private browsing (or Incognito mode on Chrome) is not something you turn on or off - it's something you can choose to use or not.

Read our article "Some Things Private Browsing is Good For – Hint: Privacy is not one of them"

Hope this is what you're you are looking for.


Don't have a Cloudeight SeniorPass? It's a great deal. Learn more here.

Our Cloudeight SeniorPass is a great deal. You get unlimited support for one full year from the date you first use your SeniorPass. We can help keep your computer running well, fix all kinds of computer problems, clean up malware, and a whole lot more. Our SeniorPass is like insurance for your computer. And it's only $99 for an entire year.

Get your SeniorPass today for just $99. It's just like having insurance for your computer - only better!

To learn more about our SeniorPass, please see this page.

Interested in making an automatic monthly gift? Visit this page. Help us keep helping you... and help you stay safe on the Web.


How to Organize Your Folders


Windows 8.1 & Windows 10

One question we are often asked is how to sort folders by date, name, type, and so on. For instance, today Ken asked us how to make the new pictures he adds to a folder go to the bottom of the list.

Here's how to sort folders just about any way you like:

Open any folder and right-click on a blank space in the folder.

You'll see a menu appear. Click on "Sort by", and you'll see another menu appear.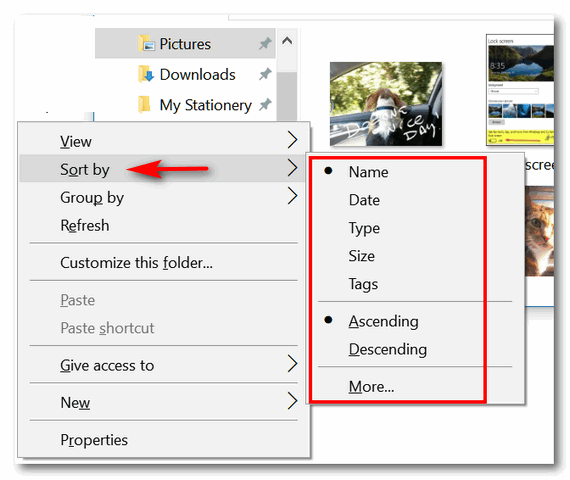 From that menu, you'll be able to sort all the items in that folder by Name, Date, Type, Size and Tags. You'll also see that you can sort them in ascending or descending order.

So, to answer Ken's question: He would sort his files by date in ascending order. This would put the newest files at the bottom and the oldest files at the top. Then when he adds a new picture to that folder, it will be placed at the bottom just like he wants.

You can sort any folder this way by name, date, type, size and tags and in ascending or descending order.

Let's do another example: Let's sort a folder by name. If we choose ascending order, files will be alphabetically sorted from A to Z. If we choose descending order, files will be alphabetically sorted from Z to A. See?


Above: Files sorted by name in ascending order.

Below: Files sorted by name in descending order.



You can use this method to sort any folder to organize it any way you want.


Your Browser's Address Bar Can Help Keep You Safe
Windows 8x, Windows 10, Windows 11

No matter what browser you use, it has an address bar. The address bar is where you type in the address (URL) of a site you want to visit. It's also the place where you can see the address of the site you are on. So, if you get to a site by clicking a link rather than typing it in, you'll see the site's address (URL) in the browser's address bar.



(Above: The address bar in Microsoft Edge)

For instance, if you click https://www.thundercloud.net/infoave/new/, your default browser will open and you'll see https://www.thundercloud.net/infoave/new/ in your browser's address bar. In some browsers, you may only see www.thundercloud.net/new/ (no https:// but you'll see he lock icon indicating a secure site).




(Above the address bar in Chrome showing the URL or "web address" to a truly wonderful site. If you don't see https:// in Chrome... see this page.

Too bad there are so many crooks and so many greedy people with too much time on their hands who spend all their time trying to make easy money. So, think of your address bar as your first line of defense against these flagitious, reprehensible, nefarious reprobates out to trick you into giving up your good name, good credit and your money.

Here, we'll show you what we mean. Let's say you do your banking at Bank of America. You type in www.bankofamerica.com in your address bar and press Enter and voila the internet whisks you off to the banking site where you can log in and do your business.




Notice that it says "Bank of America [US] " in the address bar. And you can see it's a secure site by the lock on the left edge and the https:// before the address. Just look at your browser's address bar to make sure you're on the site you're supposed to be on, and save yourself all kinds of worry, grief, and even money.

All's well, eh? For now. But let's say some evil, malicious knave, sends you an email that looks exactly like it came from Bank of America. And the email tells you that you need to log into your account and verify your username and password because he says, there's been suspicious activity on your account. He does this to trick you. And to make the trick work, he puts a link to your bank site with something like please login here. And if you're not thinking, you click it.

So, you click the link and you see this.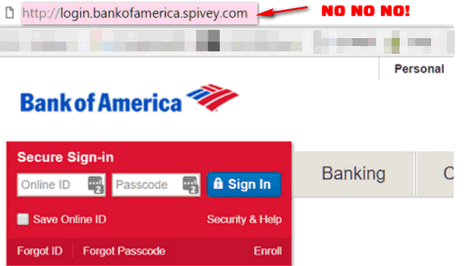 Now, if you're not paying attention, or you are tired or distracted, at a glance everything looks right. It looks like the Bank of America site and the login looks perfect. So, you type in your username and password - and nothing happens. Well, nothing happens that you can see. Somewhere, some lazy miscreant has tricked you into giving him (or her) your Bank of America username and password. And you can guess what he (or she) can do with that.

But if you look closely at the page above, and look at your browser's address bar, you see that the word before the dot com is not bankofamerica but spivey. Who the heck is spivey? Spivey was a bully at my grade school. We called him poison - Poison Spivey. He's now a guard at the landfill. First, the site (a banking site), is not showing the secure lock. You don't see any identification in the address bar that this is Bank of America. None. And remember this: Only the name that appears right before the dot (.) is the domain name.

So, for example, if you see http://support.microsoft.com/ the name before the dot com is Microsoft so it's a genuine Microsoft site (as long as it's spelled correctly). But if you see microsoft.support.spivey.com that's not Microsoft. And it doesn't matter if it's a dot com, a dot org, a dot net, a dot.tv or any of the other designations, the name right before the .com, .net, .org, .tv, .info, etc. tells you the domain. If you see dell-support.hooligan.com it's not a Dell site - it's not a Dell domain - and you should scurry away like a possum from a skunk. Or if you see support.mircosoft.com, note the intentional misspelling -- it's not a Microsoft site.

So, the address bar is more than just a place to type in the address of a website you want to visit. It's a way to check that the site you're on is legitimate, that it's the site you want to be on, and it is the site you're supposed to be on.

Now you know more about the address bar and how knowing how to read it can help keep you safe.

How to Be a Text CTRL Freak
Windows 8.1, Windows 10, Windows 11
This tip will work in any email program like Thunderbird, and with most webmail applications like Gmail and Outlook.com. It also works in word processors such as Microsoft Word and many others. These text tips also work in WordPad which comes pre-installed with every version of Windows.
You want to make a sentence or word bolded, just highlight the word or sentence and press CTRL + B. See?
If you want to underline a sentence or word just highlight the sentence or word you want to underline and press CTRL + U. See?
If you want to italicize a word or sentence, just highlight the word or sentence and press CTRL+ i ... See?
If you want to make a word or sentence bold and italic and underline, just highlight and press CTRL+B, CTRL+ i, and CTRL+U. SEE?
If you want to indent a sentence, just click CTRL+M.
If you want to make a hyperlink (a link to a website) highlight the word or phrase and press CTRL+K. When you press CTRL+K a dialog will appear, type or paste the web site address (URL) into the address field, and voila! You have a link to a website. See?
And if you want to create a new document press CTRL+N.
There are many more tricks like this. CTRL+C copies the selected text. CNTL+V pastes the copied text. If you accidentally make a change or delete something you didn't mean to change or delete, if you press CTRL+Z right away, it will undo or redo whatever you've done. And if you want to undo CTRL+Z, use CTRL+Y.

Want more tips, tricks, and information?
We have thousands of Windows tips, tricks, and more on our InfoAve website.
Subscribe to our free InfoAve Daily newsletter.






Now available: Reg Organizer 8.81

If you purchased or renewed Reg Organizer through Cloudeight within the last 12 months, you're entitled to a free version upgrade to Reg Organizer 8.81.

Save $14 on Reg Organizer right now!

Reg Organizer - A Swiss Army Knife of Windows Tools - Works Great on Windows 10!




Three (and a half) Great Christmas Sites

At this festive time of year, EB and TC like to do festive things, like reminding everyone that Christmas is coming. It seems each year, Christmas comes and goes so quickly. So, before Christmas has come and gone, we'd like to (hopefully) add to your Christmas joy by sharing some unique and fun Christmas websites. You'll want to bookmark one or more of these sites if you have kids or grandkids, or if you're like us, kids at heart.

These sites are not listed in any particular order – so the first one listed is not necessarily the best and so forth and so on.

Without boring you to tears, I am going to get started now.
---
If you have kids or grandkids, or if you still believe in Santa Claus, as I do, then you'll want to visit this site on Christmas Eve.
Dear Santa,

All I want for Christmas is for EB to quit flogging me.

Your fan,

TC
OK seriously – this is from the NORAD site by the official NORAD people, who you don't want to mess with because they have their fingers on the buttons that launch nukes. Don't write and criticize them.
For over 60 years "…NORAD and its predecessor, the Continental Air Defense Command (CONAD) have tracked Santa's flight.

The tradition began in 1955 after a Colorado Springs-based Sears Roebuck & Co. advertisement misprinted the telephone number for children to call Santa. Instead of reaching Santa, the phone number put kids through to the CONAD Commander-in-Chief's operations "hotline." The Director of Operations at the time, Colonel Harry Shoup, had his staff check the radar for indications of Santa making his way south from the North Pole. Children who called were given updates on his location, and a tradition was born.

In 1958, the governments of Canada and the United States created a bi-national air defense command for North America called the North American Aerospace Defense Command, also known as NORAD, which then took on the tradition of tracking Santa…"
---
We would write an intro for this site, but since the developer of the site is so verbose, we're just going to let him entertain you.
"About WhyChristmas?com

WhyChristmas?com is one of the largest Christmas information sites on the web and answers your Christmas questions! It was launched in November 2000 by me, James Cooper a Christmas loving web designer from the UK

I'd always loved Christmas (yes, I'm a very big kid!) and had wondered about the 'whys' of Christmas; such as why do we have Santa/Father Christmas, why we have Christmas Trees and send Christmas Cards to each other?!

The site was originally created for some friends who were teachers in a local school. Knowing that I was a web designer, they came to me complaining that they couldn't find a site that was child friendly and "wasn't trying to sell the kids something"! So with the help of 'Bruce the Spruce' (the site's Christmas Tree logo!) I made a little site for them to use with their classes.

The site has always had a 'no ads' policy (although I've had plenty of offers!). As the site has become more and more popular the hosting costs have also increased! If you really like the site, you can help to keep the site online.

As a Christian, the most important part of Christmas to me is the Christmas Story, when we remember and celebrate that Jesus was born in Bethlehem 2000 years ago.

I'm also an all round 'Christmas Nut' listening to Christmas Carols and songs throughout the year! And to really get me into the Christmas spirit, I have to watch 'The Muppets Christmas Carol'! Through researching and creating the site, I've also become a Christmasologist…"
It's a fun site for adults and kids – get on your sleigh and hitch up your reindeer and…

Head on over to WhyChristmas?com.
---
I love it! Another verbose developer! I'm on a roll – and so are you. Here to tell you all about Northpole.com is the developer himself…
"About Northpole.com

Northpole.com celebrates the holidays with dozens of activities for children and families. A child-safe, award-winning holiday site, northpole.com promotes a traditional look at Santa's Secret Village at the North Pole, but with high-tech, creative features to keep children and adults entertained—all for free.

The northpole.com site premiered in 1996 and has been delighting children ever since. Its creators wanted to provide a family-oriented, traditional Christmas site for children and their families to enjoy, and showcase it as a site steeped in both tradition and technology. As a result, visitors enjoy animation using Adobe Flash, JavaScript, Webmail, and conversation simulators using artificial intelligence—all on Web pages richly illustrated with hundreds of original, detailed, hand-drawn artwork.

The site opens with a panoramic view of Santa's Secret Village?, the fanciful home of Santa, his elves, and reindeer. Visitors click on different 'buildings' to enter, leading to a variety of activities or stories. Buildings include Santa's Mailroom, Santa's Workshop, Gift Shop, Craft Cottage, Elf Clubhouse, Santa's Reindeer Barn, Santa's Den, Mrs. Claus' Kitchen, North pole Weather Station, Elf Pal Academy, and Toy Shop.

Letters to Santa arrive by the thousands each day during the holiday season and are processed in Santa's Mailroom. There, children have a quick, secure, and certain means to write Santa AND get a free, keepsake-quality reply letter within days. In Santa's Workshop, children can read short creative stories about elves and toys. In the Reindeer Barn, the stories are about Raymond the playful reindeer. All stories on northpole.com are original, and many offer a gentle and upbeat lesson for children. Personalized, original stories await children in Santa's Den and are created by the child (or parent) answering a few short questions, such as the child's first name, hometown, and a favorite activity. These answers are woven into the story to personalize it for the child, and pages can be printed out as a keepsake or gift.

After discovering that teachers were using the site in classrooms to teach computer skills, reading, and writing, site creators added the Elf Pal Academy, offering mind-challenging games, puzzles, mazes, math riddles, an interactive coloring book, even Santa's favorite Rubik's cube. A favorite is the Good Deeds Calendar that children can print and record their good behavior for Santa.

Need a special recipe for the holidays? Mrs. Claus' Kitchen has thousands! Also, at northpole.com there's ElfChat?, animated holiday postcards, and an 'elf-run' weather station that gives updated North Pole weather reports.

While December brings the largest numbers of visitors, the site receives millions of visits year-round. What began as a venture into Internet technology has grown into a truly happy holiday tradition for many families all over the world. Whether it's tradition wrapped in technology, or technology wrapped in tradition, a visit to northpole.com is a holiday gift…"
Let's put on our coats, hats, boots, and scarves and head to the Northpole, shall we?
---
Eightball & Thundercloud's Christmas Graphics
It is with bittersweet emotions that we mention the site that started it all. From our rise to the top as the biggest stationery site on the web and one of the top 500 websites in the world to the demise of stationery with the introduction of Windows 7 to our current incarnation – geared to helping people all over the world with their Windows computers. In our 23 years working on the Internet, we've seen the web grow and change so much - and not always for the good.

There's a lot of innocence and naiveté in our first collaborative effort. Looking back, it looks so simple and out-of-date. And whenever we revisit our first Web site, it brings tears and smiles. You'll notice the midi (music) that used to play in the background does not play in Chrome, Firefox, Edge, or other modern browsers. However, you'll see that it downloads the small music file in the background. They are all beautiful Christmas midis.

Looking back is bittersweet. It hardly seems like it's been 23 years since we built our first Web site.

Hop in Darcy and TC's time machine, and let's go back to where it all began.


The Best Computer Care and Repair - Anywhere!

We can fix your computer while you watch. You never have to leave your home. Just sit back, relax, and watch us work. Get PC service from folks you trust at the best prices you'll find anywhere.

Get more information here.


In the Spirit of Christmas

"So faith, hope, love remain, these three; but the greatest of these is love." 1 Corinthians Chapter 13

Winter has arrived ahead of schedule this year. Tonight, I look out my window and see softly falling flakes of snow drifting in the dim light of the old lamp post in my front yard. How many times I've looked out and seen this same winterscape I cannot count. I wonder how many times I've looked at nearly the same scene and went about whatever business seemed important to me at the time. And how many times I've never really seen anything at all as life passed by me; and I never really saw anything. At all.

But tonight I'm feeling wistful and pensive. Not sad. Just thoughtful. I guess life is flowing by faster than I ever imagined it would. I suppose none of us at when we're young can imagine the value of time.

Seasons come and go so quickly now. And here it is Christmas Eve. And, it really feels strange to think that Christmas is here already… again.

When I was a child a whole week to wait for Christmas to arrive seemed a painfully long time. Counting down the days and hours made it seem even longer. But Christmas did come – it came and went; it came and went so many times and now here I am, decades older, and hopefully, many years wiser, looking back over all those Christmases past.

As I look back at Christmases past, the ones I remember most are the ones where I had the least...


Read the rest of this Christmas essay here.


THANK YOU FOR HELPING US!

When you support us with a small gift, you help us continue our mission to keep you informed, separate the truth from the hyperbole, and help you stay safer online. Plus, our computer tips make your computer easier to use.

Did you know that we provide support to thousands of people? Every week we help dozens of people via email at no charge. The questions and answers you see in our newsletters are from the email answers and help we provide to everyone free of charge.

Thanks to your gifts, we do a lot more than provide this free newsletter. We help you recognize online threats, fight for your online privacy, provide you with the knowledge you need to navigate the Web safely, provide you with suggestions for safe, free software and websites, and help you get more out of your PC.

Please Help us keep up the good fight with a small gift.

Interested in making an automatic monthly gift? Visit this page. Help us keep helping you... and helping you stay safe on the Web.





What's the first thing I should do if I start to have problems with my computer?

This will be, mercifully, one of the shortest answers you'll ever see written by TC. The first thing you should do if you start having computer problems is:

Restart Your Computer.

That's it. You'd be surprised how many simple problems that restarting your PC can fix.



Our newest Cloudeight Endorsed Email Program - Very Similar to Windows Mail & Outlook Express.

Cloudeight Stationery works great with OE Classic!

Read more about OE Classic here!




Sales of the following products and services help support our newsletters, websites, and free computer help services we provide.

Cloudeight Direct Computer Care: Single Keys, SeniorPass, or Season Tickets - always a great deal. Cloudeight Direct Computer Care is like having PC insurance. Get more information here.

Emsisoft Anti-Malware: Emsisoft is the only Cloudeight endorsed and recommended Windows security program. It provides users with a complete antivirus, antimalware, anti-ransomware, anti-PUPs solution. We offer single Emsisoft licenses and multi-computer licenses at discount prices. Also, we offer our exclusive Emsisoft with Cloudeight installation & setup. Get more information here.

OE Classic Email program. The email program that is most like Outlook Express. We can even set it up for you. Get more details here.

Reg Organizer: Reg Organizer is the Swiss Army Knife of Windows tools. It's far more than just a registry optimizer and cleaner... it's a Windows all-in-one toolkit. Reg Organizer helps you keep your computer in tip-top shape and helps you solve annoying Windows problems. Reg Organizer works great with Windows 10! Get more information about Reg Organizer (and get our special discount prices) here.

SeniorPass - One year of Cloudeight Direct Computer Care - unlimited sessions! Get more information here.

Windows 10 Customization: Make Windows 10 look and work the way you want it to. Learn more.

MORE IMPORTANT STUFF!

Your InfoAve Weekly Members' Home Page is located here.

Print our Cloudeight Direct Computer Care Flyer and spread the word about our Cloudeight Direct Computer Care repair services. Get our ready-to-print flyer here.

Help us Grow! Forward this email newsletter to a friend or family member - and have them sign-up for InfoAve Weekly here!

Get our free daily newsletter! Each evening we send a short newsletter with a tip or trick or a computer-related article - it's short and sweet - and free. Sign-up right now.

We have thousands of Windows tips and tricks and computer articles posted on our Cloudeight InfoAve website. Our site has a great search engine to help you find what you're looking for too! Please visit us today!

Help us by using our Start Page. It costs nothing, and it helps us a lot.

Print our Cloudeight Direct Flyer and spread the word about our computer repair service! If you want to help us by telling your friends about our Cloudeight Direct Computer Care service, you can download a printable flyer you can hand out or post on bulletin boards, etc. Get the printable PDF Cloudeight Direct Computer Care flyer here.



We'd love to hear from you!

If you have comments, questions, a tip, trick, a freeware pick, or just want to tell us off for something, let us know.

If you need to change your newsletter subscription address, please see "Manage your subscription" at the very bottom of your newsletter.

We received hundreds of questions for possible use in IA news. Please keep in mind we cannot answer all general computer questions. We try to personally answer as many as we can. We can only use a few in each week's newsletter, so keep this in mind. If you have a support question about a service or product we sell, please contact us here.

Subscribe to our Daily Newsletter! Get computer tips & tricks every night. Our daily newsletter features a computer tip/trick or two every day. We send it out every night around 9 PM Eastern Time (USA). It's short and sweet, easy-to-read, and FREE. Subscribe to our Cloudeight InfoAve Daily Newsletter!





We hope you have enjoyed this issue of Cloudeight InfoAve Weekly. Thanks so much for your support and for being an InfoAve Weekly subscriber.

Remember, this Christmas that love is the greatest gift of all.

Merry Christmas! And God bless us...everyone.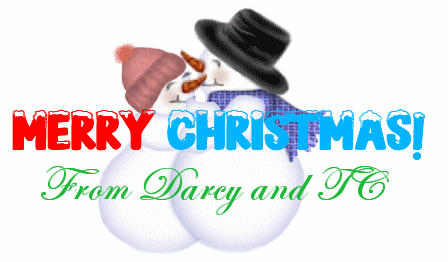 Darcy and TC
Cloudeight InfoAve Weekly - Issue #950
Volume 19 Number 8
December 24, 2021

Not a subscriber? Subscribe to our FREE Cloudeight InfoAve Weekly Newsletter here.





"Cloudeight InfoAve Weekly" newsletter is published by:

Cloudeight Internet LLC
PO Box 73
Middleville, Michigan USA 49333-0073

Read our disclaimer about the tips, tricks, answers, site picks, and freeware picks featured in this newsletter.

Copyright ©2021 by Cloudeight Internet