How to Delete "Previous Windows Installation" Files After Upgrading to Windows 10
Windows 10
When you upgrade from Windows 7, or Windows 8.1 to Windows 10, your system will save a copy of the entire C drive and it can be quite a few gig in size. We helped a customer regain over 400 gigabytes of space on her system by clearing off windows.old ("Previous windows installations") files. If you try to delete it from C drive, you'll find you cannot delete it. Here is a way around that:

1. Click Windows Key + R to open the Run command

2. Type in cleanmgr.exe and choose to clean up C drive by clicking OK (see screenshot below)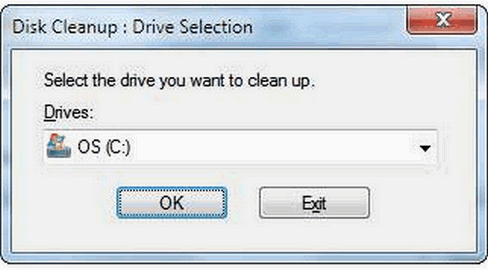 3. When the new Window comes up with list of things to clean, click "clean system files" (see where red arrow is pointing in the screenshot below)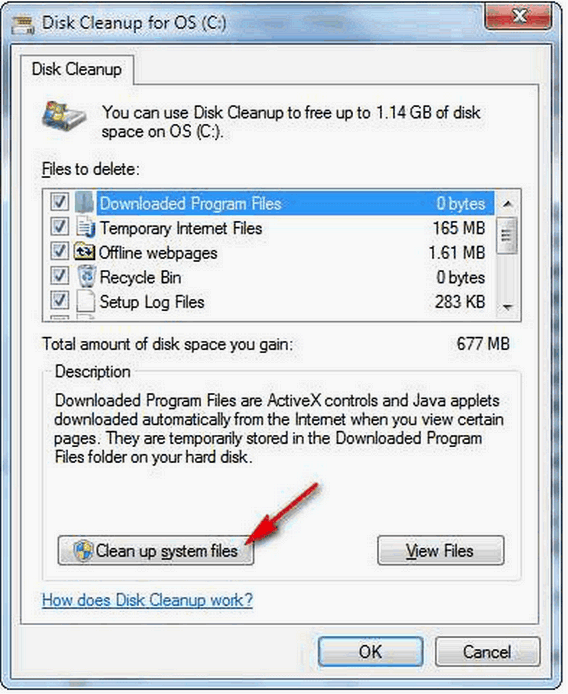 4. Once again choose C drive, and when next window opens, go through list and check all items listed – you should see "Previous Windows installations" listed.

Here are two examples of Previous Windows installations showing in Disk Cleanup dialog. As you can see they can be very large files.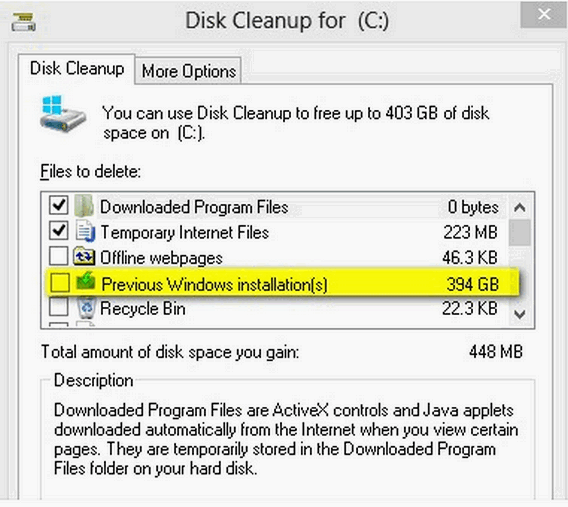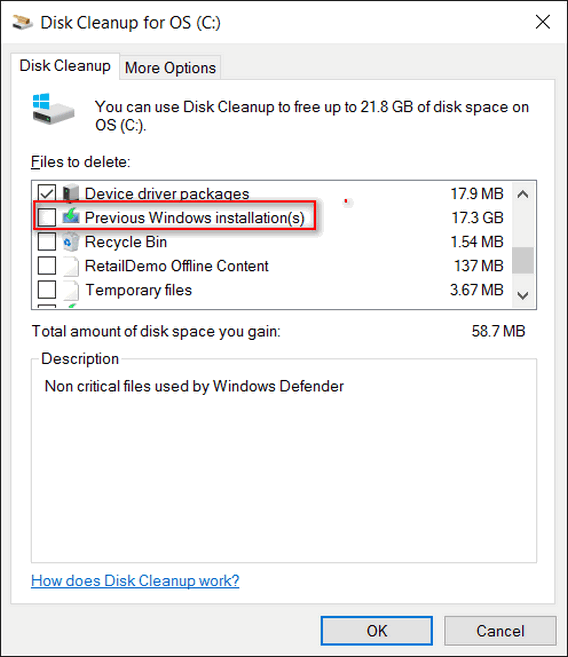 WARNING! IF YOU DELETE THE PREVIOUS WINDOWS INSTALLATION, YOU'RE OUT OF LUCK IF YOU WANT TO REVERT BACK TO YOUR PREVIOUS VERSION OF WINDOWS. WE RECOMMEND YOU WAIT 31 DAYS AFTER UPGRADING BEFORE YOU REMOVE THE PREVIOUS INSTALLATION.

This tip is for anyone who has upgraded from Windows 7 or Windows 8.1 to Windows 10 and who have used Windows 10 for more than 31 days.

Common Windows 10 Miscues Cause Laptop Users Misery
Windows 10
We are receiving more and more reports of folks who restart their computers and find that their Wi-Fi is turned off. With laptops there are several ways to turn off Wi-Fi without being aware you've turned it off. Some laptops have a Wi-Fi switch and some have a fn key combination that turns off Wi-Fi. And add to that the Airplane Mode button in the Action Center (Click the Action Center button just to the left of the clock on the Windows 10 taskbar, or press Windows Key +A). If you open Action Center to view notifications that show up there, and you accidently click on the Airplane icon (Airplane mode) you turn off your Wi-Fi.
If your Wi-Fi was accidentally turned off, do this:
Click on Windows 10 Start button -->Click on Settings-->Click on Network & Internet-->Click on Wi-Fi -->Turn Wi-Fi ON



Above: Slide the Wi-Fi switch to "On".
-------------------------
The revenge of Windows 8 ... If you start your computer and find your desktop covered with large tiles instead of regular icons, you might have accidentally booted into Tablet more - or you may have accidentally clicked the Tablet Mode icon in Action Center.
No worries, mate. Here's how to turn Tablet Mode off:
Press Windows Key + A to open the Action Center -->Click Settings-->Click System-->Click "Tablet mode" (on the left) -->Turn Tablet mode Off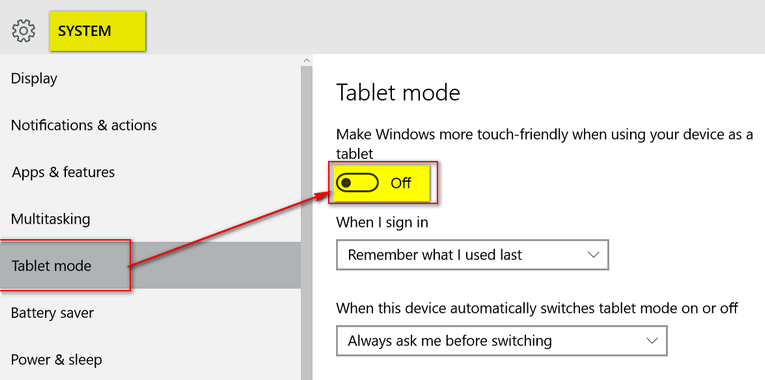 Above, turning off Tablet mode.
-----------------------------
Or maybe you've accidentally switched your Start menu to full screen...
It could be that your desktop is covered with tiles because you've accidentally switched your Start menu to "Full Screen" mode. Here's how to fix that:
Click on the Start button-->Click Settings-->Click "Personalization"-->Click "Start"--->Turn off "Use Start full screen" - as below: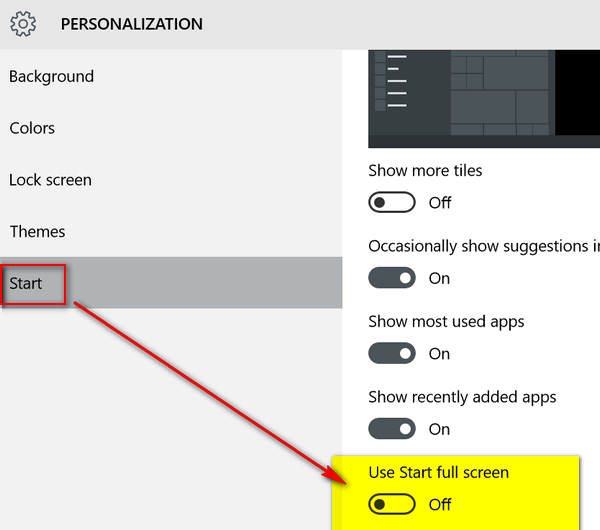 Turn off "Use Start full screen"
A lot of folks are having minor problems like this, and we know, minor or not, they can be frustrating and annoying.



Test Your Internet Connection Speed Right From Your Chrome Browser
Windows 7, 8x, and Windows 10 with Chrome installed
If you're paying for high-speed internet but you are not getting the speed you're paying for…Or if you're having problems and think your internet connection seems slow…Or if you're just the kind who likes to know how fast your going… This tip is for you.
We have used www.speedtest.net for many years to check connection speeds for ourselves and testing speed for our Cloudeight Direct Computer Care customers. We just learned about a new Ad-free Chrome extension that lets you check your internet connection right from your browser, anytime you want. Plus, there are not annoying ads or tricky clicky tricks going on (the page at www.speedtest.net has ads and can be tricky if you're in a hurry).
Speedtest by Ookla is a browser extension for Chrome that lets you check your internet speed without visiting the Speedtest site and without leaving the page you're on.
Unlike EB who has 60 Mbps download speed, I struggle along with 17 Mbps speed because I'm broke. Why am I broke? Because she pays me so poorly. Though it makes me sad to check my internet speed, I do it frequently to make sure my ISP is giving me the speed I'm paying for. With the Speedtest extension, all I have to do is just click on the Ookla Speedtest Chrome extension and I can see how fast my download and upload speeds are — without leaving the page I'm on.
If you frequently need or want to check your internet speed, and you use the Chrome browser, then visit this page to get the Ookla Speedtest Chrome browser extension.

Windows 10: Print to PDF
Windows 10
For over two decades, Windows users have had to download 3rd-party software in order to save files as PDF. And today with so many 3rd-party freeware programs being bundled with all manner of PUPs and malware, you'll be glad to know that if you have Windows 10, you don't need no stinkin' 3rd-party software. Just open your document, click on the Print button (or press Ctrl – P ) and choose "Microsoft print to PDF".
See the image below:
In the screenshot above, note that Microsoft Print to PDF is selected — and please note, because it's important, that Print to file is also selected. When you click Print (assuming the two items are checked) a Windows explorer window will open giving you a chance to choose where to say your PDF file and to give it a name.
It works well. For our test we choose a simple Notepad file and used Microsoft print to PDF to create a PDF document without using any 3rd-party software. You will, of course, need a 3rd-party program to open it (or use Google Docs to open it). I use Foxit as my PDF reader, I have no idea what EB uses. You can use whatever you like including Adobe PDF Reader.
I called my PDF test file "MyTEST" – I know, it's very creative right? As you can see by the screen shot below, the Notepad text file was converted to PDF and saved to my desktop. It opens and looks like any other PDF file.
Behold!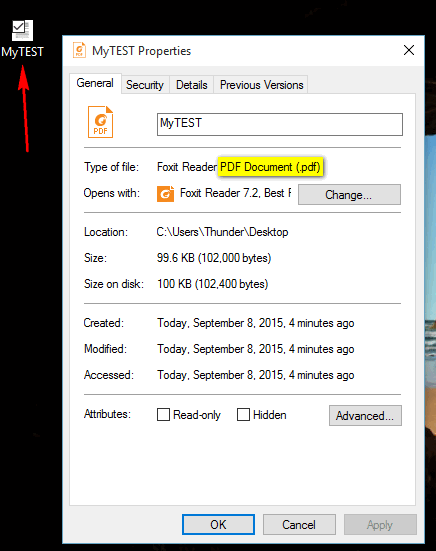 With Windows 10, you don't need no stinkin' PDF converter, I tells ya!