Cloudeight InfoAve Premium
Issue #671
Volume 13 Number 44
August 19, 2016


Dear Friends,

Welcome to InfoAve Premium - the best free computer newsletter anywhere. This is InfoAve Premium Issue #671. If you've missed a back issue, you can catch up. You can find the last few issues of InfoAve Premium on this page.

If you want to help us by telling your friends about our Cloudeight Direct Computer Care service, you can download a printable flyer you can handout or post on bulletin boards, etc. Get the printable PDF Cloudeight Direct Computer Care flyer here.

We both want to thank you for being a reader and for your support; we appreciate it very much.




Get unlimited Cloudeight Direct Computer Care Support For One Full Year With a Cloudeight Direct Computer Care Season Pass!

Cloudeight Direct Computer Care Season Ticket - Back to School Special! Just $99 (Save $36)
It's like having insurance for your computer! You get: One year of unlimited* Cloudeight Direct Computer Care service for one low price. Includes Emsisoft with installation plus a one-year license plus SoftMaker Office Standard lifetime license (while supplies last). If you already have Emsisoft, you'll get a one-year renewal license and security checkup - all included in your Season Ticket package.
Visit this page for more details and to take advantage of a great price on a great service.


Get two Cloudeight Direct Computer Care Repair Keys for just $79

For a limited time, you can get 2 Cloudeight Direct Computer Care repair keys for $79. Buy one for yourself and give the other to your student - or a friend - or yourself! No matter how you slice it, you save $56.

Our computer repair keys never expire, they are good until you use them. Buy now and save. Our repair keys normally sell for $65 each - but during this sale you can get 2 repair keys for just $79!
Visit this page for more information and take advantage of this super-savings offer.


A comment from James
I have an older Windows 7 computer that I couldn't upgrade to 10 so I was thinking about buying a new computer because this one was running so slow. TC came and fixed it up and now it's running like new. Who needs a new computer? Thanks TC..

A comment from Pat
First off, I'm a bit late with this and for that I apologize. Darcy I so appreciate all you did for me; doing a pre check on my pc, installing Windows 10, doing a post check and setting my pc back to Windows 8.1, installing Emsisoft and SoftMaker Office. I love them and Reg Organizer. And truly appreciate your well wishes after my personal health set back. I am finally getting back on my feet and realized I had not sent you a BIG "thank you". You are the BEST!!! I hope you both are around forever! For all you other folks out there: NEVER doubt that TC and Darcy are brilliant in what they do and stand behind they're work AND their word!!

A comment from Coraetta
You are my only way to be able to use this computer. And there is no words that I can think of to share how MUCH I APPRECIATE you & your knowledge. Thanks Again Darcy! Coraetta

A comment from Donald
I want to thank you both for your service and all you do to help us with our computer problems. Darcy came to my aid and reset windows mail and I am so happy to get it up and running again. I will be sending a donation.

A comment from Des
Thanks TC for a very good job well done. It is amazing to see the mouse dancing around the screen. I will certainly recommend you to my friends. Kindest Regards Des

A comment from Mary
While Oscar, my Roomba, cleaned my house, I sat in a comfortable chair and watched Darcy clean my laptop. Darcy was marvelous .... she installed my new Emsisoft program, found my Reg Organizer (which I thought was lost for good) and took all the laptop junk away. Thank you, Darcy, the lady with the flying, magic fingers. I am once again impressed with the computer services you provide. Now, my house is clean and my laptop thinks it new. You guys are WONDERFUL!

A comment from Caryn
This is a thank you to Darcy. I owe you a huge debt of gratitude. Darcy has helped me protect a family member who lives independently for now with Alzheimer's through Computer Direct care & Emsisoft. Without her help & expertise, he would no longer be able to use his computer as he lacks understanding re clicking on links or offers on the web. Thank you once again, Darcy!



Thanks to James, Pat, Coraetta, Donald, Des, Mary, Caryn and all of you who wrote to us during the past week about the computer services you received from

Cloudeight Direct Computer Care. We are so glad we've been able to help so many people from all over the world If you need computer service we hope you'll let us help you. TC & EB

Save on Cloudeight Direct Computer Care with our Back-to-School Specials. Get 2 repair keys for $79 or Get one-year of unlimited support for $99.

Do you have a comment, question, tip or freeware pick to share? Send it to us.




You never have to leave your home. Just sit back and relax and watch us work. Get PC service from folks you trust at the best price you'll find anywhere. Learn more here.




Tim lost his product key for MS Office 2007
I have lost the product key for Office 201 and do not have original documents any more. Is there a program that can find the key so I can use it when I reinstall Windows? Thanks. Tim

Our answer
Hi Tim. There are several programs that will recover product keys, registration codes and even Windows product keys. One we used to recommend, JellyBean Key Finder (free) now comes bundled with Open Candy (malware). We found a better one, called recALL. Here's some information for you

The following is from the author:

"Recall allows quick recovery of passwords from more than 160 programs (email, web browsers, instant messengers, FTP clients, wireless, etc.) and license keys from nearly 800 applications. reCALL The world's first program that allows you to recover most of the password and also a license from damaged operating systems through native support of the systems registry files.

Due to the unique function emulation FTP, POP3 and SMTP can recover passwords from any application supporting these protocols, even if the program is not yet supported in reCALL

All functions in one program..."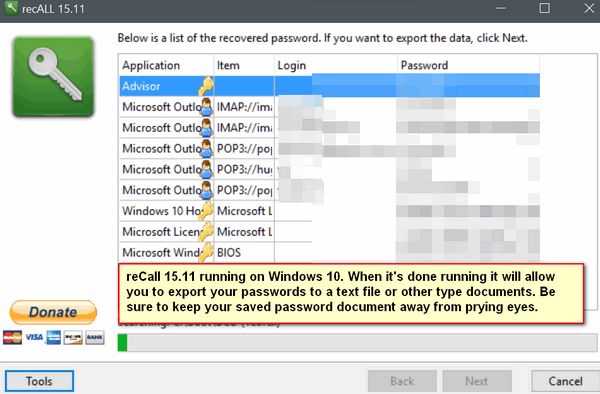 reCALL running on Windows 10



Other tools available in reCALL

reCALL is free. If you're ready to download or want to read more about reCALL - just go to http://keit.co/p/recall/.

Note: The reCALL page is in Polish, If you don't read Polish, look at the top right corner of the page and find "Select language" and change it to English (or whatever you're comfortable with).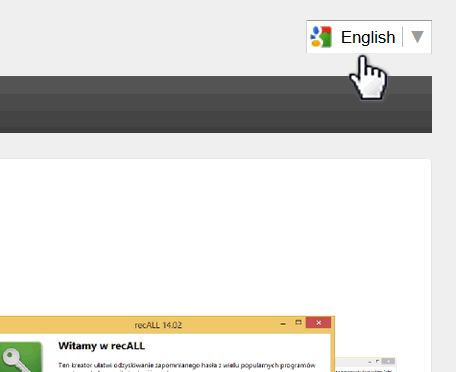 We originally picked reCALL as a freeware pick of the week back in 2014. We retested reCALL on August 18, 2016 and it still works great and it's free from tricks or bundled software.

Brenda's password is very strong: Can she uses it for every site?
If I have good malware protection and my password is projected to hold up under all three types of cracking for trillions of centuries (according to the site you featured), may I safely use the same password everywhere and never have to use a password manager again? I know some sites require that the password be changed frequently, but I could cycle a few and still be able to remember them?

Our answer
Hi Brenda. Quick answer for you: No, you should never use the same password for every site. No one is perfect. Everyone makes mistakes and sometimes isn't paying attention. It happens to me, it happens to you, it happens to everyone. If just once you were not careful and you were tricked into revealing your password, every single one of your accounts would be accessible to whomever tricked you. And don't think it can't happen – it can and it does. No matter how strong your passwords are – never use the same one for every site or even for more than one site.

A password manager like LastPass (free) makes it easy to generate a strong password for every log in. It also makes it easy to change your passwords frequently - which we highly recommend.

Ellen has problems with Windows Media Player in Windows 10
I can not get my Windows Media Player to play a TS version video. I did get it to play a regular "video" but my Media Player seems to be missing something. My husband has an HP Laptop also, a little older but it also is running Windows 10 as mine is and his even looks "different"...what do I need to do? Thanks, hope this is clear. My husband download the video to a thumb-drive and it play fine on his computer but no video on mine, I do have audio.

Our answer
Hi Ellen, we're not sure about your husband's computer. It's an HP and they often come with a lot of pre-installed software - some of it trialware. HP might have included a proprietary media player that can play digital media.

We recommend you download VLC Player from VideoLan. It's free and works in Windows 7, Windows 8x and Windows 10. It's free and you can get it from this page. After you install it, you'll need to make it the default player for video files. You can set it as your default like this:

Press the Windows Key + the i Key (or click on the Start button and click Settings). Click on System-->Default apps--Video player. Click on the media player that is showing and it will bring up a list of other video players installed. Select "VLC media player" from the list and set it as default.

The TS extension is the acronym for Transport Stream MPEG Transport Stream. Sometimes these are poor quality files and the video portion may be missing - only the audio will play. Assuming your file is really a video it should play fine. The TS video format is supported by VLC media player.


Barbara made some changes to her computer and wants it back the way it was
Having a problem, hope you can help. ! I rebooted my laptop this afternoon and found myself locked out because I mysteriously needed a password to login. Couldn't figure out how that happened, since I NEVER had a login password for any of my personal PCs in 29 years. I live alone, keep doors and windows locked, and will happily break the fingers of any visitor who touches my keyboard. <grin> After several minutes, it dawned on me. A few days ago I signed up for a Microsoft Account in the course of something I was doing online. What could it hurt? The kicker is that now I don't even remember why. MS used that password as my laptop login password. I didn't know that was part of the deal. I was able to retrieve my MS password using LastPass (Yaaaaa) which was previously synched on my smartphone and regained access to my laptop. Whew! From there I Googled and found the procedure to disable my login password, which I did immediately. However, I am still distressed by all this. Is there any way to not just disable the password, but to go back to the way it was BEFORE I signed up for a MS account? Is there a registry fix? If I close my Microsoft Account will that erase my login password so I can sign in the way I did a week ago? I vaguely remember you publishing a solution of some kind awhile back, but I can't find it now. Sorry to run on, I very much appreciate any assistance you can give, as well as all the help you both have given to us in the past. PS: I still have my Cloudie T shirt!

Our answer
Hi Barbara. Wow, our poor Cloudie T-shirts are long gone. Maybe we should offer them again? EB used hers for a night shirt - oh what a thought that is!

OK now on your question about deleting your Microsoft Account you won't be able to login to your computer using your Microsoft Account password, but we don't think it will remove that account from your PC. We have no way of testing this since we both use MS accounts. Remember deleting or remove accounts also removes whatever personal files you have saved on that account.

Simple is best. We're going to give you what we think is the simplest solution. Assuming all this happened recently - within the last few weeks - you can undo whatever system changes you made using System Restore.

Do this:

1. Type System Restore in search

2. Click Create a restore point

3. Select your Windows Drive (normally C:\ System). Then click button near top of screen called System Restore. See screenshot below

4. Click next

5. Click Show more restore points (see screenshot below)

6. Pick one that was a day or so before the problem.

7. Let it proceed and do not interrupt the restore process. It will reboot at least once, so just sit back and it should take between 15 minutes and an hour - but sometimes it can take longer. The important thing is, not to shut off your computer during the restoration process. We have seen the process take over an hour - and sometimes you may see nothing but a blue or black screen. Don't worry...let it finish.

Your computer should be back to the way it was. One other thing. Using a Microsoft account to log in to Windows has some advantages...not the least of which is should you forget your Microsoft account password you can re-set it online.

If you're not going to use a Microsoft Account to log in to Windows, you should create a Password Reset Disk. If you're going to be using a local account you should create a password reset disk (USB):

1. Login to your computer using the local account you want to create a password reset disk for.
2. Insert a USB drive in to a USB port.
3. Type Password Reset Disk into search and click it when it appears.
4. Click on Create a Password Reset Disk
5. Click Next and follow the instructions on the screen.

If you ever forget your local account password, you can reset it using the password reset disk (USB).

(Note to those using Microsoft Accounts - you won't have the option to make a password reset disk when logged in to Windows with your Microsoft account. You don't need one, since you can reset your Windows password online if you forget your password.)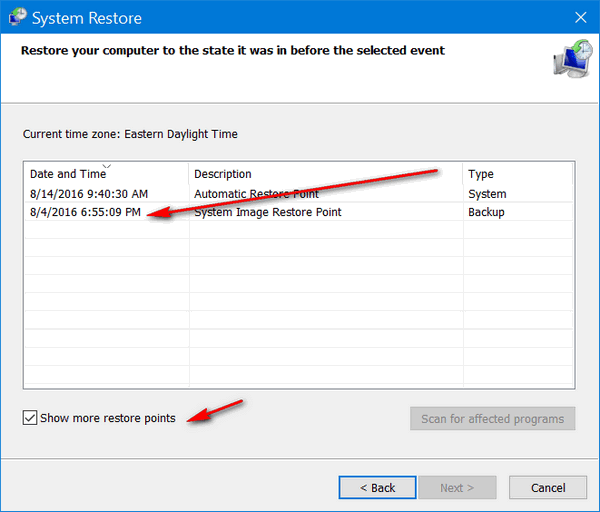 Shay wants to know where the Windows key is

Where is the Window Key?


Our answer
Hi Shay. The Windows key is on the bottom row of your keyboard, between the Ctrl key and the Space bar. It looks like this: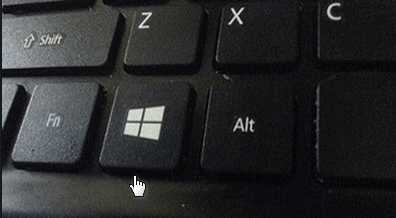 It's called the Windows Key because it has the Windows logo on it. It's a very important key that unlocks some really great shortcuts and computer functions.




Add Control Panel, Snipping Tool, Sticky Notes & More to the Windows 10 Start Menu
Windows 10

Did you know you can add Control Panel, Disk Cleanup, Sticky Notes, Snipping Tool, This PC (My Computer), and more to your Windows 10 Start Menu? You can. It's easy and we're going to show you how. But first we're going to tell you that things like Control Panel, Task Manager, and Run are already on the Windows right-click power menu (the menu that appears when you right-click the Windows 10 start button). So keep that in mind.

But if you're like me, you like having everything in one place, right in front of your weary eyeballs. And Windows 10's new start menu is nothing if not malleable That's why we like it, and we think you'll like it if you just give it a chance.

So let's get started. We'll add Control Panel to the Windows 10 start menu and use that as an example.

Click the start button (if you're not yet using Windows 10 Anniversary Edition, you'll need to click on "All apps"), then scroll down to the "W" section and find Windows System.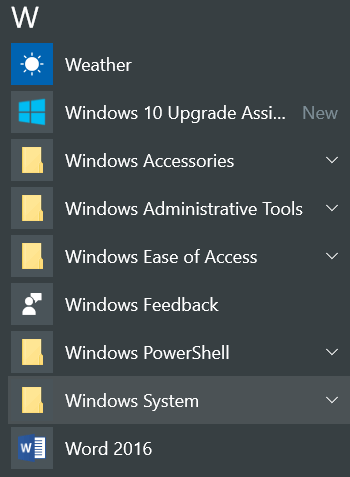 You'll find Control Panel and more there: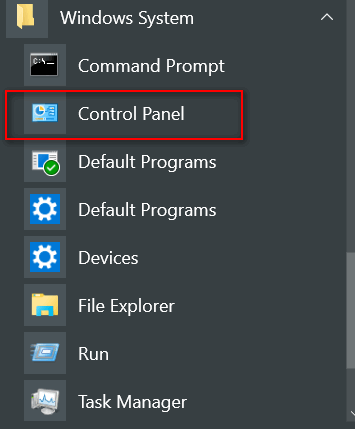 Now, right-click on "Control Panel" and choose "Pin to Start":





And Control Panel will appear on your start menu.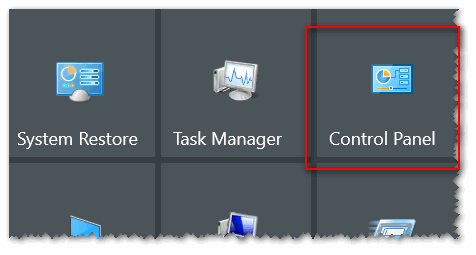 You can drag items around on the Start menu to put them in any order you like. I like all my system functions together in one are of my Windows 10 Start menu. See?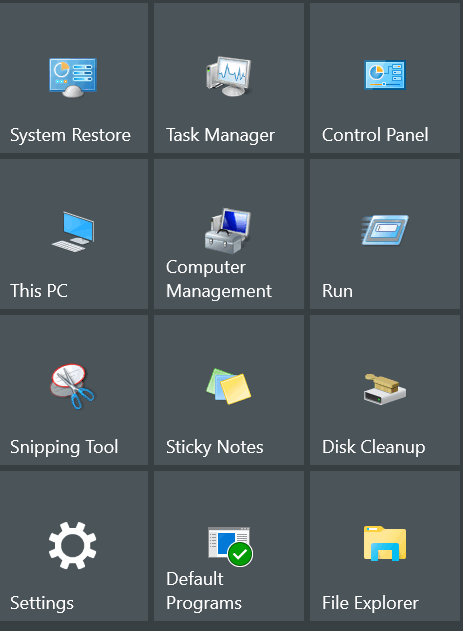 You can add additional items such as the ones pictured above, and more, by exploring these other Start menu folders:

Windows Accessories

In Windows Accessories you'll find things like Internet Explorer, Snipping Tool, Sticky Notes and more. Anything here can be added to your Windows 10 Start menu by right-clicking the item and choosing "Pin to Start".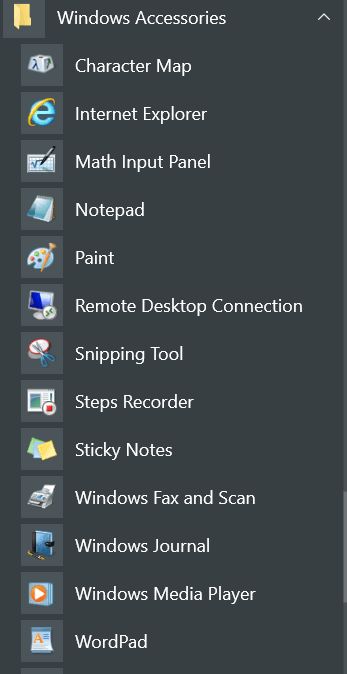 Windows Administrative Tools

Here you'll find features like Disk Cleanup, Performance Monitor, Resource Monitor, and other arcane stuff geeks really feast upon. Anything here can be added to your Windows 10 Start menu by right-clicking the item and choosing "Pin to Start".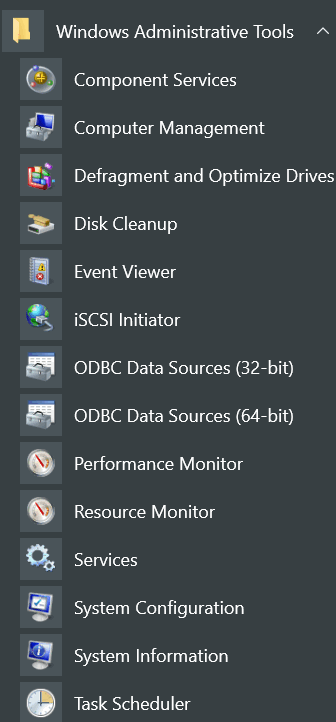 We think the Windows 10 Start menu is the best ever, but like anything else you have to know how to make it the way you want it. By adding things you use to it, and removing things you don't want from it, and by dragging things them around to put them in the order that makes sense to you, you can make Windows 10 Start menu just the way you like it.

What's that EB? You want me to tell them how to remove things from the Start menu? OK. Just right-click on any tile and choose "Unpin from Start". And yes, most tiles an be resized by right-clicking them and choosing "Resize".



Navigate the Windows 10 Start Menu Quickly
Windows 10

If you're like EB and have 10,000 programs installed (most of which she uses to monitor my work habits!), rather than scrolling the entire menu to find a program, you might prefer this faster, alphabetical way to find what you're looking for.

Open your Start menu (if you're not yet using Windows 10 Anniversary edition click "All apps"). Now click on any letter and you'll see this: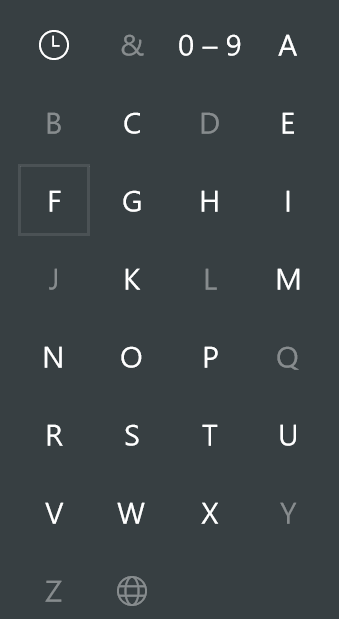 So instead of EB scrolling through 10,000 programs looking for "TC Tracker", she can go right to the T's and find it without scrolling through everything. Likewise, if she were looking for the electric shocker she uses to make sure I don't fall asleep, she could just click on "S" and look for "Shocker" and give me a jolt.

And in case you're wondering what that clock-like thing is at the top, if you click it, it will show you any programs you've recently installed.




The Cloudeight Booster Store is open and there are always special prices for our boosters - and there are more specials on the way.
Not a Cloudeight Booster? Join us!

If you're not a Cloudeight Booster now, you can become a booster my making a donation of as low as $10. You will easily save this on your first purchase. Our special Booster prices will be $10 to $60 (or more) lower than our regular prices.

Additionally, donations help us continue to provide support to thousands of people - Every week we help dozens of people via email at no charge. And our Cloudeight Direct Computer Care Service provides computer repair and other services for much less than others charge.

Right now, we really need your support. We hope you'll take a few minutes today and help us with a small donation.

After you donate, you will receive info on how you can become a Cloudeight Booster. Help us continue to help you with a donation.

Visit this page to make a donation - we would really appreciate it.

Already a Cloudeight Booster? THANK YOU!

Windows 10 shortcuts you should know
Windows 10 (some work on older versions of Windows too)

These are the Windows 10 Windows Key short cuts we use most of all.

Windows Key + A = Action Center
Windows Key + D = Show desktop
Windows Key + I = Settings
Windows Key + R = Run
Windows Key + S = Search
Windows Key + X = Opens the so-called Power Menu (this is the same as right-clicking the Windows 10 Start button)
Windows Key + Home = Minimizes all windows and displays desktop; press Windows Key + Home again to reopen all minimized windows
Windows Key + Tab = Task View
Windows Key + a comma = Peek at Desktop
Windows Key + Print Screen = screenshot current view of screen and auto-copies it to pictures, Screenshots folder
Windows Key + M = Minimizes all open windows
Windows Key + U = Opens Ease of Access Center
Windows Key + E = Opens File Explorer (Windows Explorer in older versions of Windows)
Of course, there are many more - but we think you'll find these the most useful.


How to Make a Windows 10 Recovery Drive
Windows 10
Windows 10 has all kinds of back up features, from system restore to File History to System Reset – and there's even an image backup feature in Windows 10. But what happens when your computer won't boot and you can't get into your computer at all?
That's where a Windows 10 recovery drive comes in handy. A recovery drive can help you troubleshoot and fix problems with your PC, even if it won't start. To create one, all you need is a USB drive. If you're using Windows 10 32-bit, you'll need at least an 8 GB USB flash drive; for 64-bit Windows 10, you'll need at least a 16 GB USB flash drive. Your flash drive will be formatted during the recovery drive creation so make sure the flash drive you use doesn't contain anything you need; a new, never-used flash drive would be the best option.
OK with that out of the way, let's get started.
Place the appropriate USB flash drive in a USB port.
Press the Windows Key + S and in search box type: "Create a recovery drive" (no quotes). When it appears in the search results, click it.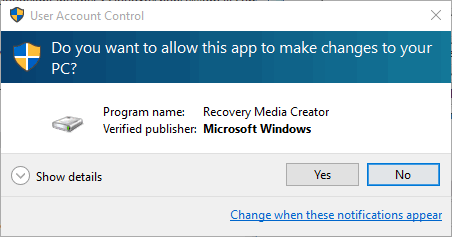 Click yes to the UAC prompt (above):
You'll then see the "Create a recovery drive" dialog. Make sure "Back up system files to the recovery drive" is checked, then click "Next".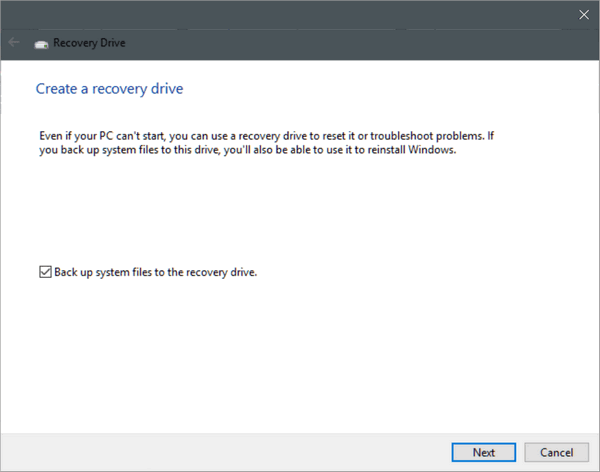 Then you'll see…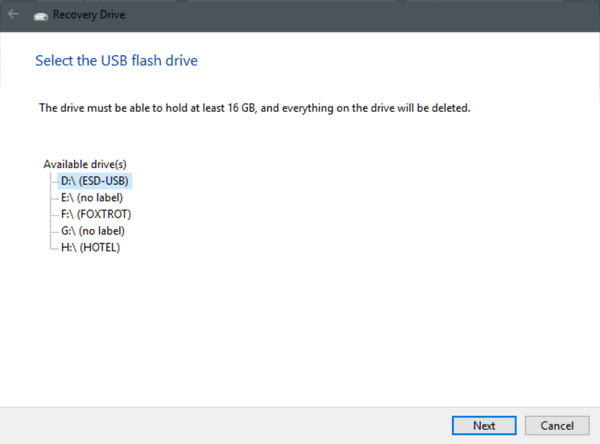 After it scans for drives on your computer, it should find the USB flash drive you inserted earlier (see below). If the correct drive is selected, click "Next". If not, manually select the USB flash drive you want to use to create the recovery drive, then click "Next".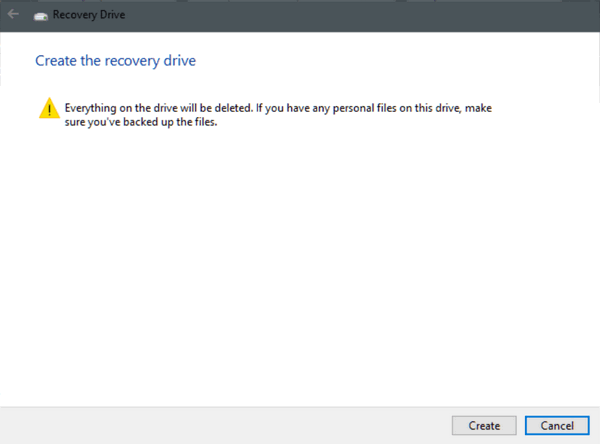 You will then see the warning (below) that all data on your USB flash drive will be deleted.
If you're sure the USB flash drive contains no files or data you need, click create (below). When you click "Create" ) you'll see that the recovery drive is being created and a progress bar is displayed (below):
It takes a few minutes to create the Windows 10 recovery drive. When it has been created you'll see the dialog below.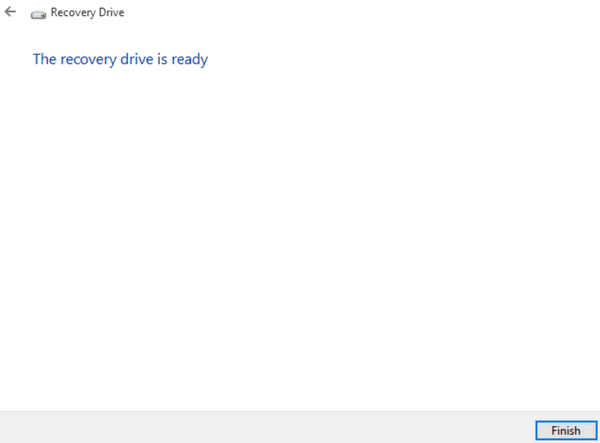 Remove your new recovery drive from the USB port, label it "recovery drive" (or whatever) and keep it in a safe place. Hopefully, you'll never need it. But if a day comes when your computer won't start, your Windows 10 recovery drive could make your computer life a lot easier. If your computer won't boot, you can use your recovery drive to boot your computer and access Windows troubleshooting tools or your backups.
It takes only a few minutes to create a recovery drive. Hopefully, you will never need it. But it's better to have it and not need it, than to need it and not have it. Right, EB?



Search Results by Type
Windows 10
In Windows 10, you can search for files by type. For instance, in this case, I opened Start and typed files:pdf and Windows returned a list of PDF files on my computer: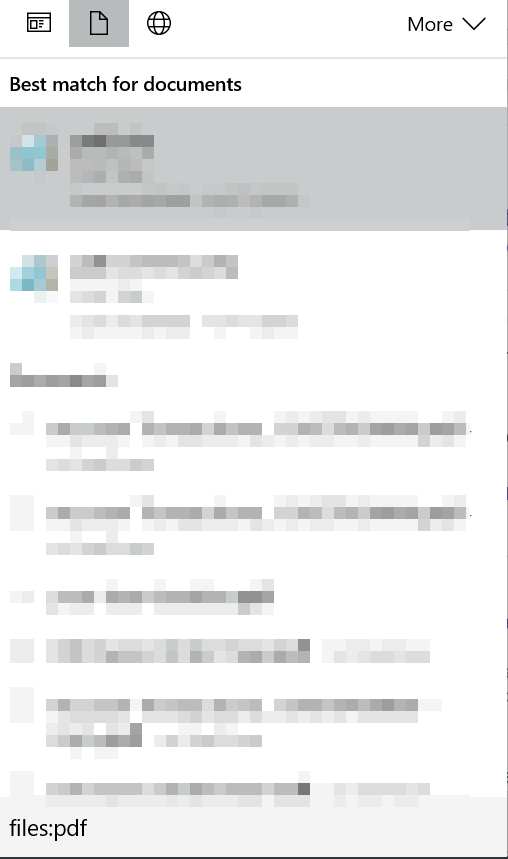 Yes, yes! I blurred them. I don't want EB to see all my PDF files of the journals I've kept on how she mistreats me. Someday, I'll use them in court and that will be that. Mistreat me, will ya?
If you're looking for a list of all the PNG files on your computer, type: "Photos:PNG" (no quotes, of course). Or if you have a troop of music files, type Music:MP3 and you'll get a list of MP3 music files.
You can do the same thing for Apps, Settings, Folders and more. Just follow the same syntax of "file-type:specifier".
The only easier way to find what you're looking for is just ask EB!

Enable Dark Theme in Windows 10 Anniversary Edition
Windows 10 (Anniversary Update installed)
When you're on the computer as much as we are, sometimes we find it easier on the eyes to switch to the Windows 10 "dark theme". If you don't have the Windows 10 anniversary edition installed, it requires a registry hack to use the dark theme, but it Windows 10 with the anniversary update, it's just a matter of choosing it.
If you've updated your Windows 10 computer to the Anniversary Edition, here's how you enable the so-called "dark theme".
Click on the Start button
Choose Settings --> Personalization --> Colors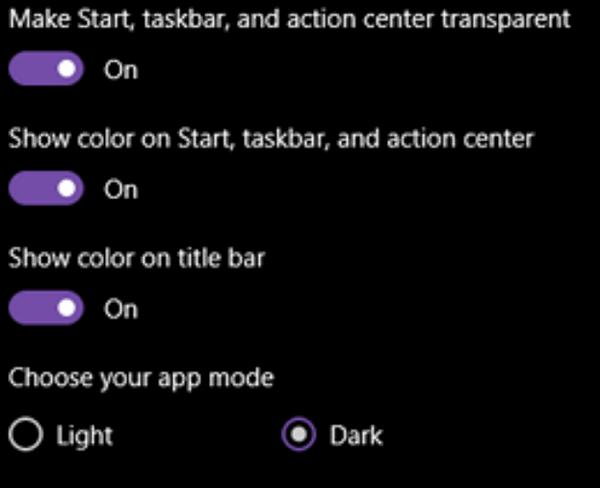 Under "Choose your app mode", tick the circle next to Dark and close Settings.
The Windows 10 "dark theme" will be enabled and you'll enjoy the nighttime look of Windows 10. If you decide the dark theme is not for you, just go back to:
Settings-->Personalization-->Colors and tick the circle next to "Light" under "app mode". It's easy to switch back & forth.



Reg Organizer - A Swiss Army Knife of Windows Utilities and Tools

Reg Organizer works on Windows 7, Windows 8, Windows 8.1 and Windows 10. The newest version of Reg Organizer has newly added special tweaks for Windows 10 - including a Windows 10 Start menu fix.

Get more information and or order Reg Organizer today and SAVE!


Ketchup



They say that ketchup is the poor man's sauce, whoever they are. They say a lot of things. They say what's good for the goose is good for the gander too, but how many of you walk around calling male geese ganders? Not many, but THEY do. But I don't want to talk about geese, ganders or what THEY say; I want to talk about ketchup.

My grandfather taught me a lot of things, most of the things he taught me have stuck with me my whole life — like my love of ketchup. I can remember going on vacation with my grandparents and watching grandpa smother fried eggs and hash brown potatoes in ketchup in restaurants from Michigan to Mississippi, from the Alleghenies of Pennsylvania to the agonies of driving through The Great Smoky Mountains in dense fog. At every meal we stopped to eat a long the way, no matter what food was served, you could bet it included ketchup.

So I come by my love of ketchup honestly. I was born and raised on the poor man's sauce. But as I grew up, something changed, and it wasn't my love of ketchup, it was the ketchup I loved. It seems in industry's greed for higher profits, cheaper ingredients, the Holy Grail of ketchup, Heinz decided it could mess around with my beloved sauce and start making it from canned tomato sauce instead of fresh, red, ripe tomatoes. And to make matters worse, and in order to save money, the squirted it full of HFCS...
Read the rest of this essay here.
If you have upgraded to Windows 10 or you have purchased a new Windows 10 computer.....

We'll check your Windows 10 to make sure it's set up for best performance & privacy - and a lot more!

With our Windows 10 Checkup & Customization Service we will:
Check over your Windows 10 installation to make sure everything is set up right
Set your default apps to your preferences and check to make sure they have all their defaults
If you have an external hard drive - we'll set up File History backup and make sure it's working correctly
Check over Windows Update options, background apps, and Windows feedback settings for best performance & privacy
Install a Windows 7-style start menu for you, if you choose that option.
Service available for computers which were upgraded to Windows 10 or new computers with Windows 10 pre-installed.
Visit this page to order!



SnapFiles

It used to be that every week we were able to give you a freeware pick.. but then people got greedy. Freeware developers who lacked confidence that anyone would actually pay for their software, pretended to give it away as freeware. Those who downloaded it paid for it though. They paid for it by having their browser and home page hijacked, their computer slowed to a crawl, their every move monitored and advertising popping up out of nowhere all over their computer. The era of PUPs and malware began when freeware developers discovered they could become wealthy by giving their software away "free" while monetizing it with bundled malware & hijackers. Many freeware developers became rich, while others faded away.

Well, friends, it wasn't long before download sites figured out that giving away freeware was a great way to make money, so companies like Softonics and Download.com (C|Net) started wrapping even the good freeware up in software bundles to make money.

Over time almost every decent download site started trying to monetize giving stuff away free - whether it be playing whack-a-mole with download links, wrapping decent software up in malware bundles or other devious ploys.

There's still a lot of decent freeware out there, but there are not a lot of decent sites from which you can download it. But there are a few left, and one of them is today's Cloudeight Site Pick: SnapFiles.

Way back when we were new (and that was about 2 decades ago) hardly anyone sold anything on the Internet - people laughed at Amazon then. Almost everything was free. It was like the universe's biggest free candy store. You could download freeware from almost anywhere and it would be really free - free from malware, spyware, tricky download buttons, etc. One of our favorite places to download freeware was from WebAttack.com - yes we know - it sounds bad. That's why the owner decided to change its name to "SnapFiles" which, if not a great name, at least sounds less ominous.

While other sites have decided to try and deceive users with trickery and malware in order to make money, SnapFiles never changed. They're still a good site from which to download software - it's a site we trust.

SnapFiles is not all freeware - they have a lot of shareware and trialware too - but it's clearly marked. The developer has also divided the freeware section from the trialware/shareware section.

And another thing we like about SnapFiles is when the freeware program you're about to download is bundled with 3rd-party software, you'll see a notation that the freeware offers to install other software, and you should play close attention when you install it. It's always clearly shown right above the download link. You can make an informed decision on whether you want to risk downloading the bundled software. There is plenty of freeware available on SnapFiles that is not bundled.

SnapFiles developers include their own review of most software, and also include reviews from users too.

Finally, SnapFiles doesn't play games with download buttons - so it's easy to download software without playing whack-a-mole trying to find the right download button.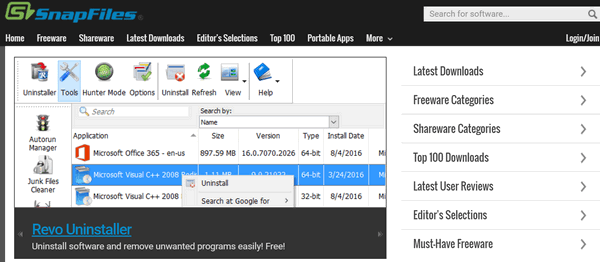 Above: SnapFiles' home page.



Above: SnapFiles warns users if the freeware they're about to download contains promo or 3rd-party software. And note the single, plainly marked download button.

If you're looking for a download site you can trust, we recommend you give SnapFiles a try. We think you'll find it easy-to-navigate and free from trickery and questionable practices.

Next time you're looking for a great download site, try SnapFiles. We think you'll like it.

Hey EB, he started SnapFiles about the same time we started. How come we're not rich like him?




Get a Cloudeight Direct Computer Care Season Ticket for $99 and get Unlimited Cloudeight Direct Support for 12 months + Emsisoft & Softmaker Office (while supplies last).
Get 2 Cloudeight Direct Computer Care Service keys for just $79. One for you, one for your favorite student (or keep it for yourself).




What is a DLL?

I like pickles - all kinds of pickles: Sweet, Sour, Bread & Butter, but my favorite pickles are dill pickles. I like dill sauce on my salmon too.
But unfortunately a DLL is not an herb or a type of pickle. A DLL is a Dynamic Link Library. A Dynamic Link Library is a collection of small programs, which can be called upon when needed by the executable program (exe) that is running. The DLL lets the executable communicate with a specific device such as a printer or may contain source code to do particular functions. DLLs are not executable (that is they do not "run") in and of themselves though.

How does a DLL work? An example would be if the program (exe) needs to get the free space of your hard drive it can call the DLL file that contains the function with parameters and a call function. The DLL will then tell the executable the free space. This allows the executable to be small in size and not need to rewrite the function that has already written. This allows any program needing to obtain the free space the information without having to write all the source code and it saves space on your hard drive as well. DLLs in this fashion are also known as shared files.

Why use DLLs? The advantage of DLL files is that, because they do not get loaded into random access memory (RAM) together with the main program, space is saved in RAM. When and if a DLL file is called, then it is loaded. For example, you are editing a Microsoft Word document, the printer DLL file does not need to be loaded into RAM. If you decide to print the document, then the printer DLL file is loaded and run.


*** Premium Subscribers' Home Page You'll find the last few weeks of Premium archived on this page.
** To change your subscription address, see "Manage your subscription" at the bottom of this newsletter.
*** Submit your questions, comments, and suggestions for possible inclusion in our newsletters here. This form is for questions, comments and suggestions for this newsletter, not for product support, stationery questions, or general questions concerning our products or services. *** Submit your Windows tips and tricks here.
*** Send us your suggestions and recommendation for future freeware picks and/or sites of the week.
*** Visit this page if you're having problems getting our newsletter - or if you think your ISP is blocking, censoring or deleting this newsletter.
** Help us Grow! Forward this email newsletter to a friend or family member - and have them sign-up for InfoAve Premium here!
** Get a free Cloudeight InfoAve Premium E-book;; visit this page.
** Get our free daily newsletter! Each evening we send a short newsletter with a tip or trick or other computer-related article - it's short and sweet - and free. Sign-up right now.
*** Have a question about a Cloudeight Software program, service, stationery, or need to ask about an order?
** If you need help with one of our software programs, have a question about an order, or have a question about any of our email stationery, screen savers, or other products - please don't use our InfoAve Questions/Answers/Tips form. Please use our general Cloudeight support form instead.

More Important Stuff
A reminder: Your Premium Home Page is located here. Please bookmark it.
Your Premium Members' Home Page has links to the last few issues of InfoAve Premium. If you didn't receive an issue due to ISP problems, you can read the issues you missed there. As always, we try to ensure that each of you receives his or her newsletter in their inbox each week. But sometimes ISPs interfere. Please bookmark your Premium Members' Home page. You can visit the Premium Members' Home Page here.   
If you want to help us by telling your friends about our Cloudeight Direct Computer Care service, you can download a printable flyer you can handout or post on bulletin boards, etc. Get the printable PDF Cloudeight Direct Computer Care flyer here.


These products and services are recommended and endorsed by Cloudeight:
Emsisoft Anti-Malware- The best anti-malware you'll find anywhere. Great protection -- both proactive and reactive. Learn more here.
Genie Timeline Home 2016- Backups made easy. Just install it, set it up and forget it. Genie will keep your backups up-to-date for you! Learn more here.
Reg Organizer-- A Swiss Army knife of PC tools. Easy for beginners to use -- with advanced features for experienced users too. Learn more here.
Cloudeight Direct Computer Care - Computer Repair Service-- And for computer repair, you can't beat our remote repair service. You never have to leave your home, take your computer anywhere or leave it with someone you don't know or trust. We can fix most computer problems and all you have to do is sit back and relax. Learn more here.
Also.. don't forget:
We're offering something we think most of you will enjoy. We have a daily tips and tricks summary newsletter that is sent six days a week. It features daily tips, freeware picks, and site picks and interesting computer tips, tricks and more. It's short and sweet - very brief and lightweight. If you'd like to receive or daily tips and tricks newsletter (completely free, of course). You can subscribe here.
You can also help us by using our Start Page. We have over 100 free games to our Start Page too - come and play all day. It costs nothing to use our Start Page--and helps us a lot.
Don't forget to bookmark it or add it to your favorites.

Cloudeight InfoAve Daily - Our other newsletter
Get our daily newsletter - it's short, sweet and free. It's sent 6 nights a week. Each issue features a computer tip or trick or interesting tidbit. It's a quick & easy read. Sign up for Cloudeight InfoAve Daily right now - it's free and you can unsubscribe at any time. Sign up - here - and now.

Get a FREE Cloudeight InfoAve Premium E-book - Share with a friend

To thank you all for being a subscriber, we are offering our 2014 InfoAve Ebook #11 free of charge. Our ebook consists of separate chapters of all tips, tricks, comments, tutorials, sites of the week, and back to basic tips in a searchable, downloadable ebook for the year. Visit this page to get your free e-book.

We are still offering 2015 Ebook 12 too; it's available here.

If you've received this newsletter from a friend or you're reading this on the Web - why not become a Premium subscriber? It's free and you can sign up here.





Our InfoAve Premium newsletter is now free.

Your all Premium subscribers now. Whether you were subscribed to our Premium newsletter or our Free newsletter you're all Premium subscribers now. If you were paying an annual subscription at any time, please log in to PayPal and cancel this so you are not charged.

We hope by making our InfoAve Premium newsletter free for everyone, we will be making it easier for you to invite your friends to join us too. We think we have the best free computer newsletter anywhere, and we hope you do too. But we can only keep going if we continue to grow. You can help us by asking you friends to join us.

Please visit this page to get links and other ways to share with your friends. Or send your friends to our subscription page here.

Thanks so much for helping.

We hope you enjoy this issue of InfoAve Premium. Thanks again for subscribing. And thank you all for your generous support.


.
We'd love to hear from you!
If you have comments, questions, a tip, trick, a freeware pick, or just want to tell us off for something,, please visit this page.
If you need to change your newsletter subscription address, please see "Manage your subscription" at the bottom of your newsletter.
We received hundreds of questions for possible use in IA news. Please keep in mind we cannot answer all general computer questions. We choose a few to use in each week's newsletter, so keep this in mind. If you have a support question about a service or product we sell, be sure to use our support form at:
http://thundercloud.net/help/support-forms/cloudeight-support.htm

We hope you enjoyed this issue off InfoAve Premium. Thanks so much for your support and for being a Premium subscriber.
Have a great weekend!
Darcy & TC
Cloudeight InfoAve Premium - Issue #671
Volume 13 Number 44
August 19, 2016

Subscribe to this weekly newsletter - it's free.

IMPORTANT DISCLAIMER ABOUT SOFTWARE RECOMMENDED IN THIS NEWSLETTER and OTHER IMPORTANT INFOO


All software recommendations we make in this newsletter are based on our own experience and testing of the programs that we recommend. This does NOT guarantee they will work on YOUR computer. We assume you will read the program documentation and use the program according to the instructions. We make no guarantees about any program recommended in this newsletter or its suitability for any particular purpose. We will not be responsible for any problems you may have. We do not and cannot provide support for any products other than our own Cloudeight products and we will not answer email concerning any product which is not a Cloudeight product. We urge you to use good judgment when downloading and installing software and to use a program only after reading the program's documentation. And, all Tips & Tricks in this newsletter have been tested by us on several different computers and were found to work as indicated. They may not work on yours. We make no guarantees. Anything we recommend you try and use at your own risk. We will not be responsible for any problems caused by any software programs recommended in this newsletter or any of the tips and tricks in this newsletter..

Readers' comments are their own and Cloudeight Internet LLC is not responsible for comments of our readers. All readers' comments, suggestions, questions, and tips and tricks sent to us become the property of Cloudeight Internet LLC. You understand that we may use your comments without your explicit permission.

InfoAve Premium is published by:

Cloudeight Internet LLCC
PO BOX 733
Middleville, Michigan USA 49333-00733

This newsletter is sent from the address infoave-premium/@/pr1.netatlantic.com . The IP address for Netatlantic is 69.25.194.50. Netatlantic is a respected newsletter hosting service. We have used their services for many years. All content is copyright ©2016 by Cloudeight Internet LLC (all rights reserved).