We wrote our first "Your Computer Won't Bite" e-book back in 2005. Windows XP was just a few years old and some folks were still hanging on to Windows 98 and Windows ME.

A decade ago we told you that your computer won't bite, and though things have changed drastically in the past decade, the basic theme of that old e-book is still true even though 11 years have passed. It is so true that the more things change, the more they stay the same.

The following excerpt originally appeared in the introduction to our 2005 "Your Computer Won't Bite" e-book.

Let's take a look back 11 years to what we wrote in 2005:

1. You control your computer; your computer doesn't control you.
2. A good working knowledge of computers can help keep you safe.
3. No software program in the world is going to provide you with 100% protection from every evil on the Internet.
4. No software program can or will ever replace your brain.
5. No software program can or will ever replace your common sense.
6. The bad guys rely on the trusting nature of people. Whatever sounds too good to be true most always is.
7. You don't need to be a computer guru to avoid someone taking advantage of you on the Internet.
8. Continuing education is a must. You don't need to be a guru to stay safe, but you must continue to learn about your computer and the Internet because its always changing and evolving....
Read the rest of this essay here.

Buy or Renew any Emsisoft Product from this page - and You'll Get a SoftMaker Office 2016 Lifetime License Absolutely FREE! That's a $69.95 value!
Thanks to our friends at Emsisoft, we have more SoftMaker Office Licenses available, but when this batch is gone, we won't be getting more.. So if you're interested, take advantage of our Emsisoft / SoftMaker Office 2016 promotion today!

We'll send you a FREE license for SoftMaker Office Standard good for up to 3 computers (a $69.95 value) when you purchase any Emsisoft product from this page.

SoftMaker Office 2016 Standard includes:
SoftMaker Office Standard License for up to 3 PCs of the same company or family household
TextMaker 2016 - Compare to Microsoft Word
PlanMaker 2016 - Compare to Microsoft Excel
Presentations 2016 - Compare to PowerPoint
BasicMaker 2016
Exclusive Enhanced Version of the Thunderbird Email Program - Organize your e-mails, contacts and calendars safely and comfortably with the improved Thunderbird from SoftMaker - Compare the SoftMaker Enhanced Thunderbird Email program to Microsoft Outlook
If you don't want to spend hundreds of dollars on Microsoft Office or your MS Office program is outdated, we think you will find that SoftMaker Office is all you'll ever need. You can open, edit, and create almost all types of MS Office documents, spreadsheets and presentations. And for a limited time, you can get SoftMaker Office Standard (a $69.95 value) FREE when you purchase any of our Emsisoft products listed above.
Don't miss this opportunity - we have only a limited number of SoftMaker Office licenses to give away - visit this page to learn more.

Spelt

Find Nutritional Information For Any Quantity of Food

If you're concerned at all with your weight, you're different than EB, and more like TC. If you're not concerned with your weight or nutrition at all – you can skip this and maybe make a donation or visit our start page, eh?

If you've come this far, after that horrid opening paragraph, congratulations! We happy to have you with us. Now were going to serve up some good stuff, so tuck that napkin in your shirt, and let's have at it.

First the name of our site pick is Spelt, but it's not spelt Spelt, it's spelt, Spe.lt – cute huh? We thought so. Do we have a clue what Spelt has to do with nutrition. Sure, we're not completely food stupid – Spelt is an ancient grain. Our distant forefathers used to sit around in their caves watching movies eating popspelt -a forerunner of what we call popcorn. And if you're from America, spelt is the past tense of spell in Britain. And you know, they invented English, so how they spell words is more correct than how us Yankees spell words. If they like colour, we should like colour. Do the Canadians respect English spelling? I don't know, do you?
And if the "P" in Spelt, were an "M" we'd be talking about fish.

All this has nothing to do with our site pick, it's more or less an attempt to see just how much you care about what you eat.

Our site pick, Spelt, makes it easy to find out the nutritional value of any food, in any quantity, even in single pieces like 4 peanuts. You can use American measurements or metric measurements, Spelt does not care where you're from.

If you're a mom or a grandma and you bake goodies for your family, wouldn't you like to know the nutritional value of what you cook or bake? Spelt not only gives you the calories in food, but it gives you the amount of fat, carbs, and protein in food.

So, why waste time writing anymore – you're either still with us, or you've gone off in search of something meaningful. But this is meaningful, I tells ya! We all have to eat. And what we eat is what we are – who said that? It makes no sense. I am not an Egg McMuffin.

Now, instead of boring you with 400+ more words, we're going to show you, exactly what you can do with Spelt.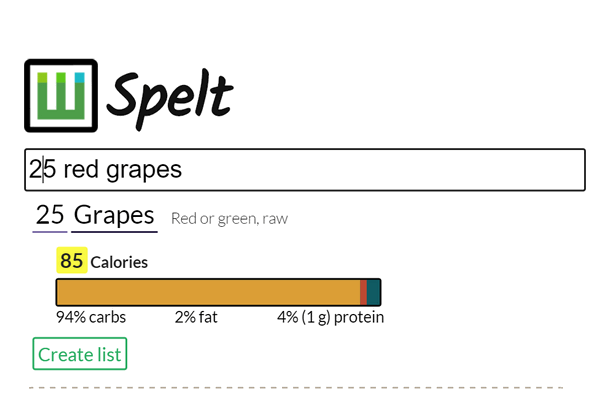 As you can see (above) you can really chow down on grapes. Eat a bunch and stay slim. If your belly can hold 100 grapes, you're only consuming 340 calories – or less than you'd consume if you ate just one cup (8 oz.) of vanilla ice cream. Eat 200 grapes and your belly will turn them into wine and you'll be intoxicated... and probably sick too. So don't eat 200+ grapes and drive.






As I can tell you – it does not take nearly as long to eat one cup of ice cream as it does to eat 100 grapes. Plus, you don't need to chew ice cream, so you don't burn off calories masticating like you do with grapes. I am guessing you burn off almost as many calories mawing grapes as you get from eating grapes. Does this make grapes the perfect diet food? Some will tell you grapes are too high in sugars, I say bull hickey.

You love pictures? Here are more pictures:




Above: American ounces. Below: Metric liters.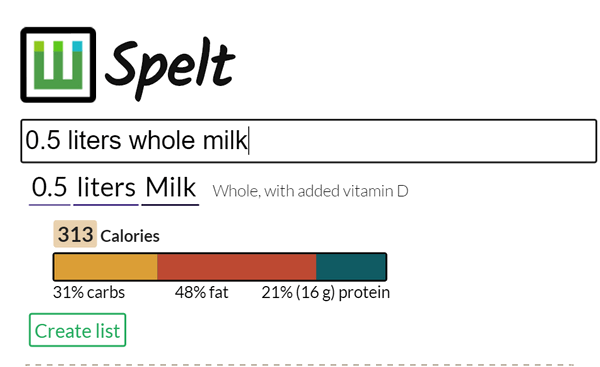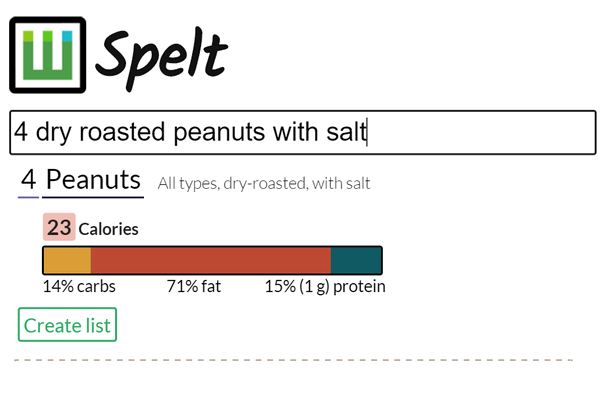 Above: Calories by the piece. 4 peanuts is 4 peanut whether you live in Germany, England, Australia, New Zealand or Lower Slobovia.

If you have recipes and you'd like to know what the nutritional value is, lookie at the cookie recipe below: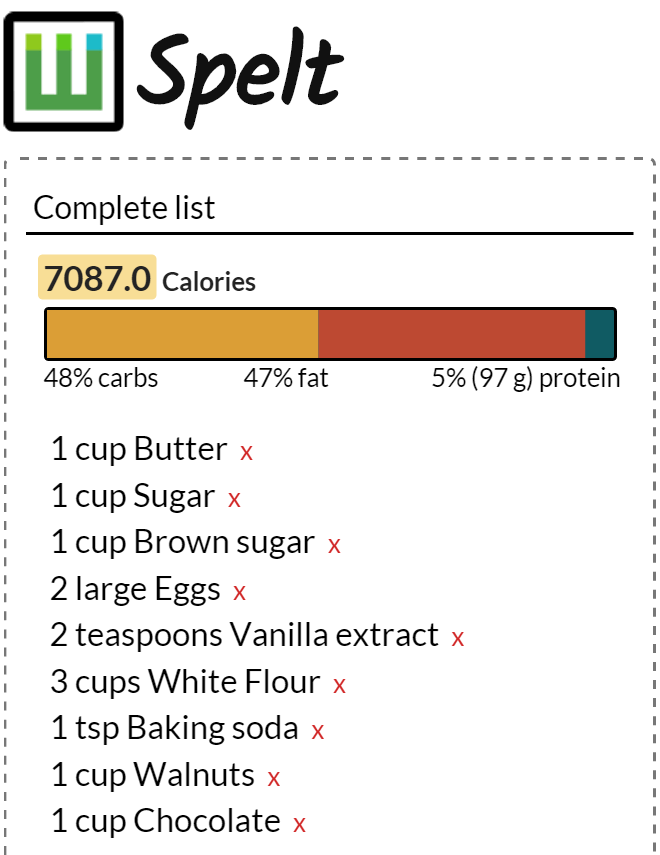 See? Look up! That recipe makes 24 delicious cookies. Each cookie has a hair over 295 calories. So two chocolate chip cookies and an 8 oz. glass of milk (who eats cookies without milk?) is about 800 calories. So what was my grandma doing giving me cookies and milk when I got home from school?? Would I have eaten 4 grapes or 4 brazil nuts for a snack. I would have thought she didn't love me.

Now, finally, we compare the diet of a wealthy person (EB) and a poor person (me). First EB's daily calorie intake:




My diet. It's all I can afford. And I have to pay for catfish & chicken food too!




Through levity and pictures, you now have an idea of what you can do with our site pick "Spelt".

Now go forth and find out more about the foods you eat.


Get a Cloudeight Direct Computer Care Season Ticket for $99 and get Unlimited Cloudeight Direct Support for 12 months + Emsisoft & Softmaker Office (while supplies last).
Get 2 Cloudeight Direct Computer Care Service keys for just $79. One for you, one for your favorite student (or keep it for yourself).




What is an active window?

EB is cheap. She has central air, but won't use it unless the outside temperature is above 105. When it is 104 or lower, she opens her windows to let in the hot breeze (if any). The window that catches the breeze is the active window. It is usually located on the windward side of the house. The other windows are open, but inactive since they are on the side of the house opposite from the direction of the wind. I always try to sit near the active window so as not to die of heat stroke.

NO NO NO... you want to know about the active window in Windows. Right? OK...

When two or more program windows are open on the desktop, only one of them can be the active window. The active window has some unique characteristics:

1. The active window is usually the window on top of all other windows. Inactive windows will be under the active window so they won't cover up the active window. The only exception to this would be when you have one window selected as "Always on top"

2. In the taskbar the icon for the active window is highlighted with a brighter color.

3.The title bar for the active window is a different color any of the inactive Windows.

4. Anything you enter with the keyboard applies to the active window only. You can't type or edit content in an inactive window.

Please turn on the A/C, EB!


If you have upgraded to Windows 10 or you have purchased a new Windows 10 computer.....

We'll check your Windows 10 to make sure it's set up for best performance & privacy - and a lot more!

With our Windows 10 Checkup & Customization Service we will:
Check over your Windows 10 installation to make sure everything is set up right
Set your default apps to your preferences and check to make sure they have all their defaults
If you have an external hard drive - we'll set up File History backup and make sure it's working correctly
Check over Windows Update options, background apps, and Windows feedback settings for best performance & privacy
Install a Windows 7-style start menu for you, if you choose that option.
Service available for computers which were upgraded to Windows 10 or new computers with Windows 10 pre-installed.
Visit this page to order!


*** Premium Subscribers' Home Page You'll find the last few weeks of Premium archived on this page.
** To change your subscription address, see "Manage your subscription" at the bottom of this newsletter.
*** Submit your questions, comments, and suggestions for possible inclusion in our newsletters here. This form is for questions, comments and suggestions for this newsletter, not for product support, stationery questions, or general questions concerning our products or services. *** Submit your Windows tips and tricks here.
*** Send us your suggestions and recommendation for future freeware picks and/or sites of the week.
*** Visit this page if you're having problems getting our newsletter - or if you think your ISP is blocking, censoring or deleting this newsletter.
** Help us Grow! Forward this email newsletter to a friend or family member - and have them sign-up for InfoAve Premium here!
** Get a free Cloudeight InfoAve Premium E-book;; visit this page.
** Get our free daily newsletter! Each evening we send a short newsletter with a tip or trick or other computer-related article - it's short and sweet - and free. Sign-up right now.
*** Have a question about a Cloudeight Software program, service, stationery, or need to ask about an order?
** If you need help with one of our software programs, have a question about an order, or have a question about any of our email stationery, screen savers, or other products - please don't use our InfoAve Questions/Answers/Tips form. Please use our general Cloudeight support form instead.

More Important Stuff
A reminder: Your Premium Home Page is located here. Please bookmark it.
Your Premium Members' Home Page has links to the last few issues of InfoAve Premium. If you didn't receive an issue due to ISP problems, you can read the issues you missed there. As always, we try to ensure that each of you receives his or her newsletter in their inbox each week. But sometimes ISPs interfere. Please bookmark your Premium Members' Home page. You can visit the Premium Members' Home Page here.   
If you want to help us by telling your friends about our Cloudeight Direct Computer Care service, you can download a printable flyer you can handout or post on bulletin boards, etc. Get the printable PDF Cloudeight Direct Computer Care flyer here.


These products and services are recommended and endorsed by Cloudeight:
Emsisoft Anti-Malware- The best anti-malware you'll find anywhere. Great protection -- both proactive and reactive. Learn more here.
Genie Timeline Home 2016- Backups made easy. Just install it, set it up and forget it. Genie will keep your backups up-to-date for you! Learn more here.
Reg Organizer-- A Swiss Army knife of PC tools. Easy for beginners to use -- with advanced features for experienced users too. Learn more here.
Cloudeight Direct Computer Care - Computer Repair Service-- And for computer repair, you can't beat our remote repair service. You never have to leave your home, take your computer anywhere or leave it with someone you don't know or trust. We can fix most computer problems and all you have to do is sit back and relax. Learn more here.
Also.. don't forget:
We're offering something we think most of you will enjoy. We have a daily tips and tricks summary newsletter that is sent six days a week. It features daily tips, freeware picks, and site picks and interesting computer tips, tricks and more. It's short and sweet - very brief and lightweight. If you'd like to receive or daily tips and tricks newsletter (completely free, of course). You can subscribe here.
You can also help us by using our Start Page. We have over 100 free games to our Start Page too - come and play all day. It costs nothing to use our Start Page--and helps us a lot.
Don't forget to bookmark it or add it to your favorites.

Cloudeight InfoAve Daily - Our other newsletter
Get our daily newsletter - it's short, sweet and free. It's sent 6 nights a week. Each issue features a computer tip or trick or interesting tidbit. It's a quick & easy read. Sign up for Cloudeight InfoAve Daily right now - it's free and you can unsubscribe at any time. Sign up - here - and now.

Get a FREE Cloudeight InfoAve Premium E-book - Share with a friend

To thank you all for being a subscriber, we are offering our 2014 InfoAve Ebook #11 free of charge. Our ebook consists of separate chapters of all tips, tricks, comments, tutorials, sites of the week, and back to basic tips in a searchable, downloadable ebook for the year. Visit this page to get your free e-book.

We are still offering 2015 Ebook 12 too; it's available here.

If you've received this newsletter from a friend or you're reading this on the Web - why not become a Premium subscriber? It's free and you can sign up here.





Our InfoAve Premium newsletter is now free.

You're all Premium subscribers now. Whether you were subscribed to our Premium newsletter or our Free newsletter you're all Premium subscribers now. If you were paying an annual subscription at any time, please log in to PayPal and cancel this so you are not charged.

We hope by making our InfoAve Premium newsletter free for everyone, we will be making it easier for you to invite your friends to join us too. We think we have the best free computer newsletter anywhere, and we hope you do too. But we can only keep going if we continue to grow. You can help us by asking you friends to join us.

Please visit this page to get links and other ways to share with your friends. Or send your friends to our subscription page here.

Thanks so much for helping.

We hope you enjoy this issue of InfoAve Premium. Thanks again for subscribing. And thank you all for your generous support.


.
We'd love to hear from you!
If you have comments, questions, a tip, trick, a freeware pick, or just want to tell us off for something,, please visit this page.
If you need to change your newsletter subscription address, please see "Manage your subscription" at the bottom of your newsletter.
We received hundreds of questions for possible use in IA news. Please keep in mind we cannot answer all general computer questions. We choose a few to use in each week's newsletter, so keep this in mind. If you have a support question about a service or product we sell, be sure to use our support form at:
http://thundercloud.net/help/support-forms/cloudeight-support.htm

We hope you enjoyed this issue off InfoAve Premium. Thanks so much for your support and for being a Premium subscriber.
Have a great weekend!
Darcy & TC
Cloudeight InfoAve Premium - Issue #672
Volume 13 Number 45
August 26, 2016
Subscribe to this weekly newsletter - it's free.

IMPORTANT DISCLAIMER ABOUT SOFTWARE RECOMMENDED IN THIS NEWSLETTER and OTHER IMPORTANT INFOO

All software recommendations we make in this newsletter are based on our own experience and testing of the programs that we recommend. This does NOT guarantee they will work on YOUR computer. We assume you will read the program documentation and use the program according to the instructions. We make no guarantees about any program recommended in this newsletter or its suitability for any particular purpose. We will not be responsible for any problems you may have. We do not and cannot provide support for any products other than our own Cloudeight products and we will not answer email concerning any product which is not a Cloudeight product. We urge you to use good judgment when downloading and installing software and to use a program only after reading the program's documentation. And, all Tips & Tricks in this newsletter have been tested by us on several different computers and were found to work as indicated. They may not work on yours. We make no guarantees. Anything we recommend you try and use at your own risk. We will not be responsible for any problems caused by any software programs recommended in this newsletter or any of the tips and tricks in this newsletter..

Readers' comments are their own and Cloudeight Internet LLC is not responsible for comments of our readers. All readers' comments, suggestions, questions, and tips and tricks sent to us become the property of Cloudeight Internet LLC. You understand that we may use your comments without your explicit permission.