Cloudeight InfoAve Premium
Issue # 687
Volume 14 Number 8
December 9, 2016

Dear Friends.
Thank you very much for subscribing and being a part of our Cloudeight InfoAve Premium family. We appreciate your help very much!





Check your spa*m folder - or use Gmail

The last several months the problem of ISP censorship (so-called "s/pam filtering") has reared it's ugly head. And it's getting worse. We have noticed lately that people using Comcast as well as Yahoo and ISP's that use Yahoo, for instance ATT, Rogers, Frontier among others, are not getting mail from us. If you order a product or service from us, you will receive what you ordered within 48 hours-- always. Most of the time you'll receive it much sooner. It's really important that you let us know right away if you have not received an order from us within 48. But before you write, check you s*pam folder. Our email may well be sitting in there.

Looking in your sp/am folder is not going to infect your computer. You don't have to open every email that is in that folder. But you may be surprised how many important emails you'll find in there. If you find some important emails in your sp*am folder, you should consider getting a Gmail account and using it when you order online.

If you ordered from us and you have not heard from us within 48 hours, and our email is not in your s/pam folder, that means your mail provider blocked and deleted it - if that's the case, then it's time to find a mail service where you control what emails you receive and what emails are deleted. Gmail is one email service that lets you decide what emails you receive and what emails are trashed. And even if you use Gmail, it's not perfect, but one thing Gmail does is give you time to go through your spam folder and mark anything that's in the spa/m folder that should not be there, "Not Sp/am" . Once you do that, any future mail from that sender will go into your inbox.

Also, Yahoo and ISPs that use Yahoo (Bellsouth, ATT, Rogers, and Frontier, to name a few) continue to block our newsletter. This is a continuing problem. If you're not getting your newsletter, please consider subscribing with a Gmail address.

Oh, you are wondering why we are spelling sp/am strangely? Would you believe some ISPs will block this email newsletter because it contains that word?




CLOUDEIGHT DIRECT EVERYTHING KEYS ARE BACK FOR CHRISTMAS!
Buy one Everything Key for yourself for $49, or for just $20 more get a 2nd key for a friend! That's right! When you buy one Everything key for yourself, you can purchase a 2nd Everything Key for a friend or family member for just $20.

Everything Keys never expire! They are good until you use them.
Computer repair
Computer optimization
Malware and virus removal
Emsisoft trial with Cloudeight Direct installation & configuration. Includes malware/virus cleanup and uninstalling your old antivirus program.
Thunderbird installation and setup including up to 3 email accounts.
Use your key for any Cloudeight Direct Service
Each Everything Key is good for any one Cloudeight Direct Computer Service.
Everything Keys never expire – they are good until you use them.
Buy one for yourself for $49. Or buy one for yourself for $49 and can get one for a friend or family member for just $20.

Each Everything keys are good for one computer service call

Get your Everything Keys here.



Here are some important links for you:




A comment from Gus
I want to think Darcy for setting up my wife's laptop to look like Windows 7 instead of Windows 10 and doing a cleanup. Darcy & TC has help in the past and I can not say enough good things about the service.

A comment from Eddie
Just wanted to drop a HUGE Thank You to Darcy. I had an appointment to install Thundercloud at 11:00 AM. She was prompt we started at 11:00 to do a 15 minute job. I was slow to find my email passwords then got on my android to pass the time while she was flying around my PC. That caused problems. Suffice it to say she went above and beyond (again) and completed the job even though I went well past the 15 minutes. What a great service to have at your fingertips. Thanks again Darcy!

A comment from Thelma
Thank you TC for getting rid of the fake website which I couldn' t during our computer session today. You even managed to start this at an earlier time. I have had quite a few sessions with you and Darcy and don't know what would happen to my PC without you. Probably have to pay a fortune to someone who may not be as expert as you two. I feel happy knowing you both are out there.

A comment from Annie
I wanted to thank you again, Darcy, for your quick and thorough installation of Thunderbird on my laptop this morning. I'm sure I'll enjoy using it and the beautiful stationery. Your time was very much appreciated! Annie :)

A comment from Delphine
Hi TC, I gave it an extra day to see if things stayed corrected on my computer the way you left it on Monday. I am glad to say that everything seems to be working right so far. Thank you so much for making sure that everything would work right.

We are all glad we have both of you helping -- glad to have your stationery back too!! I found your web page looking for stationery and never stopped using it til you guys stopped! Glad you came back with the stationery!

Thanks to Gus, Eddie, Thelma, Annie, Delphine and all of you who wrote about the computer services you received from
Cloudeight Direct Computer Care
. We are so glad we've been able to help so many people from Australia and New Zealand to Europe and North America. If you need computer service we hope
you'll let us help you
! Happy Holidays & Merry Christmas! Don't forget we're offering Everything Keys for Christmas - get one for yourself for $49 and get one for a friend or family member for just $20. And, we have a Christmas special on Thunderbird installation for just $25. Thank you all so much! Merry Christmas, TC & EB.





Barbara wants to know what purpose "thumbs" serve
Just exactly what is the reason/purpose of "thumbs". What generates them in all my GIFs folders?

Our answer
Hi Barbara. Without thumbs we would not be able to grasp things or use tools - we'd not be masters of the world without thumbs. Aw...we're just kidding. We couldn't resist. You're referring to thumbnails.

If a folder on your contains photos or other images, and you have "Thumbnail" view (as opposed to, for example, "List" view) enabled, you will see a thumbnail of each of the images. By default, Windows caches (saves) these thumbnails in a data base, so that it doesn't have to keep generating the thumbnails every time you browse folders which contain images. Having Thumbnail view turned on in a folder of images, allows you to you to see a small "thumbnail" of each picture, making it easy for you to see and identify the picture without having to open it, as oftentimes the name of picture does not describe it very well.

Windows stores thumbnails in a thumbnail.db file -- db stands for data base. Windows uses the data to load thumbnails of the images in a folder so that it does not have to regenerate all the thumbnails every time you open a folder that is set to Thumbnail view. This saves RAM, CPU cycles, and, most importantly, it saves time.

Thumbnails make it easy for you to see the picture you're looking for.


Above: Thumbnail views of pictures in a folder. Notice the icon with the two gears, labeled "Thumbs" - that is the thumbnail data base. If you remove that, and the folder is set to Thumbnail view, Windows will regenerate the thumbnails and a new Thumbs.db the next time you open the folder.

Phyllis has Lock Screen issues on Windows 10
I too have a question about the lock screen photo. I have changed my lock screen photo to one of my own but every time I boot up my laptop the photo always changes back to a windows photo. I have been doing exactly what you told Bev to do in
your last newsletter
for months now & my photo keeps changing back to a windows photo. This happens on my husbands laptop also. This has both of us totally baffled. Any ideas why this happens ??
Our answer
Hi Phyllis. Bev wrote back and said our solution from last week's newslet
te
r worked for her. As for why it does not work for you and your husband, we can't say, since we can't see your settings.
So let's do this. Let's make sure your settings are correct.
Press and hold the Windows key while tapping the i key to open settings. In Setting, click on Personalization then click on "Lock screen" on the left side. Make sure that Picture is selected under "Background".


Then
scroll down and turn off "Show Windows background picture on the sign-in screen"


Let us know if that solves your problem.



Annabelle tried our tip on how to get a list of all accounts on her PC, but has a question
(Annabelle is writing about our tip on getting a list of user accounts on her PC, which you can read here..) Why does mine say degraded ? Is there something wrong with my computer? I removed my personal names from some of the lines since this will be public. I have four different users according to this. Can I remove some of them?

AccountType=512
Description=
Disabled=FALSE
...
Status=OK

-----

AccountType=512
Description=Built-in account for administering the computer/domain
Disabled=TRUE
...
Status=Degraded

-----

AccountType=512
Description=Built-in account for guest access to the computer/domain
Disabled=TRUE
...
Status=Degraded

-----

AccountType=512
Description=Built-in account for guest access to the computer/domain
Disabled=TRUE
...
Status=Degraded

-----

Our answer
Hi Annabelle. No, there is nothing wrong with your PC. For the purposes of the newsletter, we shortened the list of info you sent, but kept the important parts. The first account you listed is the account you use to log on to your PC - the one you use every day. It's enabled and in use. It's status is "OK".

Degraded simply means an account is not enabled. Every Windows PC has a built in administrator account (different than the admin account you use every day. Some people refer to it as the Super Administrator account. You can enable it if you like, although we don't recommend it. The other two are guest accounts which you have not enabled. There would be no reason to enable a guest account unless you were going to allow someone to use your computer with restricted privileges.

If you notice, looking at the accounts above, if the account says "Enabled=TRUE" then the account is active and that status says OK. If it say Enabled=FALSE then the account is not enabled and the status will say degraded. Who knows why geeks use words like degraded to mean not active or not enabled?

Microsoft strongly recommends that you don't delete the built-in guest accounts or the built-in administrator accounts. They're not hurting anything, they're disabled, and if you ever decided to enable them, it's an easy thing to do. Best advice? Leave the built-in accounts alone.





Guest Clergyman (from our Cloudeight Forum) wants to install an HP printer on a different PC
Can anyone tell me if I can download a manual for an HP Printer which will show me how to program if to a new computer? Printer is about one year out of warranty.

Our answer
All printers have downloadable setup files. Just be sure you are on the actual site of your printer when you do this. For example, doing a search for HP Printer Drivers, the first on the list is:




That is NOT an HP site. It is a scam site trying to get you on their page to download malware or fake files. Always go directly to the manufacturer's site. In your case, just go to www.hp.com to be sure you are on the official HP Website. Have your printer model and model number handy. Use the search feature on HP's site to download the correct installation setup file for your printer model. The setup file includes your printer drivers and instructions.





Sandi doesn't understand why we don't like IncrediMail
I have had no problems with IncrediMail and have used it for many, many years - although you condemn it. I wish you would make the stationery that you make for Thunderbird for IncrediMail too - as you used to.

Our answer
Hi Sandi. We don't "condemn" IncrediMail, we just don't recommend it.

You can read IncrediMail fine, the problem is, if you decide you want to change to another email program, IncrediMail holds all your personal mail hostage and does not allow you to export it so you can import and keep in another email program.. unless you pay a pretty high "ransom" rate for their "export" feature.
We are aware that IncrediMail has inferred certain features or add-ons are free, when they are not. If do some research, you'll find that IncrediMail's customer service is very poor, and there are complaints about customers having problems trying to get refunds. As you know, if you follow our newsletters, we consider a product's customer support very important when considering a product recommendations.

We have not tested IncrediMail recently, but IncrediMail has, in the past, installed PUPS and malware. It has, in the past, installed browser hijackers. As we said, we have not tested IncrediMail recently, but we would not trust IncrediMail or put IncrediMail on our computers.

Also, we do follow the parent company of IncrediMail, Perion Networks (who also owns PUPs SweetIM and Smilebox). Perion Networks is based in Israel. Their stock, which was once valued around $15 per share, has dropped into the $1 range; if it continues dropping it will fall into the penny stock range, and that, many times, is precursor to bankruptcy... or the company being sold

However, all that being said, it's still your computer. If you trust IncrediMail, that's fine. We do not, and we're usually pretty good about predicting where things are going to end up. In the end, we all have to decide what we will allow on our computers.

We decided years ago that we will not be making any more stationery for IncrediMail.




Christmas Shopping - Is That Site Safe to Buy From?
This tip is for everyone who shops online

Tis the season to be shopping and if you're like us, you do most of your Christmas shopping online. We live in cold part of the world - and we're getting older. Why drive in the snow and shop in the cold?

Anyway, if you do some or most of your Christmas shopping online, we think you'll find this site useful. You can use it to check a site to see if it's safe to buy from - or at least get a good idea about the site's reputation. Sometimes the best stuff isn't on Amazon or Walmart.com, or any of the big online retailers. Sometimes the best stuff in on sites like ours - small, mom & pop sites. But you have to be careful where you buy from.

Scamadviser is a good place to check up on a site you're about to purchase something from. It's fast and easy to use and it gives you important information you need whenever you're about to make or considering making a purchase from a site you're not familiar with. All you have to do is enter the URL or name of the site and click the "Check it now" button and you'll get a ton of information about the site and a recommendation as to whether the site is safe to buy from or not.





Just to make sure this site actually worked, we decided to check out Thundercloud.net to see if Cloudeight is a safe place from which to buy things - of course we know it is, we just wanted to make sure Scamadviser knows it is.





Yessssssssss! We are safe. Please buy something from us! We are SAFE!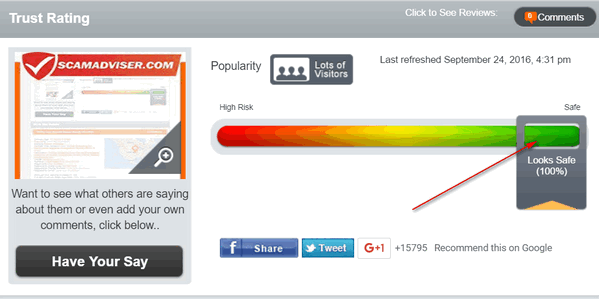 Lots of visitors but few buy anything. We're safe! We're broke!




I can't fathom how we've stayed online for nearly 19 years. I guess when Microsoft killed our stationery site with their decision to remove a viable email client from Windows, our income has gotten smaller...much smaller. But we're bringing back stationery for Thunderbird, that's a fact. Maybe that will help.

But... we're getting by. EB makes a great Michigan gruel and ships me 8 pounds a week - one pound per day, two pounds on Sunday. We both subsist almost entirely on Michigan gruel and oyster crackers. Did you know that oyster crackers are just $2 for a large bag at Walmart! It's all we can afford. You can be a booster and maybe next week she will send me some oysters. I'm so tired of eating gruel.

And we're SAFE to buy from, did I tell ya that?

Cloudeight Direct Everything Keys are on sale here.

Emsisoft 18-month keys (limited edition, limited supply) are available here.

Thunderbird Christmas Installation Special is available here.

We are SAFE to buy from, we tells ya!

Check out any site with Scamadviser ... it only takes a few seconds and it may save you a lot of trouble





Why It's Probably a Good Idea to Leave Your Name Out of Your Email Address
Everyone who uses email

It's really cool to use your first and last name in your email address. However, there's a good reason why you shouldn't. And here it is. Suppose your name is the same as EB's - Darcy Goobergoober. Now it would be really swift to have an email address like DarcyGoobergoober@who-cares.net, right? Well yes, Darcy Goobergoober is a fine name, no doubt about it. However what happens when a spammer gets a hold of that address? Here's what happens...


The National Bank of Willard
Your savings place and a whole lot more
Car Loans 50% OFF!

Dear Darcy Goobergoober,

Thanks for banking with us. Believe it or not, we just found out that $4 million dollars was deposited in your account! Apparently it was transferred to your account from someone named Lotus Overbaum from Kreaker, Lower Slobovia AB49072. Yes, you're shocked. We're shocked too! But it's true. All $4 million is yours if you just click this link and verify your bank account number and password. You'll be one of our biggest customers. You'll get to sit in the plush offices of our president, smoke Havana cigars and drink Grey Goose with our board of directors!

Yes, Darcy Goobergoober, you could be $4 million richer just by clicking this link right now .

Thanks for banking with us.

H. M. Hummer
President
National Bank of Willard

If you're sharp, you'll think, "Gee, I don't have any relatives in Lower Slobovia" and you'll delete this as a sp/am email - phishing email or scam email , whichever moniker you prefer. But what happens if you're tired, had too much to drink, or have to work with an evil boss like I do and you are beaten down into a miserable weary state! You might not be as sharp as usual, and you may just decide heck, $4 mil is worth a chance! Click! Click!

But what if your email address was not your name, what if it was RollyPolarBear@ Nebraska-is-flat.com? Then the sp/ammers would write.

"Dear RollyPolarBear ..."

And you'd say "Wait! My name is Darcy Goobergoober... not RollyPolarBear - these guys are scammers! No matter how tired you were, or how much you had to drink, or how much of a rush you were in, you'd still know what your name is and what your name isn't.

Of course, as always, I've gone to the extremes to prove a point. Most sp/ammers don't bother with names, it's just "Dear cardholder", "Dear customer" or "Hey baby!" I just made that last one up - sp/ammers don't do that do they?

Anyway, scams are becoming more and more sophisticated. So why help them out by giving them your whole name inside your email address?

It's a good idea to use something other than your name as your email address. A helpful suggestion from your friends Darcy & TC

Now I'm off to see if RollyPolarBear @ Gmail is available!





Three Built-in Windows Tools You May Not Know About
Windows 7, Windows 8x and Windows 10

Windows has some really good built-in utilities that are as good or better than many of the freeware utilities that you'll find offered for download from many sites. We've picked the 3 we think you'll find most useful

The Windows Configuration Utility

That's right, even on Windows 8 and Windows 10 you can still run good old MSCONFIG - the Windows Configuration utility. It's been built in to every Windows edition going way back to Windows 95.

In Windows 7 you can use Windows Configuration utility to manage your startup programs (in Windows 8 and Windows 10 this has been moved to Task Manager). In Windows 10, Windows 8.1 and Windows 7, you can use Windows Configuration utility for changing boot options, such as booting into Safe Mode. You can change the default operating system (if you're running a dual-boot or multi-boot setup and more. You should only use these settings if you're sure of what you're doing. You can also use the Advanced options for RAM and processor settings, but don't mess around with these if you are not sure of what you're doing.

There's also a list of tools in the Configuration utility, just click on the tools tab and you'll see these tools and more.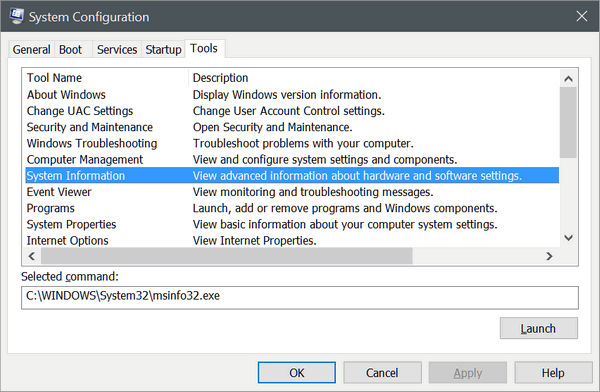 Above: The Tools Tab in Windows Configuration utility.


The System Information utility

Here's a handy utility that will tell you everything you've ever wanted to know about your computer and probably a whole lot more. While people download tools that do essentially the same thing as MSINFO32, you just use what's already at your fingertips.

The System Information utility will show you all the information you will ever need to know about the hardware and software on your PC.

You can either access the System Information utility by pressing and holding down the Windows Key then tapping the R key. Type MSINFO32 in the run box and press enter to start the System Information utility.

The system summary will list all the important information about your computer, including processor,, RAM, Virtual RAM, display type, problem devices, hardware, operating system version and type and much more. But you've only scratched the surface - you can dig deeper into the inner sanctum of our PC using the System Information utility.

Check it out!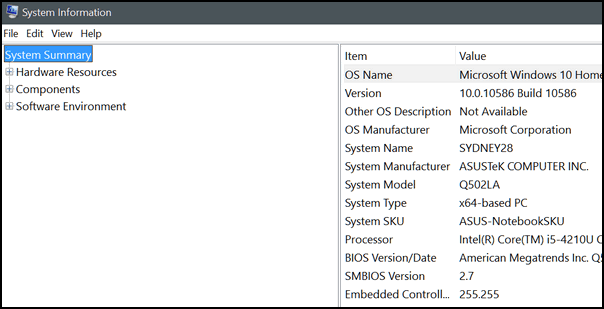 Above: Widows System Information utility.

Windows Memory Diagnostic

You don't need no stinkin' 3rd-party utility to check your PC's RAM, we tells ya! Windows has a built-in diagnostic tool that will scan your PC for any memory issues ... and even let you know if your RAM is in good shape.

To run Windows Memory Diagnostic, hold down the Windows Key then tap the R key. Type mdsched.exe in the run box and press enter to start the Windows Memory Diagnostic utility.

Whoa! Hold on there pardner -- The Memory Diagnostic scan we cause your PC to restart, so before you run it , make sure you've saved anything you're working on or you'll lose it.

The scan will take between 5 and 10 minutes, and after your computer reboots, you'll see a diagnostic report giving you the results of the Memory Diagnostic scan.

Now you know about three useful utilities built in to your Windows PC.





Inflation-O-Meter
All Internet-connected users

This is an odd ball tip, but it's something most everyone (at least here in the USA) will find interesting. Have you ever wondered what inflation has done to our dollar?

There's a site where you can see how much $100 in today's money would be worth, let's say, in 1960's money. If you're curious, $100 in 2016 money would have purchase about $12.50 worth of goods / services in 1960. I think gasoline was 24 cents a gallon back then. But I'm not sure, because I was not old enough to drive in 1960 - believe it or not.

A home that cost $40,000 in 1970 would cost $250,000 in 2016.

It's really not called Inflation-O-Meter, but that's what we call it. You can call it whatever you want. But I bet you will call it fun.

You'll find it interesting, if not useful. Check out the Inflation Calculator here http://www.dollartimes.com/inflation/inflation.php




If you're living in someplace other than the USA, do you know how easy it is to convert U.S. dollars to your brand of money? If you use Google as your default search engine, just type the following into your browser's address bar.

Great Britain
100 GBP USD

Australia
100 AUD USD

New Zealand
100 NZD USD

Canada
100 CAD USD

Instant conversion!





What's Coming in 2017 for Windows 10 Users
Windows 10

As we wrote before the release of Windows 10, the era of new numbered/named versions of Windows 10 has reached the end. That doesn't mean there won't be any new versions of Windows, it just means they won't be named (officially) or numbered (like Windows 11, Windows 12, etc.). And no matter what Microsoft does, people are still going to name versions of Windows. It's already started, for example, "the Anniversary Edition".

The next big Windows 10 Update has already got a name. It's called "The Creators Update". And it adds some interesting new features to Windows 10, while, strangely removing a few things too.

Microsoft's moving us more and more toward 3D, virtual reality and easy social networking. Here are the features that are coming to Windows 10 users early in 2017 according to Microsoft:

Creating made easy - Use Paint 3D Preview to create amazing 3D objects quickly and easily. Create from scratch or modify someone else's creation to make it your own. Turn 2D images into 3D objects with just a click in Paint 3D Preview. Share your favorites with the Remix 3D Preview community.

Amazing mixed reality experiences are yours - A new world of mixed reality experience is waiting for you. With your Windows 10 PC and a compatible headset, you can enjoy familiar Windows apps, features and navigation, while discovering new apps, games and media perfect for AR, VR and everything in between.

Your window to a new reality - The technology that powers mixed reality doesn't have to be out of reach. Our partners – including HP, Lenovo, Dell, Acer and ASUS – will be introducing a range of VR headsets starting at $299 with innovative built-in sensor technology for more flexibility and easy, marker-free set-up. Watch for yours, coming in 2017.

Faster ways to connect - With MyPeople, you get faster ways to connect and share with the people who matter most. Instantly access your key people from the taskbar, use apps of your choice to connect, send emojis, and share files or photos with drag-and-drop.

Best platform for game broadcasting and for 4K gaming - Xbox Live and Windows 10 take you to the next level of epic with 4K gaming, built-in Beam broadcasting, and people-generated Arena tournaments.2

These are just a few of the new features and enhancements that Microsoft will be including in the "Creator's Update" scheduled for release in early 2017.

One of the features that will be missing is "Control Panel". Not from Windows, but from the Windows Key+X menu (or right-click menu on the Start button) also known as the Power menu. It's being replaced by with "Settings". Right now, you can press Windows Key + X or right-click on the Windows 10 start button, and you'll see Control Panel in the list - in the "Creator's Update" no Control Panel listed, you'll see "Settings" instead.

Of course, you will still be able to open the Control Panel by typing "Control Panel" (without quotes) in Cortana, Windows search or with the start menu open. There are other ways too. Stay tuned. Microsoft has been known to change its collective mind.






An Oil Lamp With a Mantle: A Christmas Memory

When I was growing up I was lucky enough to have a hero that I could hug and talk to every day; a hero who was my friend and my grandfather. I was lucky.

My grandpa has been dead some 45 years now. It's been a long time since I was lucky enough to have him in my life. And since, I'm getting closer and closer to the age he was when he passed away, I'm thinking maybe someday I'll get to see him again.

Today I was thinking about my grandfather's last Christmas and how special it was to me… and I hope for him as well. I don't know why things happened as they did that Christmas, but I like to think there's something bigger and wiser and far better than us in the universe – and sometimes by will or by accident, we get to touch it, if only for a moment.

The Christmas Past I was thinking about was my grandfather's last one, although I had no reason to believe it would be his last one. He was in pretty good health. He didn't seem to be any different than he had been those last few years of his life. I would have noticed if anything had changed with his health – he was my hero after all – I was always worried about losing him. Back when I was 23 he was 75, and from my youthful perspective, he was very old. Funny, i75 doesn't seem so old now. But back then I thought people who were that old died more than they lived, so I was always paying attention to his health.

Though his health, humor and demeanor seemed unchanged, I had this, what seemed to be, urgent need to make this a very special Christmas for both of my grandparents.

Ever since I can remember, my grandparents had an artificial tree – and back in those days, there was no mistaking an artificial tree from a real one. I had a real tree at my parents house

Please read the rest of this essay here...



Special Christmas Offer - Save $14 On Thunderbird installation & Setup!
Mozilla Thunderbird is a great alternative for those of you who have been using Windows Live Mail or Windows Mail on Windows 10 and who don't want to use the limited Windows 10 Mail App. Thunderbird is compatible with all email accounts, including all Microsoft accounts, Windows 10 updates don't affect it, and has the familiar look of Windows Mail and Windows Live Mail. However it's very different as far as setting it up and configuring it.

So we're offering Cloudeight Thunderbird Email set-up service at special Christmas savings!

Our Thunderbird Email set-up service includes installing and setting up Thunderbird to look and work as much like Windows Live Mail / Windows Mail as possible. We'll configure up to 3 email accounts for you and (when possible) set them up as IMAP so that all your mail messages and folders on your mail server(s) are included in your Thunderbird Email program too! Plus, we'll give you a list of tips & tricks to help you get the most out of Thunderbird Email program.
Get email that works the way you want it to -- get your Cloudeight Direct Thunderbird Email Set-up Service key right now and put an end to the Windows 10 email merry-go-round.
You'll be able to use our new Christmas Stationery for Thunderbird, too!
GET MORE INFO AND GET A GREAT DEAL ON OUR THUNDERBIRD EMAIL SETUP SERVICE RIGHT NOW!&




Free Advice!

First of all, this article is over 1100 words long. But, I know that you're thinking that it's mostly just us yammering as usual… but NO! NO! NO! I tells ya! Our ramblings account for only 353 words of the following piece of work.

I admit, rarely do we find a site or a company or anyone, whose propensity to babble and yammer on and on and on exceeds ours. But ladies and gentlemen, we've finally found someone who can yammer on and on even longer and better than us – and wouldn't you know… it's a bunch of lawyers! But there's more here than babble. Much like our newsletters and posts, there's gold in these here babbles.

Unfortunately, most of us mortals need medical or legal advice during the course of our lives. And when we do, we're exposed to another world of people who exist on different planes than the rest of us. They are called "doctors" and "lawyers". They look down upon us, the huddled masses, with pity or scorn and/or sometimes greed– and sometimes all of the above!

After all we are the huddled masses.

There is one rule you follow when it comes to doctors and lawyers: Never ask either of them for free advice. That usually results in a severe look of disgust from the doctor or lawyer, a huge chortle from anyone who overhears you asking, and most likely, a bill for $1197.16 in your mailbox a few days later. Did you know that anything over 1.25 minutes = 1 billable hour for an attorney? 🙂

However, we've found a place, on the web, where you can actually get free advice, without the looks of disgust, loud chortles, or a huge bill in your mailbox. It's called "FreeAdvice.com". FreeAdvice.com offers free legal advice, insurance advice and Senior Care Advice. The latter being an entire section devoted to seniors like EB.

Yay! for being old!

Anyway, here's what the developers say about themselves (you might want to grab a cup of coffee or a cold one, because these folks are anything but taciturn):


About FreeAdvice.com

FreeAdvice.com is a unit of Advice Company (formerly Advice and Counsel Incorporated) founded in 1991, and an Internet leader since 1995.

The Company has an experienced, dedicated and technologically savvy Management Team, founded by a serial entrepreneur who also is a nationally recognized, top-rated attorney who became President & CEO of a unit of one of America's largest and most respected insurance companies. Benefiting from the input of its distinguished Board of Directors, the company is privately owned, primarily by members of its Management Team, with a minority interest held by several sophisticated outside investors.

Among the Company's ventures are:

AttorneyPages®, at http://AttorneyPages.com, an easy to use consumer oriented national directory of qualified attorneys, lawyers and law firms that provides marketing and lead generation services for attorneys and law firms.

Expert Pages®, at http://ExpertPages.com, the original and leading Internet directory of expert witnesses and consultants, which has been repeatedly recognized as "best in class" by other leading legal publishers. ExpertPages became a unit of the Company's affiliate Adviceco Ventures Company on April 1, 2015.

FreeAdvice®, at http://www.FreeAdvice.com/, the first and still most visited legal and insurance information and advice website for consumers. With extensive information covering over 130 legal subjects and every type of insurance, it has been winning acclaim from national media since 1996.

Advice & Counsel Newsletter, a financial security and legally oriented print newsletter that has been distributed each month for over 15 years to tens of thousands of clients of major insurance and financial services companies. Among its customers have been Allianz, Chase, Fortis, ING, Modern Woodmen, Wellpoint and Zurich.

For the first 12 years of its existence, the Company also was a principal of www.DoItYourself.com, then the leading independent home improvement, maintenance and repair site, which was acquired in January, 2007 by Internet Brands Inc.

Headquartered just 3 miles north of the Golden Gate Bridge in Sausalito, California, with offices on San Francisco Bay, the Company or its affiliates maintain offices and/or contract staff in the Chicago, IL., New York, NY., and Washington, DC metropolitan areas.

The easy-to-understand legal content on FreeAdvice.com was prepared and is continually updated by nationally respected specialists at dozens of leading American law firms, by highly credentialed attorneys and legal professionals on the Company's legal and editorial staffs, and by the Company's extensive network of participating attorneys.

The insurance information at http://insurance.FreeAdvice.com was prepared and is updated by leading insurance experts who view insurance from the consumer's perspective, and includes extensive consumer reviews.

We welcome submission of original high quality legal, insurance and financial / investment content, including articles, Q&As, how to's, videos, and interactive tools for publication on our sites, and welcome visitor suggestions for new and expanded material.

Our FreeAdvice Forums at http://forum.FreeAdvice.com are the Internet's most visited consumer legal forums. Consumers can pose questions and receive answers and suggestions from other consumers, experts and attorneys in 50 topics.

Our FreeAdvice 'Ask a Lawyer' service enables consumers to ask questions of lawyers, and receive answers from attorneys at no charge.

FreeAdvice.com seeks to provide the most useful, easy-to-understand, comprehensive and balanced legal information, general legal advice, and insurance help and to consumers and small businesses. It also helps connect consumers to attorneys and insurance professionals to get personal advice, help and solutions for their legal and insurance problems.

Online for over nearly 20 years, FreeAdvice.com has won numerous awards and honors. It was voted the "most extremely useful" legal website for consumers in the USA Today – Intelli-Quest Poll, selected by PC World as one of the Best 125 Free Sites on the entire Web, named the legal site of the year by Access Magazine and highlighted as one of the 100 featured sites of PC Magazine's Best 1000 websites. FreeAdvice has received repeated accolades and top recognition on many radio and TV shows and in such highly respected publications as the New York Times, Wall Street Journal, Washington Post's and Forbes Magazine's "Best of the Web" the leading legal website for consumers.

FreeAdvice.com also has benefited from advice and input from members of its former Editorial Advisory Board comprised of distinguished attorneys, including law school deans and law professors, consumer advocates, former senior Government officials, senior partners at several of America's leading law firms, and senior counsel in leading corporate law departments and consumer organizations.

FreeAdvice.com's affiliated legal directory of consumer-oriented lawyers, AttorneyPages.com, has been a leading source of information about lawyers nationwide for nearly 20 years and serves an a helpful resource for consumers and small business owners who wish to retain qualified counsel to represent them…"
I feel vindicated! I feel laconic! I pale in comparison to these wizards of verbosity!

And don't worry folks, there's plenty more where that came from – and there's also a lot of really great free advice. So, if you're looking for legal advice, and you don't want to pay for it, or can't afford to pay for it, take a gander at this Cloudeight Site Pick — FreeAdvice.com.

What's that EB? Can we get sued for saying that lawyers yammer? I don't think so. Better call your lawyer and ask her, EB!






What is the IoT?

The IoT is the International Organization of Turnips. If you're a turnip grower, you'll get some great tips on growing turnips, including secret manure recipes and seasonal plating guides. Plus, you an learn how to get paid by the government for NOT growing turnips. We don't grow turnips, but we don't get paid. I'm serious about that part.

Whoa! All that is just joking - except for the part about us not getting paid. If you've made it this far into this newsletter, you're probably shaking your head and saying to yourself, "It's now wonder they don't bet paid!". That being said, I continue, unfazed.

The IoT is the Internet of Things, which is a bunch of unrelated devices all connected to the Internet. Like toasters, cars, TVs, games, phones, tablets. PCs, electrical outlets, patient monitors, pacemakers, refrigerators, stoves, dishwashers, coffee makers and so on. Now you might think I made a lot of that up (like I did with the turnips), but you'd be wrong. All these devices can are being connected to the Internet.

What? You don't believe there's such a think as an Internet-connected stove? Ha! Doubt me, will you? Internet connected coffee makers, you doubt me? Ha! Here ya go. And you doubt me on the Internet-connected dishwasher? Really? Take a look, doubting Thomas!

Everything is connected to the Internet. Young folks with smart phones can control their entire lives with a smart phone. If things keep going the way they are, they'll have virtual boy/girl friends, husbands/wives - or maybe even better yet, virtual boyfriends, girlfriends, and husbands and wives. Although, if you're going to design a virtual boyfriend or girlfriend, why would you need to virtually marry them?

No wonder I see 20-somethings busting their you-know-what's in the gym. They don't need to do anything but push buttons. By the time they're my age, they'll be fat old humps with virtual boyfriends, girlfriends, with Internet-connected robots to clean house and cook meals. What will these people even need legs for? I bet ya their fingers will in great shape - all that button pushing. 80 year-old females and males with well-developed 10-inch index fingers - well-developed from 75+ years of touchpad tapping and fingering.

Anyway, the IoT is the Internet of Things. And the number of Internet-connected things continues to grow. Tomorrow, we'll see Internet-connected toilets that will flush and put the seat down for the ladies and clean themselves. Wait, we already have them!

Now you know what the IoT - Internet of Things is, right? now go buy yourself an Internet-connected Furby.

CLOUDEIGHT DIRECT EVERYTHING KEYS ARE BACK FOR CHRISTMAS!

Buy one Everything Key for yourself for $49, or for just $20 more get a 2nd key for a friend! That's right! When you buy one Everything key for yourself, you can purchase a 2nd Everything Key for a friend or family member for just $20.

Everything Keys never expire! They are good until you use them.
Computer repair
Computer optimization
Malware and virus removal
Emsisoft trial with Cloudeight Direct installation & configuration. Includes malware/virus cleanup and uninstalling your old antivirus program.
Thunderbird installation and setup including up to 3 email accounts.
Each Everything Key is good for any one Cloudeight Direct Computer Service.
Everything Keys never expire – they are good until you use them.
Buy one for yourself for $49. Or buy one for yourself for $49 and can get one for a friend or family member for just $20.

Get your Everything Keys here.


Premium Subscribers' Home Page You'll find the last few weeks of Premium archived on this page.
To change your subscription address, see "Manage your subscription" at the bottom of this newsletter.
Submit your questions, comments, and suggestions for possible inclusion in our newsletters here. This form is for questions, comments and suggestions for this newsletter, not for product support, stationery questions, or general questions concerning our products or services.
Help us Grow! Forward this email newsletter to a friend or family member - and have them sign-up for InfoAve Premium here!
Get our free daily newsletter! Each evening we send a short newsletter with a tip or trick or other computer-related article - it's short and sweet - and free. Sign-up right now.
Have a question about a Cloudeight Software program, service, stationery, or need to ask about an order? Let us know!
If you need help with one of our software programs, have a question about an order, or have a question about any of our email stationery, screen savers, or other products - please don't use our InfoAve Questions/Answers/Tips form. Please use our general Cloudeight support form instead.
Your Premium Members' Home Page has links to the last few issues of InfoAve Premium. If you didn't receive an issue due to ISP problems, you can read the issues you missed there. As always, we try to ensure that each of you receives his or her newsletter in their inbox each week. But sometimes ISPs interfere. Please bookmark your Premium Members' Home page. You can visit the Premium Members' Home Page here.
If you want to help us by telling your friends about our Cloudeight Direct Computer Care service, you can download a printable flyer you can handout or post on bulletin boards, etc. Get the printable PDF Cloudeight Direct Computer Care flyer here.

These products and services are recommended and endorsed by Cloudeight:
Emsisoft Anti-Malware- The best anti-malware you'll find anywhere. Great protection -- both proactive and reactive. Learn more here.
Reg Organizer-- A Swiss Army knife of PC tools. Easy for beginners to use -- with advanced features for experienced users too. Learn more here.
Cloudeight Direct Computer Care - Computer Repair Service-- And for computer repair, you can't beat our remote repair service. You never have to leave your home, take your computer anywhere or leave it with someone you don't know or trust. We can fix most computer problems and all you have to do is sit back and relax. Learn more here.
Thunderbird Email Setup - we'll set up Thunderbird for you - works great with Windows 7, Windows 8 and Windows 10. Get the details here.
Windows 10 Customization - Make Windows 10 look and work the way you want it to. Get more info here.
Also.. don't forget:
We're offering something we think most of you will enjoy. We have a daily tips and tricks summary newsletter that is sent six days a week. It features daily tips, freeware picks, and site picks and interesting computer tips, tricks and more. It's short and sweet - very brief and lightweight. If you'd like to receive or daily tips and tricks newsletter (completely free, of course). You can subscribe here.
You can also help us by using our Start Page.
We have over 100 free games to our Start Page too - come and play all day. It costs nothing to use our Start Page--and helps us a lot.
Your Premium Members' Home Page is located here.

We'd love to hear from you!
If you have comments, questions, a tip, trick, a freeware pick, or just want to tell us off for something,, please visit this page.
If you need to change your newsletter subscription address, please see "Manage your subscription" at the bottom of your newsletter.
We received hundreds of questions for possible use in IA news. Please keep in mind we cannot answer all general computer questions. We choose a few to use in each week's newsletter, so keep this in mind. If you have a support question about a service or product we sell, be sure to use our support form here.

We hope you have enjoyed this issue of InfoAve Premium. Thanks so much for your support and for being a Premium subscriber.
Have a great weekend!
Darcy & TC
Cloudeight InfoAve Premium - Issue # 687
Volume 14 Number 8
December 9, 2016
Subscribe to our InfoAve Premium Newsletter

DISCLAIMER ABOUT THE TIPS & SOFTWARE RECOMMENDED IN THIS NEWSLETTER-- PLUS OTHER IMPORTANT INFO:

All software recommendations we make in this newsletter are based on our own experience and testing of the programs that we recommend. This does NOT guarantee they will work on YOUR computer. We assume you will read the program documentation and use the program according to the instructions. We make no guarantees about any program recommended in this newsletter or its suitability for any particular purpose. We will not be responsible for any problems you may have. We do not and cannot provide support for any products other than our own Cloudeight products and we will not answer email concerning any product which is not a Cloudeight product. We urge you to use good judgment when downloading and installing software and to use a program only after reading the program's documentation. And, all Tips & Tricks in this newsletter have been tested by us on several different computers and were found to work as indicated. They may not work on yours. We make no guarantees. Anything we recommend you try and use at your own risk. We will not be responsible for any problems caused by any software programs recommended in this newsletter or any of the tips and tricks in this newsletter.. Readers' comments are their own and Cloudeight Internet LLC is not responsible for comments of our readers. All readers' comments, suggestions, questions, and tips and tricks sent to us become the property of Cloudeight Internet LLC. You understand that we may use your comments without your explicit permission.
"Cloudeight InfoAve Premium" newsletter is published by:
Cloudeight Internet LLC
PO BOX 73
Middleville, Michigan USA 49333-0073