Search Results by Type
Windows 10 (all versions)
In Windows 10, you can search for files by type. For instance, in this case, I opened Start and typed files:pdf and Windows returned a list of PDF files on my computer: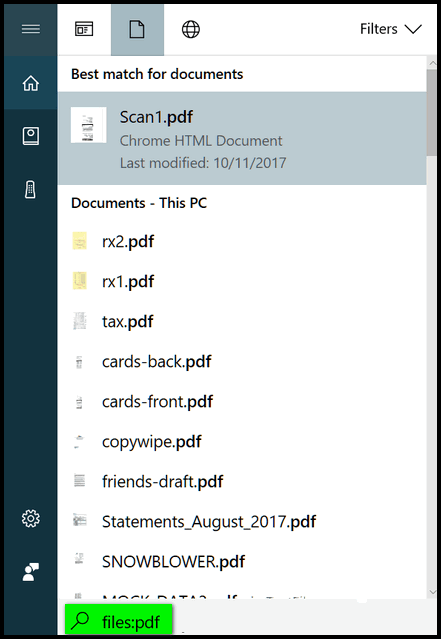 See? I have a pretty long list. Note the scroll bar on the right.
If you're looking for a list of all the PNG files on your computer, type: "Photos:PNG" (no quotes, of course). Or if you have a troop of music files, type Music:MP3 and you'll get a list of MP3 music files. You get the idea.
You can do the same thing for Apps, Settings, Folders and more. Just follow the same syntax of "file-type:specifier".
The only easier way to find what you're looking for is just ask EB! That's what I do. "Hey! EB! Where's my paycheck?"



How to Find Your Wireless Network Password
Windows 7, Windows 8x and Windows 10 (all versions)
Everyone should be using a WiFi password for their home network. And most of us do. And most of us let Windows remember that password for us, so we don't have to type it in whenever we boot up and connect. But sometimes, for instance when setting up another computer, a tablet, or a smartphone, you may need to know the network password. And if you don't remember what it was, you'll be fumbling around trying to get those other devices connected.
Thankfully, it is really easy to find your network password. All you need to do is enter in a simple command and in just a minute or two you'll know what your network password is.
Here's how you do it:
Step one: Open a command prompt with administrator privileges:
On Windows 7, type CMD in the Start menu search, press Enter, – right-click CMD when it appears at the top and choose "Run as administrator".
On Windows 8, press Windows Key + S, type CMD press enter, right-click when it appears and then choose "Run as administrator".
On Windows 10, right-click the start button and click on "Command Prompt (Admin)". If you're using Windows 10 Creators Update (or newer), you can use PowerShell (Admin) or right-click on your taskbar and click "Taskbar settings" then turn the switch to "Off" under "Replace Command Prompt with Windows PowerShell in the menu when I right-click the start button or press Windows Key+X" to use Command Prompt (Admin).
Step two: Enter the following command, at the prompt in the Command Prompt windows. Substitute your WiFi network name for my network name OMAHA. Don't worry: network names are not case sensitive in Windows.
netsh wlan show profile name=OMAHA key=clear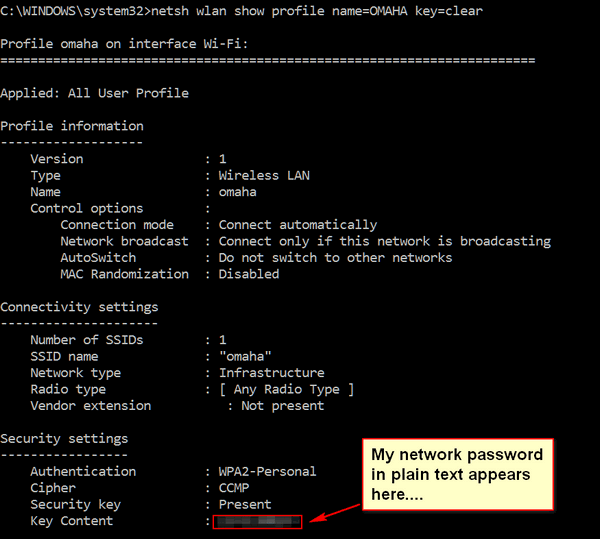 Above: My network password showing in plain text. It's next to "Key Content". No! You can't see it! I blurred it! I don't want EB using my Wi-Fi. Are you crazy?
If you don't know the name of your network, you can find it in the Network & Sharing Center. You can find Network & Sharing Center in the Control Panel or Settings > Network & Internet > Network and Sharing Center.

Three handy tips for Google Chrome (and other browsers)
All computer, tablet, and smart phone users with Google Chrome installed

Google Chrome long ago passed Internet Explorer as the world's most popular browser. If you use Chrome we think you'll find these three tips very useful. But even if you don't use Chrome, one or more of these tricks might work with the browser you use.
1. Show recently viewed pages with a click - Did you know you can show a list of recently visited pages from the current tab? You can. All you have to do is right-click on the "Back" button and you'll see a list of recently visited pages. And as illogical as it sounds, this also works with the "Forward" button too. This works in Firefox too.
2. Drag-a-tab - Did you know that Chrome lets you detach a tab and open it in a new window? It does! All you have to do is drag the tab outside the active window. And you can also add it back to the original windows too. Just drag it back and drop it. You can also rearrange the order of the open tabs on Chrome. This works in Firefox as well.
3. Drag your downloads - When you download a program using Chrome, you will see it on Chrome's status bar (the bar along the bottom of the browser window). Did you know you can drag that download tab out of Chrome to your desktop or any folder on your computer? Also, you'll note at the far right edge of the download tab (which shows the file name) you'll see a little down-arrow. If you click that arrow you'll get options such as "Show in folder". "Run", "Always open files of this type" and "Cancel"..

And guess what? There's a good chance that one or more of these tips will work on other browsers too - don't be afraid to try them with Opera, Edge, or good ol' IE.

Sticky Notes on Windows 10: What's New?
Windows 10 (Anniversary Update, Creators Update or newer)
Sticky Notes was updated starting with Windows 10 Anniversary Update. So, if you're using Anniversary Update, Creators Update or newer, this article applies to you… well it does if you like Sticky Notes.
First, Microsoft, in their infinite wisdom, giveth and taketh away. In the current version of Sticky Notes, there is no way to change the font face. But there are some enhancements. And today, we're going to cover the main one. And that is the one called "Insights".
First things first. You can open Windows 10 Sticky Notes by typing Sticky in the taskbar search and pressing Enter when you see Sticky Notes appear at the top. You can also find it in your Windows 10 start menu under "S" (how about that!). You can open it from a Run box by typing StikyNot.exe and pressing Enter.
Sticky Notes "insights" should be enabled by default. I say "should be" because "insights" was not enabled on my PC. But the following dialog appear as soon as I opened Sticky Notes for the first time. All I had to do to enable is click the big blue button "Enable Insights". (Note: Microsoft is not consistent. It capitalizes Insights in some places, and not in others. I have an excuse for mistakes, but Microsoft makes billions of dollars, you'd think they could hire a better editor than EB or me. Right?)
If you open Sticky Notes and you don't see the Enable Insights dialog, you can do it this way.
Start Sticky Notes, click on the 3-dots icon next to the trash can at he top right…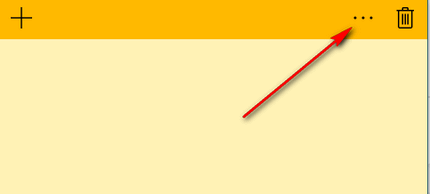 And then click on the "gear" Settings icon that appears at the bottom left. The big colorful circles allow you to change the color of your Sticky Notes.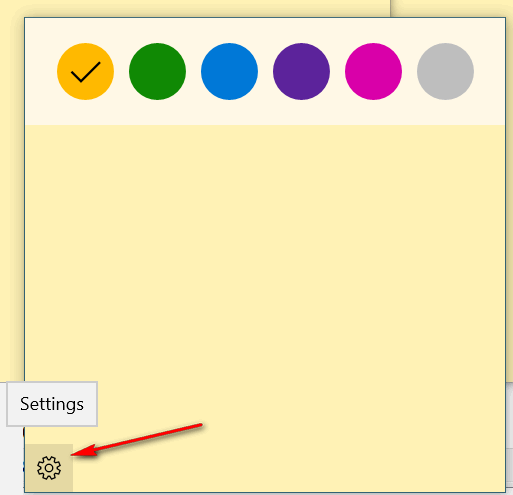 Then turn the "Enable Insights" slider to "On". (Notice they do not capitalize "insights" in this dialog.)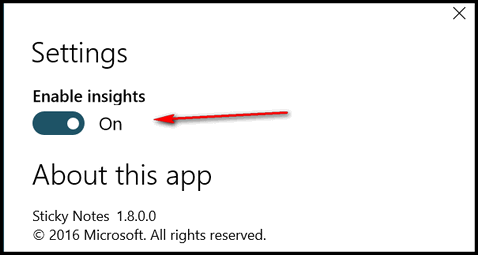 Once you've enabled "insights" or "Insights" you can type an address in Sticky Notes and locate it on a map. As you can see, I typed in an address below. It's to Microsoft Visitor Center in Redmond, WA USA. If I wanted to see it on a map all I have to do is click "Bing" at the bottom left.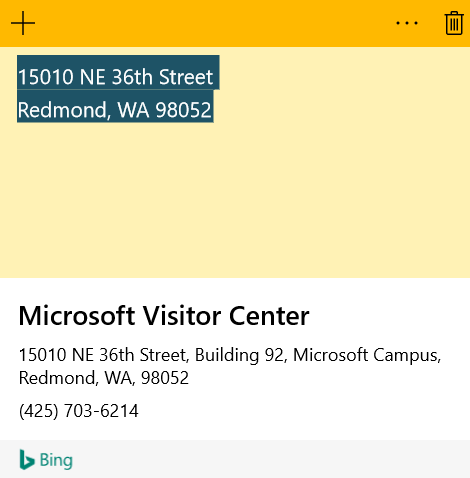 If you're itching to track a flight, open Sticky Notes and type in a flight number, like this: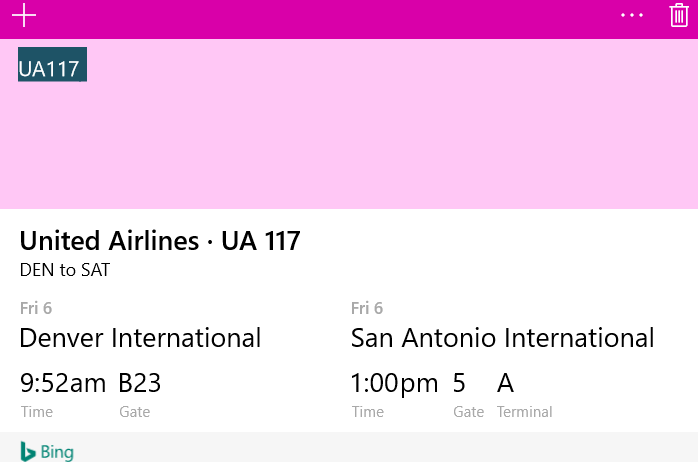 If you want to know more about that flight, I could click "Bing" at the bottom of the dialog.
And while the newer versions of Sticky Notes don't allow you to change fonts, you can use some keyboard shortcuts to change text styles to bold, italic, underlines, strikethrough and the like. If you want to change the style of the text, just highlight it and try one of the following shortcuts:
CTRL+b = Bold text
CTRL+i = Italics
CTRL+u = Underline
CTRL+t = Strikethrough
There are more, but that's enough for now
Enjoy, the "new" Sticky Notes.

New Enhanced Emsisoft with Free Installation Offer



If you're not using Emsisoft we've just sweetened our Emsisoft with FREE Cloudeight installation deal.

We are enhancing our Emsisoft with Free Installation & Setup Offer. For the last month or so, we've been offering Emsisoft, with a one-year license, plus free installation and set-up by Cloudeight – all for less than the retail price of Emsisoft. Now, because of the Avast/Piriform CCleaner hack, we're enhancing our Emsisoft offer. We'll completely uninstall current antivirus, check to make sure your computer is free from malware, if you have CCleaner, we'll make sure it's updated, (or remove it at your request) plus we will configure Emsisoft and provide you with one-year Emsisoft license all for one low price.

See this page for more information.




With a Single Flake of Snow

With a single flake of snow, winter begins.

Like that first faint shadow of twilight, we hardly take notice of it. Our lives begin with a single breath – and end with one final one. Spring begins with a single flower and fades into summer – and we hardly notice. Like our children who grew up right before our eyes, yet we hardly noticed until they left us to seek their own lives.

And all is as it should be.

A single flake of snow brings winter. The autumn leaves, glorious and majestic, catch our attention as we hurry through our lives. But that first flake of snow is the sentry of winter, and yet we pretend it is not. We go on about our lives relying on calendars and watches and all sorts of devices to keep track of seasons and time. Still, winter begins with a single flake of snow, whether the calendar agrees or not does not matter.

Calendars and watches are made by people. Snowflakes are not. Snowflakes have no need to know the time of date. The come and go as they will.

Today, a single flake of snow catches my eye. It is a dull, gloomy, and lifeless autumn afternoon. The air is chilly, but not particularly cold. My eyes follow a single snowflake as it wafts silently and slowly to the ground. My mind drifts back to another time – when the world was a gentler and simpler place.

I'm getting off the school bus. It's the last day before Christmas vacation. I am nine years old. I am happy and running towards my little house
Read the rest of "With a Single Flake of Snow" here.


System Font Size Changer
Change Font Sizes With Ease In Windows 10 Creators Update and Windows 10 Fall Creators Update
Windows 10 Creators Update (version 1703) brought a lot of changes to Windows 10. One of the changes it brought was taking away our ability to (easily) change the font size for title bars, menus, message boxes, tooltips, palette title, and icon text. And the new Fall Creators Update, which is due to start rolling out next week (October 17, 2017), will keep most the changes Windows 10 Creators Update brought, a bring many new changes of its own. Fall Creators Update like Creators Update has no easy way for users to change font sizes.
If you're using a very high screen resolution, you may find yourself straining to read the text in message boxes, title bars, etc. after updating to the Creators Update. And if you missed the Creators Update and you are moving to the Fall Creators Update soon, you'll be surprised. Don't be surprised, be ready!
Prior to the Windows 10 Creators Update (version 1703), you could easily change font sizes in Display settings.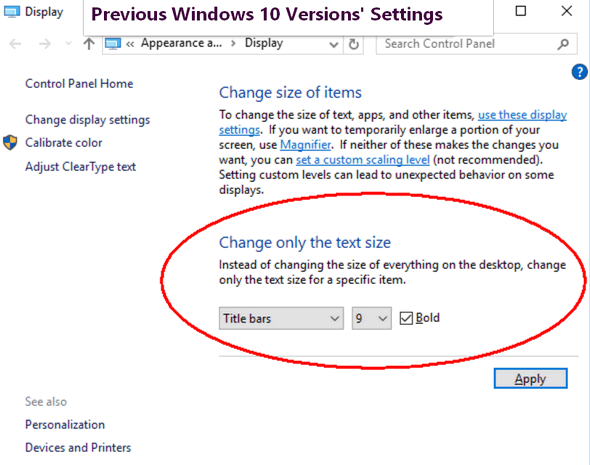 Their are thousands of tips all over the web about editing the registry in order to bring back font size settings options in Windows 10 Creators Update. But editing the registry is not for everyone, plus it's time consuming- not to mention you make a mistake it can cause big problems. And we don't like big problems, and we don't like messing with the registry unless there's no other way. We'll there is another way, and the other way is with this Cloudeight Freeware Pick, I tells ya.
If you have updated to the Creators Update and now find yourself with Windows display fonts that are uncomfortably small, this a very small (less than 50 KB) free program makes it very easy to change the size of the fonts for title bars, menus, message boxes, tooltips, palette title, and icon text. And if you prefer bold fonts, you can even make the fonts bold. System Font Size Changer works on Windows 10 Creators Update and on the new Windows 10 Fall Creators Update. That's good news, because once Microsoft takes something away, they never give it back - just look at Outlook Express/Windows Mail.
Our freeware pick is called System Font Size Changer. And we're here in advance of Windows 10 Fall Creators Update to tell you that it not only works great on the Windows 10 Creators Update -- it also works great on the Windows 10 Fall Creators Update.
And it's easy to download and use. All you have to do is download it and run it. It does not install. Just download, unzip and click the exe to run System Font Size Changer. Since it does not install, there are no worries about malicious stuff like PUPs, malware, bundles or other baddie-baddies. And a really nice feature of System Font Size Changer is that when your first run it, the program offers to save your current settings – and we suggest you take advantage of that… just in case you get over zealous.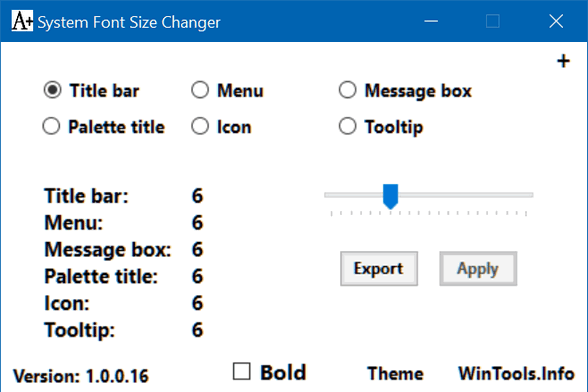 If you want an easy way to change the system font sizes on Windows 10 Creators Update (Version 1703) or Windows 10 Fall Creators Update (Version 1709), download System Font Size Changer from WinTools.
NOTE: If you have Windows Smartscreen filter activated, it may balk – Smartscreen isn't always so smart, it often bases a program's safety on its popularity – infrequently downloaded programs, or new programs seem to make Smartscreen lose its smarts. :-)
Version 8 Latest Release!
What's New in Reg Organizer 8.0?

Ability to clean the cache of the installed applications.
A new Private Data Cleanup tool was added. It is designed for cleaning the data of a personal nature emerging in everyday use of your PC like browsing history and the drop-down lists with the paths of files you recently opened in Windows or applications.
The new System Cleanup tool combines the functionality for cleaning the disk and the registry allowing for effective freeing up of disk space and correcting the system problems like invalid shortcuts.
Ability to clean the jump lists (recently accessed application files and actions).
Ability to clean the Run dialog (opened using the Win + R keys combination) history.
Switching between the Maximum cleanup mode and the Everyday cleanup mode in the System Cleanup tool. The Maximum cleanup mode can be used, if it is necessary to free up the maximum possible amount of space on the drives. This will be done at the cost of removing old restore points, emptying the Recycle bin, etc. Enable this mode to view more information to make a decision.
Recently Used Files section: More files and folders you recently opened in Windows or applications are now displayed here.
Check for update: You may disable notifications about beta and alpha versions.
The Settings window can be resized.
It is now possible to open Express Check directly from the Tool Selection Panel located at the left part of the main window.
The Startup applications tool: Now you may permanently exclude the applications from the optimization. To do this click on the cross at the right of the application in the recommendations window.
Note for Cloudeight subscribers : If you purchased or renewed Reg Organize through Cloudeight within the last 12 months, you're entitled to a free version upgrade to Reg Organizer 8.0.
Save $14 on Reg Organizer right now!!!
Reg Organizer - A Swiss Army Knife of Windows Tools - Works Great on Windows 10!


To Tell the Truth

Not many of us want to give out information to sites on the Web. We think by now, we're all a little gun shy when it comes to answering questions like:
"What was the name of your first school?"
"Where did you mean your spouse?"
"What was your first phone number?"
"In what city did you get married?"
"What model was your first car?"
"Where was your grandmother's maiden name?"
"Where was your father born?"
When you sign up for an online account sometimes the site will ask you security questions, that they can ask you down the road to prove the person logging in to the site is really you. It's really a good thing. It protects you. Not many hackers would know your grandmother's maiden name was Ramsey. Or that your father was born in Bleakmold, Kanas. So, if you have your user name and your password and the answer to your security question at the ready, you'll be able to log into your account.
But what happens is, there's always a part of us that doesn't want to give out this kind of information, so instead of saying grandmother's maiden name was Ramsey, you said it was Pocahontas. It's cute and clever, but what if a couple years from now you want to log into your bank account and bank asks you to answer your security question. Are you going to remember you fibbed and said her maiden name as Pocahontas? Nah. You won't remember. And if you don't remember you will go through a lot of hassle trying to get into your account.
So, our Back to Basics tip of the day is always tell the truth when setting up an account that asks you to set security questions. They are generally for your own good and they do a good job of keeping hackers with stolen passwords from accessing your account(s).
Keep in Mark Twain in mind when setting up your online accounts: "If you tell the truth, you don't have to remember anything." - Mark Twain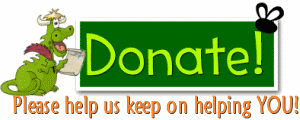 Donations help us continue our mission to keep you informed, separate the truth from the hyperbole, and help you stay safer online. We provide support to thousands of people. Every week we help dozens of people via email at no charge. Thanks to donations, we do a lot more than provide this free newsletter. We help you recognize online threats, fight for your online privacy, and provide you with the knowledge you need to navigate the Web safely, and help you get more out of your PC.

Help us keep up the good fight with a small donation.

After you donate, you will receive an invitation to become a Cloudeight Booster.

Interested in making a automatic monthly gift? Visit this page. Help us keep helping you!


To change your subscription address, see "Manage your subscription" at the bottom of this newsletter.
Submit your questions, comments, and suggestions for possible inclusion in our newsletters here. This form is for questions, comments and suggestions for this newsletter, not for product support, stationery questions, or general questions concerning our products or services.
Help us Grow! Forward this email newsletter to a friend or family member - and have them sign-up for InfoAve Premium here!!
Get our free daily newsletter!!; Each evening we send a short newsletter with a tip or trick or other computer-related article - it's short and sweet - and free.. Sign-up right now..
Have a question about a Cloudeight Software program, service, stationery, or need to ask about an order?? Let us know!!
If you need help with one of our software programs, have a question about an order, or have a question about any of our email stationery, screen savers, or other products - please don't use our InfoAve Questions/Answers/Tips form.. Please use our general Cloudeight support form instead.
If you want to help us by telling your friends about our Cloudeight Direct Computer Care service, you can download a printable flyer you can handout or post on bulletin boards, etc.. Get the printable PDF Cloudeight Direct Computer Care flyer here..

These products and services are recommended and endorsed by Cloudeight:
Emsisoft Anti-Malware- The best anti-malware you'll find anywhere. Great protection -- both proactive and reactive.. Learn more here.
Reg Organizer-- A Swiss Army knife of PC tools. Easy for beginners to use -- with advanced features for experienced users too.. Learn more here.
Cloudeight Direct Computer Care - Computer Repair Service-- And for computer repair, you can't beat our remote repair service. You never have to leave your home, take your computer anywhere or leave it with someone you don't know or trust. We can fix most computer problems and all you have to do is sit back and relax.. Learn more here.
Thunderbird Email Setup- we'll set up Thunderbird for you - works great with Windows 7, Windows 8 and Windows 10.. Get the details here.
Windows 10 Customization- Make Windows 10 look and work the way you want it to.. Get more info here.
Also.. don't forget::
We're offering something we think most of you will enjoy. We have a daily tips and tricks summary newsletter that is sent six days a week. It features daily tips, freeware picks, and site picks and interesting computer tips, tricks and more. It's short and sweet - very brief and lightweight. If you'd like to receive or daily tips and tricks newsletter (completely free, of course).. You can subscribe here..
You can also help us by using our Start Page.
We have over 100 free games on our Start Page. Use our Start Page and come and play all day. It costs nothing, and it helps us a lot..
Your Premium Members' Home Page is located here.


Have some fun with your email this holiday season with Cloudeight Stationery for Halloween, Thanksgiving, Christmas & more all made to work with Thunderbird! And right now, our Thunderbird Email set-up service is on sale!
It includes installing and setting up Thunderbird to look and work as much like Windows Live Mail / Windows Mail as possible. We'll configure up to 3 email accounts for you and set them up as IMAP so that all your mail messages and folders on your mail server(s) are included in your Thunderbird Email program too! We can set up almost any email account for you including Gmail & Outlook.com accounts. If you love using stationery, we'll set up Thunderbird and make it easy for you to use stationery. With the holiday season approaching, you'll have some fun this year with your holiday emails. We also have some great Thunderbird tips & tricks to help you get the most out of Thunderbird Email program.
Right now we're offering our Thunderbird Email Setup Service for 30% off. And all our stationery is always FREE! You'll get the best email experience and have fun too, when you have us set up your Thunderbird email program so you get the most out of it. The holidays are coming so don't delay!
GET MORE INFO ABOUT OUR THUNDERBIRD EMAIL SETUP SERVICE RIGHT NOW!
We're working on new Halloween stationery and we'll be announcing it soon. In the meantime, check out our current 40-design Halloween collection here!

We'd love to hear from you!
If you have comments, questions, a tip, trick, a freeware pick, or just want to tell us off for something,,, please visit this page.
If you need to change your newsletter subscription address, please see "Manage your subscription" at the bottom of your newsletter..
We received hundreds of questions for possible use in IA news. Please keep in mind we cannot answer all general computer questions. We choose a few to use in each week's newsletter, so keep this in mind. If you have a support question about a service or product we sell,, please contact us here.

We hope you have enjoyed this issue of InfoAve Premium. Thanks so much for your support and for being a Premium subscriber..
We hope you all have a really great weekend!
Darcy & TC
Cloudeight InfoAve Premium - Issue #731
Volume 14 Number 52
October 13, 2017

Not a subscriber? Subscribe to our InfoAve Premium Newsletter

DISCLAIMER ABOUT THE TIPS & SOFTWARE RECOMMENDED IN THIS NEWSLETTER-- PLUS OTHER IMPORTANT INFO::

All software recommendations we make in this newsletter are based on our own experience and testing of the programs that we recommend. This does NOT guarantee they will work on YOUR computer. We assume you will read the program documentation and use the program according to the instructions. We make no guarantees about any program recommended in this newsletter or its suitability for any particular purpose..
We cannot be responsible for any problems you may have. We do not and cannot provide support for any products other than our own Cloudeight products and we will not answer email concerning any product which is not a Cloudeight product. We urge you to use good judgment when downloading and installing software and to use a program only after reading the program's documentation. And, all Tips & Tricks in this newsletter have been tested by us on several different computers and were found to work as indicated. They may not work on yours. We make no guarantees. Anything we recommend you try and use at your own risk. We will not be responsible for any problems caused by any software programs recommended in this newsletter or any of the tips and tricks in this newsletter that do not work for you..
Readers' comments are their own and Cloudeight Internet LLC is not responsible for comments of our readers. All readers' comments, suggestions, questions, and tips and tricks sent to us become the property of Cloudeight Internet LLC. You understand that we may use your comments in our newsletters and on our Websites without your explicit permission..
"Cloudeight InfoAve Premium" newsletter is published by::
Cloudeight Internet LLC
PO Box 73
Middleville, Michigan USA 49333-0073