Cloudeight InfoAve Premium
Issue #732
Volume 15 Number 1
October 20, 2017

Dear Friends,



Welcome to the 15th year of InfoAve Premium!



This is the first issue of the 15th year of Cloudeight InfoAve Premium. This week we'll be featuring some of the best content from our14th year and mixing in some new things too. We hope you enjoy it! Thank you very much for subscribing and for being a part of our Cloudeight family. We appreciate your membership and support very much!

Reminder: To ensure delivery of this newsletter, please add our email address to your address book and / or alert your ISP should you need to have it whitelisted in order to receive this newsletter. We send this newsletter from the following email address: cloudeight-news@thundercloud.net.





Share Us on Facebook!
We'd love for you to share us with your family and friends on Facebook. Help us by sharing us on Facebook!








Subscribe to our Daily Newsletter!



Get computer tips & tricks every night. Our daily newsletter features a computer tip/trick or two every day. We send it out every night around 9 PM Eastern Time (USA). It's short and sweet, easy-to-read, and FREE. Just visit this page and sign-up. All you have to enter is your email address. Once you confirm your subscription, you'll receive our daily newsletter every day, six days a week. You can unsubscribe at any time.




Buy any Emsisoft product, renewal or installation and get Revo Uninstaller Pro 3 Free!
Thanks to our friends at Emsisoft, we're able to make this special offer available to all our newsletter subscribers and boosters.

For a limited time when you purchase any Emsisoft license or renewal from our Emsisoft page, we'll send you a FREE lifetime license for Revo Uninstaller Pro 3. That's a $39 value. Revo Uninstaller has so many great features that help you completely uninstall and remove programs and apps from your Windows computer. Revo Uninstaller Pro 3 is the latest and greatest version of Revo Uninstaller - and we're giving it away free with any Emsisoft purchase from our Emsisoft page.

Get the best antivirus, anti-malware, anti-ransomware protection for your computer and get the best professional uninstaller FREE. Just buy any Emsisoft product from our Emsisoft page during this limited time offer period, and we'll automatically send you a lifetime license for Revo Uninstaller Pro 3 with your Emsisoft license and information.



Visit our Emsisoft page right now

.



Here are some important links for you:




A comment from Bill
This is for both of you guys so when you get a chance pass this on to TC. I just wanted to say that I know that you have had your share of great jobs guys.You two are just wonderful. It's great how you guys fixed my computer. And let me say on the front end that I totally agree with every bit of that.

But being who I am and the way I think because of my Christian background, it is most important for me to say it my way, so let me say that as we go through life there are very few times that someone special comes into your life - whether you ever meet them in person or not -- and when they do then you need to realize it and be sure to let them know that they are one of those few.

I know that they are a lot of so called computer experts out there, but there are just a very few like you guys, who seem to do it with such care. I believe that is the most important ingredient for all of life itself. I know that you have to do it for money to live because I did the same thing for over sixty years. And i know that you will never get rich doing the very thing that you do. Believe me if I could give you a million dollars right now i would.

I know that we have moved into a time frame when it's hard to trust anyone anymore, because for the most part, it seems that the whole world wants to take advantage of all and anyone that they can. So, let me say this and really mean it: I hope that every day is a great day for both of you and also hope that all the good things come to both of you. And truly from my heart, let me say that may all of God's blessings come to you and all your loved ones.Thanks so much again for all that you do for me. Bill

A comment from Phil
Thanks again for the wonderful new stationery! My friends just LOVE getting email from your Thunderbird collections! Phil

A comment from Cathy
Hi Darcy It was very nice of you to drop in for doughnuts and Coffee so sorry I did not have it ready for you but thanks while you waited you fixed my g-mail program and now it works great. and for that I thank you. I have to tell you I had a problem with Emsisoft, contacted the company and they were Johnny on the spot to respond to me and tell me what to do to fix it, between Darcy and T.C and a company like Emsisoft , duds like me on a computer sure get great help. Thanks again Darcy for fixing my problem. Have a good day Cathy



A comment from Karen


I just finished a session with TC this morning installing Emsisoft on my granddaughter's computer and was once again impressed with the professionalism shown and the ability to accomplish everything in one quick session. He was able to set things up to make things more friendly. I can't say enough great things about this organization and have always been impressed with all contacts with staff. So glad I took the recommendation of a friend to give them a try.



A comment from Geraldine


A thank you to TC for bringing my tired old Windows 7 up to speed. It was running very slowly and he quickly found the problem and fixed it. I have had Cloudeight for many years and always found them to be helpful and quick to look after my problems. Being a very senior citizen I hate change and want to keep my windows 7 as long as possible. Thanks again, TC



A comment from Judy


Thank you TC for removing programs and installing Emsisoft on my laptop. Thanks for fixing the annoying mouse problem too. Also, thank you TC for being so patient with my slow Internet;. I will be contacting my Internet service to provide the service I pay for. Cloudeight has always helped me with problems on my computers and I thank you for your help, tips, newsletters (daily and weekly) and information. I also enjoy the Thunderbird stationery. Cloudeight is awesome! Judy



A comment from Lynda


Just wanted to say a big "Thank you" to TC for working on my computer Tuesday. I so appreciate it, but have to tell you after so long re-installing Windows 10 this morning when on got on it said it was installing Windows 10. I thought I did something wrong. Turns out it was installing the Fall Creators Update, so I am using that. So far it' good I think, but didn't used it very much yet. Will try more later. Thanks, Lynda

Thanks so much to: Bill, Phil, Cathy, Karen, Geraldine, Judy, Lynda and everyone who has taken time to write to us this week. And thanks all those who used our Cloudeight Direct Computer Care services. Also, a BIG thank you to all who have helped us with your donations and those who have shared our site with friends. THANK YOU! EB & TC.


Get more information about Cloudeight Direct Computer Care here.






Sonjia asks about recovery partitions


When I bought my computer new it was a Win.8, I updated to Win 8.1 now updated to Win 10. I have a partition Recovery Drive D on this computer, placed there by HP. I'm thinking this Recovery D drive is just for Win 8, because it was on this computer when I bought it. If it is Win 8, can I get rid of the data on this drive, and how do I do it. Also wondering if it can be renamed and used for something else, or can I just get rid of the partition and let it just be part of my regular C drive. Sonjia



Our answer


Hi Sonjia. Good question. You can format the Recovery Drive (D) but we wouldn't advise you do that. If you turn on File History in Windows 10 and you make good backups, you should never need the Recovery Drive (D). However, that being said, since the recovery drive takes a very minimal amount of space and hard drives are so large these days, removing it doesn't have many advantages, and leaving it does provide you with one more option, if necessary, to recover from a computer disaster. You're right in thinking that the recovery drive put there by HP would restore your computer to its factory state - i.e. with Windows 8.1 and all pre-installed software that came with your computer.

Windows 10 offers so many ways to recover from a serious computer problem (Fresh start, System Reset, File History, System Restore, Startup Troubleshooting) that we doubt you'd ever need to use the HP recovery drive, but we don't find any compelling reason to remove it either. Our advice, let it be.

If you decide to remove the data on Drive D (HP recovery) you can right-click on the drive and choose "Format". When the format options appear, choose "Quick Format". You will have a drive D with nothing on it that you can use to store files.







Dave can't get Windows check box feature working on Windows 10


I attempted to add check boxes as shown in one of your newsletters, but when I did the (Windows Key + E), up came File Explorer. Any suggestions?



Our answer


Hi Dave. When you press Windows Key + E on Windows 10 you get File Explorer- formerly known as "Windows Explorer".

There are two ways to get to the setting to enable check boxes and both are in the same place. And one way applies to all versions of Windows Vista, Windows 7 and Windows 8.

This way works in Windows 8x and Windows 10 (all versions)

Press the Windows Key + E key to open File Explorer. Then click on "View" at the top. Now, tick the box next to "Item check boxes" and close the dialog (see below):




Here's a closer view:





Here's a tip for those using Windows 7:

Open Control Panel:

With Control Panel in Category View (not icon view) click on Appearance and Personalization. Then under File Explorer options (or Folder Options) click "Show hidden files and folders",





NEW! Cloudeight Halloween Stationery for Thunderbird Available Right Now.

See our new Killer Pumpkins - The Art of John Pelico Halloween Stationery collection here

.

Have some fun with your email this holiday season with Cloudeight Stationery for Halloween, Thanksgiving, Christmas & more - all made to work with Thunderbird! And right now, our Thunderbird Email set-up service is on sale!

Our Thunderbird Set-up service includes installing and setting up Thunderbird to look and work as much like Windows Live Mail / Windows Mail as possible. We'll configure up to 3 email accounts for you and set them up as IMAP so that all your mail messages and folders on your mail server(s) are included in your Thunderbird Email program too!

We can set up almost any email account for you including Gmail & Outlook.com accounts. If you love using stationery, we'll set up Thunderbird and make it easy for you to use stationery. With the holiday season approaching, you'll have some fun this year with your holiday emails. We also have some great Thunderbird tips & tricks to help you get the most out of Thunderbird Email program.

Right now we're offering our Thunderbird Email Set-up service for 30% off. And all our stationery is always FREE! You'll get the best email experience and have fun too, when you have us set up your Thunderbird email program so you get the most out of it. The holidays are coming so don't delay!



GET MORE INFO ABOUT OUR THUNDERBIRD EMAIL SETUP SERVICE RIGHT NOW!



See all our new Halloween stationery for Thunderbird including our new Killer Pumpkins collection here.







Sena wonders how safe buying a refurbished computer is


I was wondering how safe it is to buy a refurbished Laptop. Is one brand better over another in refurbished? Is it better to go to the 'brand' website to purchase or would it be safe to buy from a store, like Best Buy? I want to continue to use windows 10 with a 17 " screen. Thanks for any tips



Our answer


A refurb from a major manufacturer or tech store like Best Buy is a good buy most of the time. A refurb is generally the floor model or one that was opened, then returned to the store or company. I know this is the way Dell, Sam's Club and Costco are. Make sure you get the exact same manufacturer's warranty as a new computer (most dealers selling refurbs offer this) , and look at the screen - click the keys... make sure they seem OK. If the exact same manufacturer's warranty is not offered, don't bother with it.

EB's laptop is a refurb that was a floor model. It was just about half price, had the same warranty as a new computer and an extended warranty was available for it. When she got it was received with hard drive at factory settings.

Best Buy explains their refurb policy and It notes a one year limited warranty, so what I would ask them is that the exact same warranty you get if you bought a new one? If not, don't get it.

I know Dell online has great buys on refurbs. Most of the refurbished computers that Dell offers are computers that people ordered, decided they did not want or sent back. Most Dell refurbs have the exact same warranty as you would get with a brand new computer. But, you have to be careful where you buy your refurbished computer from, some dealers only provide 30 or 60 day warranties. Be careful. Refurbished PCs can be a great buy, but still you have to shop carefully. Buyer beware.







Virginia has trouble opening Excel files


What is used to open a file with an .xls extension? When I received one of these from my Insurance Agent, I was unable to open it, and got this error message:

Not enough memory to run Microsoft Office Excel. Please close other applications and try again.

That brings up another question. I have been getting the same error message for a long time, now, but it mentions Microsoft Office instead of Microsoft Excel. I usually ignore these because I don't use Office. But I am curious now, about the messages. I Googled them, but got no help.



Our answer


Hi Virginia. First it would be very surprising if you got that message and you didn't have Microsoft Office installed. So check to verify that you don't have it installed. Many times computer manufacturers put a trial version of MS Office on new computers so perhaps you have it installed but it has expired or perhaps it has become corrupted. Here are some excellent suggestions for determining if you have Office installed and how to fix the error messages you are getting.

Another way you can open Microsoft Excel files is by installing another office program or by downloading and installing the free Microsoft Excel Viewer. It's a quick fix if all you need to do is open a Microsoft Excel file (.xls). You can download the official Microsoft Excel Viewer from here.

Additionally, you can open most MS Office file types with a Google Account (Google Drive) or with any of the many free office suites such as Open Office. You can learn more about Open Office and/or download it from here.







Doug wants to know if he has a wireless adapter


How can I tell if my Windows 10 computer has a wireless adapter installed?



Our answer


For those who don't know, a wireless adapter is a hardware component and not a software program. It allows your PC to connect to Wi-Fi networks.

OK Doug... you can tell if you have a Wireless adapter click on Settings (in Start -- or using the Windows Key + i shortcut). In settings click on Network & Internet, then click on Status in the left pane, click "Change adapter settings". If you see only one adapter and it says "Local Area Connection" and you see nothing else, you don't have a wireless adapter. If you see two or more and one of them says Wi-Fi -- then you do (see screenshot below):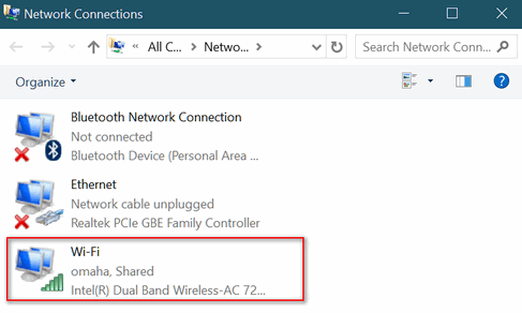 If you have no wireless adapter - or your wireless adapter is not working - there's a very inexpensive way to give your desktop (or laptop) wireless capabilities without even opening the case or installing any hardware. In fact, all you have to do is buy a USB Wireless Adapter and plug it in. Some USB wireless adapters require you to install software from a CD before they'll work properly. In this case, the CD (or a download link to installation software) comes with the adapter.

You can purchase a USB wireless adapter for $15-$40 at Wal-Mart, Target, or Best Buy. You can get some great deals on USB Wireless Adapters online at Amazon.com. You don't need to buy a high-end (expensive) USB wireless adapter. Look at the customer ratings for each brand of adapter. We paid $16 for one and it works great. More expensive does not always equal better.








If You're Still Using Windows Mail on Windows 10, Here's a Heads Up


Windows 10

Just a heads up. I installed Fall Creators Edition today for Windows 10, and it completely wipes out Windows Mail and it cannot be fixed or reset. This is the time to change over to the Thunderbird mail program, so you still have time to save any mail/contacts and transfer them from Windows Mail. Once you update to Windows 10 Fall Creators Update (version 1709), you won't be able to access anything in Windows Mail.



Please note

: The Windows Mail& program that we refer to in this tip is the Windows Mail program that replaced Outlook Express; it originally came with Windows Vista. It could be modified to work on Windows 7, Windows 8x and Windows 10 and many people are still using it on Windows 10.

It does not refer to the Windows Mail app that comes with Windows 10 or Windows Live Mail. If you're still using Windows Live Mail, keep in mind that it has reached the end of its life cycle and no longer supports Microsoft accounts and will no longer be getting security updates, features updates or fixes. You use Windows Live Mail at your own risk.

More on Thunderbird here.





Access the Advanced Boot Options Menu
Windows 10 (all versions)

Windows 10's Advanced Boot Options Menu gives you an alternate way to boot into Windows if you're experiencing problems. From the Advanced Boot Options Menu, you can access System Restore, System Reset, Troubleshooting, Startup Repair, Command Prompt and more. It's a great way to access some Windows features that can help you overcome many different Windows issues and an excellent way to access your computer if you're having problems booting into Windows.

Here's the easy way to access the Advanced Boot Options menu and all its troubleshooting goodies:

Behold!

1. Hold down your Shift key and click on the Start button.

2. Do not release the Shift key and click on Power in the start menu.

3. While still holding down the Shift key, click on Restart.

4. Your computer will restart to the Advanced Boot Options menu. If you want to try it out, go ahead. One of the options on the Advanced Boot Options menu is "Continue --- Exit and continue to Windows 10" which boots you back into Windows normally.

Take a look at the graphic below for a bird's eye view.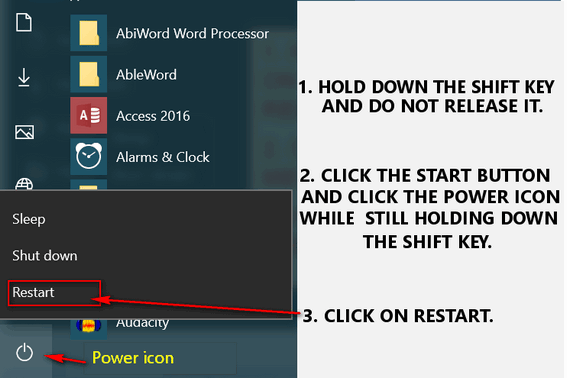 If you're having problems starting Windows or are having a problem with your computer, choose "Troubleshooting" from the Advanced Boot Options Menu, and you'll be able to choose Startup Repair, System Restore, Command Prompt, System Reset and other recovery options.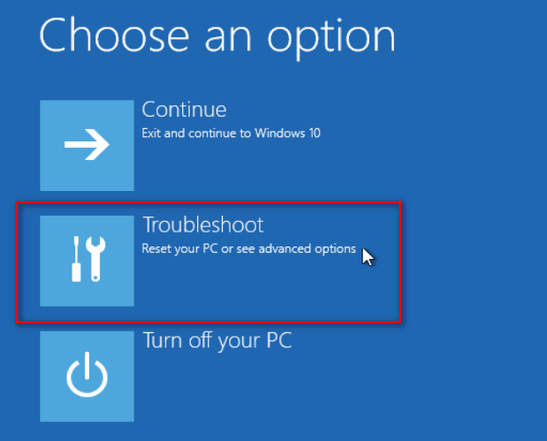 The Stars on Thars

(or how to quickly add a site to your Favorites or bookmarks)
All Chrome, Firefox and Internet Explorer users

The last few Cloudeight Direct sessions, it occurred to me that most people have never noticed the star in (or near) their browser's address bar. If you're one of those who've never noticed the star, you're missing out on the easiest way to add a site or web page to your Favorites or bookmarks.

Here, we will show you the star:




Above: Internet Explorer




Above: Microsoft Edge



Above: Google Chrome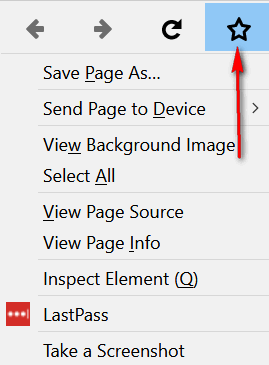 Above: Firefox. Hey Firefox lovers! You'll need to right-click on the page you want to bookmark to see the star on thar. Once you see the star, click it to bookmark the page.

To add a site or page to your Favorites or bookmarks just click on the star when you're on the site or page you want to add. It's really quick and really easy.

Other browsers have stars too (Opera has a "heart).. So. look for the star and you'll be a star at adding sites or pages to your Favorites or bookmarks. It's as easy as clicking the star when you're on a page or site you like and want to save to your Favorites or bookmarks.

And if you can't find he star, you can add a site to your bookmarks by using the keyboard shortcut CTRL+D while you're on the page.

Now you know about the planet Mars –
And all about stars on thars.

Oh EB! A star is born…







Really "Quick" Windows Tips


Windows 7, Windows 8.1 and Windows 10 (all versions)

Quick Change
Want to change the name of a desktop icon, folder, file etc.? Click whatever you want to rename, then click the F2 key and make your change!

Quick View
To view properties menu of a file, folder, etc., highlight it and click Alt + Enter. Highlight My Computer (This PC) and click Alt + Enter to view System Properties.

Quick Print
Click Control + P to open the Print Dialog.

Quick Downloads
While using your favorite browser, press CTRL + J to view recent downloads.

Quick History
While using your favorite browser, press CTRL + H to view your browser history.

Quick File Explorer or Windows Explorer
Click the Windows Key + E to open File Explorer or Windows Explorer in a flash!

Quick-Lock Your Computer
(This tip only works if you have more than one user account on your computer and your account uses a password)

Click the Windows Key + L to lock your computer. You'll need to type your password to log back into your user account.







Windows 10 Fall Creators Update Is Available Now


Windows 10

Windows 10 Fall Creators Update started rolling out on Tuesday October 17, 2017. The easiest way to upgrade is to open Settings > Update & security > Windows update. If you don't see Fall Creators Update (version 1709), click the "Check for updates" button. You may have to click the "Check for updates" button more than once.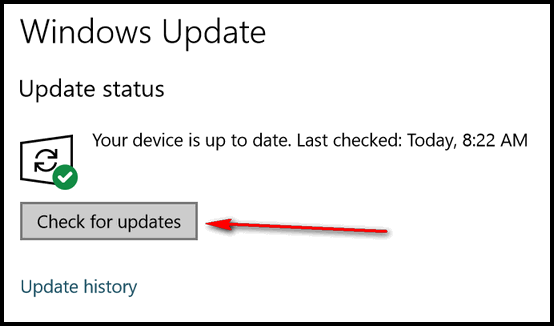 If Windows 10 finds the Fall Creators Update available it will start downloading it. After it's downloaded, you will have the opportunity to restart your PC to install the update then or install it at a later time. Keep in mind that Windows 10 Fall Creators Update (Version 1709) is rolling out slowly and not everyone will get it via Windows Update at the same time. Darcy got her update on Wednesday, but TC's Windows Update does not yet show the Fall Creators Update available as yet.

If you don't find it available via Windows Update, and you want to get it right away, you can download and install Windows 10 Fall Creators Update by following the instructions in this Cloudeight article.





Want more computer tips & tricks?

We have thousands of Windows tips, tricks and more on our InfoAve web site

.

Come see for yourself!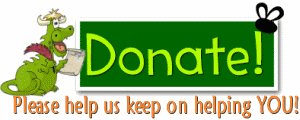 Donations help us continue our mission to keep you informed, separate the truth from the hyperbole, and help you stay safer online. We provide support to thousands of people. Every week we help dozens of people via email at no charge. Thanks to donations, we do a lot more than provide this free newsletter. We help you recognize online threats, fight for your online privacy, and provide you with the knowledge you need to navigate the Web safely, and help you get more out of your PC.



Help us keep up the good fight with a small donation

.

After you donate, you will receive an invitation to become a Cloudeight Booster.

Interested in making a automatic monthly gift?

Visit this page

. Help us keep helping you!








Credit Karma



The world – offline and online – is full of charlatans, cheaters, crooks and con artists. It seems everyone is out to fool you or trick you into buying something or getting you to give away valuable information about yourself.

And if you haven't already figured this out yet: It's all about the money (or lack thereof).

In the world of "free credit reports" the word free takes on a whole new meaning – free means you get something free if you signup for something that isn't free and which will keep on charging you year after year after year for a subscription you may not want or may no longer need. Some of these so-called "free credit report" services will tie you up into a subscription online but not let you cancel it online – you have to call them to cancel them.

It goes something like this:



"Hello, thank you for calling Free Credit Scores & More. If you're calling to change your credit card number, press one. If you're calling to add more services to your account, press 2. If you're calling to give us praises or testimonials – press 4 now…right now! If you're calling to change your mailing address press five. If you're calling to change your email address, press six. If you're calling because you're lonely and need someone to talk to, press seven. If you have the wrong number but are interested in our services or think you might be, press eight. If you can't remember the first eight options, press nine to hear them again. If none of the options sound like something you need, please hang up and try again later or hold for a customer service representative. We're sorry, all our customer service agents are currently busy assisting other befuddled customers. Please be assured that your call is important to us because we'd like to sell you more useless services you don't need but you might need if we can convince you that you need them. The next available customer service agent will assist you shortly. Thank your patience…."



One hour and twenty minutes later, you finally get a "customer service agent" who is from India and you can't understand. So, in frustration you ask for someone who speaks English in some remotely recognizable form. The Indian customer service agent whose ego you have shattered, tells you he's going to transfer your call to another representative, but during the transfer the call is lost. He hung up on you for insulting him. And now you have to start all over. Oh goody!

Knowing your credit score is important. It's important because your credit score determines your eligibility for loans, some types of employment and the interest rate you'll be charged for loans. Having access to your credit reports and credit scores is important too so you can find errors and get them corrected quickly. Credit Karma's credit monitoring is great for detecting fraud and identity theft immediately.

Credit Karma lets you check your credit as often as you want. Why, EB checks hers 15 times every day. She's waiting to see if she can get hers over 900 which I don't think is possible. Since she's wealthy and I am broke, her score is impeccable – mine is so-so. I'm a forgetful sort. I forget my wallet when I go to the store and I forget what I went to the store for anyway. And Credit Karma now offers free credit monitoring as well as great tips on what to do if you think you were affected by the Equifax data breach, like how to freeze your credit with all 3 credit reporting agencies.

Ah, enough of this intro-rambling. Let's let the founding fathers of Credit Karma tell you what Credit Karma is and why it is, OK? So here they are, the founding fathers of Credit Karma, live (sort of) and in person (sort of):



"Our Mission

Everyone deserves to feel confident about their finances. Our job is to give you the tools, the education and the opportunities you need to make real, meaningful progress.

Thinking about your finances can be frustrating, but we're working to make the process simpler and easier to understand for over 75 million Credit Karma members.

How we stay free

Credit Karma will always be free. The offers on our site help us keep it that way. When you take an offer through Credit Karma (like for a credit card or a loan), we usually make some money from one of our partners (like the bank that issues the card or the lender who funds your loan).

We'll even crunch the numbers and give you personalized recommendations. When those tips are on target, we both win. But if you're not interested, that's totally fine too - you'll never get charged for using Credit Karma.

How we help you

The first thing we do is give you free access to your credit scores, reports and monitoring. Once you know where you stand, we help you figure out your next move. Maybe you need to dispute an error on your credit report. We could help with that. Maybe you're paying too much in interest. We could help with that too.

We want you to feel good about your options and make informed financial decisions. That means giving you the right information at the right time so you can zero in on what's important..."


Your credit score is important and you should have access to it – after all it's yours and everyone else, it seems, has access to it. EB and I have used Credit Karma for years and we both highly recommend it.

Visit our site pick "Credit Karma" right now and you'll be on your way to celebrating...

Or on your to the mental health clinic for Zoloft or a homeless shelter to meet TC.




Buy any Emsisoft product, renewal or installation and get Revo Uninstaller Pro 3 Free!
Thanks to our friends at Emsisoft, we're able to make this special offer available to all our newsletter subscribers and boosters.

For a limited time when you purchase any Emsisoft license or renewal from our Emsisoft page, we'll send you a FREE lifetime license for Revo Uninstaller Pro 3. That's a $39 value. Revo Uninstaller has so many great features that help you completely uninstall and remove programs and apps from your Windows computer. Revo Uninstaller Pro 3 is the latest and greatest version of Revo Uninstaller - and we're giving it away free with any Emsisoft purchase from our Emsisoft page.

Get the best antivirus, anti-malware, anti-ransomware protection for your computer and get the best professional uninstaller FREE. Just buy any Emsisoft product from our Emsisoft page during this limited time offer period, and we'll automatically send you a lifetime license for Revo Uninstaller Pro 3 with your Emsisoft license and information.



Visit our Emsisoft page right now

.








Fall Back



I wrote last spring about my not wanting to sound like an idiot by walking around saying "Daylight Savings Time". The grammar police and other people who have no lives and nothing better to do with their time other than criticize people for adding an "S" to "Saving", are adamant and will continue their verbal fusillade until every single creature, upon whom "Daylight Saving Time' is imposed, acquiesces and bends to their stubborn will.

Speaking of will, I'm sorry for sounding like George Will.

Anyway, the article I wrote last March about Daylight Saving Time, was more-or-less lighthearted and tongue-in-check, unlike the serious screed you're reading now.

I find it easier to be lighthearted when facing more daylight than I do when facing more darkness. March is a lighthearted time here, because north of the equator, March means we set the clock forward one hour, which means we have more daylight in which to do stuff at the end of the day. This has some other really nifty ramifications, a few of which I will illuminate in a minute.

Suffice it to say that those of you living south of the equator do not find March as joyful as we do up here where March, although soggy, slushy. miserable and cold, does mean that summer is on the way IN and winter is on the way OUT. Those of you south of the equator, probably enjoy September. Having never lived anywhere but here, I can scarcely even imagine it.

[

I do watch the live Sydney Harbor Cam in the middle of night when I cannot sleep - which means I watch it a lot. Nice harbor there, Sydney. Love the little boat that docks opposite the opera place. Why do people use the boat to cross the harbor when there is a bridge? For those Americans interested in this Australian sleep-aid, you can find the Sydney Harbor Cam on the ABC News App for Roku - and I imagine other streaming video devices

. ]

Digressing, as I'm often wont to do, we are on the cusp of another foray into the land of "Daylight Saving Time" (not Savings). We are on the wrong cusp this time around, if a cusp has a wrong side which I don't believe it does. I think brink is the synonym, however you can be on the wrong side of a brink, I tells ya... Niagara Falls comes to mind...

Read the rest of this essay here.








Two Back to Basic Tips



1. Are you having a problem finding the Print Screen key? On many keyboards, especially laptops, it is abbreviated as PrtScr and on others PrtScr.

2. When you see two commands on one key, the shift key enables the lower command. That kind of seems backwards, doesn't it? I think the reason is because your eyes tend to focus on the top command first, and the top command is the command that would most likely be used most often. For example, the question mark is on top with the slash below it on the same key. You would have to use shift key and click the ? key for slash. The keyboard powers-that-be think that people would use the question mark more that than the slash. Before the Internet, they may have been right, but now? ¿Quien sabe?




What's New in Reg Organizer 8.0?
Ability to clean the cache of the installed applications.
A new Private Data Cleanup tool was added. It is designed for cleaning the data of a personal nature emerging in everyday use of your PC like browsing history and the drop-down lists with the paths of files you recently opened in Windows or applications.
The new System Cleanup tool combines the functionality for cleaning the disk and the registry allowing for effective freeing up of disk space and correcting the system problems like invalid shortcuts.
Ability to clean the jump lists (recently accessed application files and actions).
Ability to clean the Run dialog (opened using the Win + R keys combination) history.Switching between the Maximum cleanup mode and the Everyday cleanup mode in the System Cleanup tool.
And a whole lot more!
If you purchased or renewed Reg Organize through Cloudeight within the last 12 months, you're entitled to a free version upgrade to Reg Organizer 8.0.
Save $14 on Reg Organizer right now!
Reg Organizer - A Swiss Army Knife of Windows Tools - Works Great on Windows 10!

Premium Subscribers' Home Page. You'll find the last few weeks of Premium archived on this page.
To change your subscription address, see "Manage your subscription" at the bottom of this newsletter.
Submit your questions, comments, and suggestions for possible inclusion in our newsletters here. This form is for questions, comments and suggestions for this newsletter, not for product support, stationery questions, or general questions concerning our products or services.
Send us your suggestions and recommendations for future freeware picks and/or sites of the week
Help us Grow! Forward this email newsletter to a friend or family member - and have them sign-up for InfoAve Premium here!
Get our free daily newsletter! Each evening we send a short newsletter with a tip or trick or other computer-related article - it's short and sweet - and free. Sign-up right now.
Have a question about a Cloudeight Software program, service, stationery, or need to ask about an order? Let us know!
If you need help with one of our software programs, have a question about an order, or have a question about any of our email stationery, screen savers, or other products - please don't use our InfoAve Questions/Answers/Tips form. Use our general Cloudeight support form instead.
If you want to help us by telling your friends about our Cloudeight Direct Computer Care service, you can download a printable flyer you can hand out or post on bulletin boards, etc.. Get the printable PDF Cloudeight Direct Computer Care flyer here.






These products and services are recommended and endorsed by Cloudeight:


Also.. don't forget:






We'd love to hear from you!



If you have comments, questions, a tip, trick, a freeware pick, or just want to tell us off for something, let ups know. Please visit this page.

If you need to change your newsletter subscription address, please see "Manage your subscription" at the very bottom of your newsletter.

We received hundreds of questions for possible use in IA news. Please keep in mind we cannot answer all general computer questions. We try to personally answer as many as we can. We can only use a few to in each week's newsletter, so keep this in mind. If you have a support question about a service or product we sell, please contact us here.





We hope you have enjoyed this issue of InfoAve Premium. Thanks so much for your support and for being a Premium subscriber..

We hope you all have a really great weekend!

Darcy & TC
Cloudeight InfoAve Premium - Issue #732
Volume 15 Number 1
October 20, 2017

Not a subscriber? Subscribe to our InfoAve Premium Newsletter





"

Cloudeight InfoAve Premium

" newsletter is published by:

Cloudeight Internet LLC
PO Box 73
Middleville, Michigan USA 49333-0073

Read our disclaimer about the tips, tricks, answers, site picks and freeware picks featured in this newsletter.