Cloudeight InfoAve Premium
Issue #744
Volume 15 Number 13
January 12, 2018

Dear Friends,

Thank you very much for subscribing and for being a part of our Cloudeight family. We appreciate your membership and support very much! Also, thanks so much for making our holiday sales a success.





Share Us on Facebook!
We'd love for you to share us with your family and friends on Facebook. Help us by sharing us on Facebook!






Subscribe to our Daily Newsletter!

Get computer tips & tricks every night. Our daily newsletter features a computer tip/trick or two every day. We send it out every night around 9 PM Eastern Time (USA). It's short and sweet, easy-to-read, and FREE. Just visit this page and sign-up. All you have to enter is your email address. Once you confirm your subscription, you'll receive our daily newsletter every day, six days a week. You can unsubscribe at any time.

Print our Cloudeight Direct Computer Care Flyer!

Print our Cloudeight Direct Computer Care Flyer and spread the word about our Cloudeight Direct Computer Care computer care and repair services. Get our ready-to-print flyer here.


Here are some important links for you:




A comment from Wayne
Hi TC. Thanks again for getting the machine running like new again. It was great working with you. Take care. Cheers, Wayne

A comment from Joyce
My deepest thanks to Darcy for all her work and extra advice and help she gave me with all my questions while she was doing her work uninstalling our other antivirus and installing Emsisoft on our laptop. Her hands went so quickly we couldn't follow her at times but the end results we can see now. There are few words of praise for your work that haven't already been given by many others who have trusted you and your skills to come into our machines and do your work. I feel so much safer on our computers after you have performed your "magic" ...AND the price is always right! We are so very fortunate to have found you and your quality of work. You are good at your work and fair with your pricing. Those two definitions do not always go together but you two have proven it can be done and our accolades flow. Thank you, Darcy for your great work...and I didn't find that file because it wasn't on the laptop, it is only on the desktop of my own machine. :-( I admit my mistake right here in front of everyone. :-)

A comment from Georgina
Hi there: TC visited me today and I HAVE TO TELL YOU.........I am not the sharpest knife in the drawer, but he stayed with me, and was so patient and understanding when I was being absolutely obtuse....I think that's the right word. He was kind when I explained that it's been a sad year for me and he understood because he and his family have had a sad year too. TC is not just an expert on the computer, he is a caring, honest, gentle human being and I feel privileged to call him my friend. After all my "I don't really know" answers, he got my computer back in shape. Love you TC. I can say that 'cos I'm 91 :0) and old enough to be your Mum. Georgina

A comment from Arlene
This is a long time coming but when Darcy worked on my laptop I watched while she zoomed around making all kinds of changes, I had just purchased a new laptop with a Windows 10 installed. She did a fantastic job & set up my computer with a new e-mail address and transferred some things I needed from my other laptop.

She really knows her stuff! I would recommend Cloudeight to anyone who needs the help. I got the help through the computer Direct program and would also recommend it to anyone that needs help with their computer or laptop. I still have some computer keys left and wouldn't be without them. They are well worth the money.

It is great to have either Darcy or TC connect to your computer and work their magic. I have been a supporter of Cloud Eight for a long time and would be lost without it. Thank you so much for all help you have given me. Arlene

A comment from Ruth
I have an angel on my shoulder! Her name is Darcy, and she has come to my rescue too many times to count. She and TC can solve ANY problem, bar none. I am so happy to have known this team for the past 9 or 10 years. Thanks "kids". Ruth

A comment from Thelma
Yesterday, I thought that I had totally ruined my computer. Everything on my desktop disappeared! I didn't have a clue as how to fix it. Then, Darcy, to the rescue, and brought everything back, exactly as it was before. If you have never used Cloudeight's computer service, you are missing out on the best "fixit" service around. I've had them for years, and never a complaint. They have helped me out many times, when I didn't know where to turn. They are well worth the small price they charge. Thelma

A comment from Maggie
I decided to purchase Emsisoft this week and Darcy installed it for me. She did her magic and was so fast and efficient. Thank you very much, Darcy. Maggie

A comment from Jason
am eternally grateful to you. Thank you. Not only for taking care of my blunder but doing it so quickly. One of the best things I ever did, besides marrying my wife 40 years ago, was signing up as a life member for your newsletter when it was first offered. I hope your subscribers realize what you do for everyone behind the scenes. Thank you again, Jason M.

A big Cloudeight "Thank you!" to Wayne, Joyce, Georgina, Arlene, Ruth, Thelma, Maggie, Jason and everyone who wrote to us last week. We appreciate your kind words and your support very much! EB & TC


Get more information about Cloudeight Direct Computer Care here.




Donations help us continue our mission to keep you informed, separate the truth from the hyperbole, and help you stay safer online. We provide support to thousands of people. Every week we help dozens of people via email at no charge. Thanks to donations, we do a lot more than provide this free newsletter. We help you recognize online threats, fight for your online privacy, and provide you with the knowledge you need to navigate the Web safely, and help you get more out of your PC.

Help us keep up the good fight with a small donation.

After you donate, you will receive an invitation to become a Cloudeight Booster.

Interested in making a monthly gift? Visit this page. Help us keep helping you!

Thank you so much for your support!






Larry wants to know if Emsisoft is up-to-date with the latest Windows 10 security patches
I am using Emsisoft and have a question. Is Emsisoft compatible with the upcoming Microsoft patches? Microsoft won't let you install future security updates until your antivirus vendor sets a specific registry key that certifies compatibility with Windows. Please advise and thank you! Larry

Our answer
Hi Larry. The answer is yes, Emsisoft has been updated and you can install any Windows security updates and patches available.

For those who may not understand why you asked this question, we're going to explain to readers who may have not heard about the two Intel processor vulnerabilites or "bugs" called Spectre and Meltdown.

The media has had a field day with these two "bugs". While they are indeed serious, and have the potential to allow malicious software to gain access to personal information on your PC, the chances of you being targeted personally by a hacker is almost nil.

The vulnerabilities of Intel's processor to the Spectre and Meltdown bugs can be patched by Windows security updates/patches. In order for Windows to install the updates/patches on your PC your security software (antivirus/antimalware) must first create a special registry key. If that is not done, Microsoft will not be able to patch your PC.

While we were sure Emsisoft was modified to create the necessary registry key(s) (Emsisoft indicated they had already made the necessary modification in a blog post last week) we reached out to Daviat - one of our friends and contacts at Emsisoft and here is what he said:

Hi Darcy,

We released the update a week ago, see the last part of this blog post:

https://blog.emsisoft.com/2018/01/04/chip-vulnerabilities-and-emsisoft-what-you-need-to-know/

So our product is compatible with the Windows update. If any of your clients cannot receive the latest Windows security update because of Emsisoft, please let us know.
So, now we all know that Emsisoft is ready.




Sonjia has a problem with a Windows 10 Update
I have tried and tried to get Microsoft Up Date file KB4054517 to download on my computer. It just will not download. Every tine I shut down my computer or do a Restart this file will try to download on my machine. I ran the troubleshooter and it fixed several things, but it shows Potential Windows Update Database Corruption [not fixed]. I was wondering how my database got corrupted, because I hardly ever download any apps or programs on my computer.

I've been reading 10 Forums and notice there are other people that can't get it to download either. All the info that they have been talking about like, making a new user account, I would not even attempt to do. I'm not very computer literate. Just wondering if it's OK to just sit and wait until the next update or not. I've not had this to happen before, and I don't know what to do about it.

I would appreciate some advice about this. Sonjia

Our answer
Hi Sonjia. There are several things you can try. First. try to download the update from the Microsoft update catalog here and install it. Note: There is a version for 32-bit and 64-bit Windows. Make sure you download the correct one for your computer. If you're not sure, the fastest way to tell if you have 32-bit or 64-bit on Windows 10 is to type "About"(without the quotes) in the taskbar search and click on "About your PC" when it shows at the top. Under "Device specifications" you'll find a lot of info about your PC including whether it's 64-bit or 32-bit.

If that does not work for you, try following our tutorial posted here on how to use DISM to repair Windows Update.

If neither of the fixes above work for you, then you can reset Windows Update by downloading the Reset Windows Update Agent script (zipped) from this page. Just download it, unzip it, and double-click on the file ResetWUEng.

Finally, nothing in that update looks critical, but it's not a version update. You cannot ignore it, but you can temporarily hide it. But to do so you'll need to download this Windows Update troubleshooter called "Show or hide update". Follow the instructions on that page.

Please let us know if any of our suggestions help you.





David has problems with Chrome and Office 2016
I recently got an upgrade and since then I have had problems with Chrome and some of the office 2016 programs. Today it hit Edge also. It started out with Chrome being very unstable and jittery. I could not use it so shut it down and restarted it. Had the problem again several times.. Now when I am on a tab, Chrome will take the whole page and not show the taskbar or anything else. I have to use alt tab to get to another window and then shut it down and restart it. I have shut the computer down 2 times and restarted it and the problem remains. With Excel 2016, when I start it or bring it up from the task bar, I cannot type into the square I choose. Instead it goes to the top and each attempt to choose a square or type something changes the choice in the home box. What is this anyway?

Our answer
Hi David. It sounds like you have Chrome set to full screen. Just tap the F11 key (top row) to switch back and forth from regular mode / full screen mode. If that doesn't work then you can try resetting Chrome to its default settings.

On the following page you'll find 2 ways to fix Chrome. Usually a reset will work; if not we show you how to remove Chrome completely and reinstall it. To learn how to do this the right way, see our tutorial here.

If you're having problems with any Office 2016 program (including Excel) try repairing Microsoft office. It's easy to do. See our tutorial here.

Let us know if this helps you, David





Irene asks about a Slimware popup on her husband's computer
Regularly on my husband' computer a window pops up when he turns the computer on and it reads to update a driver it is Slimware , I tell him to ignore it, is their a way to block that popup, or should I pay attention to that.

Our answer
Hi Irene. Slimware Utilities is scamware which is installed as a standalone program or bundled with other software. You should definitely uninstall it. Driver updater programs are one of the most useless things you can install on your computer. Not only are they useless but they can cause major problems requiring repair and possibly even requiring a rest or reinstallations Windows. Unnecessarily updating drivers, especially video drivers is one of the biggest causes of major Window problems.

When you uninstall it, it may find it listed as one or more of the following:

DriverUpdate
Driver Updater
Slimware Utilities

Make sure you uninstall them all.





Susan has a question about resetting passwords with LastPass
Hello Again. I am finally going to break down and use Last Pass. My passwords are only Intermediate strength. One thing I am not sure of is do I have to go into each of me places I use a password and change it or does LastPass? Thanks, Susan

Our answer
Hi Susan. LastPass will generate new passwords for you if you want it to and it will change each password for you - but you have to tell it that you want to do it.

You have to open your LastPass vault and go to each account for which you want to change the password. Click "Auto Change Password" and you'll see something like this:




LastPass will generate a strong password, save it for that account and automatically sign you in whenever you need to log in to that site.

Keep in mind that Auto Change Password is only available on some sites, but you can manually change passwords on any site you want. You can either make up a strong password or use the built-in password generator that comes with LastPass.

I hope this helps.

Susan wrote back: "Yes, it does help. Thank you."




Elaine wants to know how to prevent Thunderbird from putting everyone she replies to in her address book
Hi guys, how do I stop contacts from emails going into my contacts addresses automatically in Thunderbird. I found a load in there that I emailed once or twice but did not want them in my contacts list. I went through and deleted them but was wondering how to stop it. I have Thunderbird email. Many thanks, I always appreciate your help. Elaine

Our answer
Hi Elaine. To stop Thunderbird from automatically adding people you reply to, to your address book, just do this:

1. Go to options
2. Click composition, then addressing
3. Uncheck "Automatically add outgoing email addresses..."

See the screenshot below:





Jody wants to know if there's a way to get a retrieve a password from Chrome.
I would love to know if there is a way to retrieve a password that I let google save and I've forgotten the password. Thanks a million for your help. Jody

Our answer
Hi Jody. You're in luck. It's really easy to retrieve a password from Chrome. Just to this:

1. Click on the "3 vertical lines" icon at the top right of the browser
2. Click on "Settings" in the menu that appears.
3. In settings, scroll all the way to the bottom and click on Advanced
4. In Advanced settings scroll down until you see "Manage passwords". Click on "Manage passwords". Look for "Saved passwords". Click on the "eye" icon to see any password in plain text that you have saved in Chrome.

For extra security you'll have to type in the password you use to log in to your Windows computer before you will be able to see the password in plain text.

We have tutorial that will help you too. Just visit this page - and see step-by-step how to manage passwords with Chrome and how to see whatever passwords Chrome has saved.

We hope this helps you, Jody.




Sydney has a 5-year-old Cloudeight Direct Computer Care repair key and wants to know if it's still good
I knew I purchased a Cloudeight Direct Computer Care key a few years ago and, thankfully, have never had to use it because your hints have helped me keep my computer running smoothly. I checked today to see how old it is and was surprised to find it is dated July 5, 2013. My question is - do these ever expire?

Our answer
Hi Sydney. Thanks for the nice comments. Cloudeight Direct Computer Care repair keys never expire. They are good until you use them. We are glad we have been able to help you keep your computer running well. Thanks for your support and your kind words!





Judi doesn't think she has ever been updated to Fall Creators Update (version 1709)
Many of the folks who write in to you have mentioned having Windows Fall Creator 1709. I don't think I ever was upgraded to that, but I can't seem to find what version of Windows 10 that I currently have. Where would I get that information? If indeed I don't have that, should I upgrade to it? My computer is working just fine, and I have had no issues with Windows 10, whatever version it is. Thanks for all your wonderful advice! It has helped me out so many times! Thanks to Emsisoft, as well. My computer thanks you, too, for being so well taken care of! :)

Our answer
Hi Judi. Thanks so much. The fastest way on what version you have is do this.

Right-click on your start button, click "Run" and type WINVER

Then press Enter.

If you see Version 1709 you have the Fall Creators Update; if you see Version 1703 you have the Creators Update (April 2017) but you don't have the Fall Creators Update (October 2017).

You can also click on the taskbar search (Cortana) and type "About" (without the quotes) then click on "About your PC" when it appears at the top. You'll see Device Specifications and Windows Specifications. Look under Windows specifications. Again Version 1709 = Fall Creators Update; version 1703 = Creators Update.

We hope this helps you, Judi

Judi wrote back: "Thanks TC! I found that I do have the Fall Creators Update 1709. I guess I expected to have problems like some other people, but have lucked out. Everything is working fine. Blessings, Judi"





Lynda wants to know now to stop Windows from repeatedly trying to download Fall Creators Update
Hi Darcy, I Have some questions: About 2 weeks ago the fall creators was trying to install after it automatically downloaded again. This was the 3rd time. I didn't want it to installed so deleted it once again. I got in touch with Microsoft helpline & said I didn't want it at all. She took control of the computer went in to a couple of places (couldn't tell where) and said she fixed it. I couldn't get any other updates at all so had to restore to an earlier date. Yesterday it downloaded again for the Fall Creator 1709 & notified me that it would be installed this morning which it was that took an hour and 1/2 to do. I tried it once again but had more problems like the last time. I don't know how to stop it from being installed? Now I don't want to keep going through this again, 3 times is enough & I think its making my computer slower. Is there anyway to Stop it from being installed again? Can you fix that? OR will it stop ALL updates like before? Is my only alternative to go to Chrome or something? I sure don't want to lose other updates that I might need with Windows 10 Creators version 1703 .Can you please help me? Thank you so much for your time. I'm sure I still have keys left. Lynda

Our answer
Hi Lynda. The best way to stop Windows from repeatedly downloading a version update that you don't want (or won't install) is to set up a metered connection. Once you set up a metered connection you won't get any version updates, but you will still get critical updates and security patches.

We have written a tutorial on how to set up a Metered connection both on a Wi-Fi connection and a wired (Ethernet) connection. See our Metered connection tutorial here.

Keep in mind, however, that every version of Windows 10 has an end-of-life date... so you will eventually have to upgrade version 1703 to a newer version, but you can certainly skip Fall Creators Update (v 1709) if that's what you want to do. As long as your connection is set to Metered connection, you won't get any Windows 10 version updates or any updates other than critical/important updates and security patches.

So Metered connections sounds like it's just what you're looking for.





Carolyn has an all-in-one Canon Printer/Scanner but all of a sudden the scanner won't work
My printer/ Scanner The Canon MG2920 (it's 3 years old) has suddenly decided it does not want to be a scanner any longer. It still prints to perfection but will not scan. When I troubleshoot it says that my driver is up to date. Do you have any suggestions for me. I do not want to buy a new one unless absolutely necessary, I have new ink cartridges:-)

Our answer
Hi Carolyn. On that scanner/printer, I have seen some last years and some seem to work fine until the warranty runs out. Here is what we suggest. Go to Settings > Devices > Printers & scanners, click on your installed printer and click on "Remove device". Then remove the printer/scanner software from your system (use Geek Uninstaller or uninstall from Control Panel > Programs & features). After you've done that, restart your PC, then reinstall your printer / scanner.

Here is page at Canon that may help you too: https://www.usa.canon.com/internet/portal/us/home/support/details/printers/inkjet-multifunction/mg-series-inkjet/mg2920

Hope that helps.

Keep in mind, you probably pay almost as much for ink as a new printer costs. I see the Canon you have sells for around $79.99 average and that includes ink. Before you spend too much time, if the above suggestions do not work for you, consider investing in a new printer/scanner. Many are in the $75 range (or lower) and come with full ink packs.

Carolyn wrote back: "Thank you so much. I also wrote to Canon and they basically gave the same advice. I did the uninstall and re installed and for now all is fine. It is even wireless again. But I have already ordered a new printer that takes the same type of cartridge so I am all ready with a back up when this one dies again.
I really appreciate your time... Carolyn"





Marian can't download a driver she needs to do her work on her computer
I do surveys and other research for a company. This earns me points that can be converted to money or prizes. Recently I tried to download an app that allows this company to track my online use. I am certain that this is a genuine company, and have no hesitation in allowing this, but I got a popup from Program Compatibility Assistant stating that a digitally signed certificate was required, and Windows had blocked the installation of a digitally unsigned driver. It told me to uninstall the program that used the driver and go to the publisher's website to find a digitally signed version of the driver. This is the second time this has happened to me recently, and I question the right of Windows to block my request when I have a good security system of my own. Is there any way I can stop this blockage?

Our answer
Hi Marian. Windows offers you the option to turn off driver enforcement. We do not recommend you do this without consideration it's designed to prevent malware and other non-legit programs from installing on your computer.

However, if you trust the company and are sure you want to proceed, here's how to do it:

The easiest and simplest way is do it from the Advanced boot menu.

Follow the tutorial on this page to boot to the Advanced Boot Menu > Advanced Startup Settings.

When you get to the Advanced Startup Settings menu, click on "Disable driver signature enforcement" and click "Restart"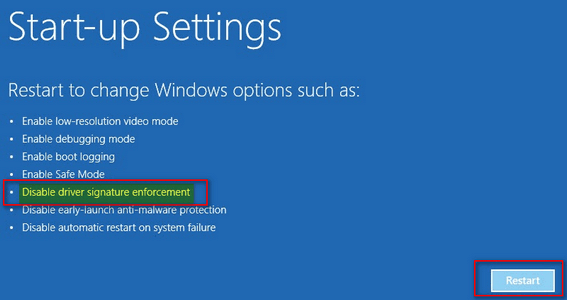 After you restart, install the driver software. You'll get this warning - but you'll also have the option to install the driver anyway.




Keep in mind, you proceed at your own risk. We don't recommend this, but if you're positive the company is legitimate, this is how you get around Driver Enforcement in Windows 10. After you restart your computer normally, Driver Enforcement will be turned back on (and that's a good thing).



Windows 10 World Clock, Timers, Stopwatch and Alarms
Windows 10
It's a new year and a time to think about time. Keeping track of time, counting time, counting down time, do we ever have enough time?
Windows 10 has an app that makes it easy for you to set up a world clock. timers, alarms and more. It's very simple stuff, but most people do not realize the Windows 10 has this feature built in. Well, it's an app that comes with Windows 10 called Alarms & Clock and it's on your Windows 10 Start menu.
We're going to briefly explain each feature and give you a general idea how to use them.
World Clock
Open the Alarms & Clock app from your start menu (or type "Alarms" (no quotes) in the taskbar search). When the app opens click on World Clock at the top.
To add a city, click the + (Plus) sign at the bottom and type in the name of the city & country you want to add. As you can see, I've already added Sydney, Australia to my World Clock, and I'm in the process of adding Auckland, New Zealand… see? Just click the Plus sign and start typing the name of the city into the search form on the clock. As soon as you start typing you'll see a list of cities appear.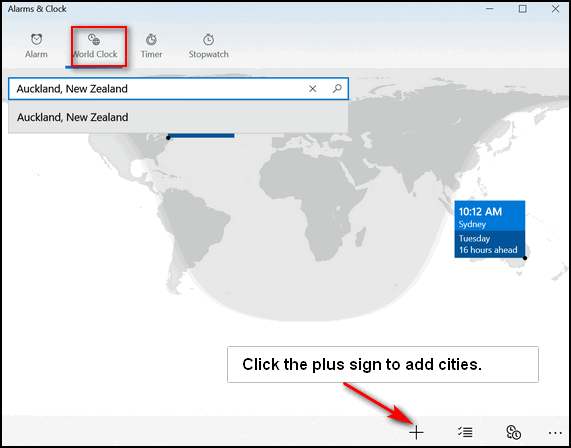 Now I have my local time as well as the time in Sydney and Auckland displayed on my World Clock.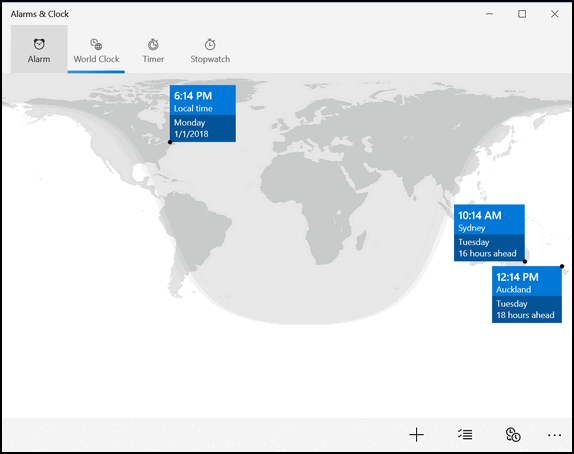 And if you click the two little clocks at the bottom, you can even compare the time differences between cities.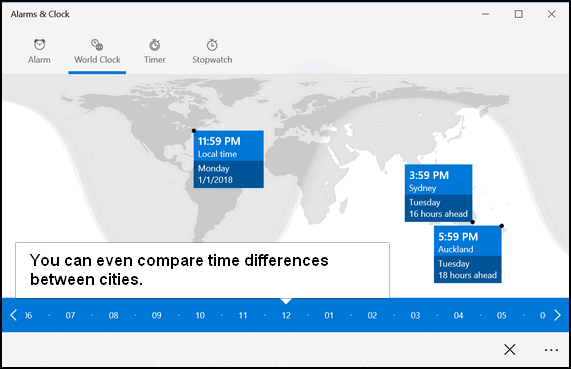 To learn how to use Windows 10 Timers, Stopwatch and Alarms, see our InfoAve tip here.


3 Rather Rare Windows Tips
Windows 7, Windows 8.1, Windows 10
The tips below should work in any version of Windows from Windows 7 through Windows 10. Enjoy!
1. Taskkill
Windows borrows a feature from Linux. Taskkill allows you to terminate a running process (program) from the command line. Here's how you use it:
Hold down the Windows key and tap the R key. In the run box type CMD and press Enter. A Command prompt will open.
Type Tasklist at the prompt. You'll see a list of running processes. Next to each process you'll see a PID number. To kill any running task, type Taskkill /PID xxx (where xxx represents the PID number of the task you want to terminate). You can kill more than one process at time like this:
Taskkill /PID xxxx /PID xxxx /PID xxxx (xxxx = the PID number of the task you want to kill). There are a lot more modifiers too. If you are interested, see Microsoft TechNet's article on Taskkill here.
Why would you want to use this? Because you can? Or maybe your computer is frozen and you can't access Task Manager. Or maybe you're trying to rid your computer of malware and you have to kill its process(es) before you can remove it. Sometimes malware prevents you from ending a process using Task Manager /End process.
---
2. Edit user accounts using the command line
Hold down the Windows key and tap the R key. In the run box type CMD and press Enter. Now type control userpasswords2 at the prompt, and press Enter.
---
3. Create a shortcut for easy access to Task Manager
You can access Task Manager by right-clicking on your taskbar and choosing Task Manager, you can use CTRL+SHIFT+ESC, or you can use the three-finger salute (CTRL+ALT+DELETE) and click "Task Manager" on the menu which appears.
Did you know that you can also create a shortcut to Task Manager and leave it on your desktop, drag it to your quick launch toolbar, or taskbar (Windows 7 & newer) or put in on your start menu? You can, and it's easy to do.
Right-click on your desktop and choose "New" "Shortcut" and copy and paste the following (in bold) into the "type location of the item" field:
%windir%\system32\taskmgr.exe
Once you're created your shortcut, you can drag its icon to your start menu, quick launch bar, taskbar (Windows 7, Windows 8.x, Windows 10) or simply leave it on your desktop. The next time you need to launch Task Manager, just click your new shortcut.



Use Windows 10 Metered Connection to Stop Some Automatic Updates
Windows 10

While most folks didn't have a problem updating to the current version of Windows 10 (Windows 10 Fall Creators Update – Version 1709, as of this writing) some folks did have problems. And after a couple of failed attempts, they find that Microsoft repeatedly tries to install the failed up update. This is not only annoying, but it takes a lot of time.

We have advised people who had trouble updating to Windows 10 version 1709 (Fall Creators Update) – even those who tried updated by using the Update assistant or installation media – to wait until the next update coming sometime this spring.

This article will show you how to set a Metered connection to stop Microsoft from repeatedly trying to automatically update your computer while allowing critical security updates to install automatically (Windows 10 Fall Creators Update v1709 & Windows 10 Creators Update v 1703)

The purpose of a Metered connection according to Microsoft is for those who have bandwidth limits or limit the amount of data you can use. However, you may also want to use Metered connection to prevent Windows from downloading large updates or to prevent version updates that have already failed to install from continually trying to reinstall.

On the Creators Update and newer (including Fall Creators Update), Microsoft has changed Metered connection so Windows Update is allowed to download critical security updates automatically. Microsoft has said they will not abuse this. So, turning on Metered connection should allow you to receive all critical security updates that help keep your Windows 10 PC up-to-date and safe.

When you turn Metered connection on:

1. You will only receive critical security updates automatically. You will not receive Windows version updates (like Fall Creators Update).

2. Windows stores apps and apps included with Windows 10 will no longer update automatically. However desktop programs you installed, such as Firefox, Chrome, and others will continue to update as they always have.

3. Microsoft says that live tiles on your Start menu and/or Start screen "may" stop updating on a metered connection.

4. "Some" Windows Store apps "may" function differently or with limited functionality.

If you're having problems with Windows Update trying to continually install a new version update or you're on a connection where you have data limits, here's how to turn on Metered connection.

For Wi-Fi


Open Settings (Windows key + i) or open Settings from the start menu or the Windows key + x menu.

In Settings, click on Network & Internet. On the Status page, under your "Network status", click on "Change connection properties".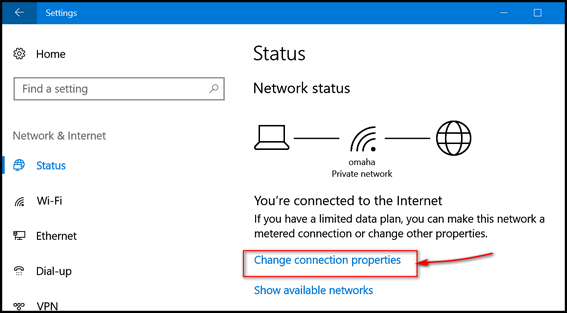 If you don't see "Change connection properties" click on "Wi-Fi" on the left side, then click on your active connection. See screenshot below.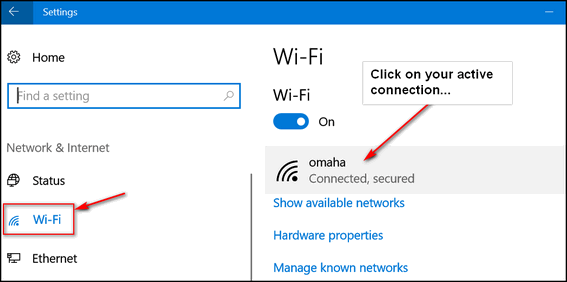 You'll see your network name at the top. Further down on the page you'll see "Metered connection"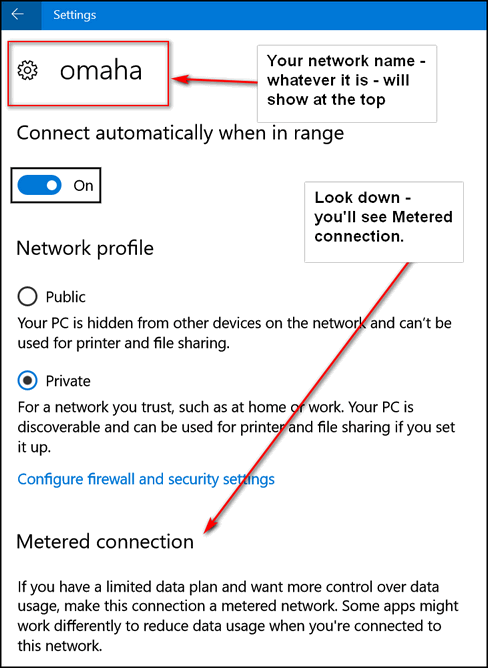 Under "Metered connection" you will an on/off switch under "Set as metered connection". Turn the switch under "Set as metered connection" to "On".
Ethernet (Wired) Connections
If you're using an Ethernet connection, open "Settings". In "Settings" click on "Network & Internet", then click on Ethernet on the left side.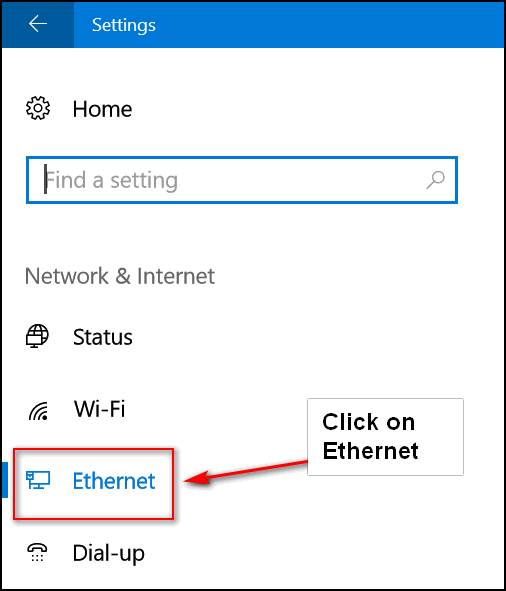 Added: Reader David B. pointed out to us, that after you click Ethernet you'll need to click on your connection.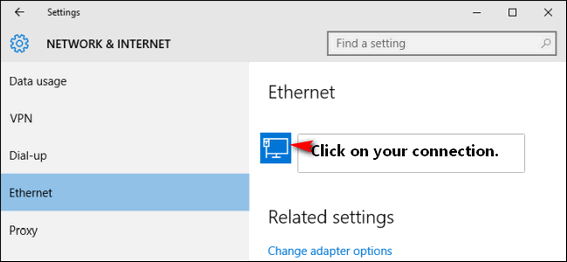 Under "Metered connections" "Set as metered connection" turn the switch to "On".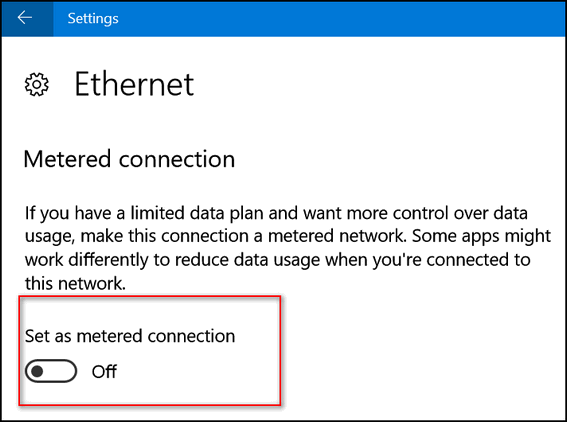 Whether you're on a Wi-Fi connection or Ethernet, should you ever want to go back to a non-metered connection, follow the steps above only this time turn the switch to "Off".

Three Windows 10 Tricks
Windows 10 (all versions)
It's time to take time for some fun stuff. Here are three Windows 10 tricks you might not know. You might even find them useful. Anyway… have fun!
Desktop Trick
Have you noticed the thin strip at the far-right edge of your taskbar? It looks like this:

Did you know if your click it , it will bring your desktop into view. Click it again and your open program windows are right back where they were. And to avoid any misunderstanding, we placed the red line on the screen shot above to draw your attention to that area of the taskbar, there will be no red line on your taskbar.
And if you right-click on the very edge you'll see this menu: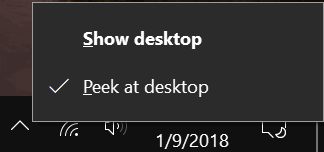 If you enable "Peek at desktop" all you have to do is hover over the very right-edge of your taskbar and you'll be able to "peek" at your desktop.
Cortana Trick
Hey Cortana users! Did you know that you can use Cortana to roll the dice, flip a coin or even play Rock, Paper, Scissors. Try it
Say "Hey Cortana. Roll the dice", or "Hey Cortana – Rock, Paper, Scissors" or "Hey Cortana, flip a coin".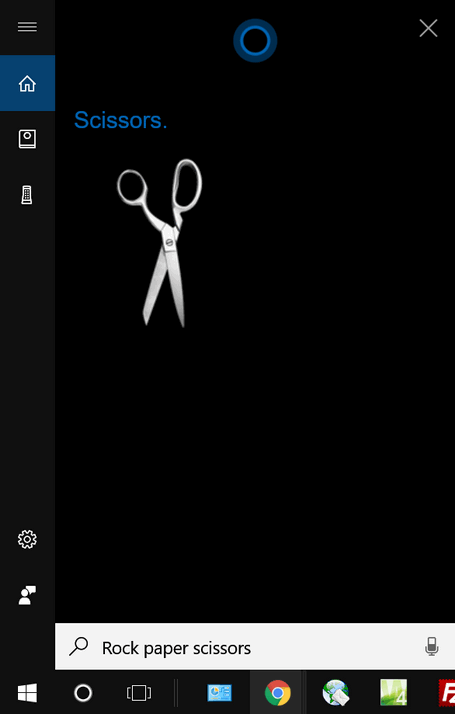 But don't ask Cortana to play chess or she'll think it's a band. And don't ask her to play checkers – because all you'll get are videos of checker games. How exciting!
Shake it up baby, now!
If you have a desktop full of windows, you can clear all the windows by grabbing the top of the window you do want to stay in view and "shaking" it rapidly side to side. This minimizes all the other windows except for the one you shook.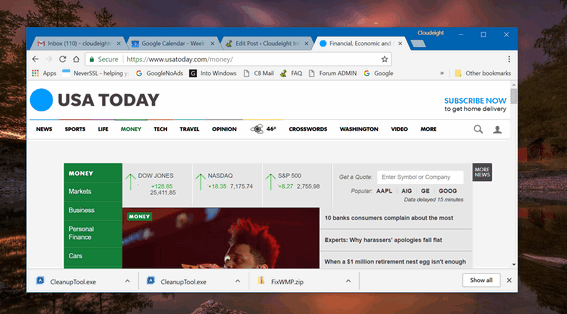 Miss all those windows? No problem, shake the window again and all the windows will come back.

How to See a List of All Files and Folders You've Recently Accessed on Your Computer
Windows 7, Windows 8.1, Windows 10


Every time you access a file or folder in Windows, it's added to a list. But do you know how to access this list? It's easy. Very easy.

Open a Run dialog by holding down the Windows Key and tapping the "R" key. Type RECENT in the Run dialog and press Enter or click "OK".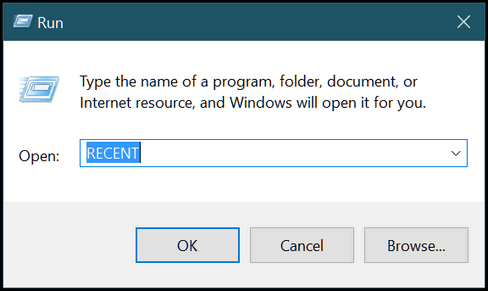 And you'll see a long list of files you've accessed recently. Mine go all the way back to 3 weeks ago, which was the time I cleaned my computer using the CLEANMGR command which you an also run from a Run dialog.

Windows 10 users will notice also that a list of recently accessed files and folders appears in File Explorer > "Quick Access".
If you want to clear this list of recently access files and folders, do this:
Windows Key + R to open the Run dialog.
Type control folders in the run box to open Folder Options and click OK or press Enter. (Note: You can also use Control Panel / Folder Options or File Explorer / Options.) Under the General tab, under "Privacy", next to "Clear File Explorer history" click "Clear".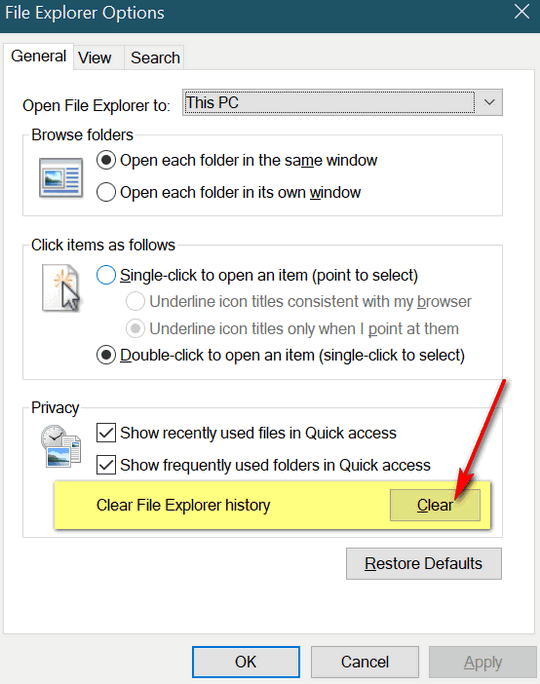 So now you know how to see what files and folders have been recently accessed on your computer. And how to clear them. I always love to do this with EB's computer. You should see the stuff she looks at!
Attention Windows 7 users! You will see different dialogs, but the functionality is the same.



Want more computer tips & tricks?

Use Chrome's Task Manager to Find Out What's Slowing it Down

Laptop Users: Don't Forget the Function Key

We have thousands of Windows tips, tricks and more on our InfoAve web site. Come see for yourself!





Donations help us continue our mission to keep you informed, separate the truth from the hyperbole, and help you stay safer online. We provide support to thousands of people. Every week we help dozens of people via email at no charge. Thanks to donations, we do a lot more than provide this free newsletter. We help you recognize online threats, fight for your online privacy, and provide you with the knowledge you need to navigate the Web safely, and help you get more out of your PC.

Help us keep up the good fight with a small donation.

After you donate, you will receive an invitation to become a Cloudeight Booster.

Interested in making a monthly gift? Visit this page. Help us keep helping you!

Thank you so much for your support!



Duolingo: Learn a New Language Free
I recently revisited a really wonderful site where anyone, even me(!) can learn a new language absolutely free. As in no charge. As in nada. Zed. Zip.
Hmm…
The site and teaches you a new language by letting you play games. There are written and spoken aspects — but don't worry if you don't have a microphone — you can easily take the courses they offer without one. But make sure your speakers work and your volume is up – so you will learn the correct pronunciation of each word.
Capiche? [Kuh-Peesh]
I (TC) had several years of Spanish in high school and college, I am a very rusty. My Spanish is even worse than my English and many of you think my English could use a shoe shine. But really, I'm rusty because I'm old and because I don't need to know Spanish to say Costa Azul or Nachos con queso. Or order tacos. So mi español es muy malo. No EB, not Maalox.
Anyway, I tested this site by signing up for a free account and taking it for a test drive. It was so addictive I didn't want to stop playing… and learning. It's a very unique and easy way to learn a language or become more fluent in a language you already know. (EB wanted me to take remedial English, but she's mean and she was trying to rattle my chain. But I'm calm and cool :-) she couldn't get me riled try as she does, she fails!)
Now I'll be serious: The site is called Duolingo and it's a great way to learn:
Spanish
French
German
Italian
Portuguese
Dutch
Irish
Danish
Swedish
High Valyria
Russian
Swahili
Polish
Chinese
Romanian
Japanese
Greek
Vietnamese
Turkis
Esperanto
Hebrew
Norwegian
Ukranian
Hungarian
Welsh
Czech
Korean
Heck. I didn't even know what some of those were, but I do now… thanks to my buddy Google.
Duolingo teaches you a language by using a series of games and it's a lot of fun. You can win lingots an trade them at the lingot store for things like getting back the hearts you lost because you missed a question. Hearts keep your lessons alive. You lose them when you answer incorrectly. When you're out of hearts, you're out of luck. But you can start over and try again.
Duolingo is a really great way to learn another language… and it really is fun. Even those who have no previous knowledge of a language can learn one. (It's how I learned English! I bet some of you really believe me don't you? )
Those who want to learn a brand new language can start at the beginners level, those who have some knowledge of a language and who want to become more fluent, can take a proficiency test to see which level is right for them. Each level gets more sophisticated, so the learning is gradual – and did I mention it is a lot of fun?

Above: TC correctly selects the manzana…ole' !

Only 96% more to go!
The courses are completely free, but you'll need to sign up for a free account. All you need to do is sign up with an email address – then choose a password. Having an account lets you stop and start lessons any time… Duolingo will remember so you can start right where you left off.
¿Estás listo para aprender español? Haga clic aquí! or Are you ready to learn Spanish? Click here!
PS: Duolingo has apps for Android and iOS too.
Do you speak Welsh? Me either!
Rwy'n gobeithio y byddwch i gyd yn mwynhau Duolingo. Mae'n hwyl ac yn ddefnyddiol a dyna pam ei bod yn ein gwefan yr wythnos!
Visit Duolingo now, sign up for a free account and start learning a second or third or fourth or fifth language today!


Now available:
Reg Organizer 8.0
If you purchased or renewed Reg Organize through Cloudeight within the last 12 months, you're entitled to a free version upgrade to Reg Organizer 8.0.
Save $14 on Reg Organizer right now!
Reg Organizer - A Swiss Army Knife of Windows Tools - Works Great on Windows 10!




Note: We recently discovered a rant we wrote in August of 2004 - and we're republishing it this week to show you that the old anecdote "The more things change the more they remain the same" holds true. We hope you enjoy looking back over 13 years with us by reading this "rant".

If I Were the King Of The Internet

(Our Little Rant by Eightball & Thundercloud... From our Information Avenue Premium Edition Newsletter – August 13, 2004)

Since Eightball's on vacation this week I have proclaimed myself to be king of the Internet. Well, not really, but if I were there would be some changes.

NOTICE TO SCUMBAGS:

All you scumbags who sit in your dank, cob-webby, clandestine computer labs and produce malware and worse: I give you fair warning. I am proclaiming a war on malware. Any company that produces malware and any advertiser who advertises in malware-infested advertising banners will be hunted down and vanquished from the Internet. If you're not with us, you're against us! I'll wipe you and your ilk off the face of the Internet!

Visualizing Scumbags at Work

I can just see these pernicious, slimy miscreants creating little yellow smiley traps to lure any new netizen into their slimy little cesspool of endless popups, churning hard drives, hijacked search pages, irrelevant search results, broken browsers, and ultimately broken computers.

I can almost see them chortling about their latest "cute" gimmick to induce the uninformed user to download yet another scumware program. "Hey Al!" "I got it! Look at this cute little smiley face with the cheeks that puff in and out. Took me 20 minutes to make. This will make us millions. Think of all the computers we can ruin! This will suck them in like crazy!". "Wow, that's cute, Al. Good work. That'll suck in another couple hundred thousand! Those dummies will fall for that one for sure!!".

DECREE!

Please read the rest of this message here.





I bought a lifetime license ... now the program wants me to update! What's up with that?

There seems to be a lot of confusion about lifetime licenses. So we're going to try to clear that up. Most of the time when you buy a lifetime license it's good for a particular version of a software program. You can use the program as long as you want - hence the term "lifetime license". The lifetime license usually only applies to the version you purchased and sometime includes free updates for a period of time. Most lifetime licenses are valid only for one particular version of a program. If the developer releases a new version of the program, users with lifetime licenses to a previous version can usually upgrade to the newer version for a reduced price.

Where the confusion sets in is that people see a new version of a program is released and they get a notification that they can upgrade for a discounted price. They think that a lifetime version means lifetime for any version of the program - most of the time it just means for the version they purchased.

How updates are numbered varies by developer, but as general rule to guide you: Generally, if you're using version 7.0 of a program, updates change the program version to 7.01 or 7.1. An upgrade, in most cases. would change the version to 8 or 8.0.

To make it simple: Let's say you purchased Emily's Amazing Photo Editor version 7 and you buy a lifetime license. You can go on using Emily's Amazing Photo Editor version 7 for as long as you want. You don't ever have to buy a new license for that version. But if Emily releases Amazing Photo Editor version 8, with amazing new features you just have to have your lifetime license for version 7 does not entitle you to a free upgrade. Emily will, if she's a smart business woman, give you a big discount if you choose to upgrade to version 8... but a lifetime license is not a ticket to ride for version 8, version 9, version 10 or any new version.

Most of the time a lifetime license will include updates to the version for which the license was issued, but more times these updates will have time limits.

So, a lifetime license gives you a license to use a certain version of a software program (or "app") for as long as you want to use it. A lifetime if you want. But a lifetime license does not bind the software developer to providing users with free upgrades to new versions of the program.

There may be times when the version of software for which you have a lifetime license will no longer work after a major Windows (or whatever operating system you use) update. In this case it would be up to the developer as to whether or not to provide you with a updated program or not.

Now you know that a lifetime license means a license to use a certain version of a software program as long as you like. This does not preclude the software developer from releasing new and improved versions of his/her programs and charging users who want to upgrade to the newer version. Most smart developers will give current uses a discount price should they want to upgrade.





Sales of the following products and services help support our newsletters, web sites, and computer help services we provide.

Cloudeight Direct Computer Care: Single Keys or Season Tickets - always a great deal. Cloudeight Direct Computer Care is like having PC insurance. Get more information here.

Emsisoft Anti-Malware: Emsisoft is the only Cloudeight endorsed and recommend Windows security program. It provides users with a complete antivirus, antimalware, anti-ransomware, anti-PUPs solution. We offer single Emsisoft licenses and multi-computer licenses at discount prices. Also, we offer our exclusive Emsisoft with Cloudeight installation & setup. Get more information here.

Thunderbird Email Setup: Thunderbird is a great email program that you can use with your Gmail and Outlook.com (Hotmail) web mail accounts as well as with your Internet provider's email. We'll set it up right for you. Our set up includes configuring up to 3 emails accounts, and setting up Thunderbird to use stationery (if desired). Our Thunderbird Email Setup Service is always a great deal. For more information visit this page.

Reg Organizer 8.0: Reg Organizer is the Swiss Army Knife of Windows tools. It's far more than just a registry optimizer and cleaner... it's Windows all-in-one toolkit. Helps you keep your computer in tip-top shape and also helps you solve annoying Windows problems. Reg Organizer works great with Windows 10 too! Get more information about Reg Organizer (and get our special discount prices) here.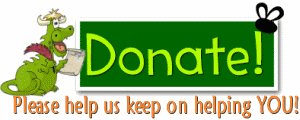 If you don't need any of the above products or services at this time, please consider helping us by making a donation. Everyone who makes a donation is invited to become a Cloudeight Booster and is eligible for special Cloudeight Booster Freebies and special Cloudeight Booster sales. Please consider making a small donation today. Thank you so much!





These products and services are recommended and endorsed by Cloudeight:



We'd love to hear from you!

If you have comments, questions, a tip, trick, a freeware pick, or just want to tell us off for something, let ups know. Please visit this page.

If you need to change your newsletter subscription address, please see "Manage your subscription" at the very bottom of your newsletter.

We received hundreds of questions for possible use in IA news. Please keep in mind we cannot answer all general computer questions. We try to personally answer as many as we can. We can only use a few to in each week's newsletter, so keep this in mind. If you have a support question about a service or product we sell, please contact us here.





We hope you have enjoyed this issue of InfoAve Premium. Thanks so much for your support and for being a Premium subscriber.

Have a great weekend!

Darcy & TC
Cloudeight InfoAve Premium - Issue #744
Volume 15 Number 13
January 12, 2018

Not a subscriber? Subscribe to our InfoAve Premium Newsletter




"Cloudeight InfoAve Premium" newsletter is published by:

Cloudeight Internet LLC
PO Box 73
Middleville, Michigan USA 49333-0073

Read our disclaimer about the tips, tricks, answers, site picks and freeware picks featured in this newsletter.

Copyright ©2018 by Cloudeight Internet