As for why the other newsletter is pushing PC Matic, we don't know. We can assume money is the motivator as PC Matic offers 50% sales commissions. So, it's easy to see why some people who are motivated purely by money might be tempted to sell and promote PC Matic.
PC Matic protects your computer using "whitelists" - everything that is not whitelisted is blocked. This puts the burden on the user to know which items to whitelist and which to block. This, in our opinion, confuses the average user who won't always know what is safe to whitelist. PC Magazine says "...Whitelist-based antivirus also blocks valid programs. Many false positives in independent lab tests. Few results from testing labs. Full malware scan missed most samples..."

Please read this article from the "Courier Journal" (Florence AL) and you'll get an honest assessment about PC Matic.
We hope this answers your question, Steve. As for us, we'll keep on recommending what we use on our own computers, and what we think is the best security software available...Emsisoft.


Reminder: Don't Use System Restore to Roll Back a Windows Version Update
Windows 10 (all versions).

Another new version of Windows is out. Windows 10 Version 1903 - or also known as the May 2019 update. And though you can download and install it now, we suggest you wait until we're all sure all the bugs are ironed out.

But we know some of you are anxious to try version 1903 and will get it from Microsoft's Windows 10 download site. If you install it and have major problems we want to remind you that you cannot roll back a version update with System Restore.

System Restore is great for many things. For instance things like these:

1. Your computer is running well and then you install a program and it messes up your system.

2. You make some changes on your computer and things start going awry.

3. You edit the registry and you change something you shouldn't have.

4. You downloaded hijacker bundled in some other software and can't get rid of it.

Running System Restore as soon as you start having problems after doing things like those things we listed above is the easiest way to undo whatever you changed or installed that caused you major problems.

But System Restore will not remove or change a Windows version update. If you updating to a newer version of Windows – for example, Windows 10 May 2019 Update – and you have major problems after updating, use the following method to roll back the update and return to the previous version of Windows without losing any programs or data. Keep in mind you must do this within 10 days of installing the Windows 10 version update, otherwise, the option to go back to an earlier build will not be available.

1. Press Start —>Settings ( Or press the Windows Key + i )

2. Click on "Update & Security"

3. In "Update & Security" click on "Recovery"

4. In Recovery, you should have at least 3 options "Reset this PC", "Go Back to an earlier build" and "Advanced startup"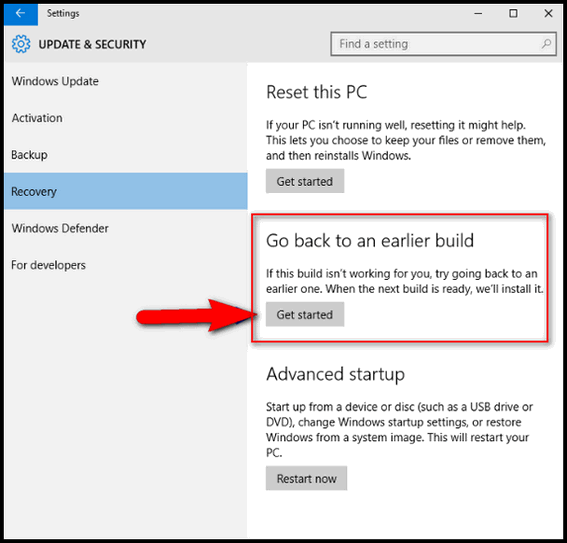 If you don't see "Go back to an earlier build" as one of your choices then:

a.) The update was not a major update.

b.) You didn't act soon enough (within 10 days); too much time has passed since the major update was installed

c:) You see the option but it's not clickable or doesn't work – you have waited too long.


How to Block a Sender On Gmail
Everyone with a Gmail account
Here is the easiest way to block a sender if you're using Gmail.
1. Open an email that came from the sender you want to block.
2. Click the More menu button (the three vertical dots icon) next to the Reply button near the top of the message.
3. Select Block " whatever @ whatever.com " in the menu that appears.
4. A confirmation dialog will appear. Click "Block" in the confirmation dialog.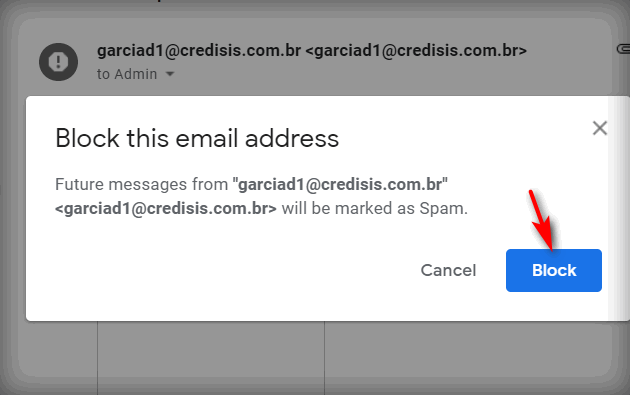 And that's how you block a sender in Gmail. From now on, all messages from the sender you blocked will be sent directly to the Gmail spam folder. This should prevent you from getting any more email from that sender in your Gmail Inbox.
And should you ever want to unblock a sender do this: Find an email from someone you've blocked in your Gmail spam folder and open it. Now follow the instructions above, only this time, if the sender is already blocked you'll see "Unblock" in the drop-down menu and "Unblock" in the confirmation dialog.

New External Hard Drive? Don't Install the Software That Comes With It
A tip for all computer users
If you buy an external hard drive (which is a really good idea), you'll find most of them come with software. And a lot of folks think you need to install the software that comes with the external drive in order for them to work. But you don't need to install the software that comes with the external drive. In fact, most external drives only require you to plug them in. As soon as you plug in your external drive, you'll be able to see the drive in File Explorer (Windows 10, Windows 8) or Windows Explorer on Windows 7
Whether you use a backup program or Windows File History to back up your files to an external drive, you don't need to install any software that came with your external drive. So, start off clean and fresh with your new external drive - and you'll be a lot better off. Take it from your old pals Darcy & TC, we wouldn't steer your wrong, we tells ya!



System Information at Your Fingertips
Windows 7, Windows 8x, Windows 10 (all versions)
There are a lot of free programs you can download that tell you all about your computer. They show things like system type (32 / 64-bit), hardware devices, RAM, hard drive info and more – just about everything you'd ever want to know about your computer. But, did you know that Windows already includes a system information program that will tell you just about everything you could ever want to know about your computer? It's called Windows System Information, and today we're going to show you how to make a shortcut so your System Information is always available at your fingertips.
If you just want to see what kind of information Windows System Information can give you about your computer, you can run it this way:
1. Open a run command (Windows key + R)
2. In the run box type:
MSINFO32
3. Press enter.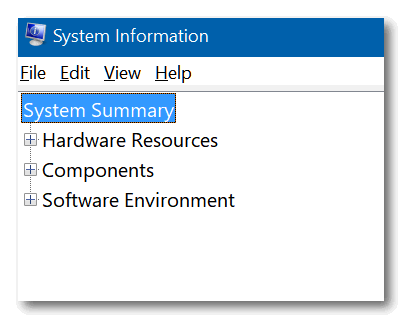 Now, if you like what you see, you probably won't want to do all that every time you want to run the program. So, let's do this. Let's make a desktop shortcut that you can leave on the desktop, or if you're using Windows 10, you can also pin the shortcut to the taskbar or start menu (or both).
Here's how to make a desktop shortcut to Windows System Information:
1. Right-click on a blank area of your desktop.
2. Choose New > Shortcut
3. Under "Type the location of the item" type:
MSINFO32
4. Click next.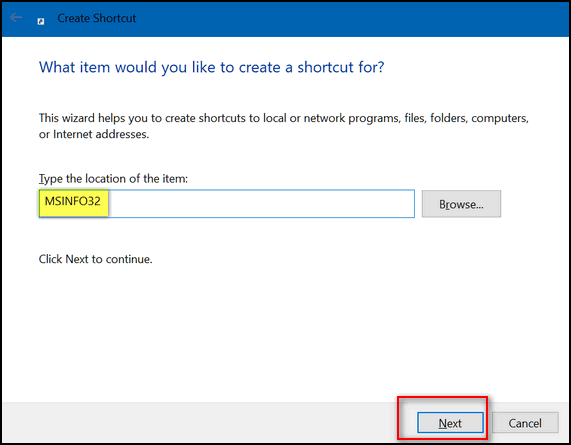 Give the shortcut a name. I named mine MY SYSTEM INFO
Click Finish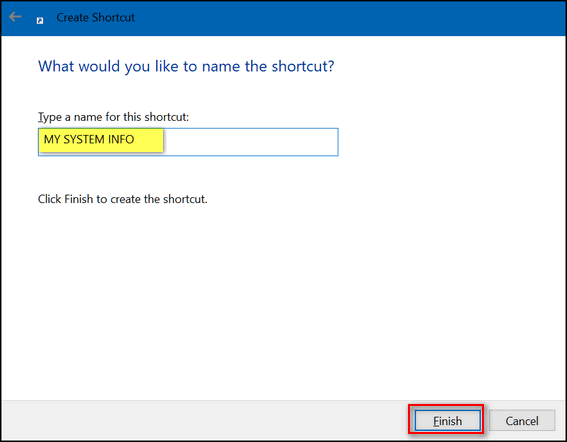 You will now have a desktop icon called MY SYSTEM INFO (or whatever you named it). On Windows 10, you can right-click the desktop shortcut and choose "Pin to taskbar" or "Pin to Start, or pin it to both if you like.
Now you'll have all the information about your computer you could ever want at your fingertips – and without downloading or installing anything.



Want more computer tips & tricks?
The ABCs of XYZ
Check Windows Update History Using a Command Prompt
We have thousands of Windows tips, tricks and more on our InfoAve web site. Come see for yourself!



Get a FREE Cloudeight Direct Computer Repair Key when you buy one at our regular low price!
That's right, we'll give you a free Cloudeight Direct Computer Care Key when you purchase one this weekend. Offer is good through Memorial Day!
Our repair keys never expire! They're good until you use them. Buy them on sale, keep them until you need them.
Get more information and/or get your FREE Cloudeight Direct Computer Care Key now!


Supercook.com

OK, now I know we have a lot of lady subscribers who love recipes and that's a fact. And most of those ladies have been cooking for a long time... and I don't mean that to be a sexist remark... I'm just saying.

But this is the 21st-century guys! You need to start cooking. Just think of it... picture it. Tonight you get up from that easy chair, take out a few pots and pans, fire up the stove, and cook up a meal for your wife (or significant other). You might be the next Alton Brown, Emeril, Bobby Flay, or our own Darcy the Kitchen Wizard! How do you know until you try?

If you can read, you can follow a recipe. Right? Sure you can. The problem, though, at least for me, is I never have the right ingredients to make whatever it is I have a recipe for...

Are you with me?

I stumbled on a site today that should interest both the ladies who have been cooking for a long time and the guys who don't know a skillet from a pot. I exaggerate. I mean you have to know a skillet from a pot, to cook, right? You know a knife from a spoon and a spoon from a fork don't you? Do you have to know a fork from a spoon to eat? I guess not. You could just shovel it in with your fingers.

Let's get on with this. I have found a site that will take whatever you have available and give you recipes using only those ingredients. No more running out to the store to pick up a bottle of Amazonian Beech Tree Vinegar just to make South American Rough Muffins. No indeed. Just take stock of what you have in your house, and our site of the week will whip up a recipe using what you already have.

It's called Supercook, and I'll let them tell you all about it. Take it away, boys & girls:

What is Supercook?

Do you have only few ingredients at home and don't know what to make?

Supercook is a recipe search engine that finds recipes you can make with the ingredients you currently have at home.

Supercook knows over 600,000 recipes, so no matter what ingredients you have, Supercook has you covered.

For best results, make sure to tell Supercook about every ingredient you have at home. The more ingredients you add to Supercook, the better the recipes will be!

Supercook is also a practical way to save money. Take full advantage of ingredients you already have, and naturally buy less groceries.

How do I add my ingredients?
Adding your ingredients is done on the left side panel.

You can either type(list) your ingredients one by one, or you can use the category view. On category view, simply check off the ingredients you have on each category....

What are the benefits of signing up for an account?

If you sign up for an account, your ingredients, and dietary restrictions, will be saved on Supercooks servers. This means you can sign into your account from any device and everything will be synced up.

Having an account also allows you to "favorite" recipes you like so you can easily find them later.

Can I use Supercook without signing up?

Yes, but any ingredients you enter into Supercook will be lost if you clear your cookies or access the website from a different device...
You get the idea, right? Regardless of your gender, political affiliation, taste buds, cooking skills, or whether you know a stew pot from a wok, if you like to eat, learn new things, and save money and time, you'll really like this site. By creating recipes using only the ingredients you already have on hand, you'll save time and money, and probably come up with some ideas for meals you never thought of before.
If you're ready to spread culinary delight through every corner of your house and create dazzling recipes using all the stuff you have lying around your house (hopefully the refrigerated stuff is refrigerated) then
visit our Cloudeight Site Pick Supercook.com
and make something special out of what you already have.


Using only the stuff I have in my house right now I can make 2144 recipes! With all the stuff EB has in her house she can make 5 things: Scrambled eggs, poached eggs, fried eggs, hard-boiled eggs, and soft-boiled eggs. She's an egg head!
Take a trip to our site pick Supercook.com right now!





Now available: Reg Organizer 8.26

If you purchased or renewed Reg Organizer through Cloudeight within the last 12 months, you're entitled to a free version upgrade to Reg Organizer 8.26.

Save $14 on Reg Organizer right now!

Reg Organizer - A Swiss Army Knife of Windows Tools - Works Great on Windows 10!






Just Ordinary Days

"Life is not measured by the number of breaths we take, but by the number of moments that take our breath away."

I have been thinking about that particular aphorism lately.

I wonder if our lives really are measured by the number of breaths we take or even by the number of moments that take our breath away. Or are our lives measured by the ordinary days? I think it's just the ordinary days that define us. Are lives more about those plain old ordinary days, than about the number of breaths we take, or the number of moments which take our breath away.

The moments which take our breath away are wonderful moments. Moments which take our breath away might be some magnificent milestone or a celebration or some other important events in our lives – like the birth of a child, or falling in love for the first time, or watching a child graduate from college, the birth of our first grandchild.

They are the smiles and the joys of special moments, that remain frozen in time. The moments which take our breath away are moments that will be treasured special moments and memories which we can cherish all through our lives...
Read the rest of this essay here.




Make a small donation and help us help you!
If you don't need any of our products or services right now, please help us with a donation. Even the smallest gift is appreciated. Every donation helps us to provide useful information that helps you with your computer as well as helping to keep you safe on the Internet. We offer free help to thousands of people every year... and we offer an honest and inexpensive computer repair service too. We do everything we can to help you with your computer and keep you safe too.
So if you don't need any our products or services right now, please consider helping us with a small donation. We'd appreciate it very much!
Please help us by making a donation right now.


Thank you!


What's the first thing I should do if I start to have problems with my computer?
This will be, mercifully, one of the shortest answers you'll ever see written by TC. The first thing you should do if you start having computer problems is:
Restart Your Computer.
That's it. You'd be surprised how many simple problems that restarting your PC can fix.

Sales of the following products and services help support our newsletters, websites, and free computer help services we provide.


Cloudeight Direct Computer Care
: Single Keys or Season Tickets - always a great deal. Cloudeight Direct Computer Care is like having PC insurance.
Get more information here.
Emsisoft Anti-Malware
: Emsisoft is the only Cloudeight endorsed and recommend Windows security program. It provides users with a complete antivirus, antimalware, anti-ransomware, anti-PUPs solution. We offer single Emsisoft licenses and multi-computer licenses at discount prices. Also, we offer our exclusive Emsisoft with Cloudeight installation & setup.
Get more information here
.
Thunderbird Email Setup
: Thunderbird is a great email program that you can use with your Gmail and Outlook.com (Hotmail) webmail accounts as well as with your Internet provider's email. We'll set it up right for you. Our set up includes configuring up to 3 emails accounts and setting up Thunderbird to use stationery (if desired). Our Thunderbird Email Setup Service is always a great deal.
For more information visit this page
.
Reg Organizer 8.20:
Reg Organizer is the Swiss Army Knife of Windows tools. It's far more than just a registry optimizer and cleaner... it's Windows all-in-one toolkit. Helps you keep your computer in tip-top shape and helps solve annoying Windows problems. Reg Organizer works great with Windows 10 too!
Get more information about Reg Organizer (and get our special discount prices) here.


Premium Subscribers' Home Page. You'll find the last few weeks of Premium archived on this page.
To change your subscription address, see "Manage your subscription" at the bottom of this newsletter.
Submit your questions, comments, and suggestions for possible inclusion in our newsletters here. This form is for questions, comments, and suggestions for this newsletter. This form is not for product support, stationery questions, or general questions concerning our products or services.
Send us your suggestions and recommendations for future freeware picks and/or sites of the week
Help us Grow! Forward this email newsletter to a friend or family member - and have them sign-up for InfoAve Premium here!
Get our free daily newsletter! Each evening we send a short newsletter with a tip or trick or a computer-related article - it's short and sweet - and free. Sign-up right now.
Have a question about a Cloudeight Software program, service, stationery, or need to ask about an order? Let us know!
If you need help with one of our software programs, have a question about an order, or have a question about any of our email stationery, screensavers, or other products - please don't use our InfoAve Questions/Answers/Tips form. Use our general Cloudeight support form instead.
Print our Cloudeight Direct Flyer and spread the word about our computer repair service! If you want to help us by telling your friends about our Cloudeight Direct Computer Care service, you can download a printable flyer you can hand out or post on bulletin boards, etc. Get the printable PDF Cloudeight Direct Computer Care flyer here.


These products and services are recommended and endorsed by Cloudeight:
Also... don't forget:

We'd love to hear from you!
If you have comments, questions, a tip, trick, a freeware pick, or just want to tell us off for something,
let us know
.
If you need to change your newsletter subscription address, please see "Manage your subscription" at the very bottom of your newsletter.
We received hundreds of questions for possible use in IA news. Please keep in mind we cannot answer all general computer questions. We try to personally answer as many as we can. We can only use a few to in each week's newsletter, so keep this in mind. If you have a support question about a service or product we sell,
please contact us here
.

Subscribe to our Daily Newsletter!
Get computer tips & tricks every night. Our daily newsletter features a computer tip/trick or two every day. We send it out every night around 9 PM Eastern Time (USA). It's short and sweet, easy-to-read, and FREE.
Just visit this page and sign-up
. All you have to enter is your email address. Once you confirm your subscription, you'll receive our daily newsletter every day, six days a week. You can unsubscribe at any time.
Print our Cloudeight Direct Computer Care Flyer!
Print our Cloudeight Direct Computer Care Flyer
and spread the word about our Cloudeight Direct Computer Care repair services.
Get our ready-to-print flyer here.

We hope you have enjoyed this issue of InfoAve Premium. Thanks so much for your support and for being a Premium subscriber.
To those of you in the USA, have a safe and enjoyable Memorial Day weekend. To our friends around the world, have a great weekend.
Darcy & TC
Cloudeight InfoAve Premium - Issue #815
Volume 16 Number 31
May 24, 2019
Not a subscriber?
Subscribe to our InfoAve Premium Newsletter
Share Us on Facebook!
We'd love for you to share us with your family and friends on Facebook. Help us by sharing us on Facebook!


"Cloudeight InfoAve Premium" newsletter is published by:
Cloudeight Internet LLC
PO Box 73
Middleville, Michigan USA 49333-0073
Read our disclaimer
about the tips, tricks, answers, site picks and freeware picks featured in this newsletter.
Copyright ©2019 by Cloudeight Internet