Cloudeight InfoAve Premium
Issue #695
Volume 14 Number 16
February 3, 2017
Dear Friends.


Thank you very much for subscribing and being a part of our Cloudeight InfoAve Premium family. We appreciate your membership and support very much!


Cloudeight Boosters Appreciation Sale

Though this weekend, Cloudeight Boosters save 20% on all our Cloudeight Direct Computer Care services. Besides all the freebies we offer our Boosters from the Boosters Home Page, we wanted to do something special to thank all of our boosters for helping us with their donations..

During our limited time Boosters Appreciation Sale, Boosters save 20% on all our Cloudeight Direct Computer Services. Our Cloudeight Direct Service keys never expire, so you can buy your keys now and use them later.

Save on Cloudeight Direct Computer Care Keys, Season Tickets, Thunderbird installation, Emsisoft with Installation and more.

To get your special savings, log in to your Cloudeight Boosters home page - the Boosters Appreciation Sale information is on the front page.

If you're not a booster, you can be a Cloudeight Booster by making a small donation. Come on, be a Cloudeight Booster -- we need your help. Visit this page right and make a donation right now.



Here are some important links for you: Here are some important links for you:




A comment from Bob
I'm thrilled with Thunderbird stationery. You are to be commended for this brilliant email program... many thanks. Bob from Australia.

A comment from Judy
Thank you again for your outstanding newsletter. I have been a Cloudeight InfoAve reader for over 10 years and you have been highly instrumental in equipping me to troubleshoot and handle almost any issue (so far) with my own computers.

Thanks to your down-to-earth, clear newsletter, not only have I received valuable information, insight, and myriad helpful tips throughout those years, but you have inspired my confidence to research and solve problems on my own and, more importantly, you have enabled me to be discerning and, therefore, safe as I learn and add to my knowledge and abilities. I also have many excellent useful programs, both paid and free, as a result of your advice and recommendations.

I was prompted to write this by the most recent issue of InfoAve Premium, #694 from January 27, 2017. Even after many years of reading, accumulating tips, and following your recommendations, I STILL found four very useful tips in the one newsletter!

In particular, I have an HP All-In-One printer on which I installed a driver from a different printer for specific reasons. A few months ago, a Windows update changed my printer driver and I needed to go through the whole process of installing the other driver again. The tip in InfoAve Premium #694 on how to prevent a "problematic" windows update was just what I needed to insure that does not happen again! Thank you!!

I also took action to increase my System Restore space, to enable Windows 10 Fast Startup, and I made note of how to back up the Windows registry.

Thank you for the great newsletter. Keep up the good work.

A comment from Peggy // Peggy is commenting on our freeware pick from issue #694
When I am writing a description for a new product, I have 5 or 6 Notepad files open to copy/paste basic info to my current project. Notepad Tabs has got to be the greatest piece of software I have ever used to increase my productivity. Love it!

A comment from James
Thank you Darcy. I sent you an additional donation for your good work. We will be with you guys until you ride off into the sunset. Worth every penny.


A comment from Perry
Darcy, thank you so much for fixing my computer and doing it very quickly. Your technical expertise was obvious as you sped around my computer fixing things. Thanks to you and TC we have a place to go to get things corrected without having to worry about being taken advantage of and for a very good price.

A comment from Sandy
I used to hate my Windows 10 computer. But TC made my Windows 10 computer so nice for me, I actually love using it. Thanks to both of you for all you do for us.

Thanks to Bob, Judy, Peggy, James, Perry, Sandy, and everyone who wrote to us last week. And thanks all those who used our Cloudeight Direct Computer Care services last week, including our Cloudeight Direct Thunderbird Email Setup service . And thanks to all of you for the nice comments about our Cloudeight Stationery for Thunderbird. TC & EB



New Winter Pricing!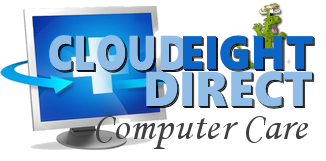 We've redesigned our Cloudeight Direct Computer Care homepage. It's brighter, lighter, and easier to use. But best of all, we're introducing new winter pricing with substantial discounts on some of our Cloudeight Direct Computer Care services.

That's right, with our new winter pricing you'll find great deals on all our Cloudeight Direct Computer Care Products:

Visit our new Cloudeight Direct Computer Care home page right now.




Tammy says her son says she's going to need a new motherboard for her PC
My son works for the IT department of a big company and knows a lot about computers. He took a look at my 6 year old windows 7 computer and his guess is the motherboard is going, but he's not sure. I can't afford $600 for a new computer. Do you have any ideas? Can you help me?

Our answer
Hi Tammy. We'd be glad to check over your computer. We can thoroughly check your PC and look for problems for you with our Cloudeight Direct Computer Care service. We can solve all manner of Windows problems, however we can't do hardware repairs remotely. If you do need a new motherboard, you'll be better off putting that money toward a new computer.

If you use your computer for email, browsing the web, Facebook, chatting, or using your Web cam to chat with your children or grandchildren, you don't need to spend a bundle on a new PC. And you don't need a bulky desktop computer. At one time laptops were underpowered, overpriced, and hard to carry around because they were heavy. But those days are long gone. Laptops are on par with desktops as far as power and performance goes - and most weigh under 6 pounds. That's less than a gallon of milk.

Specs to look for:

500GB Hard Drive
4 GB RAM
Processor is not as important to the average user as RAM, hard drive size, and screen size. Any processor that can run Windows 10 is plenty fast enough for what you'll want to do with your computer.
You shouldn't need to spend more than $350.00 tops.
And for most folks in the market for a new computer, the following computers are just a couple of examples, but they should do all you need them to do. You'll be able to surf the web, play online games, send/receive email, play on Facebook, cam with your family - whatever you want to do you can do with the computers below:

Here's a Dell laptop with a full-size screen with the following specs:

Intel Celeron N3050 Processor
4GB memory; 500GB hard drive
15.6" display
Memory Card Reader, WiFi
Windows 10 Home
Less than $300
See more here: http://goo.gl/PyY15c

And here is an HP laptop for $260 that would do everything you'd need it to do and more:
(Details and hyperbole directly from Best Buy's Web site.)

Windows 10 operating system
15.6" display
AMD Quad-Core A6 processor
4GB memory
500GB hard drive for serviceable file storage space
AMD Radeon R4 graphics
Weighs 4.73 lbs. and measures 0.96" thin

Price: $259.99. See more at https://goo.gl/1vxlri

The first is from Wal-Mart and the 2nd one is from BestBuy. Neither of these computers costs more than $300. I can't guarantee these prices will be good a month from now, but today, 2/02/2017, those are the prices.
A new motherboard plus installation usually runs between $200 - $300.

We hope this helps you make the right decision.



Derek wants a free database program
Hello Darcy & TC; Can you please recommend a simple database program, preferably free. Best Wishes Derek

Our answer
Hi Derek, best wishes to you, too! There are probably a half-dozen -- or more -- free office programs available right now. But for the purposes of this answer we are going to stick with the quintessential free office program - OpenOffice. It's been around a long time and it's constantly being updated. Whether it's the best free office program, that's a matter of personal opinion. But we've tested it and we've found it to be very serviceable -- and it has withstood the test of time.

If you read the product description below, you'll see it contains a program called "Base" which is OpenOffice's free database program.

Apache OpenOffice Product Description

Open office is compatible with other major office suites, Apache OpenOffice is free to download, use, and distribute. Download it now, and get::

Writer: a word processor you can use for anything from writing a quick letter to producing an entire book.
Calc: a powerful spreadsheet with all the tools you need to calculate, analyze, and present your data in numerical reports or sizzling graphics.
Impress: the fastest, most powerful way to create effective multimedia presentations.
Draw: lets you produce everything from simple diagrams to dynamic 3D illustrations.
Base: lets you manipulate databases seamlessly. Create and modify tables, forms, queries, and reports, all from within Apache OpenOffice.
Math lets you create mathematical equations with a graphic user interface or by directly typing your formulas into the equation editor.
You can get more information and/or download OpenOffice from here.





Muriel asks about Mini Tool Partition Wizard and PC Decrapifier
Great Newsletter as always, you two are still the best. Many of the questions in your newsletter are from owners of new computers. It's been a long time since you talked about Mini Tool Partition Wizard and PC DeCrapifier. Manufacturers are still pre-loading (junk-dumping) programs, services, trial versions, etc onto hard drives, so is PC decrapifier still a good program to use?

I'm not a Win10 user (yet) and maybe Win10 has a built in partitioning feature. If not, hard drives keep getting larger and larger, do you still recommend Partition Wizard to tame them?

Our answer
Hi Muriel. Thanks for your kind comments.

We're going to answer your question without doing a reevaluation of Mini Tool or PC Decrapifier. But we'll go back and take another look at them shortly and write up what we find.

From what we've seen lately, it appears that at least some computer manufacturers have gotten the hint about installing reams of bloatware and trialware. However, there are certainly some brands and models still out there that are teaming with bloatware.

Our inclination is that PC Decrapifier is not needed these days now that we have tools like Geek Uninstaller & Revo (and others) that make really easy to remove bloatware from computers. But we'll look at PC Decrapifier again. I'm not sure I want to trust a program anymore to automatically delete bloatware. Bloatware means different things to different people.

As far as partitioning tools, Windows Disk Management works well on Windows 7, 8 and Windows 10 to do simple partitioning. Here's a tutorial we did on using disk management to partition your hard drive. We think partitioning is a good idea, but more for organization than for "saving space". A one TB hard drive is still going to have 1 TB no matter how you slice it (no pun intended). And the one big mistake a lot of people make is storing backups on a partition of the main hard drive. If the main hard drive goes belly-up, all the partitions on it go belly-up as well. Partitioning is good for organizing, but for storing backups, you need an external or separate physical hard drive.

We've made a note, though, to check out PC Decrapifier and Mini Tool Partition Wizard.





Linda was scammed
TC and EB - thanks for all you've done to help all your readers "stay on the straight and narrow line" I wandered away from it and it cost me $160. We've been told repeatedly by Darcy and TC to read the "terms and conditions." Boring! I only went to the bottom to see if any other programs were being added to my download. This was definitely a scam. I'm usually very cautious about things I'm not familiar with. So please, please pay attention to what the gurus say. If I had merely perused the "terms and conditions" I would have quickly found the scam. Also the bank will not give you ! your money back, if you have participated in the contract. From now on, I'm going to spend more time looking at the fine lines. Tanks for everything! Linda

Our answer
Hi Linda. If you were scammed, you can ask for a chargeback from your bank. A contract from a scammer is not a valid contract. You should be in contact with your bank and give the details. Were these scammers connected to your computer? If so, are you sure you have removed all traces of them being on? If you're not sure, we can connect to your computer with our Cloudeight Direct Computer Care service and check your PC thoroughly to make sure they didn't leave something behind.

Let us know how things turn out, Linda.




Pat wants "copy-to" "move-to" to work in Windows 10
I would like the, "Copy to/Move to" option for Windows 10. There are websites where it is available but I am not sure if they are safe. So....please let me know if there is a safe site from which to download this option. Thanks!!

Our answer
Hi Pat, we have the solution for you!

Check out the following tip from our InfoAve site - you'll find it contains the info you're looking for plus a small zip file you can download.

http://www.thundercloud.net/infoave/new/add-copy-to-and-move-to-to-your-windows-right-click-menu/

Remember, you can go to our Infoave site and do searches for specific subjects, programs.. it has a huge data base of a few thousand items from our newsletters. Direct link for future reference is http://www.thundercloud.net/infoave/new/




Cloudeight Direct Computer Care - New Computer Set-up / Check-up
If you received or bought a new computer for Christmas, we'll make sure it set up for best performance, by checking over your startups, removing or disabling performance-draining factory-install bloatware, and making sure your new computer is set up correctly right out of the gate!

We'll check to make sure your new computer is set up for optimum performance and install Emsisoft for maximum protection and even include a free 3-month Emsisoft license.
Our Cloudeight Direct Computer Care - New Computer Set-up / Check-up is available for limited time for just $25!
Don't have a new computer? We can check your setup and optimize your older computer too.
Get more information about our Cloudeight Direct New Computer Set-up / Check-up Service here. It's only $25 - and only for a limited time.


How to Do a Repair Install of Windows 10
Windows 10
If you're having major problems with Windows 10, you probably know by now you have two option to reinstall Windows by using Windows 10 Reset. All Windows 10 computers have at least the following 2 reset options:

1. Reset Windows 10 and keep your personal files
2. Reset Windows 10 and remove everything

While #1 would seem to be a good choice if you didn't have your personal files backed up - and you always should - you would still need to install all your programs and make any customizations to Windows you had.

There's another option that's available to Windows 10 users - and it's something that has no. You can do a repair installation of Windows 10 and keep everything - your programs, your settings, your personal files, etc.

Doing the repair install does not format your hard drive, so it can be used to fix a number of serious Windows problems.

Please remember - in order to be able to do a repair installation of Windows 10, you must to be able to boot your PC. Even though the Windows 10 DVD or USB are bootable, you cannot use them to boot into Window to do a repair install.

First step: Create a Windows 10 USB or DVD

You'll need a 4GB USB Flash Drive (we suggest you use a brand new 4GB USB drive for this) or a writable DVD disc. Use the Windows 10 Download Tool to download the Windows 10 MediaCreationTool ( available from Microsoft here) to download and create the Windows 10 USB or to create an ISO file you can use to create a Windows DVD.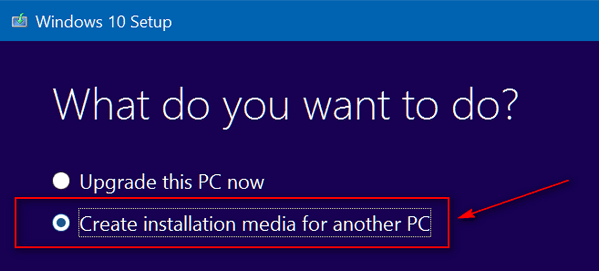 When you run the MediaCreationTool, choose "Create installation media for another PC". Do not choose "Upgrade this PC now".

Windows 10 repair install (also known as a Windows 10 in-place upgrade) can be used to reinstall Windows, load registry keys and configuration settings to a known working state without deleting your files, folders, settings, or programs.

A repair install of Windows 10 is not the same as formatting and doing a clean install of Windows 10 install. If you can boot your PC, you should try a Windows 10 repair installation first before resorting to clean installing Windows 10. A Windows 10 repair installation can fix a wide variety of Windows problems without destroying your data or removing your installed programs.

Repair Installing Windows 10

Insert the USB drive or DVD disc you created into your PC. installation process by inserting the Windows 10 DVD or USB into your PC. When prompted, run "setup.exe" from your USB drive or DVD. If you don't see a prompt, manually browse your USB or DVD and double-click on "setup.exe".

Windows 10 Setup will start with the "Get important updates" window. This is a good idea to go ahead and download the updates right away - if you don't you'll just have to do it later anyway.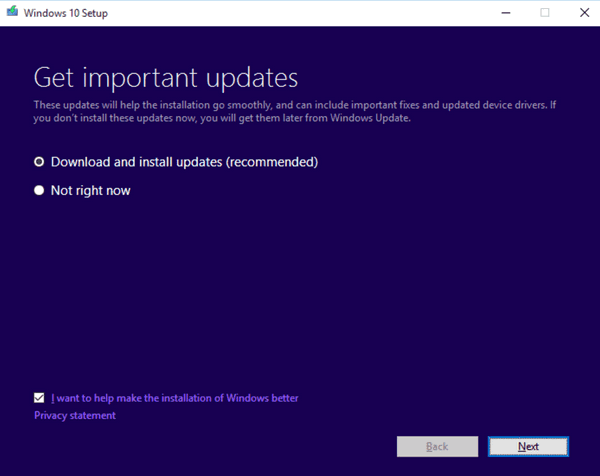 You'll see a number of prompts as Windows gets ready to reinstall. Watch each screen and read each screen and select any options you wish. However, when you get to the last dialog - which is the most important one. This is the dialog that says "Choose what to keep." On this page, you must select the first option, as shown in the image below. If you don't, you will lose your data and programs. So, pay attention to the final dialog "Choose what to keep."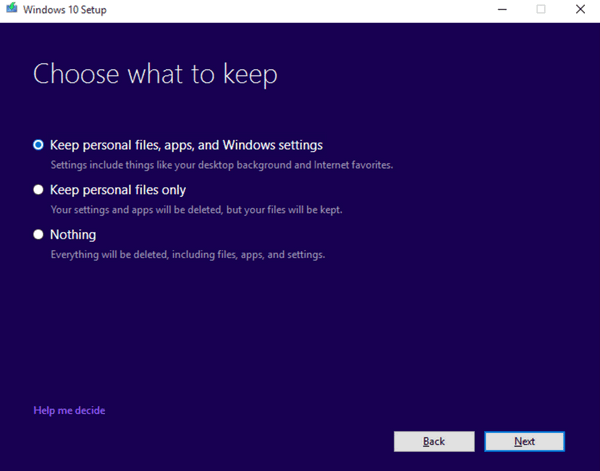 Above: In order to repair Windows 10 without losing any data or programs, you must select the first option: "Keep personal files, apps, and Windows settings".

We can't emphasize enough that the last and most important page in the Windows 10 repair installation process is dialog that says "Choose what to keep." Make sure to select "Keep personal files, apps, and Windows settings" selected and then press "Next" to begin the repair install:


Your computer will automatically reboot several times as Windows saves your personal files, programs, data, settings, etc. and prepares to do the repair installation. When the process is complete, your files, folder structure, programs, settings, and data will all be safe.

Above - ready to do the repair install. Note: This works with Windows 10 Pro or Windows 10 Home. You have to use the version you currently have installed. You won't need a product key when you do the repair install.
How the Windows 10 Repair install process works.

With Windows 10, the system files are separated from the user configurations, installed applications, updates, and more. Using new system imaging technology Microsoft has possible to repair install Windows without losing any data or programs for the first time since Windows XP.
We can help you with doing a Windows 10 repair installation, with our Cloudeight Direct Computer Care service.

One final note. No matter how safe or certain any process is, you should always keep good backups. In the computer world, anything that can go wrong often does. So, we always advise you to be doubly safe - always keep good backups of your personal files.


Cure Windows 10 Insomnia
Windows 10 (Should also work on Windows 7 and Windows 8x)
Windows 10 sometimes has a problem sleeping. For weeks now I've been trying to get my Windows 10 laptop to sleep though the night. I tried changing the power options, which seemed to work sometimes, but not for very long. Then I remember a tip EB showed me quite a while ago. So, I dug out her instructions and sure enough, my Windows 10 laptop now sleeps like a baby.
This worked great for me and it should work for you too if your Windows 10 PC seems to have trouble staying asleep. In order to find out why Windows 10 won't asleep, it's always good to know what's keeping Windows 10 awake. So let's see if we can find the culprit:
First, right-click the Windows 10 start button and choose "Command Prompt (Admin)"

At the prompt type the command:
powercfg /energy
Please pay close attention to the spaces, you have to leave a space before the slash or this won't work. You see a notices that the command starts a tracing process that will last around one minute.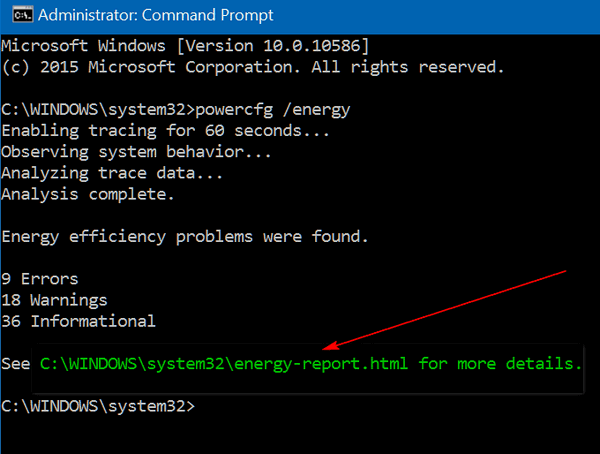 When it's done tracing, you'll see that it has generated an "engery-report.html" which shows you everything that's going on with your power configuration, and gives you some ideas as to what keeps waking up your Windows 10 PC. As you an see from the screen shot above, my poor work laptop, a glutton for punishment had 9 errors, 18 warnings and 36 informational items listed.
In order to open the report it generates, you'll need to copy the location "C: \Windows\system32\energy-report.html" which you can do directly from the Command box

Highlight the file path and press the Enter key to copy it. Press Windows Key + R to open a Run dialog and pasted it in the run box: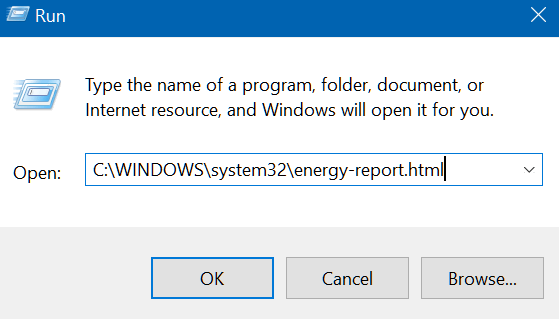 And press OK. The "Power Efficiency Diagnostics Report" will open in your default browser.
As you can see from my report (below), my poor, old work laptop had a number of errors
Every error is highlighted in pink. The first entry tells me I don't have sleep configured for my laptop - but it's wrong, because I do. The second item, though, caught my eye. I don't use Windows Media Player networking - I rarely even use Windows Media Player.
Windows Media Player Network Sharing runs as a service in Windows. In order to stop it, I opened a Run dialog, typed in Services.msc and pressed OK to open Services. In Services, I found Windows Media Player Network Sharing Service. It was set to run Automatically at Windows startup. I don't need it and I sure don't need it starting with Windows so I set it to "Manual" which means it will only run manually if a program requires it.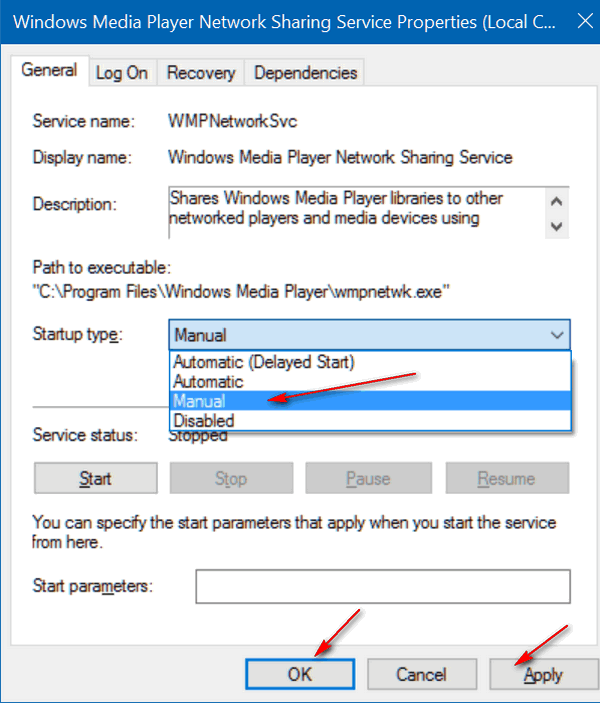 I was right - the culprit turned out to be Windows Media Player Network Sharing Service running constantly in the background. Turning it off, enabled my Windows 10 computer sleep like a baby. My computer is now a sound sleeper!
You might have other things keeping your Windows 10 computer awake; in order to be a super sleuth you need to have the information to help you nail the culprit. And now you do!

Three Ways to Search Windows 10
Windows 10
Windows 10 offers you a variety of ways to search your PC and find what you're looking for. We are going to cover 3 of them for you in today's newsletter.
Option #1 for Search: Open Windows Explorer, Click "This PC" to search entire computers and attached drives, or click the drive or folder you want to search in. Now type you are searching for in the search box at upper right. See screenshot below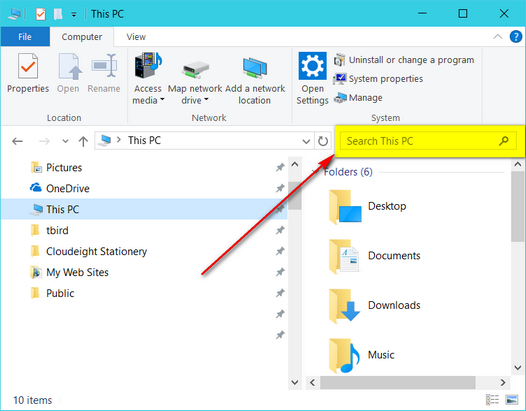 Option #2 for Search: Type your search terms in Cortana (next to the Windows 10 Start Button). If you do not see the Cortana icon or search box, you can right click on Task Bar and choose if you want it to show as an icon or a text box. See screenshot below.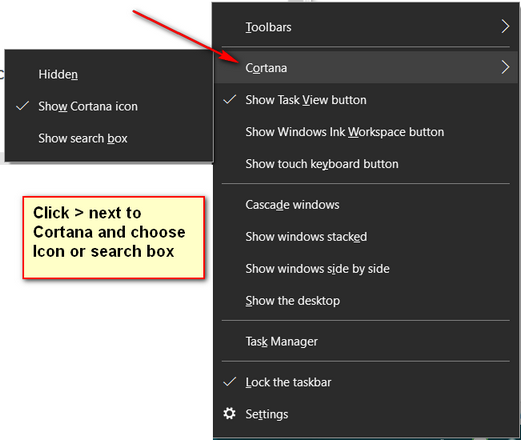 Option #3: Press and hold down the Windows Key and tap the S key. This opens Cortana search. As soon as you type in your search term, results will show. The results include items on your computer, apps, and Web results.




Narrow Your Search Results - You can narrow search down by choosing from the icons in the upper left of the search results box - these include Apps, Documents or Web. If you want to narrow down even more, click "More" option on upper right of the search results, and you can now choose to search specifically from a particular category to include All, Apps, Documents, Folders, Music, Photos, Settings, Videos or Web. See screenshot below.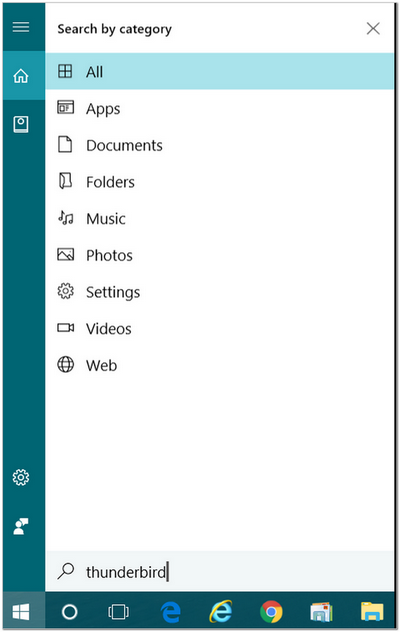 Which Is Worse: Driver Updater Programs or Malware?
Windows 7, Windows 8x, Windows 10
This question crossed my mind this morning as I was working on 2 different PCs, owned by 2 different people, in 2 different countries, who both were experiencing some really bad Windows problems. What did these two PCs have in common?
These two PCs had one thing in common – they both were using driver updater programs.
Darcy and I have been using Windows since Windows 3.1 (yes, there was such a thing), and we can't ever remember a time when driver updater programs were necessary. Then again, Windows was pretty bad back in the Windows 3.1, Windows 95, Windows 98, Windows ME era, so perhaps they may have been of some use in those days. Back in the day, we used to keep our fingers crossed every morning when we booted up our PCs. There was better than a 50/50 chance they wouldn't boot. And if our PCs would not boot, we knew we would have to spend the next 2 or 3 days reinstalling Windows and getting everything back up and running again. But, you back then you got used to it and expected it. So we had all our floppy disks (remember those?) and CDs (yes, Windows used to fit on a CD) ready to go for the reincarnation of Windows and getting our PC working again.
I can remember (and so can Darcy) that, back in those days, the hardest part of getting Windows working right again was getting back online – particularly Windows 95. But all that being said, I don't think either of us recall ever needing a driver updater — even back in those dark ages of Windows.
We can tell you with much certainty, that from Windows XP through Windows 10, driver updaters have been among the most often downloaded and among the most useless programs on the Web.
I digress.
The two computers I referenced at the beginning of this article, although located in different parts of the world and owned by two different people, both had problems caused by driver updaters as well as malware. And even those two, the driver updaters and the malware are related Many so-called "free" driver updates, are "free" because they come bundled with all manner of malware. So, I was pretty sure that some or most of the malware on these to PCs came from malware bundled with the driver updater software.
Driver updaters are not only worthless, they can and do cause problems with Windows PCs.
But before we go any further, we want to point out we are talking about 3rd-party driver downloaders that you download and install. A new computer oftentimes has a lot of driver updates recommended by the manufacturer (updates done with the manufacturer's software) and that you should let those update when first getting a new computer as many computers have been on the shelf for weeks or months. Also, Windows Updates may update critical system drivers. We are not talking about manufacturer or Windows updates, we are talking about 3d-party driver updater programs. We wanted to make sure we pointed this out before we go any further.
First of all, you don't need a third-party driver updater program to tell you that you need a new driver. The only time you ever need to update a driver or drivers is if a hardware device (printer, sound, etc.) is not working correctly or the manufacturer recommends an update. Installing new drivers just because new drivers are available, is unnecessary, and can be a recipe for disaster.
If you have a hardware device that is not working properly, you can get the correct driver from the device's manufacturer. When you visit the hardware device manufacturer's website, make sure you know the version of Windows you're using and the name / model of your hardware device. Then download and install the correct driver directly from the manufacturer.
If you're not having any problems with your hardware devices, there's no reason to update your drivers – even if new drivers may be available.
Don't be tempted to install a driver updater because you think it's going to make your computer run better or it's going to make it easier for you to keep your drivers updated. Driver updaters are unnecessary and many times can cause problems with your PC.
Remember: In the world of computer software, less is often more.
So, be smart and leave those driver updaters alone, we tells ya!



A Couple Thunderbird Tips For You
Everyone who uses Thunderbird -Windows 7, Windows 8x & Windows 10

What to do if your Thunderbird toolbar is missing.



Click Write (or reply/forward from an email) and look at the top menu. Click View, Toolbars, and then put a check back for "Composition Toolbar". If View is not showing, click Alt + V, and enable toolbars.

How to remove Thunderbird stationery from the stationery drop-down list:

To remove stationery from drop down list, click Tools, Stationery Options, Templates. You can remove any choices from list without removing the actual stationery from your default Stationery Folder. You can also move or sort the order of the list by using the buttons or by drag and drop.


We can install and set up Thunderbird for you with our Thunderbird Set-up Service.




Donations help us continue our mission to keep you informed, separate the truth from the hyperbole, and help you stay safer online. We provide support to thousands of people. Every week we help dozens of people via email at no charge. Thanks to donations, we do a lot more than provide this free newsletter. We help you recognize online threats, fight for your online privacy, and provide you with the knowledge you need to navigate the Web safely, and help you get more out of your PC. Help us keep up the good fight with a small donation.
It's the beginning of a new year, and we really need your support. We hope you'll take a few minutes today and help us with a small donation.

After you donate, you will receive info on how you can become a Cloudeight Booster.
Help us keep up the good fight with a small donation.
We would really appreciate it.


Yes, my friends, it's that time of year again. It's time to announce my 2017 Anti Super Bowl Party... read on revelers!
Come to My Anti Super Bowl Party... Let's Watch "Leave it to Beaver" Instead!

For one brief but ugly moment last week I deserted the cynic inside me. I left the comfort of cynicism intoxicated by the sweet poison of hope. Don't worry. I'm back in full vigor now. No more rose-colored glasses for me. There is comfort in cynicism. I have my blankie back. I am my old cynical self again.

This Sunday is "Super Bowl Sunday". I notice that restaurants and some stores in my little town are closing early because of it. I find it odd that Bob Evans, which closed at 8:00PM on Christmas Eve, is closing at 7:00PM on Super Bowl Sunday. The sign on the door says "We will be closing at 7:00 PM on Sunday, February 1, 2014 for the Super Bowl." The store where I buy my daily newspaper also has a sign on its door. The sign reads: "We will be closing at 8:00 PM on Sunday, February 1, 2015 for the Super Bowl." That same store closed at 10:00 PM on Christmas Eve. You have to love this.

The USA is spying on its own citizens, leaders of friendly nations, our cell phone calls; we're involved in two wars and aching to get into another, there are shootings at malls and schools, yet we are all excited about a football game – it's great to be a cavalier American! You have to admire America's ability to shrug stuff off and carry on — it must be leftover from our days as members of the British Empire — you know stiff upper lip and carry on…and that sort of thing.

We laugh in the face of hunger and sneer at the sorry state of world affairs — every grocery store I've visited has aisles full of chips, beer, pop and snacks all presented in gala "Super Bowl Party" settings. Festive banners and ribbons and streamers abound. No one would ever guess that the world had a single problem.

It's Super Bowl Weekend! What me worry?

Restaurants in my town are closing early, because it seems they think that everyone will be home eating pizza rolls, pizza, sandwiches, and drinking beer? What about me? Or are they using the Super Bowel as an excuse to send employees home early and save a few bucks on their minimum wage salaries? I am not going to watch the Super Bowl. I might want to go out to eat after 7 PM or buy a newspaper after 8 PM. I have no choice...

Read the rest of this essay here.



Reg Organizer - A Swiss Army Knife of Windows Utilities and Tools

Reg Organizer works on Windows 7, Windows 8, Windows 8.1 and Windows 10. The newest version of Reg Organizer has newly added special tweaks for Windows 10 - including a Windows 10 Start menu fix.

Get more information and or order Reg Organizer today and SAVE!




Google Arts & Culture
Today, we're going to feature a site that is called Arts & Culture. While EB may have culture, TC does not. So, it was with much amazement that TC browsed this site looking for culture. He found a lot of culture, but none of it stuck. EB looked down upon him with a air of disdain. TC didn't notice her look of disdain, because that's how she normally looks at TC.
Now, getting down to business, Google, unlike what you think, does not wax on and on about their Arts & Culture site, in fact it's still in beta, they do have some very interesting and worthwhile content for those of you who enjoy culture and art. EB not only enjoys it, but understands it all. I'm, therefore, in awe.
My awe aside, I have not forgotten to bring in the site's developer(s) to say a word about their site. Google, you will be relieved to know, does not wax poetic, they are precise and economical with their words. Here, therefore, is what the developers of Google Arts & Culture have to say in less than 30 words (How do they do that, EB?):
Google Arts & Culture features content from over 1200 leading museums and archives who have partnered with the Google Cultural Institute to bring the world's treasures online.
OK, we were just kidding you when we said Google had less than 20 words to say about Google Arts & Culture. But all the words they have to say are not easy to find, but you know us, we're intrepid. Here's few more gems from the Google crew:
FOR THE CULTURALLY CURIOUS
Discover artworks, collections and stories from all around the world in a new way. Explore cultural treasures in extraordinary detail and easily share with your friends.

FOR CULTURAL INSTITUTIONS
For hundreds of years, cultural institutions have collected and safeguarded our history and heritage. Powerful technologies can amplify this mission, while preserving these artifacts for a worldwide audience today and tomorrow.

THE LAB AT THE CULTURAL INSTITUTE
We created The Lab in Paris as a place where tech and creative communities can come together to share ideas and discover new ways to experience art and culture. We welcome experts, creatives, curators, artists, designers and educators to help us craft new bridges between technology and culture.
We are not shouting! The caps are all Google's, we are just the messenger. And our message to you today is, if you enjoy learning, if you enjoy art, if you enjoy exploring other cultures, you'll find Google Arts & Culture a worthy place to visit. Take our advice and visit Google Arts & Culture right now. It's so interesting that we named it a Cloudeight Site Pick.



Donations help us continue our mission to keep you informed, separate the truth from the hyperbole, and help you stay safer online. We provide support to thousands of people. Every week we help dozens of people via email at no charge. Thanks to donations, we do a lot more than provide this free newsletter. We help you recognize online threats, fight for your online privacy, and provide you with the knowledge you need to navigate the Web safely, and help you get more out of your PC. Help us keep up the good fight with a small donation.
It's the beginning of a new year, and we really need your support. We hope you'll take a few minutes today and help us with a small donation.

After you donate, you will receive info on how you can become a Cloudeight Booster.
Help us keep up the good fight with a small donation.
We would really appreciate it.



What are icons anyway?
We use them every day on our computers and on the web, but what are icons anyway?

EB is an icon. She represents the social elite, the elevated class, the aristocracy. When you see the EB icon, you think of Rolls Royce, Diamonds, Caviar, and Ned's Upholstery. An icon is a symbol kind of, it represents something else. EB is really something else.

Anyway, the icons on your computer represent something else, usually a program, but it may represent a file, folder, drive, etc.

Icons are usually shortcuts to something else. Shortcuts work just like links to web sites. When you click the EB Icon, to the left, you are whisked off to a beautiful, informative site. See?

When you click an icon on your desktop, let's say the Google Chrome icon, your Chrome browser opens, because the icon is a link to the program's executable -- it's just like a Web link, only it links the icon to the program's executable. The link would look like this:

C: \ Program Files (x86)\ Google\ Chrome\Application\Chrome.exe (There are no spaces in the actual file path. We put spaces in the path so it wouldn't be a link. All we need is people clicking a link that doesn't work :-)

See that's like a Web site address, only in Windows the slashes are backwards, probably because Bill Gates is left-handed, or something.

Now purists who love DOS will try to tell you that real computer users know all these links (commands) and don't use sissy icons to open programs. Instead type arcane commands in the command line (link) every time they want to do something or open a program. Now if you have that kind of time to waste, God Bless ya! Those purists are missing out on beautiful icons...like the EB icon (designed by yours truly!) above.

And icon is just a picture that links to something else or represents something else -- whether that is a program, a file, a web site, a folder or a drive, doesn't matter, Clicking the icon takes you to the item it represents -- even the EB icon up there takes you to the site it represents.

EB is so famous, she's an icon. TC is not an icon. He's just an old hump. :-)



Premium Subscribers' Home Page You'll find the last few weeks of Premium archived on this page.
To change your subscription address, see "Manage your subscription" at the bottom of this newsletter.
Submit your questions, comments, and suggestions for possible inclusion in our newsletters here. This form is for questions, comments and suggestions for this newsletter, not for product support, stationery questions, or general questions concerning our products or services.
Help us Grow! Forward this email newsletter to a friend or family member - and have them sign-up for InfoAve Premium here!
Get our free daily newsletter! Each evening we send a short newsletter with a tip or trick or other computer-related article - it's short and sweet - and free. Sign-up right now.
Have a question about a Cloudeight Software program, service, stationery, or need to ask about an order? Let us know!
If you need help with one of our software programs, have a question about an order, or have a question about any of our email stationery, screen savers, or other products - please don't use our InfoAve Questions/Answers/Tips form. Please use our general Cloudeight support form instead.
If you want to help us by telling your friends about our Cloudeight Direct Computer Care service, you can download a printable flyer you can handout or post on bulletin boards, etc. Get the printable PDF Cloudeight Direct Computer Care flyer here.

These products and services are recommended and endorsed by Cloudeight:
Emsisoft Anti-Malware- The best anti-malware you'll find anywhere. Great protection -- both proactive and reactive. Learn more here.
Reg Organizer-- A Swiss Army knife of PC tools. Easy for beginners to use -- with advanced features for experienced users too. Learn more here.
Cloudeight Direct Computer Care - Computer Repair Service-- And for computer repair, you can't beat our remote repair service. You never have to leave your home, take your computer anywhere or leave it with someone you don't know or trust. We can fix most computer problems and all you have to do is sit back and relax. Learn more here.
Thunderbird Email Setup - we'll set up Thunderbird for you - works great with Windows 7, Windows 8 and Windows 10. Get the details here.
Windows 10 Customization - Make Windows 10 look and work the way you want it to. Get more info here.
Also.. don't forget:
We're offering something we think most of you will enjoy. We have a daily tips and tricks summary newsletter that is sent six days a week. It features daily tips, freeware picks, and site picks and interesting computer tips, tricks and more. It's short and sweet - very brief and lightweight. If you'd like to receive or daily tips and tricks newsletter (completely free, of course). You can subscribe here.
You can also help us by using our Start Page.
We have over 100 free games to our Start Page too - come and play all day. It costs nothing to use our Start Page--and helps us a lot.
Your Premium Members' Home Page is located here.

New Winter Pricing!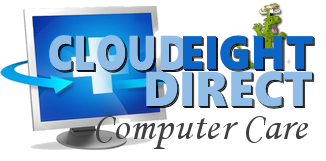 We've redesigned our Cloudeight Direct Computer Care homepage. It's brighter, lighter, and easier to use. But best of all, we're introducing new winter pricing with substantial discounts on some of our Cloudeight Direct Computer Care services.

That's right, with our new winter pricing you'll find great deals on all our Cloudeight Direct Computer Care Products:

Visit our new Cloudeight Direct Computer Care home page right now.


We'd love to hear from you!
If you have comments, questions, a tip, trick, a freeware pick, or just want to tell us off for something,, please visit this page.
If you need to change your newsletter subscription address, please see "Manage your subscription" at the bottom of your newsletter.
We received hundreds of questions for possible use in IA news. Please keep in mind we cannot answer all general computer questions. We choose a few to use in each week's newsletter, so keep this in mind. If you have a support question about a service or product we sell, please contact us here.

We hope you have enjoyed this issue of InfoAve Premium. Thanks so much for your support and for being a Premium subscriber.
Have a great weekend!
Darcy & TC
Cloudeight InfoAve Premium - Issue #695
Volume 14 Number 16
February 3, 2017

Subscribe to our InfoAve Premium Newsletter

DISCLAIMER ABOUT THE TIPS & SOFTWARE RECOMMENDED IN THIS NEWSLETTER-- PLUS OTHER IMPORTANT INFO:

All software recommendations we make in this newsletter are based on our own experience and testing of the programs that we recommend. This does NOT guarantee they will work on YOUR computer. We assume you will read the program documentation and use the program according to the instructions. We make no guarantees about any program recommended in this newsletter or its suitability for any particular purpose. We will not be responsible for any problems you may have. We do not and cannot provide support for any products other than our own Cloudeight products and we will not answer email concerning any product which is not a Cloudeight product. We urge you to use good judgment when downloading and installing software and to use a program only after reading the program's documentation. And, all Tips & Tricks in this newsletter have been tested by us on several different computers and were found to work as indicated. They may not work on yours. We make no guarantees. Anything we recommend you try and use at your own risk. We will not be responsible for any problems caused by any software programs recommended in this newsletter or any of the tips and tricks in this newsletter.. Readers' comments are their own and Cloudeight Internet LLC is not responsible for comments of our readers. All readers' comments, suggestions, questions, and tips and tricks sent to us become the property of Cloudeight Internet LLC. You understand that we may use your comments without your explicit permission.
"Cloudeight InfoAve Premium" newsletter is published by:
Cloudeight Internet LLC
PO BOX 73
Middleville, Michigan USA 49333-0073