Don't have 2 computers? Here's a Deal for you!



BUY ONE & GET AN EXTRA YEAR FREE! U

nlimited computer care for one computer for TWO full years - Just $99



For the first time ever, during our Spring Sale, you can get a Cloudeight Direct Computer Care Season Ticket good for unlimited computer care & repair for one computer and we'll give you an extra year free. That's TWO YEARS of Cloudeight Direct Computer Care for just $99 - save over $100 off our regular price for a single Season Ticket. Buy One and Get a Second Year Free! This offer is available for a very limited time only.

This is the first time we've ever offered a Cloudeight Direct Computer Care Season Ticket good for two full years of computer care and repair. This offer is available for a very limited time only! So don't wait - help us and help yourself too. Our Season Tickets are like inexpensive insurance for your computers.

Get more info and/or get your Season Ticket and get an extra year FREE!


How to do a Windows 10 Repair Installation
Windows 10

If you're having serious problems with Windows 10, you probably know by now you that have options to fix problems by using Windows 10 recovery options. All Windows 10 computers have at least the following 2 recovery options:

1. Reset Windows 10 and keep your personal files.
2. Reset Windows 10 and remove everything.

If you're using Windows 10 Creators Update or newer, you also have the option to do a Fresh Start.

A Fresh start removes all your programs, including all the manufacturer's pre-installed programs, saves your personal files and some of your settings, and clean installs Windows. See our article on Fresh start here.

While Windows 10 Reset (and keeping your personal files) or a Fresh start would seem to be a good choice if you didn't have your personal files backed up, you would still need to install all your programs and make any customizations to Windows you had before the reset or Fresh start.

But there is another option that's available to Windows 10 users. You can do a repair installation of Windows 10 and keep everything – your programs, your settings, your personal files, etc.

Doing the repair install does not format your hard drive, so it can be used to fix a number of serious Windows problems.

Important: Please remember – in order to be able to do a repair installation of Windows 10, you must to be able to boot your PC. Even though the Windows 10 DVD or USB are bootable, you cannot use either of them to boot into Windows if you want to do a repair install.

First step: Create a Windows 10 USB or DVD...

See the full tutorial here including step-by-step instructions and helpful screenshots.




Take Control of the Windows 10 Notification Area
Windows 10 (all versions)

We've gotten several emails recently from people using Windows 10 who found that the Notification area has suddenly expanded to cover a great deal of the taskbar. Unlike the taskbar, icons in the Notification area can't be removed by right-clicking and choosing "Unpin from taskbar" from the menu. So, in order to control the size of the Notification area and the icons that appear on it, you need to take control of the Windows 10 Notification area. And we are going to show you how to do that…
But first, let's define the Notification area. Back in the days of Windows 9x and even XP it was referred to as the "System tray". The best way to define it is that it's the area of your taskbar that contains the clock. Here's a picture:

Above: The unexpanded Notification area – Windows 10. The up-arrow (highlighted by us in a red square) expands the Notification area. When it has been expanded you can (generally) see icons of (some) programs currently running in the background including some that start with Windows.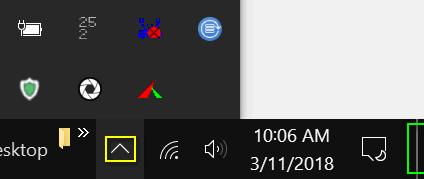 Above: The expanded Notification area. We have highlighted a couple of features. One the "up arrow" – highlighted by the yellow box – expands and contracts the Notification area. And highlighted in green, the thin vertical rectangular area at the very far right edge of the Notification area is the "desktop" icon. Click that thin narrow area and you'll go directly to your desktop. Try it – we'll be here when you come back.
Taking Control of the Notification Area
Now that you know what the Notification looks like and where it is, we're going to show you how to control it. If the Notification area has expanded and is consuming most or almost all of the taskbar on your Windows 10 computer and looks more like this:

Than this:
Here's how to tame the Notification area.
(1.) Right-click on your taskbar and choose "Taskbar settings"
(2.) In Taskbar settings scroll down the menu until you see "Notification area"… then click on "Select which icons appear on the taskbar"
(3.) In the "Select which icons" dialog – under "Always show all icons in the notification area" turn the Switch to "Off". You can select which icons you want to show in Notification area by turning the switch next to it to "On". For instance, below I have Network and Volume control set to show in the Notification area.

(4.) If you want more control over the Notification area…under Taskbar settings > Notification area, click on "Turn system icons on or off"
And you'll see a menu appear from which you can turn system icons on or off.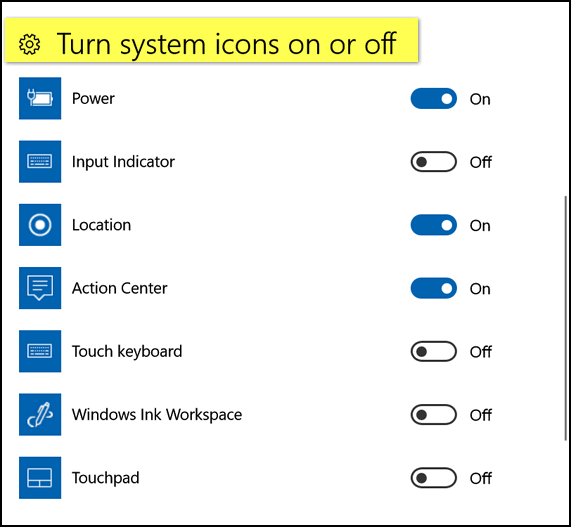 Please use discretion in turning system icons off. Some are very useful such as Clock, Network, Volume, etc.
By using the information above, you can take control of your taskbar and the Notification area.

How to Zip Folders in Windows 10 Without Any 3rd-party Software
Windows 10
Since Windows XP, Windows has had a built-in compression (or zip) utility. And while the images in included in this tip were created on Windows 10, if you're using Windows 7 or Windows 8.1 this tip pretty much works the same way. While not nearly as full featured as some third-party compression utilities (like 7-zip), the Windows compression (zip) utility lets you create zipped files and it's very easy to do.
You can create a zip file from folder on your computer. Here's how:
Chose any folder on your computer. For example, let's say you have pictures you took last Christmas in a folder in your Pictures folder. You can zip up your Christmas pictures folder this way:
Right-click on the folder you want to zip
Click on "Send to" then choose "Compressed (zipped) folder" from the menu which appears". That's it. The zipped file/folder will be created in the same location where original files/folders are located.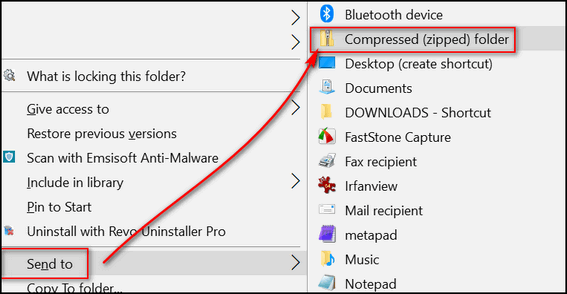 Below you'll see I created 3 test folders. I added some pictures to each folder. Then for this tip, I compressed (zipped) the folder I called Test Folder 3. See? The original folder remains untouched, but all the files in Test Folder 3 are zipped inside the Test Foler3 zipped file.
You can rename your compressed folder the same way you rename any other folder.
Notice above, renamed Test Folder3.zip to Wallpaper-2018.zip.
If you forgot to add some pictures to the folder before you zipped it, no problem. Here's how to add files to a zipped file.
Just drag and drop any file that you want to add to the zipped file and it will automatically be included in the zip file.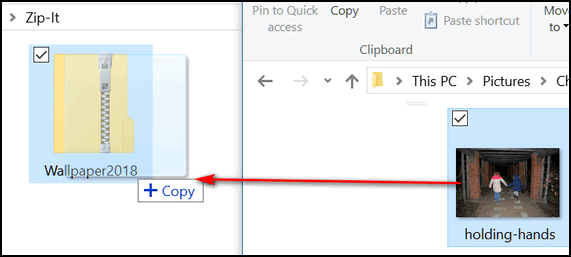 When you drag and drop a file to the zip file, it will be added to the zip file without changing or removing the original file.
Now you know how create compressed (zip) files in Windows 10 without using any 3rd-party software.



3 Windows Tools You Might Not Know About
Windows 7, Windows 8x and Windows 10 (all versions)
Windows has some really good built-in utilities that are just as good or better than many of the freeware utilities that you'll find offered for download from many sites. For this article, we've picked the three we find most useful
1. The Windows Configuration Utility
That's right, even on Windows 10 you can still run good old MSCONFIG – the Windows Configuration utility. It's been built in to every Windows edition going way back to Windows 95.
In Windows 7 you can use Windows Configuration utility to manage your startup programs (in Windows 8 and Windows 10 this has been moved to Task Manager).
In Windows 10, Windows 8.1 and Windows 7, you can use Windows Configuration utility for changing boot options, such as booting into Safe Mode. You can change the default operating system (if you're running a dual-boot or multi-boot setup and more. You should only use these settings if you're sure of what you're doing. You can also use the Advanced options for RAM and processor settings, but don't mess around with these if you are not sure of what you're doing.
There's also a list of Windows tools in the Configuration utility, just click on the tools tab and you'll see these tools and more. It's only place in Windows where you'll find all these tools listed together.

Above: The Tools Tab in Windows Configuration utility.
2. The System Information utility
Here's a handy utility that will tell you everything you've ever wanted to know about your computer and probably a whole lot more. While people download tools that do essentially the same thing as System Information utility, you know better and you use what's already at your fingertips.
The System Information utility will show you all the information you will ever need to know about the hardware and software on your PC.
You can either access the System Information utility by pressing and holding down the Windows Key then tapping the R key. Type MSINFO32 in the run box and press enter to start the System Information utility. In your using Windows 10 just type MSINFO32 in the taskbar search and press Enter.
The system summary will list all the important information about your computer, including processor,, Physical RAM, Virtual RAM, display type, problem devices, hardware, operating system version and type and much more. But you've only scratched the surface – you can dig even deeper into the inner sanctum of your PC using the System Information utility.
Check it out!

Above: Widows System Information utility.
3. Windows Memory Diagnostic
You don't need no stinkin' 3rd-party utility to check your PC's RAM, we tells ya! Windows has a built-in diagnostic tool that will scan your PC for any memory issues … and even let you know if your RAM is in good shape.
To run Windows Memory Diagnostic, hold down the Windows Key then tap the R key. Type mdsched.exe in the run box and press enter to start the Windows Memory Diagnostic utility.
Whoa! Hold on there pardner — The Memory Diagnostic scan will cause your PC to restart, and you won't be able to stop it. So, before you run it , make sure you've saved anything you're working on or you'll lose it.
The scan will take between 5 and 10 minutes, and after your computer reboots, you'll see a diagnostic report giving you the results of the Memory Diagnostic scan.
Now you know about three useful utilities - and they are all included on your Windows PC.

Want more computer tips & tricks?
Fun Windows 10 Stuff

Windows 10 Versions to date - A History of Windows 10

We have thousands of Windows tips, tricks and more on our InfoAve web site. Come see for yourself!



HELP US HELP YOU!

Make a small donation and help us help you!

Our annual spring donation drive is underway. If you don't need any of our products or services right now, please help us with a donation. Even the smallest gift is appreciated. Every donation helps us to provide useful information that helps you with your computer as well as helping to keep you safe on the Internet. We offer free help to thousands of people every year... and we offer an honest and inexpensive computer repair service too. We do everything we can to help you with your computer and keep you safe too.

So if you don't need any our products or services right now, please consider helping us with a small donation. If you're not a Cloudeight Booster already, you'll be invited to join our boosters after you make a donation of any amount. Our boosters get freebies and special booster-only offers

Please help us by making a donation right now.

Interested in making a monthly gift? Visit this page. Help us keep helping you!

Thank you so much for your support!




Stickies
While Windows 10 comes with a Sticky Notes program - creatively named "StickyNotes", it has very few features when compared to the many sticky notes programs available elsewhere. And yes, it's true, there are literally dozens of free sticky notes programs you can download, but many of them come bundled with scamware & malware. But there is one sticky notes program with which we are familiar and it's one we once recommended for a long time - but that was years ago. So today, we decided to take another look at Stickies. We tested it again and it works as well - even better - than ever. Windows 10 StickyNotes is very limited - Microsoft could have done better. Stickies is vastly superior to Windows 10's StickyNotes. It has dozens of features and options that Windows 10 StickyNotes does not have. We're going to get you pointed in the right direction then bring on the developer to tell you some of its many features.

We installed and tested it today (14 March 2018) and we were very impressed (again) with all its features and configurability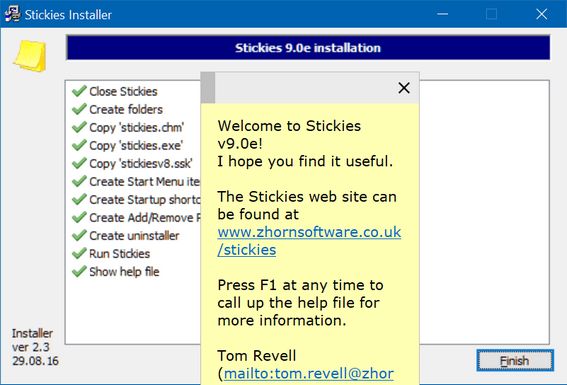 Install was easy, and when installation is done, the author even gives you his email address so you can write if you need help. Did we mention that Stickies has a ton of features too?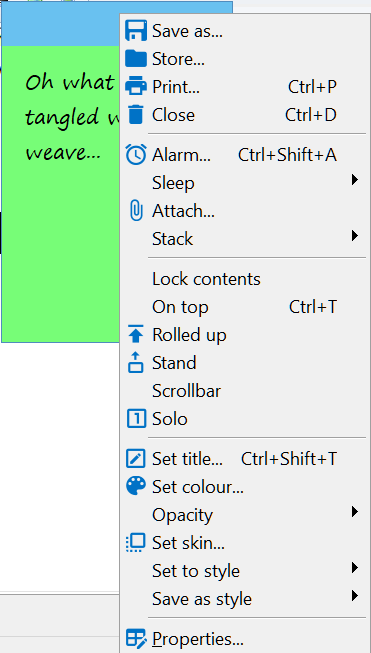 You can change the notes color, you can change fonts, font size, font color and font style. You can even highlight words or sentences in your stickies.


And yes, we would be remiss if we didn't bring in the author to tell you more about Stickies. So here he/she is:
"Stickies is a PC utility I wrote to try to cut down on the number of yellow notes I was leaving stuck to my monitor. It is a computerised version of those notes. The design goal behind Stickies is that the program is small and simple. Stickies will not mess with your system files, or write to the registry. Stickies stores information in a single text-based ini file. Stickies will never support animated dancing figures, or play "Greensleeves". They are instead yellow rectangular windows onto which you can put some text notes. Once created, they will stay on screen until you take them away. Just like a real sticky piece of paper.





Main features:

Once on screen, Stickies will remain where placed until closed, even through reboots
Stickies appearance can be customised; fonts, colours and buttons may be changed, and styles saved. Stickies can be resized.
Stickies can store text or images
Stickies can snap to each other and to the sides of the screen to keep them neatly lined up
Stickies can be attached to an application, web site, document or folder so they only show when it's on screen...
Hierarchical friends list, which may be automatically transferred from other friends
Play a sound file on receive
Signature for transmitted or emailed stickies
Favourite friends, and custom lists can be made
Stickies can be hidden for a certain period, until a specified date and time, or to wake every day, week or month, to act as reminders.
Stickies can have alarms set to ensure you notice them at a point you choose
International language, Unicode and RTL text support
Stickies works with Windows XP, Vista, Windows 7 and Windows 8 (and Windows 10)
Stickies is small and simple, it writes to a single text file, and does not alter the registry
...and Stickies is completely free!"
Stickies is true freeware and it's from malware/scamware - it comes bundled with nothing. It works with Windows 7, Windows 8.1 and all versions of Windows 10. You can read more about Stickies and/or download it from here.





Now available: Reg Organizer 8.5

If you purchased or renewed Reg Organizer through Cloudeight within the last 12 months, you're entitled to a free version upgrade to Reg Organizer 8.5.

Save $14 on Reg Organizer right now!

Reg Organizer - A Swiss Army Knife of Windows Tools - Works Great on Windows 10!




Making the World a Better Place

When I was in high school and later, college, my friends and I all thought the establishment consisted of a bunch of rich, old, gray-haired men who sat upon velvet thrones and decreed idiotic and senseless decrees to the all us peons in the world. We were not going to let that continue once we grew up and took the reigns. We were going to make the world a better place.

Yesterday, on the way to have breakfast with an old friend, I stopped at a local gas station/convenience store to pick up a copy of "USA Today". While I was parking in front of the store, I noticed a dozen or so metal posts – filled with cement – placed strategically between the store and the parking lot so as to prevent crazed, mentally irregular drivers from intentionally – or unintentionally – driving vehicles into the store and hurting people (and let's not forget property).

Being that I'm getting old, these bright-red concrete-filled metal posts remind me that we did not make the world a better place. We failed. Not only didn't we make it a better place, we seem to have made it a worse place – but that jury will always be out on that. I sure don't recall businesses and public building being targets of crazed drivers when I was a kid. No big red poles back then...

Read the rest of this essay here.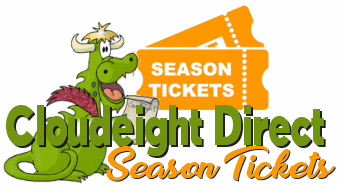 Our Spring Super Sale is Underway - We're offering Cloudeight Direct Season Tickets - Buy One Get One Free!
Cloudeight Direct Computer Care Season Tickets BUY ONE GET ONE FREE and MORE! Annual Service Plans On Sale Now!



What's going on with Net Neutrality?

The much discussed demise of Net Neutrality, while approved by the FCC and having been given the blessings of many of the USA's biggest telecoms and ISPs, has not yet gone into effect. So, if you were breathing a sigh of relief that nothing has changed for you because of Net Neutrality, don't sigh yet. Net Neutrality ends on April 23, 2018... however there are many lawsuits pending and even pending congressional action (is congressional action an oxymoron, EB?) to stop the demise of Net Neutrality.

Net Neutrality prevents telecoms and ISPs from treating Internet traffic differently. Under Net Neutrality, our impoverish business and Web site enjoys the same accessibility as Microsoft or Google. In other words, ISPs can't treat us differently because we are a mom & pop shop. The can't slow down traffic to our site and speed it up for bigger sites with huge money bags who could pay a lot for faster access speeds. When Net Neutrality ends, there will be nothing illegal about slowing traffic to some sites and speeding it up for others. Now you could see how that could be used to generate lots of money for telecoms who could charge popular sites with lots of money faster access than some poor little mom & pop shop like Cloudeight who can't afford to pay to be in the "fast" lane. And you can see how ISPs and telecoms could you their unrestricted powers after Net Neutrality ends to push their agendas - even political ones.

But we wanted to update you and tell you the reason you've not noticed any difference after the FCC approved the demise of Net Neutrality is because the demise has not yet happened. If congress or lawsuits do not intervene, Net Neutrality will end on April 23, 2018. We will see happens then.

Want to learn more about how the end of Net Neutrality will affect you? Read "What the end of net neutrality means for you".



Sales of the following products and services help support our newsletters, websites, and computer help services we provide.

Cloudeight Direct Computer Care: Single Keys or Season Tickets - always a great deal. Cloudeight Direct Computer Care is like having PC insurance. Get more information here.

Emsisoft Anti-Malware: Emsisoft is the only Cloudeight endorsed and recommend Windows security program. It provides users with a complete antivirus, antimalware, anti-ransomware, anti-PUPs solution. We offer single Emsisoft licenses and multi-computer licenses at discount prices. Also, we offer our exclusive Emsisoft with Cloudeight installation & setup. Get more information here.

Cloudeight Backup Service: Professional setup of a complete backup system including creation of rescue media, image backups, incremental backups, Cloudeight Direct Backup session key and a lifetime license for Ashampoo Backup Pro 11. Get all the details here.

Thunderbird Email Setup: Thunderbird is a great email program that you can use with your Gmail and Outlook.com (Hotmail) web mail accounts as well as with your Internet provider's email. We'll set it up right for you. Our set up includes configuring up to 3 emails accounts, and setting up Thunderbird to use stationery (if desired). Our Thunderbird Email Setup Service is always a great deal. For more information visit this page.

Reg Organizer 8.5: Reg Organizer is the Swiss Army Knife of Windows tools. It's far more than just a registry optimizer and cleaner... it's Windows all-in-one toolkit. Helps you keep your computer in tip-top shape and also helps you solve annoying Windows problems. Reg Organizer works great with Windows 10 too! Get more information about Reg Organizer (and get our special discount prices) here.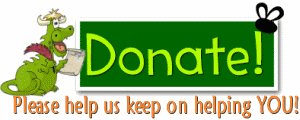 If you don't need any of the above products or services at this time, please consider helping us by making a donation. Everyone who makes a donation is invited to become a Cloudeight Booster and is eligible for special Cloudeight Booster Freebies and special Cloudeight Booster sales. Please consider making a small donation today. Thank you so much!