Cloudeight InfoAve Premium
Issue #754
Volume 15 Number 23
March 23, 2018

Dear Friends,

Thank you very much for subscribing and for being a part of our Cloudeight family. We appreciate your subscription and your support very much!





Happy Easter!

Easter is just over a week away. We have a great selection of free Easter stationery you can use to make your Easter emails bright and "hoppy". Our Happy Easter stationery collection for Thunderbird has over a dozen great designs so you're sure to find the perfect stationery for every holiday email..

Come take a look! Preview and download our Happy Easter stationery collection here.

Ready for spring? Have a Spring Fling!

If you're looking for spring stationery we have a great collection called Spring Fling! Our Spring Fling collection features 19 great spring stationery designs that will help you say goodbye to winter and hello to spring! Preview and download our Spring Fling stationery collection here.





Subscribe to our Daily Newsletter!

Get computer tips & tricks every night. Our daily newsletter features a computer tip/trick or two every day. We send it out every night around 9 PM Eastern Time (USA). It's short and sweet, easy-to-read, and FREE. Just visit this page and sign-up. All you have to enter is your email address. Once you confirm your subscription, you'll receive our daily newsletter every day, six days a week. You can unsubscribe at any time.

Print our Cloudeight Direct Computer Care Flyer!

Print our Cloudeight Direct Computer Care Flyer and spread the word about our Cloudeight Direct Computer Care computer care and repair services. Get our ready-to-print flyer here.


Here are some important links for you:




A comment from Cheryl
Thanks to Cloudeight for giving me tips to keep me safe. It's so hard to find people you can trust these days. I can say in the ten year I've been with you two, you have never steered me wrong. Kudos to you for making it your mission to help people stay safe on the internet. I have not written to you before, but I thought it was time to tell you how much you are appreciated. And I am sure I'm not the only one who feels this way. Keep up the great work! Cheryl J.

A comment from Dee
Just finished my session with Darcy to clean up my computer and install Thunderbird, and I must say you went above and beyond. My ISP didn't know anything about Thunderbird so wasn't any help for the installation, but you kept trying (3 different sessions) till it all came together and now I have a reliable email program I can use with lots of beautiful stationary. THANK YOU from the bottom of my heart, you are worth every penny and much more. Keep up the good work and I'll be with you another 15 years! Dee T.

A comment from Wayne
To TC: We started with a bit of scheduling confusion but everything turned out great. Thanks so much for the time and explanations and clearing my real and "maybe" problems. It was great visiting and watching my cursor move around so fast. Thanks, Wayne.

A comment from Janice
I wanted to thank you again for yesterday's session! You do such a super job and I for one truly appreciate all your efforts because I KNOW you've saved me mega, mega bucks. That being said, my ISP fella came out this morning; any/all issues were at THEIR END!! Both of my net speeds are now running near normal---Yippee! Have a super-duper wonderful day and I warn ya--I'll be back to bug you for a backup session soon. My best to TC! Cloudeight is the very best in the world! Janice

A comment from Reta
Thank You so much Darcy for fine tuning my settings and making sure Windows 7 was a-0kay.. Windows 10 Fall Creators Update failed as my machine is older like I am but better as the old saying goes.. The service that you and TC give us is so appreciated and provides a security for those of us use these machines for all of our online activity. Take care. Reta

A big Cloudeight "Thank you!" to Cheryl, Dee, Wayne, Janice, Reta and everyone who wrote to us last week. We appreciate your kind words and your support very much! EB & TC Get more information about Cloudeight Direct Computer Care here.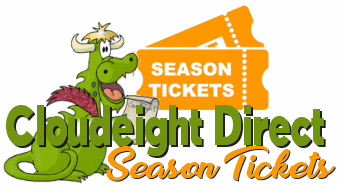 All Season Ticket Holders are eligible for optional unattended support. Ask us!

Here are some super deals on Cloudeight Direct Computer Care - Our Spring Sale Continues through Sunday March 25, 2018.

Cloudeight Direct Computer Care Season Tickets BUY ONE GET ONE FREE and MORE! Annual Service Plans On Sale Now!

It's just like having insurance for your computer. Get unlimited* Cloudeight Direct Computer Care and Repair for one low price. Take advantage of these crazy spring sale prices before they're gone!

BUY ONE & GET ONE FREE! Unlimited Computer Care for 2 computers for one year - Just $99!

During our Spring Sale, you can get a Cloudeight Direct Computer Care Season Ticket good for unlimited computer care & repair for 2 computers - in the same household - for one full year for just $99. Buy One and Get One Free!

This is the best deal we've ever offered on our Cloudeight Direct Computer Care Season Tickets for 2 computers. This offer is available for a very limited time only! So don't wait - help us and help yourself too. Our Season Tickets are like inexpensive insurance for your computers.

Get more info and/or get your Season Tickets right now!



Don't have 2 computers? Here's a Deal for you!



BUY ONE & GET AN EXTRA YEAR FREE! U

nlimited computer care for one computer for TWO full years - Just $99



For the first time ever, during our Spring Sale, you can get a Cloudeight Direct Computer Care Season Ticket good for unlimited computer care & repair for one computer and we'll give you an extra year free. That's TWO YEARS of Cloudeight Direct Computer Care for just $99 - save over $100 off our regular price for a single Season Ticket. Buy One and Get a Second Year Free! This offer is available for a very limited time only.

This is the first time we've ever offered a Cloudeight Direct Computer Care Season Ticket good for two full years of computer care and repair. This offer is available for a very limited time only! So don't wait - help us and help yourself too. Our Season Tickets are like inexpensive insurance for your computers.

Get more info and/or get your Season Ticket and get an extra year FREE! This special is good through March 25, 2018.




Donna asks about a popup from Microsoft(?)
I got the following pop-up a couple times: Microsoft Support. Urgent Microsoft Windows Update....Download now....Microsoft Intel. Microsoft 2018....size 1.83kb. From: d5qxpth24y5tv.cloudfront.net. What do you want to do with Microsoft-patch.hta? Open, Save, or Save as. I assumed this was Spam, so deleted it. Hope I did the right thing.

Our answer
Hi Donna. Microsoft does not use popups that incite you with words like Urgent, Download now. And if you look at this message closer, it's not from Microsoft at all but from a domain called CLOUDFRONT(dot)NET. It's an HTA file which is a script (Visual Basic or JavaScript). Windows distributes Windows updates via Windows Update in a closed system (i.e. does not issue browser-based popups - updates do not depend on a browser to download them). So anything you see while browsing the web that urges you to upgrade Windows, that indicates your Windows computer is infected, or that you need an urgent download or fix is a scam. And it is not from Microsoft. HTA files are best known for their association with drive-by downloads used to infect computers. You can read more about .HTA files here https://www.quora.com/What-is-HTA-attack .

This message/popup was not spam, it was blatant attempt to infect your computer with malware. You did the right thing, Donna.



Elaine asks about external drives
Hi guys, I am not that computer savvy so this may seem a silly question, but you were on about external hard drives. Why do I need this and what exactly does it do? Many thanks. Elaine

Our answer
Hi Elaine. There's no such thing as a silly question. We're going to make this very basic. Your computer comes with an internal hard drive. It's called drive C. This is the drive where Windows is normally installed and where your user account is and all your programs are installed. Your user account contains all the files and folders that are unique to your account. For instance, your Desktop, Documents, Pictures, Music, and Videos folders are all part of your user account.

An external drive plugs into a USB port on your computer. It's separate from the C: drive. Whatever you save on an external drive is not affected by anything that happens on your C: drive. So, if you store your backups or your important folders and files on an external drive, those files are safe even if something happened to your C: drive.

It's important that whenever you backup your files (or you entire hard drive) that you backup to an external drive. Backing up to the C: drive leaves your files vulnerable. You won't be able to easily access your files if you can't boot into Windows or if your C: drive fails. And while hard drives are very reliable, they can and do fail. So, it's just prudent to make sure you keep irreplaceable files and folders backed up on an external drive.

External drives have become very inexpensive. A few years ago they cost hundreds of dollars, but now, you can get a 1 terabyte hard drive for less than $55. Any brand name external hard drive should give you years of reliable performance. Set up is a snap - just plug the drive into a USB port. You don't normally need to install the software that comes with the external...in fact, we recommend you don't install it.





Bernie has a problem with Windows update
Hi Darcy and TC, Some time back I wrote about my upgrade to Fall Creators Update and the black band around the screen and the repeated attempts by Windows to make me upgrade after I reverted to the earlier build. I took your advice about changing the settings re dial-up but it kept bugging me and eventually the only way to avoid the upgrade starting was to turn off the computer. Well they beat me the other day when I had put the PC to sleep. When I returned several hours later I was greeted with a big blue screen and a request for me to enter the license no of my Windows 10. I entered my Windows 8 number and after accepting the terms and condition I found that I now had Fall Creators Update Version 1709 (Build 16299.309). There was no black band around my screen so I thought that was fine.

Then I found that MS Office 10 had gone. No Word , XL programs and a few other default changes like Acrobat Reader for my .pdf files and no doubt a few more default programs missing. I do not feel like paying for another MS Office Suite so now I am looking for a good freeware word processor. This is just a comment. Maybe some of your readers have experienced the same but it did surprise me.

All the very best and keep up the good work. A donation will be on the way very soon. Bernie

Our answer
Hi Bernie. This should not have happened if you turned on Metered connection. But there are some other things you can do too. With the Spring Creators Update less than a month away now, you'll want to make sure you don't have any more surprises, we're going to cover some of the steps you might want to take to prevent anymore surprises.

What seems to me to have been your problem is your computer hardware (video card?) may not have been completely compatible with earlier builds of Windows 10 version 1709 (Fall Creators). Your current version & build indicates that you do have the very latest build of Windows 10 (Version 1709 build 16299.309) and if all is well then that's great.

We have worked on hundreds of computers that have updated to new versions of Windows. We have several computers of our own that have progressively updated to newer versions of Windows. And we have never heard of programs coming up missing after an update. However, just recently we have had several people who were using MS Office 2010 tell us that a Windows 10 upgrade removed MS Office from their computers.

Just out of curiosity, what happens when you type Word in the taskbar search. Do you see Microsoft Word appear at the top? How about when you type Excel? It may be that your shortcuts are missing. There are many good alternatives for Office. The most popular is Apache Open Office. See this page: http://www.openoffice.org/

Now, let's try to reduce the chances that you'll be surprised by an update again. Here are some suggestions:

Metered connection

If you turned on "Metered connection" correctly this should have never happened, Here's what Microsoft says:

"A metered connection is an Internet connection that has a data limit associated with it. Cellular data connections are set as metered by default. Wi-Fi and Ethernet network connections can be set to metered but aren't by default. Some apps might work differently on a metered connection to help reduce your data usage. Also, some updates for Windows won't be installed automatically."

See how to turn on Metered connection here.

Active Hours

Turn Active Hours on. You should also set Active Hours to maximum. You can set up to 16 consecutive hours as Active Hours. During those 16 hours Microsoft will not restart your computer. So if you set your Active Hours to the hours you're not usually using the computer (this is opposite of what it's suppose to be) then you won't wake up to computer that has been updated and restarted. Active Hours in in Settings > Windows Update > Change Active hours.

Restart Options

You can see restart options so that Microsoft will notify you several times that there is an update pending. However, even with restart options set to "Show more Notifications" if you restart your PC, when updates are pending , then any pending updates will install. At least you have advanced notice about pending updates. So "Show more notifications" should be turned on. Restart options can be found in Settings > Windows Update > Restart options.

I hope this helps you, Bernie. Thanks so much for your support.
-------
Bernie wrote back: "Don't you ever sleep? Thanks for a very quick answer to my comment. I did what you suggested and typed 'Word' and 'Excel' and each time a box came up with Problem with shortcut This action is only valid for products that are currently installed. So the penny dropped and I thought that I would look for my Microsoft Office 2010. I found it and re-installed it and now that has solved that problem.

There are couple of little blips in opening some files but I am getting around that. Revo Uninstaller was another program that I had to re-install but I found the receipt for that so that is OK.

Now I have the latest build on Windows 10 I am happy and the black band has not come back so really all is well with the world, well maybe here 'downunder' don't know about everywhere else! As for regular updates I usually am happy to let that go ahead. I will look at your settings below so as to be prepared for the next 'Spring' major update.

I really appreciate your support. all the very best. Bernie."





Kevin wants a good startup manager
Hi I was using WinPatrol for some time to monitor my all my start up programs. Now that WinPatrol has bit the big one. Is there a free one startup program monitor?

Our answer
Hi Kevin. There's no reason to have a program running 24/7 to monitor startups. In fact doing this, just adds another start up program to your start ups. Best advice: Check your start-ups often - for instance once each week to make sure nothing new got on the startup list without your knowledge. Be careful when installing software, many programs either set themselves up to start with Windows or give you the option to start with Windows - with that option pre-selected. Very few programs actually need to start with Windows.

You can use Windows 10 Task Manager Startup Tab. It's not the most thorough start up manager, but it lets you enable and disable many startups. In the next version of Windows 10 (Spring Creators Update) there will be a much more robust startup manager in Windows 10 Settings.

So rather than installing another program to check startups, we'd recommend that you stick with Windows Task Manager / Startup tab until Spring Creators Update is released.

If you have Reg Organizer installed - it has a great startup manager included (it's not free though). If you're an intermediate to advanced user, the best startup manager available is Autoruns... but you really have to be careful using it. Autoruns is a Microsoft TechNet program and it's free. You can read more about it here.

We hope this helps you, Kevin.





Barb is getting emails with strange characters in them
I get emails from only one person that has strange characters around some words, I would like to know how to take this away. Here are a couple of examples.

How to read Deed'€™s
The term '€œRelict'€Ě

Thank you in advance. Barb

Our answer
Hi Barb. Without getting too technical -- all email messages have to be converted to ASCII text characters for transmission. If a message contains characters that aren't in the ASCII character set, for instance Unicode, most email programs and services use various ways of converting those characters to ASCII characters for transmission. This process is called character encoding. Both the sender and the recipient have to use the same encoding if recipients are to see what the sender intended them to see. As you know, this doesn't always happen.

Almost always it's either the sender sending with his/her email program incorrectly set to use Unicode characters or (much less likely) the sender's webserver transforming characters into Unicode characters.

Since you're only seeing this from one sender, you should not make any changes to your email program or computer. Anything you do to try to fix it normally ends up causing you worse problems. There are literally dozens of supposed "fixes" on the Web -some of them involve editing the registry. We suggest you not take any changes and change anything on your computer just so you don't get Unicode characters from one sender. If you start changing the "Read" settings in your email program, then correctly formatted email messages may well start to display incorrectly.

I'm sorry there is not the answer you probably wanted to get, but the problem is not on your end. The problem is how the sender is sending them.
-----
Barb wrote back: "Thank you for answering my question, I know this person really well so I will let her know that it is on her end, which I thought it was. Hopefully we can get this fixed. Again thank you and keep up the excellent work. I know you will. I am so proud to be part of your group. Have a great day, Barb"





Cindy is worried about using space on her backup drive
On my laptop, C drive shows 80.7 GB used and 601 free. External: 183 GB used and 748 free. But the thing is I will need to be able to continue to use the external to store various things, like pictures, so I can't devote the whole drive to backup. Right now I keep my Macrium (free) backups on it and that is probably what is taking up a big share of the 183 GB. I ordered your backup service and have scheduled a session. Cindy

Our answer
Hi Cindy. That drive is plenty big enough for you to save your important files and folders and to use for Ashampoo backup too. Before your Cloudeight Backup session, be sure to remove Macrium and its backup files/folders though. You don't want to use both Macrium and Ashampoo.

So, to address your concerns, you can use and access that external drive for other things; the automatic backup will play nicely in the background for you :)


Will has a question about Thunderbird
I have Thunderbird 52.6.0 and have been using it for many years. The message folders where I keep my emails used to have the total number of messages shown on the right of the folders name. Now I can't seem to get the numbers back for each folder.

Our answer
Hi Will. All you need to do is click a tiny icon to set this up. I have made a screenshot pointing to this icon. See below.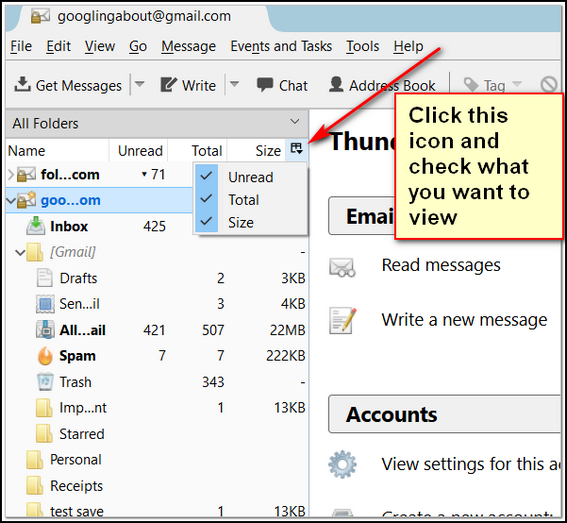 Hope this helps you, Will.

-------
Will wrote back: "Thanks a lot Darcy. I have sold computers for over 14 years and I thought that just a square not a icon."





Karen is confused by an email she got from Microsoft
Hi, I received this email from Microsoft last week (see below) and find this very overwhelming and somewhat confusing . I thought I would send this to you and that maybe you might be able to explain if I should be doing something with all this info or just carry on . I would appreciate if you might be able to explain in short term. I trust that you will have the answer I am looking for. Thanks, Karen

"Your Services Agreement made clearer
You're receiving this email because we are updating the Microsoft Services Agreement, which applies to one or more Microsoft products or services you use. We're making these updates to clarify our terms and ensure that they remain transparent for you, as well as to cover new Microsoft products, services and features.
The Microsoft Services Agreement is an agreement between you and Microsoft (or one of its affiliates) that governs your use of Microsoft consumer online products and services...."

Our answer
Hi Karen. Rest easy. It's a legitimate email from Microsoft. Most of us don't bother to read service agreements or license agreements because they are usually written by lawyers in arcane legalese. And if you try to dig through them, they are overwhelming. We all should probably make an effort to better understand what we're agreeing to. However, what normally happens if we don't agree to a services agreement or license agreement is that we can't use the product(s). So, either we stop using Windows and other Microsoft products and services, or we agree to the service agreements, license agreements and so forth.

You can read the new Services Agreement online here .

Also notice that the email you received from Microsoft did not ask you to take any action or download anything like the scam emails do. It offered some additional information online only. We got the same email and probably everyone reading this did too. Most of us probably just glanced at it and deleted it. It's nothing to be overly concerned with - you'll probably get one of these every year or two.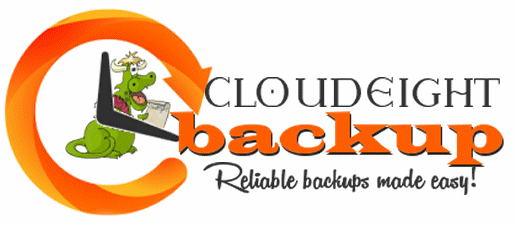 Our Cloudeight Backup Service includes:
Installation of Ashampoo Backup Pro 11 by Cloudeight Direct
Set up and configuration of Ashampoo Backup 11 for bulletproof reliability and best performance
A lifetime license for Ashampoo Backup Pro 11
Creation of USB, CD/DVD rescue media so you can access your backups even if your computer won't boot
All for just $30!
Get more information and/or get your backup service key here.


How and Why to Make a Windows 10 Installation DVD or USB
Windows 10
Microsoft makes it so easy for you create Windows 10 installation media (DVD or USB). It's a good idea to take advantage of this offer and create a Windows installation disk or USB and save it for a rainy day.
What can you do with installation media? Here are 3 of the most important things you can do with Windows 10 installation USB or DVD:
You can boot your computer with an installation USB or DVD if your computer won't boot normally
You can access troubleshooting tools. If your PC won't boot normally you can boot with an installation USB or DVD and access troubleshooting and other tools.
You can use your Windows 10 installation USB or DVD to do a repair installation of Windows 10 which, if completed successfully will preserve all you personal files as well as your programs.
First things first. You'll need to go to this Microsoft page, scroll down past "Update now" and go to the section called "Create Windows 10 installation media". See?
Next, click on the blue button labeled "Download tool now". After you've downloaded it, double-click to run it. And when you do that, you will see the following:
When it's done loading, click "Next" and agree to Microsoft's terms. Click Accept: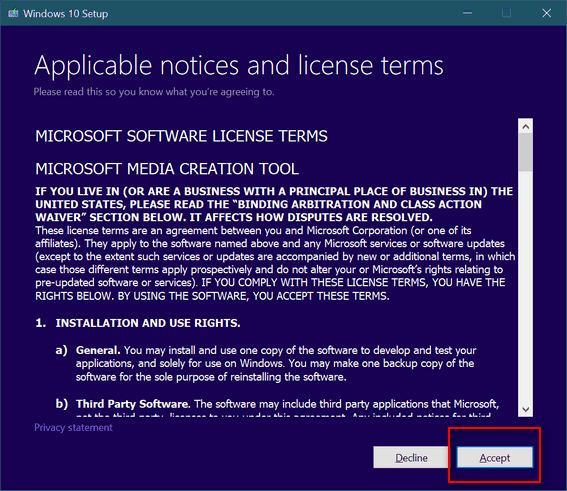 Now the important stuff. Since you want to make an installation USB or DVD, make sure the you tick the circle next to "Create installation media (USB flash drive, DVD, or ISO file) for another PC". Then click "Next".
If you're creating installation media for the same PC you're using now, leave the box ticked next to "Use the recommended options for this PC " ticked. Most of you will want to leave this box ticked click "Next". If you're creating installation media for a different PC, untick the box next to "Use the recommended options for this PC ", then select the language, edition of Windows 10 (Windows 10, Windows 10 Pro, etc.) and the architecture (32-bit, 64-bit) of the PC for which you're creating the installation media.
Next: Choose which type of installation media you want to create. Choose USB if you have an 8GB (or larger)USB Flash Drive. A new, never-used flash drive is best, but you can use one you've used before, but keep in mind whatever data is on the flash drive will be erased. Choose ISO if you want to create a Windows 10 installation DVD. You can burn the ISO file to DVD later. After you've made your choice, click "Next".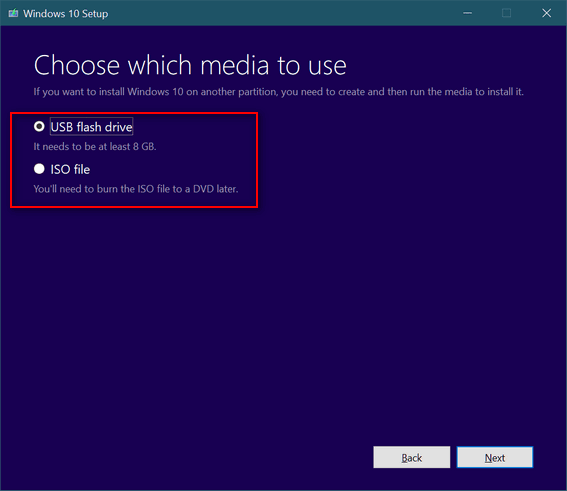 After you click next, go make some coffee and relax. Windows 10 media file (ISO or USB) will take a while to download as it's around 3.4 GB in size. For this article I chose to download the ISO file so I can burn a Windows 10 Installation DVD later. But either way you're still going to be downloading over 3 GB of data.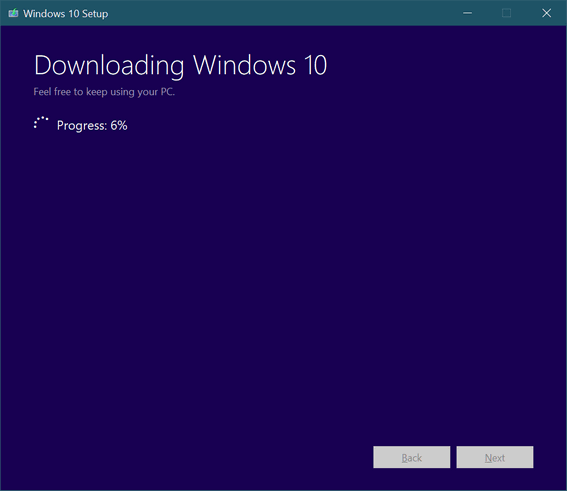 If you choose the USB option follow the onscreen prompts. If you downloaded the ISO to create a Windows 10 installation DVD disk, follow this guide:
Insert a blank, writable DVD in the CD/DVD drive
Right-click on the ISO file you downloaded and choose "Burn to disc"
We suggest you tick the box to verify the disk after burning.
And whether you choose the Windows 10 USB flash drive installation media or the Windows 10 ISO and made a Windows 10 installation disk, make sure you label it so you know what it is – and keep it in a safe place just in case.




An Easy Way to Locate Your Mouse Pointer
Windows 10
Sometimes it's hard to find your mouse cursor or pointer. Maybe you're getting older and having a little bit of trouble seeing, or maybe the color of the background makes it hard to see the pointer. Whatever the reason is, we're going to give you a tip that will help you. We call it the Sonar effect. No doubt we are the only ones who do, so don't go to your geeky neighbor and start talking about Sonar effects or he'll think you're crazy. We call it the Sonar effect because of the concentric circles Windows generates to help you find a missing mouse pointer. Yes indeed, it's true. The Sonar effect causes your mouse pointer to pop-up in the center of concentric rings so you can easily find it. Some of you may have never lost your mouse pointer, but we bet many of you have. We have too and it's frustrating.
In Windows 10 the Sonar effect should already be turned on by default. But you can make sure by going to Settings > Devices > Mouse > Additional Mouse settings. When the Mouse Properties dialog opens (see below) click on the Pointer Options tab,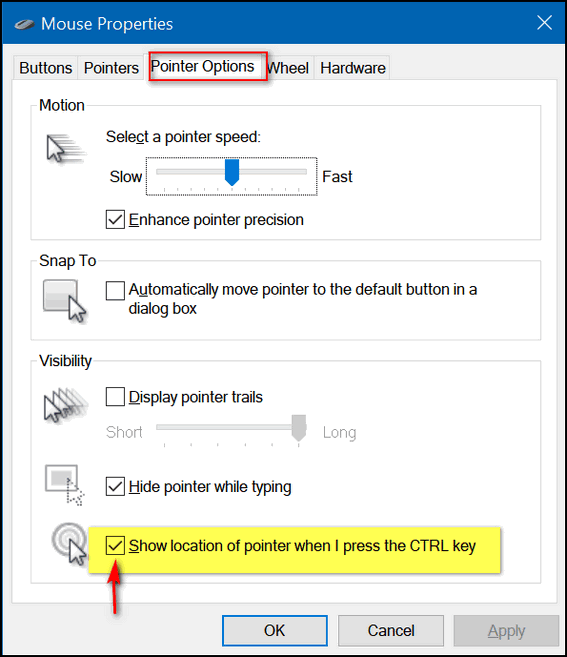 Make sure the box next to "Show location of pointer when I press the CTRL key" is checked.
Now, the next time you lose your mouse pointer, just press the CTRL key and Windows will create concentric circles around your pointer to help you locate it. You might have to press the CTRL key a couple of times, the circles don't stay on the screen long.

Just Walk Away Renee…
Windows 10 (all versions)
Now that we have your attention we'd like to tell you something we've found that causes a lot of problems after a normal (not version) Windows update. This week, both of us installed the latest Windows Update and we both had similar problems. Or more concisely – what we thought were problems.
After the KB4088776 (OS Build 16299.309) update, one of our computers had a black screen and the other had a black screen with white box that said "Personalized settings (not responding)". Searching for solutions to these "problems" yields thousands of helpful tips including deleting registry keys.
What we're going to suggest is the first thing you should do, because what we're going to suggest doesn't require any registry editing, registry hacks, convoluted settings changes, multiple reboots, or anything like that… it only requires that you just walk away for 5 or 10 minutes. We know it's logical to want to do something if you see a black screen or "Personalized settings (not responding)". You want to fix it. Somethings not right, and you want to make it right. But we're telling you, from our experience, the first thing you need to do is walk away and give it time. The last thing you should do is get impatient, start rebooting over and over, or look for some sort of answer to a problem that may be solved just by being patient.
It has worked for us many times, and it may work for you. And anyway, it doesn't require you to do anything other than be patient. Whether it takes 5 minutes or 10 minutes or 15 minutes, give the problem time to resolve itself before looking for solutions and fixes.
The next time you have a Windows cumulative update and your desktop doesn't come right back after the update, be patient. Just walk away… and come back in 5 or 10 minute and we're going to bet you that everything will be back to normal. And if it isn't, you can go looking for fixes and solutions.






Forbidden File and Folder Names in Windows
Windows 7, Windows 8.1, Windows 10 (all versions)

Today, I was working on a tip about the Windows Control Panel and I took a screenshot. We have done a lot of tips about Control Panel and I had used about every variation of the name Control Panel I could think of to name screenshots. Today, I decided to name the two new Control Panel screenshots con and con1. But what to my bloodshot eyes should appear when I tried to name a file con.png?

This: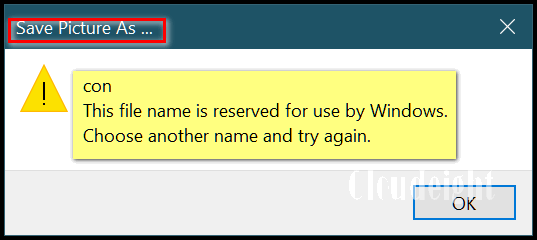 So – no con do, EB!

Maybe somewhere in my long ago, I knew there were system reserved names that you could not use to name a file or folder, but I sure don't remember it. This came as a surprise to me – and I've been using Windows for twenty-some years. Just goes to show you that no matter how much you think you know, there's always more to learn. I learned this like we learn a lot of things, by doing and trying things. That's the best way to learn.

This is just a fun tip. If you have an inquiring mind, you just may want to know that in Windows these are the names that are reserved for Windows use only- so you can't use any of the following names to name a file or folder in Windows:

con
prn
aux
nul
com1, com2, com3, com4, com5, com6, com7, com8, com9
lpt1, lpt2, lpt3, lpt4, lpt5, lpt6, lpt7, lpt8, lpt9

None of these names are case sensitive, so you can't get around using the names by using all capital letters… CON is the same as con in Windows. You can substitute a zero for the letter "o" and use the names c0n, c0m1, c0m2, c0m3 … you get the picture!



Want more computer tips & tricks?
Windows 10's Battery Saver Can Extend Your Laptop's Battery Life

FixMeStick Rears Its Ugly Head [Again]

We have thousands of Windows tips, tricks and more on our InfoAve web site. Come see for yourself!



HELP US HELP YOU!

Make a small donation and help us help you!

Our annual spring donation drive is underway. If you don't need any of our products or services right now, please help us with a donation. Even the smallest gift is appreciated. Every donation helps us to provide useful information that helps you with your computer as well as helping to keep you safe on the Internet. We offer free help to thousands of people every year... and we offer an honest and inexpensive computer repair service too. We do everything we can to help you with your computer and keep you safe too.

So if you don't need any our products or services right now, please consider helping us with a small donation. If you're not a Cloudeight Booster already, you'll be invited to join our boosters after you make a donation of any amount. Our boosters get freebies and special booster-only offers

Please help us by making a donation right now.

Interested in making a monthly gift? Visit this page. Help us keep helping you!

Thank you so much for your support!




Calendarpedia

At first, I thought this site had less text on it that one of our newsletters. (No do not do the sigh of relief, EB. It's not polite!). I would later find out I was mistaken. But I've been mistaken before, isn't that right EB?

Calendarpedia has a huge selection of calendar templates of all kinds including: yearly calendars, monthly calendars, weekly calendars, split-year calendars, school calendars, academic calendars, fiscal calendars, 2-year calendars, 3-year calendars, photo calendars, birthday calendars, blank calendars, Australian and Canadian calendars, and more.

They have calendar templates you can use with Word, Excel (or MS Office alternates) and PDF formats too.

I decided to create a photo calendar using the MS Word format... just for fun. It was only then, much to the chagrin of Ms. Laconic (EB), that I realized this site does indeed opt for the occasional spiel. Well, they do have to provide instructions somehow, right?. At first I though this site was a desert bereft of words and swimming in calendars, but all I had to do was drill down a bit.

When I selected the Word format I was greeted with the following instructions:

Free Microsoft Word (.docx) photo calendar maker templates for creating personalized perpetual photo calendars. United States version in US letter paper size. Simply stick or glue on the photos or pictures of your choice to make an attractive, light-weight and easy to send, and extremely practical present. It's a great gift idea for family, friends and even business associates.

These photo calendars are perfect for photos of a new baby, snaps of the kids through the year, landscape or nature photos of the four seasons, or arty or favorite photos. Or why not create a photo calendar featuring images of a favorite pop star, celebrity, sports personality or football team? The possibilities are limited only by your imagination!

And if you want to highlight just a single, extra special photo or image, the 'whole year on one page' template is perfect. A calendar featuring a photo of your business or 'hero product' for clients? A family portrait for grandma and grandpa, or relatives overseas? Or a particular artwork or product montage for advertising purposes? So get busy putting together your photo calendars - the perfect cheap, cheerful and truly personalised gift.

The templates are saved in Microsoft Word ".docx" format and can be used with the newer versions of Word that support the XML document standard (files with ".docx" extension - Word 2007, 2010, 2013, 2016 & Office 365)...

There's more but I shortened it up for you. Don't worry if you don't have MS Office. According to Calendarpedia, these templates work with the following FREE Microsoft Office alternatives:

Free Office

Libre Office
Free Microsoft Office Online

Google Docs (Google Drive - login to your Google account.)

Now that we got all of that out of the way (plus a little tip about some free Office alternatives) I give you an example of the calendar I created. Ain't it a beaut?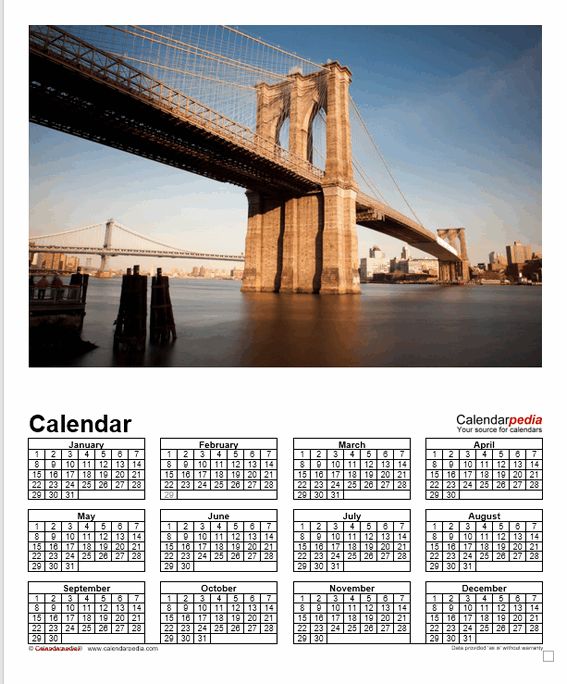 Best of all, when I printed it, it fit perfectly on a standard 8 1/2 x 11 (American) sheet of printer paper.

That's about enough. There are so many calendars and planners on this site, you'll just have to visit and see for yourself. If you're looking for huge variety of printable calendars then Calendarpedia might be just what you are looking for.

Go take a look for yourself! Calendarpedia is now a Cloudeight Site Pick!





Now available: Reg Organizer 8.05

If you purchased or renewed Reg Organizer through Cloudeight within the last 12 months, you're entitled to a free version upgrade to Reg Organizer 8.05.

Save $14 on Reg Organizer right now!

Reg Organizer - A Swiss Army Knife of Windows Tools - Works Great on Windows 10!




If Only I Could Save Time In a Bottle

The other day my youngest son sent me a picture of my granddaughter taking a hike with him in a beautiful autumn wood. Anyone who saw the smile on her face could tell that she was having a great time stomping around in the woods with her father. It was a snapshot of memories being made - memories they will both keep and cherish for a lifetime.
Looking at that picture, I had a deep and ephemeral yearning. It occurred to me that while it does seem like a million years ago, it also seems like yesterday, when my son and I took those Sunday hikes through beautiful autumn and winter woods. It seems like only days ago when we shuffled along thought the crunchy, bright autumn leaves or slogged through freshly fallen snow making unplanned memories that only time could make magical and precious. On our hikes we would light campfires and make lunch. Over the fire we'd roast hot dogs and heat baked beans and eat them right out of the can. Those were, as it turns out, the best meals I'll ever have.
If only I could save time in a bottle…
When this kind of yearning wells up inside, I can't wish it away, I can't turn a blind eye to it, I can't pretend it's nothing. This yearning is a bittersweet feeling, but it is also a feeling of helplessness too. I can't go back. You can't save those moments. I can't put time in a bottle and save it up for a future day and relive those times, or feel those feelings again – or be what I once was.

So many days I've spent doing things with my two boys from coaching baseball, to attending school plays, watching football and sharing a pizza, hiking in a brightly colored forest on a crisp, cool, clear October day and all I have left are the memories. I can't go back and I can't ever feel those feelings quite the same way ever again.

If only I could save time in a bottle…

Read the rest of this essay here.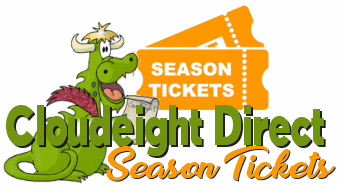 Our Spring Super Sale is Underway - We're offering Cloudeight Direct Season Tickets - Buy One Get One Free!
Cloudeight Direct Computer Care Season Tickets BUY ONE GET ONE FREE and MORE! Annual Service Plans On Sale Now!




A seasonal "Back to Basics" : How do they figure out the date of Easter Sunday?

Today we're taking a break from computer "Back to Basics" to look into something that I've always been curious about and that is: How do they figure out when Easter Sunday is each year? Easter, unlike other holidays, falls on a different date each year. My curiosity led me to the answer. And now I'm going to share it with you. Here's how you can figure out what date Easter will fall on next year or any year.

Easter is the first Sunday, after the first full moon after the Vernal equinox (the first day of spring) So all you need is a calendar and a way to check moon phases. And now with the Internet you have all you need at your fingertips.

This year, as we all know, Easter falls on April 1st. But what about next year?

The vernal equinox in 2019 occurs on March 20th but the rules for setting the date of Easter always use March 21st as the date of the vernal equinox.

See?

"In 325CE the Council of Nicaea established that Easter would be held on the first Sunday after the first full moon occurring on or after the vernal equinox.(*) From that point forward, the Easter date depended on the ecclesiastical approximation of March 21 for the vernal equinox."

So. the first full moon after March 21, 2019 (the vernal equinox) occurs on April 19, 2019. The first Sunday after that is April 21, 2019. Easter Sunday in 2019 is on April 21st.

Let's do 2020. The first full moon after March 21, 2020 occurs on April 8, 2020. The first Sunday after that is April 12, 2020. Easter Sunday in 2020 is on April 12th.

Now you know how they figure out the date of Easter Sunday. And that's our seasonal "Back to Basics" for today!




Sales of the following products and services help support our newsletters, websites, and computer help services we provide.

Cloudeight Direct Computer Care: Single Keys or Season Tickets - always a great deal. Cloudeight Direct Computer Care is like having PC insurance. Get more information here.

Emsisoft Anti-Malware: Emsisoft is the only Cloudeight endorsed and recommend Windows security program. It provides users with a complete antivirus, antimalware, anti-ransomware, anti-PUPs solution. We offer single Emsisoft licenses and multi-computer licenses at discount prices. Also, we offer our exclusive Emsisoft with Cloudeight installation & setup. Get more information here.

Cloudeight Backup Service: Professional setup of a complete backup system including creation of rescue media, image backups, incremental backups, Cloudeight Direct Backup session key and a lifetime license for Ashampoo Backup Pro 11. Get all the details here.

Thunderbird Email Setup: Thunderbird is a great email program that you can use with your Gmail and Outlook.com (Hotmail) web mail accounts as well as with your Internet provider's email. We'll set it up right for you. Our set up includes configuring up to 3 emails accounts, and setting up Thunderbird to use stationery (if desired). Our Thunderbird Email Setup Service is always a great deal. For more information visit this page.

Reg Organizer 8.5: Reg Organizer is the Swiss Army Knife of Windows tools. It's far more than just a registry optimizer and cleaner... it's Windows all-in-one toolkit. Helps you keep your computer in tip-top shape and also helps you solve annoying Windows problems. Reg Organizer works great with Windows 10 too! Get more information about Reg Organizer (and get our special discount prices) here.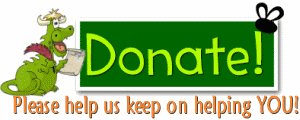 If you don't need any of the above products or services at this time, please consider helping us by making a donation. Everyone who makes a donation is invited to become a Cloudeight Booster and is eligible for special Cloudeight Booster Freebies and special Cloudeight Booster sales. Please consider making a small donation today. Thank you so much!



Premium Subscribers' Home Page. You'll find the last few weeks of Premium archived on this page.
To change your subscription address, see "Manage your subscription" at the bottom of this newsletter.
Submit your questions, comments, and suggestions for possible inclusion in our newsletters here. This form is for questions, comments, and suggestions for this newsletter. This form is not for product support, stationery questions, or general questions concerning our products or services.
Send us your suggestions and recommendations for future freeware picks and/or sites of the week
Help us Grow! Forward this email newsletter to a friend or family member - and have them sign-up for InfoAve Premium here!
Get our free daily newsletter! Each evening we send a short newsletter with a tip or trick or a computer-related article - it's short and sweet - and free. Sign-up right now.
Have a question about a Cloudeight Software program, service, stationery, or need to ask about an order? Let us know!
If you need help with one of our software programs, have a question about an order, or have a question about any of our email stationery, screensavers, or other products - please don't use our InfoAve Questions/Answers/Tips form. Use our general Cloudeight support form instead.
Print our Cloudeight Direct Flyer and spread the word about our computer repair service! If you want to help us by telling your friends about our Cloudeight Direct Computer Care service, you can download a printable flyer you can hand out or post on bulletin boards, etc. Get the printable PDF Cloudeight Direct Computer Care flyer here.




These products and services are recommended and endorsed by Cloudeight:
Also.. don't forget:




We'd love to hear from you!

If you have comments, questions, a tip, trick, a freeware pick, or just want to tell us off for something, let ups know. Please visit this page.

If you need to change your newsletter subscription address, please see "Manage your subscription" at the very bottom of your newsletter.

We received hundreds of questions for possible use in IA news. Please keep in mind we cannot answer all general computer questions. We try to personally answer as many as we can. We can only use a few to in each week's newsletter, so keep this in mind. If you have a support question about a service or product we sell, please contact us here.




We hope you have enjoyed this issue of InfoAve Premium. Thanks so much for your support and for being a Premium subscriber.

Have a great weekend!

Darcy & TC
Cloudeight InfoAve Premium - Issue #754
Volume 15 Number 23
March 23, 2018

Not a subscriber? Subscribe to our InfoAve Premium Newsletter

Share Us on Facebook!
We'd love for you to share us with your family and friends on Facebook. Help us by sharing us on Facebook!






"Cloudeight InfoAve Premium" newsletter is published by:

Cloudeight Internet LLC
PO Box 73
Middleville, Michigan USA 49333-0073

Read our disclaimer about the tips, tricks, answers, site picks and freeware picks featured in this newsletter.

Copyright ©2018 by Cloudeight Internet