Cloudeight InfoAve Premium
Issue #756
Volume 15 Number 25
April 6, 2018

Dear Friends,

Thank you very much for subscribing and for being a part of our Cloudeight family. We appreciate your subscription and your support very much!






First, thanks to all of you who have helped us by making a small gift. We very much appreciate it. Your gifts help us to keep on helping you. Each one of you who makes a gift gets a personal email from us. However, times being what they are, and ISPs getting more aggressive with email censorship, some of you may have not received our personal thank you. So, if you have made a gift and you didn't receive our thank you email, we want you to know that your gifts are very much appreciated..

Your gifts help us to continue our mission to keep you informed, separate the truth from the hyperbole, and help you stay safer online. We provide support to thousands of people. Every week we help dozens of people via email at no charge. Thanks to gifts, we can do a lot more than provide this free newsletter. We help you recognize online threats, fight for your online privacy, provide you with the knowledge you need to navigate the Web safely, help you get more out of your PC, and provide help by email for dozens of people each week.

Help us keep up the good fight with a small gift.

Once you support us with a gift, you will receive an invitation to become a Cloudeight Booster. Our boosters receive special offers throughout the year.

Interested in making a monthly gift? Visit this page. Help us keep helping you!

Thank you so much for your support!





Subscribe to our Daily Newsletter!

Get computer tips & tricks every night. Our daily newsletter features a computer tip/trick or two every day. We send it out every night around 9 PM Eastern Time (USA). It's short and sweet, easy-to-read, and FREE. Just visit this page and sign-up. All you have to enter is your email address. Once you confirm your subscription, you'll receive our daily newsletter every day, six days a week. You can unsubscribe at any time.

Print our Cloudeight Direct Computer Care Flyer!

Print our Cloudeight Direct Computer Care Flyer and spread the word about our Cloudeight Direct Computer Care computer care and repair services. Get our ready-to-print flyer here.


Here are some important links for you:




A comment from Carolyn
I bought Reg Organizer 8.05 and am well pleased, especially with the way it is handling my startup applications. Thank you!

A comment from Butch
Hi guys, I just want to tell you how much I appreciate all the work you do. I started visiting your page when you were designing stationery for Outlook Express in Windows 98. I have been a subscriber to you premium news letter since it's beginning. I have used numerous tips and tricks that you have posted and many have saved me countless hours of frustration. Please keep up the good work!

A comment from Joan
I love the program "Stickies" that you recommended. Wonderful Program! I have been premium member several years. Slowly losing eyesight & Legally blind. Many things you post are very helpful to me. I can trust the tips you give are safe & work well. Thank You!!!

A comment from Gordon
I commend you highly for your services to the industry and to your customers and audience. Thank you.

A comment from Lilian
Darcy has made my computer like new again. She is one of the kindest persons I know, loaded with patience, never got ruffled but I did as I was afraid of 'messing up', easy for me to do . She was cool and unruffled. Thank you Darcy for your work on my computer . I can hardly wait to start using the lovely pictures on my email. Soon I will ask you to my husband's computer which he cannot use anymore as he's almost blind. I use it occasionally to make sure it is OK. So Darcy be prepared!!!! Thanks, Lilian

A comment from Carol
Darcy set up Ashampoo Backup for me today. So patient & knowledgeable. I had my extra hard drive & flash drive set up knowing I might have a chance to complete the session early if I was available. Unfortunately my internet speed was extra slow, but Darcy persevered. She also was very professional in finding what she needed on my Windows 10 computer that looks much like the old classic style XP which I am sure she does not come across everyday. In 17 years I have never taken any computer to a shop. When I started with Cloudeight about 10 years ago it was so nice to know that I had some place to turn if it was more than I could fix or just for a second opinion.

A comment from Reta
Thank You so much Darcy for fine tuning my settings and making sure Windows 7 was a-0kay.. Windows 10 Fall Creators Update failed as my machine is older like I am but better as the old saying goes.. The service that you and TC give us is so appreciated and provides a security for those of us use these machines for all of our online activity. Take care. Reta

A comment from Alma
I'd like to give a big shout-out to TC who would absolutely not give up until he solved a problem with my email. After way too much time spent on a small problem, I wanted to leave my PC as is. Not TC. A couple of days later he sends a message. "I have another idea about your problem. Let me know when you have a minute and I'll try something. This will only take 2 minutes." HE FIXED THE PROBLEM!!!!! Folks he kept on researching my problem after we closed our contact, he just wouldn't give up. YAY for TC!!!

A big Cloudeight "Thank you!" to Carolyn, Butch, Joan, Gordon, Lilian, Carol, Reta, Alma and everyone who wrote to us last week. We appreciate your kind words and your support very much! EB & TC


Get more information about Cloudeight Direct Computer Care here.




David has something called Twinui interfering with his computer
Something called Twinui is interfering with my computer. I went to Microsoft and find that is one of their products. Do I need it and if not how do I safely get rid of it? Thanks for all you do. If need be I have a couple of repair sessions available. David

Our answer
Hi David. Thanks! The file is not dangerous, it's Windows DLL file basically for tablets and tablet mode on PC. You cannot remove it without taking big risks. What happens when you go to Settings>Apps>Default apps and try to change your defaults from there?

Have you installed a lot of themes on your computer? If so try going back to the default theme.

If nothing else works, open Control Panel. Go to User accounts and click "Manage another account". Create a new admin account (you don't need to password protect it at this time, you can do that later). Once you get the new account created, press Windows key +_L then sign in to the new account you just created, tell me if you still have the same Twinui problem. If you don't have it on your new account then it might be your old account has become corrupted.

We hope this helps you.



Margaret has Gecko - is it dangerous?
I checked my browser on Cloud 8 homepage and it says that "like Gecko" is installed. Is this safe and if not how do I get rid of it? Thank you.

Our answer
Hi Margaret. Thanks for using our Start Page!

Gecko is the Mozilla project browsing engine. That means it's what makes the browser go - it what's inside that makes it work so it can browse the web and read the code on pages. It's not dangerous and in fact many browsers would not work without it.

Here is a typical Mozilla Firefox browser tag:

Your Browser Tags: Mozilla/5.0 (Windows NT 10.0; Win64; x64; rv:59.0) Gecko/20100101 Firefox/59.0

Here's a typical Google Chrome browser tag:

Your Browser Tags: Mozilla/5.0 (Windows NT 10.0; Win64; x64) AppleWebKit/537.36 (KHTML, like Gecko) Chrome/65.0.3325.181 Safari/537.36

And here's one from Edge (looks like Edge uses everybody's engine!)

Your Browser Tags: Mozilla/5.0 (Windows NT 10.0; Win64; x64) AppleWebKit/537.36 (KHTML, like Gecko) Chrome/58.0.3029.110 Safari/537.36 Edge/16.16299

All of the above came from browsers installed on my computer.

So, you have nothing to worry about... seeing Gecko in your browser's tags is, as you can see, completely normal and not something you can get rid of - it would be like getting rid of your car's engine!

And in case you're wondering: Windows NT 10.0 indicates I'm using Windows 10 and Win64; x64 means I'm using a 64-bit system.

Others reading this who want to check out their browser's tag, can do so in less than 30 seconds. Just go to http://thundercloud.net/start/user-agent.htm





Thelma's daughter has a problem with a Windows 10 Update
Hi TC/EB. I have a question not about my pc but my daughter's Acer Chromebook. Her 'C' drive is not huge so she uses an external drive for photos, docs etc. She has latest version of Windows 1709 apart from one cumulative update KB4088776 which will not install properly. It downloads and prompts to install and then prompts to restart but the file is still there and the process will repeat if not ignored. She has run troubleshooter and run scan disc which found a few corrupted files which were replaced (so it said) but this makes no difference. She wonders if this problem will prevent the next update ( Spring creators) from installing. Thanks, Thelma

Our Answer
Hi Thelma. This is a known issue with this update. This is what Microsoft says:

(And this is only the pertinent part from https://support.microsoft.com/en-us/help/4088776/windows-10-update-kb4088776 ):

"Problem:

Windows Update History reports that KB4088776 failed to install because of error 0x80070643.

Workaround:

Even though the update was successfully installed, Windows Update incorrectly reports that the update failed to install. Select Check for Updates to confirm that there are no additional updates available.

You can also type About your PC in the search box on the taskbar to confirm that your device is using the expected OS build.

Microsoft is working on a resolution and will provide an update in an upcoming release..."
You can do as Microsoft says above and type "About your PC" (or Winver) in the taskbar search box and press Enter, or you can type Winver in the search box and press Enter. The version and build of Windows 10 Update KB4088776 is Version 1709 (OS Build 16299.309).

Even if it has not installed, it would not prevent Windows from upgrading to Windows 10 Spring Creators Update (version 1803) this month. Cumulative updates are not prerequisites for Windows 10 version updates.

Hope this helps you and your daughter, Thelma.

** Note: Several days after you wrote, Microsoft issued a new update KB4089848 (https://support.microsoft.com/en-us/help/4089848/windows-10-update-kb4089848) which will update Windows 10 to Version 1709 Build 16299.344. This one should work for you. **





Sonjia wants to know if she should buy a hard drive monitoring program
Do you think it's a good idea to buy a program to check the health of your drives? I've been considering buy this program, HD Sentinel. What do you think of their accuracy? I sure would like to know how close my drives may be to failure, so maybe I could act before complete failure. A friend uses and said that it let her know before her C drive failed and she was able to replace the drive. Sonjia

Our answer
Hi Sonjia. We don't know of any drives currently being made that are not S.M.A.R.T (Self-Monitoring Analysis and Reporting Technology). That means S.M.A.R.T. drives are able to monitor themselves. When S.M.A.R.T. data indicates a potential imminent drive failure, "software running on the host system may notify the user so preventative action can be taken to prevent data loss, and the failing drive can be replaced and data integrity maintained."

There HD Sentinel scans the S.M.A.R.T data as well as the drive looking for problems and can alert you before S.M.A.R.T. drives themselves would. However it's not free. But here's a program that does almost the same things as HD Sentinel and it's free for home users. It's called DiskCheckup:

https://www.passmark.com/products/diskcheckup.htm

It gives you a lot of information and it can be overwhelming. So if you decide to use the program you should read the documentation available on the products home page so you can take advantage of all it's features. I downloaded it and installed it this morning and played around with it.




Hard drives are usually very reliable and most always there are serious warning signs that happen well before the drive fails - like files coming up missing for no reason, or files turning up corrupted, or even metallic, "clunking" sounds coming from the hard drive.

Windows also has a good disk checking component. Open File Explorer, click on This PC, right-click on your C: drive (or any drive), click on "Properties", "Tools" then click on the "Check" button.

A lot of information here, but we hope it helps you and saves you money.

Sonjia wrote back: "Thank You so much for answering my question and the information and time you spent checking on the program. I'm not very computer literate, and imagine I wouldn't understand how to use the disc checkup if I installed. I just checked my disk, C drive, and my external drive, following your information below, right clicking C drive/Properties/Tools/Check Button, and my drive showed no errors. After reading your information, I think I will forget about using any program to check on my drives, and just use the information you have sent about checking my drives, using the Windows tool. I just want to know your opinion, before I downloaded the program HD Sentinel, and weather I really needed it. Your information has really been helpful. A faithful reader of your newsletter for years... Sonjia S."





Pearl wants to know if she should make new recovery or installation media
When my (windows 8) computer was new I made 3 recovery discs. Since then I have had Windows 10 installed and all the Windows10 updates. Do I need to make any recovery or new installation disks now? Thank you. I love your newsletters!

Our answer
Hi Pearl. Thank you! Your best bet it to make a Windows 10 installation USB. It's bootable, you can use it to access troubleshooting tool, or even to reinstall Windows. You'll definitely not want to use the recovery disks you made on Windows 8 - if you use them you probably will end up with Windows 8 on your computer.

You should make an installation USB flash drive - you can use it like a recovery drive to boot your computer and access troubleshooting tools. You'll need an 8GB USB flash drive to create a Windows 10 installation USB flash drive. You can use a flash drive with data on it, but if you do, all the data will be erased. With flash drives being so inexpensive now, it would be best to use a new 8GB USB flash drive.

Here are the instructions for making a Windows 10 installation USB flash drive and/or a Windows 10 installation DVD.

As well as making Windows 10 recovery/installation media, you should consider making and keeping good backups. There are a number of good free backup programs available, or you can take advantage of our very low-cost Cloudeight Backup Service -we include a lifetime license to Ashampoo Backup Pro 11 with this service. If you're interested please visit this page.

We hope this helps you, Pearl.





Marge wants to know if there's any way to download drivers without joining a service or paying for it
Is there anyway to download drivers without having to join and pay for a service?

Our answer
Hi Marge. Some of the most misunderstood things about computer are drivers. Drivers are very important. Without them your hardware wouldn't work. But unless something is not working right on your computer, you don't need to worry about updating drivers.

Many people have become rich by making people think if they don't keep their drivers updated their heading for disaster. They've done such a good job that now there are dozens of "Driver updater" programs out there, many of which are malware and or are forced upon users because they're bundled with other software.

Unless you're having a problem with your computer or a hardware device on your computer, the last thing you need to worry about are drivers. If you do have a problem with a hardware device, go to the manufacturer's web site and download the correct driver. Be careful not to search for the manufacturer's web, type the name in your browser.

You don't need a driver updater program and you sure don't need to pay for any driver updates. And you don't need any 3rd-party programs to find out what hardware you have installed in your computer and/or who the manufacturer is. Just type MSINFO32 in taskbar search-and run it. It will give you complete details about your PC and its hardware . For those using Windows 8 or Windows 7 can use Windows Key + R to open a run box and type MSINFO32 and press OK to run it. You can look under "System Summary" or "Components" and learn a great deal about your PC.

So to recap - the only time you ever need to worry about updating a driver is if some hardware device is not working right on your computer. If you need to update the driver, use MSINFO32 (System Information) to find the name of the manufacturer of the hardware device, then go to their web site and find the correct driver.

When it comes to drivers, think of the old saying: "If it ain't broke, don't fix it."





John wants to know if his wife needs to update to Fall Creators before she can install the upcoming Spring Creators update
My wife's laptop has windows creator installed but not the Fall Creator. I see that the spring creator is about to be launched. My question should she down load the Fall Creator now or will it automatically be downloaded with the upcoming Spring Creator. Many Thanks for your wonderful service. John

Our answer
Hi John. Thanks! Windows 10 Fall Creators Update is not a prerequisite for Windows 10 Spring Creators Update, so she does not need to install Fall Creators before she can install Spring Creators Update.

However, if the reason she didn't install Fall Creators Update was because she couldn't -- for instance it would not install because of a hardware incompatibility (as was the case with a number of older computer that were upgraded from Windows 7 to Windows 10) -- then the Spring Creators Update may not install for the same reason.

But to answer your question, she will be able to install the Spring Creators Update when it's released without having to install the Fall Creators Update first.





Linda almost got scammed
Hi TC. Last week you worked on my computer. I mentioned that I had a problem with the Office 365 crashing, and you showed me how to do the repair. It continued to have a problem, so did the advanced repair you showed me. It gave me an error message, and had uninstalled the program. I tried to reinstall it, and it said it was an expired trial. I then tried to install my personal Office 365, which I recently purchased, and had no problem installing at home. I got MS error message 30015-11. I tried many times, even uninstalled it repeatedly and got the same error message. I Googled ways to solve the problem and tried turning off the Firewall, the Proxy, and did an Offline Installer. Nothing worked. I went to the MS online help. They took control and found over 1,000 "corrupt files". They said it was critical to fix them, and asked for $100. I had to say no, since it's Debbie's computer , not mine. Do you have any advice, or do you think it's something you could fix? They said the problem was from an earlier version, that caused the problem. Help!! Thanks in advance for anything you can do to help. Linda

Our answer
Hi Linda. You were almost scammed. Microsoft would never tell you had over 1000 corrupt files. You are lucky you didn't give them a credit card number. If you have office 365 you have a Microsoft account. Here is the page that tells you how to reinstall Office 365. Or if you need help with Microsoft Office products, you can get support Microsoft Office products from https://support.office.com/en-us/ .

Don't ever do a search for Microsoft support or you'll end up with search results full of scam outfits with "Microsoft" in their name or descriptions. Microsoft has a toll-free support number: If you're in the USA it's 1-877-696-7786.

If you need additional help installing MS Office, you call them and tell them that you were almost scammed and tell them what you need and they will help you.

A word of advice: Don't ever give any payment information to anyone who makes up wild numbers of errors and tells you for a price they can fix them. There's an old trick these scammers use. They will open Windows Even viewer on you computer and show you hundreds of errors on your computer. But this is normal. They are typical, mostly temporary error messages in Windows that almost no one ever sees and most are resolved without any further issues as you use your computer.

We are so glad you didn't proceed with them and give them any credit card information.

***Linda wrote back: "TC, you are the best! I checked my subscription and found it's good for 1 PC and 1 laptop, which I used at home, and thought that was the problem. I tried the link you sent to me, and it worked! I'm back in business. Thank you so much!

I really appreciate your concern about the scammers. My brother in law recently used a service that posed as being one similar to yours, and they stole all of his personal and business bank accounts, and froze his computer. He's gone through hell for weeks with the bank to restore the accounts, and get back to normal. The police are involved, and it was apparently an overseas operation, no surprise. Thank you so much for your help and concern. Linda"





Steve sends us an article about Emsisoft to read
Hi TC/EB... First a big THANK-YOU for the best informative yet personal site on the net, I never miss one of your emailed notes. I have just finished updating my Emsisoft to their latest version and followed their links to the explanation of this and saw a link to a page of an interview with the founder and CEO of Emsisoft. I read the article and thought this would be interesting to your subscribers so wondered if it was worth your while to mention this article in one of your newsletters. This is the link as follows.

https://blog.emsisoft.com/en/23016/computer-protection-software-made-in-the-world/

Thanks for your time and wish you all the best in your endeavors.

Best Regards...Steve

Our answer
Hi Steve... Thanks so much for your nice comments and support. And thanks so much for sharing this article about Emsisoft.
We had never read it before.

We are very proud to be associated with Emsisoft and we really do consider the Emsisoft team our friends. Every time we see something like the article you sent us, it just validates our decision to recommend and promote Emsisoft.

We appreciate your kind words and your support, Steve. Thank you for thinking of us and thanks for sending us the article. We hope everyone takes a few minutes to read it.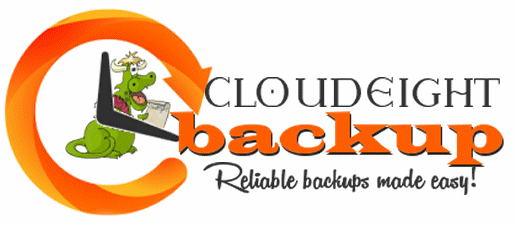 Our Cloudeight Backup Service includes:
Installation of Ashampoo Backup Pro 11 by Cloudeight Direct
Set up and configuration of Ashampoo Backup 11 for bulletproof reliability and best performance
A lifetime license for Ashampoo Backup Pro 11
Creation of USB, CD/DVD rescue media so you can access your backups even if your computer won't boot
All for just $30!
Get more information and/or get your backup service key here.




Ten Easy Google Search Tips
Any Internet-connected device - Google search

(Some of these tips work with other search engines too!)

Use quotes to search for an exact phrase: Here's a simple trick that can help you narrow down your search results in a jiffy. Searching for a phrase in quotes will return search results containing the same words in the same order. This can really save you time if you're looking for a particular phase.
Use an asterisk in quotes to search for unknown or variable words: Did you know you can search for a phrase when you're not sure of a word in phrase by using an asterisk to replace the unknown word. For example, I just searched for: "Those who foolishly sought power by riding the back of the * " returned: "Those who foolishly sought power by riding the back of the tiger ended up inside " (JFK). Or "A * in the hand is worth * in the * ". You know the result for that.
Use a minus sign to eliminate results containing certain words: You can streamline your searches by using the minus sign to remove those words from your search results. For instance: Search for Lasagna recipes -meat sauce. Note the – minus sign is right next the word you want to eliminate – not a dash between the words. The search for Lasagna recipes -meat sauce results in recipes for lasagna which don't include meat.
Search specific websites for keywords: Use the "site :" function (Google only) that searches only a specific website. For example, if you want to see how many times North Korea was mentions on CNN's web site, type "North Korea site:CNN.com"
Search news archives all the way back to the mid-1880s: Google News has a feature that lets you search back over 100+ years' worth of archived news from newspapers from around the world. Just visit this page: http://news.google.com/newspapers
Use vs. to compare foods. Want to know the difference between wheat and spelt? Type "wheat vs. spelt" in the search form. You'll get a comparison. Type in "quinoa vs. rice" and see what you get.
Use search to give you definitions of words. For example: "Define:Trenchant" (no quotes needed).You can even look up slang. Define: Booyah or Define: Bae.
You can use the microphone icon on Google to flip a coin or give you a sweet love quote. Go to https://www.google.com and click the microphone icon and say "flip a coin" or "love quote". If you're shy you can type "flip a coin" (no quotes) and get a random heads or tails every time. Good for solving arguments. I do this all the time with EB. Tails you lose, heads I win.
Play a game. That's right you can play Atari Break out on Google. Go to Google and click on Images (at the top right). In the image search form type "Atari Breakout" (no quotes) and press Enter.
Use the tabs in Google search. On the top of every search you'll see several tabs. Normally you'll see Web, Image, News, and More. Use these tabs to help define what kind of search you want to do. If you're looking for images, click the Image tab. If it's news you're looking for, click the "News" tab. It's very simple but many people don't even notice those tabs. They're there to help you!.
Of course there are dozens and dozens more tips and tricks you can use to help you find whatever your looking for… but these 10 will get you off to a good start.



Search by File Type in Windows 10
Windows 10 (all versions)
In Windows 10, you can search for files by type. For instance, in this article, I opened Start and typed files:pdf and Windows returned a list of PDF files on my computer: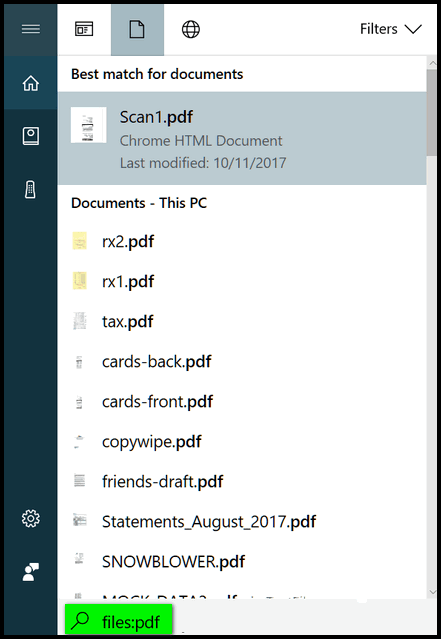 See? I have a pretty long list. Note the scroll bar on the right.
If you're looking for a list of all the PNG files on your computer, type: "Photos:PNG" (no quotes, of course). Or if you have a troop of music files, type Music:MP3 and you'll get a list of MP3 music files. You get the idea.
You can do the same thing for Apps, Settings, Folders and more. Just follow the same syntax of "file-type:specifier".
The only easier way to find what you're looking for is just ask EB! That's what I do. "Hey! EB! Where's my paycheck?"





Have You Ever Wished You Hadn't Sent an Email?
Anyone who uses Gmail or Outlook.com on the Web
Have you ever sent an email and as soon as you sent it you wished you could get it back? Maybe you said something in anger that you really didn't want to send, or you make a mistake and sent the email to the wrong person, or you forgot to spell check your email before you sent it … you know what we mean.
If you use Gmail or Outlook.com you can recall any email you sent in error, but first you have to enable it – it is not enabled by default on either Gmail or Outlook.
Gmail
Let's look at Gmail first. Log into your Gmail account, click on Settings (the little gear icon) then tick the box next to "Enable Undo Send" . You can choose from 5 to 30 seconds and the amount of time you will have to recall an email after you press "Send".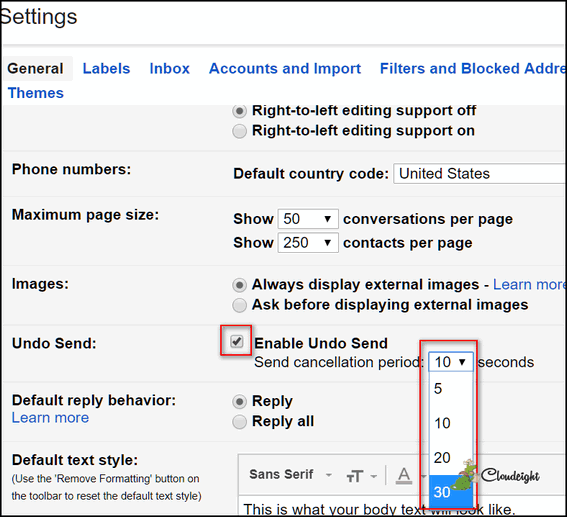 To enable email recall with Gmail, go to "Settings -> Undo Send -> Enable Undo Send" and choose 5, 10, 15, or 30 seconds for your undo time limit. Whichever number you choose is your time limit to recall an email after you press Send.
One more step. Scroll to the bottom of the settings page and click "Save Changes" to save the changes you just made. If you did everything correctly, you will now have the number of seconds you choose in Settings to recall an email after you press "Send".
Outlook.com
OK Let's setup email recall on Outlook.com. (If you're using Outlook.com Beta version, you'll need to switch back to the non-beta version before you will be able to set up email recall.)
Log in to your Outlook.com account and click on settings (the little gear icons). Click on "Options". Under "Mail", click on "Undo send". Tick the circle next to "Let me cancel messages I've sent for:" then choose the number of seconds – from 5 to 30 – that you want to be able to recall a message after you pressed "Send".
Don't forget to press "Save" near the top to save the changes you just made.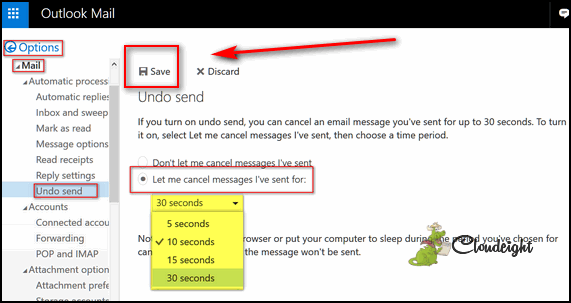 If you did everything correctly, you will now have the number of seconds you choose in Settings to recall an email after you press "Send".

How to Rename All Files In a Folder at Once
Windows 10 (all versions)
Here's a handy tip if have a lot of digital photos and you've ended up with folders full of images with names like DCC0122420171107.jpg. Not very descriptive. You can't tell if it's a picture from a birthday party, Christmas day or your vacation to Hawaii. Wouldn't it be nice if you could give all the pictures in a folder a more descriptive name – and rename all of them at the same time? You're in luck! It's easy using Windows 10's File Explorer. You geeks out there probably know this trick as "batch rename". But whatever you call it, this tip will come in handy for renaming all the files in a folder at once.
Here's how to do it.
First, open the folder containing the images you want to rename.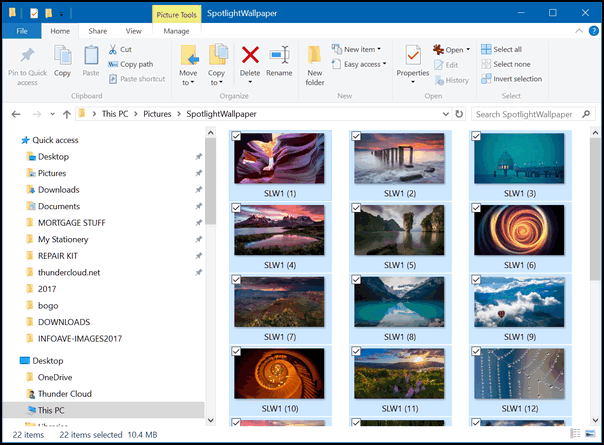 Above, you can see I selected all the images in a folder full of desktop wallpaper pictures. To select them all, I just highlighted one and pressed CTRL +A.
With all the images in the folder selected, I pressed "F2" to rename them. You can right-click and choose "Rename", you can click the Rename button at the top of File Explorer, or you can just press F2 like I did.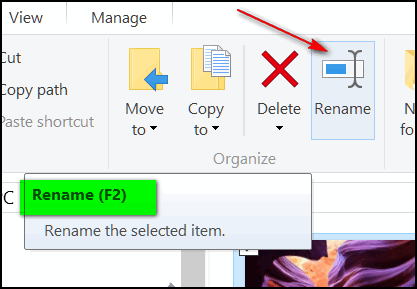 The first picture's name in the folder will become editable: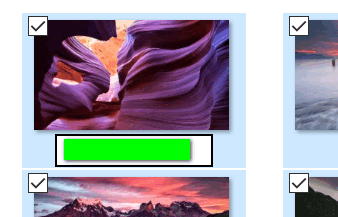 Just type in the name you want (I chose Wallpaper) and press Enter.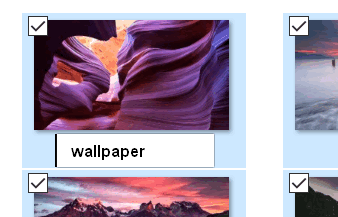 And all the files in the folder will be named Wallpaper (1), Wallpaper (2), sequentially to the last image the folder.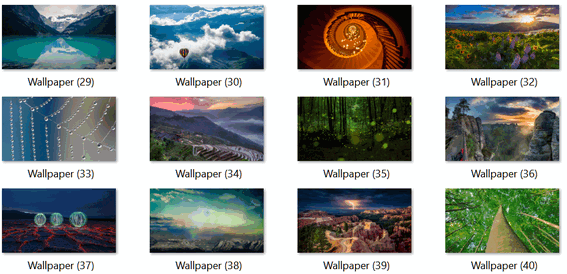 So, folks, if you end up whole bunch of precious pictures with names like DCS122420175947.jpg, wouldn't it be better to have them all named Julies-birthday2018(1), Julies-birthday2018(2) or Tahiti-vacation2017(1), Tahiti-vacation2017(2) and so on? We thought you'd agree. And now you know how easy it is to do.

Are You Ready for Spring? Windows 10 Spring Creators Update is on Its Way
Windows 10
Rumor has it that Microsoft will begin rolling out Windows 10 Version 1803 next week. The release date is rumored by some (but not confirmed by Microsoft) to be April 10, 2018. Of course, not everyone will get it the first day regardless of what day it is release. Not everyone will get it that first week, or even that first month. It will take several months for the update to roll out.
Of course, as soon as it's officially released you can go to this page and click the "Upgrade now" button. But don't go there until version 1803 is released, otherwise you'll get Windows 10 Version 1709 (Fall Creators Update). Microsoft will change that page and the upgrades on it to Version 1803 (Spring Creators Update) on the day Windows 10 Spring Creators Update is officially released.
Microsoft has not yet even released the official name of the next version of Windows 10 other than Version 1803. But the best and the brightest all agree that Microsoft will call it Windows 10 Spring Creators Update. We hope so... otherwise a lot of people will have to do a lot of editing!
But what if you want to wait until a few million people have installed it and Microsoft has ironed out any and all bugs that those eager Spring Creators Update adopters have encountered. Well, if you're using Windows 10 Home the only sure way to completely avoid the update – until you're ready – is to switch to Metered connection. Read our tutorial on Metered connection here.
So, are you ready for spring? The Windows 10 Spring Creators Update that is.
Take our poll and let us know!


Want more computer tips & tricks?
How to Log in to Windows 10 Without a Keyboard

Automatic Maintenance Made Easy [Windows 10]

We have thousands of Windows tips, tricks and more on our InfoAve web site. Come see for yourself!





Your gifts help us to continue our mission to keep you informed, separate the truth from the hyperbole, and help you stay safer online. We provide support to thousands of people. Every week we help dozens of people via email at no charge. Thanks to gifts, we can do a lot more than provide this free newsletter. We help you recognize online threats, fight for your online privacy, provide you with the knowledge you need to navigate the Web safely, help you get more out of your PC, and provide help by email for dozens of people each week.

Help us keep up the good fight with a small gift.

Once you support us with a gift, you will receive an invitation to become a Cloudeight Booster. Our boosters receive special offers throughout the year.

Interested in making a monthly gift? Visit this page. Help us keep helping you!

Thank you so much for your support!




256 Free Windows 10 Themes from Microsoft
It's not often we feature Microsoft in our site / freeware pick section. We think a site with 256 free themes would be both a site pick and a freeware pick - since all the themes listed on this Microsoft page are free.
If you're using Windows 10 and you have a Microsoft account, you can download any of the 256 themes for free. There are some very interesting and beautiful themes among the 256. We installed "World National Parks", "Hawaiian Vacation" "Bridges in Autumn" and "U.S. National Parks" and there all very nicely done. This shows you what you can do when you have billions of dollars to spend.
Each theme generally has between 12 to 20 desktop wallpaper photos included with it.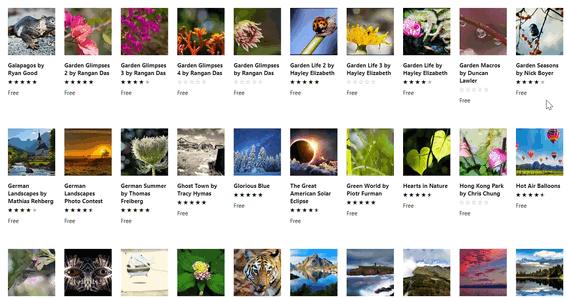 Above: Part of the first page of free Windows themes from Microsoft.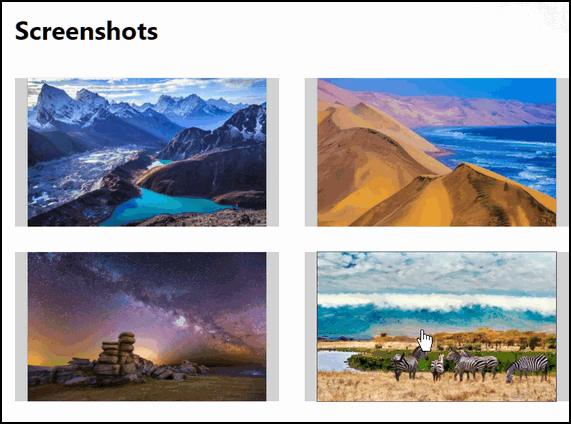 Above: "Hawaiian Vacation"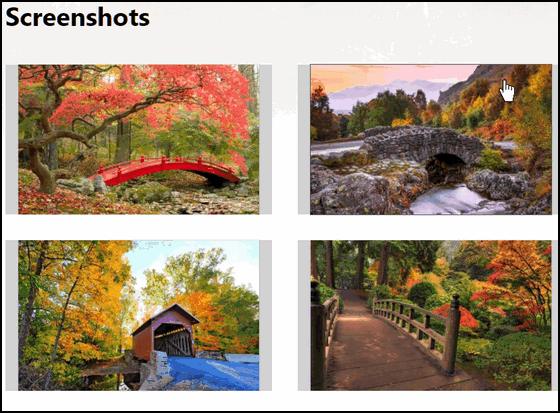 Above: "Bridges in Autumn"
With 256 themes to choose from, you're almost certain to find some you like. There's a great selection and we had to limit the number of themes we downloaded, just because there were so many great ones. It was especially hard to resist "Hot Air Balloons" and the themes with lighthouses.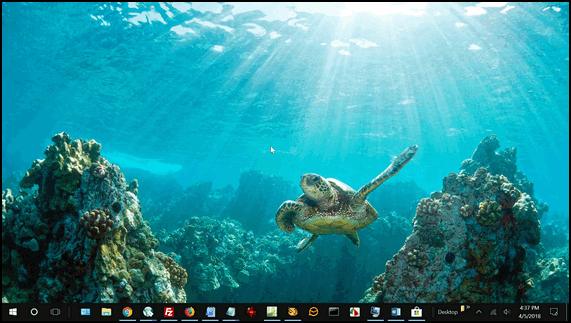 Above: My desktop featuring the "Hawaiian Vacation" theme.
Keep in mind that Microsoft is on an APP kick. Everything is apps, apps, apps. App pull (Apple, get it?) really started something using the word Apps. Up until then they were applications that we all called programs. So when you want to download a theme you'll have to click a button that says "Get the app". Really! But it's all right - it all turns out with you getting beautiful themes free.
So... if you're looking for a large selection of great themes for your Windows 10 PC, you'll certainly want to visit this page and browse through all 256 free Windows 10 themes.
No EB, we're not going to start a theme park!





Now available: Reg Organizer 8.05

If you purchased or renewed Reg Organizer through Cloudeight within the last 12 months, you're entitled to a free version upgrade to Reg Organizer 8.05.

Save $14 on Reg Organizer right now!

Reg Organizer - A Swiss Army Knife of Windows Tools - Works Great on Windows 10!




The following essay was written by Cloudeight reader, Libby R. Libby shared this essay with us and we found ourselves laughing all the way trough it, so we asked Libby for permission to post it here to share it with you. She graciously agreed. So here it is, the unabridged version of Libby's essay.
Toilets I Have Known

Written by Libby R.
Naturally, I had illusions of grandeur at the thought of a suite in one of London's finest hotels, situated across from Green Park.
Upon arrival, we were shown up to our suites. Mine had a little balcony looking out on the park. the reception hall was adequate; the drawing-room, filled with red roses was small; the bedroom, with twin beds, was much larger. And then there was the bathroom!

This was my first introduction to a long line of bathrooms and toilets, both in London and on the Continent.

The English accuse the Americans and Canadians of worshiping lares and penates in the form of central heating and bathrooms. No American in his wildest dreams could have conceived of one like this. The room was as large as the drawing – room. the bathtub was simply huge, sitting well out from the wall in all its glory, supported by four large, ornate claws. As I am one of those indolent people who like to lie in a tub with toes touching the faucet and, misjudging the size of this tub, I nearly drowned....

Read the rest of this guest essay here.




What is the IoT?

The IoT is the International Organization of Turnips. If you're a turnip grower, you'll get some great tips on growing turnips, including secret manure recipes and seasonal plating guides. Plus, you an learn how to get paid by the government for NOT growing turnips. We don't grow turnips, but we don't get paid. I'm serious about that part.

Whoa! All that is just joking - except for the part about us not getting paid. If you've made it this far into this newsletter, you're probably shaking your head and saying to yourself, "It's now wonder they don't bet paid!". That being said, I continue, unfazed.

The IoT is the Internet of Things, which is a bunch of unrelated devices all connected to the Internet. Like toasters, cars, TVs, games, phones, tablets. PCs, electrical outlets, patient monitors, pacemakers, refrigerators, stoves, dishwashers, coffee makers and so on. Now you might think I made a lot of that up (like I did with the turnips), but you'd be wrong. All these devices can are being connected to the Internet.

What? You don't believe there's such a think as an Internet-connected stove? Ha! Doubt me, will you? Internet connected coffee makers, you doubt me? Ha! Here ya go. And you doubt me on the Internet-connected dishwasher? Really? Take a look, doubting Thomas!

Everything is connected to the Internet. Young folks with smart phones can control their entire lives with a smart phone. If things keep going the way they are, they'll have virtual boy/girl friends, husbands/wives - or maybe even better yet, virtual boyfriends, girlfriends, and husbands and wives. Although, if you're going to design a virtual boyfriend or girlfriend, why would you need to virtually marry them?

No wonder I see 20-somethings busting their you-know-what's in the gym. They don't need to do anything but push buttons. By the time they're my age, they'll be fat old humps with virtual boyfriends, girlfriends, with Internet-connected robots to clean house and cook meals. What will these people even need legs for? I bet ya their fingers will in great shape - all that button pushing. 80 year-old females and males with well-developed 10-inch index fingers - well-developed from 75+ years of touchpad tapping and fingering.

Anyway, the IoT is the Internet of Things. And the number of Internet-connected things continues to grow. Tomorrow, we'll see Internet-connected toilets that will flush and put the seat down for the ladies and clean themselves. Wait, we already have them!

Now you know what the IoT - Internet of Things is, right? Now, go buy yourself an Internet-connected pet.




Sales of the following products and services help support our newsletters, websites, and computer help services we provide.

Cloudeight Direct Computer Care: Single Keys or Season Tickets - always a great deal. Cloudeight Direct Computer Care is like having PC insurance. Get more information here.

Emsisoft Anti-Malware: Emsisoft is the only Cloudeight endorsed and recommend Windows security program. It provides users with a complete antivirus, antimalware, anti-ransomware, anti-PUPs solution. We offer single Emsisoft licenses and multi-computer licenses at discount prices. Also, we offer our exclusive Emsisoft with Cloudeight installation & setup. Get more information here.

Cloudeight Backup Service: Professional setup of a complete backup system including creation of rescue media, image backups, incremental backups, Cloudeight Direct Backup session key and a lifetime license for Ashampoo Backup Pro 11. Get all the details here.

Thunderbird Email Setup: Thunderbird is a great email program that you can use with your Gmail and Outlook.com (Hotmail) web mail accounts as well as with your Internet provider's email. We'll set it up right for you. Our set up includes configuring up to 3 emails accounts, and setting up Thunderbird to use stationery (if desired). Our Thunderbird Email Setup Service is always a great deal. For more information visit this page.

Reg Organizer 8.5: Reg Organizer is the Swiss Army Knife of Windows tools. It's far more than just a registry optimizer and cleaner... it's Windows all-in-one toolkit. Helps you keep your computer in tip-top shape and also helps you solve annoying Windows problems. Reg Organizer works great with Windows 10 too! Get more information about Reg Organizer (and get our special discount prices) here.




If you don't need any of the above products or services at this time, please consider helping us with a small gift. Everyone who helps us with a gift is invited to become a Cloudeight Booster and is eligible for special Cloudeight Booster Freebies and special Cloudeight Booster sales. Please consider making a small donation today. Ad thanks to all of you who support us! We appreciate it very much!



Premium Subscribers' Home Page. You'll find the last few weeks of Premium archived on this page.
To change your subscription address, see "Manage your subscription" at the bottom of this newsletter.
Submit your questions, comments, and suggestions for possible inclusion in our newsletters here. This form is for questions, comments, and suggestions for this newsletter. This form is not for product support, stationery questions, or general questions concerning our products or services.
Send us your suggestions and recommendations for future freeware picks and/or sites of the week
Help us Grow! Forward this email newsletter to a friend or family member - and have them sign-up for InfoAve Premium here!
Get our free daily newsletter! Each evening we send a short newsletter with a tip or trick or a computer-related article - it's short and sweet - and free. Sign-up right now.
Have a question about a Cloudeight Software program, service, stationery, or need to ask about an order? Let us know!
If you need help with one of our software programs, have a question about an order, or have a question about any of our email stationery, screensavers, or other products - please don't use our InfoAve Questions/Answers/Tips form. Use our general Cloudeight support form instead.
Print our Cloudeight Direct Flyer and spread the word about our computer repair service! If you want to help us by telling your friends about our Cloudeight Direct Computer Care service, you can download a printable flyer you can hand out or post on bulletin boards, etc. Get the printable PDF Cloudeight Direct Computer Care flyer here.




These products and services are recommended and endorsed by Cloudeight:
Also.. don't forget:




We'd love to hear from you!

If you have comments, questions, a tip, trick, a freeware pick, or just want to tell us off for something, let ups know. Please visit this page.

If you need to change your newsletter subscription address, please see "Manage your subscription" at the very bottom of your newsletter.

We received hundreds of questions for possible use in IA news. Please keep in mind we cannot answer all general computer questions. We try to personally answer as many as we can. We can only use a few to in each week's newsletter, so keep this in mind. If you have a support question about a service or product we sell, please contact us here.




We hope you have enjoyed this issue of InfoAve Premium. Thanks so much for your support and for being a Premium subscriber.

Have a great weekend!

Darcy & TC
Cloudeight InfoAve Premium - Issue #756
Volume 15 Number 25
April 6, 2018

Not a subscriber? Subscribe to our InfoAve Premium Newsletter

Share Us on Facebook!
We'd love for you to share us with your family and friends on Facebook. Help us by sharing us on Facebook!






"Cloudeight InfoAve Premium" newsletter is published by:

Cloudeight Internet LLC
PO Box 73
Middleville, Michigan USA 49333-0073

Read our disclaimer about the tips, tricks, answers, site picks and freeware picks featured in this newsletter.

Copyright ©2018 by Cloudeight Internet