Battery Power Icon: Adjust Screen Brightness, Open Power Options and More
Windows 10 Users with laptop computers

Did you know that that the battery power icon in the notification area of your laptop is good for more than telling you how much battery power you have remaining? Indeed it is. From the Battery Power Icon you can also:

1. Adjust screen brightness
2. Open Power Options
3. Open Windows Mobility Center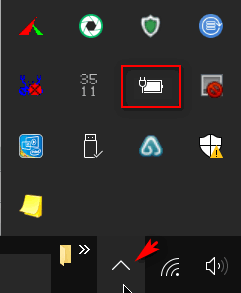 If your battery power icon is not already showing on your taskbar in the notification area (the area of the taskbar just to the left of the system clock), click on the up "arrow" (see above) to expand the taskbar, then right-click on the battery power icon (see above).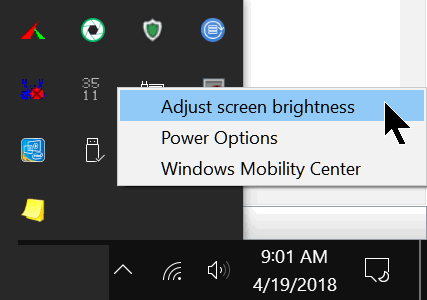 When you right-click on the battery power icon, you'll see you have 3 option in the menu that appears. You can "Adjust screen brightness", access "Power Options" or the "Windows Mobility Center".

If you didn't know those options were there, then you learned something new - and that's a good thing!





Six Handy Tips for Chrome
Chrome Browser (on Windows and Android devices)

Google Chrome is, according to most, the world's most popular browser. Is it the world's best browser? That depends on what you think. The best browser for you is the browser you like best.

If you use Chrome we think you'll find these three tips very useful. But even if you don't use Chrome, one or more of these tricks might work with the browser you use.

1. Show recently viewed pages with a click

Did you know you can show a list of recently visited pages from the current tab? You can. All you have to do is right-click on the "Back" button and you'll see a list of recently visited pages. And as illogical as it sounds, this also works with the "Forward" button too.

2. Drag-a-tab

Did you know that Chrome lets you detach a tab and open it in a new window? It does! All you have to do is drag the tab outside the active window. And you can also add it back to the original windows too. Just drag it back and drop it. You can also rearrange the order of the open tabs on Chrome. This works in Firefox as well. Want to move more than one tab at a time? No problem! Just hold down the Ctrl key and click on all the tabs you want to move and then you can move them as one. This works in Firefox as well.

3. Drag a download

When you download a program using Chrome, you will see it on Chrome's status bar (the bar along the bottom of the browser window). Did you know you can drag that download tab out of Chrome to your desktop or any folder on your computer? Also, you'll note at the far right edge of the download tab (which shows the file name) you'll see a little down-arrow. If you click that arrow you'll get options such as "Show in folder". "Run", "Always open files of this type" and "Cancel".

4. Reopen Accidentally Closed Tabs

Have you ever closed a tab or tabs by mistake? Chrome makes it easy to get the tab(s) back that you closed accidentally. Here's how: Just right-click on any open tab and select "Reopen closed tab" or press CTRL-SHIFT-T . Chrome will reopen any recently closed tabs. You can keep on using CTRL+SHIFT+T over and over – and you'll work your way back through your browsing history. This works in Firefox too!

5. Browse Through Open Tabs Using CTRL key and a number

Did you know you can browse though your open tabs by using the CTRL key + a number? You can. You can browse through tabs 1 through 9 (left to right) by using the CTRL 1, CTRL 2 CTRL 3 and so one to browse through each open tab. Each number is associated with a tab starting first on the left (number one). You can use CTRL + a number browse through up to 9 tabs, starting from the left. You can us this tip in Firefox too!

6. Add a Link to the Desktop

Chrome makes it very easy to add a clickable link to your desktop. Just click the settings icon (three vertical lines) in the top-right corner. Then click on More tools > Add to desktop. You'll get small pop-up window, where you can give the link a different name. You'll also see a checkbox that where you will have an option to set the page to open in a new window.

How to Quickly Find Your WiFi Network Password
Windows 7, Windows 8x and Windows 10 (all versions)
Everyone should be using a WiFi password for their home network. And most everyone does And most of us let Windows remember that password for us, so we don't have to type it in whenever we start our computers and connect to the Internet. But sometimes, for instance, when someone visits your home and wants to use your WiFi network, or when you're setting up another computer, tablet, or smartphone, you will need to know your WiFi network password. And if you don't remember what it was, you'll be fumbling around trying to get those other devices connected.
Thankfully, there's a quick an easy way to find your network password. All you need to do is enter in a simple command and in a minute or two you'll know what your network password is. And here's how you do it:
Step one: Open a command prompt with administrator privileges:
On Windows 7, type CMD in the Start menu search, press Enter, – right-click CMD when it appears at the top and choose "Run as administrator".
On Windows 8x, press Windows Key + S, type CMD press enter, right-click when it appears and then choose "Run as administrator".
On Windows 10 type CMD in the taskbar search (Cortana). When Command Prompt appears at the top, right-click it and choose "Run as administrator".
Step two: Enter the following command (below) at the prompt in the Command Prompt windows. Substitute your WiFi network name for my network name OMAHA. Don't worry: network names are not case sensitive in Windows. Be sure to type the command exactly as shown below.
netsh wlan show profile name=OMAHA key=clear

Above: My network password showing in plain text. It's next to "Key Content". No! You can't see it! I blurred it! I don't want EB using my WiFi. Are you crazy?
If you don't know the name of your WiFi network, you can find it in the Settings > Network & Internet > WiFi.


More Windows Key Shortcuts
Windows 10 (All versions)
Windows Key
Opens the Start menu or Start screen.
Windows Key + L
Locks your PC.
Windows Key+D
Minimizes all open windows on the desktop and brings the desktop into focus
Windows Key + A
Opens and closes the Windows 10 Action Center.
Windows Key + S
Opens Windows search .
Windows Key + C
Opens Cortana in listening mode
Windows Key + E
Opens File Explorer
Windows Key + i
Opens the Settings screen
Windows Key + R
Opens a Run command.
Windows Key + X
Opens the "Power menu"
Windows Key + K
Opens the Connect menu so you can search for wireless devices.
Windows Key + M
Minimizes all open windows and brings the desktop into focus
Windows Key + T
Cycles through all open programs.
Windows Key + , (comma)
Let's you peek at the desktop.

When Windows 10 Won't Boot
Windows 10 Creators Update (version 1703), Windows 10 Fall Creators Update (Version 1709)
What are your options if Windows 10 won't boot up when you turn on your PC?
After two unsuccessful startups, Windows 10 should automatically boot up into the Windows 10 RE (Recovery Environment). If it doesn't you can also restart your computer while holding down the Shift key to bring up the boot Options menu.
You can also start Windows RE from a Windows 10 installation DVD or USB, from a recovery drive (which you can make, see this page), or from the recovery partition on a device, if that option is available.
If you have problems starting Windows 10 or if you want to do troubleshooting, System Restore, etc., you can open the Choose an Option menu manually by restarting your computer while holding down the Shift key.
The initial Choose An Option menu allows you to click Continue to start your PC without taking any further action (i.e. restart normally). This is the option to choose if your system automatically booted into Windows RE (Recovery Environment) because of a minor issue that doesn't need repair.
If you click "Continue" and your fails to boot after 2 more attempts, then the next time you see the "Choose an option" dialog, choose the "Troubleshoot" option.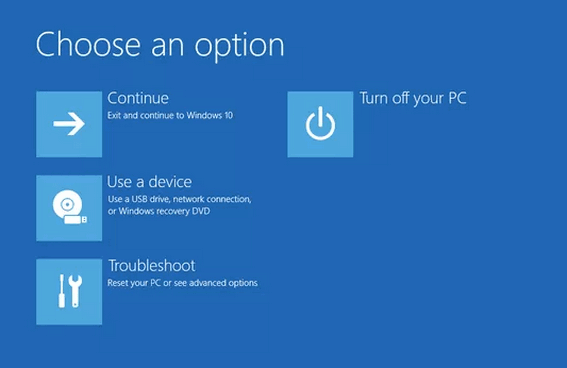 When you click "Troubleshoot", you'll see the Advanced Options menu: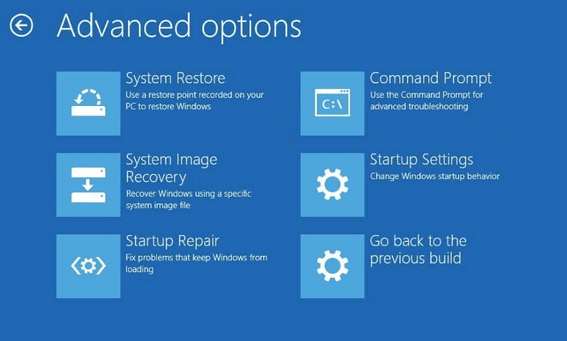 The options above explained…
System Restore Allows you to choose a restore point created earlier and restore the system configuration.
System Image Recovery
Replaces everything on the computer with a system image created using the Windows Backup utility from Windows 7 or later. (This utility is available in the Control Panel, via the System Image Backup link, at the bottom of the File History option.) This option will not be useful if you don't use Windows Backup utility.
Startup Repair
If you choose this option, Windows attempts to diagnose and automatically correct common boot problems. The Startup Repair option starts an automated startup repair procedure. If Windows 10 isn't starting properly, serious missing or corrupt file errors or a Blue Screen of Death (BSOD), Startup Repair is should be your first troubleshooting step.
Command Prompt
Opens an administrative command prompt, where you can use Windows commands from the Command Prompt.
Startup Settings
Choosing Startup Settings will restart your computer and bring up the Startup Settings menu. The menu has several special ways to boot Windows 10, including Safe Mode. The Startup Settings menu is very similar to the Advanced Boot Options menu from previous versions of Windows 10. If you're having problems booting your computer, this is the next option to try if Startup Repair does not fix your boot problems.
UEFI Firmware Settings
Allows you to change startup settings such as boot order and Secure Boot. On an older PC with a legacy BIOS, this option leads to the Startup Settings menu instead.
If your PC won't start, you have options. And now that you know what some of those options are, you will know what to do if you ever have problems booting your Windows 10 PC.

Want more computer tips & tricks?
Big Bug Blocks Windows 10 Spring Creators Update (Version 1803)

Take Control of and Get Help With Google Search

We have thousands of Windows tips, tricks and more on our InfoAve web site. Come see for yourself!



We Need Your Help! If you
d
on't need anything right now, please consider helping us with a gift.
When you support us with small gift, you help us continue our mission to keep you informed, separate the truth from the hyperbole, and help you stay safer online. Plus, our computer tips make your computer easier to use.
Did you know that we provide support to thousands of people? Every week we help dozens of people via email at no charge. Thanks to your gifts, we do a lot more than provide this free newsletter. We help you recognize online threats, fight for your online privacy, provide you with the knowledge you need to navigate the Web safely, and help you get more out of your PC.
Help us keep up the good fight with a small gift.
After giving your gift, you will receive an invitation to become a Cloudeight Booster.

Interested in making a automatic monthly gift? Visit this page. Help us keep helping you... and helping you stay safe on the Web.




An Image Resizer You'll Love
One question we get asked a lot is: "What is a good image resizer." We just use our old favorite image editing programs (PaintShop Pro, IrfanView, FastStone Capture) to resize programs, and sometimes we forget that many people don't want all the bells and whistles – they just want a quick and easy way to resize images.
To the rescue comes InfoAve reader, Dale. Dale sent us this gem of an image resizer that makes resizing images as easy as eating a piece of EB's homemade apple pie – maybe even easier! (Just kidding about the apple pie. I don't think EB ever made an apple pie in her lifetime.)
When I took at look at Dale's suggestion it didn't look like there was much to the Web site or the program. When I tried the program I realized it does exactly what a stand-alone image resizer should do: Resizes images and nothing else.
How easy is it to use? Well, take a look.
First install Image Resizer. After it's installed, just right-click on the image or images you want to resize (yes you can resize several images at a time) and select "Resize pictures" from the right-click menu.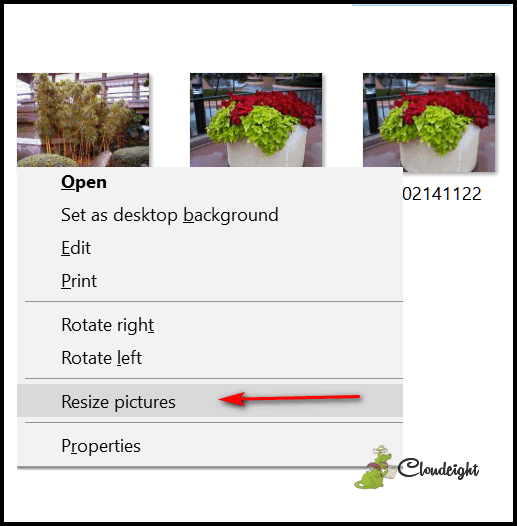 Then you'll see several pre-set size options. Choose whatever size you like (or create a custom size and click the "Resize" button. It can't get much easier than this!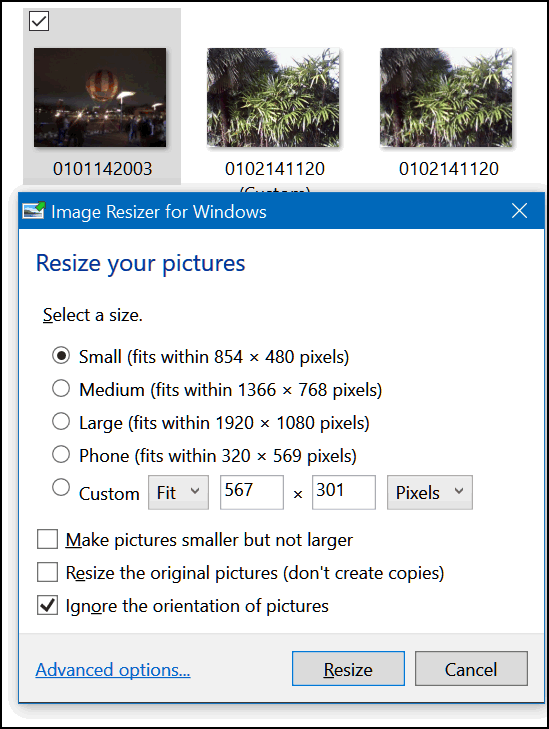 And again…
If you don't like the default sizes and you know what you're doing, you can modify the sizes and create your own default custom sizes. Just click on "Advanced options" and have your way with Image Resizer: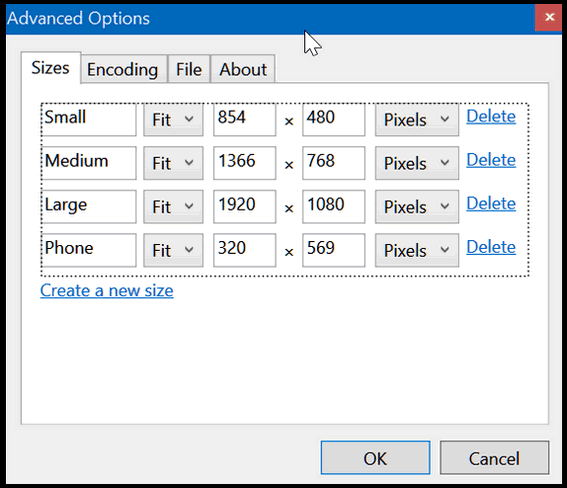 You can set your own custom sizes and even change the encoding from JPG (default) to PNG, GIF, TIFF and even more. But for most of you Image Sizer will work just the way you want an image resizer to work – without any fooling around or reading any instructions or help files.
If you're looking for a really good image resizer that just resizes images quickly and easily, you should try Image Resizer. We're pretty sure it's the image resizer you were looking for. It works on all versions of Windows – we even tested it on a pre-release version of Windows 10 Spring Creators Update (version 1803) and it works great.
Just visit this page to read a little bit more about Image Resizer and/or download it. If you need a quick and easy way to resize images, you'll be glad you did.
Thanks to Dale C. for suggesting this program. We appreciate it! And we bet many other will be glad you suggested it too!