Cloudeight InfoAve Premium
Issue #796
Volume 16 Number 13
January 11, 2019

Dear Friends,

Welcome to Cloudeight InfoAve Premium issue #796. Thank you very much for subscribing and for being a part of our Cloudeight family. We appreciate your friendship and support very much!




OPERATION CLEANSWEEP 2019

Regular Price $39 - Sale Price $25 - YOU SAVE $14!


When you purchase our Operation CleanSweep 2019 Service:
We will give your computer a general checkup.
We will deep scan your computer for malware/PUPs/viruses
We will clean up any malware/PUPs/Viruses we find.
We'll optimize your startup programs & services
Save $14 for a limited time only!
Get more details or order your Operation CleanSweep 2019 service here.




A comment from Karen
I just want to comment that I have been with you folks for a good 16 plus years, thanks to a dear friend that recommended you after I purchased a computer. I have great trust in both of you when I at times have computer issues. Keep up the good work. You two are great! Thanks for all that you do for us. Karen

A comment from Joyce
I like many others got the popup about the Emsisoft browser extension. I trust Emsisoft and I am very thankful that Cloudeight led me to them or I would never have known such an excellent company existed. I also have total trust in the Cloudeight people. They are EXCELLENT in their business values and work ethics. I have never had a company that has given me so much to trust in, especially when all is done by email and not by phone. It took me (the hesitant in me) a " loonnng" time of reading their daily offers and informational help before I took the leap and am still thankful I did as there are many scoundrels waiting to take advantage of people like us. Thank You to Emsisoft and T.C. and Darcy, they have made the internet a safer place to go and security while there.

A comment from Anna
I can't say enough about TC's diligence in getting my computer working right again. He was professional and sometimes made funny quips that made me laugh. THANK YOU for solving fixing my computer and making my session a fun and pleasant. experience. To anyone who needs computer repair: Please do not hesitate to use Cloudeight Direct. They are honest, friendly, and professional. Anna

A comment from Judy.
Thank you so much Darcy for all the time you spent getting my computer running like it should. I paid a lot of money for a so-called computer 'expert' who looked at my computer for 5 minutes and told me I needed a new one because my computer couldn't be fixed. Fast forward to my session with Darcy. It took her a long time to fix up the my old PC, but, thanks to her my computer runs GREAT!. I'm so thankful and happy. I will recommend Cloudeight to all my friends. Thanks again. Darcy!

A big Cloudeight "Thank you!" to Karen, Joyce, Anna, Judy and everyone who took time out to write to us this week. We appreciate your kind words and your support very much! EB & TC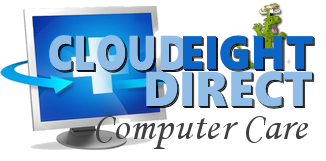 With our Cloudeight Computer Care, we'll fix your computer while you watch. You'll be getting the best computer repair service available, at the best price, from people you trust. Our Cloudeight Direct Computer Care single repair keys are a great deal. They are good until you use them. For more information see our Cloudeight Direct Computer Care home page!




Here are some important links for you:




Jim wants to know if a Google promo popup is legitimate
I use Google Chrome. Lately I have been getting a popup supposedly from Google telling me that I've been selected to win a prize. The popup says.

Dear Google Customer.

Congratulations! You are one of the 10 users that we have selected so that you have the opportunity to win a Movie Streaming Card, Samsung Galaxy S9 or iPad Pro. Press okay (NOTE:I didn't)

Another full page appears underneath the small window that reads:

6 January 2019

Each day, we randomly select several users to conduct a brief survey. In return, we offer you the possibility to receive a valuable gift from our sponsors. This survey allows us to better understand the users and improve our products. It does not take more than 30 seconds to do it. You can win the new Samsung Galaxy S9 , Movie Card Streaming or iPad Pro. The only thing you have to do to receive a gift is to answer the following 8 questions.

Remember: 10 randomly selected users have received this invitation. The number of gifts is limited. You have NaN minutes and NaN seconds to answer the following questions before we give your gift to other graceful users! Good luck!

The question is 'What device do you use- PC/Notebook, Smartphone, Tablet, Other. Then it tells me I have so many minutes and seconds to answer. I delete this when I see it. But I saw it 4 times already this week. I am pretty sure this is a scam, but wanted your opinion.

Our answer
Hi Jim. Good job. You're right to delete this. It is a scam. Google would never send a personal notice with "Dear Customer" as the greeting. According to Google you might see this scam when you misspell Google or any Google service. Like when you misspell Gmail as Gmial dot come or Gooogle or goggle. It's called type squatting -registering domain names that are misspellings of legitimate domains. Luckily, you didn't click on the popup or anything in it, because once you do that you get trapped in this giveaway scam. See this Google page for more information about this scam. And... warning...don't follow the recommendations for getting rid of it on that page. Keep reading our answer for the correct way to rid yourself of this scam).

To get rid of this popup for good, we recommend that you reset your Chrome and restart your computer and you should be free of this scam. Since you're using Google Chrome, you'll find our tutorial for resetting Chrome and deleting the browser's local cache and history here.

After you've cleared your history/cache, restart your PC. Make sure after you restart your PC you re-enable any browser extensions you need, but enable the one you need/use and know to be safe.
------
Jim wrote back: "Thank you so much for your help. I count on you guys a lot and you always come through. Your suggestion worked like a charm. No more popups. Jim"
.



Sandra is having problems staying connected to her Wi-Fi
Hi, For some reason my laptop won't stay connected to my Wi-Fi. I have a desktop and tablet both connected to Wi-Fi and they're working OK. I am hoping you can help me. Thank you!

Our answer
Hi Sandra. Since your other devices are staying connected to your Wi-Fi without any problems, then the problem is most likely with your laptop's Wi-Fi (wireless) adapter. Luckily, there is an easy fix.

We can make a very good guess that the problem is not with your modem or router because your other devices are not having any problems with your Wi-Fi. That narrows it down to the laptop and since your laptop depends on its Wi-Fi adapter to maintain the wireless connection, we can guess that therein lies your problem.

You can verify this by hooking your laptop up directly to the modem (or router) using a Ethernet cable. If the laptop stays connected without any problems, then you can be 99% sure it's your laptop's Wi-Fi adapter that's causing your connectivity problems.

You can try updating the drivers for your Wi-Fi adapter using Device Manager. Or you could install a new wireless (Wi-Fi) adapter in your laptop. But the easiest, cheapest and quickest fix is to buy a USB Wi-Fi adapter that plugs into any open USB port on your laptop. These devices are very inexpensive and very easy to set up. You can buy them at Wal-Mart, Best Buy, Amazon, Staples, etc. Here's an example of a Linksys USB Wi-Fi adapter available that is updated to work with all types of Wi-Fi including the new ac Wi-Fi. It's available for about $40 USD. Just install the software that comes with it and plug it in to any USB port. You should then be able to connect via your USB Wi-Fi adapter instead of the internal Wi-Fi adapter and your problems with connectivity should be solved.

We hope this helps you stay connected, Sandra.





Jean has questions about the Windows 10 lock screen and Windows 10 File History
Good morning. Are the lock screen and sign-in screen one and the same? How do I disable sign-in? I used netplwiz. Didn't work. I used some other combination which probably would have worked but it wasn't clear to me and so was reluctant to start clicking on things.

About File History: It turned off for some unknown reason. It took me quite a while and a lot of searching but finally clued in to the problem. It's on and running now. My question is : Why do we need it if we have an ext. drive? File History has always been confusing to me.

Thanks in advance for your help.

Our answer
Hi Jean. You can't disable the "lock screen" on Windows 10. You can eliminate the password, but not if you're using a Microsoft account to log in. We've seen some "registry hacks" and some freeware programs that supposedly eliminate the lock screen, but we won't recommend them.

Having an external drive is not the same as having a backup. And we never recommend installing the software that comes with most external drives. Just plugging in an external drive to a computer does not do anything to back it up unless you install some kind of software to create a backup.

That's where File History comes in. File History is not a bad thing, it's a good thing. File History backs up all your important personal files like documents, pictures, music, videos, favorites, etc. It is basically a file and folder backup system. It does not create an image backup, but with all the recovery options available on Windows 10, it's much more important to make sure you have your irreplaceable personal files backed up than it is to have an image backup.

Hope this helps!
----
Jean wrote back: "Thank you TC. That makes things clearer about File History. I do understand it now. Jean"



Bernie has a question about Gmail
I use Gmail. I am happy with both versions. But both versions give me heartburn from time to time.

When I forward an email, I almost always do it as a "bcc." Most emails are easily forwarded but every once in a while I get an email that doesn't show the "bcc" at the far right side of the send-to-line. I've tried everything I can think of to stretch the address box but nothing I've found yet works.

In truth, it is usually just one correspondent. Any suggestions?
Our answer
Hi Bernie. I don't know what you mean by both versions of Gmail, there's only one. If you mean old and new version of Gmail, the BCC and CC are on both of them. The only way they would not be is if you're replying to some types of email.. But BCC/CC would be on every new mail you create old or new version of Gmail. You cannot create a new email without BCC or CC on it unless you go though a number of steps. There are no on/off switches for "cc" "bcc".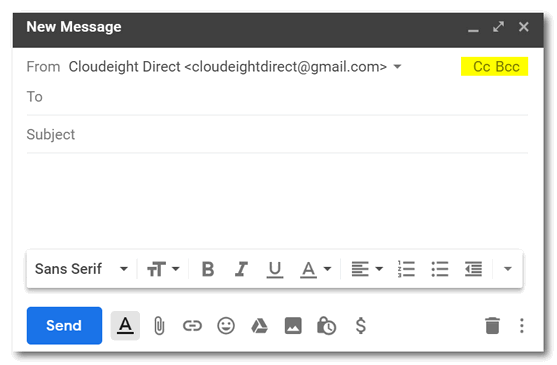 If you're answering an email and you don't see "cc" "bcc" you can use keyboard shortcuts. With the compose/reply window open:

To add cc recipients use the keyboard shortcut CTRL+SHIFT+C
To add bcc recipients use CTRL+SHIFT+B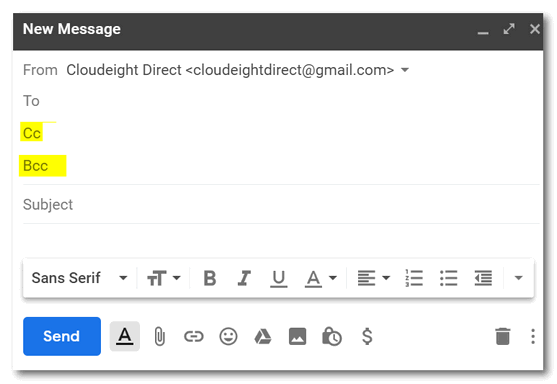 We hope this helps you.
-----
Bernie wrote back: "Just what the doctor ordered. I knew I could count on you. My reference to both versions of Gmail is the HTML and Standard. Blessings and Thank you. Bernie "

Euan can't find contacts in Gmail
I cannot find my contacts. I have recently taken up an email address with Gmail and "contacts" does not show up in the drop down list on the left hand side - or anywhere else where I have searched. Help me please. Many thanks. Euan. P.S. Thank you for having a simple and commonsense verification method.

Our answer
Hi Euan. Thank you! The "new" Gmail has a different way of displaying Contacts.

Open Gmail and look on the far right side near the top. You'll see a square icon (9 dots)). Click on it. If you don't see "Contacts" in the first panel, scroll down, or click "More".




Then you'll see the Contacts icon. Just click it to open your Contacts.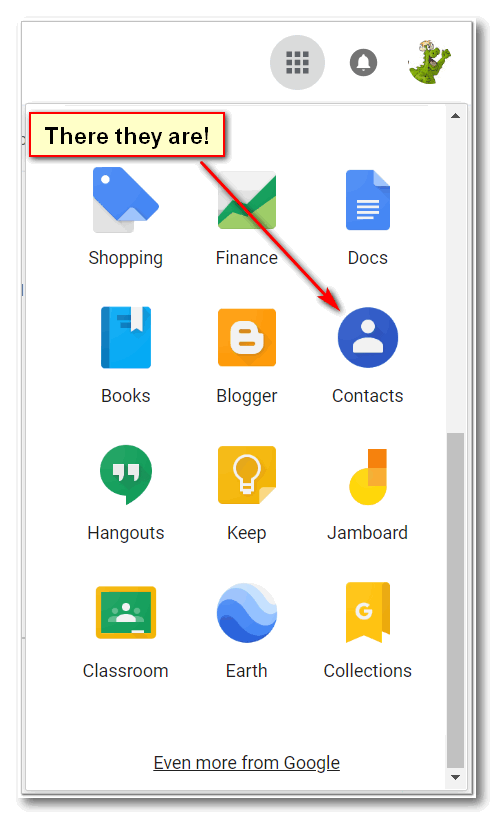 Also, when you start typing the first letter of a contact's name, a list should appear with everyone in your contacts whose first name starts with that letter. Just click the name to add it to the "To" field of your email.


You can change your contact settings by clicking on Settings on the left side.


If you'd rather have your contacts sorted by last name than first name (default) you can switch it in Settings. Also, if you prefer your contact list to appear as it used to appear in the old Gmail, you can still switch to the old version or contacts.

Hope this helps you!



Ron fixed his DVD problems with this tip and wants to know if we've heard of it
You probably already know all about this situation, so forgive me if I'm telling you something you already know.

I lost my DVD drive the other day and nothing I did brought it back. I went through several processes trying to get it back with no success at all. I could see it in Device Manager, but File Explorer could not see it, which of course meant that I couldn't use it.
After trying everything I could find on the net, I finally ran across this, which was the answer! -

Back up the registry first (Note: create a restore point before trying this)

Run Regedit.exe,

5. Click the arrow next to each of the following items in the list:
• HKEY_LOCAL_MACHINE
• SYSTEM
• CurrentControlSet
• Control
• Class

6. Select 4D36E965-E325-11CE-BFC1-08002BE10318. Make sure you have selected this exact key name.

7. If a LowerFilters value is listed on the right side of the Registry Editor window, select the LowerFilters value and press the Delete key. Confirm the deletion by clicking Yes.

8. If an UpperFilters value is also listed, select UpperFilters in the right side of the window and press the Delete key. Confirm the deletion by clicking Yes.

9. Delete all other UpperFilters and LowerFilters values within the 4D36E965-E325-11CE-BFC1-08002BE10318 key if any exist.

10. Restart

This did it for me! I wish I had found the answer when I first started looking!

As always, I truly appreciate your efforts and what you do. Honesty is so good! :-)

Ron K.

Our answer
Hi Ron. Thanks! Yes we've used the "upper filters" "lower filters" trick many times and it does work, but only the CD/DVD is serviceable. We have not seen many CD/DVD problems on Windows 10 yet, so I cannot verify or not whether this would work on Windows 10. Most of the cases we've seen on Windows 10 lately have been problems with the CD/DVD hardware. If the drive is physically broken, registry changes won't make any difference.

Since Windows 7, Windows 8x and Windows 10 share a lot of the same registry keys, we will feature this tip and credit you for it in our newsletter - with the caveat that this won't fix a physically broken or defective drive. If it is a hardware problem the best solutions is to buy a portable DVD/CD drive - a cheap and effective solution for detective CD/DVD drive.

Thanks so much for sending this to us. We'll be happy to share it with our readers.

Kathy wants to know if she needs to install Windows 10 Version 1809 before she can install the next version of Windows 10
I've had a problem installing the most recent Windows 10 update (October 2018 Update). My question is, if I don't install the October update will I be able to install future versions of Windows 10 or will I have to install the October update first? I hope you understand my question. Thanks so much for all you do and all your help over the years.
Our answer
Hi Kathy. Thanks so much!
There are no prerequisites for updating to newer versions of Windows 10. Windows 10 update will install any files necessary to complete the update. Simply put, that means when the spring 2019 update rolls around this year (Version 1903) you will be able to install it whether you're currently running Version 1709 (Fall Creators Update), Version 1803 (April 2018 update), or Version 1809 (October 2018 update). That's good news for you.
So even if you skip the October 2018 update (version 1809), you'll still be able to update to the next version of Windows 10, (Version 1903) scheduled to be released this spring.




Donations help us continue our mission to keep you informed, separate the truth from the hyperbole, and help you stay safer online. We provide support to thousands of people. Every week we help dozens of people via email at no charge. Thanks to donations, we do a lot more than provide this free newsletter. We help you recognize online threats, fight for your online privacy, and provide you with the knowledge you need to navigate the Web safely, and help you get more out of your PC.

Help us keep up the good fight with a small donation.

After you donate, you will receive an invitation to become a Cloudeight Booster.

Interested in making a monthly gift? Visit this page. Help us keep helping you!

Thank you so much for your support!



How to Put Control Panel on Your Desktop Right-Click Menu
Windows 10 - all versions (Also works with Windows 7 and Windows 8x)

Microsoft is bound and determined to get rid of Control Panel in Windows 10 and replace it with Settings. But not so fast. Not so fast! Many Control Panel items are still not included in settings, so it looks like Control Panel will be around a while longer. And, if you use Settings a lot you've probably noticed when you click certain items in Settings, you end up in Control Panel anyway. Someday, Microsoft will eventually get everything moved out of Control Panel and into the Settings app, but as of right now they are not close to getting that done. The geeks call this "deprecating" Control Panel.

Since Windows 10 Creators Update *Version 1703* Control Panel has been removed from the Win X menu (right-click the Start button – that's the Win X menu, which can also be launched by pressing the Windows Key + X).

You can access Control Panel without a shortcut. Just type CONTROL in taskbar search and press Enter. Control Panel will open. While Control Panel is open, you can right-click on its icon in the taskbar and choose "Pin to taskbar" if you want a permanent shortcut to Control Panel on your taskbar.

Today, we've made a reg file that will add Control Panel (with options) to your desktop right-click menu. See?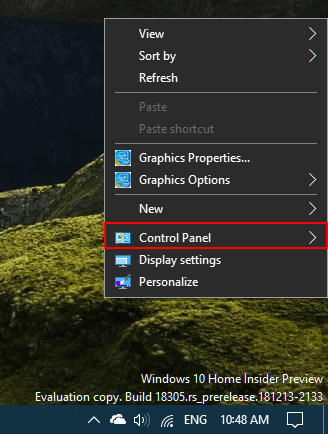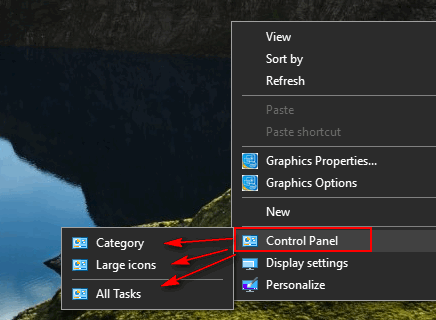 Notice that this works on the very latest version of Windows 10 (Insider Preview Version 1809 build 18305) and it also works on Windows 10 Version 1803, Version 1709 and earlier versions of Windows 10.

If you download and run our reg file (link below), you'll have Control Pane, and the options shown above, on your desktop right-click menu too.

You can download the reg file that will make this happen, by clicking this link.

Once you've downloaded it, unzip it, then double-click it on the file named ControlPanelContextMenu.reg . You'll need to click Run on the warning to allow the Registry Editor to open.




Then you'll get another warning telling you that you can really mess up your computer monkeying around in your registry. If you want Control Panel on your desktop right-click menu, you'll need to click "Yes".





If you did everything right, you'll see this:



If you did everything according to the instructions above then you're good to go. From now on, when you right-click on an empty place on your desktop, you'll see Control Panel in your right-click menu with the options to open Control Panel in Category View, Large Icon View, or as a list (All Tasks). We, as older folks, prefer Large Icon View. Easier on the eyes.


Windows 10 Commands Just For the Geek In You
Windows 10 (All versions)

The Windows Run Dialog is still useful tool even in Windows 10 where it has largely been supplanted by taskbar search. But some of these more "geeky" commands have to be run from a Windows run box… some but not all.

Let's open a Run dialog (or Run box as we call it):

Right-click on the Windows 10 start button and click "Run". Or press Windows key + R

Now that we have that out of the way, let's do some geeky stuff!

Open the C: Drive

1. Open a run box
2. Type a backward slash – (that would be this: \ ) in the run box
3. Press Enter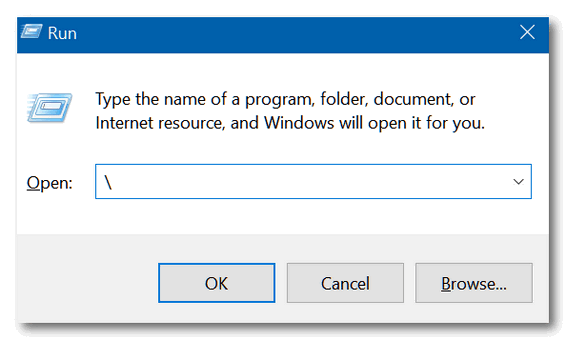 Open the Users folder

1. Open a run box
2. Type two dots in the run box
3. Press Enter


Check your PC for performance issues

1. Open a run box
2. Type RESMON in the run box
3. Press Enter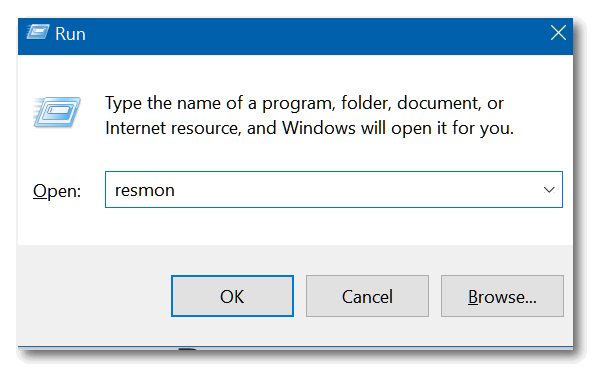 (Hey, you're right eagle eye; you can also type this in taskbar search and run it)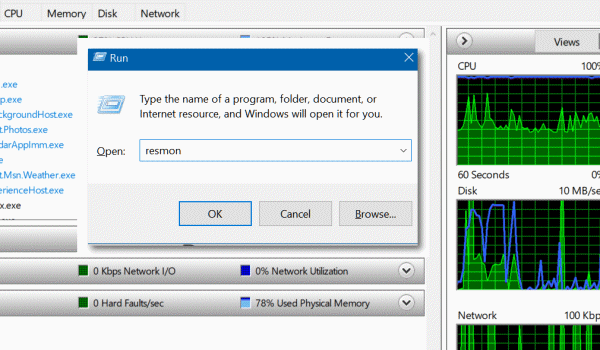 Search directly from a Run box

1. Open a run box
2. Type CHROME "?Search" in the run box – replacing the word Search with whatever your searching for
3. Press Enter

You can used your favorite browser instead of Chrome. Type Firefox instead of Chrome to use Firefox; type IEXPLORE to use Internet Explorer; type Microsoft-Edge to use Microsoft Edge.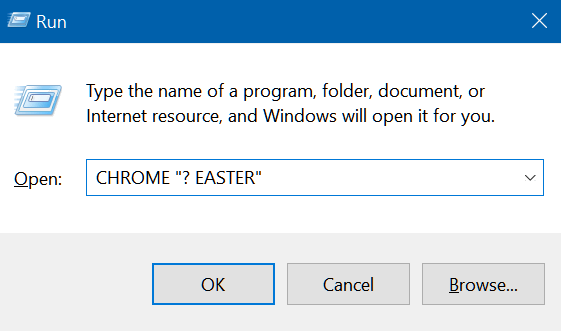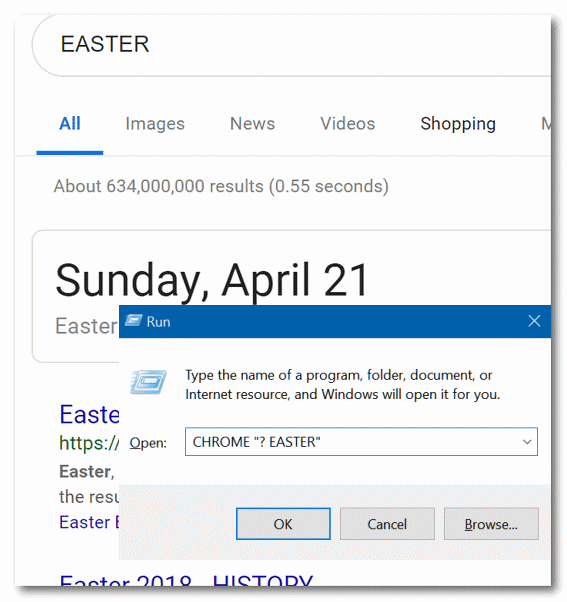 We're not sure how useful these are, but maybe you can dazzle your friends, confound your enemies, or just find your way home from the Land of Oz.





How to Disable Your Laptop Touchpad When You're Typing
Windows 10 (All versions)

A Cure for Jumping Cursors

One of the biggest annoyances for laptop users – especially to those who are new to using laptops – is what we call the jumping cursor phenomena. It goes like this… you're typing an email or other document and the mouse cursor starts jumping to another location or even all the way out of the composition window. It's caused by what's known as "Lazy Wrist". It doesn't mean you're lazy, it just means that while you're typing your wrists sometimes lightly brush against the touchpad which causes the cursor to jump.

Windows 10 offers an easy solution to this problem – and you don't need to download any 3rd-party software. Windows 10 lets you cure the jumping cursor syndrome by setting the touchpad sensitivity to low. This disables the touchpad but only while you're typing. As soon as you stop typing the touchpad is re-enabled.

Here's how to set up your touchpad so it is automatically disabled when you are typing and hopefully cure the old Jumping Cursor Syndrome.

1. Press Windows Key + i to open Settings ( you can also right-click on the start button and choose "Settings".
2. In Settings click on Devices.
3. In Devices click on "Touchpad" in the menu on the left.
4. Under Touchpad sensitivity use the down arrow to select "Low sensitivity"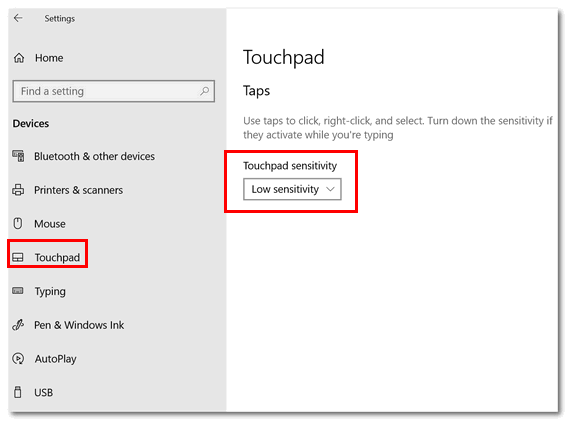 Once you select "Low sensitivity", Windows 10 will automatically disable the touchpad while you're typing. And the touchpad will remain disabled as long as you type. As soon as you stop typing, the touchpad is enabled again.





A New Chrome Problem
Windows 7, Windows 8x, Windows 10
Google Chrome Browser

We have been getting a lot of reports about a problem with Google Chrome. Recently, many people have been opening Chrome as they always do, but instead of the familiar Chrome browser window with their start pages(s) and bookmarks, they find a find a strange looking window with several options.

Here's the window that opens instead of the normal Chrome browser window: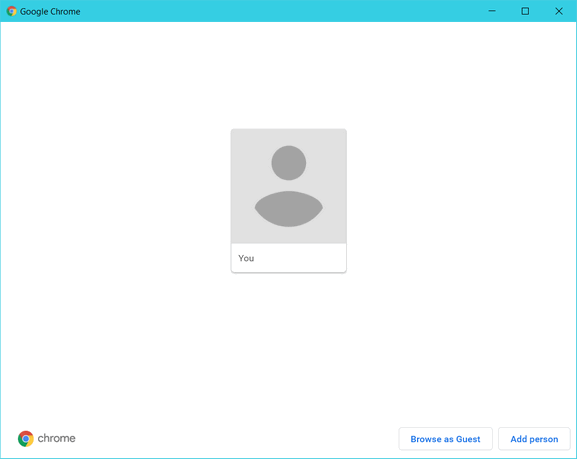 If you see this window, it's important that you click on the black rectangle in the center with the word "You" on it. Don't click "Browse as Guest" or "Add person".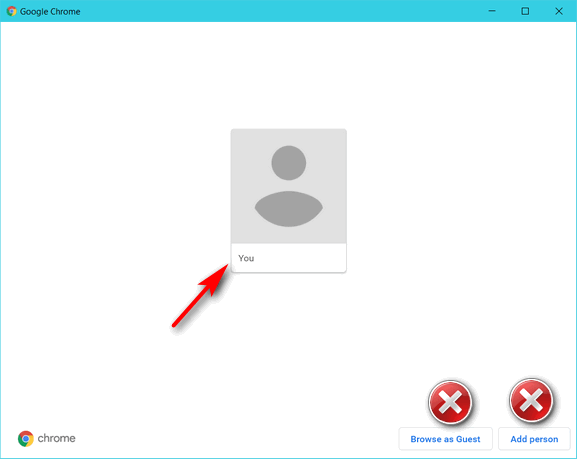 Once you click "You" , Chrome will open as it usually does. Not everyone is seeing this problem, but if you do, at least now you know what to do.





Want more computer tips & tricks?

Windows 10 Version 1903 (Spring 2019 Update) May Allow Users to Delay Updates
Managing Extensions In Google Chrome

We have thousands of Windows tips, tricks and more on our InfoAve web site.
Includes "Anytime Repair" with Our Unattended Support Feature!

SeniorPass: A Great Deal for Our Friends 60 and Older!

With our Cloudeight Direct Computer Care SeniorPass, our friends age 60 and older get one full year of unlimited computer care and repair for one low price. With our SeniorPass you'll get the best computer care anywhere - any time you need it!

SeniorPass is valid for unlimited computer care & repair sessions for one full year starting with the first time you use it. The clock does not start ticking until you use your SeniorPass for the first time. A great deal!

Having SeniorPass is just like having insurance for your computer. You'll get one full year of computer care and get help with almost any computer problem whenever you need it. We're here to help you.

Computer care & repair for one full year just $99! Check out our SeniorPass offer right now!

Get your SeniorPass and/or get more information here.




QuickLook: Preview Almost Any File [Windows 10]
Imagine a free Windows Store app you can install that allows you to highlight almost any file in File Explorer and preview it just by pressing the spacebar. Press the spacebar again and the preview disappears.
Another nice feature of this app is when you're previewing a file, you can press Enter to open the file in the default app. For instance, if you're previewing a PDF document, you press Enter to open it in your default app for PDF files.
The app is called QuickLook and we find it works just as described. And we're going to let the author tell you more about QuickLook…
"Background

One of the few features I missed from Mac OS X is Quick Look. It allows user peek into a file content in a lightening speed by just pressing the Space key. Windows, on the other hand, does not has this handy feature … until now.

I am aware that several alternatives are already available on the Internet (e.g. WinQuickLook and Seer). Despite these options, I still decide to craft another one by myself, because they are either not being actively developed, lacks of variety, or asks for a amount of $$$.

Highlights

Tons of supported file types (full list here)
Fluent design (new in version 0.3)
Touchscreen friendly
HiDPI support
Preview from Open and Save File Dialog
Preview from 3rd-party file managers (see a list here)
Easy extended by plugins
Strict GPL license to keep it free forever..."
Here is a list of file types supported by QuickLook (from the author's site):
Almost all image formats: .png, .apng, .jpg, .bmp, .gif, .psd, Camera RAW,
Compressed archives: .zip, .rar, .tar.gz, .7z, etc.
.pdf and .ai file
Microsoft Word (.doc, .docx), Excel (.xls, .xlsx) and PowerPoint (.ppt, .pptx) files (requires MS Office installation)
OpenDocument (odt, .ods and .odp) files (requires MS Office installation)
Almost all audio and video formats: .mp4, .mkv, .m2ts, .ogg, .mp3, .m4a, etc.
Comma-separated values file (.csv)
Email and Outlook Email files (.eml and .msg)
HTML files (.htm, .html)
Markdown file (.md, .markdown)
All kinds of text files (determined by file content)
Other files and folders will be shown in a information box
Here are some screenshots of QuickLook previews we made during our tests:


Above: A QuickLook preview of an MS Word .docx file.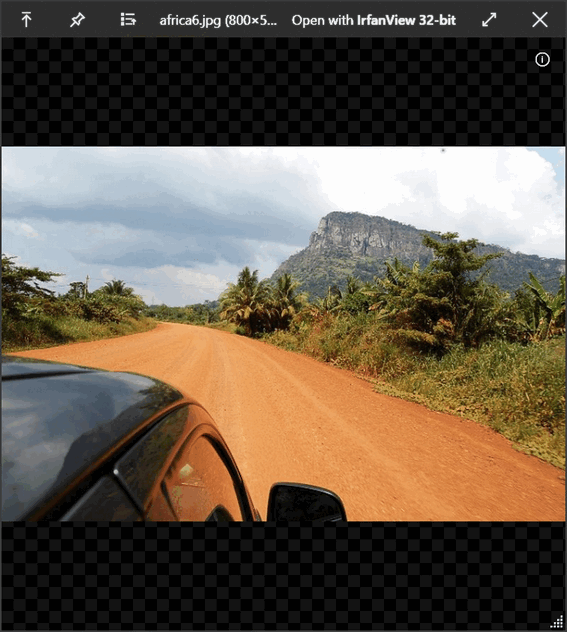 Above: A QuickLook preview of a JPG image file.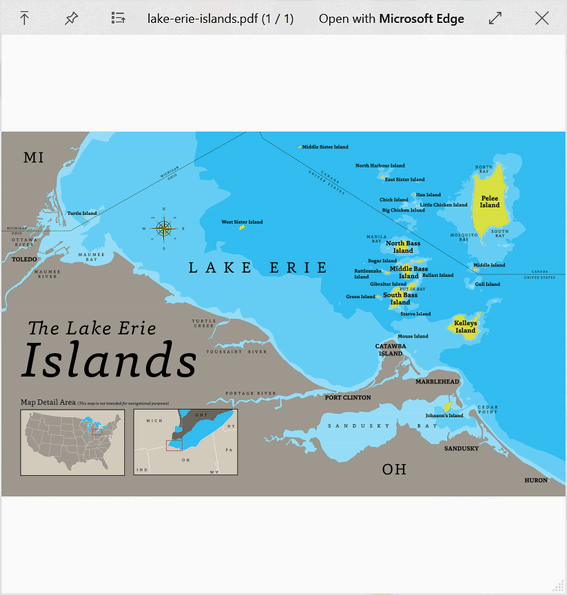 Above: A QuickLook preview of a PDF file.
OK… does QuickLook sound like something you could use? Ah, we thought so! Here's a link to the download page in the Windows Store. The app is free… of course.





Now available: Reg Organizer 8.20

If you purchased or renewed Reg Organizer through Cloudeight within the last 12 months, you're entitled to a free version upgrade to Reg Organizer 8.20.

Save $14 on Reg Organizer right now!

Reg Organizer - A Swiss Army Knife of Windows Tools - Works Great on Windows 10!






Winter Walks

"All the leaves are brown, and the sky is gray.
"I've been for a walk on a winter's day…
("California Dreamin' " by John and Michelle Phillips)
Christmas is over. The streets once lit by cheerful lights celebrating the Christmas season are dark again. In my little town, this is really the beginning of winter. The time when the only thing to brighten the dead things is the occasional blanket of snow.

We haven't had much snow this year – not that I'm complaining. But this morning I looked out my window to see that my world as covered with a thin blanket of snow. Yesterday, the ground and trees were black and brown and shades of gray – and the sky wore it's typical pewter-colored cloak. It won't take that off until spring. I can hardly remember what a blue sky looks like over my little town.

A couple of days ago I took a bone-chilling walk in the winter rain. I came backed soaked and weary. Something about being wet and cold that makes my bones ache. It took me a while to recover from that… but it didn't deter me from walking the next day.

Today, I walked in the snow. Given a choice I'd much rather walk in the snow than the rain – snow is dry compared to rain, though I know that's silly. But it's provable. Do your own test. Walk in the rain. Walk in the snow. Which is wetter?

I take walks every day – winter, spring, summer and autumn. Well, most every day. I don't walk in tornadoes or lightning storms or heavy rains storms. Last year, out of 365 days, there were only 17 days I didn't walk. Ten of those days I didn't walk because I was under the weather (no pun intended) or suffering in pain – more about that later.

I try to walk 4 miles in one hour every day. I'm no spring chicken, so I consider my dedication to walking and the length of my walks worthy accomplishments. Funny how age changes a person. When I was young I was too busy to dedicate one hour a day to unwinding and walking for an hour. You know what I did in my 30's? Of course not, how could you...

Read the rest of this essay here.




OPERATION CLEANSWEEP 2019

Regular Price $39 - Sale Price $25 - YOU SAVE $14!


When you purchase our Operation CleanSweep 2019 Service:
We will give your computer a general checkup.
We will deep scan your computer for malware/PUPs/viruses
We will clean up any malware/PUPs/Viruses we find.
We'll optimize your startup programs & services
Save $14 for a limited time only!
Get more details or order your Operation CleanSweep 2019 service here.




What does beta mean?

If you're Greek, it's the second letter of the alphabet (is that correct, EB?). And if you're a fishophile, a beta is fancy (i.e. expensive) aquarium fish. And if you're an astrophysicist, it's some kind of comic ray that can burn your hair out or even kill you while you're not looking.

Well, by now, you can tell I don't know much about Greek (it's all Greek to me!), or aquarium fish or astrophysics. But I sure do know what beta means in the computer world - it means: "test". Beta versions of software are versions that are in development. They're released to the public to get feedback. They may or may not be stable. They may or not be ready for primetime. Most of the time, beta versions of software are nearing release status -meaning they're close to the version that will be released to the public. Sometimes, developers release beta versions to the public with some caveats.

Beta versions won't normally ruin your PC, but some features may not work, and they may crash. If you're not comfortable testing software, it's best to avoid beta software. If you're the wild and carousing type, like EB, and love taking chances, then you may want to try beta software.

Now if you want a really nerdy, geeky definition, here you go:


"Before a commercial software program is released to the public, it usually goes through a "beta" phase. During this stage, the software is tested for bugs, crashes, errors, inconsistencies, and any other problems. Though beta versions of software used to be made available only to developers, they are now sometimes made available for the general public to test, usually through the software company's Web site. However, because beta software is free, the programs usually expire after a period of time. If you choose to test a beta software program, don't be surprised if it has multiple problems and causes your computer to repeatedly crash. After all, it is the beta version. You can tell if a program is still in beta by checking the program's properties. If there is a "b" in the version number (i.e. Version: 1.2 b3) that means it's a beta version." (Source: PC.Net. )



Sales of the following products and services help support our newsletters, websites, and computer help services we provide.

Cloudeight Direct Computer Care: Single Keys or Season Tickets - always a great deal. Cloudeight Direct Computer Care is like having PC insurance. Get more information here.

Emsisoft Anti-Malware: Emsisoft is the only Cloudeight endorsed and recommend Windows security program. It provides users with a complete antivirus, antimalware, anti-ransomware, anti-PUPs solution. We offer single Emsisoft licenses and multi-computer licenses at discount prices. Also, we offer our exclusive Emsisoft with Cloudeight installation & setup. Get more information here.

Thunderbird Email Setup: Thunderbird is a great email program that you can use with your Gmail and Outlook.com (Hotmail) web mail accounts as well as with your Internet provider's email. We'll set it up right for you. Our set up includes configuring up to 3 emails accounts and setting up Thunderbird to use stationery (if desired). Our Thunderbird Email Setup Service is always a great deal. For more information visit this page.

Reg Organizer 8.20: Reg Organizer is the Swiss Army Knife of Windows tools. It's far more than just a registry optimizer and cleaner... it's Windows all-in-one toolkit. Helps you keep your computer in tip-top shape and helps solve annoying Windows problems. Reg Organizer works great with Windows 10 too! Get more information about Reg Organizer (and get our special discount prices) here.






Donations help us continue our mission to keep you informed, separate the truth from the hyperbole, and help you stay safer online. We provide support to thousands of people. Every week we help dozens of people via email at no charge. Thanks to donations, we do a lot more than provide this free newsletter. We help you recognize online threats, fight for your online privacy, and provide you with the knowledge you need to navigate the Web safely, and help you get more out of your PC.

Help us keep up the good fight with a small donation.

After you donate, you will receive an invitation to become a Cloudeight Booster.

Interested in making a monthly gift? Visit this page. Help us keep helping you!

Thank you so much for your support!




Premium Subscribers' Home Page. You'll find the last few weeks of Premium archived on this page.
To change your subscription address, see "Manage your subscription" at the bottom of this newsletter.
Submit your questions, comments, and suggestions for possible inclusion in our newsletters here. This form is for questions, comments, and suggestions for this newsletter. This form is not for product support, stationery questions, or general questions concerning our products or services.
Send us your suggestions and recommendations for future freeware picks and/or sites of the week
Help us Grow! Forward this email newsletter to a friend or family member - and have them sign-up for InfoAve Premium here!
Get our free daily newsletter! Each evening we send a short newsletter with a tip or trick or a computer-related article - it's short and sweet - and free. Sign-up right now.
Have a question about a Cloudeight Software program, service, stationery, or need to ask about an order? Let us know!
If you need help with one of our software programs, have a question about an order, or have a question about any of our email stationery, screensavers, or other products - please don't use our InfoAve Questions/Answers/Tips form. Use our general Cloudeight support form instead.
Print our Cloudeight Direct Flyer and spread the word about our computer repair service! If you want to help us by telling your friends about our Cloudeight Direct Computer Care service, you can download a printable flyer you can hand out or post on bulletin boards, etc. Get the printable PDF Cloudeight Direct Computer Care flyer here.




These products and services are recommended and endorsed by Cloudeight:
Also... don't forget:




We'd love to hear from you!

If you have comments, questions, a tip, trick, a freeware pick, or just want to tell us off for something, let us know.

If you need to change your newsletter subscription address, please see "Manage your subscription" at the very bottom of your newsletter.

We received hundreds of questions for possible use in IA news. Please keep in mind we cannot answer all general computer questions. We try to personally answer as many as we can. We can only use a few to in each week's newsletter, so keep this in mind. If you have a support question about a service or product we sell, please contact us here.





Subscribe to our Daily Newsletter!

Get computer tips & tricks every night. Our daily newsletter features a computer tip/trick or two every day. We send it out every night around 9 PM Eastern Time (USA). It's short and sweet, easy-to-read, and FREE. Just visit this page and sign-up. All you have to enter is your email address. Once you confirm your subscription, you'll receive our daily newsletter every day, six days a week. You can unsubscribe at any time.

Print our Cloudeight Direct Computer Care Flyer!

Print our Cloudeight Direct Computer Care Flyer and spread the word about our Cloudeight Direct Computer Care computer care and repair services. Get our ready-to-print flyer here.




We hope you have enjoyed this issue of InfoAve Premium. Thanks so much for your support and for being a Premium subscriber.

Have a great weekend.

Darcy & TC
Cloudeight InfoAve Premium - Issue #796
Volume 16 Number 13
January 11, 2019

Not a subscriber? Subscribe to our InfoAve Premium Newsletter

Share Us on Facebook!
We'd love for you to share us with your family and friends on Facebook. Help us by sharing us on Facebook!






"Cloudeight InfoAve Premium" newsletter is published by:

Cloudeight Internet LLC
PO Box 73
Middleville, Michigan USA 49333-0073

Read our disclaimer about the tips, tricks, answers, site picks and freeware picks featured in this newsletter.

Copyright ©2019 by Cloudeight Internet