Microsoft has announced that as of January 2017, they are no longer updating or supporting Windows Live. Microsoft addresses no longer work in Windows Live, and many ISP that use new secure servers, or have plans to, will soon stop working with Windows Live Mail. And Windows Mail on Windows 10 is a problem because every time Windows 10 has a major update, Windows Mail has to be reset. Plus, the Mail App included with Windows 10 is very basic and few people find it useful

Mozilla Thunderbird is a great alternative for those of you who have been using Windows Live Mail or Windows Mail on Windows 10 and who don't want to use the limited Windows 10 Mail App. Thunderbird is compatible with all email accounts, including all Microsoft accounts, Windows 10 updates don't affect it, and has the familiar look of Windows Mail and Windows Live Mail. However it's very different as far as setting it up and configuring it.

So we're offering Cloudeight Thunderbird Email set-up service.

Our new Thunderbird Email set-up service includes installing and setting up Thunderbird to look and work as much like Windows Live Mail / Windows Mail as possible. We'll configure up to 3 email accounts for you and set them up as IMAP so that all your mail messages and folders on your mail server(s) are included in your Thunderbird Email program too! Plus, we'll give you a list of tips & tricks to help you get the most out of Thunderbird Email program.
Hi Susan. We've made a little tutorial to help you.
1. Make sure your Firefox Menu Bar is visible (see below)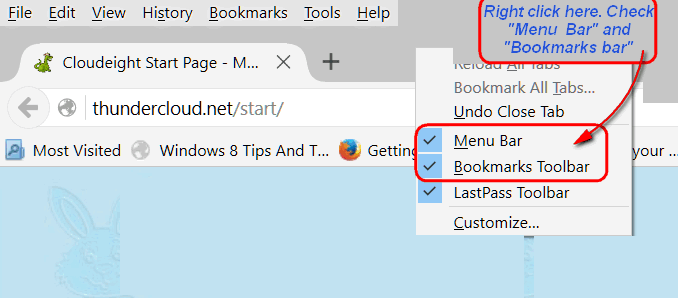 2. Next click "Bookmarks" on the Firefox toolbar and choose "Show All Bookmarks".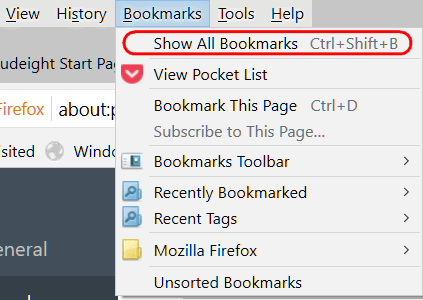 3. When you click "Show All Bookmarks" you'll see a toolbar at the top and one of the choices is "Import and Backup" (see below). Click on "Import and Backup" and then click on "Export Bookmarks to HTML" (HTML is just a fancy name for a web page.)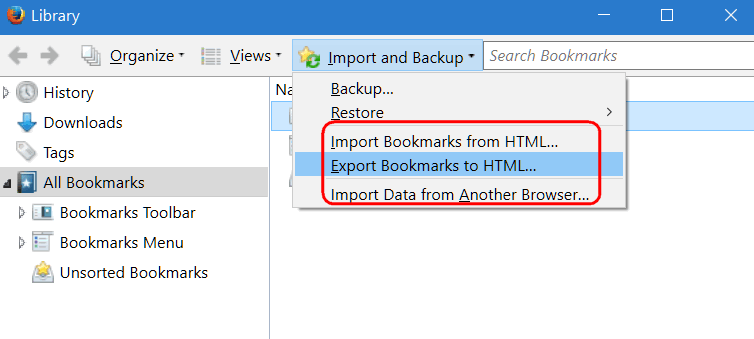 When you click "Export Bookmarks to HTML" Windows Explorer (File Explorer) will open. Choose the location where you want to save your exported bookmarks and give it a name that you will recognize when you want to import your Firefox bookmarks back into Firefox on your new computer. A good place to save this HTML file would be on a USB flash drive or external hard drive.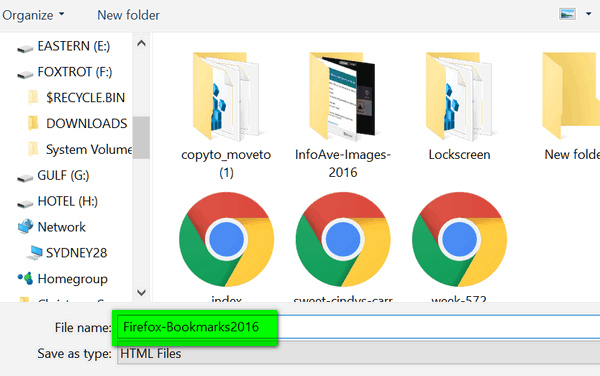 Now when you get your new laptop, follow all the steps above, except this time, instead of exporting your bookmarks, you'll want to import them. When you click on "Show All Bookmarks" and click on "Import and Backup", click "Import Bookmarks from HTML"...then browse to the HTML file you exported above.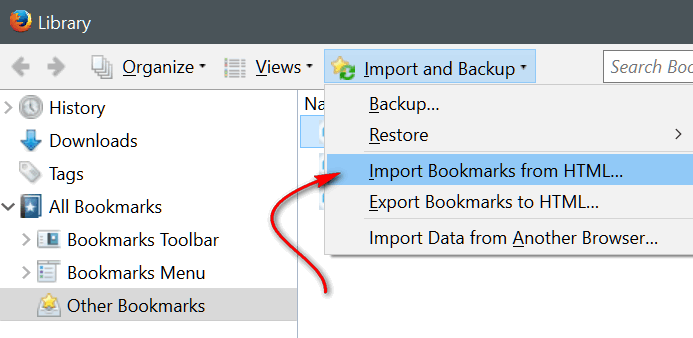 All the Firefox bookmarks you had on your previous computer will be available on Firefox on your new laptop.

Mae wants to know if she should install this PDF converter

A popup offered a converter PDF to Word from "@devunity, 2016" (also it offered to check for window 10 driver update)I'm careful following your advise. Copied-
"PDF to Word converter App gives you a tool that easily converts your PDF files to word and now the word to pdf. Soon we will have major improvements in the app to better use google chrome and its derivatives, If you consider this useful app sort it 5 stars. This will help us continue to keep it free and having a good number of users. Thanks!"

Our answer

Hi Mae. We wouldn't trust something that just popped up out of nowhere. There are so many online PDF to Word converters available online, why bother installing one? The online converters are fast, free, and work great. Here are a couple of safe online PDF to Word converters.
http://www.zamzar.com/convert/pdf-to-Word/
Zamzar has been around a long time. This is a good free converter and although they try to sell you speedier service, if you're in no big hurry it works great. You upload your PDF file by clicking a button. They convert it to Word (Docx) and send you an email with a link to download your Word document. The whole process took us about 3 minutes to convert a 3.2 MB PDF file and download the Word Document format. But this site has no tricky minefield of ads to navigate and the interface is logical and easy-to-use.
http://pdf2doc.com/
Be very wary of the ads on the page - especially the big green download buttons. You'll have to tippy toe through a maze of ads, but if you're careful, the service is fast. You can choose from *.doc and/or *.docx with *.docx being the newer Word doc format.
And if you have MS Word on your computer you can open a PDF file with it and convert it to Word format. Word does give you a warning that if the PDF file contains "lots of images" it may not look exactly like the PDF file.
Hope this helps you, Mae.



Allen fell for the Speed-Fix scam

I am sorry to admit i fell for this( speed fix tool plus ) yesterday paid them $50 using my Credit Card ( i know i did everything wrong ) they said they would clean out my computer for an extra $90, my concern now is can these people be trusted not to use my credit card any time it suits them, i am thinking about going to the bank to get them to change my card details.


Our answer

Hi Allen. We're sorry to hear this. Almost every week, we have someone ask us about miracle computer fixes like Speed-Fix and TurboBooster and Fix-it-Stick. There are no miracle one-two-three clicks-and-your-computer-is-fixed programs. We understand that many people want to believe that there are miracle cures, but sadly, there isn't. These scammers are not stupid - they know that people want to believe that there are easy fixes for complex problems.
Call your credit card company and tell them you want your money back – tell them you were scammed. They will reverse the charge for you. We don't know if you need to change your credit card number and info – that's quite a lot of work – ask your credit card company what you should do. Maybe you could have them set up email or text alerts so you received an email or text any time your card is used. Right now, the first thing you should do is get your money back.
Call your credit card company and explain what happened.
Read more about Fix-it-Stick, Speed Fix and other scams here
.

Jason wants a safe YouTube downloader

Is there a safe but free video downloader for You Tube? I had one some time ago but don't remember what it was.


Our answer

Hi Jason. See if this works for you Jason:
http://www.thundercloud.net/infoave/new/how-to-download-youtube-videos-without-installing-any-software/
//Jason wrote back//
The SS worked perfectly. Thank you.... Jason M.



The Holidays Are Coming. And It Begins With the Season of Tricks

All computer users
The Holidays are just around the corner – and it's time to publish our yearly reminder to be extra careful during the Holiday season – which really has already begun. Yes already those "You've got a Halloween greeting" messages are starting to appear in your email inbox. Keep this in mind: it's only going to get worse.
We've been looking into our crystal ball and what we see ain't pretty! We can see millions of innocent computers and baffled PC owners being bombarded with thousands of ecards beginning with Halloween and reaching a crescendo on the night before Christmas.
'Twas the night before Christmas and all through my computer,
The e-cards were coming, I should be astuter –
'Cos I clicked on a link and my computer was fried,
I banged on they keyboard and to no one I cried:
"My computer's infected with malware and spam,
So I'm fixing my computer while my family eats ham!"
Anyway, the holiday season is almost upon us and you're bound to see some of the following in your inbox this year:
"Your friend has sent you a Halloween ecard"
"Your cousin loves you and sent you this Halloween greeting"
"Your brother sent you this Thanksgiving ecard"
"Your classmate sends you Christmas greetings"
"Your secret admirer sent you a Christmas greeting!"
"Your co-worker wishes you Happy Holidays"
"You have received a musical Christmas e-card"
"——- (name of bank) requests you update your account security"
"Important message from ———- (name of bank): Your account may have been breeched"
From now through the first of the year, you and everyone else is going to be bombarded with spam which appear to be from friends and admirers – some appearing to have been sent from legitimate ecard/e-greeting sites. Scammers will be busy trying to steal your personal information. They'll send you emails that appear to be from banks or other financial institutions – asking you to "update your account" or that your account may have been breeched – or some other fable. This time of the year is prime time for criminals, miscreants, and other misanthropes.
The subject lines of these kinds of emails will be telling you that you've got a wonderful greeting of some sort from some unnamed family member or friend. Or they may appear as legitimate emails from your bank or credit card company. Beware! These emails will contain links that may infect your computer with something when clicked. And the something may be a Trojan, a virus, adware, spyware, or other malicious junk you can bet your chestnuts you won't want. Or they may contain links that lead to a site that is a mirror images of your credit card's site, or your bank's site. Whatever kinds of emails you receive like this, you need to make sure your brain is functioning – and you need to stop and think before you click.
So, here we ago again, appealing to you to use your common sense. Because going through the holidays with a Ho! Ho! Ho! devil-may-care attitude, could have you working on your PC during your family's Christmas dinner. While you're busy formatting your computer, reinstalling Windows. Or worse – calling credit card companies telling them your identity has been stolen – and your credit cards have been used to buy Mercedes cars, big-screen TVs and the like, none of which were purchased by you. Use your common sense – and keep your brain engaged when on the Web – especially this time of year. If you do, you'll be sitting down with your loved ones eating Christmas dinner instead of talking to strangers on the phone untangling the financial mess you're in because your identity was ripped-off.
Many of these emails will contain links which lead directly to a download of some kind of malware. Some will contain links that will ask you for personal information. Your first line of defense is not your anti-spyware, firewall, or anti-virus. In fact, it isn't any kind of software at all. Your first line of defense is YOU. Think before you click. A legitimate ecard will almost always contain the name of the sender…not "a friend", "an uncle", "a business partner" or a "secret admirer". That's your first clue. Would your uncle sign his name "uncle". If uncle Joe sent you a ecard, wouldn't he sign it "Uncle Joe" not "uncle". The subject line say "You've got an ecard from your uncle" not "You've got an ecard from Uncle Joe" – see?
If you're not sure, copy the link by right-clicking it and choosing "copy shortcut" and paste it in a blank email or better yet, into notepad. See what it says. If you come up with something like http:// 71.316.419.284 DO NOT CLICK IT! It's almost certainly something you don't want. Anyone can forge a link – see? http://thundercloud.net/ – click it and see where you end up? (Don't worry we wouldn't send you to someplace dangerous!) If you're very astute, you hovered over that link and saw where the link goes. You would have also seen if the site name was disguised as a numerical IP address. Hovering is good!
Banks, financial institutions, and/or credit card companies NEVER ask you to change your password, update your information, or ask for any kind of personal information by email. If you receive an email that appears to be from your bank or credit card company and you suspect it may be legitimate, don't click any links in it. If you want to find out if something needs to be changed on your account, or something needs to be updated, type in URL of the Web site of the bank or credit card company that you use and login securely. NEVER, NEVER, NEVER click links in these kinds of emails.
More than anything, you're going to see tons of e-cards this time of year – and lots of them will be sent by the millions by spammers, scammers, and criminals. So, be a cynic. Be a skeptic. We all can't be TC. No one would ever send him an e-card; nobody likes him. He knows any e-cards that he receives have to be scams, worms, Trojans or something else suspicious. People probably like you and people might even like you as much as EB who gets inundated with e-cards from admirers, friends, well-wishers and fawning minions. You might get real e-cards from real people that like you. If people like you then you have to be extra careful because you might actually get a few dozen e-cards from real people. The avalanche of ecard spoofing is coming to your email program soon. Of that you can be certain. So be safe – don't be sorry. THINK before you CLICK.
Make sure you update your anti-virus program several times a week. WHAT? You still don't have one? Get one! Right now. Don't read another word. We recommend AVAST and it's free for home and personal use. You can get it here…come on…do it right now before you forget!
Also, make sure you have good security software installed.
We recommend Emsisoft
because it protects you from the widest spectrum of malware, viruses, PUPs, hijackers and ransomware.
Summary:
Your First line of defense? YOU! Use your own good common sense and good judgment
Your second line of defense? Good security software
Forewarned is forearmed: The holiday ecard pandemic is right around the corner. So, remember this warning. You know now much we love to say: "We told you so!"
And speaking of the Holiday Season & Halloween - did you know EB's second car is a broom?

A Windows 10 Quiz For You

Windows 10
All right all you Windows 10 users, we have a test for you:
1. What is the fastest way to open Control Panel?
2. What is the fastest way to open Device Manager?
3. What is the fastest way to open a command prompt with administrator privileges?
4. What is the fastest way to open Computer Management? Disk Management?
5. What is the fastest way to open Power Options?
Do you want to know the answers?
Here they are:
You can access all of these features and more, just by right-clicking on the Windows 10 start button and clicking the item you want. Those of you with Windows 10 Redstone (Anniversary Edition) will see a slightly different menu.
Simple Little Windows 10 Tips
Windows 10
Peek at Your Desktop
Did you know if you click the far right edge (to the right of the clock) you will go to your desktop. Indeed. Now how would you like to peek at your desktop just by hovering over the far right edge of your taskbar. Well, it's simple to do.
Right-click an empty area of your taskbar and choose "Properties". Lo! Taskbar and Start Menu Properties appears. Now look near the middle of that dialog and you'll see "Use Peek to preview the desktop when you move your mouse to the Show desktop button at the end of the taskbar". Check the box next to it. Once you do, you can peek at the desktop without actually going to the desktop. If you want to go to the desktop, you can click the Show desktop button at the very far right edge of your taskbar. Hint: You can get back to the desktop by pressing the Windows key and tapping the D key too.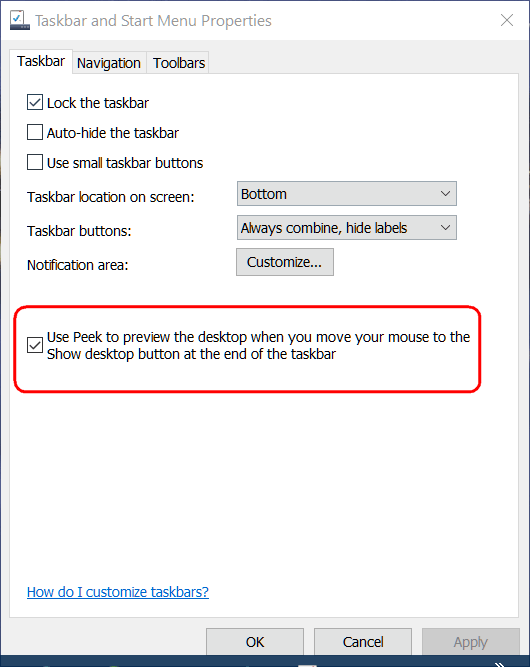 Don't forget to press "Apply" "OK" to save your settings.
Upside Down Taskbar
How many of you remember Windows 98? Windows 95? How many of you remember accidentally dragging your taskbar to the right or left or top of your desktop. I started with Windows 95 (Darcy started with Windows 3.1). I can remember feeling lost when my taskbar ended up at the top of my desktop – it was upside down to me. Well, it wasn't really… But you know Darcy and I work on a lot of computer and there are some folks who like their taskbar at the top or at the right or left edge of their desktop. It still confuses me but once I settle down, I get used to it.
If you're brave, crazy, just want to be different, or want to try out the taskbar at the top or at the right or left edges, it's easy to do – no more trying to grab the taskbar with the mouse and dragging it around – man, I used to hate that!
Anyway, in case you didn't know this, right-click on an empty space on your taskbar and click "Properties".
In the dialog that appears, look next to "Taskbar location on screen". Using the down arrow at the right of the selection box you can choose where your taskbar appears on your screen – at the bottom, to the left side, to the right side, or at the top.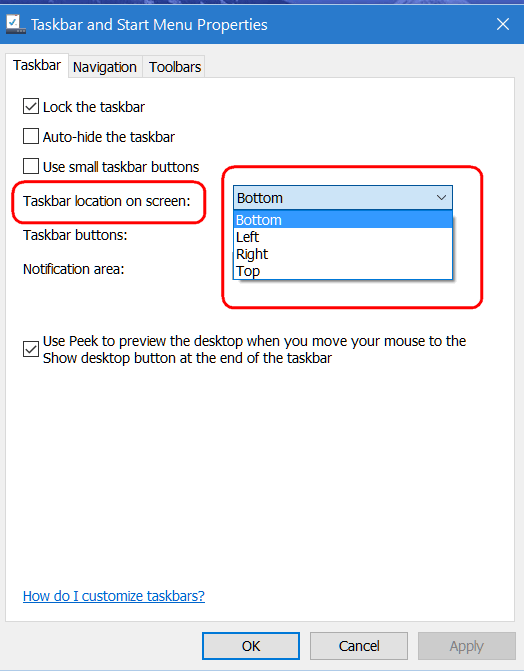 Don't forget to click "Apply/OK" to save you settings. This is sure a lot easier than dragging your taskbar around you desktop by accident. Plus, you may actually enjoy an upside down taskbar or a conservative desktop or a liberal one. I will let you figure that out.
As for me, I'll leave my taskbar right where it is — at the bottom. I'm old and set in my ways. I'm a centrist
How about some of that upside down cake, EB? Got any left, or did you and porky eat it all?


Emsisoft - Revo Uninstaller Pro promo.
Thanks to our friends at Emsisoft, we're able to offer you Revo Uninstaller Pro (a $39 value) free, when you buy or renew any Emsisoft product on this page.
Revo Uninstaller Pro offers you:
** Extended scanning for leftovers - more advanced scanning algorithms
** Real-Time monitoring of system changes - during install of programs
** Forced Uninstall - remove remnants of already uninstalled programs
** Quick/Multiple Uninstall - quick uninstall of one or few programs in a row
** And a whole lot more - get more info here.
Emsisoft provides you with the best combination of antivirus and antimalware protection you can buy. Emsisoft protects your system from the threats you're most likely to encounter - as well as the ones you're not. We use Emsisoft to protect our business and personal computers - our friends and families trust Emsisoft too.
Don't miss this opportunity - we have only a limited number of Revo Uninstaller Pro licenses to give away - visit this page to learn more.
Saving Mail from Windows Mail to Thunderbird
Windows 7, Windows 8x, Windows 10
a. Make a folder on your desktop called Saved Mail. Now open Windows Mail and choose File, Export Messages.
b. Now choose Microsoft Windows Mail from list and choose next.
c. Browse to the folder you created - we named it Saved Mail on our desktop
d. Select Folder you want to export, or choose All.
e. Create a folder under Local Folders (important to do it here) and name it Saved Mail
f: Click Tools, ImportExport Tools, then choose Import all messages from a directory, then choose Also from its subdirectories, click Ok and you are done. If you have a lot of folders and mail, it will take a lot longer, so don't interrupt the import!
See below for a step by step picture tutorial. Alternatively, you can create a folder on your desktop called Saved Mails, and drag and drop mail from your Windows Mail program to this folder. Then, Open Thunderbird, Create a Folder under Local Folders called Saved Mail, and drag the emls directly into the folder from your desktop folder.
Screenshot #1: Make a folder on your desktop called Saved Mail. Now open Windows Mail and choose File, Export Messages. >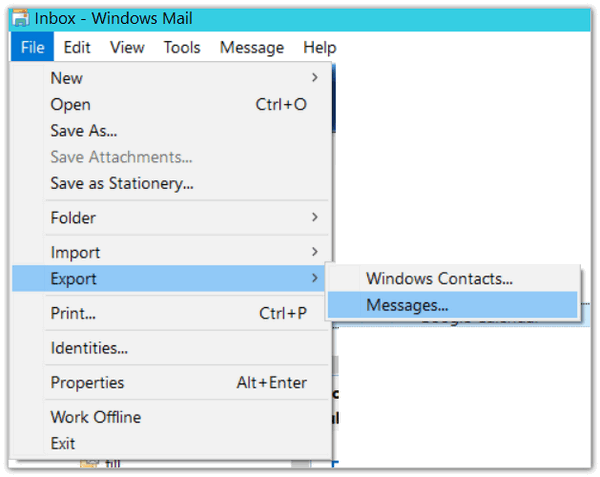 Screenshot #2: Now choose Microsoft Windows Mail from list and click Next.
Screenshot #3: Browse to the folder you created - we named it Saved Mail on our desktop
Screenshot #4: Select Folder you want to export, or choose All.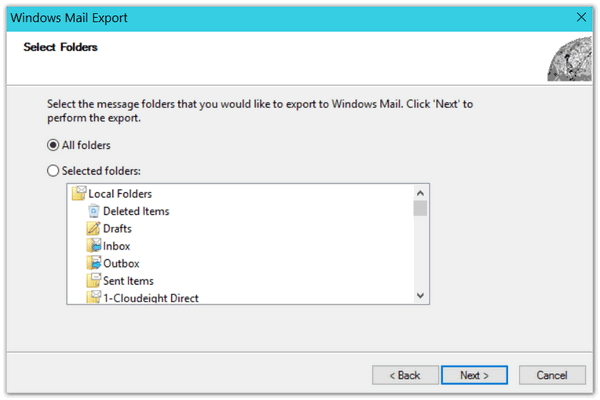 Screenshot #5: Now Open Thunderbird, Create a folder under Local Folders (important to do it here) and name it Saved Mail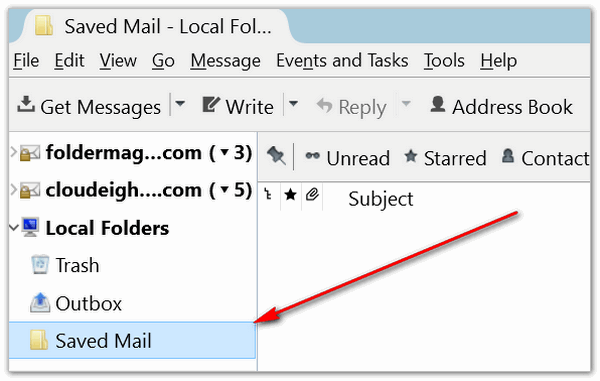 Screenshot #6: Click Tools, ImportExport Tools, then choose Import all messages from a directory, then choose Also from its subdirectories, click Ok and you are done. If you have a lot of folders and mail, it will take a lot longer, so don't interrupt the import!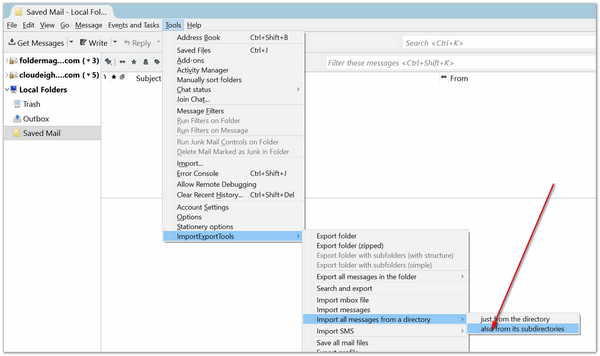 To see this tutorial online (with larger screenshots ) as well as all our other Thunderbird tips & tricks, visit this page.
If you don't have Thunderbird installed yet and you'd like us to set it up for you, check out our Thunderbird Setup Service!

Why Is System & Compressed Memory Hogging All My RAM?
Windows 10

If you've ever opened Task Manager and looked under the Processes tab, you may have noticed something called "System and compressed memory" taking up 30% of your available RAM. If you see this, don't worry about it - it's Microsoft's new way of making Windows faster. There's a long technical explanation if you're interested in paging files and memory management (if you are, you can read more about it here).
Basically, what Windows 10 does is compress old pages of memory so they take up less space. So let's say you have a program running that's been open for a while, but that you haven't used, Windows 10 compresses it and makes it smaller rather than dumping on your hard drive in a paging file. RAM is much faster than your hard drive and therefore is much faster than using the paging file - this helps make Windows 10 run faster.

On the flip side compressing and decompressing memory takes up a lot more CPU cycles. But, according to Microsoft, the performance cost is much lower than it would be Windows had to continually to retrieve data from the hard drive. Simply put: It's faster to bring back open programs that are open but that you haven't used for a while, out of memory than it is to load them from the hard drive's page file.
All kind of technical geek-speak, but we wanted to give you a brief overview so you won't worry if you open Task Manager and see something like this going on:

The more you know, the less you have to worry? Not always, but in the case of PCs, it's most often true.



Reg Organizer - A Swiss Army Knife of Windows Utilities and Tools
Reg Organizer works on Windows 7, Windows 8, Windows 8.1 and Windows 10. The newest version of Reg Organizer has newly added special tweaks for Windows 10 - including a Windows 10 Start menu fix.
Get more information and or order Reg Organizer today and SAVE!

October Rain

It's not supposed to be this way. The rain I mean. The sullen, gray skies belong in November, not now, not here, not in October. The October rain is cold and steady. The day is morose and dark. Not a sad day but a melancholy mood could set in if I were not careful. The October rain comes too early; the world outside seems out-of-step and incongruent with the world inside --- my mind.

I think we could all let the little things carry us off to dark corners where we don't like to be. I am sure we all do it although few of us, I think, do it intentionally. I hear the rhythm of rain pounding on the window from which I've observed many sunny, unseasonably warm, October days recently. But the seasons, like life, are a balance of good and bad, happy and sad, pleasure and pain, and beginnings and endings. No season goes gently into its good night. No person should go gently into that good night. I will not, I hope.

The rain feels tiny sabers of ice as it stabs at my summer-acclimated skin. I'm not, ready for this. Not ready for the pounding November gales and chilling rain that cuts my skin and slices down into my bones. I'm not ready. But, in the grand scheme of seasons, and life, what will come will come. Although sometimes I won't be ready for what tomorrow brings, it has always been this way. The older I get the more aware of this I become.

Summer has come and gone but it did not go gentle into that good night...
Read the rest of this essay here.


GET FASTSTONE CAPTURE PRO - FREE!
Buy a Cloudeight Direct Computer Care Key, save $16 PLUS Get FastStone Capture Pro... FREE!

$ave on Cloudeight Direct Computer Care Service Keys & get a lifetime license for FastStone Capture Pro absolutely FREE!

Every screen shot in our newsletter for past 10 year has been made with FastStone Capture. The registered version has so many cool features – it even has a screen recorder and can make animated gifs from videos! Get a lifetime license (a $19.95 value) FREE when you purchase a Cloudeight Direct Computer Care Computer Service key for $49 (Save $16 off our regular price) during our Capture a Deal sale. Get more information here.

Learn How to Make Web Pages, I Tells Ya!
Take it from an old dog — you can learn new tricks. And maybe you aren't going to be designing the new Taj Mahal web site anytime soon, at least you can learn some HTML code and make some simple pages with which you can confound your cronies and perplex your enemies.
In this day of Facebook, InstaGram (oh how much I want to start a web site called InstaGramma – for all of you fine ladies who woke up one morning to discover you were a grandmother ), Flickr and other web services that let you make you own web pages via templates, but you don't learn a darn thing about coding.
Now is your chance to see and do – type a sentence, try messing with the code, get help, make pages, insert pictures, save your newly minted page on the Web and share it with others. Astound your children, baffle your grandchildren, amaze your spouse. Learn something new! Even old dogs like us can learn new tricks – and if we can, so can you.
Mozilla – those fine folks who have given us the Firefox browser and the Thunderbird email program, now give us an online HTML (web page code) editor that can help teach you HTML. You can even create you own web pages and save them to share with others.
Look! See?
On the left you can see the HTML code; on the right you can see what it does – your web page comes to life like a butterfly emerging from its cocoon.
Look what I made on Thimble just now . It only took me 15 minutes, and, heck, I'm an old washed-up dude, I tells ya! If I can do it, you can do it. (I should have been a football coach!)
Without further malarkey, I hereby introduce you to Mozilla's Thimble online HTML editor where you can play and learn all at the same time. So skip a rerun of "Barney Miller" or "The Andy Griffith Show" and learn some HTML code and create a web page or an entire site.
Hustle on over to Mozilla Thimble right now – no thread or needles needed, Nellie.


What does the lock icon next to the Web address in my browser's address bar mean?

The lock icon in your browser's address bar means that the traffic between your computer and the website you're viewing is encrypted. In plain language, it means the site you are on is secure and anything you type into your browser on that site is encrypted and cannot be read by anyone else but you and the Web site.

The lock icon means your data is safe. If you don't see a lock icon on a site where you're entering credit card information or other sensitive data, don't enter it.

Web sites that display the lock icon are using secure servers with 128-bit or 256-bit encryption. The encryption code is generated randomly for that one particular browser session and only you and the web site have the encryption key - and it's only good for that one session. Once you log out or your session expires, the encryption code used during that session becomes invalid. Each time you log into that secure site a new encryption code is generated and passed to your browser along with a key valid for that particular session only.
So, if you're about to enter a credit card number, a bank account number, a social security number or any other sensitive data, take a minute and look for the lock!


*** Premium Subscribers' Home Page You'll find the last few weeks of Premium archived on this page.
** To change your subscription address, see "Manage your subscription" at the bottom of this newsletter.
*** Submit your questions, comments, and suggestions for possible inclusion in our newsletters here. This form is for questions, comments and suggestions for this newsletter, not for product support, stationery questions, or general questions concerning our products or services. *** Submit your Windows tips and tricks here.
*** Send us your suggestions and recommendation for future freeware picks and/or sites of the week.
*** Visit this page if you're having problems getting our newsletter - or if you think your ISP is blocking, censoring or deleting this newsletter.
** Help us Grow! Forward this email newsletter to a friend or family member - and have them sign-up for InfoAve Premium here!
** Get a free Cloudeight InfoAve Premium E-book;; visit this page.
** Get our free daily newsletter! Each evening we send a short newsletter with a tip or trick or other computer-related article - it's short and sweet - and free. Sign-up right now.
*** Have a question about a Cloudeight Software program, service, stationery, or need to ask about an order?
** If you need help with one of our software programs, have a question about an order, or have a question about any of our email stationery, screen savers, or other products - please don't use our InfoAve Questions/Answers/Tips form. Please use our general Cloudeight support form instead.

More Important Stuff
A reminder: Your Premium Home Page is located here. Please bookmark it.
Your Premium Members' Home Page has links to the last few issues of InfoAve Premium. If you didn't receive an issue due to ISP problems, you can read the issues you missed there. As always, we try to ensure that each of you receives his or her newsletter in their inbox each week. But sometimes ISPs interfere. Please bookmark your Premium Members' Home page. You can visit the Premium Members' Home Page here.   
If you want to help us by telling your friends about our Cloudeight Direct Computer Care service, you can download a printable flyer you can handout or post on bulletin boards, etc. Get the printable PDF Cloudeight Direct Computer Care flyer here.


These products and services are recommended and endorsed by Cloudeight:
Emsisoft Anti-Malware- The best anti-malware you'll find anywhere. Great protection -- both proactive and reactive. Learn more here.
Genie Timeline Home 2016- Backups made easy. Just install it, set it up and forget it. Genie will keep your backups up-to-date for you! Learn more here.
Reg Organizer-- A Swiss Army knife of PC tools. Easy for beginners to use -- with advanced features for experienced users too. Learn more here.
Cloudeight Direct Computer Care - Computer Repair Service-- And for computer repair, you can't beat our remote repair service. You never have to leave your home, take your computer anywhere or leave it with someone you don't know or trust. We can fix most computer problems and all you have to do is sit back and relax. Learn more here.
Thunderbrid Email Setup - we'll set up Thunderbird for you - works great with Windows 7, Windows 8 and Windows 10. Get the details here.
Windows 10 Customization - Make Windows 10 look and work the way you want it to. Get more info here.
Also.. don't forget:
We're offering something we think most of you will enjoy. We have a daily tips and tricks summary newsletter that is sent six days a week. It features daily tips, freeware picks, and site picks and interesting computer tips, tricks and more. It's short and sweet - very brief and lightweight. If you'd like to receive or daily tips and tricks newsletter (completely free, of course). You can subscribe here.
You can also help us by using our Start Page. We have over 100 free games to our Start Page too - come and play all day. It costs nothing to use our Start Page--and helps us a lot.
Don't forget to bookmark it or add it to your favorites.

Cloudeight InfoAve Daily - Our other newsletter
Get our daily newsletter - it's short, sweet and free. It's sent 6 nights a week. Each issue features a computer tip or trick or interesting tidbit. It's a quick & easy read. Sign up for Cloudeight InfoAve Daily right now - it's free and you can unsubscribe at any time. Sign up - here - and now.

Get a FREE Cloudeight InfoAve Premium E-book - Share with a friend

To thank you all for being a subscriber, we are offering our 2014 InfoAve Ebook #11 free of charge. Our ebook consists of separate chapters of all tips, tricks, comments, tutorials, sites of the week, and back to basic tips in a searchable, downloadable ebook for the year. Visit this page to get your free e-book.

We are still offering 2015 Ebook 12 too; it's available here.

If you've received this newsletter from a friend or you're reading this on the Web - why not become a Premium subscriber? It's free and you can sign up here.





Our InfoAve Premium newsletter is now free.

You're all Premium subscribers now. Whether you were subscribed to our Premium newsletter or our Free newsletter you're all Premium subscribers now. If you were paying an annual subscription at any time, please log in to PayPal and cancel this so you are not charged.

We hope by making our InfoAve Premium newsletter free for everyone, we will be making it easier for you to invite your friends to join us too. We think we have the best free computer newsletter anywhere, and we hope you do too. But we can only keep going if we continue to grow. You can help us by asking you friends to join us.

Please visit this page to get links and other ways to share with your friends. Or send your friends to our subscription page here.

Thanks so much for helping.

We hope you enjoy this issue of InfoAve Premium. Thanks again for subscribing. And thank you all for your generous support.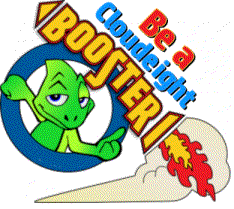 Our Fall Booster Drive Is Going on Right Now! Help Us & Get FREE Software!

Become a Cloudeight Booster this week and we'll give you FastStone Capture FREE

This fall we're asking for your help. We are inviting you to join Cloudeight Boosters. Our Boosters get special prices on our most popular software and services as well as a lot of free stuff. And this week (though Sunday, October 2, 2016),
join our Cloudeight Boosters
and we'll give you a lifetime license for FastStone Capture Pro with every donation of $15 or more.
Every screen shot in all of our newsletters for past 10 year has been made with FastStone Capture. The registered version has so many cool features – it even has a screen recorder and you can even make animated gifs from videos! Get a lifetime license (a $19.95 value) FREE when you make a donation of $15 or more during our fall Cloudeight Boosters membership drive.
If you're already a booster, we have some really great specials coming for you soon...so stayed tuned. We'll be sending a special Cloudeight Boosters' newsletter in the near future - be watching for it.
Help us today with a donation of $15 or more
, and we'll send you a free lifetime license for FastStone Capture - the only screenshot tool we use.
Click here
or on the image above to make a donation of $15 or more and get FastStone Capture Free (Booster membership is not required, but we'd love to have you!)

We'd love to hear from you!
If you have comments, questions, a tip, trick, a freeware pick, or just want to tell us off for something,, please visit this page.
If you need to change your newsletter subscription address, please see "Manage your subscription" at the bottom of your newsletter.
We received hundreds of questions for possible use in IA news. Please keep in mind we cannot answer all general computer questions. We choose a few to use in each week's newsletter, so keep this in mind. If you have a support question about a service or product we sell, be sure to use our support form at:
http://thundercloud.net/help/support-forms/cloudeight-support.htm

We hope you enjoyed this issue of InfoAve Premium. Thanks so much for your support and for being a Premium subscriber.
Have a great weekend!
Darcy & TC
Cloudeight InfoAve Premium - Issue #678
Volume 13 Number 51
October 7, 2016

Subscribe to this weekly newsletter - it's free.

IMPORTANT DISCLAIMER ABOUT SOFTWARE RECOMMENDED IN THIS NEWSLETTER and OTHER IMPORTANT INFOO


All software recommendations we make in this newsletter are based on our own experience and testing of the programs that we recommend. This does NOT guarantee they will work on YOUR computer. We assume you will read the program documentation and use the program according to the instructions. We make no guarantees about any program recommended in this newsletter or its suitability for any particular purpose. We will not be responsible for any problems you may have. We do not and cannot provide support for any products other than our own Cloudeight products and we will not answer email concerning any product which is not a Cloudeight product. We urge you to use good judgment when downloading and installing software and to use a program only after reading the program's documentation. And, all Tips & Tricks in this newsletter have been tested by us on several different computers and were found to work as indicated. They may not work on yours. We make no guarantees. Anything we recommend you try and use at your own risk. We will not be responsible for any problems caused by any software programs recommended in this newsletter or any of the tips and tricks in this newsletter..
Readers' comments are their own and Cloudeight Internet LLC is not responsible for comments of our readers. All readers' comments, suggestions, questions, and tips and tricks sent to us become the property of Cloudeight Internet LLC. You understand that we may use your comments without your explicit permission.
InfoAve Premium is published by:

Cloudeight Internet LLC
PO BOX 73
Middleville, Michigan USA 49333-0073

This newsletter is sent from the address infoave-premium/@/pr1.netatlantic.com . The IP address for Netatlantic is 69.25.194.50. Netatlantic is a respected newsletter hosting service. We have used their services for many years. All content is copyright ©2016 by Cloudeight Internet LLC (all rights reserved).