Cloudeight InfoAve Premium
Issue #693
Volume 14 Number 14
January 20, 2017
Dear Friends.
Thank you very much for subscribing and being a part of our Cloudeight InfoAve Premium family. We appreciate your help very much!




A couple of times a year, we have a donation drive to help us keep us going. The Internet has changed so much since we started nearly two decades ago. We keep our site going by selling only products that we trust and use ourselves, by offering the best remote computer care service anywhere, and supplement that income with advertisements on our pages.
We could sell more products, make more money, and never ask for donations. But we refuse to sell products we don't trust, wouldn't use and don't believe in just to make money. Period. We have many opportunities to recommend and sell products to you from companies offering as much as $70 per sale. We receive dozens of requests from companies asking us to recommend and sell their products. Many of these companies offer extremely high commissions. While we could really use the money, we never have and we never will sell you out. That's why we sell only a limited number of items such as Emsisoft and Reg Organizer. We trust both companies, they both make excellent products, they both have customer support and we use their products on our own computers.
Our promise to you has always been and will always be that we will never sell or recommend anything that we would not use or do not trust – regardless of how much money we could make. We have spent nearly two decades earning your trust, we will never throw your trust away for money. Not today. Not ever.
Most of the time we're able to keep things going thanks to your support of our site and sales of recommended products and services. It's the beginning of a new year, and right now we really need your support. We hope you'll take a few minutes today and help us with a small donation.
Donations help us continue our mission to keep you informed, separate the truth from the hyperbole, and help you stay safer online. We provide support to thousands of people. Every week we help dozens of people via email at no charge. Thanks to donations, we do a lot more than provide this free newsletter. We help you recognize online threats, fight for your online privacy, and provide you with the knowledge you need to navigate the Web safely, and help you get more out of your PC.
Today, we're asking for your help. If you can afford to make a donation today, we would very much appreciate it.



Here are some important links for you: Here are some important links for you:





A comment from Brian
Thank you so much Darcy for the so smooth installation of the Thunderbird email program. So professional from the exact time of log in, until completion 30 minutes later. Have been enjoying finding my way round this interesting program. Brian

A comment from Dot
I finally took the plunge during the holiday specials and purchased Emsisoft Anti Malware. My current Norton 360 license was about to expire and I desperately wanted it off my system since the last Norton update really slowed my system down. Darcy did an excellent job of removing Norton and all associated files, cleaned up the system and installed Emsisoft. It sure found a lot of malware on my computer which Darcy removed. This was done last week and so far I have not had any malware on my system since and it is actually running a bit faster. Thank you, Thank you, Thank you, Darcy.

A comment from Rhea
I'm sure I will echo the sentiments of many when I tell you how wonderful it was watching Darcy dart throughout my lap top computer (which was 2 months old) and learning that I did not have my Emsisoft turned on and consequently I had my share of Malware which was deeply embedded in my files and eventually she had to restore it to its original setting which I thought was no picnic and I thought she may be upset but like a real trouper, she did not complain and came back later and set up Thunderbird. I've also had TC work on my desktop computer and he too did a wonderful job. You can sit back and have a cup of coffee or a seven-seven (just kidding) and watch that little mouse do his/her business and before you know it, they are done and so is the job they set out to do. It is so comforting to know that your computer will be fixed by someone you trust and know will get the job done no matter how long it takes, the price is the same. I do have a suggestion, however, if the customer sees that it is taking over an hour for the repair work, they should be appreciative enough and offer to pay more money. (Now I know this is my words, not yours but if you stop and think about it, it makes sense!) Darcy spent a couple hours on my PC and if that happens in the future, you can believe I will make it up to her!!! I better get off my soap box now and tell you thanks again for being such wonderful people and helping us out.

A comment from Janet
Thank you Darcy for getting my very slow, but new computer to a place where it's now lightening fast, in fact I can't believe how fast it is. (Actually, you moved very fast as well, my eyes could hardly keep up with what you were doing!! Thank you for going the extra mile and getting up so early to accommodate the time difference between you and me here in Australia. Once again a great big thanks - I'm thrilled.

A comment from Pat
My Thunderbird account is working....thank to Darcy! It looks like it will be fairly easy to understand. Darcy also made changes on my new computer so that now it looks more like it should, and will probably function more efficiently.

It is amazing to watch how fast she can work and get THINGS DONE! Thankfully, she got rid of McAfee and put Emsisoft on there. Wonderful to have someone you can trust to make all these changes and make everything work better.

Keep up the good work, Darcy and TC! We need you and appreciate what you do for so many!

Thanks to Brian, Dot, Rhea, Janet, Pat and everyone who wrote to us last week. And thanks all those who used our Cloudeight Direct Computer Care services last week, including our Cloudeight Direct Thunderbird Email Setup service . And thanks to all of you for the nice comments about our Cloudeight Stationery for Thunderbird. TC & EB



Cloudeight Direct Computer Care

With thousands of satisfied customers and truly personal professional service, we hope you'll call on us the next time you need computer repair services. We can fix most Windows problems, clean up malware, Trojans, viruses, and more and you don't have to haul your computer to the store or have strangers into your home. We can do it all from here - while you relax in the privacy and comfort of your home. If you need help with your computer - we can help you.

Learn more about Cloudeight Direct Computer Care. We look forward to helping you soon!




Pat wants to know if this might be a scam
I just had a call from someone about my computer.....I told him I was not going to fall for his scam....he said, "No mam this is not a scam, I can give you the address of your computer" . He then told me my name and address. Said I had files on my computer. something about micro error, He wanted me to go the computer and he could show me the files. He said he had been trying to let me know for two weeks, and that is about how long I have had problems! I told him I had had an expert checking my computer yesterday and he found no files. I hung up! Hope I did the right thing. He offered to give me his license number, etc.....

Our answer
HI Pat. You did the right thing - hang up immediately! Don't ask them questions, don't answer their questions. Just hang up. No one from Microsoft is ever going to call you to say something like this, nor is any legit software or computer repair firm going to call you and tell you that you have a problem. These kinds of calls are ALWAYS scams.




Michael wants to know how to insert an image into an email using Thunderbird
Can you please tell me how to insert an image into an email using Thunderbird?

Our answer
Hi Michael. There are several ways to insert images when composing an email in Thunderbird:

1. Drag the image from a folder on your computer or from your desktop into the mail you are writing
2. Click the little blue square icon next to the smiley icon and choose add image (see screenshot below)
3. Click Insert from top menu, then Image (Be sure to put a check next to "Don't use alternate text" in the image window)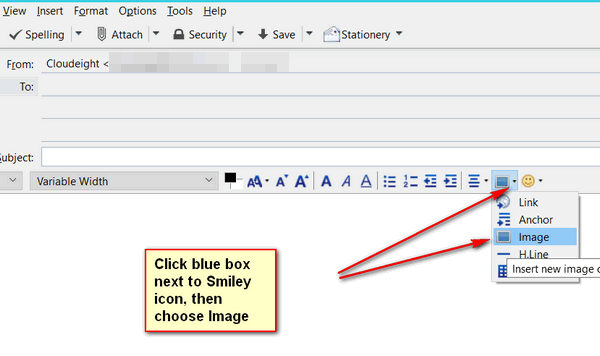 *** Michael wrote back: "Thank you so much for your reply. It worked perfectly. I am very grateful. All the best to you and TC. Michael."





Shaviji wants to know if Edge is really safer than Chrome
Microsoft claims that Microsoft Edge detects 13% more socially engineered malware than Chrome. Does MS Edge provide better safety than Chrome? Wish you both a successful year in 2017.

Our answer
Hi Shaviji. I can run 13% faster than EB. I can say this because it doesn't mean anything. Maybe EB has a sore ankle or a hangover, so today, she's not running her best. Ah shoot, that's a poor analogy :). Here's the facts. Some tests were conducted by NSS and according to Bleeping Computer... "A series of benchmark tests performed by NSS Labs, a US-based independent network, and security testing organization, reveals that Microsoft Edge detects malware and phishing attacks much better than both Google Chrome and Firefox, despite losing over 40 million of users in the last month."

Microsoft achieves such remarkably high detection rates by using its smartscreen filter. But when you look at how it determines what's safe and what's not safe, you start to realize there's more here than meets the eye. Smartsceen uses a file's popularity as one of its safety parameters. In other words, if a file is one Microsoft determines is not frequently downloaded, it will block the download. This might catch a few malware downloads, but more often than not. it also blocks safe software distributed by smaller, less popular or newer developers.

In the real world, we don't think 13% is going to make a difference. No browser and no security software program is going to protect you 100% of the time from 100% of the threats you're going to face. That's why we recommend you use the browser you like the best, use common sense, and THINK BEFORE YOU CLICK.





Norma likes the new Thunderbird stationery and wants more
Hi TC, Thanks for the new stationery you posted, especially the hearts. I would love to see more like we had in the older versions, Victorian, ocean scenes and the blue sky with clouds (like your background here) is my favorite. Is there any chance you could make even just one blue sky with clouds? I'm sure you're already aware I know almost nothing about computers or what it takes to create stationery & it probably takes a lot of time but I would love to see new ones. I still have blue skies & one with red roses on a draft but don't know how to make it work with my email. I'm retired, old & decrepit by now but would gladly make a donation if you could find the time. Am loving TB that you installed. Thanks for your help & funny remarks in your newsletters. They make me smile. Thanks, Norma

Our answer
Hi Norma. Thanks so much for your nice comments. We are just getting started with Thunderbird stationery and I'm positive you'll be pleased with the stationery we have coming. We'll be concentrating on creating stationery like we used to back in the days of Outlook Express and Windows Mail. But we'll also be creating a new generation of stationery with simpler backgrounds like the ones in our Just Textures stationery collection. We'll be doing more textures, stripes, clouds, plaids and more. If you have friends of family members that don't use an email program and check email on the web at Gmail.com, Outlook.com, etc. with a browser, they will see stationery like the ones in Just Textures. We're committed to making stationery for Thunderbird, as well as helping people get the most our of Thunderbird with our Thunderbird help and tips pages.

And we've just lowered the regular price on our Thunderbird installation & setup service too!

Again, Norma, thanks for the very nice comments and for your long-time support. We both appreciate it very much!

We'll try to keep up the funny remarks, as long as EB continues to provide the fodder :)




Paul wants to know what do to if Windows 10 won't boot
After an upgrade last week, I waited for over 2 hours for my computer to reboot. This morning, again, I had to wait over two hours for my computer to boot. I followed your advice and did a reset back to the previous version of Windows 10 and now everything seems to be working and booting up fine. My question is what advice do you have for us if a Windows 10 computer won't boot at all? Is there anything we can do to prepare for this? Any advice you can give us. After this last week, I want to make sure I know what to do if Windows 10 won't boot up at all. What do you say?

Our answer
Hi Paul. There are a number of things you can do to protect yourself from that eventuality. We'll try to cover them all for you here.

Windows 10 has the Windows Recovery Environment (Windows RE), which gives you essential tools for troubleshooting issues and repairing startup problems.

After two unsuccessful startups, Windows 10 should automatically boot up the third time to Windows 10 RE (Recovery Environment) Advanced Options menu. If it doesn't you can also restart your computer while holding down the Shift key to bring up the Advanced Options menu. We have had several people use the option of holding down the Shift key while starting their computers report to us it worked flawlessly for them.

You can also start Windows RE from a Windows 10 installation DVD or USB, from a recovery drive (which you can make yourself — see this page), or from the recovery partition on a device, if that option is available.

When you are having problems starting up Windows 10 or if you want to do troubleshooting, System Restore, etc., you can open the Advanced Options menu manually by restarting your computer while holding down the Shift key.

The initial Choose An Option menu allows you to click Continue to start Windows without taking any further action. This is the option to choose if your system automatically booted into Windows RE (Recovery Environment) because of a minor issue that doesn't need repair. If you click "Troubleshoot" in the Choose an Option Menu, you'll see options similar to those below: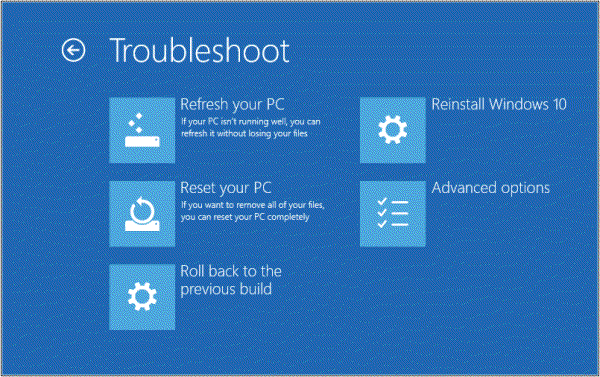 If you click on Advanced Options (above), you'll see the following menu: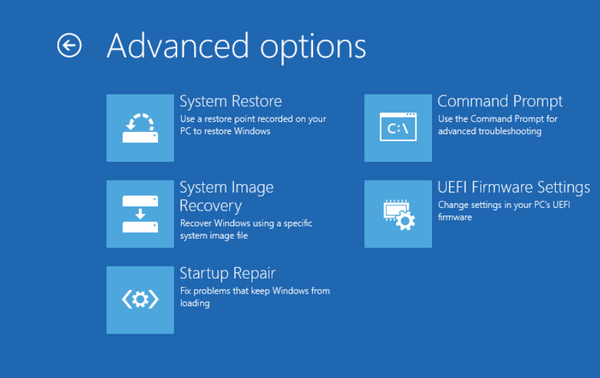 The options above explained…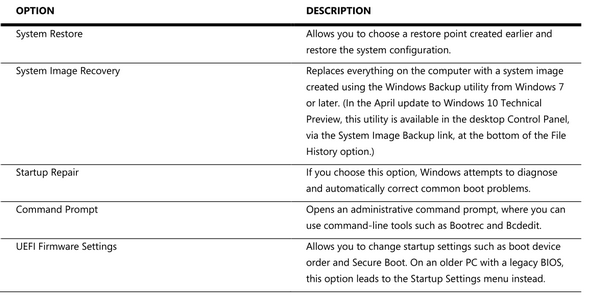 System Restore
Allows you to choose a restore point created earlier and restore the system configuration.
System Image Recovery
Replaces everything on the computer with a system image created using the Windows Backup utility from Windows 7 or later. (This utility is available in the Control Panel,
via the System Image Backup link, at the bottom of the File History option.)
Startup Repair
If you choose this option, Windows attempts to diagnose and automatically correct common boot problems.
Command Prompt
Opens an administrative command prompt, where you can use command-line tools.
UEFI Firmware Settings
Allows you to change startup settings such as boot order and Secure Boot. On an older PC with a legacy BIOS, this option leads to the Startup Settings menu instead.
That's about the entire enchilada, Paul. It might be helpful to print this out and keep it near your computer ... just in case!



Roxanne has router troubles
OK I have a huge problem here with the new windows 7 laptop I bought. I can't get past adding the security key code for the router. I have tried all the tips you have been sending out lately & nothing works. I have tried every number on the router box & none of them work either. I guess my husband is tired of me complaining about not being able to get into it & now suggest buying a new router so we can have the security key number or name. I have been holding back on this since I think it will then make all the other computers in the house not work & I don't know how to reset them. He told me to use 1 of my keys for you too fix it but I keep telling him if I can't get into the computer then you can't work on it. I am between a rock & hard place right now & just don't know what to do anymore. Can you advise me on what to do to find a security key code? I don't remember password or the name either!

Our answer
Hi Roxanne. If it is a new router, and a name brand, it comes with free support. If you still have the packaging, it includes a password to use. If you change the password, and you forget it (they are case sensitive), you can reset the router to factory condition and it would also reset the password to the one provided by the manufacturer. Mine is a Netgear, and the way I would reset this one would be to put a paper clip into a pinhole in the back.

If you do call for support, be sure you use the phone number that came in the paperwork that came with the router. Doing a search on the web most oftentimes puts scammers/high priced repair folk at the top of the search results; these miscreants disguise/mislead you into thinking they are the authentic service people for a company. So make sure you call the number provided with the router.

Let us know how you come out!




Cloudeight Direct Computer Care - New Computer Set-up / Check-up
If you received or bought a new computer for Christmas, we'll make sure it set up for best performance, by checking over your startups, removing or disabling performance-draining factory-install bloatware, and making sure your new computer is set up correctly right out of the gate!

We'll check to make sure your new computer is set up for optimum performance and install Emsisoft for maximum protection and even include a free 3-month Emsisoft license.
Our Cloudeight Direct Computer Care - New Computer Set-up / Check-up is available for limited time for just $25!
Don't have a new computer? We can check your setup and optimize your older computer too.
Get more information about our Cloudeight Direct New Computer Set-up / Check-up Service here. It's only $25 - and only for a limited time.


An Easy Way to Bypass Lock and Log in Screens in Windows 10
Windows 10

Windows 10 offers several ways of protecting you data. You can use a password or PIN. Or you can use a picture password, or biometrics if your computer is so equipped (many are not).

We don't recommend that you bypass your password or PIN login unless you are the only user of your computer and your computer never leaves your house.

We featured a similar tip a while back, however we are often asked how to disable the lock and login screen in Windows 10. There are other ways to do this, however nothing we've found is easier than this.

Here's how to bypass lock and login screen in Windows 10

You can disable the lock screen and sign in screen so when you start or reboot your computer you'll go straight to your desktop or start screen, saving you the hassle of signing in and thus saving you a few seconds. You can use Autologon tool to skip the lock screen and the sign-in screen whether you use a Microsoft account to sign in to Windows 10 or you use a local account to sign into Windows 10.

So, if you're looking for an easy way to make Windows 10 automatically skip the lock and login screen and boot directly to desktop, the first thing you'll need to do is download a tiny utility from Microsoft TechNet called "Autologon". You can download it from here.

Step 1: The Autologon tool comes as a zip file, so you'll need to unzip it first.

Step 2: Click on Autologon.exe to run the Autologon tool. If you see a UAC prompt, click Yes. Then accept the Autologin license agreement.

Step 3: The Autologon tool automatically completes the username and domain field by gathering this information from the registry. So all you need to do is type your Windows password.

Step 4: Once you've typed your Windows password (make sure it's correct!), click "Enable" and you won't see have to see a lock screen or sign in screen again.

That's all there is to it!

If you ever decide you want to use the lock screen and sign in to Windows again, you can run the Autologin tool again and click "Disable".





Three *Kind of* Rare Windows Tips
Windows 7, Windows 8x, and Windows 10

The tips below should work in any version of Windows from Windows 7 through Windows 10. Enjoy!



1.

Taskkill



Windows borrows a feature from Linux. Taskkill allows you to terminate a running process (program) from the command line. Here's how you use it:

Click Start/Run and type Command. The command utility window opens.

Type Tasklist at the prompt. You'll see a list of running processes. Next to each process you'll see a PID number. To kill any running task, type Taskkill /PID xxx (where xxx represents the PID number of the task you want to terminate).

Why would you want to use this? Because you can? Or maybe your computer is frozen and you can't access Task Manager. Or maybe just for fun?

————————–

2.

Edit user accounts using the command line



Open a command prompt. On Windows 7, type CMD in the start menu search, then click CMD when it appears at the top. In Windows 8.1 and Windows 10, right-click the start button and click Command Prompt. Type

control userpasswords2

at the prompt, and press Enter.

————————

3.

Create a shortcut for easy access to Task Manger



You can access Task Manager by right-clicking on your taskbar and choosing Task Manager, you can user CTRL+SHIFT+ESC, or you can use the three-finger salute (CTRL+ALT+DELETE). Did you know that you can also create a shortcut to Task Manager and leave it on your desktop, drag it to your quick launch toolbar, or taskbar (Windows 7 & newer) or put in on your start menu? You can, and it's easy to do.

Right-click on your desktop and choose "New" "Shortcut" and copy and paste the following (in bold) into the "type location of the item" field:

%windir%\system32\taskmgr.exe

Once you're created your shortcut, you can drag its icon to your start menu, quick launch bar, taskbar (Windows 7, Windows 8.x, Windows 10) or simply leave it on your desktop. The next time you need to launch Task Manager, just click your new shortcut.



PC Matic – The Hocus-Pocus Never Stops
All Windows Users
PC Matic is running its multi-million dollar TV ad campaign again. And whenever PC Matic goes on an ad buying spree, we always get questions from our readers about PC Matic.
First, we think it's a shame that PC Pitstop – once a very respectable company and web site – sank to the level of offering hocus-pocus software like PC Matic.
PC Matic advertising is so full of lies and half-truths, we don't know where to begin.
Not only didn't it win any awards from Virus Bulletin, it doesn't even have an antivirus component. It works by using a whitelist of "approved programs" and won't allow anything else to run. So if your favorite legitimate program isn't on their list, too bad, it won't run. Whitelisting is not a security protocol – it's a rudimentary black/white list policy that has been around for over 2 decades. Not only does the whitelist not provide you with security, it a very high unacceptable rate of false positives.
The price they advertise for as little as $10 per PC is a stretch. You have to buy a 5-PC license for $50. So if you have only one or two PCs, it's not cheap to by. If you're looking for mediocre protection and clean-up programs there are free programs that work better than PC Matic.
According to what we could learn, PC Matic is run by a former Vipre Security "expert". You'd think a security expert would know better than to base PC security on outdated whitelisting.
The web is full of complaints about PC Matic. Some refer to it as snake oil, others refer to it as a scam, and many are calling for the FTC to file charges against PC Matic for false advertising.
It is a shame that companies like PC Matic are able to make tens of millions of dollars selling snake oil and using the profits to buy more TV advertising and suckering many more people into buying their snake oil. From what we've read, PC Matic commercials are very much like the "eat all you want and lose weight" diet pills commercials. Even though everyone knows it's too good to be true, people want to believe it anyway.
Here's the PC Matic Snake Oil:
"PC Matic is all you'll ever need."

PC Matic provides superior security protection over all security products, free or otherwise, on the market. On top of that, PC Matic keeps your computers running at peak performance even after years of use. PC Matic pricing options include…" (Rob Cheng. CEO and Founder PC Pitstop LLC)
Read more about the PC Matic scam from the link below.
PC Matic boast they won the top security award from Virus Bulletin – an independent antivirus & security software testing lab. But the truth is far from what PC Matic claims. See for yourself, here's how well PC Matic did on the most recent tests conducted by Virus Bulletin. It failed.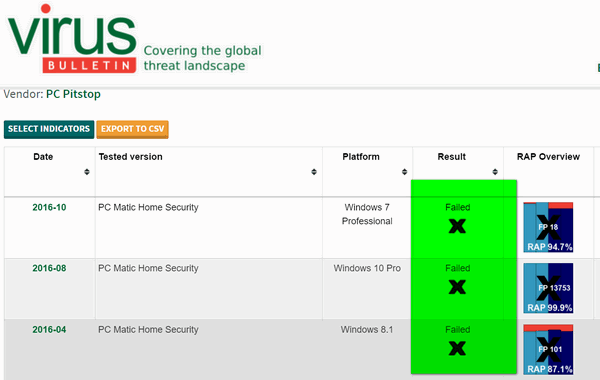 You can see these test results for yourself on the Virus Bulletin web site.
Save your money…it's not inexpensive, it's expensive. And even if it were cheap, it would not be worth the money. In our opinion, even if it were FREE, it would not be worth the money. It's hocus-pocus, snake oil software, designed to fool those who don't know much about PCs. PC Matic puts on a dandy show, but does very little. It does not protect your PC, it does not repair your PC, it does no more to optimize your PC than you could do yourself, and it does not increase your Internet speed.
Don't waste your money on PC Matic.
Keep reading to see what we found…
Above: PC Matic has the familiar look of other hocus-pocus one-click-fix software.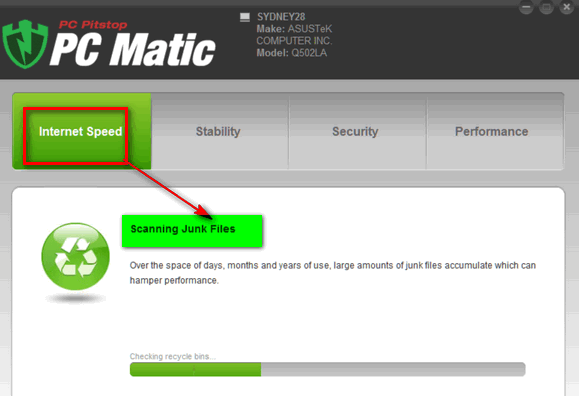 Above: PC Matic claims to boost Internet speed and goes through several machinations. You can see it starts by cleaning junk files. Junk files have nothing to do with Internet speed.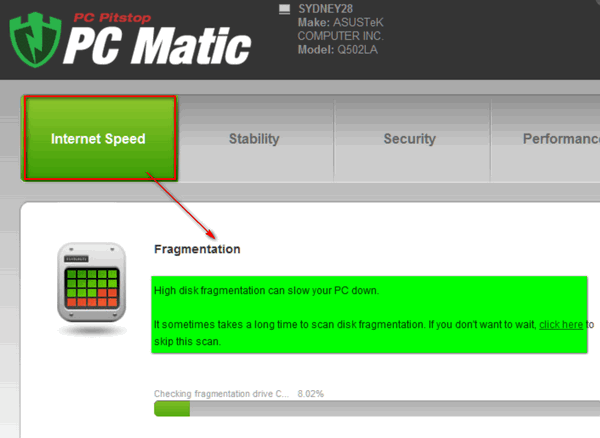 Above: PC Matic wants you to believe that if your disk is fragmented it somehow affects your Internet speed. It does not. It claimed my drive needed to be defragmented. However, it does not, as you can see from the Windows scan below. And even if it were badly fragmented, it would not affect the Internet speed.

I'm paying my ISP for 15 Mbps speed. They offer faster speeds, but they also charge a lot for more, so I am stuck with 15 Mbps. And no matter how much I would like to believe that somehow some hocus-pocus snake oil program can "boost" my Internet speed, I'm going to get the speed I'm paying for.
As you can see I'm getting 15 Mbps speed from my provider – exactly what I'm paying for. And if I weren't getting this speed, PC Matic wouldn't help. Calling my ISP and complaining that I'm not getting the speed I am paying for would help. Checking my modem and router would help, but deleting junk files on my computer would not. No matter how much PC Matic wants me to believe.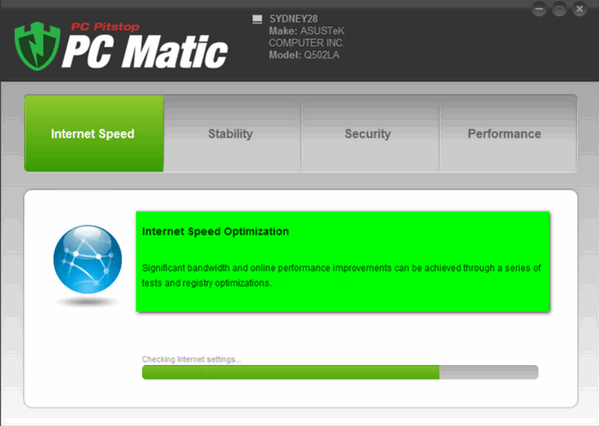 Above: The behind the scenes hocus-pocus starts messing with registry entries and "running tests". As you can see it falsely claims that running tests can provide significant performance improvement. That's pure fantasy. And the registry change it makes? You can make them yourself – and if you're very very lucky you may see an .001 Mbps increase in your Internet speed. This hardly significant and you would not notice a 0.001 Mbps increase (or decrease) in your Internet speed.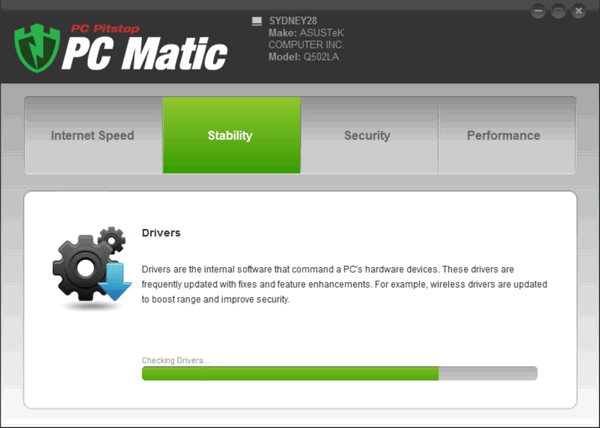 Above: More hocus-pocus. There are dozens of free driver update programs out there, and we can tell you this: We have worked on thousands of PCs in our time with Cloudeight Direct Computer Care services and we can tell you this for a fact: Driver updater programs are one of the biggest causes of PC problems. Updating drivers that don't need updating can lead to big problems.
Above: Got one PC? It's $50. You can't pay less than $50. If you have 1 PC you pay $50. If you have 2 PCs you pay $50. If you have 3 PCs you pay $50. No matter how many PCs you have, if you pay anything for PC Matic, you pay too much.
PC Matic is just another in a long line of hocus-pocus, snake oil sham ware that rears its ugly head every so often during TV advertising blitzes. Guess how they get the millions of dollars to pay for these ads? You're right. The get it from PC users who fall for the PC Matic hocus pocus.
Please don't be one of them!



Can You Still Get Windows 10 Upgrade Free?
Windows 7 and Windows 8x

In last week's InfoAve Premium, we wrote an article that explained how anyone using assistive technologies could still upgrade to Windows 10 free. This week we found an article written by a recognized Windows expert who claims he was able to upgrade his Windows 7 computer to Windows 10 using the Windows 10 download tool without going through any extra rigmarole.

First, we want to tell you that neither of us are lawyers. Nothing in this article should be construed as us offering you legal advice or recommending you follow any of the advice offered by Ed Bott.

What we can tell you is that Ed Bott is a respected and recognized Windows expert and he's been around a long time. According to his bio:


"Ed Bott is an award-winning technology writer with more than two decades' experience writing for mainstream media outlets and online publications. He has served as editor of the U.S. edition of PC Computing and managing editor of PC World; both publications had monthly paid circulation in excess of 1 million during his tenure. He is the author of more than 25 books on Microsoft Windows and Office, including Windows 7 Inside Out (2009) and Office 2013 Inside Out (2013)."

Microsoft officially ended the free Windows 10 upgrade campaign on July 29, 2016. However, according to Ed Bott, you can still use the Windows 10 download tool to upgrade a Windows 7 or Windows 8.1 computer to Windows 10 and get a free digital license.

In an article published by ZDNet on January 5, 2017, Ed Bott wrote:

"...As of July 30, 2016, the upgrade notifications stopped and the GWX app began disappearing. In theory, that means the only way to get a Windows 10 upgrade is to pay for it.

The funny thing is, no one told the folks who run Microsoft's activation servers. Which means today, months after the free upgrade offer supposedly ended, you can still upgrade to Windows 10 from Windows 7 or Windows 8.1 and claim a free digital entitlement, without being forced to jump through any hoops...."

Bott proceeded to upgrade an older Windows 7 computer to Windows 10 using the Microsoft Windows 10 download tool.

He wrote:

"Over the holidays, I did some end-of-year cleanup, including recycling an Intel small-form-factor PC that had previously been working full-time in the living room, running Windows Media Center on Windows 7 Ultimate. When I finally pulled the plug on Media Center last year, I had put this little device on a shelf.

The GWX utility had never been installed on this PC and it had never been offered a Windows 10 upgrade via Windows Update.

As part of my digital clean-up, I decided to run the Windows 10 upgrade from Windows 7. I fully expected that after the upgrade was complete, the system would fail activation and I'd be asked for a product key.

Imagine my surprise when, instead, I was greeted with this screen.




Bott says that he also upgraded 3 virtual machines with the same result. He was able to get free upgrades to Windows 10 using the Windows 10 download tool. Hel also reports that he got a free digital license for his Windows 10 upgrade without jumping through any hoops.

If you're interested in learning more about Ed Bott's experiences and his free upgrade to Windows 10, long after the July 29, 2016 deadline, you can read the entire article here.




Beware Adobe Acrobat Reader DC
All Windows users and everyone using Google Chrome

First, if you're wondering what Adobe Acrobat Reader DC is, according to Adobe...

"Adobe Acrobat Reader DC software is the free global standard for reliably viewing, printing, and commenting on PDF documents..."

Installing the most recent version of Adobe Acrobat Reader DC, Adobe's free PDF reader, it attempts to install an extension in the Chrome browser, along with the updated version of Adobe Acrobat Reader DC.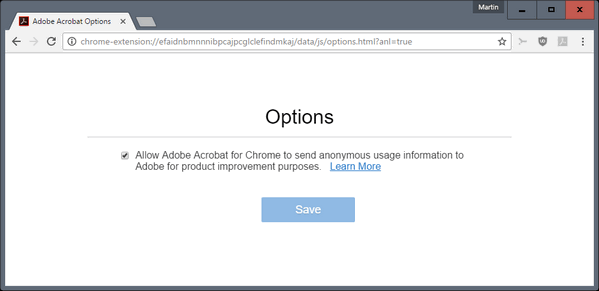 While Adobe tries to sneak the Chrome extension into your Chrome browser. Luckily, Chrome's security alerts you and prevents it from being enabled by default. It also warns you what permissions Adobe is requesting. These are:

-- Read and change all your data on the websites you visit.
-- Manage your downloads.
-- Communicate with cooperating native applications.

You should not allow Adobe to install this extension in your Chrome browser. You can easily prevent it by clicking "Don't enable" when Google's security system kicks in. If you already enabled it by accident you can type chrome://extensions/ in the Chrome address bar and disable or remove the Adobe extension.

It's bad enough we all have to be wary of malware and trickery every day we are using the internet, but it's unconscionable that a once well-respected company like Adobe stoops to this level. Not only do they try to sneak an extension on your Chrome browser, they also try to sneak "True Key" and "McAfee Security Scan Plus" on your computer. If you're not careful, Adobe will try to install True Key by Intel Security, and McAfee Security Scan Plus, along with Adobe Acrobat Reader DC. You have to manually uncheck both True Key and McAfee to prevent them from being installed on your PC when you download Adobe Acrobat Reader DC.

Adobe is a multi-billion-dollar corporation. They don't need to resort to trickery to squeeze money from a supposedly "free" application.

Be careful when downloading anything from Adobe.





Adding Contacts to Your Thunderbird Address Book
Thunderbird - All versions of Windows

We have helped many folks install and setup Thunderbird, and the biggest problem we have seen is Address book (also known as Contacts) complaints. Some address books/contacts are setup on current/old mail program incorrectly, with home street and address listed in the email address field, so it makes a mess of the address book when imported to Thunderbird. If you find your address book does not import correctly, the easiest thing to do is just delete the address book and start fresh. To delete current address book if it was imported and does not look like you expect, is to click Tools, Address Book. You will see more then one.. find the one that was saved/imported from your prior email program and click Delete. Don't click "Collected Addresses" or "Personal Address Book" as those are there by default.

To add someone to your Address Book/ contacts list, click the little star that shows up next to their name in any email, in the "from" area. See screenshot below. When you do this, the little star turns yellow, indicating it has now been added to your Address Book. If you read a mail and see there is already a yellow star next to their name, it means they are already in your address book. You can edit from here if you want to add more info by either double-clicking their name, or right mouse click on the star, and choose Edit Contact from the drop down list.

We hope this helps everyone fine tune their Address book so you can get on with more important things, like sharing email stationery with your friends and family!

One final tip - you don't have to open your address book to find their name to send an email to. When you are writing an email, just start typing their name or address and any that have that letter in it will show up in a drop down list for you to see and choose.




We can install and set up Thunderbird for you with our Thunderbird Set-up Service.




We have helped thousands of people with their PC problems - and we can help YOU. You'll never find a better deal on honest friendly computer care and repair. Let us help you with your computer problems. Cloudeight Direct Computer Care is always a great deal. Learn more here.
..




Thank You So Much
Last Monday we began our semi-annual donation drive. Twice each year we run a donation drive campaign to help us through times when things are normally slower. Your response is more than we could have hoped for - you came through for us again. Without your support things would be much more difficult - it's an amazing feeling to know we have friends like you.

We started our small business almost 2 decades ago. Next year, good Lord willing, we'll celebrate our 20th anniversary. It's hard to believe that we've been on the Web such a long time.

When we started, we were one of many small "mom & pop" sites that popped up all over the Web; in fact, in those days, the Web was compromised of mostly mom & pops sites like Cloudeight. Over the years, we have watched as one after another of those mom & pop sites died unceremonious deaths. The people behind them, once full of hope, abandoned their dreams and walked away. The trail of tears left behind circles the globe many times.

We know this because we watched it happen.

We watched as big money and big corporation gobbled up everything on the Web, until today, big money and big business control over 90% of the Web. Small, mom & pops sites like Cloudeight are an endangered species.

But we will not go gently into that good night.

We have fought the good fight and we tell you the truth as we see it. We've butted heads with multi-million-dollar sites that made their fortunes by tricking unsuspecting users into buying their worthless products.

We have exposed a half-dozen TV scams or more...

Read the rest of this essay here.



Reg Organizer - A Swiss Army Knife of Windows Utilities and Tools

Reg Organizer works on Windows 7, Windows 8, Windows 8.1 and Windows 10. The newest version of Reg Organizer has newly added special tweaks for Windows 10 - including a Windows 10 Start menu fix.

Get more information and or order Reg Organizer today and SAVE!




Duolingo


The above would have been a little more dramatic had we been able to type all those languages in this newsletter rather than take a picture of all we had typed. But ISPs have really strange ways of determining what s/pam is, so we had to stick a screen shot in there to avoid upsetting ISP s/pam filters. Anyway, all of those lines of foreign text say -- more or less -- the same thing:
We know that you all want to learn a new language, if only to complement your old one. Darcy speaks 3 languages, plus English: mean, meaner, and meanest. I heard them all. Believe me!
Today's InfoAve Premium is philologists delight. In that screen above, you'll find Icelandic, French, Spanish, Irish, Chinese, and a rough attempt at English - all there to prove a point. You can translate languages in the blink of an eye, but learning a language is much more difficult.
There are programs you can buy to learn a new language that can bust your wallet for more then $500. But, why spend money when you don't have to. Our site of the week this week is Duolingo, and while you can't learn Icelandic or Chinese (yet), you can learn French, Spanish, Irish, and 24 other languages, including Klingon. If you don't know what Klingon is, may you live long and prosper.
Until today, I thought people in Ireland and Wales spoke English, but lo and behold, there are courses on Duolingo for Irish and Welch. Here in the USA, Welch equals grape jam or grape juice.
Here's some Welch for you: Gwae fi! Nid oeddwn yn gwybod y gallwn i siarad Welch. Rwy'n porffor! That means: Woe is me! I did not know that I could speak Welch. I'm purple!
Enough of this nonsense. If you're interested in learning any of 27 languages (28 including English, which I'm sure more than a few of you are thinking that is a course I should take) and you don't want to pay a dime to learn, then keep on reading my friends.
Here's some stuff from the developers of Duolingo, kindly presented in English:
Everyone learns in different ways. For the first time in history, we can analyze how millions of people learn at once to create the most effective educational system possible and tailor it to each student.
About Duolingo:

Our ultimate goal is to give everyone access to a private tutor experience through technology.

Making learning fun.

It's hard to stay motivated when learning online, so we made Duolingo so fun that people would prefer picking up new skills over playing a game.

Universally accessible.

There are over 1.2 billion people learning a language and the majority are doing so to gain access to better opportunities. Unfortunately, learning a language is expensive and inaccessible to most.

We created Duolingo so that everyone could have a chance. Free language education – no hidden fees, no premium content, just free.

Duolingo is used by the richest man in the world and many Hollywood stars, and at the same time by public schools students in developing countries. We believe true equality is when spending more can't buy you a better education.
I guess that sums it up pretty well. You cannot buy better language learning courses than those offered by Duolingo. So, why not use your spare time wisely and learn a new language. Just think. When you should up for Easter dinner and start pontificating in Swedish, your entire family will fall away in awe.
If you're ready to exercise your brain and learn a new language, you won't find a better place to do it than our Cloudeight site pick: Duolingo. Go forth and learn my friends. Duolingo is waiting for you.
Michelle, ma belle, Sont des mots qui vont très bien ensemble. Très bien ensemble
And I will say the only words I know that you'll understand, my Michelle.



Donations help us continue our mission to keep you informed, separate the truth from the hyperbole, and help you stay safer online. We provide support to thousands of people. Every week we help dozens of people via email at no charge. Thanks to donations, we do a lot more than provide this free newsletter. We help you recognize online threats, fight for your online privacy, and provide you with the knowledge you need to navigate the Web safely, and help you get more out of your PC. Help us keep up the good fight with a small donation.
It's the beginning of a new year, and we really need your support. We hope you'll take a few minutes today and help us with a small donation.

After you donate, you will receive info on how you can become a Cloudeight Booster.
Help us keep up the good fight with a small donation.
We would really appreciate it.


Why Does almost every Web site use forms?

Many of you wish you could just write to web sites directly, without the hassle of filling out Web forms. In a perfect world this would be ideal. But the world and the Web are far from perfect, because humanity seem to be running both.
Web sites use forms for support instead of allowing you to email them directly because forms allow for the inclusion of certain information that helps the support team help you with whatever problem you're having - or to answer questions you may have.

Knowing the operating system and other information about the user's computer is critical in correctly diagnosing the problem and providing the customer with a knowledgeable answer. Additionally, and just as importantly, support forms keep company email addresses off the Web where they are subject to harvesting by sp/am bots. Most companies, including ours, get a ton of sp/am already. Posting an email address on a Web site is sure to increase sp/am and decrease customer response time.

And there's another reason we use forms too. We have certain subject lines in our forms that allow us to sort mail into the appropriate support folders in our email programs. This allows us to quickly identify support requests and answer them more promptly. When customers write directly they sometimes don't use a subject at all or put in a subject line that isn't related to the product they're having problems with.

Also, many companies use mail filters or "sp/am filters". If you write directly to the company there's a chance no one will ever read it. By putting phrases like "my order" or "my download" in the subject line, there's a good chance these kinds of phrases will get your mail deleted as sp/am and it will never be read. "my order" and terms like these are common in sp/am emails and may get your email deleted quicker than you can say "EB".

Forms make sense if you're in business and need to provide good customer service and keep your support mail organized. So, when a support form is provided, please use it. You'll get better service, the company will get your email, and everyone will be happier!



To change your subscription address, see "Manage your subscription" at the bottom of this newsletter.
Submit your questions, comments, and suggestions for possible inclusion in our newsletters here. This form is for questions, comments and suggestions for this newsletter, not for product support, stationery questions, or general questions concerning our products or services.
Visit this page if you're having problems getting our newsletter - or if you think your ISP is blocking, censoring or deleting this newsletter.
Help us Grow! Forward this email newsletter to a friend or family member - and have them sign-up for InfoAve Premium here!
Get our free daily newsletter! Each evening we send a short newsletter with a tip or trick or other computer-related article - it's short and sweet - and free. Sign-up right now.
Have a question about a Cloudeight Software program, service, stationery, or need to ask about an order? Let us know!
If you need help with one of our software programs, have a question about an order, or have a question about any of our email stationery, screen savers, or other products - please don't use our InfoAve Questions/Answers/Tips form. Please use our general Cloudeight support form instead.
Your Premium Members' Home Page has links to the last few issues of InfoAve Premium. If you didn't receive an issue due to ISP problems, you can read the issues you missed there. As always, we try to ensure that each of you receives his or her newsletter in their inbox each week. But sometimes ISPs interfere. Please bookmark your Premium Members' Home page. You can visit the Premium Members' Home Page here.
If you want to help us by telling your friends about our Cloudeight Direct Computer Care service, you can download a printable flyer you can handout or post on bulletin boards, etc. Get the printable PDF Cloudeight Direct Computer Care flyer here.

These products and services are recommended and endorsed by Cloudeight:
Emsisoft Anti-Malware- The best anti-malware you'll find anywhere. Great protection -- both proactive and reactive. Learn more here.
Reg Organizer-- A Swiss Army knife of PC tools. Easy for beginners to use -- with advanced features for experienced users too. Learn more here.
Cloudeight Direct Computer Care - Computer Repair Service-- And for computer repair, you can't beat our remote repair service. You never have to leave your home, take your computer anywhere or leave it with someone you don't know or trust. We can fix most computer problems and all you have to do is sit back and relax. Learn more here.
Thunderbird Email Setup - we'll set up Thunderbird for you - works great with Windows 7, Windows 8 and Windows 10. Get the details here.
Windows 10 Customization - Make Windows 10 look and work the way you want it to. Get more info here.
Also.. don't forget:
We're offering something we think most of you will enjoy. We have a daily tips and tricks summary newsletter that is sent six days a week. It features daily tips, freeware picks, and site picks and interesting computer tips, tricks and more. It's short and sweet - very brief and lightweight. If you'd like to receive or daily tips and tricks newsletter (completely free, of course). You can subscribe here.
You can also help us by using our Start Page.
We have over 100 free games to our Start Page too - come and play all day. It costs nothing to use our Start Page--and helps us a lot.
Your Premium Members' Home Page is located here.


We'd love to hear from you!
If you have comments, questions, a tip, trick, a freeware pick, or just want to tell us off for something,, please visit this page.
If you need to change your newsletter subscription address, please see "Manage your subscription" at the bottom of your newsletter.
We received hundreds of questions for possible use in IA news. Please keep in mind we cannot answer all general computer questions. We choose a few to use in each week's newsletter, so keep this in mind. If you have a support question about a service or product we sell, be sure to use our support form at:
http://thundercloud.net/help/support-forms/cloudeight-support.htm

We hope you have enjoyed this issue of InfoAve Premium. Thanks so much for your support and for being a Premium subscriber.
Have a great weekend!
Darcy & TC
Cloudeight InfoAve Premium - Issue #693
Volume 14 Number 14
January 20, 2017
Subscribe to our InfoAve Premium Newsletter

DISCLAIMER ABOUT THE TIPS & SOFTWARE RECOMMENDED IN THIS NEWSLETTER-- PLUS OTHER IMPORTANT INFO:

All software recommendations we make in this newsletter are based on our own experience and testing of the programs that we recommend. This does NOT guarantee they will work on YOUR computer. We assume you will read the program documentation and use the program according to the instructions. We make no guarantees about any program recommended in this newsletter or its suitability for any particular purpose. We will not be responsible for any problems you may have. We do not and cannot provide support for any products other than our own Cloudeight products and we will not answer email concerning any product which is not a Cloudeight product. We urge you to use good judgment when downloading and installing software and to use a program only after reading the program's documentation. And, all Tips & Tricks in this newsletter have been tested by us on several different computers and were found to work as indicated. They may not work on yours. We make no guarantees. Anything we recommend you try and use at your own risk. We will not be responsible for any problems caused by any software programs recommended in this newsletter or any of the tips and tricks in this newsletter.. Readers' comments are their own and Cloudeight Internet LLC is not responsible for comments of our readers. All readers' comments, suggestions, questions, and tips and tricks sent to us become the property of Cloudeight Internet LLC. You understand that we may use your comments without your explicit permission.
"Cloudeight InfoAve Premium" newsletter is published by:
Cloudeight Internet LLC
PO BOX 73
Middleville, Michigan USA 49333-0073