Cloudeight InfoAve Premium
Issue #757
Volume 15 Number 26
April 13, 2018

Dear Friends,

Thank you very much for subscribing and for being a part of our Cloudeight family. We appreciate your subscription and your support very much!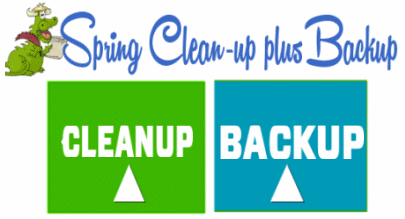 Our NEW 2018 Spring Cleanup + Backup Special
This year we introduced our popular Cloudeight Backup Service and our 2018 Cloudeight CleanSweep service. We've offered them separately for $30 each. Starting today, and for a limited time, we're offering you our new Spring Cleanup + Cloudeight Backup service for just $40 - that's $20 off the price when purchased separately.
We'll clean up and backup your computer all in one easy Cloudeight Direct Session. You'll have the piece of mind of knowing your computer is clean, optimized and is being automatically and backed-up every week - so your data is safe.
Our New 2018 Spring Cleanup/Backup special includes:
We will give your computer a general checkup and deep scan your computer for malware/PUPs/viruses
We will clean up any malware/PUPs/Viruses we find and we'll optimize your startup programs & services
We will install Ashampoo Backup Pro 11 and set it up and configure it for automatic backup and we will give you a lifetime license for Ashampoo Backup Pro 11
We will create recovery media (USB, or CD/DVD) so you can access your backup even if your computer won't boot or your hard drive fails
All for one low price!
Take advantage of our new Spring Cleanup + Backup Special and get the peace of mind that comes with knowing you computer is clean and optimized and all your data is being backed-up automatically. But like spring - this sale won't last forever.
Get more information about and/or our get you Cloudeight Spring Cleanup + Backup right now!



Subscribe to our Daily Newsletter!

Get computer tips & tricks every night. Our daily newsletter features a computer tip/trick or two every day. We send it out every night around 9 PM Eastern Time (USA). It's short and sweet, easy-to-read, and FREE. Just visit this page and sign-up. All you have to enter is your email address. Once you confirm your subscription, you'll receive our daily newsletter every day, six days a week. You can unsubscribe at any time.

Print our Cloudeight Direct Computer Care Flyer!

Print our Cloudeight Direct Computer Care Flyer and spread the word about our Cloudeight Direct Computer Care computer care and repair services. Get our ready-to-print flyer here.


Here are some important links for you:




A comment from Jason
I just read Newsletter #753 and the problem Norman had when he accidentally made his external hard drive into a USB drive. Because I'm now elderly and suffer from squash rot sometimes, I have to take extra precautions against disasters like this. Because external hard drives are so reasonable these days, I have 2 of them. One is for my data that I use every day. The other is my system backup drive that has a copy of my C drive and my external hard drive with all my data. Once I make my backup, I shut off the backup drive. If any kind of disaster strikes, such as Norman's, I have a copy of everything. I make a backup of the data drive every week. That would be the most data I would lose. I hope this helps someone in the future.

A comment from Bob
It's been weeks since Darcy worked on my PC and I meant to send this when she did the work, but I just kept putting it off. Darcy did a great job on my laptop. It was barely running and she did her magic and it's been running great ever since. So, please excuse this belated thank you! Anyone who doesn't use this Cloudeight service is really missing out on a deal. Bob R.

A comment from Gail
I noticed there is more than one Gail submitting comments. Like another one of us, I am also tardy in sending my thanks and appreciation to Darcy for the work she did "clean sweeping" my computer. Not only did she do a great job but we found out we had much in common in my area of the world. She formerly had family living in this area, and we could easily have passed one another without knowing it. We also had similar experiences in career paths (not the same areas of study, but similar ways of getting there). We had tornadoes in the area that night and Darcy checked on me the next morning to be sure I was okay. Wonderful sharing! TC worked on my computer several months ago and also did a great above-and-beyond job of getting me back up and running again. My thanks to both of you; I will continue to rely on your expertise. And, Darcy, I look forward to continuing our discussion during my next session. Thanks so much! Gail

A comment from Sally
I want to thank TC who took the time to come look at my computer when it wasn't working right. TC fixed my ailing computer up and a few days later, I noticed something wasn't right. I wrote to TC and he connected to my PC right away. Turned out it was a setting I changed myself and not a problem at all. I will keep my hands off advanced settings from now on. Thanks so much to TC and Cloudeight to go way beyond what's necessary. Great job and great service. Thanks again!

A comment from Evelyn
Hi Darcy! Just wanted to reach out to you and thank you again for all that you have done to help me with my laptop. My friend Ruth was right!. It was truly amazing to watch you buzz around my computer. You have so much computer knowledge. How do you remember it all? Thank you again so much. Thank goodness for Cloudeight!

A big Cloudeight "Thank you!" to Jason, Bob, Gail, Sally, Evelyn and everyone who wrote to us last week. We appreciate your kind words and your support very much! EB & TC


Buy one Cloudeight Direct Computer Care Key and get one for just $10! Learn more here.




Margo wants to know why Windows 10 Updates disconnect her Internet
Why do some Windows 10 Updates knock out my Internet? It appears that Update 1709 is the problem. My great son-in-law has spent so much time here at my computer that I feel guilty . What can we do to stop this problem ,I am using WiFi mode on my desktop. Thank you for any help, Margo

Our answer
Hi Margo. It's a known issue with some Windows version updates that they can sometimes disrupt your Internet connection. That's why Windows 10 (starting with version 1703) has a couple ways to help you fix your connection issues, including an easy way to completely reset your Internet,

But if this problem happens to you again, before you do anything else, the very first thing you should do is Power Cycle.. We have written a easy-to-follow tutorial on Power Cycling. You can read it here.

If Power Cycling does not work, the second thing you should try, is the Network troubleshooter. You can find the Network troubleshooter in Settings > Network & Internet > Status > Check your network settings (see screenshot below):




You may have to restart your PC after you run the troubleshooter. If running the troubleshooter does not help, you can completely reset Windows networking components. Again in Network & Internet > Status > Change your network settings ... click on "Network reset", then click the "Reset now" button and follow the onscreen instructions (See screenshot below). Your computer should restart automatically after the reset is complete.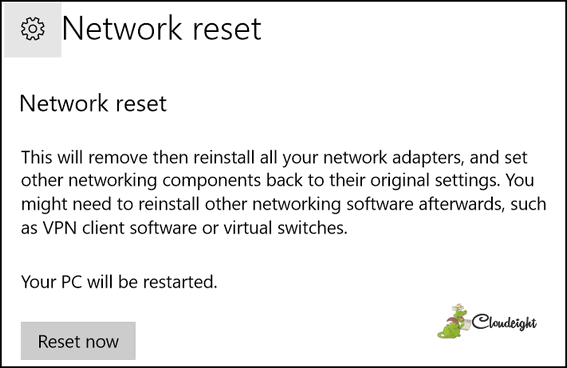 We're pretty sure one of these three options will help you the next time you have a problem with your connection. In many cases we have found that a simple Power cycling is all that is needed... .but Windows 10 gives you a couple of other options that may help you in case Power Cycling doesn't work for you.

We hope his helps you, Margo.



Martie wants a program to resize pictures
I want to resize my pictures to send in email. I tried to find shrinkpic you suggested in 2011 but couldn't find it. I did find imageresize, reduceimages, picresize, and compressionimage.toolur but not sure if any of them are any good and safe to download. Thanks, Martie

Our answer
Hi Martie. We have always used IrfanView as our main photo editor since Windows 98 (20 years ago!). It's easy to use and it's free. Resizing images is one of the things it does best. IrfanView has pretty good help documentation to.

As with any new program, you'll need to play with it a while to get a feel for how much it can do. It has some great editing features, and resizing pictures is one of the best and easiest to use.

It's super easy to resize images with IrfanView. Open the image you want to resize, then click "Image" on the toolbar and then choose "Resize/Resample" from the dropdown menu. Or, with IrfanView open and in focus, you can just press CTRL + R the choose the size or a percentage to resize your picture. It's that easy. You can even download a plugin for IrfanView (called Email) that allows you to send your resized image by email right from IrfanView by clicking "Options >Send by Email"

You can get IrfanView free from here.

Pay attention when you install it, sometimes (not always) it tries to install other programs (not malware but programs you probably won't want). Be sure you uncheck the boxes for any other software it tries to tell you would be great to install.

We think it's the best image viewer & simple image editor available. We think you'll like it too!





Patty may have been scammed
I know you do not work on XP, but I do have a credit with you and thought you could answer a question for me. I signed into my Att.net Tech Support and got a fellow, rough English...who worked with me for about 20 minutes, going into my computer, showed me what was wrong...lots of viruses, etc.

He then asked me to pay $99 to have the repairs made. I paid him only $59 and he helped me to change my password. I did get locked out after trying my password incorrectly too many times they blocked me. This is why I called tech support. One week later I had the same problem..the password did not work. So I, once again called the ATT Tech Support...the techy took me through the same routine ( I am 80, fairly computer wise) but when it got to the $99...I asked him if he was directly working for Att. He gave me the name USConnectSolutions. They have a nice website, one of many listed on search, some with fair reviews, but most of these people were CALLED BY the tech and told that they had all kinds of trouble in their computers...these were all bogus. I called them. So I told them I could not pay. He was supposed to call me today. I know how good you guys are and admit I haven't been reading the main newsletter.

One more thing... when I called ATT the first time they spent an hour on t he phone with me and told me that they could not fix it. This old lady didn't take nicely and yelled, "you can't fix it? What do you suggest?" Call Comcast they handle your e-mail....I called Comcast and they spent a lot of time trying to figure out my e-mail. They came back with a 1-800 # for ATT Support. Guess what? It was USConnectSupport! So it seems that no one can fix it. I would like to clean this computer, get a new e-mail and hopefully my life can come back to normal. After 40 years of being somewhat Computer aware...Your company is the only one that has really helped me...when I needed it. Guess that is pretty good for me, should have called you first. thank you for whatever help you can give me. Can you give me some advice on this mess? Patty M.

Our answer
HI Patty. It sounds like you have been scammed and the site you sent us to does not even work. So, it must be a different site than the one you gave us. Either way, the first thing scammers do is tell you that you have a virus or "hundreds of Windows errors". The first thing you should do is contact your credit card company or bank immediately, tell them you were scammed, and to do a chargeback (this is a forced refund and your credit card company will back you up on this). Then, ask them to change the account number, since these crooks now have your information.

Can you give us the URL to their Website. And can you give us the exact phone number are you calling?

A brand new laptop will cost you under $300 and will be more powerful with more storage space and better graphics than most old Windows XP computers. Be very careful about putting money into a old computer that is probably close to the end of its life. With old computers, hardware failure is pretty much the norm.





Thelma's daughter has problems updating to Windows 10 Fall Creators Update (version 1709)
Hi TC. You recently helped me with my daughter's laptop which wouldn't upgrade. We installed the update you said from Microsoft but it didn't work and it is still the same as before. It seemed to install it but in settings it says restart but that doesn't help. Thanks for trying to solve the problem and maybe the upcoming update this month will fix things but don't know what to if that doesn't work.

Our answer
Hi Thelma. As I told you when I was helping you, we have received emails from a dozen or so people who have computers that just won't update to Windows 10 Fall Creators Update. We did the final option of trying to install the directly from Microsoft and bypassing Windows Update.

We have found most of the computers that won't update are computers that came with Windows 7 and were upgraded to Windows 10. Since each new version update of Windows 10 is like a new version of Windows, they find out that they hardware or a BIOS that are is compatible with newer versions of Windows 10. If the Spring Creators Update doesn't work for her, then there is nothing much you can do. The version your daughter is using now (Creators Update version 1703) and that version will be fully supported by Microsoft through September 2018.

Let's just hope the Spring Creators Update (version 1803) installs for her without a problem. Version 1803 should be out sometime this month (April 2018).





John's WordPad program has shrunk to a few inches wide and he can't resize it
Hello. I opened my WordPad program this morning and found it very narrow, not much more than three inches wide. I was not able to expand it to normal size. The little tab at the top would not change anything. Tried rebooting, but to no avail. Thank you for helping if you can. John

Our answer
Hi John. You should be able to grab the bottom right corner to resize it. Here are some screen shots to help you. These are all screenshots of WordPad that we intentionally resized to be very small.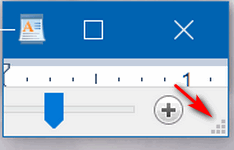 If you look closely at the screen shot above, you'll see a slightly darker (gray) triangle in the bottom-right corner: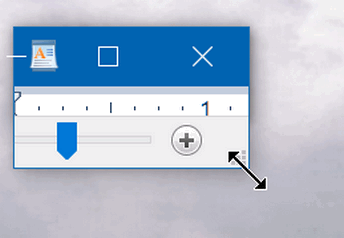 If you hover your mouse over it, you'll see the cursor will turn into a double-arrow, as you see in the screenshot above.

Drag the corner of the window downward and to the right and you'll see the window expand.




Once you get the window to the size you want it, hold down the SHIFT key and then click the X in the top right corner to close the WordPad window. Now open WordPad. You'll find it opens to exactly the same size as it was when you closed it while holding down the Shift key.

You can also try this trick: Right-click on the WordPad shortcut and choose "Properties". Next to "Run" click the down arrow and choose "Maximized" from the drop-down menu. Then click "Apply / OK".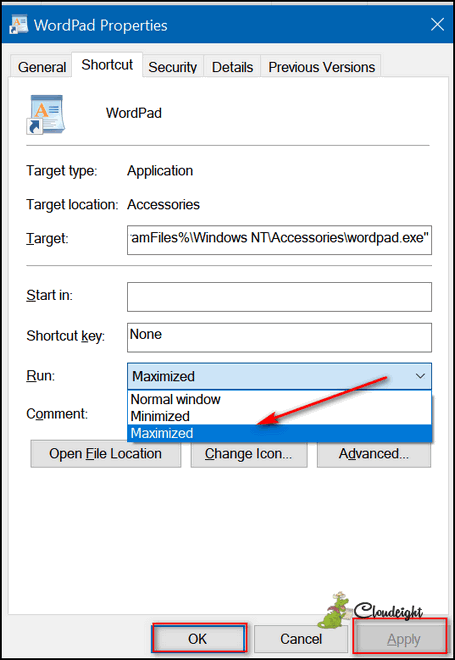 Hope this helps you, John.





Trish's building had a power surge and everything went dark
My and my husband lost our computers. Yesterday the building went dark and when the lights came back, the computers were toast. Many people lost the computers. I was running Windows 7 and my husband Windows 10. The boot something failed. I now have a Windows 10 and I am so confused. I have followed you for years and am a Cloudeight Booster. I use Emsisoft, but I have no idea to get Emsisoft back. Can you help me? Thank you. Trish P

Our answer
Hi Trish. Sounds like your building had a major power surge. First, if you have image backups of both computers, you can try to use them to "image" your hard drives, if the hard drives are still viable. Unfortunately, it is most likely that the power surge damaged to your motherboard, and if so it would be cheaper to buy a decent new computer (you can get a good laptop for less than $400) than to buy a new motherboard with a processor and pay someone install it.

In the future, always be sure to use a power surge protector as this will protect electronics from power surges. Many surge protectors come with a guarantee should your equipment be damaged by a power surge. We recommend that you stick to a name brand surge protector as they all guarantee your equipment from damage from power surges. Here's an example of a good, brand name surge protector with an equipment guarantee. We are not recommending a specific brand, but we wanted to give you an idea of what to look for when shopping for a surge protector. This particular surge protector is backed by a lifetime warranty and $300,000 connected equipment warranty

With all that being said, if you do get new Windows 10 computers, we can set them up to make it seem more like Windows 7 if you want, and include setup of Emsisoft. You can use a new computer setup key, or a regular direct care key

We have located your most recent Emsisoft purchase from June of last year, so you can reinstall Emsisoft and use whatever time is left on that license. Link to download Emsisoft is also included.

Best to you Trish. Thanks for being with us through the years,





Bernie has problems with MS Office 2010
Hi TC and EB. Thank you for your assistance in the past. Unfortunately there is always something new coming along! Further to your item regarding repairing MS Office problems. After surviving several upgrades to Windows Falls Edition Word and XL files had trouble opening. They would always go through a lengthy 'configuration' process. I found that this was not uncommon with many having the same problem. I followed your advice regarding the Office Repair but that did not resolve the problem.

One suggestion I read was to uninstall any earlier Office programs. When I went look for earlier editions I found that they were not there. I use Revo uninstaller and it could only find a total of 13 apps on my PC. All the many others had been deleted during the upgrade. My Office 2010 was not to be found either but I had been using it with its 'configuration' problem!

I decided to reinstall Office 2010 with my disk. During that process I was given the option to repair which I took. After a long time it completed the process but everything was just the same. Revo was then able to find Office 2010 which it uninstalled and I then reinstalled 2010 and now all is fine. Except that now my Word and Xl icons are blank pages.

Again I have followed some suggested repairs to that problem some quite involved but no success. How can I view my Word and Xl icons again? Bernie

Our answer
Hi Bernie. Sounds like the icons you had were old icons from a previous installation. Your best bet is to delete them and new shortcuts.

Here's something to keep in mind, Bernie. Office 2010 is really very old - going on a decade. We both finally opted for Office 365 which we get direct from Microsoft. It updates and you always have the latest version. We think the price is fair at $69.95 yearly - or you can pay monthly at $6.99 per month. If you use MS Office a lot, it is a good investment and a good deal. As Windows 10 continues release new versions, you can count on the fact that Office 2010 will continue to have failures and problems as it becomes more and more outdated.

Here is the link if you are interested in Office 365.

It includes full support from Microsoft and they will even connect and repair, fix, remove/reinstall etc. at no extra cost. And it also includes upgrades and updates as long as your subscription is active, so you'll always have the very latest version of MS Office.

Hope this helps you, Bernie.





Ruth wants to know how to keep her screen from dimming while she's reading a long email
How can I stop my screen from shutting down while a read a long email? It seems to shut down within a couple of minutes if there is no activity on it. This is most annoying when I am trying to sort through something to add to an email. or my accounting programme. I am sure there is a setting somewhere that controls this, but I don't know where to find it.

Thanks for the help you have given me in the past. Ruth

Our answer
Hi Ruth. Type Power Options in taskbar search and press Enter, (or press Windows key + X and click Power Options on the menu which appears).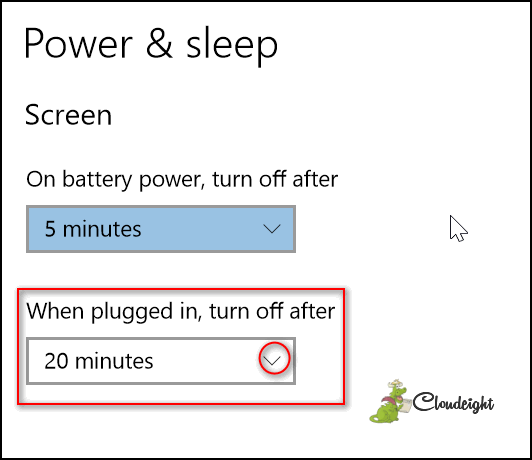 If you don't have a laptop, you will only see one option under Power & sleep / Screen. The amount of time before you monitor will dim can be adjusted from 1 minute to Never. If you have a desktop you should set the screen to turn off after a reasonable amount of time of inactivity. We suggest 15, 20, or 25 minutes. If you have a laptop, you should choose 5 or 10 minutes on battery power, and 15, 20, or 25 minutes when plugged in. Keep in mind if you're reading a long email and you're not touching the keyboard or mouse and your screen is set to dim after 1 or 2 minutes your screen will dim and you'll have to touch your keyboard or mouse to bring it back.

Ruth wrote back: "Once more THANK YOU very much .... Ruth."





Eddie wants to download PDF files - not open them in his browser
Thanks for all your wonderful help to us! I have a problem when I try to download any .pdf file. When I click on download, it starts downloading multiples of the file and opening up tabs at about the rate of two per second. I have to click out of the page I'm on to stop the tabs from opening but sometimes it opens back up and keeps downloading and opening tabs until I close it again and again. When I go to downloads, the file is there only once. If I try to open it, same thing happens UNLESS I right click and open with Adobe Acrobat Reader. It opens fine and is readable. This happens every time on .pdf file downloads only. Any ideas what I need to change or modify? Thanks so much!

Our answer
Hi Eddie. We don't know what browser you're using, but here's a trick you can use with any browser. Instead of left-clicking the link to download, right-click the link and choose:

Chrome "Save link as"

Firefox "Save link as"

Edge "Save target as"

Internet Explorer "Save target as"

When you do this, File Explorer will open a folder (normally Downloads) and you can save the PDF file that way.

Let us know if this helps you.

Eddie wrote back: "Your suggestion works very well. I had the problem on Chrome as well as Firefox but I did what you suggested and I'm happy with it. I only download about a half dozen .pdf files in a given month but it sure has been a hassle up till now. As always, you folks are such a great help and I truly appreciate your quick response! All the best! Eddie"



Spring $10 Sale! Buy one Cloudeight Direct Computer Repair Service Key and get one for just $10
Our Cloudeight Direct Computer Care Repair Service Keys never expire. They're good until you use them. Right now, during this special spring sale, you can buy one Cloudeight Direct Computer Care Service Key for the regular price of $50 and get a second one for just $10. You can give the 2nd key to a family member, friend, or keep it for yourself. Our Cloudeight Direct Computer Care Service Keys never expire, they're good until use them. It really is like having insurance for your computer.
With our Cloudeight Direct Computer Care we can give you fast, friendly, efficient and friendly computer service.
We can fix all kinds of computer problems - while you watch!
Slow computer? Computer Crashes? Unresponsive programs. We can fix it! We can make your computer run like you want it to.
We can remove viruses, Trojans, PUPs, Malware, rogues, and other infections.
Grab a cup of coffee and watch as we fix your computer - you never have to leave your home - and neither does your computer!
Compare our price - we give you great service for a great low price. You will not find a lower price or a better remote computer care service anywhere!
Our Cloudeight Direct Computer Care Repair Keys never expire. They are good until you use them.
Read testimonials from satisfied Cloudeight Direct Computer Care customers.
Take advantage of our Spring $10 Sale right now. Buy one Cloudeight Direct Computer Care Service Key - and get a second one for just $10.




Let Microsoft Edge Read Web Pages, PDFs, and E-books to You
Windows 10 - Microsoft Edge Brower

Microsoft Edge isn't the most popular browser in the world - that title belongs to Chrome. But Edge is certainly getting better - it is much improved from the version that Microsoft included in the first version of Windows 10 back in July 2015.

Most everyone knows that can use Edge to browse the Web, but did you know that you can also use Edge to open PDF files and most standard E-books?

Edge can even read to you. Let Edge read PDF files, E-books and entire Web pages - or parts of Web pages - to you. To hear an entire Web page read aloud, right-click anywhere on the page and then select "Read aloud" from the pop-up menu. You'll hear one of the built-in Microsoft voices start reading to you from the top of the page. If you just want a portion of the page read aloud to you, highlight the text you want to hear, then right-click on the selected text and choose "Read aloud" from the pop-up menu.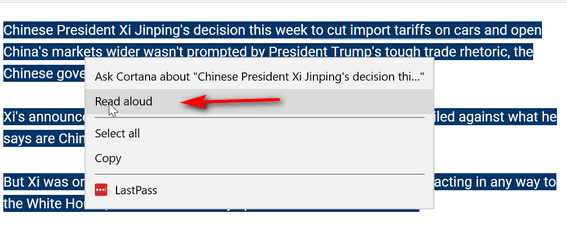 Fun note: Generally Edge and the "Microsoft voices" do a good job of reading text aloud to you. However, sometimes it can be amusing. In a news article about US - Chinese trade, the Chinese president Xi's name was pronounce "Eleven" - like the Roman numeral XI. So, it's not perfect, but it is really pretty good!




Taskbar Real Estate is Precious: Do You Need the People Icon?
Windows 10 (Fall Creators Update and Newer)



Above - in the red box - is the People icon.

We've noticed quite of few of you have the people icon showing on the taskbar. If you use it, that's great. The People app shows your favorite contacts to allow you to quickly communicate with them by clicking on People app icon and then clicking on the contact's picture or contact's icon. Most people don't use it. For me, If I want to contact someone I just send them a text message - or an email. Or if it's really important I'll just call them.

If you are like me and you don't use the "People" app, you can easily remove the people button (icon) from your taskbar.




Right-click on the taskbar and un-check "Show People button". As soon as you do, it will be gone and you'll regain a little taskbar space.





Quick Windows 10 "Power" Tip
Windows 10

Go to your Windows 10 desktop ( if you're not there now you can get there quickly by pressing Windows Key + D). Now press the ALT + F4 keys. What do your bloodshot eyes behold? A Windows Shutdown (restart, switch user, log off, etc.) dialog that you've probably never seen before. At least EB and I have never seen it. We stumble on stuff like this while playing around with possible tips. Anyway, when your on the Windows 10 desktop, press the ALT + F4 keys and you'll see this:




You can shut down, sign out, sleep (not you, your computer), switch users, or restart. All you have to do press ALT + F4 from the Windows 10 desktop. Want to get to your desktop and the Windows 10 shutdown dialog just using shortcuts? OK... do this:

Windows key + D (brings the desktop into focus)
ALT+F4 (brings up the shutdown dialog)

Now you can look like a real power user. Amaze your friends :-)


Two Easy Right-click Tricks That Work in Any Browser
Windows 7, Windows 8.1, Windows 10
These tips work in any browser and they are simple and useful.
Open a page in a new window
You can open any page in a new browser window by right-clicking the link and choosing "Open page in a new window" (in Firefox and Chrome):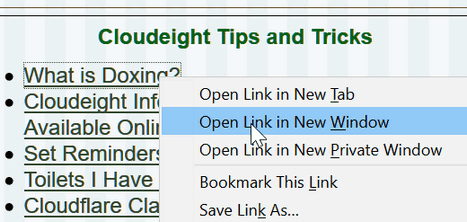 Or in Edge and Internet Explorer "Open in new window"
Right-click a download link
If you click on a download link the download will start and it will save to your default download location. But what happens if you try to download a PDF file? Normally, if you click a link to a PDF file, the file opens in your browser. Of course, after it does, you can save it to your computer. But what if you just want to download the PDF file?
In Chrome or Firefox, right-click the download link and choose "Save link as". A File Explorer (Windows Explorer) window will open and you can choose where to save the file – you'll even be able to rename it.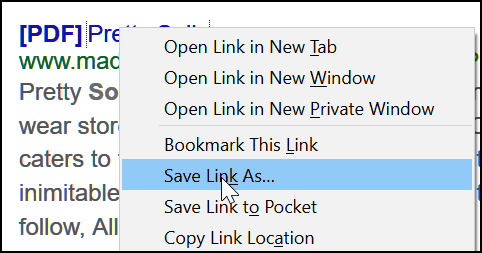 In Internet Explorer or Edge, right-click the download link and choose "Save target as".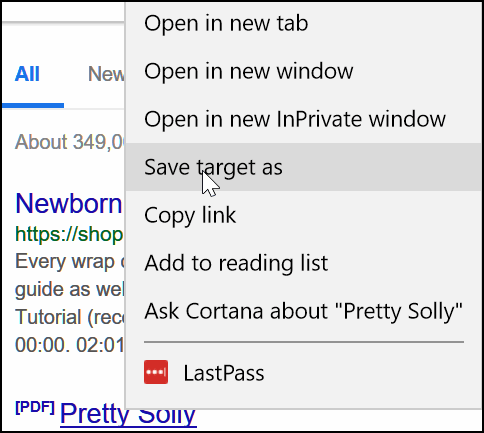 Now, if you already knew these two easy but useful tips… this is a reminder. If you didn't know these two easy browser tricks, you learned something new.

You Can Set Reminders With Cortana
Windows 10
Many of you are not fans of Cortana, and that's fine. But we find Cortana very helpful, especially when it comes to reminding us to do things. And it's so easy to set up reminders using Cortana.
Say "Hey Cortana" and then say (or type) "Remind me to ______________" . When you say or type the words "Remind me …" Cortana will automatically ask you what you want to be reminded of, then ask you for a time, date, or location for your reminder.
Or you can skip the second part of that by saying the whole reminder (date, time, etc.) all at once Like this: "Hey Cortana, Remind me to get my prescriptions filled tomorrow morning at 10 AM".
And I wanted to watch a baseball game a 4 PM on Sunday, so all I had to do was say: "Hey Cortana. Remind me to watch the baseball game on Sunday at 4 PM". I didn't have to say the date, Cortana assumes if I say Sunday, I mean the next Sunday. See?
Once I'm sure the reminder is correct. all I have to do is click "Remind" or say Yes.
So if you're tired of typing To-Do notes or writing yourself reminders, give Cortana a try. It's quick and easy to have Cortana remind you of things… and it works great.

Want more computer tips & tricks?
How to Shutdown or Restart Your Computer Without Using the Start Menu

Windows 10 Custom Colors

We have thousands of Windows tips, tricks and more on our InfoAve web site. Come see for yourself!



We Need Your Help! If you
d
on't need anything right now, please consider helping us with a gift.
When you support us with small gift, you help us continue our mission to keep you informed, separate the truth from the hyperbole, and help you stay safer online. Plus, our computer tips make your computer easier to use.
Did you know that we provide support to thousands of people? Every week we help dozens of people via email at no charge. Thanks to your gifts, we do a lot more than provide this free newsletter. We help you recognize online threats, fight for your online privacy, provide you with the knowledge you need to navigate the Web safely, and help you get more out of your PC.
Help us keep up the good fight with a small gift.
After giving your gift, you will receive an invitation to become a Cloudeight Booster.

Interested in making a automatic monthly gift? Visit this page. Help us keep helping you... and helping you stay safe on the Web.




TreeSize

We all care about our tree size I suppose. Maybe you exaggerate yours? How big is your tree, EB? Oh, come on, it's not that big! But while it's nice to compare trees, TreeSize has nothing to do with the trees your thinking of. In fact, these days, you rarely hear of a hard drive file structure being referred to as a tree. But just like your family tree, your hard drive has a tree too. The tree has branches (files and folders) - and so on and so forth. That's how the developer arrived at the name "TreeSize". Because your directories are all branches of a tree - metaphorically speaking.
Anyway...
Most of us have hard drives so big we don't worry about how big our trees are. We never give it much thought. But the other day, we were working on a customer's computer and her large hard drive was nearly out of space. Indeed. But try as I might, I could not find the folder which was taking up so much space. There are thousands of folders, there is only so much time, so we needed help. That's when we discovered TreeSize. Using TreeSize we were able to pinpoint the folder taking up a whole lot of the hard drive space in about 5 seconds (and we are not kidding). It turned out to be a temporary internet files folder located in the wrong directory - so it was never being cleaned. It was over 130 GB in size. Once we found the folder and knew what it contained, we were able to delete the folder and its contents and make all 130+ GB of hard drive space useable again. Happy! Happy! Happy! We do love happy customers.
Now most of you are going to say you have terabyte hard drives and you're not worried about hard drive space anymore than Bill Gates worries about where his next meal is coming from. But even uncle Bill doesn't throw away money just because he's got several tons of it. Nope, you can be sure uncle Bill knows where all his money is all of the time. So you may be rich with hard drive space, but there's no sense in wasting it. Besides, it's kind of fun to see what folders and files are using up the most hard drive space. I know what you're thinking...only TC & EB would have fun like that. But no, wait, you would have fun too. But you need our freeware pick in order to have fun.
So without further pomp and circumstance, let us introduce you to the inventor, developer and promoter of our freeware pick "TreeSize". Take it away!

"Even in the times of cheap terabytes a final truth remains: Sooner or later every hard disk will near capacity. But there is help! TreeSize Free tells you where precious disk space has gone.

The freeware can be started from the context menu of a folder or drive and shows you the size of this folder, including its subfolders in an Explorer-like fashion. Large folders can be identified at a glance thanks to the gradient bar displayed in the background. All scan results can be drilled down to file level and filters, e.g. for files of a certain type, can be applied. TreeSize Free will even scan smartphones and mobile devices.

TreeSize Free scans network drives and locally synchronized cloud shares (except on Windows servers and within a Windows domain) - just like TreeSize Personal!

The column view presents more detailed information for each file and folder. Here you will find the size or number of files as well as the last access date and the owner (and other useful facts).

On touchscreen devices (Windows 8 and higher) you can switch to the intuitive touch interface for even easier navigation.

Scan results can be broken down with the flexible filter feature. You can use the filters, for example, to find files of a certain type, such as temporary files, text files or images and use this information to clean up your hard disks.

TreeSize Free works on the MFT (Master File Table) and reaches extremely high scan speeds. Scanning operations run in a thread, so you will see results almost instantly while TreeSize Free is working in the background. The Explorer context menu and drag & drop operations are supported within the application..."
OK, so he's/she's not laconic like us. We can't help it. TreeSize is the best program we've ever used scan drives and directories to see what files / folders are using up the most space. You can scan external drives with TreeSize too. It makes a wonderful gift to yourself, and the free version is very cheap - it's free. We all should give ourselves nice cheap gifts from time to time.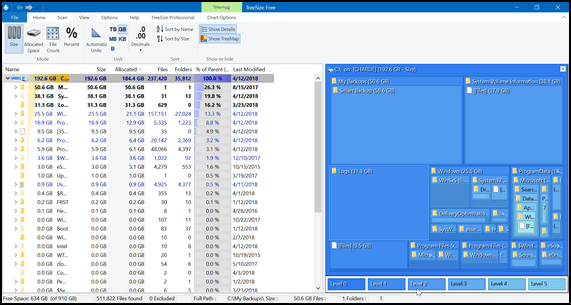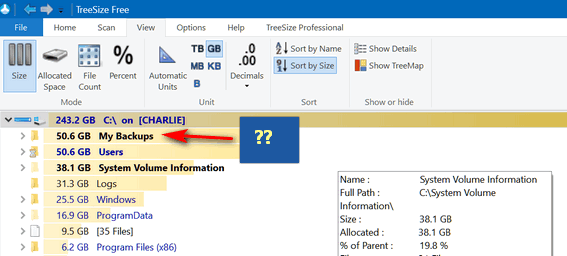 WHAT IS THIS? Look up! Something odd going on here. It's something we tell everyone never to do. And what is that? We tell folks never backup their computer on their C:\ (Windows drive). I have Ashampoo image backups on an external drive. I have file history backups on an external drive. But why do I have this old backup on my C:\ drive? I don't know. Maybe when I was testing a backup program back in 2016 and I accidentally backed up to my C:\ drive. I'm not very bright. But thanks to TreeSize, I caught this blunder and saved myself 50+ GB of hard dive space. Now, that I've freed up that 50 GB, I am not even using 30% of my 1024 GB (1 TB) hard drive. That means I have 70% of my tree left. TreeSize saved me 50 GB of hard drive space just doing the testing for this program.
With TreeSize you will be able to see where and how your hard drive space is being used. TreeSize is informative and shows you how your hard drive space being used. It's very easy to use and intuitive. TreeSize is free from malware and download tricks. You don't even have to install it. TreeSize is available as a portable software version (zip file), or an installed version (Windows installer). You can download either of 2 versions of TreeSize from this page.
If you want to read more about TreeSize, as if you haven't read enough already, you can do so from this page. But you need to go to this page to download it. Got it?




Now available: Reg Organizer 8.10

If you purchased or renewed Reg Organizer through Cloudeight within the last 12 months, you're entitled to a free version upgrade to Reg Organizer 8.10.

Save $14 on Reg Organizer right now!

Reg Organizer - A Swiss Army Knife of Windows Tools - Works Great on Windows 10!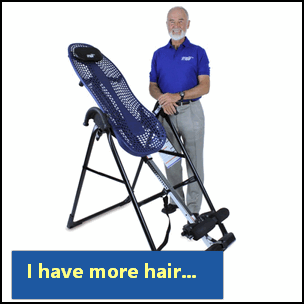 Having Fun Getting Old
For years and years I fought the facts of life – NOT THOSE! I fought the fact of life that I, the young man in a crummy old body, am getting OLD.
I used to protest loudly if someone even dared called me a "senior" that I was getting to be an old coot. Even when offered a 10% "Senior discount" by some (obviously visually challenged) young waitress in a restaurant – I'd get riled.
To make sure everyone knew I was not old, I'd skip down the street, walk really fast, and even jump up in the air like the guy from the Teeter-Hang Ups commercial who claims he is 74 -probably 80 by now – and jumps around like he's 30 merely because he hangs upside down, like a bat in a cave, on some odd looking contraption he invented called Teeter Hang Ups. To be honest, it looks like a basket on a stick.
Many of you never saw this commercial so, you're thinking I'm just making this up, but I swear it's true. Google Teeter Hang Ups – you'll see. Doubt me, will ya?
I think that guy snorts something or gets drunk before he jumps – there is just no way in the world that hanging upside down is going to make you younger. It may make you stronger as anything which does not kill you makes you stronger so they say, but where is the evidence of that?
I live a very boring life. Getting older adds to the boredom since I'm not old enough to have lost my short term memory, my mind, nor am I young enough to care – I'm a tween. You know that they call kids between 10 and 12 "tweens"? Right? Well sort-of old people like me are tweens too. We are tween lots of things. We are tween sanity and dementia, Alzheimer's, and that old pine box...
Read the rest of this essay here.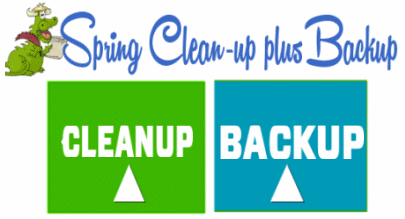 Our NEW 2018 Spring Cleanup + Backup Special
This year we introduced our popular Cloudeight Backup Service and our 2018 Cloudeight CleanSweep service. We've offered them separately for $30 each. Starting today, and for a limited time, we're offering you our new Spring Cleanup + Cloudeight Backup service for just $40 - that's $20 off the price when purchased separately.
We'll clean up and backup your computer all in one easy Cloudeight Direct Session. You'll have the piece of mind of knowing your computer is clean, optimized and is being automatically and backed-up every week - so your data is safe.
Our New 2018 Spring Cleanup/Backup special includes:
We will give your computer a general checkup and deep scan your computer for malware/PUPs/viruses
We will clean up any malware/PUPs/Viruses we find and we'll optimize your startup programs & services
We will install Ashampoo Backup Pro 11 and set it up and configure it for automatic backup and we will give you a lifetime license for Ashampoo Backup Pro 11
We will create recovery media (USB, or CD/DVD) so you can access your backup even if your computer won't boot or your hard drive fails
All for one low price!
Take advantage of our new Spring Cleanup + Backup Special and get the peace of mind that comes with knowing you computer is clean and optimized and all your data is being backed-up automatically. But like spring - this sale won't last forever.
Get more information about and/or our get you Cloudeight Spring Cleanup + Backup right now!




What is a processor (CPU)?

EB is a processor. She processes my salary. By the time she gets done processing it, I end up with $7.43 each week, and EB keeps the remaining $4.67 for a processing fee. You might have noticed when you order something "As seen on TV" you end up paying a shipping and processing charge. Processing charges, like EB's, are generally fees for doing very little work - so processing is a euphemism for taking your money for "processing" nothing.

But surely I jest. You want to know about computer processors - the one(s) inside your computer. Generally referred to as "the processor" or CPU (Central Processing Unit), it's the brain of your computer. It's like your brain, which processes everything you hear, see, feel and do. The CPU or processor(s) inside your computer or device is the brain of your computer or device. But rather than me trying to explain it, I'm going to give you a really good definition from TechTerms.

The following is from this TechTerms page. If your brain is ready... start processing!

"A processor, or "microprocessor," is a small chip that resides in computers and other electronic devices. Its basic job is to receive input and provide the appropriate output. While this may seem like a simple task, modern processors can handle trillions of calculations per second.

The central processor of a computer is also known as the CPU, or "central processing unit." This processor handles all the basic system instructions, such as processing mouse and keyboard input and running applications. Most desktop computers contain a CPU developed by either Intel or AMD, both of which use the x86 processor architecture. Mobile devices, such as laptops and tablets may use Intel and AMD CPUs, but can also use specific mobile processors developed by companies like ARM or Apple.

Modern CPUs often include multiple processing cores, which work together to process instructions. While these "cores" are contained in one physical unit, they are actually individual processors. In fact, if you view your computer's performance with a system monitoring utility like Windows Task Manager (Windows) or Activity Monitor (Mac OS X), you will see separate graphs for each processor..."
If you want to know even more about this subject, please visit this page to read the rest of this article... and keep on processing. And remember: If you have a desktop, the computer case is not a CPU.

What's that EB? Your processing fee just went up by 10%. I barely get paid now! I can't afford another 10%!




Sales of the following products and services help support our newsletters, websites, and computer help services we provide.

Cloudeight Direct Computer Care: Single Keys or Season Tickets - always a great deal. Cloudeight Direct Computer Care is like having PC insurance. Get more information here.

Emsisoft Anti-Malware: Emsisoft is the only Cloudeight endorsed and recommend Windows security program. It provides users with a complete antivirus, antimalware, anti-ransomware, anti-PUPs solution. We offer single Emsisoft licenses and multi-computer licenses at discount prices. Also, we offer our exclusive Emsisoft with Cloudeight installation & setup. Get more information here.

Cloudeight Backup Service: Professional setup of a complete backup system including creation of rescue media, image backups, incremental backups, Cloudeight Direct Backup session key and a lifetime license for Ashampoo Backup Pro 11. Get all the details here.

Thunderbird Email Setup: Thunderbird is a great email program that you can use with your Gmail and Outlook.com (Hotmail) web mail accounts as well as with your Internet provider's email. We'll set it up right for you. Our set up includes configuring up to 3 emails accounts, and setting up Thunderbird to use stationery (if desired). Our Thunderbird Email Setup Service is always a great deal. For more information visit this page.

Reg Organizer 8.10: Reg Organizer is the Swiss Army Knife of Windows tools. It's far more than just a registry optimizer and cleaner... it's Windows all-in-one toolkit. Helps you keep your computer in tip-top shape and also helps you solve annoying Windows problems. Reg Organizer works great with Windows 10 too! Get more information about Reg Organizer (and get our special discount prices) here.




If you don't need any of the above products or services at this time, please consider helping us with a small gift. Everyone who helps us with a gift is invited to become a Cloudeight Booster and is eligible for special Cloudeight Booster Freebies and special Cloudeight Booster sales. Please consider making a small donation today. Ad thanks to all of you who support us! We appreciate it very much!
Premium Subscribers' Home Page. You'll find the last few weeks of Premium archived on this page.
To change your subscription address, see "Manage your subscription" at the bottom of this newsletter.
Submit your questions, comments, and suggestions for possible inclusion in our newsletters here. This form is for questions, comments, and suggestions for this newsletter. This form is not for product support, stationery questions, or general questions concerning our products or services.
Send us your suggestions and recommendations for future freeware picks and/or sites of the week
Help us Grow! Forward this email newsletter to a friend or family member - and have them sign-up for InfoAve Premium here!
Get our free daily newsletter! Each evening we send a short newsletter with a tip or trick or a computer-related article - it's short and sweet - and free. Sign-up right now.
Have a question about a Cloudeight Software program, service, stationery, or need to ask about an order? Let us know!
If you need help with one of our software programs, have a question about an order, or have a question about any of our email stationery, screensavers, or other products - please don't use our InfoAve Questions/Answers/Tips form. Use our general Cloudeight support form instead.
Print our Cloudeight Direct Flyer and spread the word about our computer repair service! If you want to help us by telling your friends about our Cloudeight Direct Computer Care service, you can download a printable flyer you can hand out or post on bulletin boards, etc. Get the printable PDF Cloudeight Direct Computer Care flyer here.




These products and services are recommended and endorsed by Cloudeight:
Also.. don't forget:




We'd love to hear from you!

If you have comments, questions, a tip, trick, a freeware pick, or just want to tell us off for something, let ups know. Please visit this page.

If you need to change your newsletter subscription address, please see "Manage your subscription" at the very bottom of your newsletter.

We received hundreds of questions for possible use in IA news. Please keep in mind we cannot answer all general computer questions. We try to personally answer as many as we can. We can only use a few to in each week's newsletter, so keep this in mind. If you have a support question about a service or product we sell, please contact us here.




We hope you have enjoyed this issue of InfoAve Premium. Thanks so much for your support and for being a Premium subscriber.

Have a great weekend!

Darcy & TC
Cloudeight InfoAve Premium - Issue #757
Volume 15 Number 26
April 13, 2018

Not a subscriber? Subscribe to our InfoAve Premium Newsletter

Share Us on Facebook!
We'd love for you to share us with your family and friends on Facebook. Help us by sharing us on Facebook!






"Cloudeight InfoAve Premium" newsletter is published by:

Cloudeight Internet LLC
PO Box 73
Middleville, Michigan USA 49333-0073

Read our disclaimer about the tips, tricks, answers, site picks and freeware picks featured in this newsletter.

Copyright ©2018 by Cloudeight Internet