Cloudeight InfoAve Premium
Issue #764
Volume 15 Number 33
June 1, 2018

Dear Friends,

Thank you very much for subscribing and for being a part of our Cloudeight family. We appreciate your subscription and your support very much!

A note about today's issue of InfoAve Premium... We have received many questions the past couple of weeks from our readers. So we are dedicating much of this issue to the questions and answers section.




SeniorPass: A Very Special Deal for Our Friends 60 and Older!
We're going to extend this special price offer for one more week. It's our way of saying 'Thank You' for your support and for your fantastic response to this offer.
With our Cloudeight Direct Computer Care SeniorPass, our friends age 60 and older get one full year of unlimited computer care and repair for a special price of just $79. A low, low price for Computer care anywhere - any time you need it!

SeniorPass is valid for unlimited computer care & repair sessions for one full year starting with the first time you use it. The clock does not start ticking until you use your SeniorPass for the first time. A great deal!

Having SeniorPass is just like having insurance for your computer. And talk about affordable! Right now, our SeniorPass is available for just $79. You can get help with almost any computer problem whenever you need it. We're here to help you.
Get your SeniorPass and/or get more information here.




A comment from Alice
Darcy - just want to say that I really appreciate all you do for me and my computer. My computer works good and now with your expertise I have a back up in place. I've been a member a long time and I've learned so much about computers from your weekly bulletin and daily news. It's good to have a honest person working on my computer. I will never ever take my laptop to anyone else to get a problem fixed. You have a lot of patience especially with me since I do not know much about computers. Thanks again.

A comment from Barbara
I would like at this time to give testimony to the connection I had with TC last week. I am from Calgary, Alberta, Canada, as well as an aged-senior. I am so impressed with the contact with TC - he was patient, kind, and very helpful. My computer is running better than ever after he found a problem and was able to fix it for me. He also did the set up for A-shampoo, and as my computer had been having problems, it took him much longer that we thought it would. And he stayed with it overtime to make sure I was going to be able to use the program. I have trusted Cloudeight for many years, and this just confirmed that my choice to go with them many years ago was the way to go.

A comment from Jerry
When I started my new job my pc was running like a go cart. But after a pitstop from Darcy it's running like a NASCAR race car! New Thunderbird email, Emsisoft , and Ashampoo backup. Great job! Thank you Darcy!

A comment from Thomas
Hi, I just wanted to say thanks for the wonderful job you do for us neophytes. I have learned a lot through the InfoAve Premium issues which I read every Friday and pay special attention to your suggestions and recommendations. Over the years I bought and supported most of your services. Last Tuesday, Darcy performed the spring cleanup and the installation of the Ashampoo Back up on my computer. Because of a large Windows update going on at the same time as Darcy was trying to download the Ashampoo program, we could not reconnect. She told me to send him an email the next morning so he could finish the job. And she did and everything is working perfectly. Thanks Darcy .

A comment from Char
Today was a great day!! TC came aboard and repaired my messed up, old computer. I am home a lot and spend much time on it, like so many other of us "old folks". It is not the first, and won't be the last(I hope) time, that this has/will happen. Such a great company! I have had both TC and Darcy work on my computer and have been a user of their services ever since they began. Worry free, reasonable charge and such great "stuff" to be able to use and read. Thanks so much for all you do. Char

A comment from Imogene
Hi. There are not words to thank and appreciate this couple's compassion, expertise, lightening speed in helping people with computers. After starting to get some help from them, I was hospitalized and had to delay finishing up. Today the patience, expertise and quick help is completed ... and even had the thoughtfulness to enlarge type in instructions for my ease in seeing. Just have to say these folks have to be happy as they have helped and made so many people happy. It is true trust has to be earned, and over the 12 years I have been enrolled with their newsletters, they have for sure earned my trust in a world where trust is rare! Imogene

A comment from Graham
Hi, I recently had TC & Darcy work on both my computers, I would like to thank you both for the great job. Both computers are running like rockets and I'm thrilled with Emsisoft & Thunderbird you installed. I wish now I had proceeded with this a couple of years back. Thanks again.

A comment from Olstan
Darcy. What can I say. Recently I had several problems with my computer software and I booked a session with Cloudeight. After a few problems establishing contact with one another (confusion with email addresses) Darcy's "wizardry" and knowledge came to the fore and in no time my problems were rectified. Nothing was too much trouble. To anyone with computer problems I have no doubt in suggesting that the purchase a key and book a session. A BIG thank you, Darcy! Olstan

A comment from Linda
Yesterday, TC tweaked my computer at my request because I had installed the Windows 10 update and noticed my computer was slower. Plus, he made some changes that I felt were annoying. At this time, I realized that TC has a wonderful sense of humor and is very patient. Thank you TC!

A big Cloudeight "Thank you!" to Alice, Barbara, Jerry, Thomas, Char, Imogene, Graham, Olstan, Linda and everyone who wrote to us last week. We appreciate your kind words and your support very much! EB & TC

Cloudeight Direct Computer Care computer repair keys are always a bargain. Get more information here.

For our friends over 60: SeniorPass is available for a very special price. Computer care & repair for one full year. Check out our SeniorPass offer right now!



Here are some important links for you:




Jan updated her Windows 10 Computer to Version 1803 and now can't access her other computers using Homegroup
I let the new build of Windows 10 install on 2 of my 3 computers and suddenly could not see those two computers on my home network. So, I reverted them back to the previous build and they showed up again, thankfully. How will I know when those kind of issues have been fixed so that I can continue to download and install Windows Updates. Also, because I reverted back to the previous build, does that mean I can't install the incremental updates?



Our answer


Hi Jan. Homegroup has been removed from Windows 10 beginning with Windows 10 Version 1803 (April 2018 Update). It's not coming back, so no matter how long you wait it won't make any difference. But with Widows 10 Version 1803 (April 2018 Update) Microsoft introduced "Nearby sharing". Here's a Microsoft page that tells you how to share files, etc. on Windows 10 Version 1803 using "Nearby sharing" - and we assume newer versions beyond 1803. All computers sharing files using Windows 10 Nearby sharing must be running Windows 10.

OneDrive is another way to share file between computers - even computers & devices running different versions of Windows. OneDrive is already installed on all Windows 10 devices. You can read more about One Drive here.

We hope this helps you.




Debbie uninstalled and reinstalled Chrome but still has problems
I've been having a problem with Google Chrome. Some sites won't open, it says to turn off my Ad Blocker. I'm no longer running an Ad Blocker. I have uninstalled Chrome on my laptop & desktop & reinstalled them. I restarted the computer after uninstalling, before I reinstalled Chrome. I even tried to Repair Chrome first! Once I sign in, the same problem occurs! I have even checked my, "manage Add-ons & no ad blocker shows up there. How can I remedy this problem?

Our answer
Hi Debbie. You must completely remove Google Chrome and related folders. The Google folder is found in C:\Users\**Your User Name**\App Data\Local and is also found (sometimes) in C:\Users\Your User Name\AppData\Roaming . The AppData folders can only be seen if you set up Folder Options to view hidden files and folders. We've included complete instructions in our post here.

If you don't remove those Google folders in both locations, when you reinstall Chrome all your previous Google Chrome content, settings, etc. are reloaded into Chrome... so uninstalling Chrome and not removing the Google folders in AppData/Local and in AppData/Roaming (if there) really doesn't do much good, because all the data associated with the previous installation of Chrome is automatically loaded into Chrome when you reinstall it.

See our post here (use method #2).





Jason wants to turn off word suggestions when he's typing an email in Thunderbird
Every time I type something in an email, a suggestion comes one the screen for each word for alternates. This just started. I must have clicked on a setting somewhere but do not remember where or what. Tough to get old. Any thoughts? I am using Mozilla Thunderbird. I looked in settings and could not find anything. Obviously, I missed something. I just updated to the new version of Windows if that's any help.

Our answer
Hi Jason. Darcy's our in-house expert with Thunderbird and she knows of no setting in Thunderbird for predictive text while writing an email. So, we're going to make a leap of logic here and see if we can help you. Since you've updated to Windows 10 April 2018 update (Version 1803), let's make sure you that Windows 10 predictive text feature is not turned on. You can check by going to Settings > Devices > Typing > Hardware Keyboard . Make sure that "Show text suggestions as I type" is turned off.

According to Microsoft, the predictive text feature is suppose to only with Windows apps (Edge, Notepad, etc.), but we're guessing that somehow it is also working in Thunderbird.

Anyway, keep us updated.

**Jason wrote back: "That was it. For some reason it was working in Thunderbird also. If that is driving anyone else up the wall, it may be a hint you might put in a future newsletter so everyone will know about this. It may be affecting more things that I have not run across yet but I already shut it off. It was very annoying. Thank you again for your assistance. I, for one, am so glad you are always there for us. Jason "





Jim flashes his computer's BIOS and now cannot start his PC
I downloaded some updates from dells site. One of them had me do a manual update an it went into the BIOS.

When I tried to start my computer, it went to this screen:

Intel undi. PXE-2.1(build083) / Copyright This product is covered by one or more of the following patents US6,570,884 US6,115,776 and US6,327,625 / Realtek PCIe family controller series V1.34(10/07/13) / PXE-E61: media test failure, check cable / PXE-MOF: Exiting PXE ROM. / No boot device found, press any key to reboot the machine.

When I press a key it just keeps coming back to the same screen. Please help if you can. Jim

Our answer
Hi Jim. BIOS updates are something you should always avoid if at all possible. Sometimes they can render a computer unbootable. If your computer is still under warranty, you can call Dell. Otherwise, if you cannot boot into Windows, we cannot assist you with Cloudeight Direct Computer Care service; you need to at least be able to boot your computer in to Windows. If you get a message telling you that you cannot install/update the bios, that is good - click OK and go into windows and do not try to update the bios.

There are numerous articles on Dell support about problems from updating/flashing the bios, and most have very bad endings. I (Darcy) personally tried to update the BIOS on a new computer about 3 years ago and it would not boot. I tried every solution I could think of, and every solution suggested to me, but nothing worked. My computer would not boot. I finally called Dell and they had me change something in BIOS and I finally was able to boot the machine, but it was a very complicated fix. The computer was brand new and under warranty, so there was no charge for Dell support. If your machine is under warranty, a call to Dell support might be your best option.

If your computer is not under warranty, see if this Dell support article helps you.

Hope this helps you, Jim.





Jagan has a friend fix his computer and now has lost all his files, programs and data
I have been reading the "Cloudeight InfoAve Premium Newsletters regularly and Daily Computer Tips messages also. Thank you for all the advices and Information you are sending.

Though you have been warning to keep backups and all that, due to the work load at office and laziness, I did not back up the data in my Laptop.

Two days back, when I was shutting down the Computer, there was an option "Update and shutdown." I clicked on that and went to sleep. When I woke up next day, the computer was on with a blue screen asking me to select the "LANGUAGE - US or others" I chose "US" that and another dialog box with different options. But the computer was not booting. Hence I gave my lap top to my friend to repair. He removed the Hard Disc from the Laptop, took the back up and used the Recovery Disc to reinstall the Windows. (originally when I bought the Laptop, it had Windows 8.1, which later when Version 10 came, I had up graded). The Recovery Discs were for Windows 8.1. Now my lap top has Windows 8.1.

Problem I now face is that though my friend said he took backups, I cannot see any of my personal files from that backed up data. (All my personal Data were in C Drive itself). Now as the Hard drive is formatted with the Recovery Discs, is there any program by which I can get back the details from my Hard Disc. I read one time in your Newsletter that when you do the Formatting the Data will be still there and to completely erase, you have to use another program or something like that.

It will be a great help if you could suggest some program or shall I buy a Computer Repair kit so that and you can check my laptop On Line and help me to recover the LOST Data.

Our answer
Hi Jagan. There was no reason for your friend to remove your hard drive. If you cannot boot your computer, you can create a Windows 10 installation DVD (or USB) and use it to boot your computer. Once you've booted with the Windows 10 Disk, there are many troubleshooting tools, boot options and even a recovery option that will help you go back to the previous working version of Windows 10 without losing any programs, files, or data. You also had the option to do a repair installation of Windows 10 - which you can read about here. This would have preserved your data, files, settings and programs.

We posted the instructions for creating a Bootable Windows 10 installation disk on our site many times. Even if you could not access your computer anyone (your friend) could have created an installation DVD and used it to boot your computer and either get it working using the troubleshooting tools or use the recovery option to go back to the previous version of Windows.

Here is one of our posts showing how to create Windows 10 installation media.

Since we did not create the backup- nor do we have any way of knowing if or how he created the backups, what format he used, or whether he encrypted or didn't encrypt the backup, we would not be able to help you recover any missing files. You should ask the person who did this why he/she did what they did and why they didn't just create & use a Windows 10 installation disk to boot your computer and access the troubleshooting tools and/or the recovery options... or perform a repair installation of Windows 10.

I'm really sorry this happened to you - and I really wish we could help you. Thanks so much for your nice comments and for reading our newsletters.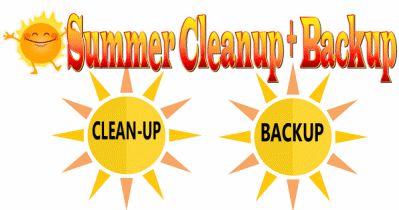 Summer Cleanup + Backup Special
This year we introduced our popular Cloudeight Backup Service and our 2018 Cloudeight CleanSweep service. We've offered them separately for $30 each. Starting today, and for a limited time, we're offering you our new Spring Cleanup + Cloudeight Backup service for just $40 - that's $20 off the price when purchased separately.
We'll clean up and backup your computer all in one easy Cloudeight Direct Session. You'll have the peace of mind of knowing your computer is clean, optimized and is being automatically and backed-up every week - so your data is safe.
Our 2018 Summer Cleanup/Backup special includes:
We will give your computer a general checkup and deep scan your computer for malware/PUPs/viruses
We will clean up any malware/PUPs/Viruses we find, and we'll optimize your startup programs & services
We will install Ashampoo Backup Pro 11 and set it up and configure it for automatic backup and we will give you a lifetime license for Ashampoo Backup Pro 11
We will create recovery media (USB, or CD/DVD) so you can access your backup even if your computer won't boot or your hard drive fails
All for one low price!
Take advantage of our new Summer Cleanup + Backup Special and get the peace of mind that comes with knowing your computer is clean and optimized, and that all your data is being backed-up automatically.
Get more information about and/or our get you Cloudeight Summer Cleanup + Backup Special right now!



Margie wants to know how to tell if she has a second internal hard drive in her computer
How can I tell If I have a 2nd internal hard drive in my computer?

Our answer
Hi Margie. Open File Explorer (Windows key + E) and click on "This PC" (on the left). You will see your drives there. C: is your Windows Drive and D: is normally a DVD/CD drive. Some computers have a drive with a letter that is labeled "Recovery" which is not a usable drive - it's a partition of your C:\. If you don't have any other drives plugged in (USB flash drives or external hard drives) if you see a anything other than C: D: or Recovery drive, then you have a 2nd internal hard drive. I will tell you this though... it's very unusual for a computer to have a 2nd internal hard drive unless you put one in or you ordered the computer that way.





Jack needs help restoring his computer with his Ashampoo image backup
As you know I bought Shampoo and you set it and Thunderbird for me many thanks. But here is my problem it is set for once a week full back up. The reason I wanted it to do that is I fly on line and at times the computer screws up and I lose scenery planes or other things happen for no reason. That is why I wanted a full back up so that I do not have to reinstall everything which is what is going have to happen as I have lost much of my scenery and planes at the moment.

I have been trying to figure out how to do that I thought all you had to do was just tell Shampoo to do a complete Hard disk, to restore of my computer. But when I do that on the left side all that comes up is the backup contacts for c:\ drive which should be my external F:\ drive where my back up is. So if it is not showing then I cannot drag it over to the right side to complete the restore. When I drag the C:\ over another template comes and tells me I must use the rescue disk and would I like to create one.
"This Destination contains the operating system. It cannot be overwritten while this operating system is running. Please use the rescue disk to restore the data to this destination. Would you like to create the rescue disk now? Yes or No"

As I already have one I click no and that where I am at now don't have a clue what to do. When I put the rescue disk in and restart start up the computer nothing changes. There is something I'm missing here. If I can't do a complete restore then Ashampoo is useless to me. I hope you can get me on the right track on how to get this working the way I thought it should. Thanks Jack

Our answer
Hi Jack. You are getting the message "This Destination contains the operating system. It cannot be overwritten while this operating system is running" because can't restore a drive image while Windows is running. Your image backup contains a complete image of your hard drive including Windows; you can't overwrite Windows while Windows is running. So, you need to boot into a special OS with Ashampoo on it. That's what the Rescue media is for. You most likely have a rescue USB flash drive. Most newer computers have a BIOS that is already configured to boot from USB, but some don't. If yours doesn't we'll give you some information on how to change the boot order..

If you have an Ashampoo rescue USB, put it in, and you shut your computer completely off (no lights on at all) and then back on, you should see a message on a black screen that says "Press any key to boot from USB..." . If you press a key, you will not boot into Windows, you'll boot into Ashampoo's rescue system. If you put the USB rescue USB flash drive in, then turn off your computer, then turn your computer on, and you don't see "press any key"... rather it boots right in to Windows, then your computer BIOS is not set to boot from a USB device. Here's an article that shows you how to do that.

If you don't want to mess with changing the BIOS, then get a writable CD or DVD and the next time Ashampoo asks you if you want to create boot media, say yes. Create a bootable CD or DVD disk. Put it in your computer's CD/DVD drive, turn your computer completely off (no lights on - nothing). Then wait a couple minute and turn it back on. Watch for a message that says "Press any key to boot from CD or DVD" - press a key. When your computer boots up, you will not be in Windows, you'll be in a special operating system and Ashampoo will appear - you'll have the option to restore from your backup.

It may be very helpful for you to download the Ashampoo User's Guide and Manual (PDF). You can download it from this link.

We hope this helps you.

**Jack wrote back: Hi TC. Many thanks for your excellent and layman terms on how to do a complete restore with Shampoo Pro I can tell you I have accomplished the task without any complications thanks to you. As I was stumped and thought I was never going to be able to do a complete recovery.

I was at a loss and would have never triggered on the steps to take to get it accomplished so thank you again for your speedy reply. As an old senior I would like to send you a small thank for your time as a donation I know it's not much it's just to let you know that I did appreciate your help. Jack"





Tony wants to know about a YouTube downloader
Hi Darcy & TC. Has YTD Video Downloader, been cleaned up or is it still installing garbage despite removing tick from do not install extras. Cheers, Tony

Our answer
Hi Tony. We have come to the point where we don't trust any video downloader; every time we've recommended one , it's come back to haunt us. Here's what happens: We test one - it's clean - then later on it's full of malware and garbage. Over time we have tested many YouTube downloaders - the ones that are clean, don't seem to want to stay clean. Just this morning, I tested 4 online YouTube downloaders, 3 of them tried to trick me into downloading malware - or installing a browser extension that was undoubtedly a browser or search engine hijacker - or worse.

I did find one that actually did allow me to save YouTube Videos as M4A (Video) or as an audio file in several different file formats. If you want to try it, here's the link:

https://www3.ddownr.com/

Just copy the URL to the YouTube video you want and paste in this site. In just a few second you'll be able download the YouTube video to your computer. Other than a donate button (totally understandable) the site didn't try to redirect you or attempt o install anything. Keep in mind that I tested this site on 5/23/2018 - things could change. As of now it's clean and it works great.

Hope this helps.





Jacquie gets a "Microsoft account problem" dialog on her computer and is skeptical
For about a couple of weeks now ( or maybe slightly longer) I keep receiving a message on screen.
This reads:-

"Microsoft account problem. We need to fix your Microsoft account (your password has probably been changed). Select here to fix it in the Shared Experiences settings".

Ever mindful of your strictures and all other warnings I have not done anything about this at all, but it doesn't go away. My Microsoft password has not been changed as I use it daily the first time I switch on the PC. Could it possibly be genuine (?) and if not, please advise how I can get rid of it.

I am also being urged to install April 2018 Update, but in view of the many difficulties people are
experiencing I have left that alone as well.

Continued thanks for your expertise and patience always exhibited to those of us with far less knowledge and willingly shared. Jacquie

Our answer
Hi Jacquie. It's always good to be wary. This one, however, is a legitimate Microsoft Windows notification. Sometimes the Microsoft account problem dialog may appear for no reason at all - or because your changed your Microsoft email address password... and it may repeat over and over.

The easiest and quickest solution is to try the Microsoft Accounts troubleshooter. Here's how:

Download the Microsoft Accounts troubleshooter by clicking this link.

Run the file you just downloaded (microsoftaccounts.diagcab) to open the troubleshooting wizard.

Check the box next to "Apply repairs automatically" then click "Next."




The troubleshooter will run and automatically find and try to fix any issues. When it is done running, it show you all the issues it found and fixed (or didn't fix).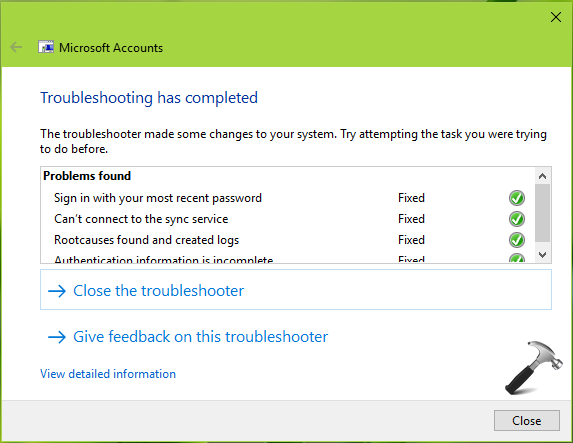 That's it. Click "Close" to dispatch the troubleshooter.

We hope this helps you, Jacquie.

Bill gets scammed by ScanGuard
I WANT TO KNOW WHO AUTHORISED A PAYMENT OF Euro 121.77 from my bank, the only person I know that could, is me and I DID NOT, if I do not get a reply within the next 24 hours I will lodge a charge of theft with the police. I have no evidence from you of details of any purchase I made with Scanguard.
Bill S.

Our answer
HI Bill. We're not sure if you are asking us for assistance, or if you think we have something to do with ScanGuard? We do not use, nor recommend them and, in fact, have given many warnings to our readers not to be fooled by them.

Apparently you fell for their scam and gave them your personal information/credit card. We have warned our members of this many times in the past, so your best solution is to contact your credit card or bank, tell them you have been fooled into buying this program, and ask for a chargeback. Then have them change the bank or credit account number since you have given it up to this company.

Here is more info:
http://www.thundercloud.net/infoave/new/dont-fall-for-the-scanguard-scam/

http://www.thundercloud.net/infoave/new/scanguard-another-day-another-miracle-pc-program/

Hope this assists you and helps you so you do not fall for future scams.



Jim forgot his router password
Is there a way I can find out my username and password to log onto my Router. misplaced them and can't remember what they are.

Our answer
Hi Jim. First thing to do is to find the default username & password for your router make and model. It will be in its manual. If you don't have a manual, go to this site:

http://www.routerpasswords.com/ ... and find your router's default password by brand and model number.

You will have to reset the router back to factory settings. All routers have a reset button on the back or bottom. Normally it's quite small. You may need to use a pen or other object to press the reset button. But do see this page for the correct way to reset a router- pressing the reset button for a couple seconds often does not work.

After you find your routers default username / password. Reset the router and enter the default username & password to access it. After you've regained access, you can then go in and change both the username and password to whatever you want.

If you need any more help, let us know.

Johanna wants to know if Windows Live Mail will continue to work with new versions of Windows 10
Dear good folks that we all rely on so much. Have still not performed/allowed the major Windows 10 Update that was found to have some serious bugs. But it's been a few weeks now, and am thinking it may be time.

My biggest concern is that the Windows Live Mail program that have been using since the beginning of Windows 10 is going to be eliminated. Have grown so accustomed to using it ... and that's always when Microsoft seems to take things away completely.

Could you tell me if this is the case ... whether there will be no method for saving the old Windows Live Mail software.

Thank you so much as always, Johanna, longtime dependent on your wisdom.
Our answer
Hi Johanna. Thanks so much for your kind words.
Windows Live Mail is already a problem. Microsoft has not updated Windows Live Mail since 2012 and has not supported it since 2014. Whether or not it works in the new version of Windows 10 (version 1803), we don't know. We have not used Windows Live Mail for a long time. What we can tell you is that it is almost certain that eventually it won't work - and once it stops working you can't reinstall it anymore ... so the thing to do is be proactive and do something while it's still working.

You can download and install Thunderbird (it's free). You can set up your email accounts and import your email messages and contacts from Windows Live Mail. Thunderbird is similar to Windows Live Mail and continually being updated and will continue to be developed an supported. Also, setting up Thunderbird as IMAP instead of POP3 ensures you'd never lose any email.
We offer a Thunderbird Email set up service. We'll set up Thunderbird, configure up to 3 email account (as IMAP), import your mail and contacts from Windows Live Mail. If you're interested in this service, you can get more information at
http://thundercloud.net/direct/tbird
.
Taking the right steps right now means you will not be living on the edge with your email. With Windows 10 you can skip this update, but eventually you'll have to update or you'll be using an unsupported version of Windows 10 - and you don't want that. Windows 10 versions are supported for approximately 18 months. So the version you're using right now (Version 1709 Fall Creators Update) will be supported by Microsoft until April 2019... after that you'll have to upgrade. So, you have time.
We hope this helps you.
**Johanna wrote back:
"Dear TC... I cannot thank you enough for your response ... so immediate and so thorough, as always you two miracle workers are! Yes, do want to sign up for the Thunderbird Email set-up service, and get this all taken care of, so will do that right away.

Thank you again, TC. I know you hear this a lot from many, many folks, but don't know what would do without the two of you. Bless you guys for making our "computer life" out here possible! Johanna"

Roy wants to know what a browser home page is
Hi. Can you please explain to me what is and where is my homepage? Plus why I cannot make Cloudeight my home page, when I select it, I am back at the beginning of your web page, at the bottom it says "make us your home page", I am just going round in circles. Being 81 and easily confused, just trying to print this page is a problem. Spell check is now giving me stupid answers so I am ignoring them. Just hope I can get my home page eventually. Regard, Roy.

Our answer
Hi Roy. A browser home page (also called a start page) is the page that open with your browser. You can choose any page you like as your start (home) page. Most browsers have a preset home page if you don't set your own. For example: Chrome's default home (start) page is the Google Search page. Microsoft Edge default start page is MSN.com... and so on. You can make our start page or any page you like your browser's home/start page.

The "make us your home page" script on our start page does not work in all browsers. So, we have written several tutorials on how to add a start page to your browser - the most recent one covers 4 of the most popular browsers: Firefox, Microsoft Edge, Internet Explorer and Chrome.

Visit his page to read our quick & easy tutorial and learn how to add our start page - http://thundercloud.net/start - or any page you want - as your browser's start (home) page.

I think you'll find everything in that tutorial very easy to understand... but if you need more help, just ask.

Bev has not received the Windows 10 April 2018 Update (Version 1803) yet
I have not received the summer update yet. Are they still installing them. I checked just today & it says I am up to date. I checked WINVER & I still have the fall 1709. Thanks Bev P

Our answer
Hi Bev, We think you're referring to the latest Windows 10 April 2018 Update (Spring update); it's Windows 10 Version 1803 no matter how you slice it.

The updates roll out over time. It's not unusual for Windows Update to show that your up-to-date. That only means that you're up to date with cumulative updates for your version of Windows 10 (Version 1709 Fall Creators Update).

If you're anxious to install Windows 10 Version 1803 (April 2018 Update), you can do so any time you like. When you're ready, go to the following page:

https://www.microsoft.com/en-us/software-download/windows10

And click the button that says "Update now".




We suggest you do this when you have a few hours you don't need to use your computer. The update can take as little as 45 minutes and as long as s few hours. We also suggest you back up your files just in case. It's not that anything bad is going to happen, but any time you do a major update it is always best to have your important files backed up.

We hope this helps you, Bev.




Now available: Reg Organizer 8.15

If you purchased or renewed Reg Organizer through Cloudeight within the last 12 months, you're entitled to a free version upgrade to Reg Organizer 8.15.

Save $14 on Reg Organizer right now!

Reg Organizer - A Swiss Army Knife of Windows Tools - Works Great on Windows 10!




When and How to Use System Restore, System Reset, or Fresh Start
Windows 10 (all versions)

We recently helped someone who had to reinstall all her programs because she ran a Windows 10 System Reset instead of a System Restore. And right then, we realized how confusing it can be at times, especially if you're upset, frustrated or in a hurry. So, we're going to clarify each and give you some suggestions as to when you should run each, plus we'll include links to our online articles showing you exactly how to access and run each of these Windows features.

First, Fresh start is available only on Windows 10 Creators Update (and newer versions of Windows 10). So, if you're any version of Windows older than version 1703, you won't have the Fresh start option.

System Restore

Think of System Restore as a time machine. Let's say this morning you installed Uncle Bill's Desktop Whirly Gig and it really messed up your computer. System Restore is your best option. System Restore lets you go back in time, to a time before you installed Uncle Bill's crummy software, and puts your computer back to the state it was in before your computer got all messed up. System Restore keeps all of your programs and settings up to the date/time of the Restore Point you choose. Additionally, it keeps all of your personal files and folders. System Restore is good first option when something goes wrong because it makes the least changes to your computer. To learn how to use System Restore see this Cloudeight article.

System Reset

System Reset is a powerful tool that comes with every version of Windows 10. System Reset gives you two options:

1. Reset your computer and keep all your personal files.

2. Reset your computer and remove everything.

When you do a System Reset and choose the option to keep your personal files, Windows saves all of your personal files (documents, pictures, videos, music, etc.) and then removes all your programs and settings. Windows generates a list of programs that it removes. After Windows has saved all of your personal files and removed all of your programs, it reinstalls Windows. Any programs you installed are removed, but any apps that came with Windows and manufacturer's bloatware will be reinstalled. So, after the Reset is done, all your personal files will be right where they were before you did the reset. But you'll need to reinstall any programs that you installed because all you'll have after a Reset are Windows apps like Edge, Mail app, etc. and any manufacturer's software that came with your computer. Our advice: The first program you should re-install after a system Reset is your security software.

When you do a System Reset and choose not to save your personal files and folders, Windows will remove everything, reinstall Windows with Windows apps and any manufacturer's software.

A System Reset is the best option when your computer has so many serious unrelated problems that using your computer becomes very difficult or very annoying. To learn how to use System Reset, see our article on using System Reset here.

Fresh start

Fresh start is a new feature of Windows 10 that was first introduced with Windows 10 Creators Update. Fresh start is very similar to System Reset with one big difference. When you run a Windows 10 Fresh start, it saves your personal files and folders, and some of your Windows settings. It uninstalls all of your programs. Then Fresh start clean installs Windows, which mean none of the manufacturers bloatware is installed. You get a fresh, clean copy of Windows, and all your personal files are restored. Fresh start is a good choice if you are having many substantial and serious problems with your PC. You can get more information about Fresh start by visiting this page.





Fixing Sound Problems in Windows 10 Version 1803 (Windows 10 April 2018 Update)
Windows 10 Version 1803.

First, if you're not sure what version of Windows you're using, just type WINVER in taskbar search and press Enter. If you're using Windows 10 Version 1803, this is for you.

One of the problems we're seeing with those who have updated to version 1803 is the sound issue. Now, don't assume that most people have this problem, but some people do. And thankfully, it's usually easy to fix.

Right-click on the start button, click "Settings" (or press Windows key + i). In Settings click on "System" then "Sound". Under Sound, "Choose your output device". make sure the correct sound device is chosen. It should not be Windows default. It should be something like "High definition sound device", "Realtek Audio... " etc. If the correct device is selected. After you've made sure the correct audio device is selected, click on the "Troubleshoot" button. We hear ya! But this is not the old Windows troubleshooter, this one has a really good success rate when it comes to fixing sound issues.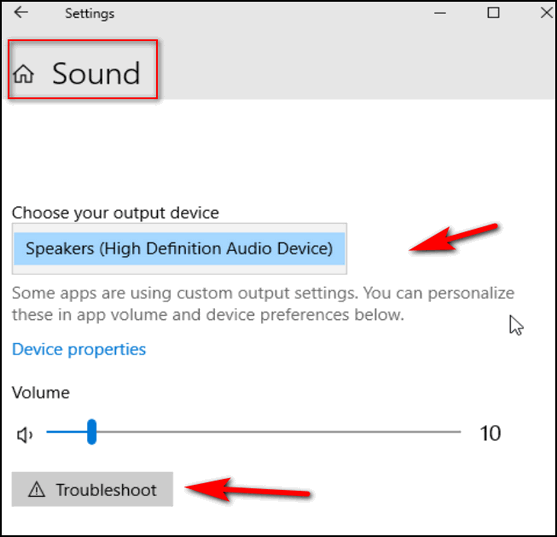 Follow any on-screen prompts and wait while the sound troubleshooter attempt to correct your sound problems. After it's done running, you may need to restart your computer in order to finalize whatever changes the troubleshooter has made. If all goes well, your sound problems should be repaired.

One Key Makes It Bigger … One Key Makes It Small
Windows 7, Windows 8.1, Windows 10 (all versions)

"One key makes it bigger, one key makes it small…
And the keys that mother showed you, don't do anything at all…"

Anyone remember the song White Rabbit by Jefferson Airplane? Am I dating myself? Sure…. no one else will date me! What's that EB? It's supposed to be pill not key? I know, but I'm playing with words - I'm too old for Tonka trucks!

Anyway, the other day I had someone tell that the pages on a site were "too big" and they seemed annoyed that the site didn't fit in their browser. But then I was thinking about it and realized that there are sites that may appear too small or too big depending on the browser you use and the settings you use.

So, I thought maybe it might be a good time to remind everyone that you can resize most (but not all) Web pages this way…

While viewing a page:

Hold down your CTRL key and move your mouse's control wheel toward the screen (away from you) to make the page and its contents bigger. Or hold down the CTRL key and move the mouse wheel away from the screen (toward you) to make the page and its contents smaller. You can play around with that while reading this page.

You can accomplish the same thing as above without using a mouse at all. Just hold down your CTRL key and tap the + (plus key) to make the page and its contents larger (the more you tap the plus key (+) the larger the page and its contents will become. Alternatively, you can hold the CTRL key down while tapping the minus key (-). The more you tap the minus (-) key the smaller the page and it's contents will become. And feel free to experiment with that right here on this page.

These tips should work in Chrome, Firefox, Edge, IE, Opera, and others.
A bonus tip: Making your desktop icons bigger or smaller

PS: The CTRL / Mouse Scroll Wheel tip works great to make your Windows desktop icons bigger/smaller too. Try it! But not until you close or minimize your browser – you need to have your Windows desktop in focus to try it. Want to bring your desktop into focus in an instant? Just press Windows Key + M. No, not M period, just plain M.

PPS: These bigger/smaller tips work in most email programs too.


A Tip From Jason About Your Internet Connection Speed
A tip for everyone with an ISP provided router
Thanks to Jason for submitting this tip. This is a great tip for anyone using a router provided by their ISP! If you're using an ISP-provided router and you're not getting the speed you're paying for this may help. If you want to check your Internet connection speed, go to https://www.speedtest.net/ . You'll be able to save a copy of the results and show it to your ISP.
Jason's tip...

"I just ran into something that everyone may want to be aware of. I noticed that, for quite some time now, my internet service has been a bit slow and my wife's iPad would just crawl sometimes. I got an email from Comcast saying that my speed had been upgraded so, I decided to do a test. It was no where near what it should be. They sent a tech to my home - no charge.

He saw that I got a new modem from Comcast on my own 3 years ago and set it up myself. When he checked it, he saw that it was set for 1 device. That is the factory default. We have 5 devices. He reset the modem to 11 devices. Now, everything runs much faster. That was the whole problem all along. Just thought you would like to know about this."
Thanks again, Jason!

Want more computer tips & tricks?
The FBI Wants YOU... to reboot your router

Mouse Middle-click Trick
We have thousands of Windows tips, tricks and more on our InfoAve web site. Come see for yourself!



We Need Your Help! If you Don't need anything right now, please consider helping us with a gift.
When you support us with small gift, you help us continue our mission to keep you informed, separate the truth from the hyperbole, and help you stay safer online. Plus, our computer tips make your computer easier to use.
Did you know that we provide support to thousands of people? Every week we help dozens of people via email at no charge. Thanks to your gifts, we do a lot more than provide this free newsletter. We help you recognize online threats, fight for your online privacy, provide you with the knowledge you need to navigate the Web safely, and help you get more out of your PC.
Help us keep up the good fight with a small gift.
After giving your gift, you will receive an invitation to become a Cloudeight Booster.

Interested in making an automatic monthly gift? Visit this page. Help us keep helping you... and helping you stay safe on the Web.




Unsplash: Beautiful Free Pictures for You

We are sure that one of the things you folks like the best is anything to do with pictures and graphics. Making pictures, taking pictures, editing pictures, making graphics, etc. just seem to be things almost everyone loves… even if it's just looking at beautiful pictures.





This Cloudeight site of the week pick is a real beauty in more ways than one. It's called Unsplash.com. Unsplash is a collective work of photographers who have gifted hundreds of thousands of photos, many of them strikingly beautiful, some of them thought-provoking, and all of them free for you to download and use as you see fit — even for commercials purpose.

There are many things wrong with the Web, but Unsplash shows that the Web can be a beautiful place – a place for beauty, sharing and collaboration.

Because we're sure that you're anxious to get on with show and take a trip to Unsplash to browse through the photos there, we're going to bring in the developers of Unsplash to tell you a little bit more about their site:

"Unsplash manifesto

Unsplash was created in 2013 as a simple tool for creators. The concept was born from the pain we had as creators in finding great, usable imagery.

The internet was meant to connect, inform, and inspire us in unprecedented ways. Yet, when it came to usable images, that connection was shut down. While the need for images was increasing dramatically, the systems supporting the supply of usable images were incompatible.

Unsplash was formed as the antithesis to the stock image experiences available at the time. Instead of vast libraries, licensed and presented for commercial buyers, Unsplash focused on giving original, high-resolution images for anyone and free to use for anything.

We started Unsplash by giving away 10 images we had leftover from a photoshoot. Today, Unsplash has become a platform fueled by creators who have generously gifted hundreds of thousands of their own photos. We've seen Unsplash images inspire millions of creations, from helping a 10-year-old learn graphic design, to powering the imagery behind stories blanketing the internet. Unsplash is a community that celebrates creativity.

Our aim is to celebrate the gifts Unsplash contributors make by pushing the impact of their photography as far as we can. Our world is becoming increasingly visual. Images connect on an emotional level. They are not only how we self-express but also how we understand all kinds of information. The creative spirit is one of exploration. If creativity is a form of exploration, then an image is the perfect start.

From the beginning, Unsplash has held a particular view on the future of creativity, and our vision remains unchanged. We believe everyone is creative and that we have a responsibility to empower everyone to create. Creativity is a fundamental human need that is essential not only for progress but for feeling connected to the world and oneself. Our world is evolving rapidly. Manual to automated. Physical to digital. Earth to Mars. While we don't know exactly where everything is headed, what we do know is creativity will be how we get there.

Our 3 values:

— Share. Remix, rework, recreate. This only works if we all take part. So share, take, manipulate, and reshare.

— Show Love. While the Unsplash License allows you to share without the limitations of copyright, this doesn't mean we should ignore the work of our contributors if we can help it. It is not necessary but when possible, support artists willing to offer their work by giving credit.

— Create. Art only exists because of other art. What you build becomes the next material that inspires the next artist. Without creation we have nothing so go make something. …

Unsplash license

All photos published on Unsplash can be used for free. You can use them for commercial and noncommercial purposes. You do not need to ask permission from or provide credit to the photographer or Unsplash, although it is appreciated when possible.

More precisely, Unsplash grants you an irrevocable, nonexclusive copyright license to download, copy, modify, distribute, perform, and use photos from Unsplash for free, including for commercial purposes, without permission from or attributing the photographer or Unsplash. This license does not include the right to compile photos from Unsplash to replicate a similar or competing service…"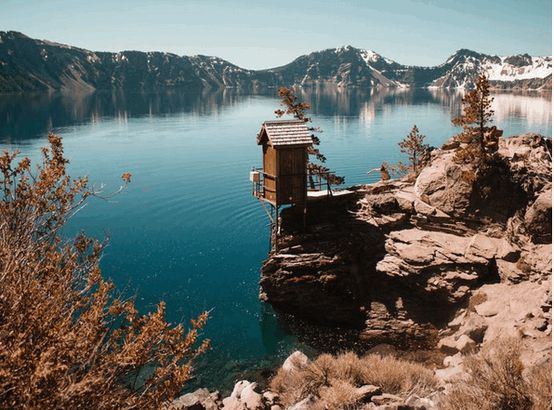 So… all you have to do now is visit Unsplash.com and plan on spending some time. You'll be amazed what you find there. For as the developers say… "Without creation we have nothing so go make something."






Why do I have both Program Files and Program Files(X86) on my computer?

In Windows 64-bit operating systems, there are two program file directories:

Program Files

Program Files(X86)

Programs that install to Program Files, by default are 64-bit programs; programs which install to Program Files(X86) by default, are 32-bit programs.

As a general rule, everything you see installed to Program Files is 64-bit software. All programs you find installed in the Program Files(X86) directory, are 32-bit programs. Windows 64-bit operating systems have 32-bit emulation, called WOW64. This emulator allows Windows 64-bit operating systems to run most 32-bit software without a problem.

So, now you know if you have two Program Files directories you have 64-bit Windows; if you have only one Program Files directory you have 32-bit Windows.





SeniorPass: A very Special Deal for Our Friends 60 and Older!

We're going to extend this special price offer for one more week. It's our way of saying 'Thank You' for your support and for your fantastic response to this offer.

With our Cloudeight Direct Computer Care SeniorPass, our friends age 60 and older get one full year of unlimited computer care and repair for a special price of just $79. A low, low price for Computer care anywhere - any time you need it!

SeniorPass is valid for unlimited computer care & repair sessions for one full year starting with the first time you use it. The clock does not start ticking until you use your SeniorPass for the first time. A great deal!

Having SeniorPass is just like having insurance for your computer. And talk about affordable! Right now, our SeniorPass is available for just $79. You can get help with almost any computer problem whenever you need it. We're here to help you.

Get your SeniorPass and/or get more information here.



Sales of the following products and services help support our newsletters, websites, and computer help services we provide.

Cloudeight Direct Computer Care: Single Keys or Season Tickets - always a great deal. Cloudeight Direct Computer Care is like having PC insurance. Get more information here.

Emsisoft Anti-Malware: Emsisoft is the only Cloudeight endorsed and recommend Windows security program. It provides users with a complete antivirus, antimalware, anti-ransomware, anti-PUPs solution. We offer single Emsisoft licenses and multi-computer licenses at discount prices. Also, we offer our exclusive Emsisoft with Cloudeight installation & setup. Get more information here.

Cloudeight Backup Service: Professional setup of a complete backup system including creation of rescue media, image backups, incremental backups, Cloudeight Direct Backup session key and a lifetime license for Ashampoo Backup Pro 11. Get all the details here.

Thunderbird Email Setup: Thunderbird is a great email program that you can use with your Gmail and Outlook.com (Hotmail) web mail accounts as well as with your Internet provider's email. We'll set it up right for you. Our set up includes configuring up to 3 emails accounts and setting up Thunderbird to use stationery (if desired). Our Thunderbird Email Setup Service is always a great deal. For more information visit this page.

Reg Organizer 8.10: Reg Organizer is the Swiss Army Knife of Windows tools. It's far more than just a registry optimizer and cleaner... it's Windows all-in-one toolkit. Helps you keep your computer in tip-top shape and helps solve annoying Windows problems. Reg Organizer works great with Windows 10 too! Get more information about Reg Organizer (and get our special discount prices) here.




If you don't need any of the above products or services at this time, please consider helping us with a small gift. Everyone who helps us with a gift is invited to become a Cloudeight Booster and is eligible for special Cloudeight Booster Freebies and special Cloudeight Booster sales. Please consider making a small donation today. Ad thanks to all of you who support us! We appreciate it very much!
Premium Subscribers' Home Page. You'll find the last few weeks of Premium archived on this page.
To change your subscription address, see "Manage your subscription" at the bottom of this newsletter.
Submit your questions, comments, and suggestions for possible inclusion in our newsletters here. This form is for questions, comments, and suggestions for this newsletter. This form is not for product support, stationery questions, or general questions concerning our products or services.
Send us your suggestions and recommendations for future freeware picks and/or sites of the week
Help us Grow! Forward this email newsletter to a friend or family member - and have them sign-up for InfoAve Premium here!
Get our free daily newsletter! Each evening we send a short newsletter with a tip or trick or a computer-related article - it's short and sweet - and free. Sign-up right now.
Have a question about a Cloudeight Software program, service, stationery, or need to ask about an order? Let us know!
If you need help with one of our software programs, have a question about an order, or have a question about any of our email stationery, screensavers, or other products - please don't use our InfoAve Questions/Answers/Tips form. Use our general Cloudeight support form instead.
Print our Cloudeight Direct Flyer and spread the word about our computer repair service! If you want to help us by telling your friends about our Cloudeight Direct Computer Care service, you can download a printable flyer you can hand out or post on bulletin boards, etc. Get the printable PDF Cloudeight Direct Computer Care flyer here.




These products and services are recommended and endorsed by Cloudeight:
Also... don't forget:




We'd love to hear from you!

If you have comments, questions, a tip, trick, a freeware pick, or just want to tell us off for something, let us know.

If you need to change your newsletter subscription address, please see "Manage your subscription" at the very bottom of your newsletter.

We received hundreds of questions for possible use in IA news. Please keep in mind we cannot answer all general computer questions. We try to personally answer as many as we can. We can only use a few to in each week's newsletter, so keep this in mind. If you have a support question about a service or product we sell, please contact us here.





Subscribe to our Daily Newsletter!

Get computer tips & tricks every night. Our daily newsletter features a computer tip/trick or two every day. We send it out every night around 9 PM Eastern Time (USA). It's short and sweet, easy-to-read, and FREE. Just visit this page and sign-up. All you have to enter is your email address. Once you confirm your subscription, you'll receive our daily newsletter every day, six days a week. You can unsubscribe at any time.

Print our Cloudeight Direct Computer Care Flyer!

Print our Cloudeight Direct Computer Care Flyer and spread the word about our Cloudeight Direct Computer Care computer care and repair services. Get our ready-to-print flyer here.




We hope you have enjoyed this issue of InfoAve Premium. Thanks so much for your support and for being a Premium subscriber.

Have a great weekend!

Darcy & TC
Cloudeight InfoAve Premium - Issue #764
Volume 15 Number 33
June 1, 2018

Not a subscriber? Subscribe to our InfoAve Premium Newsletter

Share Us on Facebook!
We'd love for you to share us with your family and friends on Facebook. Help us by sharing us on Facebook!






"Cloudeight InfoAve Premium" newsletter is published by:

Cloudeight Internet LLC
PO Box 73
Middleville, Michigan USA 49333-0073

Read our disclaimer about the tips, tricks, answers, site picks and freeware picks featured in this newsletter.

Copyright ©2018 by Cloudeight Internet