Cloudeight InfoAve Premium
Issue #776
Volume 15 Number 45
August 24, 2018

Dear Friends,

Welcome to Cloudeight InfoAve Premium issue #776. Thank you for subscribing and for being a part of our Cloudeight family. We appreciate your subscription and your support very much!






THANK YOU FOR HELPING US!
When you support us with small gift, you help us continue our mission to keep you informed, separate the truth from the hyperbole, and help you stay safer online. Plus, our computer tips make your computer easier to use.
Did you know that we provide support to thousands of people? Every week we help dozens of people via email at no charge. The questions and answers you see in our newsletters are from the email answers and help we provide to everyone free of charge.
Thanks to your gifts, we do a lot more than provide this free newsletter. We help you recognize online threats, fight for your online privacy, provide you with the knowledge you need to navigate the Web safely, provide you with suggestions for safe, free software and websites, and help you get more out of your PC.
Please Help us keep up the good fight with a small gift.
After giving your gift, you will receive an invitation to become a Cloudeight Booster.

Interested in making an automatic monthly gift? Visit this page. Help us keep helping you... and helping you stay safe on the Web.


A comment from Myron
I want to thank TC for the session we had on my computer on Tuesday. Although my computer was running pretty well and showed no problems that were major, TC did a through checkup and also gave me tips on how to fix my HP printer. I feel that one doesn't necessarily have to have problems on a computer it's still a good policy to have periodic checkups. Thanks again TC, I followed your instructions for fixing my printer and I'm back in business. Cloudeight is the best.

A comment from Kate
I am new to Cloudeight. Sheila, one of your members, kept telling me about your company for years and I finally listened. I can tell you every word she said was true. You are professional, courteous, and you sure are experts with computers. Darcy came and fixed everything that I was having problems with. It was very easy for me. I just clicked a link she sent me and she fixed everything up. Now my computer is working so much better now. I can tell you that you I am convinced and you have a new customer. You can be sure if I need help again, I will call on you. Thanks so much! Kate.

A comment from Bud
Once again, a BIG THANKS to TC for checking out my desktop PC. It's been acting funny since the Windows 10 April 2018 update. But thanks to TC all is running well now. THANK YOU! I don't know what I would do without Darcy and TC. My computer is my connection to my kids who are scattered all over the country. I trust Cloudeight to keep it running the way it should. Thanks again, TC for the great job you did yesterday. Bud.

A comment from Donna
This morning I used a repair ticket I had purchased about 5 years ago. Darcy came to my rescue and used her expertise and fast fingers to fix a boo boo I had made. She did a wonderful job. They say nurses are angels of mercy, but I think Darcy falls into that category as well. Thank you so much. Donna
A comment from Lilian
TC has done his magic. It is so wonderful not to have my screen black . I cannot thank TC enough for being so patient with me. I will forgive him for the extra L in my name if he forgives me for calling him TJ. I thank my lucky stars I found you on line when we used to spend winters in Florida. I don't know what I would do without you both. A million thanks and what a great start to my day. Lilian

A big Cloudeight "Thank you!" to Myron, Kate, Bud, Donna, Lilian and everyone who wrote to us last week. We appreciate your kind words and your support very much! EB & TC

Cloudeight Direct Computer Care computer repair keys are always a bargain! Get your Repair Keys here.






SeniorPass: A Great Deal for Our Friends 60 and Older!
With our Cloudeight Direct Computer Care SeniorPass, our friends age 60 and older get one full year of unlimited computer care and repair for one low price. With our SeniorPass you'll get the best computer care anywhere - any time you need it!

SeniorPass is valid for unlimited computer care & repair sessions for one full year starting with the first time you use it. The clock does not start ticking until you use your SeniorPass for the first time. A great deal!

Having SeniorPass is just like having insurance for your computer. You'll get one full year of computer care and get help with almost any computer problem whenever you need it. We're here to help you.
Computer care & repair for one full year. Check out our SeniorPass offer right now!



Here are some important links for you:





Richard wants the features of Clean Print from the CTRL+P shortcut
I do a lot of printing on my Brother Laser Printer (which does duplex pruning) and would like to know how can I bring in "CleanPrint" when I use - my usual "Ctrl+P". I do a lot of printing from "How To Geeks" and web pages and would like to eliminate paragraphs and other parts that I already remember etc.

Our answer
Hi Richard. We no longer use Clean Print on our site on in our browsers, we use Print Friendly, which is virtually the same thing.

CTRL+P is the default Windows print shortcut; Print Friendly is a browser extension. Since you have to access web pages with a browser, then a browser extension works well. You can edit whatever you're printing with Print Friendly. You can remove photographs or entire paragraphs. Print Friendly also save the webpage as a PDF file, save it to your computer and edit that.. Then print the PDF with CTRL+P shortcut. But Print Friendly is not printer software so using CTRL+P just opens your default printer dialog - and you only have basic print options available.

You can play with Print Friendly without adding the browser extension by trying it on any article on our site. You'll see how you can remove pictures and text and even entire paragraphs before you send the job to your printer. So, try it out by visiting our website at http://thundercloud.net/infoave/new/. Just pick any article and click the green Print Friendly button at the top of every article.

If you like it, you can read our article about Print Friendly here.





Harley wants to know why Emsisoft let him down
I was hit by a scam by email, My files were locked and everything was downloaded to the hacker. I lost nearly everything on my computer. All my contacts, passwords and a lot of personal information.

I had Cloudeight install Emsisoft and thought I was protected, however I opened an E-mail that loaded 697 viruses on my system. I contacted a company that was recommended by MICROSOFT and the tech deleted my old email address. I lost all of my contacts and other information.

I took the system to a local technician, he saved what he could and removed more virus programs from my system,

I lost a lot and am monitoring all bank accounts and credit cards as they were stolen and someone is going to try and use them. Hopefully I can catch any false transactions.

Our answer
Hi Harley. Unfortunately, you did something we have warned people about many times.. you saw an ad that told you that you had download 697 viruses and you believed it. Then you called a number on your screen and let the scammers access your computer. If you gave these scammers your credit card or banking information, you need to call your credit card companies and/or bank(s), and ask for a charge back/refund and explain you were scammed. Then you ask them to change the account numbers immediately.

Then you need to do a system restore to a couple of days before you were scammed.

Here are some of the articles we have written about this. No antivirus or antimalware program will protect you from a fake ad from a tech support scam, and a program cannot stop you from falling for a fake ad and calling a phone number and then allowing a scammer access to your computer. These people have nothing to do with Microsoft and are a dime a dozen.

http://www.thundercloud.net/infoave/new/microsoft-is-never-going-to-tell-you-that-your-computer-is-infected/

http://www.thundercloud.net/infoave/new/tech-support-scams-are-everywhere/

If you see an ad like this again, and you most likely will, click ALT + F4 to close the ad. If it is an aggressive ad that does not close when you press ALT + F4, shut your computer down using the power switch.

We've cautioned our readers dozens of times about clicking links in emails if you're not sure who sent the email. Clicking links in phishing or spam emails is a sure way to get scammed if your not careful.

Emsisoft cannot protect you from willingly falling for tech support scams or from allowing scammers to connect to your computer with legitimate software like TeamViewer, if you have given them permission to connect.

You will want to immediately reinstall Emsisoft so your computer is protected from malware, viruses, ransomware and other threats.

Hope this helps!





David wants to know about drive partitioning in Windows 10 and converting from BIOS to UEFI
Thank you both for the great advice user friendly tips for many years. I am using the current version of Windows 10. I have a 1 TB hard drive with one partition for the operating system and one with data (documents, pictures, music, games, etc.). I have automated backups (system monthly and data daily) with versions kept for three months. I would like to convert from bios to UEFI. I am sure I read somewhere that this would be either difficult or impossible when the hard drive is partitioned. I have two questions:

a) Is it advisable to partition a hard drive when using Windows 10?

b) How can I convert from bios to UEFI with my set up?

Our answer
Hi David Thanks for your nice comments. Let's tackle partitioning first. Back before Windows 10, creating a partition on the hard drive where you could store all your personal files so in case you had to reinstall Windows you would not lose any data was a good idea. Windows 10 lets you reinstall Windows and keep your personal files and folders with System Reset and/or Fresh start. And partitioning was never a substitute for keeping good backups. You should always keep your computer backed up on an external hard drive no matter what version of windows you're using. If your main hard drive fails, it won't matter if its partitioned or not.

BIOS vs. UEFI

I guess my first question to you would be why do you want to do this? There are several advantages to UEFI over BIOS, but there are disadvantages as well.

The 3 major advantages to UEFI over BIOS are:

1. Faster booting (that would not be a major factor to me)
2. Secure boot
3. UEFI allows you to use system (Windows) drives larger that 2 TB

If I were you, I would not be too disappointed that you won't be able to convert your hard drive because you have an extended and logical partition. And I would not recommend you try to merge partitions or delete any extended partitions you have. I just don't think the benefits of UEFI warrant it.

Here's some information from Microsoft, I think you'll find useful.

Here's a video from Microsoft about converting from BIOS to UEFI.

See this page for more information.

Here's some information from that page, note the line in bold below:

"Disk Prerequisites

Before any change to the disk is made, MBR2GPT validates the layout and geometry of the selected disk to ensure that:

The disk is currently using MBR
There is enough space not occupied by partitions to store the primary and secondary GPTs:
16KB + 2 sectors at the front of the disk
16KB + 1 sector at the end of the disk
There are at most 3 primary partitions in the MBR partition table
One of the partitions is set as active and is the system partition
The disk does not have any extended/logical partitions
The BCD store on the system partition contains a default OS entry pointing to an OS partition
The volume IDs can be retrieved for each volume which has a drive letter assigned
All partitions on the disk are of MBR types recognized by Windows or has a mapping specified using the /map command-line option
If any of these checks fails, the conversion will not proceed and an error will be returned..."
I hope this helps you, David.

-------
David wrote back: "Thanks for your quick response and great advice (as usual). Thanks for confirming the issue with the data partition. My PC is working fine, so I will leave it alone. Best wishes to you both, David B."





Bob can't close MS Word
I have a PC laptop. I was using Word 2016 most of the morning. Then closed and went out to dinner. When I came back, I opened Word 2016 again. It went to the task bar but it won't open or close. I tried CTRL+ALT+DELETE but that didn't work. I can't even shut down the computer the right way. I need to get Word off the task bar so that i can shut down my computer and try this all over again. Bob

Our answer
Hi Bob. Here are some things you can try:

Method One

1. Press CTRL+SHIFT+ESC keys to open Task Manager
2. In Task Manager find any entry that says Microsoft Word and right-click and choose "End task" on each. There may be more than one instance.

Method Two

1. Type CMD in taskbar search (Cortana)
2. When Command Prompt appears at the top of the search results, right-click it and choose "Run as administrator"
3. At the prompt type (exactly as shown below with the spaces):

TASKKILL /IM WINWORD.EXE /F

Press Enter

Method Three

1. Press and hold down the Windows key and tap the R key
2. In the run box type the following (exactly as shown with the space)

SHUTDOWN /R

Press Enter. This will force all open programs to shut down and restart your computer.

Also, shutting down your computer at the power switch does not cause the serious problems like it use to back in the days of Windows XP; Windows 10 is much more forgiving. Still we sure don't recommend you shut down your computer using the power switch often, but there are times when you may need to do so... for instance in a situation like yours. So if none of the above three solutions work for you (any of them should work) then shutdown your computer using the power switch as a last resort. Wait about 5 minutes before turning it back on.





Rose's husband is buying a new laptop PC and wants to use a backup from his desktop
Hi Darcy and TC, My husband Dave is looking to buy a laptop. He is wondering about the transfer from the desktop to the laptop. Also he has a back up disk and his is wondering how to move that over to the laptop. Do you have a program for that and how much is it?

Thanks, I really appreciate all you two do. When the transfer is complete I want his puter cleaned up and reloaded with windows as I plan on giving it to my sister who is even more computer illiterate than we are. LOL.

I might still have a computer repair key that I haven't used yet. Would that work for the above job? Rose M

Our answer


Hi Rose. You can transfer files from the desktop to an external drive and then to the laptop, but we strongly recommend you do not use the image backup created on one computer on a different computer. An image backup is an exact, sector-by-sector copy of the hard drive. It includes the operating system, drivers, the PC manufacturer's proprietary software, all installed programs, and all the users files, folders and settings. An image backup is great if you're backing up against the advent of major problem on the machine on which the backup was created, but it does not work that way when buying a new computer and trying to use an image backup made on another computer. Not only will some hardware devices not work, any problems that were occurring on the old computer will be transferred to the new computer. In other words... while you might be able to get it to work, the results would not be very predictable nor even acceptable.

The best way to do it is to copy all personal files (documents, music, pictures, videos, etc.) from desktop to an external hard drive and then plug the external hard drive into the laptop and copy all the personal files from the external drive to correct folders on the laptop. All personal data is stored in C:\Users\YourUserName - this includes your Pictures folder, Music folder, Documents, email, bookmarks/favorites, settings and more. So all you would have to do is back up your husband's user folder in its entirety to an external drive and you could be sure all his personal files are copied there.

I know many folks would love to have all their programs transferred, and there are many people selling software that purport to move programs, but these never work as expected. With today's fast download speeds, it's just so much easier to reinstall the programs you like on the new computer and forget about trying to move them from an older computer to a newer one.

We show your husband how to copy files from the desktop to the external and/or how to copy them correctly to the laptop. And we can help him with this. There are a lot of things that have to be done right to make this work.

A mistake a lot of people make, for example, is this :

They'll copy the entire Pictures folder to the external. That's OK. But then they'll copy the entire Pictures folder to the Pictures folder on the new PC. This results in a mess. Now on the new computer you have to open the Pictures folder to get to the Pictures folder, then open that 2nd Pictures folder to get to the pictures and subdirectories inside. The correct way do to do this, is to open the Pictures folder on the External, select all the files and folders inside it, then copy them all to the Pictures folder on the new computer. This results in the correct directory structure - so everything is in the same place on the laptop as it was on the desktop.


You can use your repair key and we can help your husband get his new laptop set up the right way. As far as wiping the old computer so he can give it away, we'd need more info - for example what version of Windows is it running, what brand is it, etc.


Sorry for the long-winded answer... but the question was not an easy one to answer correctly. We'll be glad to help you and your husband in any way we can.

Bill wants recommendations for a good, but cheap external hard drive
.
Any recommendations for a good, cheap external hard drive? Thanks in advanced for any advice you can give me.
Our answer
Hi Bill. Thank you. We recommend sticking with a name brand. Check Amazon, Walmart or Best Buy for a Seagate, Western Digital or Toshiba portable external hard drive. Make sure you search for portable external hard drives. With portable external hard drives, all you need to do is just plug it in to a USB port and it is ready to use. You don't need to install the software ships with the external hard drive,
There are always great deals on brand name external hard drives, so shop around. For instance, you can get a 1 terabyte portable external hard drive for under $60. We did a quick search and we found a Western Digital, 1 TB portable external hard dive at Best Buy for $50 with free shipping.
Take a look
. You can get a 2 TB portable external hard drive with free shipping for $65;
check it out here
. An portable external hard drive is one of the best computer investments you can make.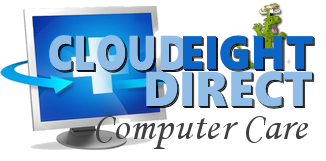 With our Cloudeight Computer Care, we'll fix your computer while you watch. You'll be getting the best computer repair service available, at the best price, from people you trust. Our Cloudeight Direct Computer Care single repair keys are a great deal. They are good until you use them. For more information see our Cloudeight Direct Computer Care home page!



Create a Desktop Shortcut to Any "Favorite" in Your Favorite's Folder
Windows 7, Windows 8.1, Windows 10
Here's an easy way to create a shortcut on your desktop to any "Favorite" (bookmark) in your Favorites folder. /p>
1. Press and hold down the Windows Key and tap the "R" key.
2. Type Favorites in the Run box and press Enter
Your Favorites folder will open and you'll see all your favorites. Find the one you want on your desktop, right-click it and click "Send to --> Desktop--Create Shortcut.
See screenshots below:



All About Your PC
Windows 10 (all versions)

If you're running Windows 10, you can get a lot of details about your PC by typing one word and pressing one key.

You can quickly see what version of Windows you have, how much RAM your PC has installed, what type of processor(s) and more. Plus you can see your computer's name and rename it if you like, just by clicking a button and typing in a new name.

If you are using Windows 10, just type ABOUT in the taskbar search (Cortana) and click on "About your PC" when it appears at the top of the search results.

See? You're PC info at your command!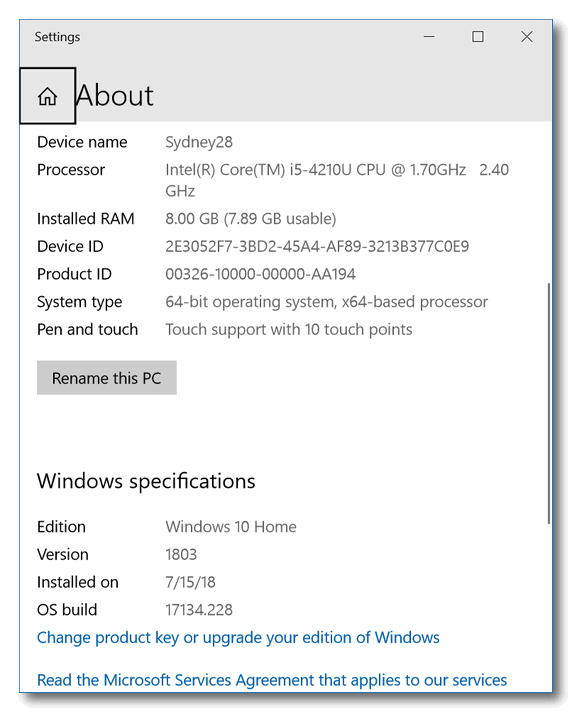 Above: My Windows 10 work laptop, running Windows 10 Home (Version 1803, OS build 17134.228)
Below: My old resurrected Windows 7 PC updated and running the a test of the next version of Windows 10 Home (Version 1809 OS build 17741.100)
Bonus tip! Whatever you do, do not change the name of your PC to EB, or you'll be sorry!

Enable Group Policy Editor in Windows 10 Home Edition
Windows 10 Home Edition (all versions)
NOTE: This is an intermediate to advanced user tip.
This tip is for those of you who are intermediate to advanced Windows 10 users who often look for tips about advanced Windows 10 configuration settings and options in Windows 10. If you do, then we're sure you've seen many tips that direct you to open the Local Group Policy Editor, also known as GP Edit. The problem with those tips is – Windows 10 Home edition does not have a Local Group Policy Editor. There are some 3rd party programs you can install to emulate the Group Policy Editor, but why not just enable the Group Policy Editor in Windows 10 Home?
The Local Group Policy Editor is a powerful tool that gives users running Windows 10 Pro or Enterprise version a centralized and easier way to customize advanced settings and options that cannot be changed or customized using Control Panel or Windows 10 Settings app.
If you are running Windows 10 Home edition, you won't find the Group Policy Editor available on your device. But there's a quick and easy way to enable it. Thanks to the good folks over at Itechtics you can download a batch file (.bat) to enable the Group Policy Editor on Windows 10 Home edition. Note: Depending on the browser you use, you may see "This type of file can harm your computer. Do you want to keep gpedit-enabler.bat anyway?" And, while it's a great idea to warn folks about downloading BAT files, in this case you should click the "Keep" button, since if you don't, this tip won't do you any good. Right?
Download gpedit-enabler.bat file from here.
After downloading, locate the file called gpedit-enabler.bat, right-click it and choose "Run as administrator". You will get a UAC warning… continue if you want to run the batch file. Once the batch file starts running, you'll see that a command window opens and several commands will start running – one after the other. When all the commands in the .bat file are done running, you'll see "press any key to continue". Press any key and the command window will disappear.
If all worked as it should, you can open the Group Policy Editor from a run dialog. Open a run dialog (Windows key + R ), type GPEDIT.MSC in the run box and press enter. The Group Policy Editor should open within a few seconds.
You're all set. Now, the next time you see a tip written that requires you to open the Group Policy Editor, just open GPEDIT.MSC and follow the instructions in the tip.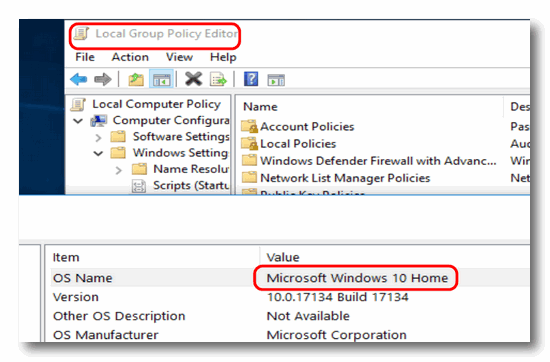 Above: Group Policy Editor running on Windows 10 Home Edition.


You Can Still Upgrade Windows 7 and Windows 8x to Windows 10 for Free
Windows 7, Windows 8, Windows 8.1
Note: This article was not written to persuade you to upgrade your Windows 7 or Windows 8x computer to Windows 10. The purpose of this article was to find out whether or not you could still upgrade a Windows 7 or Windows 8x PC to Windows 10 for free- some two years after Microsoft said you couldn't. And as you will see, you can indeed still get a free upgrade to Windows 10.
We have been hearing rumors that Microsoft is still allowing Windows 7 and Windows 8x users to upgrade to Windows 10 for free. If you recall, Microsoft announced the end of free update on July 29, 2016… over two years ago.
According to some information I have been reading, you can update any Windows 7 or Windows 8x computer provided that:
Windows is licensed

Your computer meets the requirements for Windows 10
According to this article written by Ed Bott, long-time Windows expert, you can still update from Windows 7 or Windows 8x without any tricks, without providing any false information, without doing anything other than updating using the Windows 10 Update Assistant.
We've been down this road before, so naturally, we were skeptical. I happened to have a six-year-old Dell Inspiron 15R 5520 7520 Series laptop with Windows 7 Home Premium on it. I had given it up for dead a couple years ago when it wouldn't boot and I didn't feel like fiddling with it. (Yes. Sometimes I get that way.)
I recently revived it and got it working but not very well. It, therefore, became the perfect guinea pig to find out for myself – and you – whether these articles were click-bait or if you really could update a Windows 7 computer to Windows 10 for free, more than two years after Microsoft said you couldn't.
So, today, a Sunday and a day to relax, I got the Windows 7 laptop out and fired it up. I opened my browser (Chrome) and headed to this Microsoft page to download the Windows 10 Update Assistant.
I clicked on the "Update now" to download he Update Assistant on my Windows 7 laptop. Once it was downloaded, I ran the program.
Once I ran the update assistant, it started downloading the files I needed to upgrade my Windows 7 Home Premium laptop to Windows 10 Home Edition.
Above: Windows 7 Home Premium Laptop downloading the files for a free upgrade to Windows 10 Home Edition on August 19, 2018.
Once the download completed (about 20 minutes), it was time to install Windows 10. It took about 45 minutes for the installation to complete. No input from me was necessary – the installer rebooted my laptop several times. When I came back and checked I saw the installation was successful… and I was greeted with this Windows 10 privacy settings screen:
Above: My 6-year-old Dell laptop running Windows 10 after being upgraded from Windows 7 Home Premium… for free. Windows 10 shows it is licensed and activated… no charge. August 19, 2018. Mission accomplished. At no time was I ever asked for a product key or was I asked to activate Windows 10. Now my six-year-old old Dell laptop is running Windows 10. No tricks. All totally legal and nary a problem.
If you've got a Windows 7 or Windows 8x computer and you've not updated to Windows 10 because you thought you'd have to pay for it: It's true… you can still get it free.
Bring on the caveats!
Some old Windows 7 and Windows 8 PCs may not be able to run Windows 10. However, if you use the update assistant and it finds your computer does not meet the requirements to run Windows 10, it will not install upgrade your PC and nothing will change.
Your experience may vary from mine. The Windows 7 laptop I upgraded was a six-year-old Dell laptop with a 1 TB hard drive, an Intel i5 processor and 8 GB of RAM. I was surprised to find that Windows 10 runs much better on my old Dell laptop than it does on my work computer (a three-year-old ASUS laptop).
The old Dell Laptop is faster now then I ever remember it. But that means nothing other than this was great move for me. It may not be a great move for you. It may not work as well – or at all – for you. Your computer may not run as well with Windows 10 installed as it did with Windows 7 or Windows 8. It may run better.
Again. The point of this article is not to goad you into installing Windows 10, but to let you know that as of August 19, 2018, you can still upgrade a Windows 7 or Windows 8x PC to Windows 10 for free, as long as the computer meets the requirements for Windows 10 and is running a licensed copy of Windows 7 or Windows 8x.

Want more computer tips & tricks?
Some of Our Favorite Things About the Next Version of Windows 10
Windows 10's Ease of Access Part Three: Audio and Closed Captioning
We have thousands of Windows tips, tricks and more on our InfoAve web site. Come see for yourself!





SeniorPass: A Great Deal for Our Friends 60 and Older!
Computer care & repair for one full year.
Do You Have Netflix or Amazon Prime?
The weekend is here and it's time to take a break and relax. What better way to relax than take a long walk then come back an binge watch a great series … or watch a couple great movies on Netflix and/or Amazon Prime. I am lucky enough to have a Roku device and both Netflix and Amazon Prime video apps on it … thanks to my kids' generous Christmas presents – presents that last the whole year.
If you have a Smart TV, Roku, Amazon FireStick, or other device and you have Netflix and/or Amazon Prime, you probably know that digging through the humongous amount of content each service has and looking for something to watch can be a real chore. Looking for something good to watch can take as long as watching it. You may as well make popcorn just for the search.
Luckily, in my quest to find a better way to see what is on Netflix and/or Amazon Prime – and to do searches with all kinds of different parameters… for instance:
Movies > Classic > Dramas which turns up great stuff on Netflix like "To Kill a Mockingbird" (one of my favorites) and "The African Queen" (another of my favorites).
Or...
Movies > Sci Fi & Fantasy which gives you a list of over 200 or Movies > Classic > Sci Fi & Fantasy which turns up two… one of which is "Ghostbusters".
There is no reason for me to bore you with my searches here. All I can tell you is if you have Netflix and/or Amazon Prime, and you're always looking for something good to watch, you're going to love this site.
There are other sites of course, but this site is a loaded resource with a minimalistic interface. No gaudy pictures, no flashing ads, no "paid" recommended content, just the stuff you need to find what you want, in the least amount of time.
I bookmarked this site, and if you have Netflix or Amazon Prime or both, I'll bet you bookmark it too.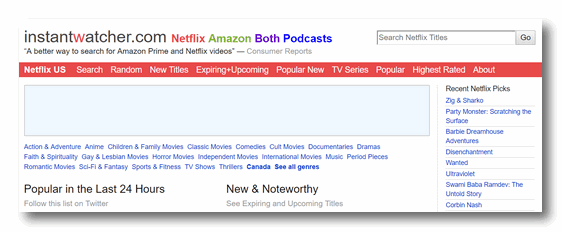 The site is called Instantwatcher. And if you have Netflix, Amazon Prime or both… you'll love it. You'll find it's a great resource and a great help in finding something great to watch. Take a look right now…. you'll be glad you did.
Enjoy the weekend!
What? You don't have a Smart TV or Roku-like device? No Netflix or Amazon Prime. No problem! Check out our Top Ten Freeware Picks (Plus).




He Left the Candle Burning

He left the candle burning, just as she had asked him to do. Though it had been seven years since she went away, every evening at nightfall he would light a candle. Every night while he tried to sleep through his pain and his loneliness, the candle flickered silently casting its dancing shadows upon the walls and on the ceiling in the quiet hours.

If the wind from the open window blew the candle out, he lit the candle again. Many times when he relit the candle, he would wipe a tear from his cheek, and fall into bed exhausted. Yet he knew that this night, like most other nights, sleep would never come.

He lay awake watching the ballet of shadows dancing in the candlelight as he had done so many nights before. And on some nights he'd listen to the wind breathing in the boughs of the barren branches of the tree she had planted just outside their bedroom window, one spring day long ago and now, so far away.

Other nights he'd watch the ghostly shadows dance while a concerto of raindrops rhythmically pounded on the roof and ran in little rivers and rivulets as they raced to the ground below. When he watched the silver shimmer of the rain he would think his lonely thoughts – once again – in the quiet hours.

He left the candle burning...

Read the rest of this essay here.






Now available: Reg Organizer 8.16

If you purchased or renewed Reg Organizer through Cloudeight within the last 12 months, you're entitled to a free version upgrade to Reg Organizer 8.16.

Save $14 on Reg Organizer right now!

Reg Organizer - A Swiss Army Knife of Windows Tools - Works Great on Windows 10!





The Elusive "Back Button" in Your Browser

In most browsers you will find a "back and forward" button. Back returns you to the page previously viewed, and forward goes to a page you viewed (after you have used the back button). Oftentimes the back button does not work; there are a few reasons to consider:

Your back button won't work until you have browsed a couple of web pages in the same browser window.

Many links open in a new window so that the page you were just on is still open or open in a tab. In this case, you cannot go back; check your open tabs and you will probably see the page you were on is still open in a tab.

Some Web pages have coding to disable the use of the back button. Not fair, but they do it to keep you on their site. Clicking back two or three times in quick succession will often allow you to override the "no back" coding. So be sure to try it, if you seem to be stuck.

If you really want to go back to a page, check your History; all the pages you have surfed should show up there. To check your history quickly, press the Ctrl + H keys.





Sales of the following products and services help support our newsletters, websites, and computer help services we provide.

Cloudeight Direct Computer Care: Single Keys or Season Tickets - always a great deal. Cloudeight Direct Computer Care is like having PC insurance. Get more information here.

Emsisoft Anti-Malware: Emsisoft is the only Cloudeight endorsed and recommend Windows security program. It provides users with a complete antivirus, antimalware, anti-ransomware, anti-PUPs solution. We offer single Emsisoft licenses and multi-computer licenses at discount prices. Also, we offer our exclusive Emsisoft with Cloudeight installation & setup. Get more information here.

Cloudeight Backup Service: Professional setup of a complete backup system including creation of rescue media, image backups, incremental backups, Cloudeight Direct Backup session key and a lifetime license for Ashampoo Backup Pro 11. Get all the details here.

Thunderbird Email Setup: Thunderbird is a great email program that you can use with your Gmail and Outlook.com (Hotmail) web mail accounts as well as with your Internet provider's email. We'll set it up right for you. Our set up includes configuring up to 3 emails accounts and setting up Thunderbird to use stationery (if desired). Our Thunderbird Email Setup Service is always a great deal. For more information visit this page.

Reg Organizer 8.10: Reg Organizer is the Swiss Army Knife of Windows tools. It's far more than just a registry optimizer and cleaner... it's Windows all-in-one toolkit. Helps you keep your computer in tip-top shape and helps solve annoying Windows problems. Reg Organizer works great with Windows 10 too! Get more information about Reg Organizer (and get our special discount prices) here.




If you don't need any of the above products or services at this time, please consider helping us with a small gift. Everyone who helps us with a gift is invited to become a Cloudeight Booster and is eligible for special Cloudeight Booster Freebies and special Cloudeight Booster sales. Please consider making a small donation today. Ad thanks to all of you who support us! We appreciate it very much!
Premium Subscribers' Home Page. You'll find the last few weeks of Premium archived on this page.
To change your subscription address, see "Manage your subscription" at the bottom of this newsletter.
Submit your questions, comments, and suggestions for possible inclusion in our newsletters here. This form is for questions, comments, and suggestions for this newsletter. This form is not for product support, stationery questions, or general questions concerning our products or services.
Send us your suggestions and recommendations for future freeware picks and/or sites of the week
Help us Grow! Forward this email newsletter to a friend or family member - and have them sign-up for InfoAve Premium here!
Get our free daily newsletter! Each evening we send a short newsletter with a tip or trick or a computer-related article - it's short and sweet - and free. Sign-up right now.
Have a question about a Cloudeight Software program, service, stationery, or need to ask about an order? Let us know!
If you need help with one of our software programs, have a question about an order, or have a question about any of our email stationery, screensavers, or other products - please don't use our InfoAve Questions/Answers/Tips form. Use our general Cloudeight support form instead.
Print our Cloudeight Direct Flyer and spread the word about our computer repair service! If you want to help us by telling your friends about our Cloudeight Direct Computer Care service, you can download a printable flyer you can hand out or post on bulletin boards, etc. Get the printable PDF Cloudeight Direct Computer Care flyer here.


If you're not using Emsisoft we're going to make you an offer you can't refuse. For the price of a one-year Emsisoft license, we'll connect to you computer, remove your old antivirus, double-scan your computer for any malware/viruses, install and configure Emsisoft and give you a one-year license for Emsisoft.
How can you refuse this offer. If you're not using Emsisoft - now is the time to switch.
See this page for more information.




These products and services are recommended and endorsed by Cloudeight:
Also... don't forget:




We'd love to hear from you!

If you have comments, questions, a tip, trick, a freeware pick, or just want to tell us off for something, let us know.

If you need to change your newsletter subscription address, please see "Manage your subscription" at the very bottom of your newsletter.

We received hundreds of questions for possible use in IA news. Please keep in mind we cannot answer all general computer questions. We try to personally answer as many as we can. We can only use a few to in each week's newsletter, so keep this in mind. If you have a support question about a service or product we sell, please contact us here.





Subscribe to our Daily Newsletter!

Get computer tips & tricks every night. Our daily newsletter features a computer tip/trick or two every day. We send it out every night around 9 PM Eastern Time (USA). It's short and sweet, easy-to-read, and FREE. Just visit this page and sign-up. All you have to enter is your email address. Once you confirm your subscription, you'll receive our daily newsletter every day, six days a week. You can unsubscribe at any time.

Print our Cloudeight Direct Computer Care Flyer!

Print our Cloudeight Direct Computer Care Flyer and spread the word about our Cloudeight Direct Computer Care computer care and repair services. Get our ready-to-print flyer here.




We hope you have enjoyed this issue of InfoAve Premium. Thanks so much for your support and for being a Premium subscriber.

Have a great weekend.

Darcy & TC
Cloudeight InfoAve Premium - Issue #776
Volume 15 Number 45
August 24, 2018

Not a subscriber? Subscribe to our InfoAve Premium Newsletter

Share Us on Facebook!
We'd love for you to share us with your family and friends on Facebook. Help us by sharing us on Facebook!






"Cloudeight InfoAve Premium" newsletter is published by:

Cloudeight Internet LLC
PO Box 73
Middleville, Michigan USA 49333-0073

Read our disclaimer about the tips, tricks, answers, site picks and freeware picks featured in this newsletter.

Copyright ©2018 by Cloudeight Internet