Cloudeight InfoAve Premium
Issue #791
Volume 16 Number 8
December 7, 2018




Dear Friends,

Welcome to Cloudeight InfoAve Premium issue #791. Wishing you all a very Merry Christmas and a happy holiday season... from both of us to all of you. Thank you very much for subscribing and for being a part of our Cloudeight family. We appreciate your friendship and support very much!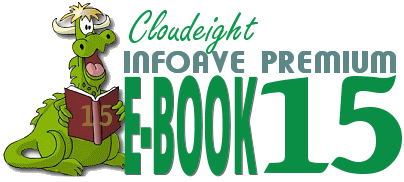 Our new Cloudeight InfoAve Premium E-book Volume 15 is available now!

Our all-new 2018 InfoAve Premium E-book Volume 15 is available now with special introductory pricing! Our new E-book contains all the questions and answers, tips and tricks, freeware picks, site picks, and Back to Basics from all 52 issues of InfoAve from October 2017 to October 2018. Here's a chance put all the info in all 52 issues of InfoAve Premium at your fingertips. With it's great built-in search feature, you'll find what you're looking for quickly and right when you need it.

Our new ebook can even read aloud to you! This Ebook supports Speech APIs so that it can be used to say the selected text or the entire document aloud using headphones or speakers.

This ebook works great in all versions of Windows, including all versions of Windows 10. This ebook contains many the tips and questions that apply to Windows 7, Windows 8x users as well as all of you are using Windows 10. There's plenty of useful information in our ebook no matter what version of Windows you're using.

Save 25% off with our introductory pricing. Get our new Cloudeight InfoAve Premium Ebook Volume 15 for just $15 - or get more information here.






A comment from Robert
Just wanted you to know that I (and everyone else) really appreciate everything you do for us. Your dedication and your commitment to making our complicated computers understandable and all the tips you guys provide in plain English are much appreciated. Happy holidays to you both. Robert S.

A comment from Sheila
Just wanted to say thank you! You guys fixed my computer last week and it is running much, much better. They removed some malware and fixed my startups and then installed Emsisoft for me so I wouldn't get into this kind of trouble again. Thanks to you for helping me. GREAT JOB! Sheila

A comment from Rosemary
I want to thank TC so much for going way beyond the call of duty when fixing my computer today. He spent a lot of time on getting my computer fixed and I appreciate it , He was very professional and funny too! Thanks so much. Rosemary

A comment from Michael
Hi Darcy! Thank you so much for fixing all the problems I was having with my computer! Without your help I don't know where I would be. I appreciate all that you do. Thanks again! Michael

A comment from Derek
Hello T.C. I wish to thank you for all the work you did on my computer this morning. It was fascinating, and exhausting, watching you opening folders which I never knew I had and sorting things out. Your knowledge of computers and how to fix them is incredible. Everything is now as it should be, for which I am eternally grateful. Kind Regards, Derek

A big Cloudeight "Thank you!" to Robert, Sheila, Rosemary, Michael, Derek and everyone who took time out to write to us this week. We appreciate your kind words and your support very much! EB & TC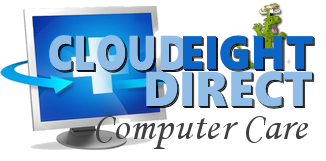 With our Cloudeight Computer Care, we'll fix your computer while you watch. You'll be getting the best computer repair service available, at the best price, from people you trust. Our Cloudeight Direct Computer Care single repair keys are a great deal. They are good until you use them. For more information see our Cloudeight Direct Computer Care home page!







Anytime Support is Available At No Extra Cost With Any of Our Annual Support Plans!
$99 Senior Pricing for a full year of unlimited Computer Repairs!

If you have a Cloudeight Direct SeniorPass or Season Ticket you are now eligible for Anytime Support at no extra cost! All you have to do is request us to set up Anytime Support for you. We can schedule a time with you and setup "unattended access". It only takes about five minutes to set this up. Once this is done, we will be able to log on to your computer any time you need us - as long as your computer is on. You will not need to be sitting at your computer! And we'll be able to give priority scheduling on those who have Anytime Support set up. This service is included with your SeniorPass or Season Ticket at no extra charge! Ask us about this service.


Here are some important links for you:




Marvin wants to know about Windows Setup Remediation
I was looking through my installed programs and saw something called Windows Setup Remediation? What is it? Do I need it? Can I remove it?"

Our answer
Hi Marvin. Good eye! Not many people will find this. Windows Setup Remediation(s) is a valid Windows program. Windows Setup Remediation(s) - also known as KB4023057 - is a Windows Servicing Stack Update that makes sure that Windows Update process is handled smoothly. The program includes files and resources for the update process in Windows 10.

While you can remove it, but we highly recommend that you do not. Without Windows Setup Remediations, Windows updates may not download/install properly. Windows Setup Remediations also includes a program to fix corrupt Windows Update system files, creates a restore point, and does other things to make sure Windows Update works properly.

Even if you do uninstall it, it will reinstall whenever Windows 10 needs the file for an update. Windows Setup Remediations is installed before any major feature update of Windows. Our advice, leave it alone and let it do its job.

Hope it helps you, Marvin.
.



Andrea keeps having problems with Flash
For 2 years I have been playing Facebook, Gameroom SuperCity which requires Abode Flash. Up until 3 months ago, I have not had any problems, then one day the game would not load. I went to the games help section to see what was going on. After following all the steps that was presented to me I found out that my Abode Flash said Abode not allowed or was not the default flash player. So I am scratching my head here thinking what the heck is going on. I made Abode my default and tried the game again. Nothing. Went back into help section, went through the above process all over again checked to make sure that I allowed Abode to be the default flash player, for some reason it when back to Abode was not the default player. I reset it again. Went to more help to check to see if Abode was up to date. Said that it was. To make a long story short I landed up redownloading Abode Flash player again. This worked 3 months. Yesterday I had the same problem all over again. I went back through all the steps again and had to redownload Abode Flash player again.

My question is: Why does this keep happening?

Our answer
Hi Andrea. You don't say what browser you're using, so I'm going to guess you're using Firefox or Internet Explorer.

As of right now, only two major browsers have Adobe Flash Player built in to the browser: Chrome and Microsoft Edge. Firefox and Internet Explorer continually have Adobe Flash Player problems because it's an add-on, so any changes or updates to the browser may cause Flash to stop working. Likewise any changes to Flash will require an update. This appears to be what's going on in your case. For the sites you visit that use Flash we suggest you use Chrome or Microsoft Edge to avoid this pattern of updating Adobe Flash Player.

The good news is that Flash is old technology and it is being phased out. Within 3 or 4 years, Flash will be replaced everywhere by HTML5 which does not require a plug-in or add-on to play. It just requires an HTML5 capable browser. Chrome, Edge, Firefox, Opera and others are already HTML5 capable.

We hope this helps you.





Tammy has a problem with Windows 10 File History
I have been backing up my computer with File History and it's been working great. Now I'm getting a message that the File History drive has been disconnected. I have tried to reconnect the drive several times, even tried different USB ports but I still keep getting the same message. I need your help! Thanks in advance. Tammy.

Our answer
Hi Tammy. The only way we know of to fix this is to reset File History. We've uploaded a couple of files to help make this easy for you - and anyone else who has this problem.

Download this Cloudeight zip file.

Unzip the file. There are two files inside. One is a batch (.bat) file and one is Visual Basic script (.vbs). You should only need to run the batch file (double-click it to run)

So here are the instructions.

1. Unplug the external drive
2. Unzip the file above and double-click on the batch file.
3. Restart your PC
4. Plug in your external
5. Try setting up file history.

If this does not work, then go back and follow the instructions above, only this time double click on the VBS script (in the zip file) instead of the batch file.

Let us know if this solves your problem.
------
Tammy wrote back..."Thanks a lot. It's working again! Tammy"



Tony can't find the show desktop button on his taskbar and more...
I really have a problem now, I recently had a problem with my Logitech Keyboard and Mouse that I have finally got resolved, but in the process I have two problems that have me scratching my head cause I can't remember how to get them back.

Problem 1 is I lost my Desktop view button on the Taskbar, and can't remember how to get my desktop task view windows back.

Problem 2 is how do I get the Personalization button to appear on the Task Bar instead of the Start menu? I could get it on the Start Menu, but had no option to post on my Taskbar.

Can you help me Please? Tony.
Our answer
Hi Tony. You can instantly go to your desktop by pressing Windows Key + D, or Windows Key + M so no taskbar shortcut is needed. But there is a taskbar icon to show your desktop on Windows 10 - it's tiny but it's there. It's the thin strip at the very right edge of the taskbar. Here's a screenshot.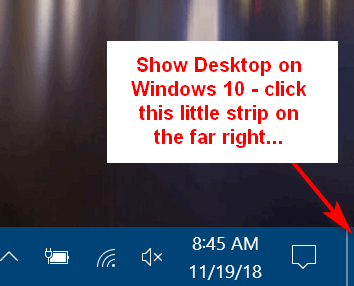 If you meant the Task View icon in your taskbar, just right-click your taskbar and click on "Show Task View button".

There is no personalization icon you can put on your Taskbar that I know of. Personalization is in Windows 10 Settings You can also, right-click on a blank area of your desktop and click "Personalize". You can add a Personalization shortcut to your desktop (you can learn how to do that here), but you cannot pin that to your taskbar.
Hope this helps you, Tony.

Helen is trying to get rid of MS Office on Windows 10
Still trying to get Windows 10 setup my way so my question is: I am using Libre Office so I don't need or want MS Office. Can I just uninstall it so it won't keep bothering me?

How many times do I need to uninstall it? Thank you! Helen

Our answer
Hi Helen. MS Office is not installed so you can't uninstall it. It is just a Microsoft notification trying to get you to buy it (an advertisement).

You can turn off the "Get Office" notifications in Windows 10 this way:

1. Right click on the start button and click "Settings"
2. In Settings, click on "Notifications" on the menu on the left side.
3. In Notifications, under "Show notifications from these apps, find the "Get Office" app and turn the on/off switch next to it to "Off". While you're there, you can turn off any other notifications you don't want to see.
You can also go to Settings > Privacy > Background Apps and turn the switch next to "Get MS Office" to "Off".

Hope this helps you, Helen.
---------
Helen wrote back... "Awesome, thanks!"

Mary wants to run file defrag on Windows 10
Hi, Could you please let me know how i can find "Windows File Defrag" on Windows 10? I have looked under Windows Accessories but can't find it. Thank you, Mary

Our answer
Hi Mary. Windows 10 automatically defragments your hard drives, so generally you don't need to do so.
However if you want to defragment your hard drive, you can do it manually this way:
1. Type Defrag in taskbar search
2. Press Enter
3. Select the drive you want to defragment
4. Click" Optimize" to defragment the drive. If you just want to check to see how fragmented the drive is, click the "Analyze".
You'll most likely find that your Windows drive (usually C:\ ) most likely does not need to be defragmented since Windows 10 does it automatically.

If you have a SSD (Solid State Drive) it does not need defragmenting and running defragmenter on it could damage the drive. So make sure you have a regular hard drive (HDD) and not a Solid State Drive (SSD). If you just let Windows automatic maintenance take care of this for you, you won't have to worry about it at all - that's our advice.
Hope this helps you, Mary!

William is getting calls from Microsoft
I keep getting phone calls and my caller ID shows "800 Service" when I answer the phone a voice with a Hindi dialect say this is Microsoft calling. And about that time I hang up---is that correct?

Our answer
Hi William. These kinds of calls are all scam phone calls and we've covered many times Microsoft is not ever going to call you randomly. You're doing the right thing: Always hang up.

Read our article here about these kinds of telephone scams.

Hope this helps you, William.




Includes "Anytime Repair" with Our Unattended Support Feature!

SeniorPass: A Great Deal for Our Friends 60 and Older!

With our Cloudeight Direct Computer Care SeniorPass, our friends age 60 and older get one full year of unlimited computer care and repair for one low price. With our SeniorPass you'll get the best computer care anywhere - any time you need it!

SeniorPass is valid for unlimited computer care & repair sessions for one full year starting with the first time you use it. The clock does not start ticking until you use your SeniorPass for the first time. A great deal!

Having SeniorPass is just like having insurance for your computer. You'll get one full year of computer care and get help with almost any computer problem whenever you need it. We're here to help you.

Computer care & repair for one full year just $99! Check out our SeniorPass offer right now!

Get your SeniorPass and/or get more information here.





A Keyboard Shortcut to All Gmail Shortcuts [and more]
Everyone who uses Gmail

Google has a lot of nifty and useful shortcuts that you can use in Gmail. And you don't need to memorize them because they're just a shortcut away. You can bring up a list of all Gmail shortcuts instantly by pressing just two keys.

Open your Gmail account in your browser. Now press Shift + ? (Hold down your Shift key and tap the question mark key) and you'll see this: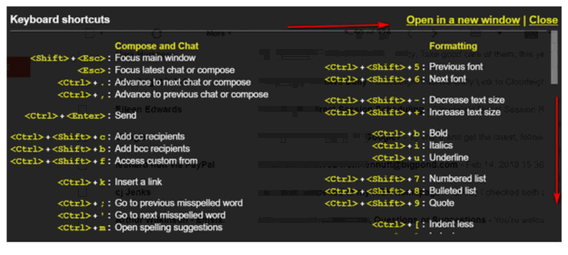 If you scroll down, you'll find more shortcuts that are not enabled by default - but you can enable them just by clicking a link. See?





All those Gmail shortcuts at your fingertips, and all you have to remember is the keyboard shortcut Shift + ? (Shift key plus the question mark key).

Pretty cool, eh? Now you're a Gmail power user!

Oh, just one more thing. If you want to see a list of Gmail tips & tricks, just visit this page .




Thunderbird Stationery Add-on Updated for Newest Version of Thunderbird
Everyone who uses Thunderbird and enjoys using email stationery

If you're one of the many Thunderbird users who loved to use stationery with Thunderbird, but were disappointed when you updated to the newest version of Thunderbird (Version 60) only to find that you could no longer use stationery with Thunderbird, we have good news for you.

You can now download the updated Stationery add-on from Thunderbird by Arivald that works with the newest versions of Thunderbird. The stationery add-on is an extension to mimic Outlook Express Stationery. It allows you to use HTML files as templates for mail. It also allows you to use custom template in replies or forwarded mail!

We have a nice selection of Stationery for Thunderbird here… and we offer a Thunderbird installation and set up service too.

For download links and more information, visit the official Thunderbird Stationery Add-on page here.




Downloading, Installing, Previewing and Using Fonts on Windows 10
Windows 10 Version 1703 and newer

Viewing and installing fonts on Windows 10 is huge improvement over previous versions of Windows.

To view the fonts on your Windows 10 computer, type Fonts in taskbar search and press Enter. [ You can also find Fonts in Settings > Personalization > Fonts ]

You'll see all the fonts on your system displayed exactly as they will appear when you use them.




Installing fonts on Windows 10 is a snap. The biggest challenge with fonts on Windows 10 is finding good free fonts from sites that don't bundle malware with their fonts – or try to trick you into installing driver updates or other garbage.

Here are 3 free fonts sites we tested today (30 November 2018); we found all 3 to be free of trickery.

DaFont
https://www.dafont.com/

Thousands of fonts, easy to download. Fonts come in zip file with nothing inside but the fonts, and sometime a "readme" text tile and/or a graphic of the font. No malware. No tricks.

Google Fonts
https://fonts.google.com/

Google fonts is a great site. Thousands of fonts. However downloading fonts from Google takes some getting used to. Persevere and you'll find some great fonts to download from Google – and Google Fonts is one of the only where all fonts are free for home or commercial use.

FontSpace
https://www.fontspace.com/

There's a very nice search feature on this site to help you find a font by name. Fonts are in zip files. They're easy to download. All fonts here are free, but most are free for home (personal) use only.

Moving right along. Downloading fonts the hard part… trying to find a good free font site and going through all the great fonts can be time consuming.

Now for the easy part. We downloaded a font in a zip file from DaFont , then unzipped the file. And then double-clicked on the font file.


This automatically opens Windows 10 Font Viewer where you can see the font in all its glory. When you're ready to install the font, just click the "Install" button at the top. (Note: You can also install fonts without previewing them. Just right-click the font and choose "Install" from the right-click menu.)


Want to see what your new font looks like after it's installed. Easy. Open Windows Font Viewer (type fonts in taskbar search) and press enter. Instead of floundering around in Font Viewer looking the font you just install, use Font Viewer's search feature to find the font by name. See?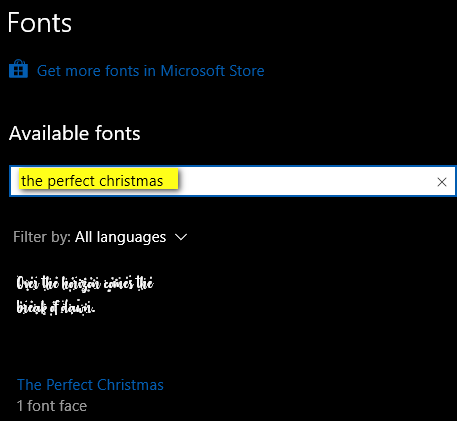 Now, press Enter and you'll see your font in Windows Font Viewer. You'll be able see exactly what it looks like by typing a word or sentence in the text box. You can even use the slider to make the font smaller or larger.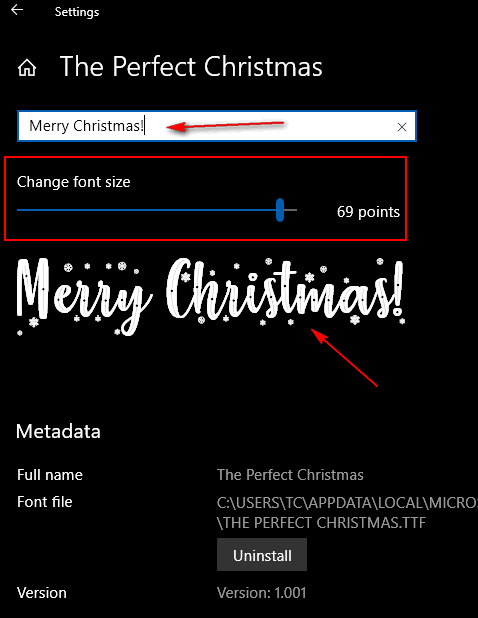 And once you've installed your new font, you're ready to use in any application that allows you to select fonts. Here, I'm using my new "The Perfect Christmas" font in very old version of PaintShop Pro.



Now you know all about downloading, installing, previewing and using fonts on Windows 10.

Have fun!



You Don't Have to Be a Geek to Make Zip Files
Windows 7, Windows 8x and Windows 10

Here's an easy tip that you're sure to use.

There are a lot of good reasons to make zip files. Today, we're going to zip up a folder of images and videos so they'll be easier to share, save or upload to Google Drive, OneDrive, Dropbox or similar. And if you're using Windows 7, 8x, or Windows 10, you don't need no stinkin' 3rd-party zip software to make zip files; Windows has all you need.

OK let's get started. Below, I've got a folder with 57 images (and some videos) of my grandkids. Yep! I'm that old, I tells ya!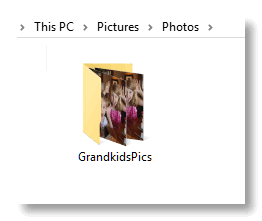 You can see the folder has a lot of files in it (57 ). See?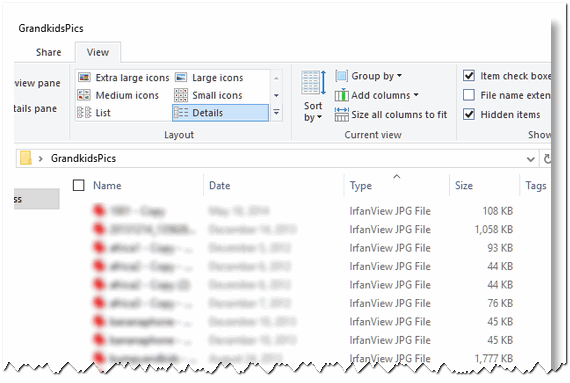 It would be awkward (and poor etiquette) to share 57 separate files by email or website. And it would be impossible so send a folder as an attachment. Zipping folders make the easy to share, move, copy or backup. Once the folder is zipped up, unzipping it yields a folder which is a duplicate of the folder you zipped. Ah! You'll think of a lot of ways you can use zipped files.

Enough yammering, let's make a zip file.

To make a that folder a zip file, all we need to do is right-click on the folder, choose "Send to" on the left pane, and then choose "Compressed (zipped) folder" from the right pane. See?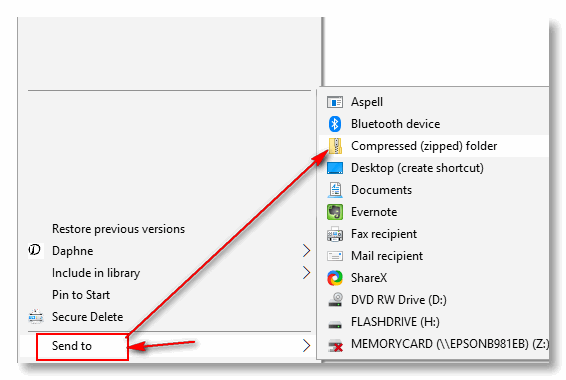 As soon as you do that, you'll see a dialog appear telling you that your zip file is being created. When Windows if finished making your zip file, you'll see it in the folder with the folder you zipped. See?


You can rename the zip file to whatever you want. You can copy it or move the zip file to a different location, a different drive, upload it to Google Drive, Dropbox or copy it to a USB flash drive. The zip file I created is 105 MB, which is too big to send by email. If you keep your zip files under 25 MB you can simply attach them to an email and send it to anyone. But if you want to make big zip files like this one, you can easily share them using Google Drive , Dropbox, One Drive, etc. For my example I'm going to use Google Drive.

Login to your Google Account and open Google Drive .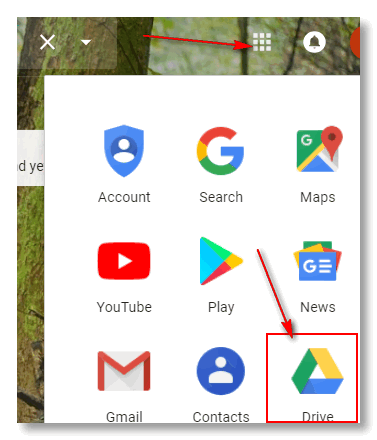 Click on My Drive and then choose "Upload files"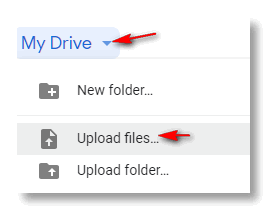 Wait while Google Drive uploads your file. Once it's uploaded, you'll find it on Google Drive. Right-click on it and choose "Get shareable link".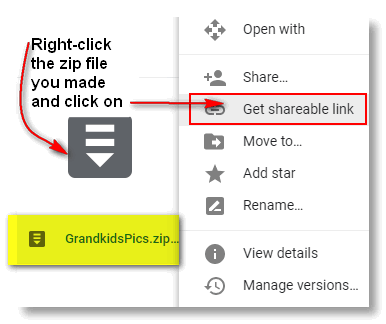 A link you can share with anyone will be copied to the Windows clipboard so all you have to do is paste it in an email or social networking site.

For this example I changed my name to Beanie Magoo – I'm going to share my newly created zip file with some friends who will all think their grandchildren are cuter and smarter than mine – and isn't that what being a grandparent is all about?

When the recipient gets this email, all he or she has to do is click the link to download the zip file I created and uploaded.




There's a lot of good reasons to make zip files. They make it easy to move and/or share a lot of files at once by making all the files in a folder one single zip file. You can even zip up a folder which has subfolders. When the zip file is unzipped the folder will look just like the folder we zipped at the beginning. See?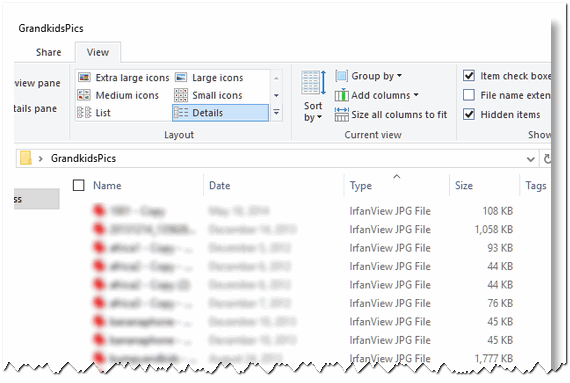 They can open up all your pictures and videos and have a grand time... or not.

Want more computer tips & tricks?
26 Fake Indian Tech Support Call Centers Raided By Police; Arrests Made

Enable Dark Theme for File Explorer (Windows 10 version 1809)
We have thousands of Windows tips, tricks and more on our InfoAve web site. Come see for yourself!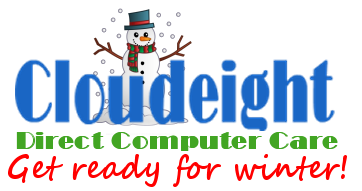 Cloudeight Direct Computer Care - Get Ready For Winter Checkup
Winter is just days away -- and we're all going to be using our computers more. Let us make sure your computer is ready for those long, cold winter nights.
When you order our Get Ready For Winter Computer Checkup:
We'll check your computer for malware and questionable programs
We'll check your startup programs and optimize them
We'll check your computer performance to make sure your RAM and CPU usage are within normal ranges
We'll check your hard drive for errors
We'll review your installed programs
If you're using Emsisoft, we'll make sure it's set up for best protection & performance
We'll make sure your computer is ready for the long winter nights ahead!
You'll get all of the above for just $25. This offer is good for a limited time!
Get Ready for Winter! Get all the details here.



BCUninstaller: An Advanced Free Uninstaller for Everyone

Sometimes we're amazed by the free software that is still being developed. There's not nearly as much as there once was, and a lot of the new freeware that is being created is developed only as a ruse to get malware on your computer – there are still some good people around making great software. Today, we're going to feature some great free software. It's our latest discovery, BCUninstaller. BCUninstaller is an advanced uninstaller that has some very advanced features for advanced users, but also many simple, elegant features that ordinary users will benefit from. It's a great uninstaller and a freeware program with something for everybody.

BCUninstaller (Bulk Crap Uninstaller) is an uninstaller designed to help computer users to uninstall a single program or a large number of programs quickly, easily and completely.

After you download and install the program (or choose the built-in Portable option), BCUninstaller will scan your computer for a few minutes digging deep to find all of your programs and their associated files and registry entries.

You can choose to remove as many programs and apps as you want, and BCUninstaller will launch each uninstall process and all you have to do is confirm the deletion. Or you can choose "Quiet uninstall" which will attempt to uninstall all the programs and apps you've selected without any user interaction.

BC Uninstaller has many other useful features, like an excellent (and configurable) startup manager, and advanced options that show system components, protected items, and other options included for advanced users only.

There's an excellent video on the BCUninstaller Homepage. If you intend to download and use this advanced uninstaller, we think it would be a good idea for you to watch the video here.

We're going to bring the developer in to tell you more about BCUninstaller, but first we're going to introduce you to the program with screenshots:
During setup, you can choose from Standard or Portable installation. Each is explained in the dialog to help you choose.
BCUninstaller will scan your computer during setup – this takes a few minutes.
BCUninstaller's setup dialog. Default language is English (U.S.).
Programs and apps are color-coded for your convenience. Green means the program has a verified certificate, blue-gray means it has a Unverified certificate, pink means the application is not registered and light-blue means it is a Windows store app.
You can select as many apps as you want to uninstall, and remove them all in one session.

We have more screenshots, more information about the program, some words from the developer and download links here.



Now available: Reg Organizer 8.20

If you purchased or renewed Reg Organizer through Cloudeight within the last 12 months, you're entitled to a free version upgrade to Reg Organizer 8.20.

Save $14 on Reg Organizer right now!

Reg Organizer - A Swiss Army Knife of Windows Tools - Works Great on Windows 10!





The Child Inside

"I was young and foolish then; now I am old and foolisher." – Mark Twain

I don't mind those first few cold days of winter. I think the pristine whiteness of the first measurable snowfall is beautiful – and the newly white world, I find serene and breathtaking. I like the way the sound cracks in the cold, clear, crisp air and I love to look at the skeletons of the summer trees when they are dressed it their gowns of ghost-white snow.

My mind's vision of snowy hills and wistful flakes drifting silently through the winter twilight is both a happy one as well as a rueful and nostalgic one. Never again will I be a small boy dragging a red sled behind me – and standing at the top of a mighty hill, looking down toward the bottom with trepidation and excitement. Never again will I be a boy with frozen fingers and toes, running home to a glowing, warm house and a cup of hot chocolate; that cup tastes even sweeter now because my mom made it for me from scratch. It was real cocoa not the instant kind from a pouch.

With a profound and melancholy yearning, I look back at myself, a young boy, lacing up his new ice skates, sitting next to a warm, blazing, bonfire, raging in an old rusty drum. As deeply as this movie has been etched in a deep, untouchable corner of my mind, so have the happy sounds of laughter of the children skating by me.

I can hear their skates making clear sharp sounds scraping sounds as they slide across the smooth and strangely-blue ice. These sounds are as real as any sounds can be – they were recorded somewhere in time, in hidden corner of my mind. Wherever these wonderful and vivid memories are stored in my mind, whenever I play this back this scene in my mind, the soundtrack is always synchronized perfectly with the movie the I watch in my mind.

A shiver always runs through me as I recall those halcyon days. But a deep, dark sorrow grips me too, for those are days I can never live again.

Winter is an amalgam of happy and sad, of yearning and contentment, of sweet and bitter...

Read the rest of "The Child Inside" here.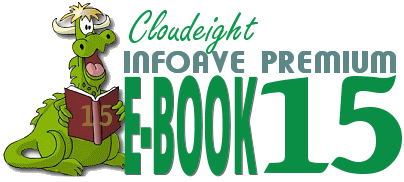 Our new Cloudeight InfoAve Premium E-book Volume 15 is available now!

Our all-new 2018 InfoAve Premium E-book Volume 15 is available now with special introductory pricing! Our new E-book contains all the questions and answers, tips and tricks, freeware picks, site picks, and Back to Basics from all 52 issues of InfoAve from October 2017 to October 2018. Here's a chance put all the info in all 52 issues of InfoAve Premium at your fingertips. With it's great built-in search feature, you'll find what you're looking for quickly and right when you need it.

Our new ebook can even read aloud to you! This Ebook supports Speech APIs so that it can be used to say the selected text or the entire document aloud using headphones or speakers.

This ebook works great in all versions of Windows, including all versions of Windows 10. This ebook contains many the tips and questions that apply to Windows 7, Windows 8x users as well as all of you are using Windows 10. There's plenty of useful information in our ebook no matter what version of Windows you're using.

Save 25% off with our introductory pricing. Get our new Cloudeight InfoAve Premium Ebook Volume 15 for just $15 - or get more information here.





5 important things you can do to stay safe during the holidays

Some computer geeks will tell you to install browser add-ins like safe site toolbars and to let someone else decide what is safe and what is not. Some will tell you to install a firewall because Windows firewall is no good. There is an endless supply of questionable and bad advice out there, and we know it's really difficult to figure out who to believe or what to believe.

In our usual, straightforward manner, we are going to tell you 5 things you can do to help you stay safe online this holiday season:

1. Always Use Strong Passwords on sites that deal with personal information, banking or financial transactions.

2. Never click links on web sites without thinking. Always think before you click.

3. Always use caution when clicking links in email. Never click links in an email that comes from a bank, credit card company, or other financial institution that asks you to verify a password or your account. If you have a question about your bank account(s), credit cards, other financial institutions, always go directly to their web site - or call. Always think before you click.

4. Never do online shopping or banking while using public Wi-Fi like you'll find at airports, restaurants, hotels, etc. Wait until you're home.

5. Use good security software, like Emsisoft, that protects you from all kinds of malware: PUPs, ransomware, scamware, Trojans, viruses, etc.

We want to help you stay safe online during the holidays... and always!




Sales of the following products and services help support our newsletters, websites, and computer help services we provide.

Cloudeight Direct Computer Care: Single Keys or Season Tickets - always a great deal. Cloudeight Direct Computer Care is like having PC insurance. Get more information here.

Emsisoft Anti-Malware: Emsisoft is the only Cloudeight endorsed and recommend Windows security program. It provides users with a complete antivirus, antimalware, anti-ransomware, anti-PUPs solution. We offer single Emsisoft licenses and multi-computer licenses at discount prices. Also, we offer our exclusive Emsisoft with Cloudeight installation & setup. Get more information here.

Cloudeight Backup Service: Professional setup of a complete backup system including creation of rescue media, image backups, incremental backups, Cloudeight Direct Backup session key and a lifetime license for Ashampoo Backup Pro 11. Get all the details here.

Thunderbird Email Setup: Thunderbird is a great email program that you can use with your Gmail and Outlook.com (Hotmail) web mail accounts as well as with your Internet provider's email. We'll set it up right for you. Our set up includes configuring up to 3 emails accounts and setting up Thunderbird to use stationery (if desired). Our Thunderbird Email Setup Service is always a great deal. For more information visit this page.

Reg Organizer 8.20: Reg Organizer is the Swiss Army Knife of Windows tools. It's far more than just a registry optimizer and cleaner... it's Windows all-in-one toolkit. Helps you keep your computer in tip-top shape and helps solve annoying Windows problems. Reg Organizer works great with Windows 10 too! Get more information about Reg Organizer (and get our special discount prices) here.






Donations help us continue our mission to keep you informed, separate the truth from the hyperbole, and help you stay safer online. We provide support to thousands of people. Every week we help dozens of people via email at no charge. Thanks to donations, we do a lot more than provide this free newsletter. We help you recognize online threats, fight for your online privacy, and provide you with the knowledge you need to navigate the Web safely, and help you get more out of your PC.

Help us keep up the good fight with a small donation.

After you donate, you will receive an invitation to become a Cloudeight Booster.

Interested in making a monthly gift? Visit this page. Help us keep helping you!

Thank you so much for your support!




Premium Subscribers' Home Page. You'll find the last few weeks of Premium archived on this page.
To change your subscription address, see "Manage your subscription" at the bottom of this newsletter.
Submit your questions, comments, and suggestions for possible inclusion in our newsletters here. This form is for questions, comments, and suggestions for this newsletter. This form is not for product support, stationery questions, or general questions concerning our products or services.
Send us your suggestions and recommendations for future freeware picks and/or sites of the week
Help us Grow! Forward this email newsletter to a friend or family member - and have them sign-up for InfoAve Premium here!
Get our free daily newsletter! Each evening we send a short newsletter with a tip or trick or a computer-related article - it's short and sweet - and free. Sign-up right now.
Have a question about a Cloudeight Software program, service, stationery, or need to ask about an order? Let us know!
If you need help with one of our software programs, have a question about an order, or have a question about any of our email stationery, screensavers, or other products - please don't use our InfoAve Questions/Answers/Tips form. Use our general Cloudeight support form instead.
Print our Cloudeight Direct Flyer and spread the word about our computer repair service! If you want to help us by telling your friends about our Cloudeight Direct Computer Care service, you can download a printable flyer you can hand out or post on bulletin boards, etc. Get the printable PDF Cloudeight Direct Computer Care flyer here. .




These products and services are recommended and endorsed by Cloudeight:
Also... don't forget:




We'd love to hear from you!

If you have comments, questions, a tip, trick, a freeware pick, or just want to tell us off for something, let us know.

If you need to change your newsletter subscription address, please see "Manage your subscription" at the very bottom of your newsletter.

We received hundreds of questions for possible use in IA news. Please keep in mind we cannot answer all general computer questions. We try to personally answer as many as we can. We can only use a few to in each week's newsletter, so keep this in mind. If you have a support question about a service or product we sell, please contact us here.





Subscribe to our Daily Newsletter!

Get computer tips & tricks every night. Our daily newsletter features a computer tip/trick or two every day. We send it out every night around 9 PM Eastern Time (USA). It's short and sweet, easy-to-read, and FREE. Just visit this page and sign-up. All you have to enter is your email address. Once you confirm your subscription, you'll receive our daily newsletter every day, six days a week. You can unsubscribe at any time.

Print our Cloudeight Direct Computer Care Flyer!

Print our Cloudeight Direct Computer Care Flyer and spread the word about our Cloudeight Direct Computer Care computer care and repair services. Get our ready-to-print flyer here.




We hope you have enjoyed this issue of InfoAve Premium. Thanks so much for your support and for being a Premium subscriber.

Merry Christmas and Happy Holidays!

Have a great weekend.

Darcy & TC
Cloudeight InfoAve Premium - Issue #791
Volume 16 Number 8
December 7, 2018

Not a subscriber? Subscribe to our InfoAve Premium Newsletter

Share Us on Facebook!
We'd love for you to share us with your family and friends on Facebook. Help us by sharing us on Facebook!






"Cloudeight InfoAve Premium" newsletter is published by:

Cloudeight Internet LLC
PO Box 73
Middleville, Michigan USA 49333-0073

Read our disclaimer about the tips, tricks, answers, site picks and freeware picks featured in this newsletter.

Copyright ©2018 by Cloudeight Internet