Use Chrome's Built-in Task Manager to Find Out What's Slowing Down Chrome
Windows 7, Windows 8.1, Windows 10 (all versions) + Chrome browser

Each open Chrome tab runs it its own sandbox to enhance Chrome's stability. But it is hard to see how much RAM and CPU resources each open tab and installed extension is using. If you open Windows Task Manager, you will see multiple instances of Google Chrome running, but it doesn't tell you what they are.

Luckily, this simple tip will show you how to use Chrome's built-in task manager to show you how much memory and CPU resources each open tab and installed extension is using. Here's how to access Chrome's built-in task manager.
First, make sure Chrome is open and in focus (on top of other windows). Now press SHIFT+ESC. You'll see Chrome's task manager open. It will show you how much RAM and CPU resources each open tab and installed extension is using. And all are clearly labeled.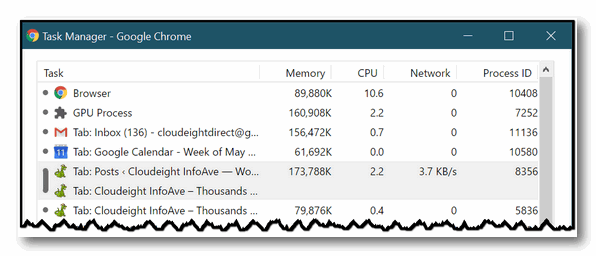 If one of the tabs or extensions seems to be hogging an excessive amount of resources, you can terminate the process (tab or extension) easily. Just highlight the tab or extension you want to terminate by clicking on it, then click the "End process" button at the bottom of the Chrome task manager.


How many hogs did you find in Chrome?


Microsoft Gives Up Its Update War With Users
Windows 10 (all versions)
Recently, it was reported that the upcoming May 2019 Update (AKA Version 1903, Redstone 6, April 2019 update) would be released with a known flaw that could serious problems for users who had external drives connected during the update.
Today, it was reported in a "ComputerWorld" article, that Microsoft is finally giving in to the wishes of its customers and will no longer force Windows 10 Feature Updated down their throats.
In a ComputerWorld article dated 06 May 2019, Preston Gralla writes in an article entitled "Microsoft surrenders in its Windows Update war with consumers":
"…With the upcoming release, Windows won't automatically install a feature update when it becomes available. Instead, Windows will notify you that it's available by showing a "Download and install now" message and link in the Windows Update Settings pane. If you don't want to install it, you can ignore the message. If you want to install it, click the link and follow the instructions. And if you want to wait a while — a few days, a few weeks, a few months — until you can make sure that the update isn't problematic, you can go ahead and do that. The control, finally, is in your hands.

Well, not completely. There is a caveat. When the version of Windows 10 you're running reaches "end of service" and Microsoft no longer supports it or issues security updates for it, you'll have to install the latest feature update. Usually, that's 18 months after your current Windows version's release. This makes plenty of sense, and it's completely analogous to similar issues in public health. Just as it's vital that people get vaccinations against diseases to protect everyone's health by ensuring herd immunity, PCs should be protected against malware. If there are lots of unprotected PCs around, they can be used to breed malware or be turned into malicious bots and attack other people's PCs.

Note that you'll still have to install the small patches Microsoft issues every month. That's because they are often security updates, and everyone should have them. However, Microsoft has agreed to give you some control over when they're installed. You'll be able to delay them for up to 35 days…"
We think it's about time that Microsoft allowed users to delay feature (version) updates given that Windows 10 Version updates have been plagued with bugs and sometimes serious issues that have caused many Windows 10 users serious problems.
For instance, early adopters of the April 2018 Update (Version 1803) experienced BSODs and even bricked some machines. Then, the October 2018 Update (Version 1809) was infamously flawed from the get-go with early adopters reporting the update erased files and folders on their machines which they were not able to recover. It was so bad that Microsoft suspended the update from October 5 until November 13 while they fixed the bugs and flaws in the update that caused some users big problems. So the "October 2018" update really wasn't fully released until November 2018. And even so, it was the least installed Windows 10 update as Microsoft put the update in the "very slow" lane. As of today, with Version 1903 looming, less than 30% of all Windows 10 users are running Windows 10 Version 1809.
It's about time that Microsoft stops forcing users to install version updates. We don't think Microsoft needs to be sending two new version updates a year anyway. But putting users in charge of their own Windows 10 computers for the first time makes a lot of sense. Now users can choose when to install the version updates – or not install them at all. However, Windows 10 users will still have to install version updates before then end-of-life cycle of the version they're using. Windows 10 versions have a life-cycle of approximately 18 months.
Our advice is to hold off installing version updates until enough Windows 10 users have installed the version update, that you can be fairly certain that the version update isn't buggy and flawed. In other words, let the risk takers take the risk. And when its finally clear the version update is stable and free from major bugs and flaws, then install it.
Hats off to Microsoft for this consumer-friendly decision – as belated as it may be.



3 Easy Time-Saving Tips
Windows 7, Windows 8.1 and Windows 10 (all versions)
Tip #1
Let's say, you are filling out a Web form and you make a mistake -you typed in the wrong email address or whatever. Instead of backspacing to remove the incorrect address, put your cursor in the form field and press the CTRL key plus the A key and then the Delete Key. CTRL + A highlights everything in the form field. The Delete key deletes all the highlighted text.
Tip #2
Now, imagine you're viewing a very long web page and you want to go back to the top. Instead of scrolling all the way back up, press the HOME key. If you want to go to the bottom of the page, instead of scrolling all the way down to the bottom, just press the END key. It's simple, I tells ya!
Tip #3
OK, last one: Here's a really easy way to highlight a large block of text. Put your cursor at the top of this tip and left-click. Now put it at the bottom of this tip and click while holding down the SHIFT key. Pretty cool, huh?



How to Run a Windows 10 System Health Check
Windows 10 (all versions)
We all should have a health checkup once in a while. Since I'm working with EB, I get so many maladies it seems like I'm always at some kind of "ologist". I think I have 7 "ologists" now. However, I'll never admit to seeing the ologist that begins with Psych. Should I dare tell you about the one that begins with C a r d i?
Moving along with my humorous and nifty segue…
All of us should get regular checkups. And your PC should get a checkup every once in a while, too. Yes, EB, this is your first chance to play doctor since you were a little kid. And since you're reading this, you can play doctor too.
Here's how to generate a health report for your PC.
Press and hold down the Windows Key and tap the R key to open the Run dialog:
In the Run box type PERFMON /REPORT
Click OK or press Enter
You can use lower case or upper case letters in the Run box… Windows could not care less!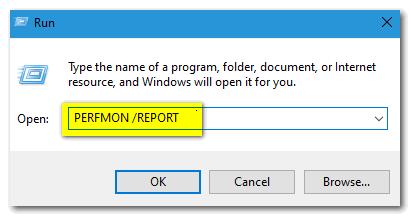 See? Make sure you leave a space after PERFMON before the slash. Then click OK or press Enter
Big wheels keep on turnin', Perfmon just keeps on a'burnin' …
Perfmon (Performance Monitor) will collect data from your PC for roughly 60 seconds. If I were you, I wouldn't get a stopwatch and time it. Windows does what Windows does and in its own good time. You can figure roughly 60 seconds, though… OK?
After approximately a minute or two, you'll see that Perfmon starts generating a health report for your PC.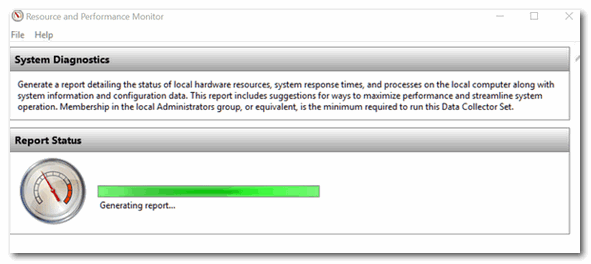 Then, if all goes well, you'll get yourself a dandy report covering all the goings on inside your PC. Don't get paranoid if you find a few errors. Very few reports like this come out without showing any errors. Another words, if you're PC is running well, don't over-diagnose.
Below, it shows my computer has passed all the tests… Yeah! If yours shows an error or errors, click on the error(s) to find out what is causing the error(s).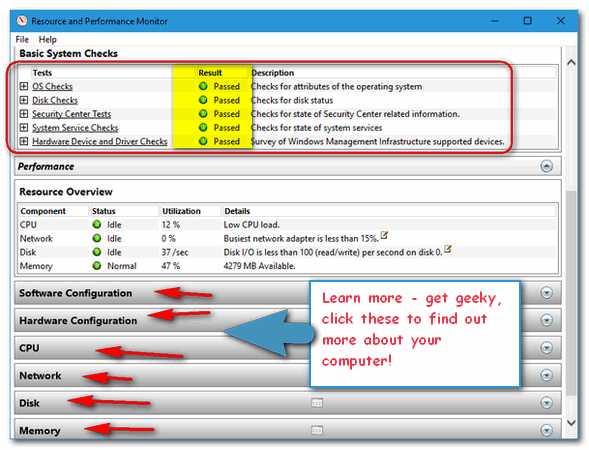 You can get a great deal of information about your computer from a Perfmon report. Look at the screenshot directly above. You can see what's going on with your software and hardware configurations, CPU, Network, Memory and a lot more. All you have to do is click on a category to expand it. Some of the information might be a little geeky, but so what? You have a browser and Google right? Search for the error you see and you just might learn something new. Search and learn.
And, EB, when you read this, pay no attention to that man behind the curtains that says my disk is idle. I'm workin', I tells ya!
If this method of running a report for you, please see the alternate method of generating a system health check here.




Want more computer tips & tricks?

All About Your Ram
The Plus Side of Having a Gmail or Outlook account. Period.
We have thousands of Windows tips, tricks and more on our InfoAve web site. Come see for yourself!



Emsisoft One-Year License with Free Cloudeight Installation, Setup & MORE!
Some of you are still not using Emsisoft. So, today, we're making you an offer you can't refuse! If you're not yet using Emsisoft, here's your chance to get the best protection you can buy and we'll install it and set it up for you FREE.
Buy a one-year Emsisoft License from this page and get everything listed below:
Removal of your current antivirus.
Double-scanning of your PC for hidden malware
Installation and setup of Emsisoft
One-year license for Emsisoft
Configuration of Emsisoft for best protection
Visit our Emsisoft page and get everything listed for just $29.99
Isn't it time you switched to Emsisoft?


Learn Something New Every Day
Our site pick today is called "Today I Found Out" which is kind of an odd name for a website... unless today you do find out something. And you certainly will if you take the time to visit this Cloudeight website pick.
This is not a skim-and-go website. In other words, you're not going to find out short little facts like "Did you know horses can't vomit" (sorry, but it's true). But you're going to find out some really interesting things you might have always wondered about along with facts and explanations.
But rather than just tease your brain with fact, "Today I Found Out" gives you a lot of background information and details. So if you don't like to read or if you're more interested in stuff like "Did you know vanilla comes from an orchid?" without any explanation, stick with a fact of the day site.
But if you have an inquiring mind, an urge to learn and some time to spend, we think you'll find "Today I Found Out" a marvelous learning resource.
Here are some interesting topics currently on the front page of "Today I Found Out"
Why doesn't the United States use the metric system?
That time five guys volunteered to stand at ground zero of a nuclear blast just to see what would happen.
Has anyone ever really inherited millions from a random person they've never heard of?
Why do the eyes in some paintings follow you around the room?
That time Coca-Cola released a new soda just to spite Pepsi.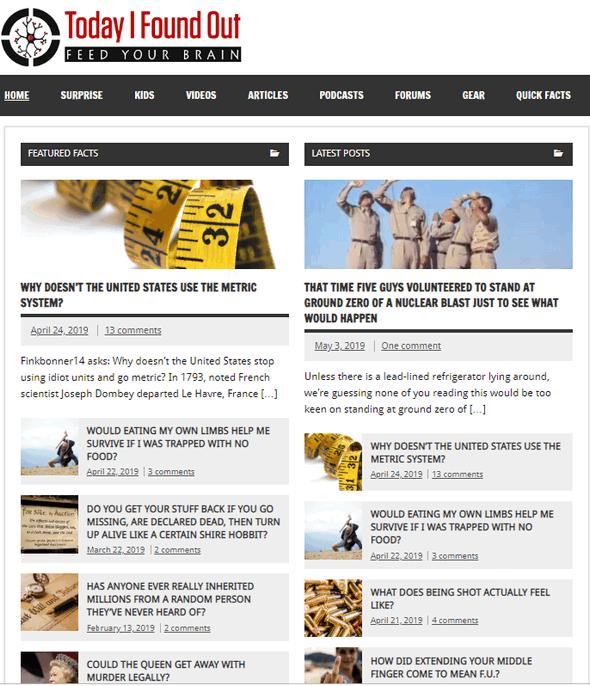 Come on people now, just smile on your brother, and tell me you're not a little bit curious? You are right? Your interest is piqued, isn't it!
Learn something new today by visiting today's site pick "Today I Found Out". And if you want to learn something new every day, bookmark "Today I Found Out". There are a ton of very interesting, and sometimes bizarre things on this Cloudeight site pick!
Come on, your curiosity is urging you on. Visit today's Cloudeight website pick "Today I Found Out".





Now available: Reg Organizer 8.28

If you purchased or renewed Reg Organizer through Cloudeight within the last 12 months, you're entitled to a free version upgrade to Reg Organizer 8.28.

Save $14 on Reg Organizer right now!

Reg Organizer - A Swiss Army Knife of Windows Tools - Works Great on Windows 10!




Introduction

"Raincrows" was originally published in May 2007. This essay is based on memories that were created with and left to me by my grandfather. Because memories live on as long as we remember them, my grandfather lives on in my life as well. I hope you will take the time to read this essay and let me share my memories and my grandfather with you.

I hope you enjoy reading "Raincrows". It was written on a chilly, rainy day in May, twelve years ago. It brings back wonderful memories for me — I hope it brings back some wonderful memories for you as well.
Raincrows
Today was a rainy, unseasonably chilly day in May. I waited most of the day for the rain to stop so that I could take my daily walk. I've always liked to walk but just in the past couple months I've become an avid walker – motivated by recent health problems and spurred on by my Georgian friend – I try to walk at least one hour each day – and today was no exception.
The rain finally stopped.
Although it was very chilly for a day in mid-May, a light jacket and a brisk pace were all I needed to keep myself comfortably warm. The sidewalks and streets were wet and glistening; the wind was calm, the sky a gloomy, and the endless overcast that made the time of day seem later than it really was.
For those of you who walk you'll probably understand it when I say that a long walk exercises your mind as well as your body. I do my best thinking when I'm walking. Especially the long walks I take as the day draws to a close. This evening with the wet streets, puddled sidewalks and lack of wind, the evening seem quieter than most. And it was a Sunday too. There's something different about Sundays. Sundays seem more peaceful than other days. Maybe it's just my imagination or maybe it's because not as many people are out hurrying to and fro with something important on their minds that needs to be done. Whatever it is, Sundays seem different to me than other days, and this Sunday seemed even calmer and more peaceful than most.
Walks are great for thinking and daydreaming. If you aren't a walker you'll have to take my word for it and if you are then you know exactly what I mean. But, I want to mention here that walking is also great for starting up my time machine. And, if you walk, it probably has started up your time machine a few times too. We all have one inside us you know – a time machine I mean.
Most of us have seen movies or read books where time machines whisk folks forward and backward into another place and time. These time machines, are, of course, fictional figments of some author's imagination. But you might be surprised to learn that you can have a time machine. They cost nothing. You don't have to buy one. You have had one since the day you were born...
Read the rest of this essay here.


3 Great Cloudeight Offers for Mother's Day!
Cloudeight Direct Computer Care Repair Keys Buy One & Get One Free
Save $10 Off On Cloudeight Direct Senior Pass with Unattended Support!
Pamper Mom's Computer (or your own!) - Check-up & Clean-up Special
Get more information and/or get a great deal on Cloudeight Direct Computer Care Services here.
Mother's Day Sale prices are good through Monday, May 13, 2019.


What is Cryptojacking?

You've heard of ransomware, malware, Trojans, viruses, PUPs, and other malicious software that and cause your computer - and you - a lot of grief. But you've probably never heard of cryptojacking.

According to "Hackerbits"...

"Cryptojacking is defined as the secret use of your computing device to mine cryptocurrency.

Cryptojacking used to be confined to the victim unknowingly installing a program that secretly mines cryptocurrency.

Here's the bad news…

In-browser cryptojacking doesn't need a program to be installed.."

If you're interested in learning more about cryptojacking, how it works, and what you can do about it, please read this article from Hackerbits.

Sales of the following products and services help support our newsletters, websites, and free computer help services we provide.


Cloudeight Direct Computer Care
: Single Keys or Season Tickets - always a great deal. Cloudeight Direct Computer Care is like having PC insurance.
Get more information here.
Emsisoft Anti-Malware
: Emsisoft is the only Cloudeight endorsed and recommend Windows security program. It provides users with a complete antivirus, antimalware, anti-ransomware, anti-PUPs solution. We offer single Emsisoft licenses and multi-computer licenses at discount prices. Also, we offer our exclusive Emsisoft with Cloudeight installation & setup.
Get more information here
.
Thunderbird Email Setup
: Thunderbird is a great email program that you can use with your Gmail and Outlook.com (Hotmail) webmail accounts as well as with your Internet provider's email. We'll set it up right for you. Our set up includes configuring up to 3 emails accounts and setting up Thunderbird to use stationery (if desired). Our Thunderbird Email Setup Service is always a great deal.
For more information visit this page
.
Reg Organizer 8.20:
Reg Organizer is the Swiss Army Knife of Windows tools. It's far more than just a registry optimizer and cleaner... it's Windows all-in-one toolkit. Helps you keep your computer in tip-top shape and helps solve annoying Windows problems. Reg Organizer works great with Windows 10 too!
Get more information about Reg Organizer (and get our special discount prices) here.


Premium Subscribers' Home Page. You'll find the last few weeks of Premium archived on this page.
To change your subscription address, see "Manage your subscription" at the bottom of this newsletter.
Submit your questions, comments, and suggestions for possible inclusion in our newsletters here. This form is for questions, comments, and suggestions for this newsletter. This form is not for product support, stationery questions, or general questions concerning our products or services.
Send us your suggestions and recommendations for future freeware picks and/or sites of the week
Help us Grow! Forward this email newsletter to a friend or family member - and have them sign-up for InfoAve Premium here!
Get our free daily newsletter! Each evening we send a short newsletter with a tip or trick or a computer-related article - it's short and sweet - and free. Sign-up right now.
Have a question about a Cloudeight Software program, service, stationery, or need to ask about an order? Let us know!
If you need help with one of our software programs, have a question about an order, or have a question about any of our email stationery, screensavers, or other products - please don't use our InfoAve Questions/Answers/Tips form. Use our general Cloudeight support form instead.
Print our Cloudeight Direct Flyer and spread the word about our computer repair service! If you want to help us by telling your friends about our Cloudeight Direct Computer Care service, you can download a printable flyer you can hand out or post on bulletin boards, etc. Get the printable PDF Cloudeight Direct Computer Care flyer here.


These products and services are recommended and endorsed by Cloudeight:
Also... don't forget:

We'd love to hear from you!
If you have comments, questions, a tip, trick, a freeware pick, or just want to tell us off for something,
let us know
.
If you need to change your newsletter subscription address, please see "Manage your subscription" at the very bottom of your newsletter.
We received hundreds of questions for possible use in IA news. Please keep in mind we cannot answer all general computer questions. We try to personally answer as many as we can. We can only use a few to in each week's newsletter, so keep this in mind. If you have a support question about a service or product we sell,
please contact us here
.

Subscribe to our Daily Newsletter!
Get computer tips & tricks every night. Our daily newsletter features a computer tip/trick or two every day. We send it out every night around 9 PM Eastern Time (USA). It's short and sweet, easy-to-read, and FREE.
Just visit this page and sign-up
. All you have to enter is your email address. Once you confirm your subscription, you'll receive our daily newsletter every day, six days a week. You can unsubscribe at any time.
Print our Cloudeight Direct Computer Care Flyer!
Print our Cloudeight Direct Computer Care Flyer
and spread the word about our Cloudeight Direct Computer Care repair services.
Get our ready-to-print flyer here.

We hope you have enjoyed this issue of InfoAve Premium. Thanks so much for your support and for being a Premium subscriber.
Have a great weekend.
Darcy & TC
Cloudeight InfoAve Premium - Issue #813
Volume 16 Number 29
May 10, 2019
Not a subscriber?
Subscribe to our InfoAve Premium Newsletter
Share Us on Facebook!
We'd love for you to share us with your family and friends on Facebook. Help us by sharing us on Facebook!


"Cloudeight InfoAve Premium" newsletter is published by:
Cloudeight Internet LLC
PO Box 73
Middleville, Michigan USA 49333-0073
Read our disclaimer
about the tips, tricks, answers, site picks and freeware picks featured in this newsletter.
Copyright ©2019 by Cloudeight Internet