Bank Telephone Scams Are Everywhere
A tip for everyone
This is to alert you about the pervasive telephone scams affecting customers of most U.S. banks.
Scammers are using fake caller ID information to trick people into thinking that their bank is calling them. They are trying to gain access to your personal data and finances through Online Banking.
What you need to know:
Callers/scammers claim to be from your bank with some type of alert regarding suspicious account activity that they need to confirm with you. Often they even manufacture a fraudulent "pending charge" to make it seem legitimate.
During the call, the scammer will eventually ask you to provide a numeric security code that was sent to your phone, and/or ask you to answer your online banking security questions.
While most banks do make outbound service calls to their customers, when they call, they will never ask you to provide or verify:
• Your full social security number
• A security code for a one-time password
• Your username
• Your password
• Your full account number
• Answers to security questions over the phone
If you give scammers critical information such as that listed above, they will use this information to reset your account credentials and take over your account. All U.S. banks send emails to customers regarding any changes to their account, such as username and password changes. If you receive an email from your bank regarding these types of changes that you did not initiate, please call your bank immediately.
What you should do
If you receive a phone call requesting any of the information above, hang up and call your bank immediately.


All About Your RAM
Windows 7, Windows 8x, and Windows 10
RAM is also known as memory. The amount of RAM (or memory) installed in your computer has a lot to do with how "fast" it runs. Generally, the more RAM you have installed, the faster your computer will be. More than anything else, RAM determines how well your computer performs. There are other factors too, but RAM has more impact on your computer's performance than anything else.
But how much do you know about your computer's RAM? You probably know how much RAM you have, but do you know how many RAM chips you have installed or what type of RAM you have?
This tip is probably more for the geeks among you, but we think many of you non-geeks are curious. So, we're going to show you how to use a Windows command to find out more about your computer's RAM than you probably know right now.
If you want to know what how many RAM chips you have installed in your computer, the capacity of each chip and the type of RAM installed, you can do it quickly and easily with one command.
So let's open a Command Prompt window first:
In Windows 7, type CMD in start menu search and press click CMD when it appears at the top.
In Windows 8x, press Windows Key + S and type CMD in the search box and press Enter
In Windows 10 Type CMD in taskbar search and press Enter.
At the command prompt type:
wmic MEMORYCHIP get BankLabel, DeviceLocator, MemoryType, TypeDetail, Capacity, Speed
It's important you type that command as shown – spaces and commas matter. Commands are not case sensitive though, so upper and lower case letters do not matter.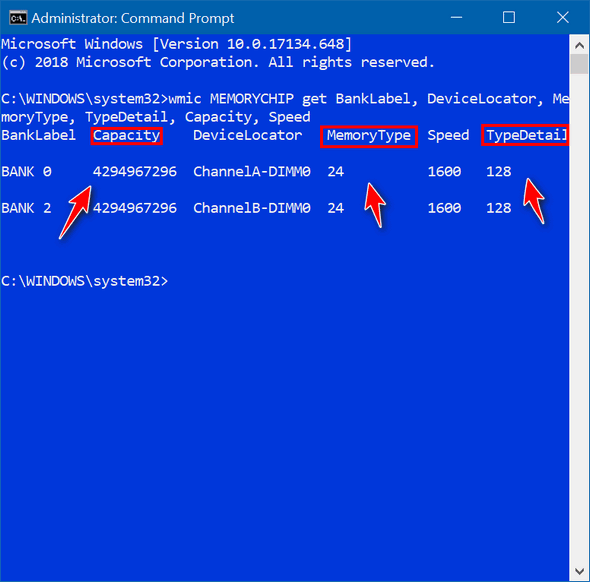 The screenshot above shows that I have two RAM chips installed (Bank 0 and Bank 2). Under Capacity, it shows each RAM chip has a capacity of 4294967296 MB of RAM – which is 4GB. Two RAM chips of 4 GB each means my computer has a total of 8 GB of RAM
MemoryType tells you the type of your physical memory. In my case, this shows I have memory type 24 which is DDR 3 type RAM. Under TypeDetail you'll find the SMBIOS information. This shows I have type 128 which means I have synchronous RAM.
If you want more information about your RAM than you'll ever probably want to know, type the following command in a Command window at the prompt:
WMIC MEMORYCHIP LIST FULL



It's a Great Time to Download and Save a Copy of Windows 10 Version 1809
Windows 10
Microsoft will be releasing Windows 10 version 1903 sometime in late May. So right now is a great time to download and stash a copy of the now-well-tested and pretty well debugged Windows 10 Version 1809. If you delay too long and wait until after Windows 10 version 1903 is released, Windows 10 version 1809 will no longer be available and you'll no longer to get your hands on it.
Even if you never need it, it's good to have a copy of a known stable version of Windows 10 on hand. You can download the Windows 10 ISO file and save it. Or use it to create an installation DVD or USB flash drive and hang on to it. It's free to download so even if you never use it, it's good to keep it just in case.
And don't forget you can also use the installation media (DVD or USB) to boot your computer if it won't normally, and access the Advanced Boot Menu from which you'll be able to use the troubleshooting tools, the command prompt, safe mode, and other tools you can use to repair your PC. It's free, easy to make, and it's like having a little free insurance.
Here's what you need to do:
1. Go to https://www.microsoft.com/en-us/software-download/windows10
2. Click on " Download tool now". You'll get a window asking if you want to run or save the MediaCreationTool1809.exe. file.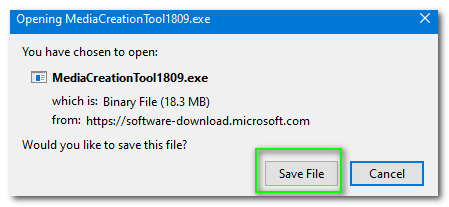 3. After the "tool" is downloaded click on MediaCreationTool1809.exe
4. Click Accept.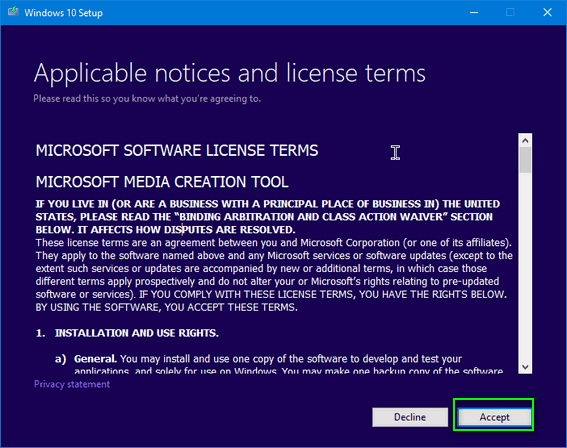 5. Select "Create installation media (USB flash drive, DVD, or ISO file) for another PC."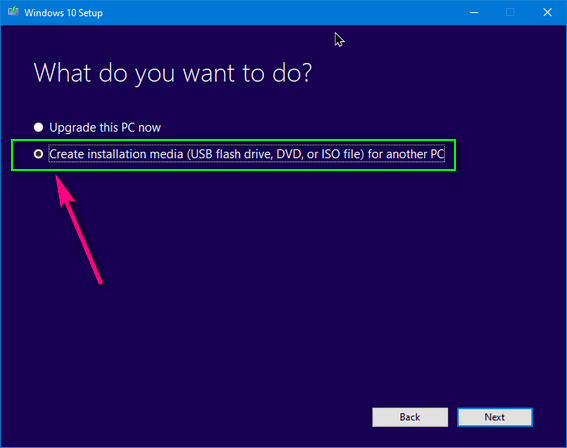 6. Leave the recommended options for your PC checked, unless you have some amazingly good reason not to.
7. Click the ISO file radio button and click Next.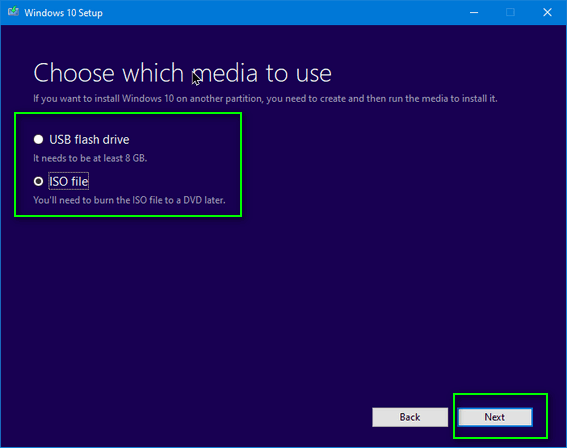 8. Choose a location for the downloaded files and click Save. We suggest you save it to an external hard drive or an 8GB or larger flash drive. That way you'll have it if you need it.
Hang on there! If you don't have a fast connection this part could take hours. If you have a fast connection, it will only take a few minutes. You don't have to have to hover over your PC staring at your screen waiting. Just take off, grab some coffee, a beer or go mow your lawn. It will be done when it's done.
9.. When Windows is finished downloading and verifying the file integrity. It will offer to Burn the ISO file to a DVD. But for now, just click "Finish".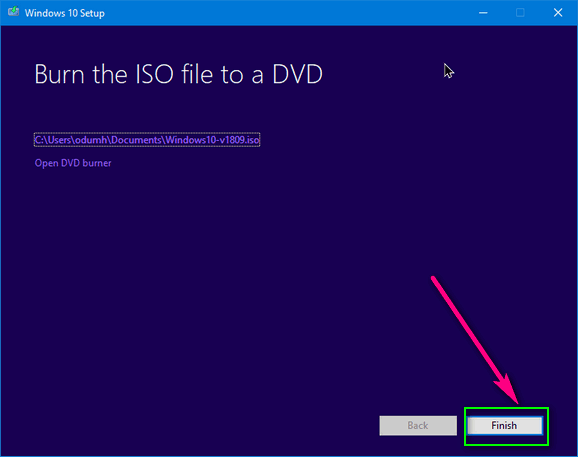 10. Check the location you chose for the download and make sure you see your Widnows10-v1809.iso file (or whatever you named it).
11. You don't need to do anything else right now but you'll want to make the installation DVD (or flash drive) soon and, after you do, keep it in a safe place. You can use the ISO file at any time to create an installation DVD or even a Windows 10 installation flash drive. You'll need a program like UNetbootin if you decide on making the flash drive.
If you want to know how to make a Windows 10 installation DVD from a Windows 10 ISO file, see the bottom of this page.



Color Your (Windows 10) World
Windows 10 (Version 1803 and newer)
During the course of a typical week, we work on some Windows 7 computers, a rare Windows 8.1 computer, and a lot of Windows 10 computers. And we've noticed that very few people use a feature in Windows 10 that makes it easy to add color to the Windows 10 taskbar and Start Menu.
And, after noticing how few Windows 10 users actually use the color the taskbar and Start Menu options, I can only conclude that most Windows10 users don't want to add color to the taskbar and/or Start Menu, or they don't know how to.
If you don't like colors and that's great. But if you don't know how to add color to your taskbar and/or Start Menu, this tip is for you.
Step 1. Right-click on an empty place on your desktop and click "Personalize"
Step 2. In the menu on the left click on "Colors". You'll see you have the option to select a recently used color, a color from the color chart or you can create your own custom color. One thing you don't want is to let Windows to "Automatically pick an accent color…" or your taskbar and/or Start Menu may end up looking like a badly colorized 1934 movie.
Here's a closer view for you.
Step 3. Under "Show accent color on the following surfaces", check the box next to "Start menu, taskbar, and Action Center" You'll notice you can also color the title bars of programs that support this feature. If you want to color the title bars of the programs you use, you can do that here too.
You can keep changing colors and find the one you like the best. Not all colors work on the taskbar and Start Menu, so try different colors until you find the color you like best.
Don't get too wild or you may not be able to read the text on your Start Menu. But it does not hurt to play around with the colors. Once you select a color it's instantly applied. So, you can keep changing your color choice until you find the perfect one for you.
If you're the gothic type or just like dark (black) backgrounds you can also select the dark default app mode from here too. You can play around with light and dark app mode settings and see which one tickles your eyeballs.





Want more computer tips & tricks?

All About Windows 10 Version 1903
How to Backup Your Windows Credentials
We have thousands of Windows tips, tricks and more on our InfoAve web site. Come see for yourself!



Emsisoft One-Year License with Free Cloudeight Installation, Setup & MORE!
Some of you are still not using Emsisoft. So, today, we're making you an offer you can't refuse! If you're not yet using Emsisoft, here's your chance to get the best protection you can buy and we'll install it and set it up for you FREE.
Buy a one-year Emsisoft License from this page and get everything listed below:
Removal of your current antivirus.
Double-scanning of your PC for hidden malware
Installation and setup of Emsisoft
One-year license for Emsisoft
Configuration of Emsisoft for best protection
Visit our Emsisoft page and get everything listed for just $29.99
Isn't it time you switched to Emsisoft?


Free Legal Advice, Free Insurance Advice, Free Senior Care Advice: FreeAdvice.com
First of all, this article is over 1200 words long (1214 to be exact) - if you want to punish yourself and read the full article you can read it here. For this newsletter, I've cut about 250 words (not mine!). And I know that you're thinking that it's mostly just me yammering on and on as usual… but NO! NO! NO! I tells ya! Our ramblings account for less than a paltry 450 words of the total verbiage of this dandy screed.
I admit, rarely do I find anyone, who can claim to be my equal when it comes to yammering on and on. But ladies and gentlemen, I've met my match! I've finally found someone who can yammer on and on better than I can – and wouldn't you know – it's a bunch of lawyers! (EB. Is it a bunch of lawyers, a pack of lawyers, a flock of lawyers, or a group of lawyers?) But there's a lot more here than babble. Much like our newsletters and posts, there's gold in those kinds of babbles.
Unfortunately, most of us mortals need medical or legal advice during the course of our lives. And when we do, we're exposed to another world of people who exist on different planes than the rest of us. They think they live on a higher plane, but that's up for debate. Anyway… they are called "doctors" and "lawyers". They look down upon us. The look down their noses at us, the poor, huddled masses, with pity or scorn and often greed– and sometimes all of the aforementioned.
We are the huddled masses, right?
There is one rule to follow when it comes to doctors and lawyers: Never ask either of them for free advice. That usually results in a severe look of disdain from the doctor or lawyer, a huge chortle from anyone who overhears you asking, and most likely, a bill for $1197.16 in your mailbox a few days later. Did you know that anything over 1.25 minutes = 1 billable hour for an attorney?
Digging around for something free to feature, I've found a place where you can actually get free advice, without the looks of disgust and disdain, without the humiliating chortles, and without a huge bill in your mailbox. It's called "FreeAdvice.com". FreeAdvice.com offers free legal advice, insurance advice and Senior Care Advice. The latter being an entire section devoted to seniors like EB and me and some of you!
Yay! for being old!
Anyway, here's what the developers say about themselves (you might want to grab a cup of coffee or a cold one because these folks are anything but taciturn):
About FreeAdvice.com

FreeAdvice.com is a unit of Advice Company (formerly Advice and Counsel Incorporated) founded in 1991, and an Internet leader since 1995.

The Company has an experienced, dedicated and technologically savvy Management Team, founded by a serial entrepreneur who also is a nationally recognized, top-rated attorney who became President & CEO of a unit of one of America's largest and most respected insurance companies. Benefiting from the input of its distinguished Board of Directors, the company is privately owned, primarily by members of its Management Team, with a minority interest held by several sophisticated outside investors.

Among the Company's ventures are:

AttorneyPages®, at http://AttorneyPages.com, an easy to use consumer oriented national directory of qualified attorneys, lawyers and law firms that provides marketing and lead generation services for attorneys and law firms.

Expert Pages®, at http://ExpertPages.com, the original and leading Internet directory of expert witnesses and consultants, which has been repeatedly recognized as "best in class" by other leading legal publishers. ExpertPages became a unit of the Company's affiliate Adviceco Ventures Company on April 1, 2015.

FreeAdvice®, at http://www.FreeAdvice.com/,the first and still most visited legal and insurance information and advice website for consumers. With extensive information covering over 130 legal subjects and every type of insurance, it has been winning acclaim from national media since 1996.

Advice & Counsel Newsletter, a financial security and legally oriented print newsletter that has been distributed each month for over 15 years to tens of thousands of clients of major insurance and financial services companies. Among its customers have been Allianz, Chase, Fortis, ING, Modern Woodmen, Wellpoint and Zurich.

Our FreeAdvice 'Ask a Lawyer' service enables consumers to ask questions of lawyers, and receive answers from attorneys at no charge..."
I feel vindicated! I feel humbled. I pale in comparison to these wonderful web wizards of veracious verbosity!
And don't worry folks. Don't let the verbiage dissuade you. There's a wealth of really great free information and advice on FreeAdvice.com. So, now the time has come (finally) to sum up this long inflated screed. if you're looking for legal advice, insurance advice or senior care advice and you don't want to pay for it, or can't afford to pay for it, take a gander at this Cloudeight Site Pick — FreeAdvice.com.





Now available: Reg Organizer 8.26

If you purchased or renewed Reg Organizer through Cloudeight within the last 12 months, you're entitled to a free version upgrade to Reg Organizer 8.26.

Save $14 on Reg Organizer right now!

Reg Organizer - A Swiss Army Knife of Windows Tools - Works Great on Windows 10!




When It Rains It Pours

When it rains it pours. We're dealing with a lot of adversity right now, not the least of which is the fact our InfoAve Premium newsletter is being blocked by Gmail. Well, actually it's not our newsletter that's being blocked, it's the newsletter service we use that's causing our InfoAve Premium newsletter to be blocked by Gmail. Our Premium newsletter is the lifeblood of our small business. It lets us keep in touch with you – our friends and subscribers.

We are most likely going to have to change newsletter providers. We've been using the same company for over a decade. But they're not getting the job done and we things are not getting any better as less than 50% of our Premium subscribers are getting the newsletter. We'll get this fixed but shopping for a provider we can trust takes time. Darcy and I have spent hours on it already. Our goal is having this issue resolved before the end of this month.

Then there's the secure server issue. Our site is not on a secure server – and it does not need to be. Read our article about this here. But most people don't understand that a secure server does not mean a safe site. Many sites that distribute malware and software bundles that distribute malware are on secure servers. For example, Softonic, which takes legitimate freeware and bundles it with PUPs, questionable software and malware runs on a secure server. So when you visit Softonic you'll see the word "Secure" and the famous "Lock" icon in your browser's address bar. But the word "secure" and the lock does not mean that that site is safe. Because a site is running on a secure server does not necessarily mean it is a safe site. But the public perception is that it does and so we're reluctantly deciding on the best, least expensive way to switch our site to secure servers – not because it will make it safer, but because it will help those who don't know us as well as you do, feel safer.

Trying to find the right newsletter provider takes time. We want to make sure we choose the best service we can afford. And trying to figure out the best way to switch our site over to secure servers without interruption takes a lot of time. Trying to do all this while to continuing to help as many people as we can with their computers is a daunting task...
Please read the rest of "When It Rains It Pours" here.




Make a small donation and help us help you!
If you don't need any of our products or services right now, please help us with a donation. Even the smallest gift is appreciated. Every donation helps us to provide useful information that helps you with your computer as well as helping to keep you safe on the Internet. We offer free help to thousands of people every year... and we offer an honest and inexpensive computer repair service too. We do everything we can to help you with your computer and keep you safe too.
So if you don't need any our products or services right now, please consider helping us with a small donation. We'd appreciate it very much!
Please help us by making a donation right now.


Thank you!


What is "clickbait"?
We subscribe to several tech newsletters to keep up with the world of technology. Sometimes I get really steamed by some of the clickbait I see being used to entice readers to click to view an article. Recently there was a headline in a tech newsletter - and I'm not going to mention which one, but it's one I've grown to love to hate - that exclaimed: "Passwords are useless". They're not useless of course, but I could not resist the urge to click that link (CLICKBAIT). The article had very little to do with passwords being useless, it featured a long, boring, technical screed written by some tech-head at Microsoft. The gist of the article was that Microsoft is working on a new system that uses blockchain to increase security and privacy and to someday eliminate passwords. Someday being some day in distant future. So the headline "Passwords are useless" was nothing but clickbait.

And for those who yearn for a concise definition, from "techopedia" comes this astute definition of clickbait:

"Clickbait consists of attention-grabbing headlines used for Web content to lure readers into clicking on normally uninteresting content. Many websites use clickbait as a mechanism to gain popularity via higher click-through rates. Clickbait is characterized by a highly enticing headline with a hyperlink that, when clicked, reveals a website that has content that is not nearly as interesting as the headline. Clickbait is therefore considered to be a strategy to increase the number of views to a particular Web page." See https://www.techopedia.com/definition/31287/clickbait .

Sales of the following products and services help support our newsletters, websites, and free computer help services we provide.


Cloudeight Direct Computer Care
: Single Keys or Season Tickets - always a great deal. Cloudeight Direct Computer Care is like having PC insurance.
Get more information here.
Emsisoft Anti-Malware
: Emsisoft is the only Cloudeight endorsed and recommend Windows security program. It provides users with a complete antivirus, antimalware, anti-ransomware, anti-PUPs solution. We offer single Emsisoft licenses and multi-computer licenses at discount prices. Also, we offer our exclusive Emsisoft with Cloudeight installation & setup.
Get more information here
.
Thunderbird Email Setup
: Thunderbird is a great email program that you can use with your Gmail and Outlook.com (Hotmail) webmail accounts as well as with your Internet provider's email. We'll set it up right for you. Our set up includes configuring up to 3 emails accounts and setting up Thunderbird to use stationery (if desired). Our Thunderbird Email Setup Service is always a great deal.
For more information visit this page
.
Reg Organizer 8.20:
Reg Organizer is the Swiss Army Knife of Windows tools. It's far more than just a registry optimizer and cleaner... it's Windows all-in-one toolkit. Helps you keep your computer in tip-top shape and helps solve annoying Windows problems. Reg Organizer works great with Windows 10 too!
Get more information about Reg Organizer (and get our special discount prices) here.


Premium Subscribers' Home Page. You'll find the last few weeks of Premium archived on this page.
To change your subscription address, see "Manage your subscription" at the bottom of this newsletter.
Submit your questions, comments, and suggestions for possible inclusion in our newsletters here. This form is for questions, comments, and suggestions for this newsletter. This form is not for product support, stationery questions, or general questions concerning our products or services.
Send us your suggestions and recommendations for future freeware picks and/or sites of the week
Help us Grow! Forward this email newsletter to a friend or family member - and have them sign-up for InfoAve Premium here!
Get our free daily newsletter! Each evening we send a short newsletter with a tip or trick or a computer-related article - it's short and sweet - and free. Sign-up right now.
Have a question about a Cloudeight Software program, service, stationery, or need to ask about an order? Let us know!
If you need help with one of our software programs, have a question about an order, or have a question about any of our email stationery, screensavers, or other products - please don't use our InfoAve Questions/Answers/Tips form. Use our general Cloudeight support form instead.
Print our Cloudeight Direct Flyer and spread the word about our computer repair service! If you want to help us by telling your friends about our Cloudeight Direct Computer Care service, you can download a printable flyer you can hand out or post on bulletin boards, etc. Get the printable PDF Cloudeight Direct Computer Care flyer here.


These products and services are recommended and endorsed by Cloudeight:
Also... don't forget:

We'd love to hear from you!
If you have comments, questions, a tip, trick, a freeware pick, or just want to tell us off for something,
let us know
.
If you need to change your newsletter subscription address, please see "Manage your subscription" at the very bottom of your newsletter.
We received hundreds of questions for possible use in IA news. Please keep in mind we cannot answer all general computer questions. We try to personally answer as many as we can. We can only use a few to in each week's newsletter, so keep this in mind. If you have a support question about a service or product we sell,
please contact us here
.

Subscribe to our Daily Newsletter!
Get computer tips & tricks every night. Our daily newsletter features a computer tip/trick or two every day. We send it out every night around 9 PM Eastern Time (USA). It's short and sweet, easy-to-read, and FREE.
Just visit this page and sign-up
. All you have to enter is your email address. Once you confirm your subscription, you'll receive our daily newsletter every day, six days a week. You can unsubscribe at any time.
Print our Cloudeight Direct Computer Care Flyer!
Print our Cloudeight Direct Computer Care Flyer
and spread the word about our Cloudeight Direct Computer Care repair services.
Get our ready-to-print flyer here.

We hope you have enjoyed this issue of InfoAve Premium. Thanks so much for your support and for being a Premium subscriber.
Have a great weekend.
Darcy & TC
Cloudeight InfoAve Premium - Issue #814
Volume 16 Number 30
May 17, 2019
Not a subscriber?
Subscribe to our InfoAve Premium Newsletter
Share Us on Facebook!
We'd love for you to share us with your family and friends on Facebook. Help us by sharing us on Facebook!


"Cloudeight InfoAve Premium" newsletter is published by:
Cloudeight Internet LLC
PO Box 73
Middleville, Michigan USA 49333-0073
Read our disclaimer
about the tips, tricks, answers, site picks and freeware picks featured in this newsletter.
Copyright ©2019 by Cloudeight Internet