Cloudeight InfoAve Premium
Issue #765
Volume 15 Number 34
June 8, 2018

Dear Friends,

Thank you very much for subscribing and for being a part of our Cloudeight family. We appreciate your subscription and your support very much!






A comment from Ted
Hi Folks. Used the Anti Twin program, works very well, with no added on programs, no warnings from Emsisoft. As always thanks so much for keeping us informed, old folks so hard to teach new things, not you guys you have me listening and using your suggestions. Ted

A comment from Bev
Hi Darcy: Just wanted to say thank you so much for fixing up my machine on Fri. June 8st. I really appreciate everything you do for me. I hope I can keep it clean and nice for a while. You are a real gem, thank goodness I can call on you to fix all my mistakes. Thanks again, Bev.

A comment from Irene
Once again Darcy was their for us, needed Norton taken off my husbands computer and emsisoft put on, when I emailed Darcy at 8 pm to set a time and date, she right away answered and gave me a date, then I realize I made a mistake and had to email back and apologize, she said she could do it right now and 20 min later everything was done, NOW that is service, thanks for always being their for us.

A comment from Juanita
A big thank you to TC for letting me know about an opening on Sunday to have my CleanSweep and Ashampoo Backup installed earlier than my scheduled appointment. It worked out well for me. It was fascinating to watch him work and this time I was prepared with some questions and concerns, mainly in regards to my computer's speed or lack thereof. The culprit regarding the lack of speed was my old backup system. He said as soon as it was deleted, he could say a major difference. I can't thank you enough for your patience with all of my questions. You two are the best!!

A comment from Kris
Want to thank you for such a quick response, know you guys are busy as all get-out. T.C. you have knowledge of the computer that is outstanding. Want to thank you so much for checking out my computer, and giving me some understanding of my computer. Thank You Again! Kris

A big Cloudeight "Thank you!" to Ted, Bev, Irene, Juanita, Kris and everyone who wrote to us last week. We appreciate your kind words and your support very much! EB & TC

Cloudeight Direct Computer Care computer repair keys are always a bargain. Get more information here.




SeniorPass: A Very Special Deal for Our Friends 60 and Older!
LAST WEEKEND FOR SPECIAL INTRO PRICE!
We're offering this special intro price through Sunday. We've extended this special price as our way of saying 'Thank You' for your support and for your fantastic response to our SeniorPass offer.
With our Cloudeight Direct Computer Care SeniorPass, our friends age 60 and older get one full year of unlimited computer care and repair for a special price of just $79. A low, low price for Computer care anywhere - any time you need it!

SeniorPass is valid for unlimited computer care & repair sessions for one full year starting with the first time you use it. The clock does not start ticking until you use your SeniorPass for the first time. A great deal!

Having SeniorPass is just like having insurance for your computer. And talk about affordable! Right now, our SeniorPass is available for just $79. You can get help with almost any computer problem whenever you need it. We're here to help you.
Computer care & repair for one full year. Check out our SeniorPass offer right now!
Get your SeniorPass and/or get more information here.

Here are some important links for you:




Bev wants to know why there's a lock symbol next to Temporary Internet Files in Windows Disk Cleanup
When I do a "disc clean-up", I am never sure what is safe to delete and what I should leave. Same for "clean up system files" Also, on the "disc clean-up", there is a lock symbol on "temporary Internet files" and it is listed at 20.3 MB.. Why would it be locked? Any suggestions?



Our answer


Hi Pearl. First, what is checked by default in Windows Disk Cleanup is safe to delete. In fact, I don't know of anything in disk cleanup (main page) you can check that would not be safe to delete since they are all temporary files. The only two browsers that store files in "Temporary Internet Files" in Windows 10 are Edge and Internet Explorer (and possibly other browsers built on the Internet Explorer engine). The lock in Disk Cleanup > Temporary Internet Files is s is a known issue in Windows 10 see this page and this page.

If you use Internet Explorer you can manually delete your temporary internet files and then set it up to delete your browsing history and temporary internet files every time you close it Here's how.

Open Internet Explorer, click on Tools > Options > then click "Delete" (see screenshot below):




Make sure you tick the box that says "Delete browsing history on exit." This will clean the temp Internet files every time you close Internet Explorer.

If you're using Microsoft Edge, follow these instructions:

1. Open Microsoft Edge
2. Click on the 3 horizontal dots near the top right corner.
3. In the dropdown menu scroll down and click "Settings"
4. In "Settings" scroll down to "Clear browsing data" & click "Choose what to clear".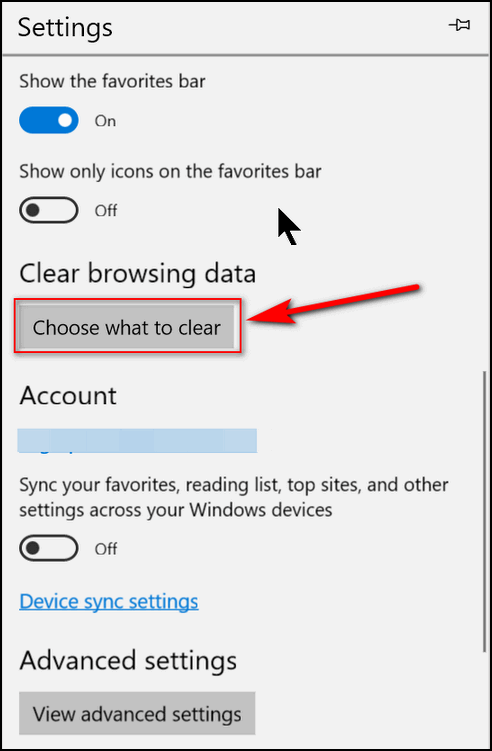 5. The following items should already be checked (all are safe to delete):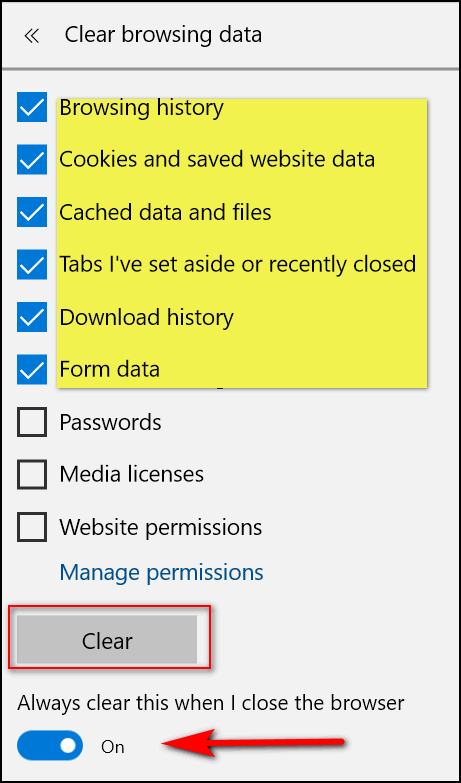 6. Make sure the switch under "Always clear this when I close the browser" is turned on.

7. Click the "Clear" button.

This won't fix the lock on the Temporary Internet File on Windows Disk Cleanup, but it will keep your temporary internet files from growing larger. And please note, even after you do the things above, the Temporary Internet File folder will not be empty - there will always be a small file in the folder that can't be deleted (by normal means anyway)..

The other workaround is to use Firefox or Chrome browsers. Neither saves files to Temporary Internet Files - each of them has its own storage location.

Hopefully, Microsoft will fix the issue with Windows Disk Cleanup eventually, but if you read the articles linked above, it doesn't look like Microsoft is in any hurry to fix it - it seems it has been a problem for quite a while.

Hope this helps you, Pearl.




Dick wants to know if he can upgrade his Windows 7 computer to Windows 10 without paying for it
TC: Hallelujah! You will not believe it, but with your expert advice this 82 year old restored my wife's PC to Windows 10. I felt like an expert when The "Hi! Welcome to windows 10" page showed up. So, thanks again. My wife is very pleased. She thinks I'm a genius, and I am sticking with it.

I do have another question about the upgrade thing. I have an ASUS laptop with Windows 7. I did the upgrade to 10 during while it was still free and I did not like it. My question is because I did the upgrade and reverted, can do the windows 10 upgrade again now, without paying for it? I know I am getting a lot of free information from you guys. Thank you very much.

Our answer
Hi Dick. We're glad we were able to help you. As for your question about getting Windows 10 free, you still can as long as you had Windows 10 installed. According to Microsoft, once you install Windows 10 the product key is "hard coded" in your computer's BIOS. So, you should be able to update by using the Upgrade assistant or use a Windows 10 Installation DVD or USB. You can find the Upgrade assistant and the Tool for making an installation USB or DVD on this page:

https://www.microsoft.com/en-us/software-download/windows10

To upgrade without making an installation disk or USB, click "Upgrade now". To make a USB or DVD to install Windows 10, click on "Download tool", run it, and follow the instructions provided.

Please let us know if you need more help.





Barb wants to help her friend recover a Gmail account and Gmail contacts
Hi Darcy. My friend Colleen has a problem I have not been able to help her with. You have helped Colleen out a few years ago and she remembers it being a very good experience and would be very grateful if there were something you could do about her current predicament. The phone carrier was changed, and she no longer has access to this phone number.

Both her daughter and Colleen totally forgot about her Google account being associated with the old number and the fact that they would not be able to verify her google account without having access to the old number. She cannot get to her contacts is the greatest problem. I have done everything I know of to try to retrieve that account without success. Is this something you could help her with? She is currently with me in Iowa but will be going back to Florida on the 14th of June where she would have access to her main computer. Right now she is working on my Chromebook with a new account we made for her. If she could hire you to help her she would be most grateful. Thank you for all you do Barb B.

Our answer
HI Barb. If you are no longer using the phone number associated with the account, you have an option to choose and use the alternate email address you used when the account was setup. If you do not have access to the email address, you will have a harder time.

Here are some Google tips to help recover your account.

This Google page may also help you as well.

We hope this helps you help your friend, Barb.





Debbie has a problem with Google Chrome
I've been having a problem with Google Chrome. Some sites won't open, it says to turn off my Ad Blocker. I'm no longer running an Ad Blocker. I have uninstalled Chrome on my laptop & desktop & reinstalled them. I restarted the computer after uninstalling, before I reinstalled Chrome. I even tried to Repair Chrome first! Once I sign in, the same problem occurs! I have even checked my, "manage Add-ons & no ad blocker shows up there. How can I remedy this problem?

Our answer
Hi Debbie. You must completely remove Google Chrome and all related folders. The Google profile folder is found in C:\Users\**Your User Name**\App Data\Local and is also found (sometimes) in C:\Users\Your User Name\AppData\Roaming . If you don't remove those Google folders in both location - then when you reinstall Chrome all your previous Google Chrome content, settings, etc. are reloaded into Chrome. So, uninstalling Chrome and not removing the Google folder in AppData/Local and in AppData/Roaming (if one is there) really doesn't do much good, since all the data associated with the previous installation of Chrome is automatically available to Chrome when you reinstall it.

So, follow the instructions under Method #2 in this Cloudeight article to completely remove Chrome and all its folders. And don't forget to restart your computer before re-installing Chrome.





Joyce wants us to reprise our article on how to clear Chrome history
You had a newsletter about clearing my Chrome history. I cannot find it now (I have so many saved under Cloud8) Could you give me the steps on how to get into my History so I can clear it out, my computer seems to be running slower than normal. I tried going to History through the 3 little dots on upper right side of page and it says: Recently closed and I cannot click on it. What does that mean and where do I go from there? Thanks for any help you have for me.

Our answer
Hi Joyce. You can clear Chrome History by opening Chrome. Now, make sure Chrome is on top of other windows and press CNTL+H. Chrome History will open. Look on the left. You'll see "Clear browsing data". Click it. You select how far back you want to go in deleting your browsing data (this includes your browsing history). You can delete history for the last hour or go back to the beginning of time (the first time you used Chrome).

Keep in mind this only clears the data stored on your own PC. If you have a Google account (Gmail, etc.), and you want to clear all the data & history that Google keeps about you, you can to that by logging in to your Gmail account. After you're logged in, visit the following Google page:

https://myactivity.google.com/myactivity

We hope this helps you, Joyce.





Jason wants to know how to stop Internet Explorer and Firefox from triggering a UAC warning each time he opens them
Something just started and I don't know why. I have 3 browsers: IE, Chrome and Firefox. When I start IE and Firefox a screen comes up from User Account Control asking if it is okay to run this app. It does not do this for Chrome. This has never happened before. How do I stop this? It is very annoying.

Our answer
Hi Jason. Not sure what Windows version you're using, but here's one thing you can check:

1. Right click on your shortcut for Firefox.
2. Click Properties
3. The shortcut tab (at the top should be already selected, if not, select it).
4. In the "Shortcut" properties dialog (see below), click the "Advanced" button.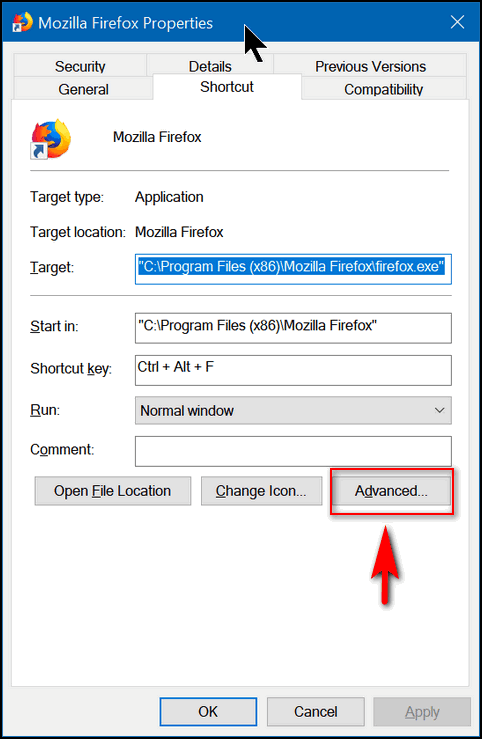 5. Make sure the box next to "Run as administrator" is not checked. If it is, uncheck it, click OK (see below).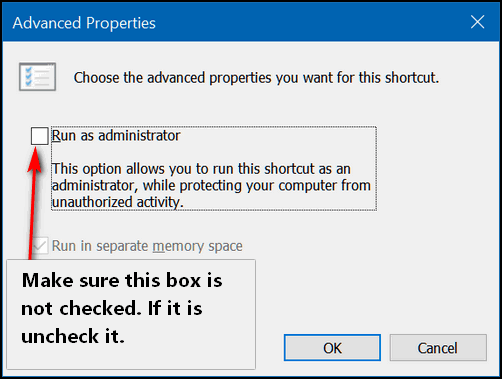 Now do the same with your Internet Explorer shortcut.

You may need to restart your computer for the changes to take effect. Hope this helps you.

**Jason wrote back** "I'm using the latest version of Windows. I checked what you said and that box was unchecked. Then I checked the Compatibility tab and the Run As Administrator box had a check in it. I unchecked that one and that annoying thing stopped without a restart. As usual, you came to the rescue. Thank you so much for the quick and easy cure. Jason"





Helga has a question about Thunderbird's address Book
Dear Cloudeight, I just finished reading your newsletter from A to Z, as usual. Always informative. I have a question pertaining to my Thunderbird e-mail program. When you set it up, it had a list of addresses to the left of the composition window - easy to click on an address and have it appear in To: of the draft e-mail. I have lost this feature (by clicking somewhere unknowingly). Could you tell me how to get it back, please? Many thanks in advance. Helga

Our answer
Hi Helga. Thanks for your nice comments; we're glad you are enjoying the newsletters!

Here's an easy fix for the address book view - When you are in new mail composition window, click View, Contacts Sidebar.

We hope this helps you, Helga!

**Helga wrote back** "Thank you so much, Darcy, my address book view is back - and it was so easy. Enjoy your weekend. Helga"





Margie and many others want to know if Windows 10 April 2018 Update (Windows 10 Version 1803) is safe to install now
Hi. I am just wondering if the latest update for windows 10 is safe to download now? Margie

Our answer
Hi Margie. We're not crazy! We will never guarantee that a major Windows 10 version update is "Safe". There will always be risks. There are just too many variables to declare anything as complex as a Windows 10 version update as "safe". What we can tell you is that things have improved since Version 1803 was released and we've installed it on three of our computers without any problems.

So we'll cautiously say that it is "safer" now than it was a month ago. But no Windows 10 version update will ever be 100% safe. It depends on your computer's hardware, the general state of your computer, your Internet connection, your computer configuration, the programs you've installed, and so on. But generally speaking, we think most people would be OK installing it now.

Version 1803 does not have many new features. Fonts and Sound have been moved from the Control Panel to Settings. Homegroup is gone and replaced by Nearby sharing and there are several other minor changes. The biggest new feature is Timeline. Timeline uses Task View (Windows Key + TAB) to create a historical view of the activities you performed on your PC. You can view applications that are currently open, you can view a historical list of the documents you created, pictures and images you added to your computer, the web pages you visited, and more. Timeline puts your computer history in one place so you can find files, images, web sites and more you have accessed today or in the past. Darcy loves it; I don't use it.

I digress. If you want to install the Windows 10 April 2018 Update (Version 1803) now, we think it's about as "safe" as it's going to get. And it's certainly better than it was when it was first released. But still no guarantees :)





David wants to know what happened to the CleanPrint feature on our InfoAve Website
Hi. What has happened to "CleanPrint" on your InfoAve site that allowed us to print out 'InfoAve Daily" articles in more concise form ??? I for one really miss it! Regards, David.

Our answer
Hi David. CleanPrint didn't keep up their service and it was down for quite a while and that slowed our InfoAve website down to a crawl. I spent hours trying to figure out why our InfoAve section was so slow and the rest of the site was fast. It turned out to be the CleanPrint feature slowing us down. This was the second time this year that CleanPrint slowed down our InfoAve site - and we can't have that. We had to turn CleanPrint off and remove it from our InfoAve site.

We just installed a more friendly, faster, and easier to use feature called Print Friendly. It's available now at the top of every post. Visit our Cloudeight InfoAve website and view any post. Click the big green Print Friendly button and you'll have the option to create a PDF of the article, email the article, or print the article. We hope you like it.

**David wrote back** Hi TC. Thanks for your quick reply and explanation – just tried 'Print Friendly' on today's post and it works great. Thanks again for your great service to us. Best Regards, David.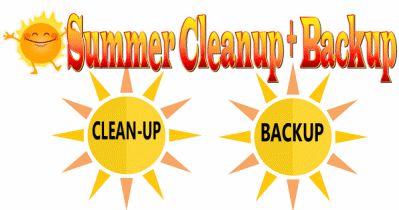 Summer Cleanup + Backup Special
This year we introduced our popular Cloudeight Backup Service and our 2018 Cloudeight CleanSweep service. We've offered them separately for $30 each. Starting today, and for a limited time, we're offering you our new Spring Cleanup + Cloudeight Backup service for just $40 - that's $20 off the price when purchased separately.
We'll clean up and backup your computer all in one easy Cloudeight Direct Session. You'll have the peace of mind of knowing your computer is clean, optimized and is being automatically and backed-up every week - so your data is safe.
Our 2018 Summer Cleanup/Backup special includes:
We will give your computer a general checkup and deep scan your computer for malware/PUPs/viruses
We will clean up any malware/PUPs/Viruses we find, and we'll optimize your startup programs & services
We will install Ashampoo Backup Pro 11 and set it up and configure it for automatic backup and we will give you a lifetime license for Ashampoo Backup Pro 11
We will create recovery media (USB, or CD/DVD) so you can access your backup even if your computer won't boot or your hard drive fails
All for one low price!
Take advantage of our new Summer Cleanup + Backup Special and get the peace of mind that comes with knowing your computer is clean and optimized, and that all your data is being backed-up automatically.
Get more information about and/or our get you Cloudeight Summer Cleanup + Backup Special right now!




How to Change or Reset Your Microsoft Account Password
Windows 10 (all versions)

If you sign in to Windows 10 using a Microsoft account and you're getting a notification your Windows 10 that says "Microsoft account problem: We need to fix your Microsoft account " and you're having problems resetting or recovering your Microsoft account password, this tip may help you.

In care you're wondering… a Microsoft account is an email address ending in @hotmail.com, @outlook.com, @msn.com, @live.com, @live.ca . If you've lost your password to your Microsoft account or you need to change it, you can do so online. Here's how…

Resetting or Changing Your Password for Your Microsoft account

If the password you enter does not work or you forgot your Microsoft account password, you can reset your password by the following these instructions:

To reset your password:

Click this link:

Choose the reason that you need to reset your password:




And then click Next.

Enter your Microsoft email address (@Hotmail.com etc.) for your Microsoft account.

Enter the characters you will see on the screen, then click Next.

If you've added security information to your account, Microsoft will send you a one-time code to the cell phone number or the alternate email address you provided when you created your Microsoft account. You will be able to set a new password after you enter the security code on the subsequent screen.

If you can't get a security code – If you don't remember the security info you gave to Microsoft when you signed up for your Microsoft account – or you no longer have access to the cell phone number or alternate email you provided, then click "I didn't get a code" when you're prompted for a code or choose "I don't have access to these". You might be asked to fill in a security questionnaire and be asked for some private personal information. There may be a 30-day waiting period to get full access to your account. Learn more about security info here.





How to Reset Folder View Settings in Windows 10
Windows 10 (all versions)

Many of us spend a lot of time getting our Windows computers set up the way we like them. For instance, we love the check box feature and have a particular way we like our files sorted when we view folders. But sometimes, especially after an update, Windows forgets your folder view settings. If this happens to you, you'll want to use this tip to reset your folder view settings.

To reset your folder view settings, press Windows Key + E to open File Explorer and click on "File" in the menu at the top. From the menu that appears, select "Change folder and search options":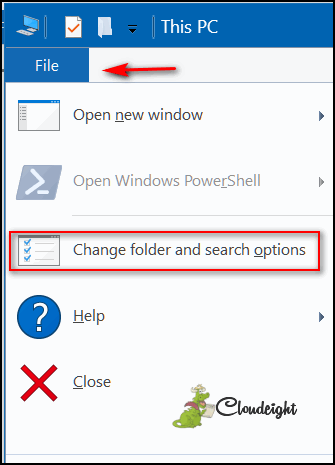 After you click on "Change folder and search options", you will see the Folder Options dialog. To reset your folders, just click on the "Reset Folders" button (see below):




Now click "Apply" / "OK" and your folder view settings will be reset.

Don't do this if your folder view settings are like you want them. But if Windows forgets your folder view settings or an update changes them, then this is a fast and easy way to reset them.



Deleted Files in Windows: Gone but Not Forgotten
Windows 7, Windows 8.1 Windows 10

In our usual Cloudeight way, we're going to take a complex and geeky subject and make it simple. Today, we're going to discuss deleted files.

When you "delete" files they're not really deleted, but they're not taking up space either. It's sort of like they're in purgatory.

Think of your hard drive as a chalk board. When you erase a chalk board, you can't see what you erased (very well) but somewhere in the slate of the chalk board is everything you've ever written on it. But still you can write something new on it. So it is with your hard drive.

When you "delete" a file, you're telling Windows that you don't want that file anymore and instructing Windows to show the space that the file once occupied as free to use for something else. So when Windows shows space as being "available" we refer to that hard drive space as free space. If you have free space available on your hard drive you can install a new program or use the space for files and folders.

Yet, way down deep on the magnetic surface of your hard drive, the file that you deleted is still there. That's how the FBI and other authorities gather evidence against criminals who think by deleting or formatting their hard drives they can erase all the incriminating evidence it might contain. There are software programs available that can recover deleted files and restore them.

If you want to see that deleting a file does not remove it, try using a program like Recuva to find and restore some deleted files. Recuva has a free version available that works well enough for you to see that deleting a file does erase it. While not as powerful as the forensic software used by authorities, you can try Recuva to see what files can be recovered.

Now if you deleted something in the real world, you'd never get it back. In the cyber world, deleted doesn't mean erased. Remember that!

One more thing, Colombo. There are quite a few software programs available (some free) that can overwrite free hard drive space with gibberish. Some of these are pretty good at obfuscating whatever deleted files remain on the hard drive. These kinds of programs overwrite the free space with gibberish many times to make "deleted" files unrecoverable. But most people won't need to go through all this. Overwriting free hard drive space can take a long time - especially if you want Department of Defense security :-)

So what the heck does deleted mean anyway?


Mouse Middle-click Trick
Windows 7, Windows 8.1, Windows 10
If you have a mouse with a middle button or a scroll wheel, you have a middle-click option you may not have known about. Your scroll wheel acts as a mouse button. And you can use it just like you do the other mouse buttons.
With this tip we're going to show you a middle-click trick we're sure you'll use often. And you will quickly see why once you get used to using it.
For this example, we're going to have you open Notepad, so go ahead open Notepad. If you're using Windows 10 type Notepad in the taskbar search and click on Notepad (Desktop app) when it appears at the top. On any version of Windows, you can open Notepad this way:
Open a run command (Windows Key + R)
Type Notepad in the run box
Press enter
When Notepad is open you'll see its icon in the taskbar. Now middle-click the Notepad icon – you'll see that it opens a brand new instance of Notepad. You can do this again and again (don't get crazy) and each time you middle-click on its taskbar icon a new instance of Notepad will open.
See?
You can see that I have 4 Notepad windows open, I'm working in window #1. By middle-clicking the Notepad icon on my taskbar, I can open as many new Notepad windows as I want. Geeky people call this opening new instances. Take your choice.
If you think your mouse wheel is not a middle click button, try pressing down on it quickly – like you would your left and right mouse buttons. Most of you will find that your mouse's scroll wheel doubles as middle mouse button. The mouse I'm using right now is just $15 cheapie. It's Walmart wireless mouse – and the wheel doubles as a middle mouse button even on this el cheapo mouse.
This trick not only works for Notepad, but many other programs as well. It will work with any program that lets you open multiple instances. If you have an icon on your taskbar for Chrome, middle-click it – a brand new Chrome window will open. Most of you have a File Explorer (Windows Explorer) icon on your taskbar – if you middle-click it, a brand new File Explorer (Windows Explorer) window opens. You can do this with a lot of programs- but not all. Some programs allow only one instance to run at a time. So, experiment. Try the middle-click trick right now and open multiple instances of programs with a middle-click.

Want more computer tips & tricks?
How to Set a Home Page in Chrome, Edge, Internet Explorer, and/or Firefox
We have thousands of Windows tips, tricks and more on our InfoAve web site. Come see for yourself!



We Need Your Help! If you Don't need anything right now, please consider helping us with a gift.
When you support us with small gift, you help us continue our mission to keep you informed, separate the truth from the hyperbole, and help you stay safer online. Plus, our computer tips make your computer easier to use.
Did you know that we provide support to thousands of people? Every week we help dozens of people via email at no charge. Thanks to your gifts, we do a lot more than provide this free newsletter. We help you recognize online threats, fight for your online privacy, provide you with the knowledge you need to navigate the Web safely, and help you get more out of your PC.
Help us keep up the good fight with a small gift.
After giving your gift, you will receive an invitation to become a Cloudeight Booster.

Interested in making an automatic monthly gift? Visit this page. Help us keep helping you... and helping you stay safe on the Web.




Anti-Twin: A Duplicate File Finder That Works
After years of trying and rejecting all kinds of duplicate file finders, either because they were distributed with garbageware, bundled with malware, or were too aggressive thus leaving reeling users with tears rolling down their faces because the files that some duplicate file finders found were not dupes at all, we have finally found a duplicate file finder we can recommend.
Now, that does not mean you can throw caution to the wind and delete every file that might be a duplicate. You still have to exercise good judgment. But Anti-Twin does a great job of finding duplicate files and then letting you compare the duplicates so you can make an informed decision it the duplicate is really a duplicate and if you want to delete it.
Anti-Twin is the fastest, coolest, safest (when used according to directions and with reasonable care) free duplicate file finder this side of Mars. I can't tell you what's beyond Mars, but I have a feeling I might find out someday, if EB's size 10 boot ever finds my posterior.
Anyway — Anti-Twin is a small (less than one megabyte) program that will find duplicate files in any folder and help you eliminate the mess that duplicates cause. Plus Anti-Twin compares files in all sorts of ways to ensure the files are really duplicates. You sure don't want to delete aunt Emily by accident.
But lest I ramble on too long and start being redundant, let's allow the Anti-Twin's author, Jörg Rosenthal, to tell you all about his program Anti-Twin:
Anti-Twin Version 1.8d (2010)

* Byte-by-byte comparison of user-defined files (file content)
* Search for identical or similar file names
* Pixel-based image comparison, e.g. search for similar pictures

Free for private use

Anti-Twin is a small software application which compares files, i.e. it searches for duplicate or similar files on your hard disk drive. All similar or identical files that were found can either be sent to the recycle bin or directly deleted. This will increase the hard disk space on your computer.

Select the option "Compare file content" to compare the entire binary content of the files. This means that the file names are irrelevant. Here, the basic principle is: "Name is but sound and smoke – size matters! And never lose sight of the inner values."

Anti-Twin is an excellent application to e.g. find and delete duplicate MP3 files in a download folder or to find similar images. Apart from that, Anti-Twin helps you clean up employees' chaotic file repositories in company networks, e.g. by searching for unnecessary file copies and redundant data back-ups.

Anti-Twin is freeware and can be downloaded from the Download page…. Please also read the instructions and note the warnings.
Well he summed it up right, didn't he?
Anti-Twin works on Windows 7, Windows 8.1, Windows 10 (all versions). We created the screenshots below on Windows 10 Version 1803 (April 2018 Update)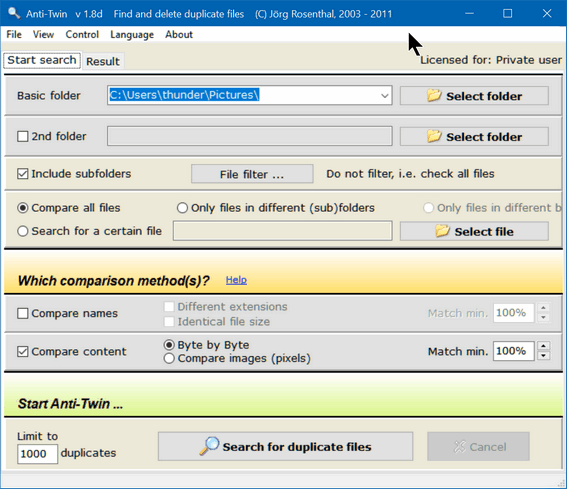 Above: The Anti-Twin program interface. A little dated, but still intuitive.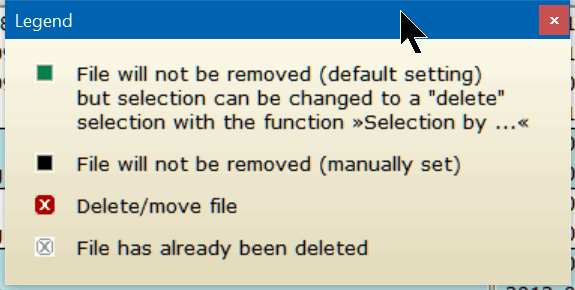 Above: Default setting in Anti-Twin makes sure suspected duplicates are not deleted without your review. You get the final say… but only if you leave the default setting alone.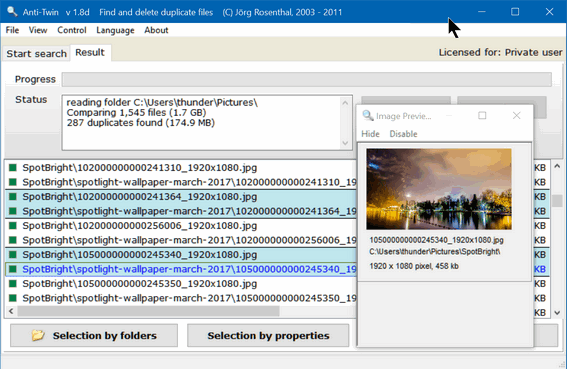 Above: Some duplicate images found in my Pictures folder. Note by clicking on each duplicate I can compare the images, images sizes, and type… and be absolutely certain they're duplicates.
You can read more about and / or download Anti-Twin from http://www.joerg-rosenthal.com/en/antitwin/. You can download it with an installer, or just the executable, or as a zip file. All are under 1 MB. We recommend you download the installer. No matter which download you choose, all files are clean and free from any garbage, tricks or malware.
Oh, and one more thing: Please do as Jörg says: Take a moment to read the instructions and the warnings. It's easy enough to use you'll be tempted to skip the instructions, which means you'll be tempted to skip the warnings. Please don't.




VPN: The Myth and the Facts

VPN stands for Virtual Private Network. You can learn more about what a VPN is from this article.

VPNs are becoming more and more mainstream especially now that a VPN service has spending millions of dollars to reach the masses via television advertising. The company is NordVPN.

NordVPN is now using TV advertising to promote its VPN services. In its ads it makes claims that are misleading. These claims have led to a lot of people, most of which had never heard of VPN, signing up for NordVPN's services.

Now, first of all, we're not picking on NordVPN specifically here, but since NordVPN's TV advertising campaign has brought VPN services to the attention of millions, they are in the crosshairs.

First we'll look at a couple of NordVPN's claims:

NordVPN says:

"Keep your browsing history to yourself: NordVPN protects your IP address, so your online activity is out of sight of your Internet service provider and any creepy snoopers."
While it's true that NordVPN and other VPNs do change your IP address, that's not the same as protecting your IP address. Your ISP still knows your IP address. Your ISP still knows you're connected to a VPN service, and which VPN service you're connected to. And NORD VPN becomes your proxy ISP and they can see your online activity.

NordVPN says: "Security: Online security is the biggest challenge in today's interconnected world, so it's important to take it seriously. With NordVPN, you can choose from several Double VPN combinations to encrypt your Internet traffic, protect yourself from snoopy advertisers with the CyberSec technology, and do it with the most advanced security technologies available today."
Well "snoopy" advertisers are certainly annoying, but I'm not sure how hiding from snoopy advertisers helps me be more secure online. The number one way people's privacy is breached is not "snoopy advertisers" or even "creepy snoopers" – it's by tricking people into giving personal information – and no VPN is going to stop someone from being tricked.

It's a fact, that a large percentage of Identity theft begins with a person clicking a link in a phishing email. And whether you're using a VPN service or not, if you're tricked into clicking that link that leads to a fake credit card site, banking site, shopping site, etc. and you are tricked into giving up your username and password, you're in a world of trouble. It does not matter if the IP address that is visible to the site is your real IP address or a VPN-assigned IP address. The counterfeit site could not care less. The criminals who run the site could not care less what your real IP address is...

Read the rest of our "rant" here.






Now available: Reg Organizer 8.15

If you purchased or renewed Reg Organizer through Cloudeight within the last 12 months, you're entitled to a free version upgrade to Reg Organizer 8.15.

Save $14 on Reg Organizer right now!

Reg Organizer - A Swiss Army Knife of Windows Tools - Works Great on Windows 10!





Ctrl Key Shortcuts That Will Save You Time Every Day

Our Back to Basics today is reminding you about one of the most basic time-saving things you can use in your daily computing life. Shortcuts. And today, we're here to remind you how handy Ctrl Key shortcuts can be and why you should use them whenever you can to save yourself time. And what's more basic than time. We either have too much of it, or not enough it..

OK ready? On to our Ctrl Key Shortcuts!

Let's say you're reading a page on the Web and you're looking for a particular word. Do you:

a.) Scan the page manually for the word?

b.) Use the browser's search feature in the browser toolbar?

c.) Press Cntrl+F to open the page search dialog?

d.) None of the above.

The answer is C. If you're looking for a word on a page in your web browser, word processer, text editor, PDF viewer, and many others, just press Ctrl+F to open the "Find" dialog. Just remember F stands for Find. Sure, you can use the program's search feature too, but why? CTRL + F is faster.

If you're on a page you want to print, do you search for "print" on the toolbar, or look for a printer icons, or just press Ctrl+P? Right! You press Cntrl+P to print the page. It's the fastest way to print.

Let's say you're using your browser and you want to open a new window? Do you just click the browser's shortcut to open a new browser window? Nah, just press Ctrl+N. Same thing if you're using an email program and you want to open a new window to compose an email.

If you're working on a document and you want to save it, you can press CTRL+S instead of clicking 'File' 'Save'. If you want "File" "Save as" – Ctrl+S/ works in many applications.

If you want to view your browser's history, use Ctrl+H. And if you want to view a list of downloads, with your browser open press Ctrl+J.

Let's review:

Ctrl+F = Find something on a page – in a browser, text editor, PDF editor, ebook, etc. To remember this easily, think F = FIND.

Ctrl+P = Print the document you have open. Whether it's a web page, a Word doc, PDF file, text file, etc. Think P = PRINT.

Ctrl+N = Opens new window in the program that's running. Think N = NEW.

Ctrl+S = Saves the document you're working on. Think S = SAVE.

Ctrl+H = Shows your browser's history. Think H = History

Ctrl+J = Shows a list of downloads in your browser. Think J= ? I give up! J=Downloads! Junk?

And let me not fail to mention:

Ctrl+A = Select All

Ctrl+C = Copy

Ctrl+V = Paste

Ctrl+Z = Restores deleted files instantly when used immediately after deleting a file.




SeniorPass: A Very Special Deal for Our Friends 60 and Older!
LAST WEEKEND FOR SPECIAL INTRO PRICE!
We're offering this special intro price through Sunday. We've extended this special price as our way of saying 'Thank You' for your support and for your fantastic response to our SeniorPass offer.
With our Cloudeight Direct Computer Care SeniorPass, our friends age 60 and older get one full year of unlimited computer care and repair for a special price of just $79. A low, low price for Computer care anywhere - any time you need it!

SeniorPass is valid for unlimited computer care & repair sessions for one full year starting with the first time you use it. The clock does not start ticking until you use your SeniorPass for the first time. A great deal!

Having SeniorPass is just like having insurance for your computer. And talk about affordable! Right now, our SeniorPass is available for just $79. You can get help with almost any computer problem whenever you need it. We're here to help you.
Computer care & repair for one full year. Check out our SeniorPass offer right now!
Get your SeniorPass and/or get more information here.



Sales of the following products and services help support our newsletters, websites, and computer help services we provide.

Cloudeight Direct Computer Care: Single Keys or Season Tickets - always a great deal. Cloudeight Direct Computer Care is like having PC insurance. Get more information here.

Emsisoft Anti-Malware: Emsisoft is the only Cloudeight endorsed and recommend Windows security program. It provides users with a complete antivirus, antimalware, anti-ransomware, anti-PUPs solution. We offer single Emsisoft licenses and multi-computer licenses at discount prices. Also, we offer our exclusive Emsisoft with Cloudeight installation & setup. Get more information here.

Cloudeight Backup Service: Professional setup of a complete backup system including creation of rescue media, image backups, incremental backups, Cloudeight Direct Backup session key and a lifetime license for Ashampoo Backup Pro 11. Get all the details here.

Thunderbird Email Setup: Thunderbird is a great email program that you can use with your Gmail and Outlook.com (Hotmail) web mail accounts as well as with your Internet provider's email. We'll set it up right for you. Our set up includes configuring up to 3 emails accounts and setting up Thunderbird to use stationery (if desired). Our Thunderbird Email Setup Service is always a great deal. For more information visit this page.

Reg Organizer 8.10: Reg Organizer is the Swiss Army Knife of Windows tools. It's far more than just a registry optimizer and cleaner... it's Windows all-in-one toolkit. Helps you keep your computer in tip-top shape and helps solve annoying Windows problems. Reg Organizer works great with Windows 10 too! Get more information about Reg Organizer (and get our special discount prices) here.




If you don't need any of the above products or services at this time, please consider helping us with a small gift. Everyone who helps us with a gift is invited to become a Cloudeight Booster and is eligible for special Cloudeight Booster Freebies and special Cloudeight Booster sales. Please consider making a small donation today. Ad thanks to all of you who support us! We appreciate it very much!
Premium Subscribers' Home Page. You'll find the last few weeks of Premium archived on this page.
To change your subscription address, see "Manage your subscription" at the bottom of this newsletter.
Submit your questions, comments, and suggestions for possible inclusion in our newsletters here. This form is for questions, comments, and suggestions for this newsletter. This form is not for product support, stationery questions, or general questions concerning our products or services.
Send us your suggestions and recommendations for future freeware picks and/or sites of the week
Help us Grow! Forward this email newsletter to a friend or family member - and have them sign-up for InfoAve Premium here!
Get our free daily newsletter! Each evening we send a short newsletter with a tip or trick or a computer-related article - it's short and sweet - and free. Sign-up right now.
Have a question about a Cloudeight Software program, service, stationery, or need to ask about an order? Let us know!
If you need help with one of our software programs, have a question about an order, or have a question about any of our email stationery, screensavers, or other products - please don't use our InfoAve Questions/Answers/Tips form. Use our general Cloudeight support form instead.
Print our Cloudeight Direct Flyer and spread the word about our computer repair service! If you want to help us by telling your friends about our Cloudeight Direct Computer Care service, you can download a printable flyer you can hand out or post on bulletin boards, etc. Get the printable PDF Cloudeight Direct Computer Care flyer here.




These products and services are recommended and endorsed by Cloudeight:
Also... don't forget:




We'd love to hear from you!

If you have comments, questions, a tip, trick, a freeware pick, or just want to tell us off for something, let us know.

If you need to change your newsletter subscription address, please see "Manage your subscription" at the very bottom of your newsletter.

We received hundreds of questions for possible use in IA news. Please keep in mind we cannot answer all general computer questions. We try to personally answer as many as we can. We can only use a few to in each week's newsletter, so keep this in mind. If you have a support question about a service or product we sell, please contact us here.





Subscribe to our Daily Newsletter!

Get computer tips & tricks every night. Our daily newsletter features a computer tip/trick or two every day. We send it out every night around 9 PM Eastern Time (USA). It's short and sweet, easy-to-read, and FREE. Just visit this page and sign-up. All you have to enter is your email address. Once you confirm your subscription, you'll receive our daily newsletter every day, six days a week. You can unsubscribe at any time.

Print our Cloudeight Direct Computer Care Flyer!

Print our Cloudeight Direct Computer Care Flyer and spread the word about our Cloudeight Direct Computer Care computer care and repair services. Get our ready-to-print flyer here.




We hope you have enjoyed this issue of InfoAve Premium. Thanks so much for your support and for being a Premium subscriber.

Have a great weekend!

Darcy & TC
Cloudeight InfoAve Premium - Issue #765
Volume 15 Number 34
June 8, 2018

Not a subscriber? Subscribe to our InfoAve Premium Newsletter

Share Us on Facebook!
We'd love for you to share us with your family and friends on Facebook. Help us by sharing us on Facebook!






"Cloudeight InfoAve Premium" newsletter is published by:

Cloudeight Internet LLC
PO Box 73
Middleville, Michigan USA 49333-0073

Read our disclaimer about the tips, tricks, answers, site picks and freeware picks featured in this newsletter.

Copyright ©2018 by Cloudeight Internet