A VPN is not going to prevent someone from attacking your wireless network (your router). Your wireless network is protected by WPA2 encryption. All modern routers support WPA2. WPA2 is used on all certified Wi-Fi hardware since 2006 and is based on the IEEE 802.11i technology standard for data encryption.

When WPA2 is enabled, anyone else within range of the network might be able to see the Wi-Fi traffic, but it will be scrambled with the most up-to-date encryption standards. And this, your network is protected.

VPN stands for Virtual Private Network. It does not protect the Wi-Fi traffic between devices in your home and your wireless router. It still depends on your ISP's internet connection service to work. A VPN works like this:

Home Wi-Fi network > ISP > VPN Server > Internet (web sites, etc.)

Emsisoft protects you and your computer from malware, viruses, ransomware, PUPs and all manner of nasty things you might encounter on the Web, but it does not protect your Wi-Fi connection; it is an antivirus and antimalware.

Make sure you're using WPA2 protection on your router to protect your home network, and don't be tricked into buying a VPN thinking it's going to make your home network secure.

VPNs can be useful in some situations, but VPNs do not prevent identity theft - no matter what anyone says. Over 90% of identity theft occurs when people are tricked into giving up their usernames, passwords, bank account numbers, credit card numbers, and other highly personal information. And no VPN in this world is going to prevent you from getting tricked. The only program that's going to do that is YOB - You Own Brain.

Hope this helps!





Carol wants to know if she should install Emsisoft Browser Security
I have been getting a pop-up window from Emsisoft which says: "We have added capabilities to protect you from malware distributing websites and phishing attempts. To enable, please install the browser security extension in your browser."

Should I install this or not? Want to be sure it is ok. Thanks, Carol.

Our answer
Hi Carol. If you see a popup to install the Emsisoft Browser Security Extension, it is from Emsisoft and it is genuine. You have the choice to install it or not and if you don't want to see it again, you have the choice to never see be asked to install it again. It's a free browser extension and it will remain free according to Emsisoft.

Emsisoft Browser Security Extension is a free browser extension from Emsisoft. Basically, it checks the web site's address against a constantly updated database of known phishing sites. This provides you with an extra layer of protection that goes beyond the Surf Protection already provided by Emsisoft Anti-Malware.

If you want to read more about the Emsisoft Browser Security Extension, please see our article here.



With our
Windows 10 Transformation service,
we will:
Change the start menu back to Windows 7 classic style and include your favorite programs
Change your taskbar and start menu colors to your preferences
Add an authentic Windows 7 start button
Add Windows 7 Wallpaper (if desired)
Change Windows 10 File Explorer so it works more like Windows 7's Windows Explorer
Add My Computer to your desktop (if desired)
Regular price is $35 - but during this introductory period, we'll make your computer work and look very much like Windows 7 for just $25. Buy now and use later! Our Windows 10 Transformation service keys are good until you use them. Get yours now, save $10, and get the peace of mind of knowing when you change to Windows 10 your learning curve will be a whole lot easier. And if you're currently using Windows 10 and like what you see in the screenshots above, we can transform your Windows 10 PC for you too.
Save $10 and get your Windows 10 Transformation Service Key right now!



Underline
Fun
Windows 10 (all versions)


Above, you can see what is known as the Win Key + X menu. It's the menu you see on Windows 10 when you press the Windows Key + the X key (or right-click the Windows 10 start button if you prefer).
If you look closely you'll see every item on that menu has one underlined letter. So, what you do think will happen if you press the letter on your keyboard that corresponds to the underlined letter in that menu.
We all like to save time. And most of us are in a hurry too much of the time. So, here's a question for you: Have you ever noticed the underlined items in some Windows menus? You did? Well, you are in the minority. Most of us don't notice them, or if we do, we don't pay any attention to them. But today, you're all going to notice them and learn what you can do with them, as we are going to have… underline fun!
For example, you can see I've circled the underlined letter "O" in Power Options in the screenshot above. Now, if I have this menu open and I press the letter O on my keyboard, what happens? Right! Power Options opens.
Now, EB smarty-pants… what happens if I have this menu open and tap the letter "m" on my keyboard. RIGHT EB! Device Manager opens.
Other programs use underlined letters as shortcuts too.
Above you'll see at the Firefox "Tools" menu -- yes the gray dingy looking thing.
So, EB, what happens if I open that menu in Firefox and tap the "D" key on my keyboard? RIGHT AGAIN, EB! The Downloads folder opens. You are one smart cookie no matter what Sponge Bob says!
Now everyone knows what underlines mean and how they can save time by jumping to a menu item by tapping the letter underlined in the menu on the keyboard.
Next time you have a menu open, look for the underlined letters. Now that you know what they do, you can have some underline fun and save some time too.
Bonus tip! Want to get to the Ease of Access settings more quickly? Hold down the Windows Key and tap the U key.





Who Am I, User Accounts and a bonus tip
Windows 10 (also works on Windows 7 and Windows 8)
How do you know what user account you're logged into? Open a command prompt. In Windows 10 type CMD in taskbar search and press Enter when Command prompt appears.
At the prompt type WHOAMI (as in who am I). Windows will respond with your computer name and your user account. It may be different than what you think. My main user account on this computer, named Sydney 28 (don't ask me why) is thunder, even though Thunder Cloud is the user name displayed on my log in screen.
If you want to see a list of all the accounts on your computer, open an Administrator Command prompt this way:
Type CMD in taskbar search. When Command prompt appears at the top of the search results, right-click on it and choose "Run as administrator" from the right-click menu.
In the Command window at the prompt type:
NET USER
And press Enter.
You'll see all the accounts on your computer, including the hidden ones.
You might be wondering what some of those accounts are. I created "BeMyGuest", Jupiter, rainc, Reddington and thunder (Thunder Cloud) but the rest were created by Windows. If you have an inquiring mind, you probably want to know why they are there. OK here's some info on that.
WDAGUtilityAccount: Microsoft defines the "WDAGUtilityAccount" this way: "this account is part of the Windows De
fender Application Guard which came with the Fall Creators Update (version 1709). This account is left disabled unless it (Windows Defender Application Guard) is enabled on your device."

DefaultAccount – It's probably not what you think it is. It's not your default user account. According to Microsoft's arcane definition: "The DefaultAccount, also known as the Default System Managed Account (DSMA), is a built-in account introduced in Windows 10 version 1607 and Windows Server 2016. The DMSA is a well-known user account type. It is a user-neutral account that can be used to run processes that are either multi-user aware or user-agnostic…" hmmm!

Administrator – this is the famous, so-called hidden Super Administrator account. And while it does have some important uses, you should never enable it and leave it enabled. If you want to enable it to try it, you can do so this way:

Open an Administrator Command prompt and type:

NET USER ADMINISTRATOR /ACTIVE:YES

Now press Enter. You'll get a message that "The command has completed successfully"

Once you've enabled it, to use it you'll need to log out of your account and log into the "Super Administrator" account.

Don't forget to turn it off when you're done experimenting: Open an administrator Command prompt and type:

NET USER ADMINISTRATOR /ACTIVE:NO

Press Enter. You should see "The command completed successfully".





Windows 7 Users Will Soon Start Seeing a Windows 7 End-of-Life Notification
Windows 7
Many of you are still using Windows 7 – and that's fine. You still have until January 2020 to use Windows 7 safely. This is a heads up for all Windows 7 users about a new Windows 7 End-of-Life notification that's coming your way soon.
Starting on April 18, 2019, Windows 7 users will begin seeing periodic notifications reminding them that Windows 7 will reach its end-of-life on January 14, 2020. The notifications will contain a "Learn more" link to a Microsoft page which contains information about the end of support for Windows 7 and recommending Windows 7 users upgrade to Windows 10.
The "Learn more" page says, among other things:
"…While you could continue to use your PC running Windows 7, without continued software and security updates, it will be at greater risk for viruses and malware. Going forward, the best way for you to stay secure is on Windows 10. And the best way to experience Windows 10 is on a new PC. While it is possible to install Windows 10 on your older device, it is not recommended…"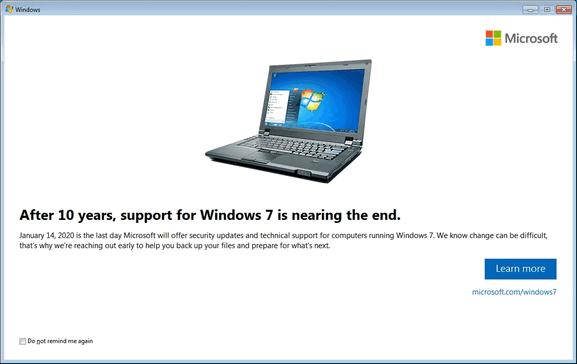 The text in the notification above reads as follows:
After 10 years, support for Windows 7 is nearing the end.

January 14, 2020, is the last day Microsoft will offer security updates and technical support for computers running Windows 7. We know change can be difficult, that's why we're reaching out early to help you back up your files and prepare for what's next.
If you don't want to keep receiving these Windows 7 End-of-Life notifications, keep on reading.
Don't want to keep receiving these End-of-Life notifications? Then be sure to check the box next to "Do not remind me again."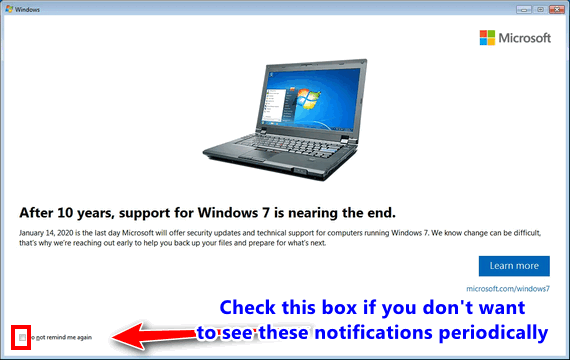 Below: A close-up. Check the box just to the left of "Do not remind me again" if you don't want to see these notifications pop-up on your computer periodically.
If you prefer not to install this update at all, open Windows Update in Control Panel and set Windows Update to "Check for updates but let me choose whether to download and install them". When you see that KB4493132 waiting for installation, be sure you don't install it.
If the update does get installed somehow, go to Control Panel > Programs & Features and click on "View installed updates" on the menu on the left.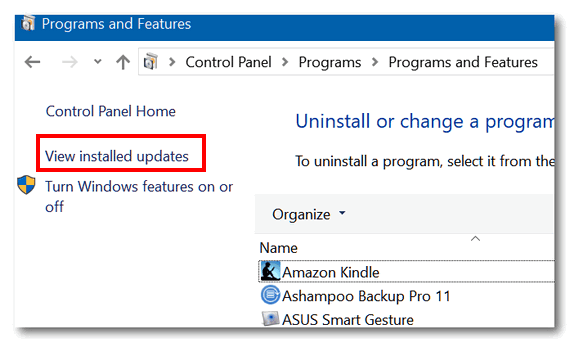 Now, find KB4493132 in the list of installed updates and double-click on it. Confirm you want to uninstall it by clicking "Yes".
If you don't stop these notifications will continue to pop up on your Windows 7 computer.
Forewarned is forearmed. If you're using Windows 7 you can use it safely until January 14, 2019. Although Microsoft has never announced it officially you can still upgrade to Windows 10 free,
see our article here.
And if you want Windows to look and work more like Windows 7, we can help.
Check out our Windows 10 Transformation service here

Quick Assist: Help somebody or have somebody help you

Windows 10
If you have a Microsoft account you might be surprised to learn that Windows 10 includes a feature called Quick Assist. Quick Assist allows you to get help from a friend without installing any third-party software. Windows 10 Quick Assist does not have a lot of fancy features, but it does work well and it's a quick way to get help from a friend or give help to a friend.
Whether you want to give or get help, you'll first need to open Quick Assist. It's buried in the start menu under Windows Accessories. The quickest way to open Quick Assist is to type QUICK in taskbar search and press Enter.
When Quick Assist opens you'll be able to choose "Get assistance" or "Give Assistance".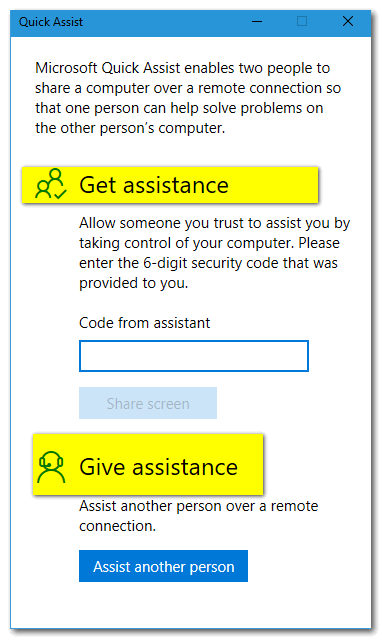 In this demo, we're going to show you how to provide assistance to someone, but you'll also learn how to get assistance too.
If you choose to give assistance, you'll need to sign in with your Microsoft account. A Microsoft account is an email account that ends in @hotmail.com, @outlook.com, @msn.com, @live.com or @live.ca.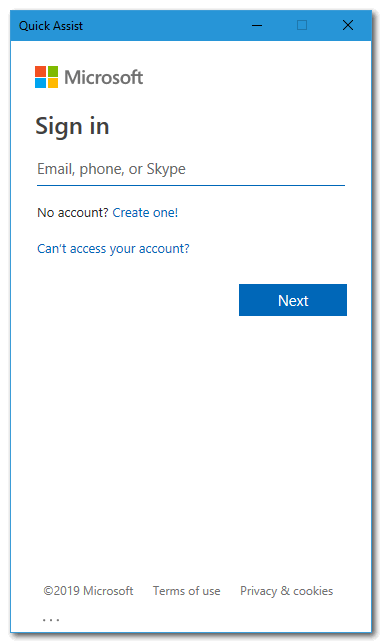 After you've entered your Microsoft account email address, you'll need to enter the password for your Microsoft account.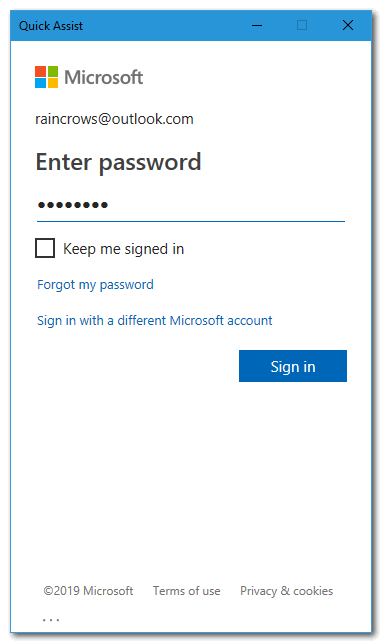 Once you've signed in, you'll see a security code. You can call your friend with this number or send the security code via email.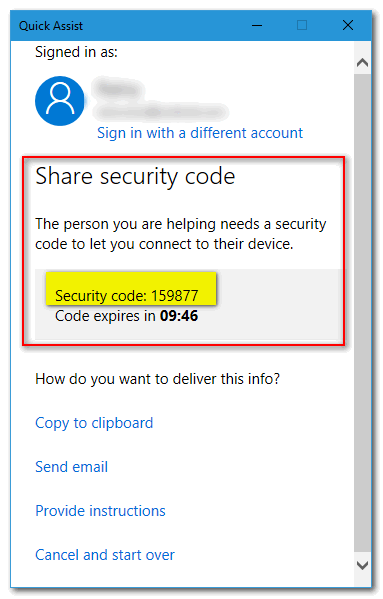 The person you're helping will need to open Quick Assist and enter the six-digit security code.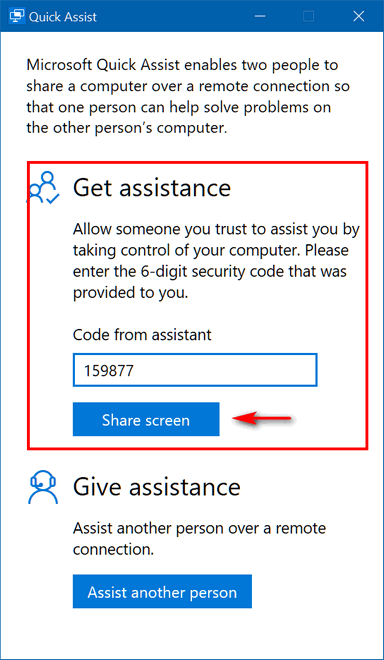 Once the person you're helping enters the number, you'll want to ask for "Full control". The person you're helping will see a small window asking if they want to allow you to control their computer. If they want your help, they'll need to click "Allow".
Above you can see the Quick Assist window with the remote computer in full view. You can then control the remote computer as you would you own and do whatever you need to do to help a friend in need.
So, now if a friend calls you and asks for help with his or her computer, you can tell them about Quick Assist. You'll be able to help them just like you were sitting at their computer.
Quick Assist – another useful but hidden feature of Windows 10.



Want more computer tips & tricks?
What are Windows 10 Requirements?
What's coming in Windows 10 Version 1903?
We have thousands of Windows tips, tricks and more on our InfoAve web site. Come see for yourself!



Includes "Anytime Repair" with Our Unattended Support Feature!

SeniorPass: A Great Deal for Our Friends 60 and Older!

With our Cloudeight Direct Computer Care SeniorPass, our friends age 60 and older get one full year of unlimited computer care and repair for one low price. With our SeniorPass you'll get the best computer care anywhere - any time you need it!

SeniorPass is valid for unlimited computer care & repair sessions for one full year starting with the first time you use it. The clock does not start ticking until you use your SeniorPass for the first time. A great deal!

Having SeniorPass is just like having insurance for your computer. You'll get one full year of computer care and get help with almost any computer problem whenever you need it. We're here to help you.

Computer care & repair for one full year just $99! Check out our SeniorPass offer right now!

Get your SeniorPass and/or get more information here.


Trivia Fans Will Love Triviaplaza

A long, long time ago, in a kingdom by the sea, there lived a young man who played Trivial Pursuit with anyone who would play it with him. It didn't take long before everyone who played against him found his Achilles' heal — the category was "Entertainment". Yep, that young man was me and I was a terror at Trivial Pursuit in every category accept Entertainment. Like I know who Tom Hanks and Gene Wilder and Lauren Bacall and Humphrey Bogart are. But I have no idea who most actors and actresses are.

For example, I thought Reese Witherspoon was a basketball player — and that's the truth. I thought Kanye West was a girl. Stuff like that. I didn't know entertainment when I was young and I know even less about it now. Unlike EB I don't have my head buried in "People" magazine and I sure don't read "Cosmopolitan" – I know, I know, EB should be ashamed.

The point is, and yes I do have one, almost everyone loves a good trivia quiz. I guess because if you flunk a trivia quiz you can still think you're smart, whereas if you took a test of general knowledge and flunked you'd probably cry.

I spent so much time messing around with this site pick, that I neglected my work, and now EB is hunting me down and if she catches me, I will be on the road to perdition. And yes, everything I tell you about EB is 100% true! I know you it's all fiction. I'll tell you a secret. She has a sign at the end of her driveway that says "Stay out or be shot". And if you're tempted just look up at her front porch and you'll see EB sitting there in a housedress cradling a shotgun.

Getting back to the subject at hand: One good thing EB did this week – during her idle time, and she has lots of it because I do all the work — was find this site of the week. Of course, she knows I'm a Trivia buff, she just doesn't think I know anything. And a lot of you think I'm full of hot air and bad grammar. You think I don't much. I'm about to prove you wrong, if not about my grammar, about my not knowing much. Just hang on and I'll show you!

I spent way too long playing trivia and proving that I'm still pretty good at trivia, and I'm not as dumb as many people (EB) think.

The site where I displayed my considerable trivia talent is called Triviaplaza. If you love Trivia as much as I do, then you'll really love this site too.

You can clearly see from the image above, I really did visit this Cloudeight site pick. You can also see some of the categories of trivia offered. Look up! See?

Not only did I visit Triviaplaza, but I also wasted over 3 hours there while I should have been writing this newsletter. It's a wonder I get anything done.

I took a mixed general science trivia test, and while I didn't ace it, I did do well – see? Better than average, as I keep trying to tell EB.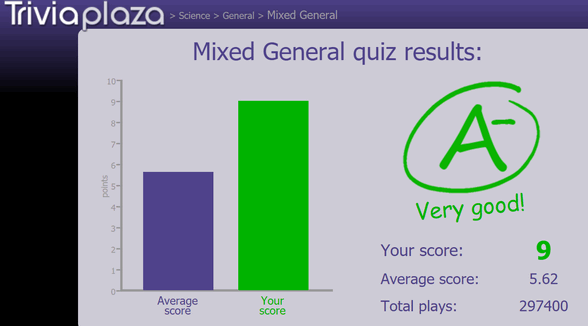 Regardless of your interests, you'll find a trivia category on this site to challenge you. Many categories have levels from somewhat easy to very difficult. So, if you think you're the king or queen of trivia, you'll want to plan on visiting Triviaplaza and challenging yourself.

Every category has many subcategories, so you can actually spend days here and never notice you've not eaten or slept. Which is a good way to lose weight and or get sick. Kidding!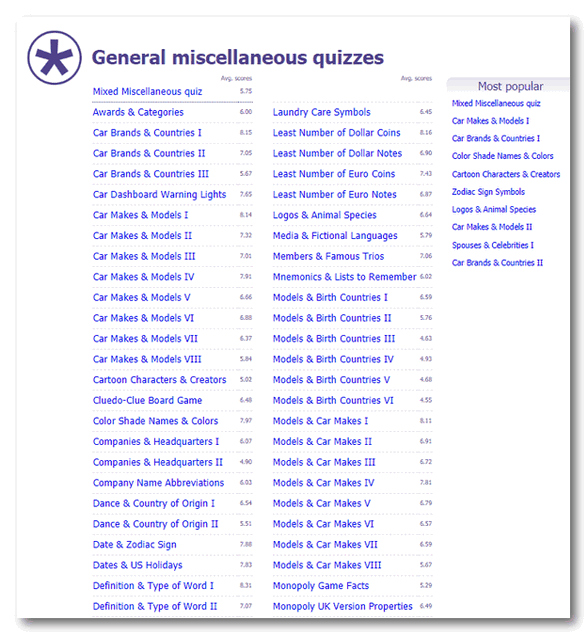 Just so you know, EB would not allow me to post her trivia test results in this newsletter and threatened me with horrible things if I did. I don't like the horrible things, so as you can see, I complied.

If you like Trivia as much as we do, you'll love our site pick, Triviaplaza.





Now available: Reg Organizer 8.26

If you purchased or renewed Reg Organizer through Cloudeight within the last 12 months, you're entitled to a free version upgrade to Reg Organizer 8.25.

Save $14 on Reg Organizer right now!

Reg Organizer - A Swiss Army Knife of Windows Tools - Works Great on Windows 10!






Musings on the Vernal Equinox

Today is the first day of spring, and after the winter we've had in my little corner of the world, it really means something this year. Normally, the first day of spring comes and goes, and I pay it little attention. Our winters in recent years have been more of a series of protracted springs than real winters. Oh, sure, we had a few days when it snowed, and a few bitter days, but for the most part until this past winter, we spared the cruel onslaught of never-ending cold, wild, harsh winds, and snow piled up to the tops of fences. After the brutal, savage, unrelenting winter from which we are just now emerging, this particular first day of spring means a lot to me.

I will celebrate it.

And let me point out, I am not being an out-of-touch-with-reality dreamer this year. I know that just because today is the day of the vernal equinox — the day when the sun, in its long trek northward from the Tropic of Capricorn, crosses the equator – it doesn't mean I'll be out sipping tea in the gazebo. There are cold days to come, some of them, I'm sure will remind me – with a not-so-gentle slap in the face, that winter really hasn't completely loosened its icy grip. And we're going to have more snow and more cold; I've lived more than long enough to know that the first day of spring is nature's biggest teaser — winter's still out there somewhere, defying the natural progression of things, trying its best to defeat the eternal circle of life, obstinate and contrary, bound and determined to make us miserable, at least a few more times, before it hides in its dark and gnarly cave until it wakes again next December. Even winter belongs in the cycle of thing — it has its place. Without it, I wouldn't be celebrating this day.

After winter's death took away the last of the bright and beautiful autumn leaves, vacuumed away the last of the forest's living things, and left the once majestic woodland trees looking like sad, dark, forlorn skeletons, brittle and silhouetted harshly against the eternally gray winter sky, I expected another typical winter — cold, but not brutal, a few days of snow, and of course that relentless cold wind that winter always brings. But I never expected to be shut in, and nearly shut down by the most brutal winter in decades.

Until today, ironically, we've had snow on the ground since November; save for a few brief respites, the snow has covered everything, everywhere for months and months. Storm after storm reloaded the yards and the sidewalks and the roads with more snow. There were piles of snow at the end of my driveway I would have sworn were going to take until mid-June to melt. These were towering snow mountains at least eight feet high. I should know, I built them with my own hard labor, using nothing but a snow shovel and energy and strength I didn't know I had. But today is the first day of spring, and those monuments to my suffering and to winter's cruelty...Re

Read the rest of this essay here...





If you don't need any of our products or services right now, please help us with a donation. Even the smallest gift is appreciated. Every donation helps us to provide useful information that helps you with your computer as well as helping to keep you safe on the Internet. We offer free help to thousands of people every year... and we offer an honest and inexpensive computer repair service too. We do everything we can to help you with your computer and keep you safe too.

So if you don't need any our products or services right now, please consider helping us with a small donation. If you're not a Cloudeight Booster already, you'll be invited to join our boosters after you make a donation of any amount. Our boosters get freebies and special booster-only offers

Please help us by making a donation right now.

Thank you!




What is a CPU?

For years people have been calling their computers "CPUs". As in, "I packed up my CPU and donated it to the school." While you can indeed pack up a CPU and give it to someone, what you'd really be giving them is a processor. which does not look anything like your computer.

The above is a computer, to be more precise it's a desktop computer. But one thing it's not, it's not a CPU.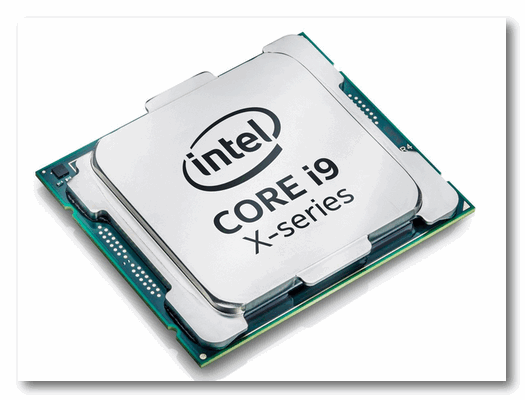 The above is a CPU. It's a processor. It's the brain of your computer. CPU is an acronym that stands for Central Processing Unit.
So, now you know what a CPU is and what a CPU isn't, right?



Sales of the following products and services help support our newsletters, websites, and free computer help services we provide.

Cloudeight Direct Computer Care: Single Keys or Season Tickets - always a great deal. Cloudeight Direct Computer Care is like having PC insurance. Get more information here.

Emsisoft Anti-Malware: Emsisoft is the only Cloudeight endorsed and recommend Windows security program. It provides users with a complete antivirus, antimalware, anti-ransomware, anti-PUPs solution. We offer single Emsisoft licenses and multi-computer licenses at discount prices. Also, we offer our exclusive Emsisoft with Cloudeight installation & setup. Get more information here.

Thunderbird Email Setup: Thunderbird is a great email program that you can use with your Gmail and Outlook.com (Hotmail) web mail accounts as well as with your Internet provider's email. We'll set it up right for you. Our set up includes configuring up to 3 emails accounts and setting up Thunderbird to use stationery (if desired). Our Thunderbird Email Setup Service is always a great deal. For more information visit this page.

Reg Organizer 8.20: Reg Organizer is the Swiss Army Knife of Windows tools. It's far more than just a registry optimizer and cleaner... it's Windows all-in-one toolkit. Helps you keep your computer in tip-top shape and helps solve annoying Windows problems. Reg Organizer works great with Windows 10 too! Get more information about Reg Organizer (and get our special discount prices) here.




To change your subscription address, see "Manage your subscription" at the bottom of this newsletter.
Submit your questions, comments, and suggestions for possible inclusion in our newsletters here. This form is for questions, comments, and suggestions for this newsletter. This form is not for product support, stationery questions, or general questions concerning our products or services.
Send us your suggestions and recommendations for future freeware picks and/or sites of the week
Help us Grow! Forward this email newsletter to a friend or family member - and have them sign-up for InfoAve Premium here!
Get our free daily newsletter! Each evening we send a short newsletter with a tip or trick or a computer-related article - it's short and sweet - and free. Sign-up right now.
Have a question about a Cloudeight Software program, service, stationery, or need to ask about an order? Let us know!
If you need help with one of our software programs, have a question about an order, or have a question about any of our email stationery, screensavers, or other products - please don't use our InfoAve Questions/Answers/Tips form. Use our general Cloudeight support form instead.
Print our Cloudeight Direct Flyer and spread the word about our computer repair service! If you want to help us by telling your friends about our Cloudeight Direct Computer Care service, you can download a printable flyer you can hand out or post on bulletin boards, etc. Get the printable PDF Cloudeight Direct Computer Care flyer here.


These products and services are recommended and endorsed by Cloudeight:
Also... don't forget:

We'd love to hear from you!
If you have comments, questions, a tip, trick, a freeware pick, or just want to tell us off for something,
let us know
.
If you need to change your newsletter subscription address, please see "Manage your subscription" at the very bottom of your newsletter.
We received hundreds of questions for possible use in IA news. Please keep in mind we cannot answer all general computer questions. We try to personally answer as many as we can. We can only use a few to in each week's newsletter, so keep this in mind. If you have a support question about a service or product we sell,
please contact us here
.

Subscribe to our Daily Newsletter!
Get computer tips & tricks every night. Our daily newsletter features a computer tip/trick or two every day. We send it out every night around 9 PM Eastern Time (USA). It's short and sweet, easy-to-read, and FREE.
Just visit this page and sign-up
. All you have to enter is your email address. Once you confirm your subscription, you'll receive our daily newsletter every day, six days a week. You can unsubscribe at any time.
Print our Cloudeight Direct Computer Care Flyer!
Print our Cloudeight Direct Computer Care Flyer
and spread the word about our Cloudeight Direct Computer Care computer care and repair services.
Get our ready-to-print flyer here.

We hope you have enjoyed this issue of InfoAve Premium. Thanks so much for your support and for being a Premium subscriber.
Have a great weekend.
Darcy & TC
Cloudeight InfoAve Premium - Issue #808
Volume 16 Number 24
April 5, 2019
Not a subscriber?
Subscribe to our InfoAve Premium Newsletter
Share Us on Facebook!
We'd love for you to share us with your family and friends on Facebook. Help us by sharing us on Facebook!


"Cloudeight InfoAve Premium" newsletter is published by:
Cloudeight Internet LLC
PO Box 73
Middleville, Michigan USA 49333-0073
Read our disclaimer
about the tips, tricks, answers, site picks and freeware picks featured in this newsletter.
Copyright ©2019 by Cloudeight Internet