With our
Windows 10 Transformation service,
we will:
Change the start menu back to Windows 7 classic style and include your favorite programs
Change your taskbar and start menu colors to your preferences
Add an authentic Windows 7 start button
Add Windows 7 Wallpaper (if desired)
Change Windows 10 File Explorer so it works more like Windows 7's Windows Explorer
Add My Computer to your desktop (if desired)
Regular price is $35 - but during this introductory period, we'll make your computer work and look very much like Windows 7 for just $25. Buy now and use later! Our Windows 10 Transformation service keys are good until you use them. Get yours now, save $10, and get the peace of mind of knowing when you change to Windows 10 your learning curve will be a whole lot easier. And if you're currently using Windows 10 and like what you see in the screenshots above, we can transform your Windows 10 PC for you too.
Save $10 and get your Windows 10 Transformation Service Key right now!



The Functional Function Keys
Windows 7, Windows 8.1, Windows 10
They're called Function Keys -- most of us just call them the "F" keys. They're usually at the top of your keyboard, and for the most part, they go unused. That's too bad because they can be very useful. Here are some functions we think are useful that can be done with a tap on an "F" key.
F1 FOR HELP
The F1 key when using a program will open its help file.
F2 TO RENAME
Select and highlight a file or folder and press F2 key to quickly rename that file or folder. You can also use the F2 keyboard shortcut to rename multiple files in batch mode. Just select multiple files using your mouse and press F2 to rename the selected files.
F3 TO SEARCH
F3 will launch a search bar when using a web browser like Internet Explorer, Google Chrome, Firefox, etc.
F4 TO SELECT ADDRESS BAR IN EXPLORER
Pressing the F4 key toggles and highlights the address bar of Windows Explorer (File Explorer) when Windows Explorer (File Explorer) is open.
F5 IS REFRESHING
Quickly refresh to view updated contents of a folder or items on the Windows desktop by pressing F5 key. F5 will also refresh a Web page while using your favorite Web browser.
F11 TO GO FULL SCREEN
To view more of a Web page without the clutter of menu bars, toolbars, etc., press the F11 while visiting a Web site. To go back to your normal browser window, just press the F11 key again.

A Windows 10 Menu You Might Not Know You Have

Windows 10 (all versions)
No matter how much we think we know about Windows, we're always finding something new. Well, maybe not new, just different. The "Windows Accessories" menu is on Windows XP, Windows Vista, Windows 7, Windows 8, Windows 8.1, and Windows 10.
Back in the days of XP, Vista, and even in Windows 7, Accessories was listed under "A" alphabetically, but in Windows 10, it's listed under Windows Accessories and hence, it's listed under the "W" section of the Start menu. So, while it used to be near the top and easy to find, now it's hidden near the bottom of the Start menu and you might not have noticed it. To get to Windows Accessories, you have to click the Windows 10 Start button, then scroll down to the W's and find Windows Accessories.
Well, here, take a look:
Hidden in the Windows Accessories menu are many useful items. When you click the down-arrow next to Windows Accessories (see above) you'll see a menu open (see below):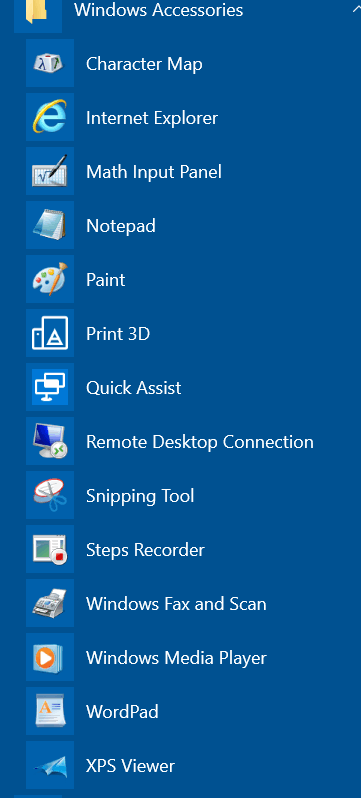 As you can see there are some useful Windows programs are hiding in the Window Accessories menu – things like Character Map (which helps you make stuff like æ Ø ß ¿ – characters not normally available on your keyboard – well at least not on my keyboard). You'll also find WordPad, Notepad, Snipping Tool, Quick Assist, Internet Explorer and more.
And if anything in the Accessories menu is something you use often, you can make a shortcut on the Start menu or Taskbar. All you have to do is right-click the item you want to put on your Start menu or Taskbar and choose "Pin to Start" or click "More" and then "Pin to taskbar". Below, we're adding "Notepad" to our Windows 10 taskbar.


>





New Computer Buying Guide
For everyone in the market for a new Windows computer
One of the most frequent questions we are asked is: "What should I look for in a new computer?"
Now with Windows 7 reaching its end-of-life, many of you using Windows 7 are contemplating whether to try to upgrade the old Windows 7 PC to Windows 10 (you can still do that free) or just go out and buy a new Windows 10 PC.
We prepared this guide for those of you thinking about buying a new Windows 10 computer. Computer prices have never been lower than they are right now – so it's a great time to buy. This guide is for average computer users – those of you who use your computer mainly for browsing the Web, email, having fun with graphics using PaintShop Pro or similar, using Facebook and/or Skype, chatting, etc. If you're into high-end gaming or high res 3D rendering or work with very large databases or CAD drawing, your needs will certainly be different.
1.) Consider a Laptop Instead of a Desktop or All-In-One Computer
At one time laptops were expensive and underpowered, but not anymore. Laptops have the same features and as much or more power as desktops and all-in-ones, with one big advantage: You're not tethered to one spot in your home. And right now laptops are exceptionally inexpensive. You can get a laptop for less money than an equivalent desktop or all-in-one.
2.) RAM RAM RAM (AKA "Memory")
One of the most important things to consider is RAM – your computer memory. The more memory the faster your computer will run. OK, we're generalizing. But generally the more RAM you have the more you can do with your computer – and the more responsive your PC will be. You'll see a lot of low-end computers with 2 GB of RAM, but unless you're not planning on doing much multi-tasking, you're probably not going to be happy with 2GB of RAM. We suggest that you don't buy a computer with less than 4 GB of RAM. If you can afford a few dollars more, look for 6 GB or 8 GB of RAM.
For example, here's a Dell laptop with Windows 10 Home (64-bit), a decent Intel i3 processor, a 15.6″ display, 8 GB of RAM, and a 1 TB hard drive for $368. (Price and link valid as of 4/7/19.) Just a few years ago, this laptop would have been in the $500 to $600 price range. If you have to cut corners to meet your budget, cut corners on hard drive size or processor type, not RAM. The amount of RAM your new computer has is your most important consideration.
3.) Hard Drive
It would be hard to find a laptop or desktop with less than a 500 GB hard drive these days. 500 GB or 1 TB hard drives are standard these days. If the price is a consideration, computers with 500 GB hard drives are going to be cheaper than those with 1 TB hard drives, and 500 GB is still a substantial amount of storage. So grab a PC with a 1 TB hard drive, unless it strains your budget. Most of you will find a 500 GB HDD is adequate. A word about SSDs (Solid State Hard Drives): They're nice. They're super fast. But they cost more than a standard HDD (regular hard drive). To get the same space on an SSD as an HDD you're going to have to part with more money. If you're on a budget, you're probably going to be looking at PCs with standard hard drives (HDD). And that's OK. Most people will be happy with HDDs – that's what most of us are using right now.
4.) Processor
Your processor is the brain and heart of your PC. But if you're an average computer user, and just using your computer to do the things we mentioned at the beginning of this article, then the kind of processor or the speed of your processor, will not be a major consideration for you. Most low-end computers are going to have AMD processors and there's nothing wrong with that. If that new computer you're looking at doesn't say "Intel inside", don't worry about it. Most of us would never know the difference between an AMD and an Intel processor unless we're benchmarking freaks- but we're not, right? Intel or AMD? If you're the typical PC user, it won't matter to you. Any computer you buy running Windows 10 will have a processor that is adequate to run Windows 10. Generally, you're going to want at least a dual-core processor that runs at 1.6 GHz or faster. But when it comes down to buying a PC by brand or type of processor or the amount of RAM it has – choose the one with the most RAM.
5.) Screen Size
Size matters? Yes, it does – kind of. We have laptops with 17″ screens; we have laptops with 15.6″ screens. Both are great for all the things we do. The laptops with smaller screens are easier to tote around, they're smaller and lighter. So, if you're going to be traveling or moving around with your laptop, you might want to opt for the smaller screen. Screen size, though, is a personal choice. Choose the screen size that you like best and that suits the way you use your computer. If you're going for an all-in-one or desktop PC, the same applies. Get the screen size that works best for you. Generally, the smaller the screen size the less expensive the computer. Touchscreens: Touchscreens are nice. I'm using a 17″ touchscreen laptop right now. Well, actually I have one right now. I'm using a mouse. I'm old school. I keep forgetting I have a touchscreen. It's great when I remember I have one. Computers with touchscreens are generally more expensive than computers without touchscreens, although the price difference is getting smaller and smaller. Someday, we imagine, all PCs will have touchscreens.
6.) Brand of Computer
The brand name of the computer you buy is not one of the most important considerations. Most brands you recognize should be fine. Some people hate certain brands because they have had trouble with that particular brand in the past. However, all brands have good and bad reviews. HP, Dell, Acer, ASUS, Toshiba, Sony and Lenovo all have their fans and detractors. We're not going to recommend one brand over another. All brands can are good and all brands are bad. It depends on who you ask. If you have used a brand in the past that you've been happy with, then buy that brand again – but only if the price fits your budget. But don't be "brand-blind". Don't be afraid to try one of the other major brands.
7. )
Windows 10 Home or Professional?
Most home users are not going to need the additional features of Windows 10 Professional. Besides the fact that Windows 10 Professional costs about $100 more, it has features most home users won't need – unless you're a computer geek.
8. ) 32-bit or 64 bit?
We recommend Windows 10 Home 64-bit rather than 32-bit. There is no difference in cost. Windows 10 32-bit computers can use only 4 GB of RAM, whereas Windows 10 64-bit computers can use virtually unlimited amounts of RAM. The amount of RAM a 64-bit computer can use is limited only by the computer's motherboard limitations.
9
.) You Have Many Choices
If you're on a budget, you'll have to make choices. That's OK – there are a lot of computers to choose from. You're going to have to choose between screen sizes and types, hard drive sizes and types, processor brands, speeds, and types, computer brands, and RAM. In our opinion, RAM is the most important of these. If you buy a computer with inadequate RAM, your computer will be slow and multi-tasking difficult, and none of the other things will matter much.
Get a computer with as much RAM as you can afford. Get a 64-bit computer (Windows 10 64-bit) so you can take advantage of more than 4GB of RAM./p>
Most of us who have been using Windows for years remember the days of 540 MB (MB not GB!) hard drives and RAM that was measured in MB, not GB. A typical PC in the year that the much exalted Windows XP was released had 2 GB hard drives and 1 GB of RAM. Cheap, low-end PCs in those days cost $700 to $800 or more.
We've come a long way since then. Shop around. You'll find great deals if you spend some time and look around. We found that aforementioned Dell computer for $368. It comes with Windows 10 Home 64-bit and has a decent Intel processor, a 1 TB hard drive, 15.6″ display and 8 GB of RAM. Most of you would find it to be quite adequate for your needs. If you take your time and shop carefully, you will find a PC that does everything you need it to do at a price that fits your budget.
If you've been using Windows 7 for years and you're concerned about the learning curve involved in learning Windows 10, we can help. We can make your Windows 10 PC look and work a lot more like Windows 7. See this page for more information.





How to Manually Update Google Chrome
Everyone who uses Google Chrome
Keeping browsers updated is one good way to keep them more secure. Since Chrome is now, by far, the most popular browser, we're going to show you how to make sure you have the newest version of Chrome installed – and if you don't, how to manually update it.
Most of the time, Google Chrome will update itself automatically. However if you want to check to make sure you have the latest version of Chrome and update it if you don't, it's easy to do.
Here's how:
1.) Open Chrome.
2.) Click on the Settings icon (the 3 vertical dots icons)
3.) Click on Help > About Google Chrome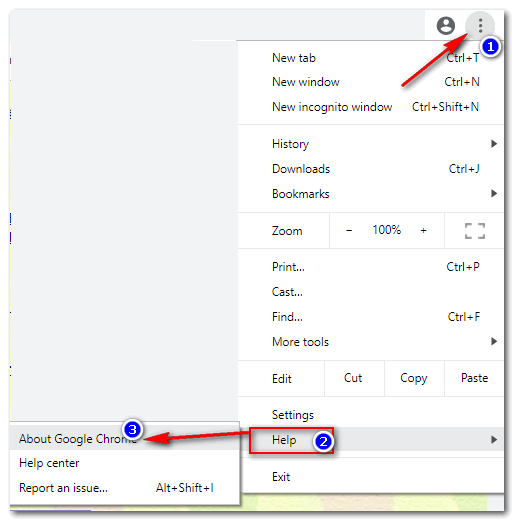 As soon as you click "About Google Chrome", you'll see Chrome checking with the server. If Chrome is up to date, you will see "Google Chrome is up to date" along with the version and build number.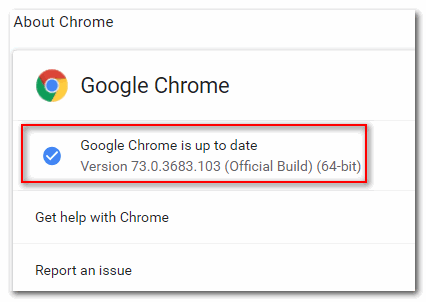 If it's not up to date, Google Chrome will update to the newest version.
When it's done downloading updated, you'll see "Nearly up to date! Relaunch Google Chrome to finish updating". Just click the "Relaunch" button to finish updating Chrome.
If you have problems updating Chrome, you can download the current version from Google and install it over your current Google Chrome installation. That way you won't lose your bookmarks or extensions – or at least you shouldn't.



Want more computer tips & tricks?
Don't Let Drivers Drive You Crazy
How to Remove Personal Data From Your Digital Photos
We have thousands of Windows tips, tricks and more on our InfoAve web site. Come see for yourself!




Includes "Anytime Repair" with Our Unattended Support Feature!

SeniorPass: A Great Deal for Our Friends 60 and Older!

With our Cloudeight Direct Computer Care SeniorPass, our friends age 60 and older get one full year of unlimited computer care and repair for one low price. With our SeniorPass you'll get the best computer care anywhere - any time you need it!

SeniorPass is valid for unlimited computer care & repair sessions for one full year starting with the first time you use it. The clock does not start ticking until you use your SeniorPass for the first time. A great deal!

Having SeniorPass is just like having insurance for your computer. You'll get one full year of computer care and get help with almost any computer problem whenever you need it. We're here to help you.

Computer care & repair for one full year just $99! Check out our SeniorPass offer right now!

Get your SeniorPass and/or get more information here.


Get Over 40,000 Free Kindle Books
Do you like to read? Great, we love to read to. And today, we're going to show you an easy way to find all the 40,000 + free Kindle books in one place. (Unfortunately, as of now, this is for U.S. residents only.)
Since there are over 40,000 free Kindle books, you may think it's going to be a chore trying to find the kinds of books you like, but Amazon answers the call by breaking down its list of free eBooks into categories and genres so that you can quickly find the kinds of books you like.
Since Amazon constantly changes the books in the "Free" category, if you see something you like, be sure to grab it right away. If you wait, it may not be there the next time you visit the free Kindle books section.
Here are a few things you need to know before you go "shopping" for free Kindle books.
1. Make sure the book you want shows a price of $0.00
2. Make sure it doesn't say "Prime". If it does you'll need an Amazon Prime Membership to get if free.
3. Make sure it doesn't say "Kindle unlimited". If it does, you'll need a Kindle Unlimited membership to get it free.
All that aside, there are over 40,000 truly free Kindle books you can download with no restrictions.
Take some time and visit this treasure house of free Kindle books now… you won't be disappointed!
What? No Kindle Reader or Kindle Fire? No Problem!
If you don't have a Kindle reader or Kindle Fire, no problem. You can download the free Kindle app for Windows PC as well as IOS, Android, and Mac. To get your free Kindle app visit this page.







Now available: Reg Organizer 8.26

If you purchased or renewed Reg Organizer through Cloudeight within the last 12 months, you're entitled to a free version upgrade to Reg Organizer 8.25.

Save $14 on Reg Organizer right now!

Reg Organizer - A Swiss Army Knife of Windows Tools - Works Great on Windows 10!






That's Just the Breaks

Winter is over, or so it seems. The grass is getting green and the daffodils are blooming. Last winter was a notable winter for me – maybe an "infamous" winter would be a better name for it.

As you may or may not know, I walk a lot. I tend to be a porker if I don't exercise because, well because I love to eat. I'm sure it goes back to the way I was raised, but heaven knows back in those days my grandparents didn't know all the secrets of good nutrition and the health benefits of staying slim. Slim was never my nickname, but I have managed to keep from going over to the obese side.

Nevertheless, there are reasonable excuses for an expanding waistline as we get older. For quite a while after my last diet, I weighed the same as I weighed in high school. But, I don't remember my belly hanging over my belt in high school. I am quite sure it didn't. I would have been mortified had that been the case. Geez – all those girls looking at me!

Now, no one looks at me, not even I look at me. But I digress.

I walk a lot and I walk a lot because I enjoy it and because it helps keep my weight down without resorting to living on alfalfa wafers and water. No can do!

Anyway, this winter came early. By late October, my walks found me bundled up in a winter coat, stocking hat, gloves and occasionally winter walking boots. I trudged through rain and snow and wind as November brought her worst to my neck of the woods.

Then December came and froze my world. All the ponds and streams I pass while walking we all glistening ice. And one December day, I went for a walk as is my custom. But this December day, this old man – meaning me – was having a hard time keeping the child inside. The rain that fell the night before had frozen into long narrow puddles on my walking path. Rather than deftly walking on the grass alongside the frozen water on my walking path, the child inside me dared me to walk on the ice to see if would "hold" me.

I will never know if it would have held me. One step onto the ice and I found myself lying on the ground in the grass with my arm in horrible pain. Thinking it was broken, I managed to lumber myself up off the ground and dig my cell phone out of my coat pocket with my good arm and hand and called for a friend to take me to the hospital.

I sat in the emergency room's waiting area...

Read the rest of this essay here.




If you don't need any of our products or services right now, please help us with a donation. Even the smallest gift is appreciated. Every donation helps us to provide useful information that helps you with your computer as well as helping to keep you safe on the Internet. We offer free help to thousands of people every year... and we offer an honest and inexpensive computer repair service too. We do everything we can to help you with your computer and keep you safe too.
So if you don't need any our products or services right now, please consider helping us with a small donation. If you're not a Cloudeight Booster already, you'll be invited to join our boosters after you make a donation of any amount. Our boosters get freebies and special booster-only offers
Please help us by making a donation right now.


Thank you!


What is portable software?
Imagine a gym bag or carry on suitcase with a handle loaded with software. Imagine lugging it with me everywhere you go. That's what portable software is. You can lug it around with you. NO! That's not what it is. No lugging needed. Portable software does not have to be installed, so you can take it with you and run a program or programs from a USB flash drive. No can do with installed software...portable software only, please.
Most of the software most of you use is installed software. That's the kind you install and it adds a shortcut to your desktop and maybe to your start menu and taskbar - and that adds things, sometimes quite a lot of things, to your registry. And somehow many of you have the opinion that portable versions are ersatz versions of the real software, but that's not true - in fact, there are many good reasons to opt for the portable version over the installed version whenever you have a choice.
Now you want to know why? Good, we are going to tell you why. The first thing we'll point out is that if something doesn't install, it doesn't bundle things in its installer. And anytime you can feel pretty confident about putting a program on your computer without having to sit like an armed sentry waiting to see what crazy software the installer is going to try to sneak unto your computer without your knowledge If you don't pay attention to these kinds of bundled installers, you're going to have a mess - a big mess - that's not going to be easy to get rid of. You'd think it would be illegal to ruin someone's computer, but there's no law we know of against software bundling because in the tiny print of the 5000-word EULA there's probably legalese saying that if you install this software you are agreeing to everything and you can't come back at the software manufacturer even if your computer ceases to function.
And the second reason you should choose portable over installed software is that portable software makes no changes to your registry, adds no shortcuts to your start menu, taskbar or desktop. And best of all, in order to uninstalled portable software, all you have to do is right-click on it and choose "Delete" and it's gone, gone, gone I tells ya!
And the final reason why portable software is better than installed software is, it never helps itself to a place in your Windows startup programs list, like so many installed software programs do.
For those reasons and more we probably haven't even thought of, we always choose portable versions over installed versions when we have a choice. There are exceptions of course, but for most applications, a portable version offers all of the features and none of the drawbacks.
A portable version runs when you click it (or its shortcut if you made one), and it's uninstalled when you right-click it and delete it. It doesn't make any changes to your computer and you can even put it on a flash drive and take it with you.
So, then next time you have a choice between a portable version and a version that comes with an installer, choose the portable version. We think you'll be happier and your computer will be happier too.
There are even sites devoted to portable software. One of them, for example, is
www.portableapps.com

Sales of the following products and services help support our newsletters, websites, and free computer help services we provide.


Cloudeight Direct Computer Care
: Single Keys or Season Tickets - always a great deal. Cloudeight Direct Computer Care is like having PC insurance.
Get more information here.
Emsisoft Anti-Malware
: Emsisoft is the only Cloudeight endorsed and recommend Windows security program. It provides users with a complete antivirus, antimalware, anti-ransomware, anti-PUPs solution. We offer single Emsisoft licenses and multi-computer licenses at discount prices. Also, we offer our exclusive Emsisoft with Cloudeight installation & setup.
Get more information here
.
Thunderbird Email Setup
: Thunderbird is a great email program that you can use with your Gmail and Outlook.com (Hotmail) web mail accounts as well as with your Internet provider's email. We'll set it up right for you. Our set up includes configuring up to 3 emails accounts and setting up Thunderbird to use stationery (if desired). Our Thunderbird Email Setup Service is always a great deal.
For more information visit this page
.
Reg Organizer 8.20:
Reg Organizer is the Swiss Army Knife of Windows tools. It's far more than just a registry optimizer and cleaner... it's Windows all-in-one toolkit. Helps you keep your computer in tip-top shape and helps solve annoying Windows problems. Reg Organizer works great with Windows 10 too!
Get more information about Reg Organizer (and get our special discount prices) here.


To change your subscription address, see "Manage your subscription" at the bottom of this newsletter.
Submit your questions, comments, and suggestions for possible inclusion in our newsletters here. This form is for questions, comments, and suggestions for this newsletter. This form is not for product support, stationery questions, or general questions concerning our products or services.
Send us your suggestions and recommendations for future freeware picks and/or sites of the week
Help us Grow! Forward this email newsletter to a friend or family member - and have them sign-up for InfoAve Premium here!
Get our free daily newsletter! Each evening we send a short newsletter with a tip or trick or a computer-related article - it's short and sweet - and free. Sign-up right now.
Have a question about a Cloudeight Software program, service, stationery, or need to ask about an order? Let us know!
If you need help with one of our software programs, have a question about an order, or have a question about any of our email stationery, screensavers, or other products - please don't use our InfoAve Questions/Answers/Tips form. Use our general Cloudeight support form instead.
Print our Cloudeight Direct Flyer and spread the word about our computer repair service! If you want to help us by telling your friends about our Cloudeight Direct Computer Care service, you can download a printable flyer you can hand out or post on bulletin boards, etc. Get the printable PDF Cloudeight Direct Computer Care flyer here.


These products and services are recommended and endorsed by Cloudeight:
Also... don't forget:

We'd love to hear from you!
If you have comments, questions, a tip, trick, a freeware pick, or just want to tell us off for something,
let us know
.
If you need to change your newsletter subscription address, please see "Manage your subscription" at the very bottom of your newsletter.
We received hundreds of questions for possible use in IA news. Please keep in mind we cannot answer all general computer questions. We try to personally answer as many as we can. We can only use a few to in each week's newsletter, so keep this in mind. If you have a support question about a service or product we sell,
please contact us here
.

Subscribe to our Daily Newsletter!
Get computer tips & tricks every night. Our daily newsletter features a computer tip/trick or two every day. We send it out every night around 9 PM Eastern Time (USA). It's short and sweet, easy-to-read, and FREE.
Just visit this page and sign-up
. All you have to enter is your email address. Once you confirm your subscription, you'll receive our daily newsletter every day, six days a week. You can unsubscribe at any time.
Print our Cloudeight Direct Computer Care Flyer!
Print our Cloudeight Direct Computer Care Flyer
and spread the word about our Cloudeight Direct Computer Care computer care and repair services.
Get our ready-to-print flyer here.

We hope you have enjoyed this issue of InfoAve Premium. Thanks so much for your support and for being a Premium subscriber.
Have a great weekend.
Darcy & TC
Cloudeight InfoAve Premium - Issue #809
Volume 16 Number 25
April 12, 2019
Not a subscriber?
Subscribe to our InfoAve Premium Newsletter
Share Us on Facebook!
We'd love for you to share us with your family and friends on Facebook. Help us by sharing us on Facebook!


"Cloudeight InfoAve Premium" newsletter is published by:
Cloudeight Internet LLC
PO Box 73
Middleville, Michigan USA 49333-0073
Read our disclaimer
about the tips, tricks, answers, site picks and freeware picks featured in this newsletter.
Copyright ©2019 by Cloudeight Internet