As for why the other newsletter is pushing PC Matic, we don't know. We can assume money is the motivator as PC Matic offers 50% sales commissions. So, it's easy to see why some people who are motivated purely by money might be tempted to sell and promote PC Matic.
PC Matic protects your computer using "whitelists" - everything that is not whitelisted is blocked. This puts the burden on the user to know which items to whitelist and which to block. This, in our opinion, confuses the average user who won't always know what is safe to whitelist. PC Magazine says: "...Whitelist-based antivirus also blocks valid programs. Many false positives in independent lab tests. Few results from testing labs. Full malware scan missed most samples..."
We hope this answers your question, Steve. As for us, we'll keep on recommending what we use on our own computers, and what we think is the best security software available...Emsisoft.



With our
Windows 10 Transformation service,
we will:
Change the start menu back to Windows 7 classic style and include your favorite programs
Change your taskbar and start menu colors to your preferences
Add an authentic Windows 7 start button
Add Windows 7 Wallpaper (if desired)
Change Windows 10 File Explorer so it works more like Windows 7's Windows Explorer
Add My Computer to your desktop (if desired)
Regular price is $35 - but during this introductory period, we'll make your computer work and look very much like Windows 7 for just $25. Buy now and use later! Our Windows 10 Transformation service keys are good until you use them. Get yours now, save $10, and get the peace of mind of knowing when you change to Windows 10 your learning curve will be a whole lot easier. And if you're currently using Windows 10 and like what you see in the screenshots above, we can transform your Windows 10 PC for you too.
Save $10 and get your Windows 10 Transformation Service Key right now!


10 Simple Google Search Tips and Tricks You Can Use
Google Search (Some tips work with Bing and other search engines)
Use quotes to search for an exact phrase: Here's a simple trick that can help you narrow down your search results in a jiffy. Searching for a phrase in quotes will return search results containing the same words in the same order. This can really save you time if you're looking for a particular phase.

Use an asterisk in quotes to search for unknown or variable words: Did you know you can search for a phrase when you're not sure of a word in phrase by using an asterisk to replace the unknown word. For example, I just searched for: "Those who foolishly sought power by riding the back of the * " returned: "Those who foolishly sought power by riding the back of the tiger ended up inside " (JFK). Or "A * in the hand is worth * in the * ". You know the result for that.

Use a minus sign to eliminate results containing certain words: You can streamline your searches by using the minus sign to remove those words from your search results. For instance: Search for Lasagna recipes -meat sauce. Note the - minus sign is right next the word you want to eliminate - not a dash between the words. The search for Lasagna recipes -meat sauce results in recipes for lasagna which don't include meat.

Search specific websites for keywords: Use the "site :" function (Google only) that searches only a specific website. For example, if you want to see how many times North Korea was mentions on CNN's web site, type "North Korea site:CNN.com". If you want to see how many times it was mentioned on Fox News, type, "North Korea site:foxnews.com".

Search news archives all the way back to the mid-1880s: Google News has a feature that lets you search back over 100+ years' worth of archived news from newspapers from around the world. Just visit this page: http://news.google.com/newspapers
Use vs. to compare foods. Want to know the difference between wheat and spelt? Type "wheat vs. spelt" in the search form. You'll get a comparison. Type in "quinoa vs. rice" and see what you get.

Use search to give you definitions of words. For example: "Define:Trenchant" (no quotes needed).You can even look up slang. Define: Booyah or Define: Bae.

You can use the microphone icon on Google to flip a coin or give you a sweet love quote. Go to https://www.google.com and click the microphone icon and say "flip a coin" or "love quote". If you're shy you can type "flip a coin" (no quotes) and get a random heads or tails every time. Good for solving arguments. I do this all the time with EB. Tails you lose, heads I win.

Play a game. That's right you can play Atari Break out on Google. Go to https://www.google.com/ and click on Images (at the top right). In the image search form type "Atari Breakout" (no quotes) and press Enter.

Use the tabs in Google search. On the top of every search you'll see several tabs. Normally you'll see Web, Image, News, and More. Use these tabs to help define what kind of search you want to do. If you're looking for images, click the Image tab. If it's news you're looking for, click the "News" tab. It's very simple but many people don't even notice those tabs. They're there to help you!.
There are dozens more search tricks you can use to help you find whatever your looking for. These 10 will get you off to a good start.

Middle-click Trick
Windows 7, Windows 8.1, Windows 10
If you have a mouse with a middle button or a scroll wheel, you have a middle-click option you may not have known about.
With this tip we're going to show you a middle-click trick we're sure you'll use often.
For this example, we're going to have you open Notepad, so go ahead open Notepad. If you're using Windows 10 type Notepad in the taskbar search and click on Notepad (Desktop app) when it appears at the top. On any version of Windows, you can open Notepad this way:
Open a run command (Windows Key + R)
Type Notepad in the run box
Press enter
When Notepad is open you'll see its icon in the taskbar. Now middle-click the Notepad icon – you'll see that it opens a brand new instance of Notepad. You can do this again and again (don't get crazy) and each time you middle-click on its taskbar icon a new instance of Notepad will open.
See?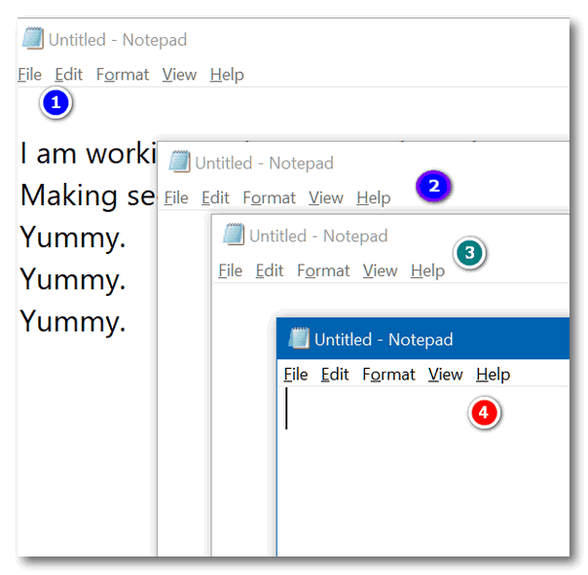 You can see that I have 4 Notepad windows open, I'm working in window #1. By middle-clicking the Notepad icon on my taskbar, I can open as many new Notepad windows as I want. Geeky people call this opening new instances. Take your choice.
If you think your mouse wheel is not a middle click button, try pressing down on it quickly – like you would your left and right mouse buttons. Most of you will find that your mouse's scroll wheel doubles as middle mouse button. The mouse I'm using right now is a cheap $15 Walmart wireless mouse – and the wheel doubles as a middle mouse button on this cheap old mouse.
This trick not only works for Notepad, but it works with many other programs as well. It will work with any program that allows you to open multiple instances. If you have an icon on your taskbar for Chrome, middle-click it – a brand new instance of Chrome will open. Most of you have a File Explorer (Windows Explorer) icon on your taskbar – if you middle-click it, a brand new File Explorer (Windows Explorer) window opens. You do this with a lot of programs- but not all. Some programs allow only one instance to run at a time. So if you need to run more than one instance of a program, try the middle-click trick right now. It will save you time.



Enable Group Policy Editor in Windows 10 Home Edition
Windows 10 Home Edition (all versions)
NOTE: This is an intermediate to advanced user tip.
This tip is for those of you who are intermediate to advanced Windows 10 users who often look for tips about advanced Windows 10 configuration settings and options in Windows 10. If you do, then we're sure you've seen many tips that direct you to open the Local Group Policy Editor, also known as GP Edit. The problem with those tips is – Windows 10 Home edition does not have a Local Group Policy Editor. There are some 3rd party programs you can install to emulate the Group Policy Editor, but why not just enable the Group Policy Editor in Windows 10 Home?
The Local Group Policy Editor is a powerful tool that gives users running Windows 10 Pro or Enterprise version a centralized and easier way to customize advanced settings and options that cannot be changed or customized using Control Panel or Windows 10 Settings app.
If you are running Windows 10 Home edition, you won't find the Group Policy Editor available on your device. But there's a quick and easy way to enable it. Thanks to the good folks over at Itechtics you can download a batch file (.bat) to enable the Group Policy Editor on Windows 10 Home edition. Note: Depending on the browser you use, you may see "This type of file can harm your computer. Do you want to keep gpedit-enabler.bat anyway?" And, while it's a great idea to warn folks about downloading BAT files, in this case you should click the "Keep" button, since if you don't, this tip won't do you any good. Right?
Download gpedit-enabler.bat file from here .
After downloading, locate the file called gpedit-enabler.bat, right-click it and choose "Run as administrator". You will get a UAC warning… continue if you want to run the batch file. Once the batch file starts running, you'll see that a command window opens and several commands will start running – one after the other. When all the commands in the .bat file are done running, you'll see "press any key to continue". Press any key and the command window will disappear.
If all worked as it should, you can open the Group Policy Editor from a run dialog. Open a run dialog (Windows key + R ), type GPEDIT.MSC in the run box and press enter. The Group Policy Editor should open within a few seconds.
You're all set. Now, the next time you see a tip written that requires you to open the Group Policy Editor, just open GPEDIT.MSC and follow the instructions in the tip.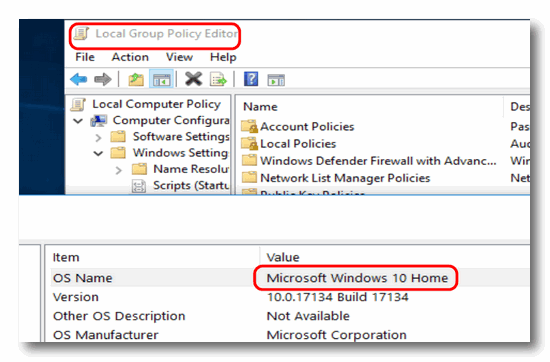 Above: Group Policy Editor running on Windows 10 Home Edition.

You Don't Need a Driver and That's a Start
...Or– Driver Updaters: Good For Nothing
Windows 7, Windows 8x, Windows 10
Whenever I write about drivers, I can hear the Beatles' song "Drive My Car" echoing in my brain. I think of the line that goes — "But I've got a driver and that's a start." And that's a perfect segue into the article – because you've already got a driver (many of them) and that's a start.
Darcy and I have the great honor and privilege of helping many people with their computers. From the help we provide via our Web site and email, to our Cloudeight Direct Computer Care services we are around a lot of computers every day.
During the last dozen or so Cloudeight Direct Computer Care sessions, we've noticed that almost all of these computers had at least one driver updater program installed. One PC had two driver updater programs installed, both running at Windows startup.
On the surface, driver updater programs sound like they would be beneficial to your computer – after all, they constantly scour the web looking for new drivers for your hardware devices. But newer drivers are not necessarily better, and oftentimes are not well tested. Have a program install new drivers just because new drivers are available is like having your car mechanic install a new water pump because a new one is available. Other than being a great gimmick to make more money, it's not going to do you any good if your old water pump was working fine and not causing you any problems.
Driver updater programs are gimmicks. Driver updater programs can and do cause problems by updating drivers that don't need to be updated and/or updating drivers that are working with newer drivers recently released and which may have not been well tested. Many times, driver updater programs are distributed as part of questionable software bundles which can load up your computer with PUPs, browser hijackers and browser homepage hijackers.
We don't even like Windows Update installing drivers. Here we show you how to stop Windows Update from automatically updating drivers.
If you have a driver updater program installed, now is the time to remove it from your computer before it causes problems. If you leave driver updater programs on your system long enough they can cause major problems.
The only time you ever need to update drivers is if a device is not working correctly. The old adage, "if it ain't broke, don't fix it", applies here. There is one safe way to update drivers - and ONLY if needed - and that is:
Visit the hardware device manufacturer's Web site and download the correct driver(s). By this we mean if you have an Epson 3550 printer, get the latest correct driver(s) for your Epson 3550 printer directly from Epson's website.
Take our advice and get rid of any driver updater programs you may have installed accidentally – or on purpose. You just might be saving yourself a lot of trouble down the road. And why take chances?
Here are some names of unnecessary driver updater programs you may find on your computer:
Slimware Utilities Driver Update
Driver Support
Driver Booster
Advanced Driver Updater
Smart Driver Updater
And, sadly, there are many others as well.



Want more computer tips & tricks?

Install the New Chromium-based Edge Browser for Windows 10

Windows 10 Color Filters
We have thousands of Windows tips, tricks and more on our InfoAve web site. Come see for yourself!




Includes "Anytime Repair" with Our Unattended Support Feature!

SeniorPass: A Great Deal for Our Friends 60 and Older!

With our Cloudeight Direct Computer Care SeniorPass, our friends age 60 and older get one full year of unlimited computer care and repair for one low price. With our SeniorPass you'll get the best computer care anywhere - any time you need it!

SeniorPass is valid for unlimited computer care & repair sessions for one full year starting with the first time you use it. The clock does not start ticking until you use your SeniorPass for the first time. A great deal!

Having SeniorPass is just like having insurance for your computer. You'll get one full year of computer care and get help with almost any computer problem whenever you need it. We're here to help you.

Computer care & repair for one full year just $99! Check out our SeniorPass offer right now!

Get your SeniorPass and/or get more information here.


VirusTotal

We were going to have a fun site pick today, but we've had a lot of those, so today our site pick is a serious and useful one.

Often we'll get email from someone asking us if a file/program is safe. Or sometimes we'll feature a freeware pick and we'll have people tell us that they're antivirus program found a "virus" or something else wrong with it. And sometimes, we'll recommend something that will make Windows' crazy "SmartScreen" go wild with all kinds of warning.

We use Emsisoft on all our computers, so we never know when someone using Avast, AVG, McAfee, TrendMicro, Norton or some other antivirus will write us saying their security software found a problem with a file or program we recommended.

And we've had issues with Windows SmartScreen many times - but we've learned that SmartScreen isn't always smart. So, normally when we find a good program that ticks off SmartScreen - we'll go ahead and recommend it anyway - and note that SmartScreen detected it but the file is safe. Here's a an article we wrote about a program that SmartScreen said was malicious, but was not.

So, how do we know the file is safe, even if SmartScreen - or some antivirus says it isn't? We use VirusTotal to scan the file with 70 different scanners to determine if a file is safe, whenever we have the slightest doubt. The last thing we'd ever want to do is not be certain before we recommend something to you.

Then today, when looking at some fun and crazy sites to feature, I downloaded something that set off SmartScreen. I uploaded it to VirusTotal and found the file was safe. Then it dawned on me... why not make VirusTotal a Cloudeight Site Pick? It sure deserves to be.

It's easy to use. It's free to use. And anyone can use it. You can upload a file to VirusTotal. You can upload a file from our computer to VirusTotal, use a URL (link) to the download, or you can use the search on VirusTotal to check out a file you're considering downloading.



Above: VirusTotal is easy to use. You can upload a file from your computer, paste a link to the file, or search for the filename.


Above: VirusTotal scanned this file with 70 different scanners (including Emsisoft). None of the scanners found any problem with this file.
Above: You may, on occasion, see where one or two 'engines' (scanners) detected a file you submitted for examination. In the screen shot directly above you can see the file was scanned by 68 scanners and only one found a problem (a heuristic "malware"). When you see this kind of result, you know that the scanner that found a problem is reporting a false positive.
So, now it's time to bring in VirusTotal's people and have them tell you a bit more about VirusTotal before we send you on your way:

"...VirusTotal inspects items with over 70 antivirus scanners and URL/domain blacklisting services, in addition to a myriad of tools to extract signals from the studied content. Any user can select a file from their computer using their browser and send it to VirusTotal. VirusTotal offers a number of file submission methods, including the primary public web interface, desktop uploaders, browser extensions and a programmatic API. The web interface has the highest scanning priority among the publicly available submission methods. Submissions may be scripted in any programming language using the HTTP-based public API.

As with files, URLs can be submitted via several different means including the VirusTotal webpage, browser extensions and the API.

Upon submitting a file or URL basic results are shared with the submitter, and also between the examining partners, who use results to improve their own systems. As a result, by submitting files, URLs, domains, etc. to VirusTotal you are contributing to raise the global IT security level.

This core analysis is also the basis for several other features, including the VirusTotal Community: a network that allows users to comment on files and URLs and share notes with each other. VirusTotal can be useful in detecting malicious content and also in identifying false positives -- normal and harmless items detected as malicious by one or more scanners.

Free and unbiased

VirusTotal is free to end users for non-commercial use in accordance with our Terms of Service. Though we work with engines belonging to many different organizations, VirusTotal does not distribute or promote any of those third-party engines. We simply act as an aggregator of information. This allows us to offer an objective and unbiased service to our users..."
Now it's time for you to check out and/or use VirusTotal by visiting their Website here.
And here's tip from good ol' Darcy and TC: It would be a great idea to bookmark VirusTotal - a day will come when you'll want to use it.





Now available: Reg Organizer 8.26

If you purchased or renewed Reg Organizer through Cloudeight within the last 12 months, you're entitled to a free version upgrade to Reg Organizer 8.25.

Save $14 on Reg Organizer right now!

Reg Organizer - A Swiss Army Knife of Windows Tools - Works Great on Windows 10!






Easter Thoughts

It's Easter time. It's a time of rejoicing for Christian around the world. It is a time of rebirth and time for a renewal of faith.

But I was thinking how much we all need a resurrection – a resurrection within us. Each morning when we wake we can choose how we will be on that day. In a sense, in a way, it's like our own daily resurrection. Our spirits can be lifted, our bodies and our faith renewed. We can choose to be the person we've always wanted to be, or we can continue being the person we are.

If we are very lucky we are both of those – the person we are is the person we have always wanted to be. But I believe that's very rare. Most of us wish we were better people, more faithful, more compassionate, less judgmental, less confrontational, happier – more of some things and less of others.

I find myself judging others because of the way they look, how they live, what they have, or what they don't have, what they have or have not done. But I have no right to do that. I have no right to judge anyone, no matter who they are, what they look like, how rich or poor, how they live, what they have, or what they've done. My resurrection comes every day I wake and I get to choose what kinds of person I will be that day. Will I and do I want to be who I was yesterday? Or do I want to be a better person today than I was yesterday?

You're probably thinking that I can change all I want, but everyone else will see and know me as I was yesterday. And I say: So what? What difference does it make what anyone else thinks? It makes no difference unless we let it make a difference. So tomorrow when we wake we can be resurrected – we can be the person we have always wanted to be, or we can take the easy way and be what we've always been. And blessed is the one who is both.

So, it's Eastertime. And the people who have not seen the inside of a church in a year will put on their Sunday best and make an appearance in church and celebrate the Risen Christ. And tomorrow they will be the person they've always been. And I'm not judging...

Read the rest of this essay here.




If you don't need any of our products or services right now, please help us with a donation. Even the smallest gift is appreciated. Every donation helps us to provide useful information that helps you with your computer as well as helping to keep you safe on the Internet. We offer free help to thousands of people every year... and we offer an honest and inexpensive computer repair service too. We do everything we can to help you with your computer and keep you safe too.
So if you don't need any our products or services right now, please consider helping us with a small donation. If you're not a Cloudeight Booster already, you'll be invited to join our boosters after you make a donation of any amount. Our boosters get freebies and special booster-only offers
Please help us by making a donation right now.


Thank you!


A cure for desktop clutter

We have seen a lot of desktops. And we know that many of you have dozens and dozens of icons on your desktop. All of us have been through that. As soon as we start using Windows, we realize that the first thing staring us in the face when we startup our computers is the desktop. So it's hard to resist putting everything on the desktop that you use or think you're going to use often. The only problem with that is - eventually your desktop will be covered with icons and you'll find yourself searching through dozens and dozens of icons looking for something. And we know that it's sacrilege to even try to get you to remove any of those icons. They're there for a reason, right?

Well, if you don't want to remove them, how about organizing them. Create folders on your desktop and drag your icons into the folders. Let's use an example of photo editors and image viewer. Let's say you have an icons for PaintShop Pro, IrfanView, FastStone Capture, Aunt Tilly's Amazing Image Enhancer, Starglaze Photo Bleater, and RedEye NoMore. They're all related to graphics in one way or another. So why not make a folder and call it Graphics programs and drag all those icons into that folder. Just with one folder you have cleared 7 icons from your desktop and yet they are still right there when you can find them.

And what about all those website shortcuts you have on your desktop? Make a folder called "Website shortcuts" and drag all of them into that folder.

You get idea, right. So just think if you made 6 folders and moved 7 icons into each folder, you'd clear 42 icons from your desktop. Yet you'd still have easy access to them, because, after all, they are still on your desktop... right?





Sales of the following products and services help support our newsletters, websites, and free computer help services we provide.

Cloudeight Direct Computer Care: Single Keys or Season Tickets - always a great deal. Cloudeight Direct Computer Care is like having PC insurance. Get more information here.

Emsisoft Anti-Malware: Emsisoft is the only Cloudeight endorsed and recommend Windows security program. It provides users with a complete antivirus, antimalware, anti-ransomware, anti-PUPs solution. We offer single Emsisoft licenses and multi-computer licenses at discount prices. Also, we offer our exclusive Emsisoft with Cloudeight installation & setup. Get more information here.

Thunderbird Email Setup: Thunderbird is a great email program that you can use with your Gmail and Outlook.com (Hotmail) web mail accounts as well as with your Internet provider's email. We'll set it up right for you. Our set up includes configuring up to 3 emails accounts and setting up Thunderbird to use stationery (if desired). Our Thunderbird Email Setup Service is always a great deal. For more information visit this page.

Reg Organizer 8.20: Reg Organizer is the Swiss Army Knife of Windows tools. It's far more than just a registry optimizer and cleaner... it's Windows all-in-one toolkit. Helps you keep your computer in tip-top shape and helps solve annoying Windows problems. Reg Organizer works great with Windows 10 too! Get more information about Reg Organizer (and get our special discount prices) here.




To change your subscription address, see "Manage your subscription" at the bottom of this newsletter.
Submit your questions, comments, and suggestions for possible inclusion in our newsletters here. This form is for questions, comments, and suggestions for this newsletter. This form is not for product support, stationery questions, or general questions concerning our products or services.
Send us your suggestions and recommendations for future freeware picks and/or sites of the week
Help us Grow! Forward this email newsletter to a friend or family member - and have them sign-up for InfoAve Premium here!
Get our free daily newsletter! Each evening we send a short newsletter with a tip or trick or a computer-related article - it's short and sweet - and free. Sign-up right now.
Have a question about a Cloudeight Software program, service, stationery, or need to ask about an order? Let us know!
If you need help with one of our software programs, have a question about an order, or have a question about any of our email stationery, screensavers, or other products - please don't use our InfoAve Questions/Answers/Tips form. Use our general Cloudeight support form instead.
Print our Cloudeight Direct Flyer and spread the word about our computer repair service! If you want to help us by telling your friends about our Cloudeight Direct Computer Care service, you can download a printable flyer you can hand out or post on bulletin boards, etc. Get the printable PDF Cloudeight Direct Computer Care flyer here.




These products and services are recommended and endorsed by Cloudeight:
Also... don't forget:




We'd love to hear from you!

If you have comments, questions, a tip, trick, a freeware pick, or just want to tell us off for something, let us know.

If you need to change your newsletter subscription address, please see "Manage your subscription" at the very bottom of your newsletter.

We received hundreds of questions for possible use in IA news. Please keep in mind we cannot answer all general computer questions. We try to personally answer as many as we can. We can only use a few to in each week's newsletter, so keep this in mind. If you have a support question about a service or product we sell, please contact us here.





Subscribe to our Daily Newsletter!

Get computer tips & tricks every night. Our daily newsletter features a computer tip/trick or two every day. We send it out every night around 9 PM Eastern Time (USA). It's short and sweet, easy-to-read, and FREE. Just visit this page and sign-up. All you have to enter is your email address. Once you confirm your subscription, you'll receive our daily newsletter every day, six days a week. You can unsubscribe at any time.

Print our Cloudeight Direct Computer Care Flyer!

Print our Cloudeight Direct Computer Care Flyer and spread the word about our Cloudeight Direct Computer Care computer care and repair services. Get our ready-to-print flyer here.





We hope you have enjoyed this issue of InfoAve Premium. Thanks so much for your support and for being a Premium subscriber.

Wishing you all a very blessed and happy Easter!

Darcy & TC
Cloudeight InfoAve Premium - Issue #810
Volume 16 Number 26
April 19, 2019

Not a subscriber? Subscribe to our InfoAve Premium Newsletter

Share Us on Facebook!
We'd love for you to share us with your family and friends on Facebook. Help us by sharing us on Facebook!






"Cloudeight InfoAve Premium" newsletter is published by:

Cloudeight Internet LLC
PO Box 73
Middleville, Michigan USA 49333-0073

Read our disclaimer about the tips, tricks, answers, site picks and freeware picks featured in this newsletter.

Copyright ©2019 by Cloudeight Internet